';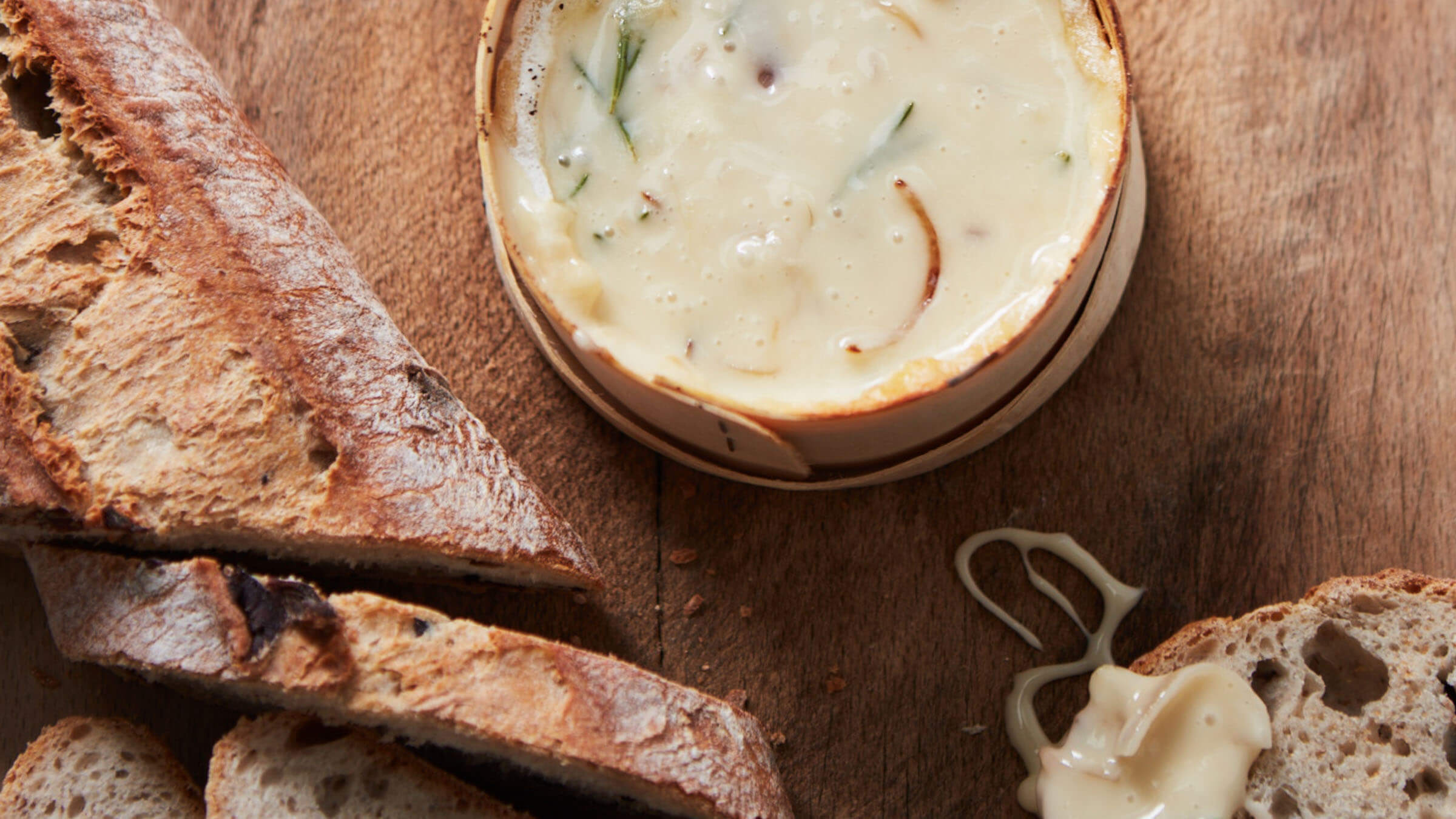 ;
You know the saying, right? Love comes in many forms. Shredded, sliced, melted…
Yes, we sure heart cheese. We've even dedicated entire articles to the perfect Tex-Mex classic queso dip and carbonara sauce, and in this issue we learn all about the perfect cheese fondue. Yet there are so many other cheesy dishes that deserve the spotlight, so we've asked several cheese experts, authors and bloggers to reveal the secrets behind their best versions of caseous classics.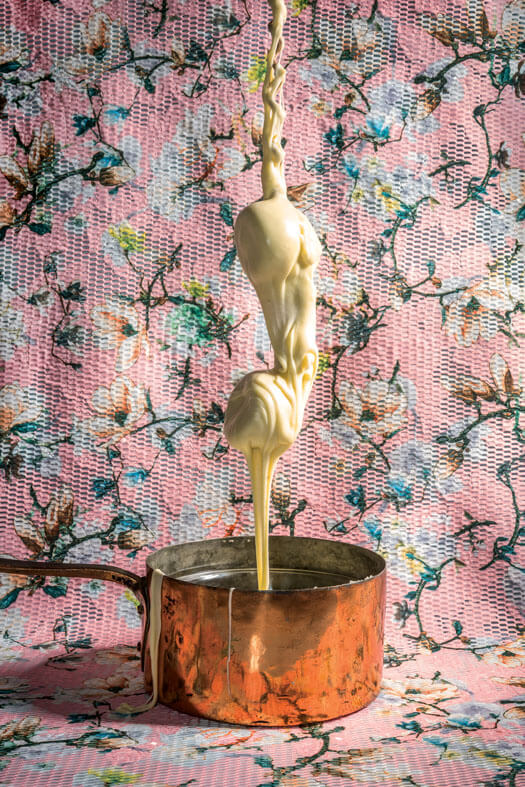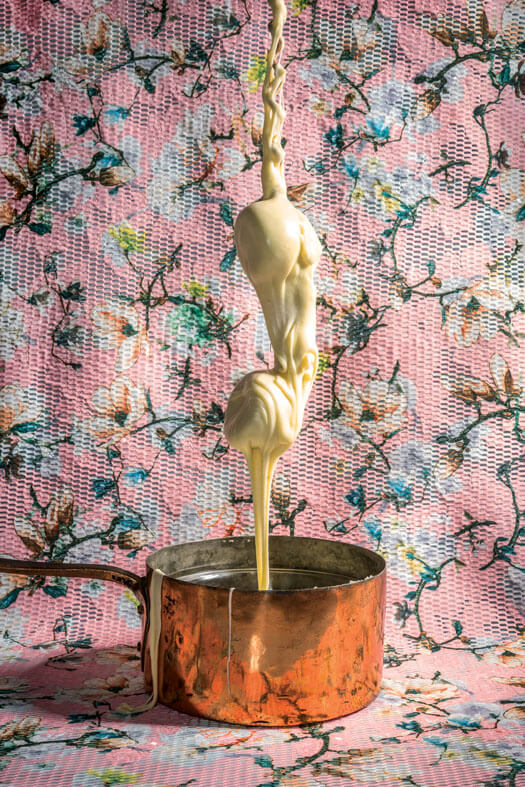 Aligot
Tia Keenan – Author of Melt, Stretch & Sizzle
"Aligot is what happens when a copious amount of cheese melts into mashed potatoes, creating a luscious fondue-mash hybrid. My recipe doesn't strictly adhere to tradition – no one from France would ever make aligot with mozzarella, jamais! – but sometimes it's the destination not the journey, right? Mozzarella adds a stable, easy melt that's insurance for whatever cheese you choose to use, guaranteeing the elastic pull that is aligot's decadent calling card."
Cheese expert Tia Keenan wrote Melt, Stretch & Sizzle to explore the transformative energy of heat applied to cheese – both what happens to the cheese and what happens to us: the lust, adoration, excitement and pleasure that melt inspires. [Photo: Noah Fecks]
Baked Harbison
Erika Kubick of Cheese, Sex, Death
"I love the dramatic decadence of a classic fondue, but sometimes I'm just too lazy and impatient to do that much work. That's when I reach for a naturally gooey cheese, like the soft-ripened, bark-wrapped Harbison from Jasper Hill Farm Harbison, or for a more modest portion, St Albans from Vermont Creamery. Bake these guys at 325°F [165°C] for about 8 minutes, just until they feel soft and oozing under the rind like a water bed. Then, slice off the top and dip in some french fries. Serve with a little mustard and something effervescent to cut the richness – or add onto it with some crisp bacon for dipping!"
Erika Kubick preaches the curd word through Cheese Sex Death, America's Sexiest Cheese Blog. Give her a follow to discover new cheeses, tantalizing pairing ideas, easy cheesy recipes, and classic cheese etiquette.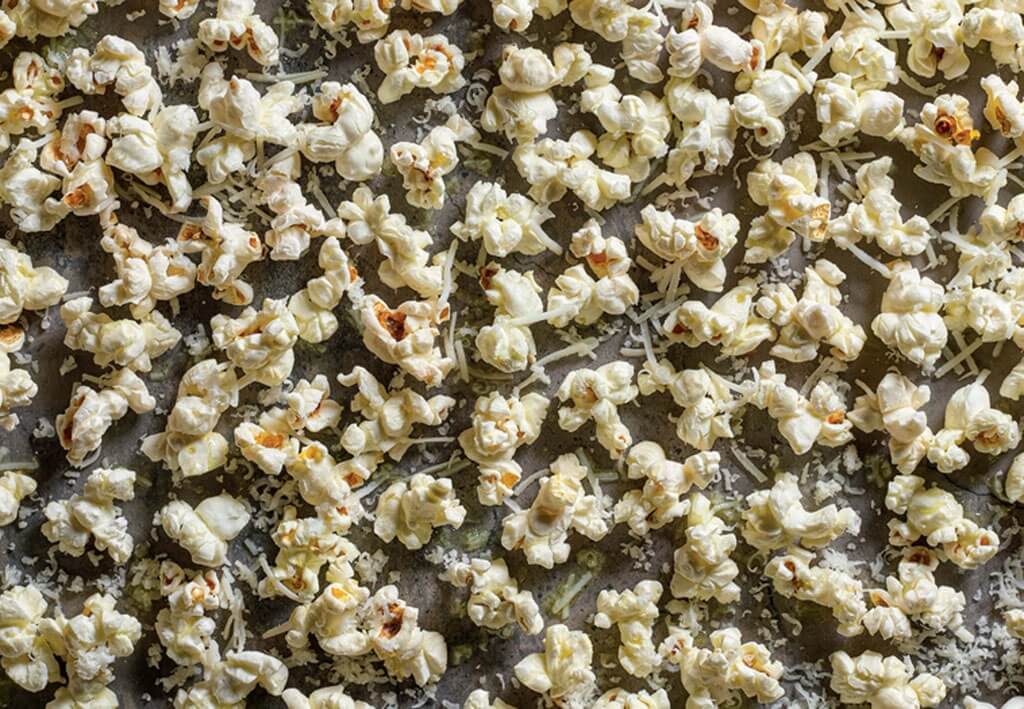 Cacio E Pepe Popcorn
Afrim Pristine, author of For The Love Of Cheese
"Pecorino romano is known as one of the world's best cheeses, but it's not as simple as you might think. If you were to walk into a cheese store and simply ask for a pecorino, it would be like walking into a car dealership and asking for a car. Just as a car salesperson would ask you what kind of car you want, your cheesemonger will ask what kind of pecorino you want, too. My recipe is easy and uses a type of pecorino that you'll be able to find almost anywhere: pecorino romano. In Rome, they make the classic dish, cacio e pepe, with this cheese and freshly grated black pepper."
Afrim Pristine is maître fromager of the Cheese Boutique in Toronto and recently published his first book, For The Love Of Cheese.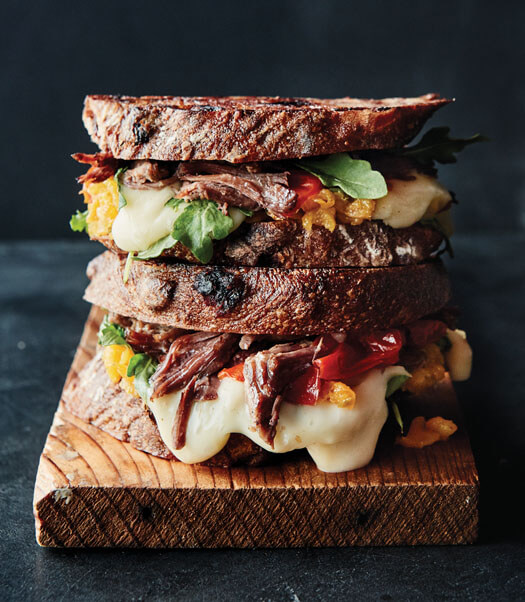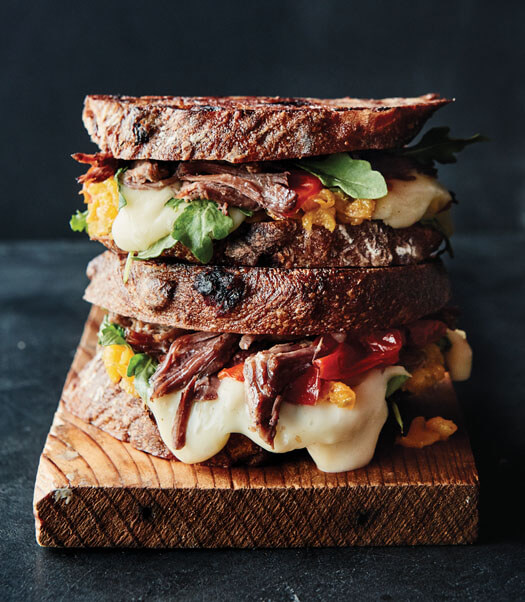 "The Champ" Grilled Cheese
Chef Eric Greenspan, author of The Great Grilled Cheese Book
"When I opened The Foundry on Melrose [in Los Angeles] in 2007, I wanted to do an accessible yet sophisticated restaurant that anyone could enjoy, a gateway drug to fine dining. When my manager suggested a cheese platter for our bar menu, I felt it sounded too fancy-schmancy. But everybody loves grilled cheese, right? So I took the stinky cheese, raisin-walnut bread, dried fruit and other accoutrements from a cheese plate and made a grilled cheese out of them, then added the short rib scraps for a more robust experience. It was a hit! The following year we entered the Grilled Cheese Invitational, which is like a mix between Burning Man and a cooking competition – and won. Next, it was featured on Food Network's The Best Thing I Ever Ate and in the New York Times. Now it's one of the most popular things I serve.
"To elevate your grilled cheese sandwiches, I suggest making things ahead: keep in mind that many of the components can be prepared ahead of time. Braised or roasted meats can, and frankly should, be made in advance. Cook them for a meal the night before, saving the leftovers for a great next-day grilled cheese. Pickled items and preserves can be made ahead of time, too, and will keep in the refrigerator for at least 2 weeks."
Eric is executive chef and owner of The Roof On Wilshire in LA and recently opened an incubator kitchen for delivery-only concepts. He recently wrote The Great Grilled Cheese Book.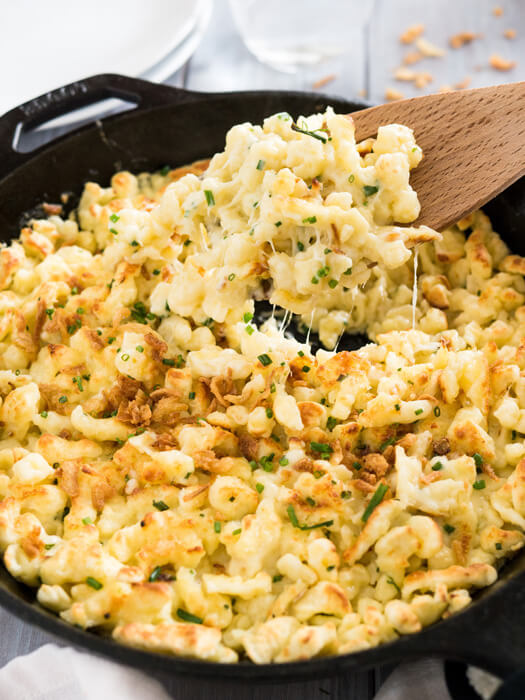 Käsespätzle
Julia Foerster of Plated Cravings
"Cheese Spaetzle (Käsespätzle) is the German version of macaroni and cheese! Made with homemade German egg noodles, called Spätzle, and lots of grated Emmental cheese, this southern German dish is special enough for an Oktoberfest party, but so easy that you can make it every day! My secret for the best Käsespätzle is to add a little bit of heavy cream to the grated cheese to make it more smooth and creamy. Guten Appetit!"
German-born Julia Foerster is an Ottawa-based food photographer and the author of food blog Plated Cravings, where she shares indulgent desserts, easy comfort foods and her favourite German recipes.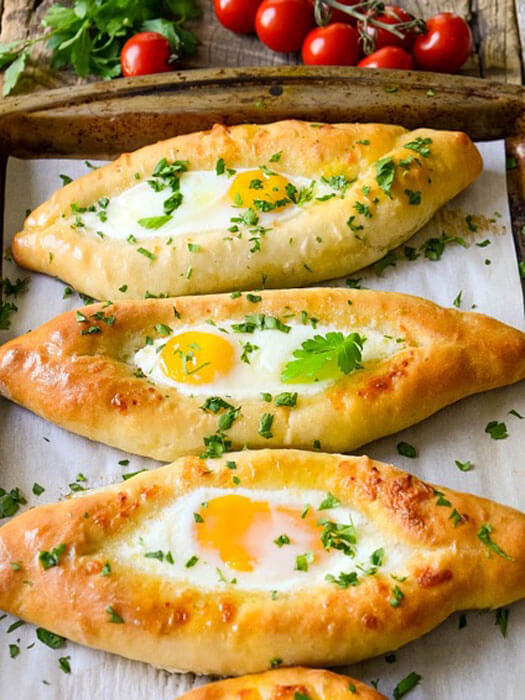 Georgian Khachapuri
Iryna Bychkiv of Lavender & Macarons
"Georgian cuisine has granted us many delicious recipes, but one particular dish that always stands out is Khachapuri Adjaruli. Think of it as a fancy cheese-filled flatbread with egg on top. What makes this dish special? An incredibly delicious briny and salty Sulguni cheese that has elastic texture and spreads all over the entire flatbread. You can find Sulguni in any Eastern European grocery store. Alternatively, look for a cheese that is salty and also melts well; a combination of feta and mozzarella can do the trick."
Iryna Bychkiv is the Ukrainian-born US food blogger at Lavender & Macarons. She's obsessed with European food and gladly shares easy and mouthwatering European-inspired recipes with her own twist.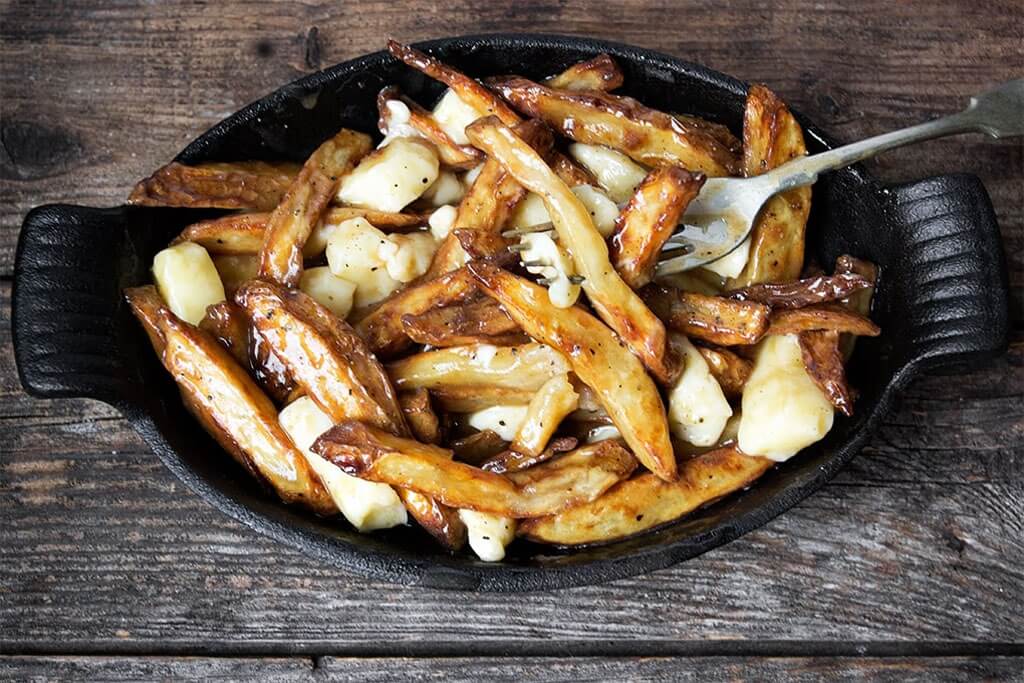 Poutine
Jennifer Maloney of Seasons and Suppers
"Poutine is a wonderful and delicious concoction of fries, gravy and cheese curds, and is one of the most quintessential Canadian dishes! Real cheese curds are what makes a poutine 'authentic': they are simply solid pieces of curdled milk, eaten either alone as a snack or, in Canada, added to fries and gravy to make poutine. And when soft cheese meets hot gravy and combines with fries, it becomes a treat not to be missed!"
Jennifer Maloney is the cook behind the food blog Seasons and Suppers and lives in the Muskoka Region of central Ontario, Canada.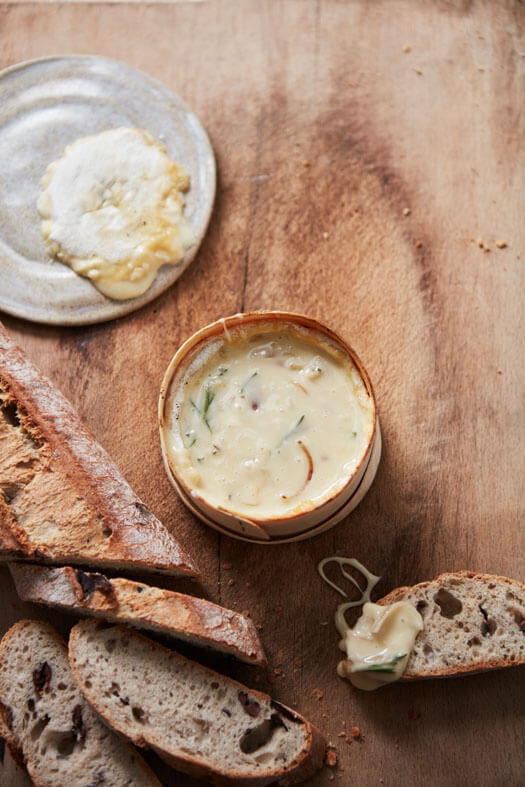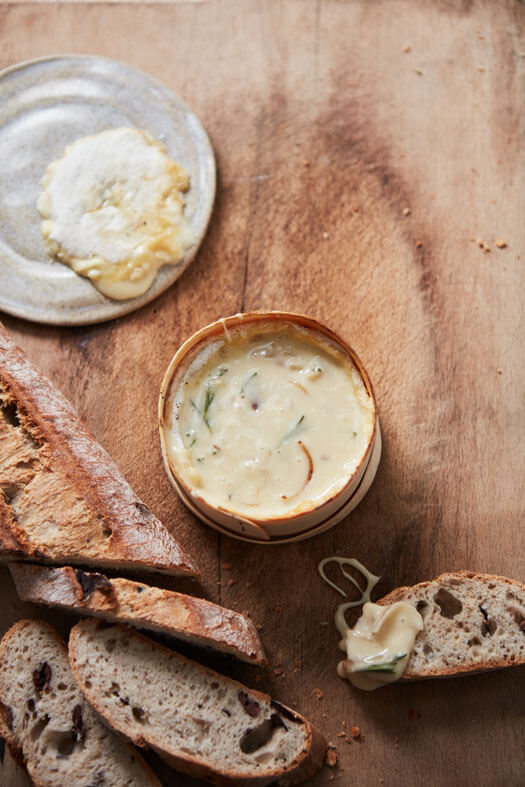 Baked Vacherin Mont-d'Or
Morgan McGlynn of Cheeses of Muswell Hill
"To every season, there is a cheese. In the winter, you get to eat all the richer milk cheeses that you just don't get in the summer months; I adore baked camembert, and it's so easy to make, with endless toppings and ways for cooking it. In my new book I offer 9 different recipes for baking camemberts – I guess I'm obsessed with runny, warm winter cheeses! One of my all-time favourites calls for Vacherin Mont-d'Or, perhaps one of the most sought-after cheeses on the market come September. It's only made between August and March, when the cows have come down the mountain from their high summer pastures, and their milk is too fatty and not plentiful enough to make whole Comté wheels."
At age 21, Morgan McGlynn was Britain's youngest female cheesemonger. Today she is the owner of Cheeses of Muswell Hill, an award-winning independent cheese shop in North London. Her first book, The Modern Cheesemaker: Making and Cooking with Cheeses at Home, will be published in March 2019.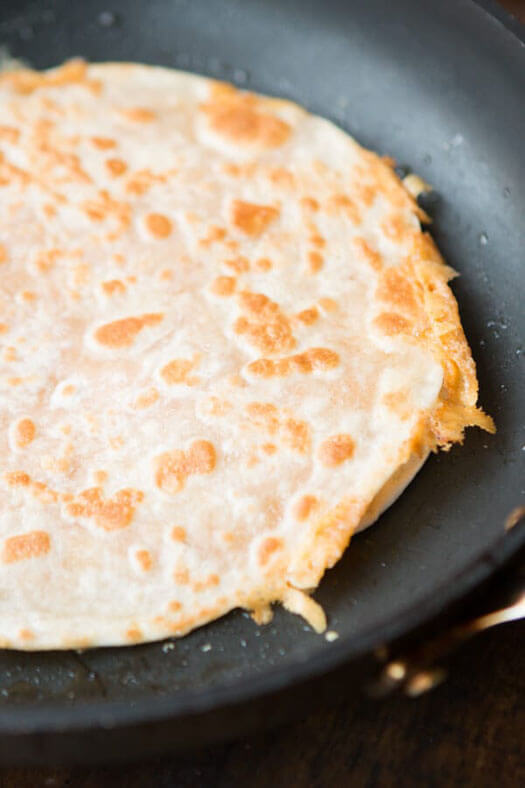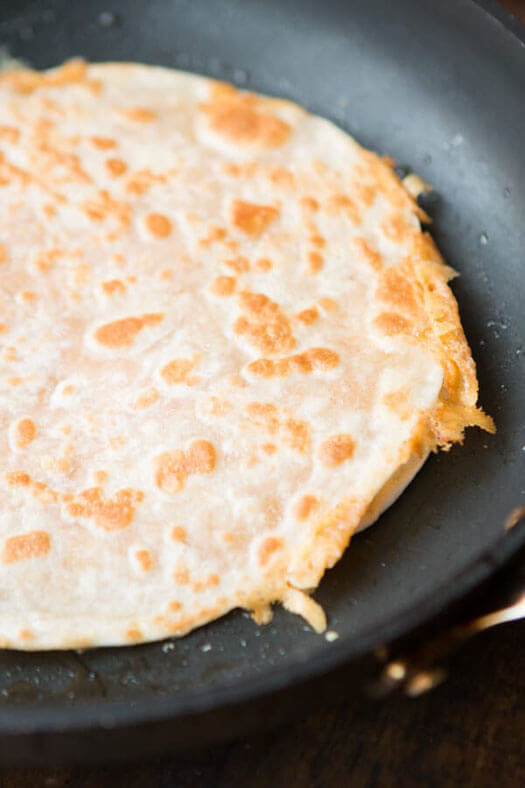 The Ultimate Quesadilla
Carrian Cheney of Oh, Sweet Basil
"The secret to making the ultimate quesadilla? Use the right type of cheese. Try a sharp Mexican blend or even actual quesadilla cheese. When making your quesadilla, always put cheese all the way to the outside edges. As you're cooking, the cheese will ooze out and brown a little in the pan, making for the most mouth-watering 'grilled cheese' bits ever! Lastly, always add a little oil or butter to the pan and a dash of flaked sea salt on top of the corn tortillas. Life-changing!"
Oh, Sweet Basil is a food blog all about reinventing dinner.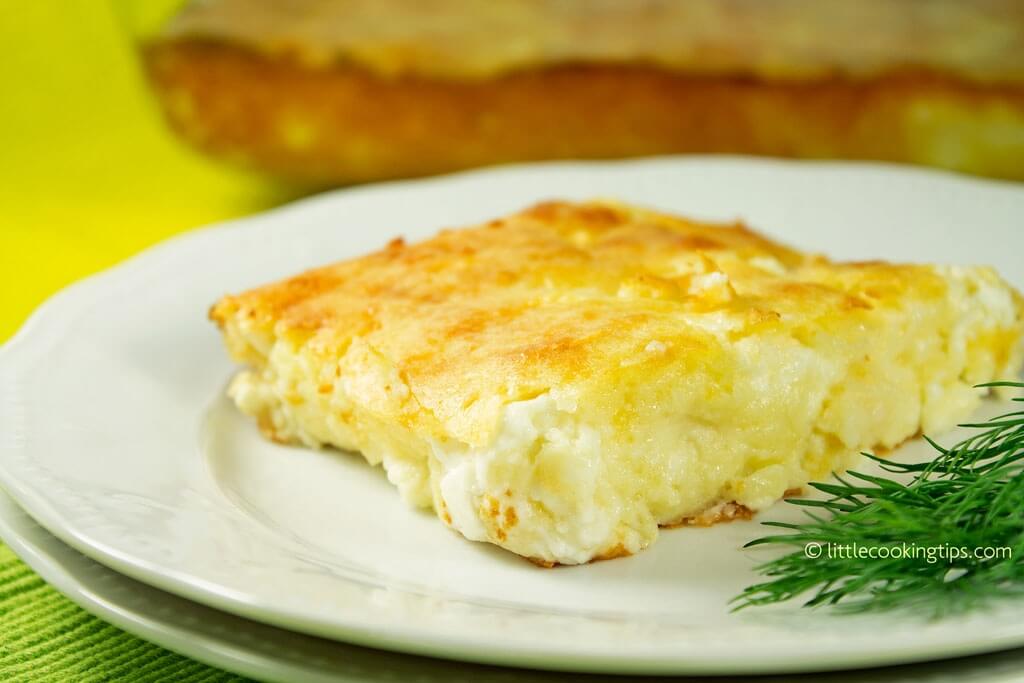 Tempelopita, "Lazy Pie"
Panos Diotis & Mirella Kaloglou of Little Cooking Tips
"In Greece, people love savoury pies. Called pita (plural pites), such pies are to Greeks what pizzas are to Italians, with countless variations. The most popular ones are cheese pies (tiropita), spinach pies (spanakopita), ham-cheese pies (zampono-tiropita), zucchini pies (kolokithopita) and ground beef pies (kimadopita). Such pies are part of a traditional breakfast and may also work as a light meal, an appetiser or a snack throughout the day.
"One easy and popular pita version with cheese is called tempelopita. Literally meaning 'lazy pie', it's called as such because it's made without any pastry or filo. It's the fastest Greek pie one can make, a mix-dump-and-bake pie with simple ingredients: flour, yogurt, eggs, butter and cheeses. Make sure to use real feta (made from sheep's milk), and don't overmix when you add it to the batter. Don't break it into very small crumbs, and gently fold them in."
Little Cooking Tips features step-by-step, home-cooked Greek and Mediterranean recipes.
Walnut And 'Perl Las' Pears
Chef Gilli Davies, author of The Cheese Cookbook (Flavours Of Wales series)
"Any visitor to Wales will know that it's a land of green pastures. Perfect for grazing, perfect for cows, sheep and goats to produce milk. This is why Wales produces a plethora of the most delicious cheeses: today there are at least 23 cheese producers in Wales, with some 136 varieties on offer. This walnut and pear dish with blue cheese dressing is a classic. An elegant blue cheese with lots of flavour and a creamy texture – such as Perl Las (meaning 'Blue Pearl' in Welsh) of Caws Cenarth creamery – works best, but can also be replaced with other Stilton."
Food writer and chef Gilli Davies is the author of the Flavours of Wales cookbook series. [Photo: © Huw Jones]
#staysafe #stayathome #selfisolation