';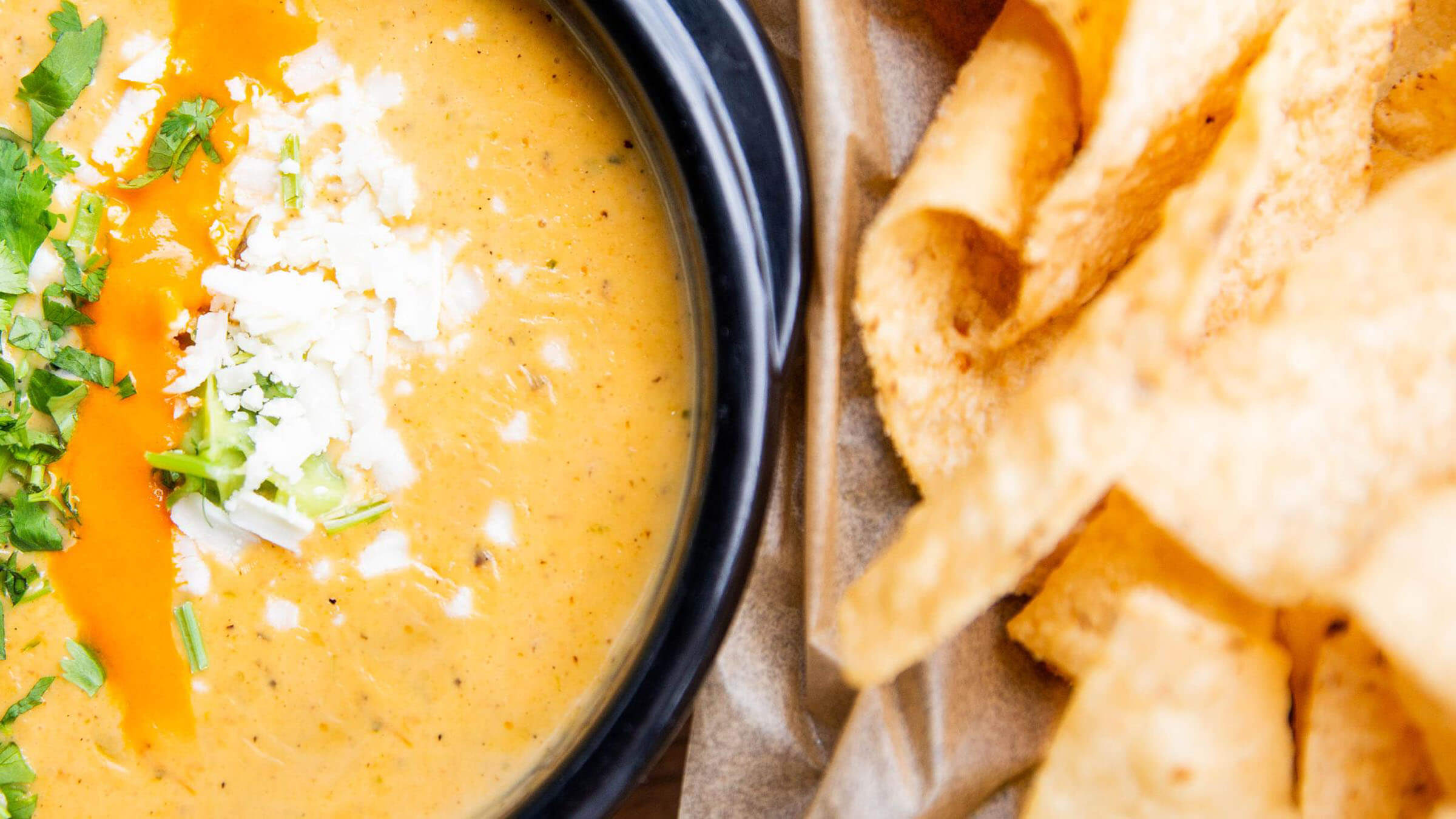 ;
In Texas, queso isn't just a dip, it's a way of life.
Queso, which means cheese in Spanish, isn't a direct translation when you're ordering it with a basket of tortilla chips or drizzled over a breakfast taco, but rather an abbreviation for chile con queso, an almost liquid melted cheese dish dating back to turn-of-the-century Texas, when Tex-Mex cuisine originated. Now, queso is eponymous with the beloved dip, found in fast food and sit-down establishments across the state (and beyond, thanks to Texas expats craving queso wherever they ended up), but it's truly distinct from its food of origin, Mexico's queso fundido.
Rick Lopez, Executive Chef at contemporary Austin Mexican restaurant La Condesa, explains: "Queso fundido [molten cheese] uses cheeses that are more suitable to be baked and melted, including chihuahua cheese, asadero and even mozzarella, typically paired with red chorizo, strips of roasted peppers and/or onions. Fundido is usually served with tortillas and a salsa or pickled vegetables. On the other hand, Tex-Mex queso is fondue that utilises more milk to create a mornay sauce, and is very thick and creamy, yet perfect for dipping chips or totopos."
While queso is speculated to have originated in Mexico sometime in the 19th century (if not before), the first known recipe for queso dates back to 1896. As Texas food expert Lisa Fain writes in her book QUESO!: Regional Recipes for the World's Favorite Chile-Cheese Dip, the recipe was published in a story about Mexican food in California-based magazine The Land of Sunshine. At the time, European-style fondue was rising in popularity across the Atlantic, which could account for the idea behind the Mexican-European mash-up dip. Preserved menus from the decades that followed show chile con queso was served on restaurant menus in San Antonio and then beyond. Recipes for queso in cookbooks and community publications became more commonplace.
Texas, which became America's 28th state in 1845, shares a border with Mexico, and had previously existed as a part of Mexico (1821-1836), making Mexican heritage and cuisine an inherent part of Texas' identity before it even joined the United States. Some speculate that queso as we know it today was developed to make Mexican food resemble more Anglo-American dishes, and therefore more palatable to those who may shun ethnic cuisine.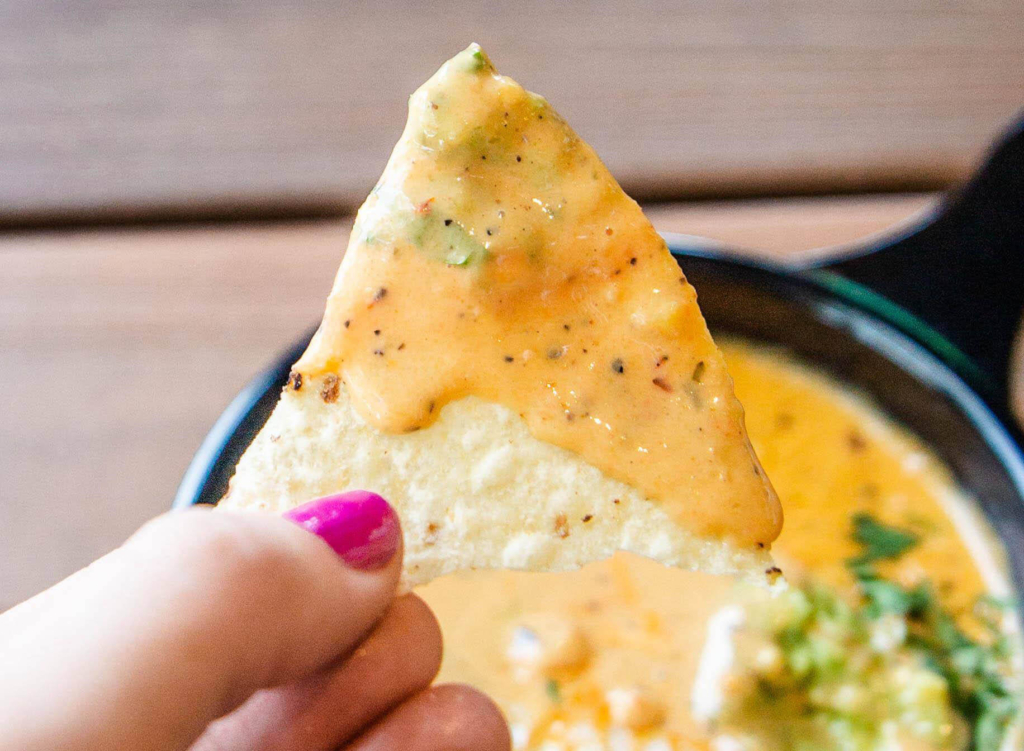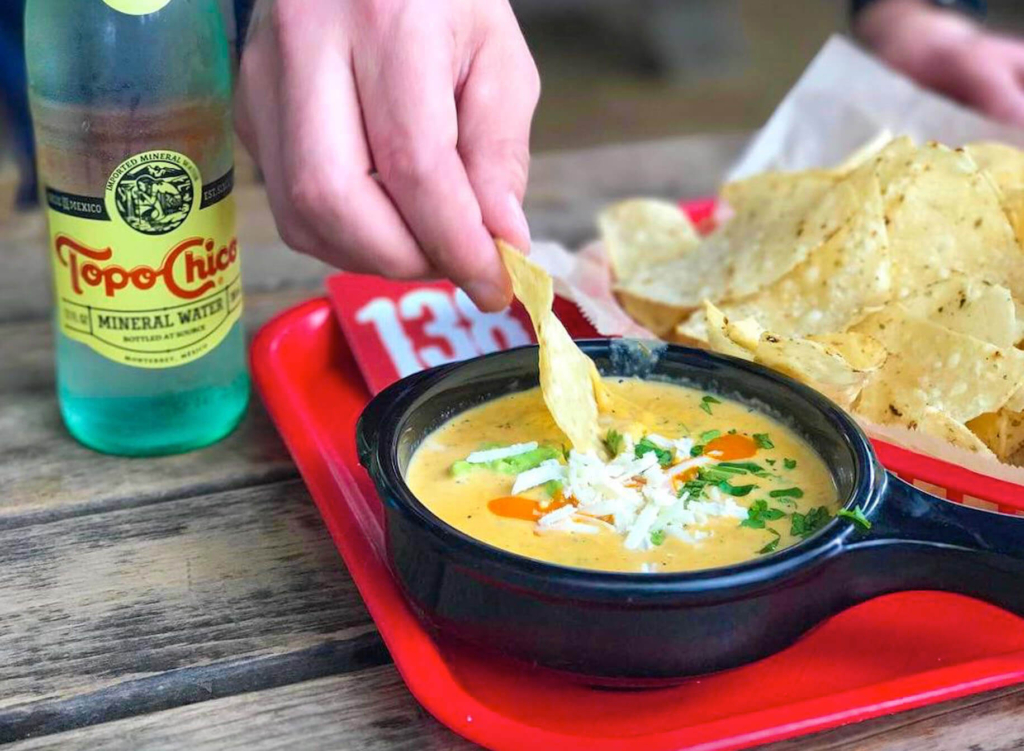 [Photos via Torchy's Tacos]
In 1918, Mexican restaurateur Miguel Martinez opened Martinez Café (now called El Fenix) in Dallas, a restaurant which offered American-style dishes with some Mexican flare, i.e. early Tex-Mex. The restaurant developed queso to top tacos, and eventually, "The queso became such a huge hit, it quickly evolved into the signature dip that is still served to – and beloved by – our guests today," says Alfred Martinez Jr, grandson of Miguel Martinez. El Fenix now has 22 locations across the state, and is one of many fast-food-style chains that offers the dip with a cult following. Torchy's Tacos, which serves queso topped with chorizo or guacamole with a basket of crispy tortilla chips, is another name tossed around Texas as a local favourite.
Queso surged in popularity in the 1960s and 1970s, when the emergence of processed foods and TV marketing promoted cooking and enjoying queso at home. Texas-based canned tomato company Rotel started advertising outside of the state, and encouraged making Rotel dip by mixing its cans of tomatoes and peppers with pasteurised cheese, i.e. Velveeta. Both products are still common in at-home Texas-style queso.
"I love queso with spicy Rotel tomatoes," says Chef Tim Love of Texas' Lonesome Dove Western Bistro. "As long as you have the ratio of Velveeta and Rotel tomatoes correct, then you can add a bunch of different ingredients to it, like ground deer meat sausage, avocados or skirt steak. I love using the ground meat from deer that we harvest in the fall and winter, which is perfect timing for football season, since you can't watch the game without a big bowl of queso and fresh corn chips or tortillas. Period!"
James Beard Award-nominated chef Ford Fry also has a fondness for the Rotel and Velveeta preparation, but notes that, as he's learned to build flavours, he'll char tomatoes, onion and serrano peppers over a hot wood-burning grill to "capture some smokiness." He'll still use easy-melt cheeses as the base, but likes emulsifying in some Chihuahua cheese to "cut the processed texture of straight-up easy-melt."
Today, queso is an essential part of the Texas lifestyle. "Queso is amazing because it is one recipe that brings everyone together in the great state of Texas – or at any party in any state," says Texas-born, Austin-based food blogger and restaurant consultant Alexandra Reichek, of the blog Chekmark Eats. "[In Texas], there is never a group gathering or BBQ without it, or without a crowd surrounding the bowl. It's nostalgic." Reichek also points to the versatility of queso as one of its popularity points: it can be made (or purchased) with various types of cheese, meats and aromatics, and served with different types of chips.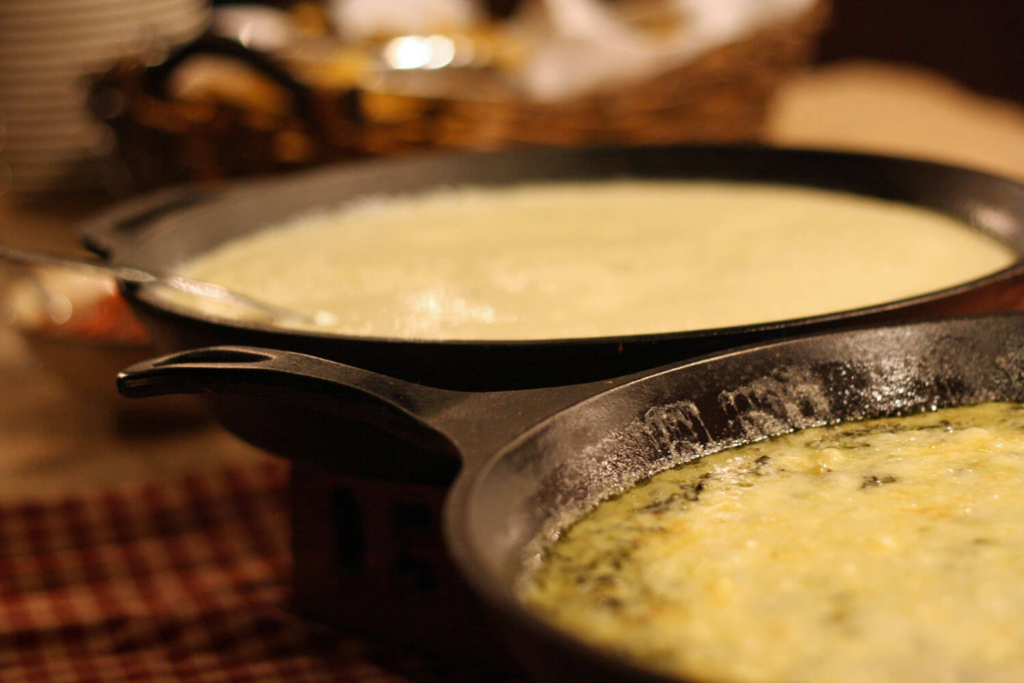 [Photo: FoodBlogSouth via Flickr]
"Melted cheese is something every person enjoys having fun with. The possibilities are up to you and your liking," explains Lopez, noting that fundido and Tex-Mex queso often include the same ingredients, such as roasted peppers, pico de gallo, beef picadillo or red chorizo; the difference is not so much in the flavour, but the consistency. For Texas first-timers, Lopez recommends finding a local spot that offers queso on the menu for a classic, soupy interpretation of the famous local dish.
And while the craze may be hyper-regional – thanks, in part, to the internet and the diaspora of loyal Texans across the United States – queso is growing in popularity outside of Texas. "I grew up in Upstate New York and had no idea what this classic, godly southwestern cheese dip was until I moved to New York City 10 years ago. A good friend of mine from Texas introduced me to it at a gathering. Afterwards, I could not stop eating it," recalls chef Chef Matt Abdoo, of New York's Pig Beach. Now, he goes to Tortilla Flats, a small Mexican restaurant in Manhattan's West Village to get his fix.