';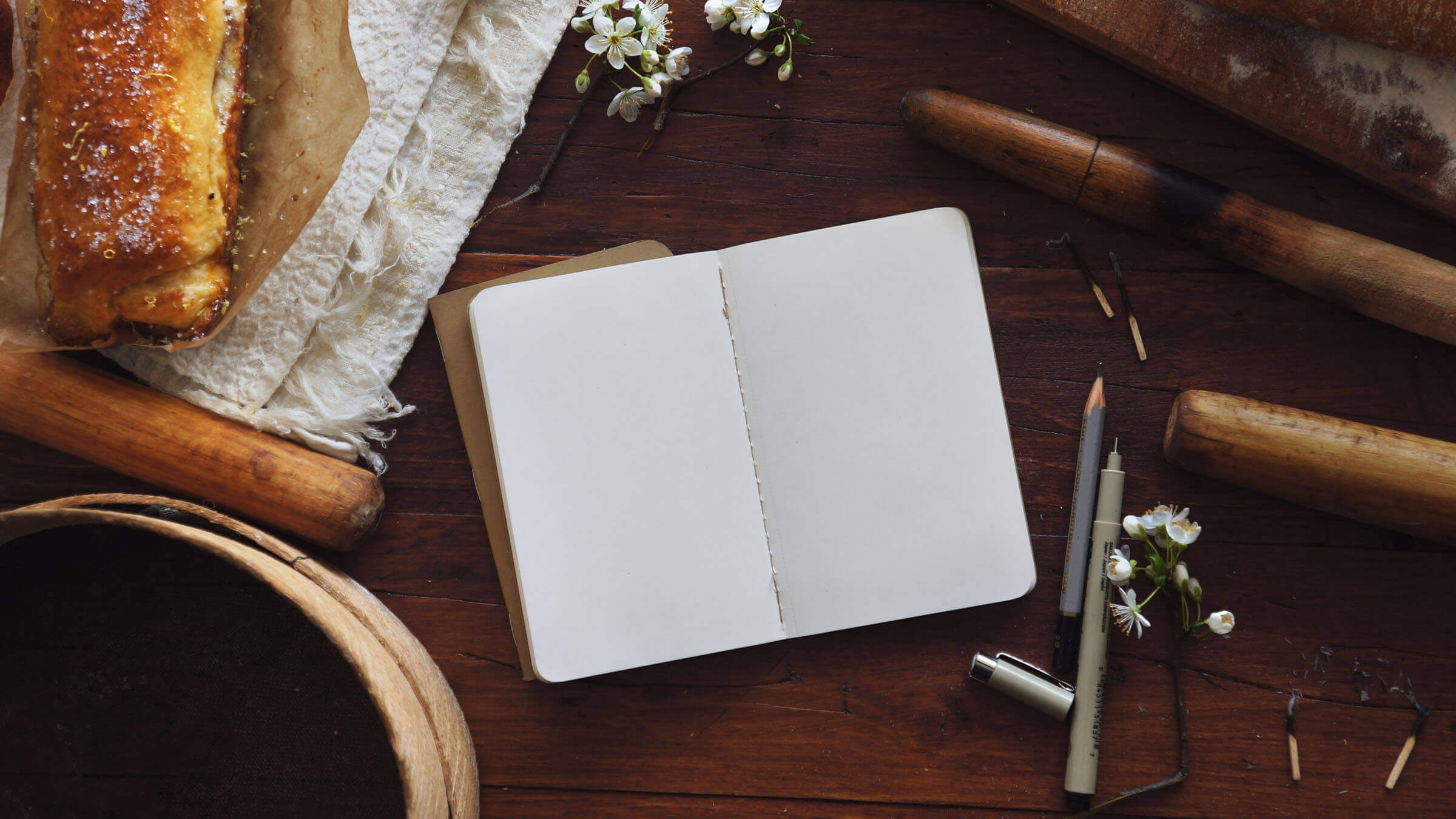 ;
The blogs they write may be wildly different, but these food bloggers all have one thing in common: They've translated their little corner of the world wide web into tangible books. Some are practical cooking guides that'll have you running straight to the kitchen, while others make for highly entertaining bedtime reading, too.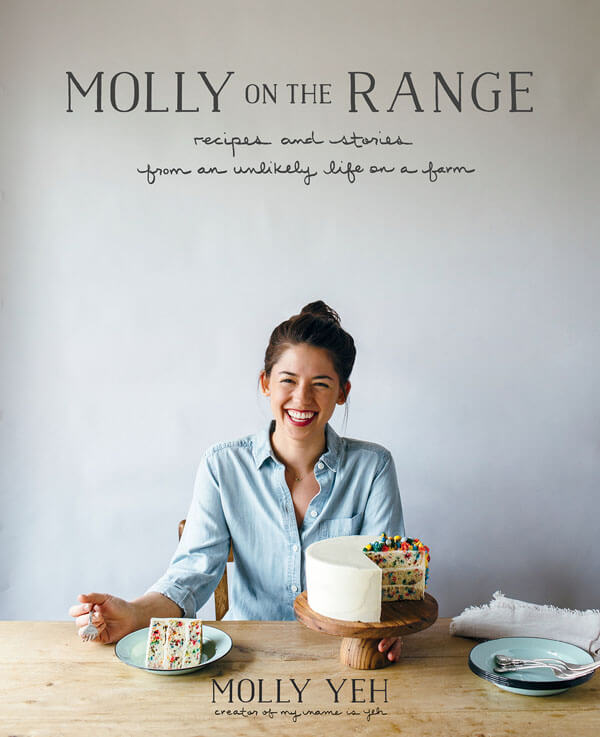 Molly On The Range: Recipes And Stories From An Unlikely Life On A Farm – Molly Yeh
Molly Yeh's life is probably different from yours: She lives on a farm in North Dakota, with her husband and 12 chickens called Macaroni. She's been chronicling farm life on her food blog My Name Is Yeh, where her quirky (all lower case) writing, recipes and beautiful photography have earned her a large fan base. The book Molly On The Range is an extension of that blog, chronicling her life through her recipes. There's her upbringing in Chicago, her time in New York City, where she studied percussion at Juilliard and met her (then) boyfriend, and their move to the Midwest, where her (now) husband is a fifth-generation sugar beet farmer.
Yeh is a whimsical cake genie (she once recreated the whole farm in gingerbread form, and found the perfect funfetti cake recipe after a gazillion experiments), but she has also mastered the art of Midwestern "hotdishes", pickling and putting together large farm lunches. Her own favourites in the book include a pattern for making your own schnitzel Halloween costume, a macaroni and cheese flowchart, and a tractor top pizza party. The book does have uppercase, but other than that, it's got that same happy vibe that keeps you hooked.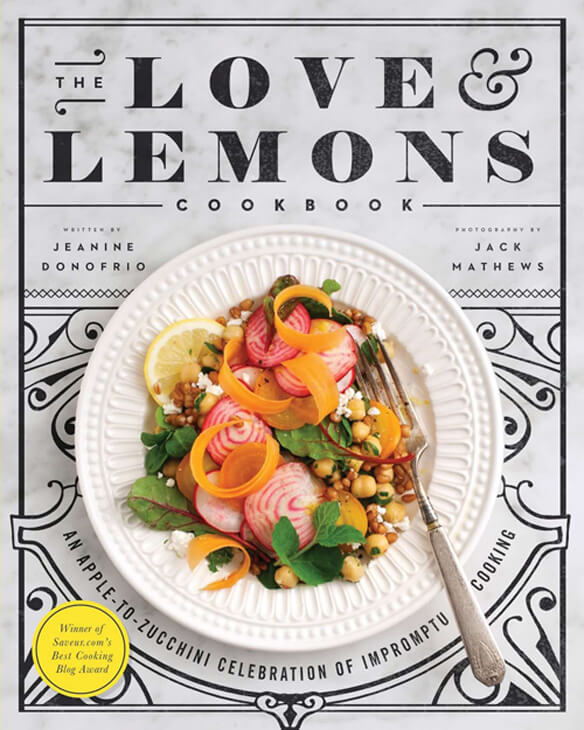 The Love & Lemons Cookbook: An Apple-to-Zucchini Celebration Of Impromptu Cooking – Jeanine Donofrio and Jack Mathews
Love & Lemons is all about food that's fresh, seasonal and often finished with a squeeze of lemon for a vibrant brightness that shines through not only in the recipes, but in the photography and design as well. Behind the blog is Austin, Texas-based couple Jeanine Donofrio and Jack Mathews, and if you're looking to adopt a more veggie-centric diet, then their book might be just for you.
Donofrio and Mathews suggest more than 100 vegetarian recipes based on one main ingredient, from apples to zucchini – which comes in particularly handy when you have no idea what to do with that bunch of carrots that came in your weekly vegetable box, or those shiny apples you bought at the farmer's market. Besides doable recipes, the book contains practical tips such as a guide to stocking your pantry, and six steps to putting together new dishes yourself. The Love & Lemons Cookbook is the kind of book you just know will get covered in splashes and smudges over the years.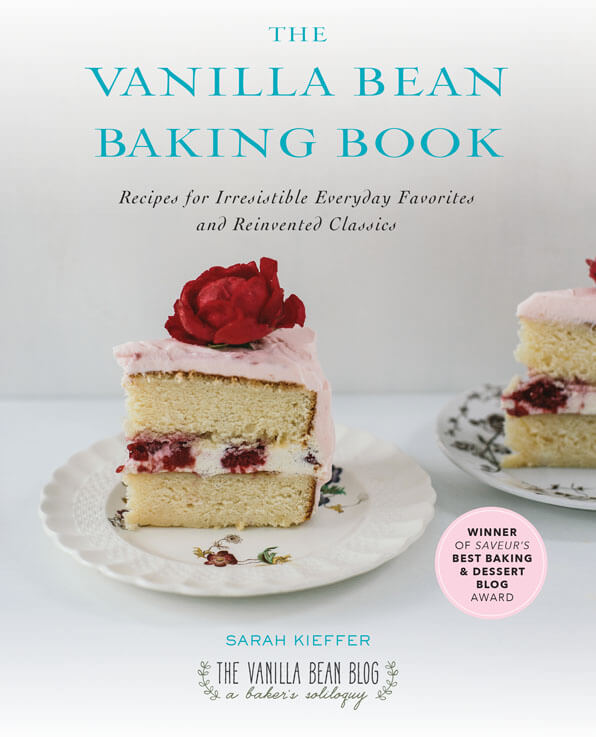 The Vanilla Bean Baking Book – Sarah Kieffer
As a child, Sarah Kieffer had always enjoyed making cookies, but her love of baking truly blossomed when she started working in coffeehouses and bakeries in Minnesota. On The Vanilla Bean Blog, she writes: "I have always found comfort in the act of baking, and while I enjoy the end result of a kitchen filled with sweet treats, I find there is so much more to it than just sugar and butter, some flour and eggs."
Though Kieffer has plenty of baking experience under her belt, she really considers herself a home baker, and her new book The Vanilla Bean Baking Book is aimed at fellow enthusiastic bakers who want to broaden their repertoire and learn new techniques. She offers them smart tips and encouragement ("learn from your mistakes"), as well as over 100 thoroughly tested recipes with lush photography – plus visual guides for the more challenging recipes. With recipes for Burnt Honey Buttercream Cake with Chocolate, as well as Blackberry White Chocolate Cake, Chocolate Chip Cookies and Apple-Blackberry Turnovers, this book is irresistible for anyone who enjoys baking at home.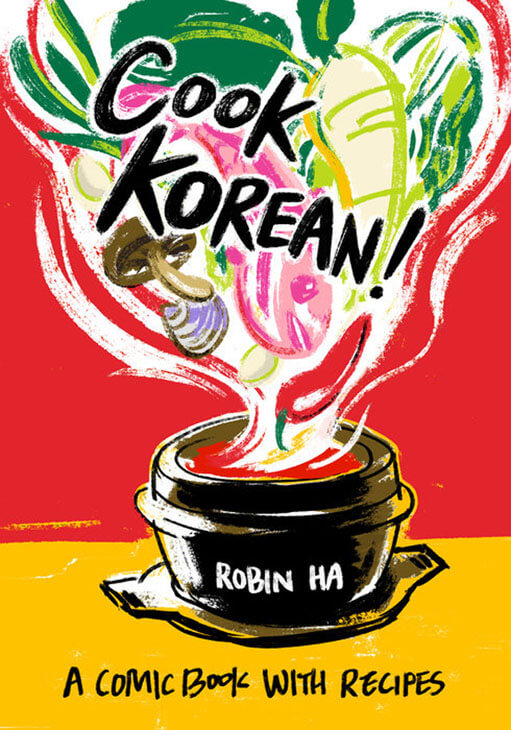 Cook Korean! A Comic Book With Recipes – Robin Ha
Born in Seoul, Robin Ha moved to the US at age 14. When she was growing up, she wasn't very interested in cooking; instead, drawing comics was her passion, and it wasn't until she spent time with an Italian family during a language exchange that her curiosity for preparing food from scratch was piqued. Years later, she began longing for the food she grew up with, and when she started asking her mom for recipes, she discovered that Korean cooking wasn't as daunting as she had thought.
Soon enough, Ha's friends began requesting recipes, and she came up with the idea to narrate them through her cartoon alter ego Dengki, in a comic recipe tumblr called Banchan In 2 Pages ('banchan' are the numerous side dishes typical of Korean cuisine). The blog has been turned into the New York Times bestselling book Cook Korean!, bursting with colourful, playful comic-recipes that are inviting and easy to follow, interlaced with interesting stories about Korean culture and cuisine. The fundamentals of making kimchi, bibimbap and Korean barbecue are all in there, of course.
Get Robin Ha's recipe for easy kimchi here.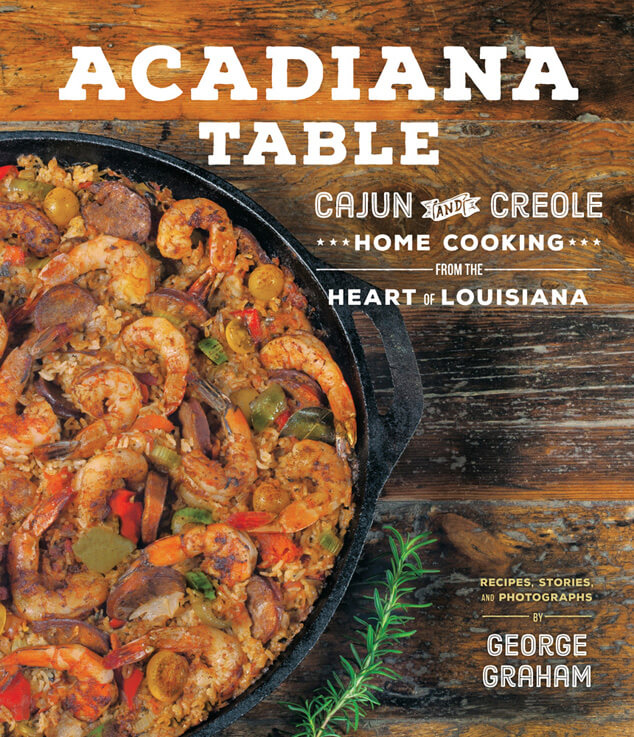 Acadiana Table: Cajun And Creole Home Cooking From The Heart Of Louisiana – George Graham
According to George Graham, Acadiana is a lifestyle and a state of mind. It's also a region of southwest Louisiana, where the exciting Cajun and Creole cuisines have their roots. On his blog Acadiana Table, and now also in the eponymous book, Graham attempts to make the unique recipes of his native region accessible to home cooks.
The bisques, gumbos, jambalayas and étouffées are all present and accounted for, often with a contemporary spin. Graham also explains more about the region's unique products and tells fascinating stories about the culture and history. In the first chapter, you learn it all starts with a roux, the distinctive basis of these cuisines. With chapters named 'If It Flies, It Fries', 'Simmering Black Pots' or 'Sweet Surrender', you know this cookbook is going to be as distinct as the cuisine it talks about.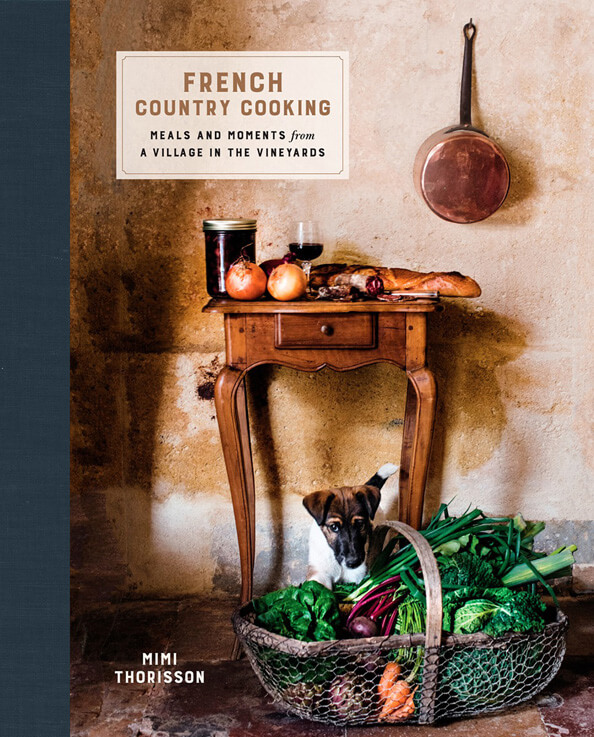 French Country Cooking – Mimi Thorisson
If you fantasise about the sweet life abroad – and about France in particular – Mimi Thorisson's latest book, French Country Cooking, will speak to you. Just like her blog Manger, it's pure armchair travel, transporting readers to a world with paint-chipped country house walls, crates overflowing with lush vegetables, and semi-nonchalant arrangements of gorgeous pottery. Here, Thorisson is in the kitchen, cooking away. She somehow always manages to look calm and collected, even though you'd think her husband, their flock of children and band of dogs would require her constant attention.
It might be almost too picture-perfect, except that her love of cooking and fresh ingredients really shines through in her writing and recipes. Chanterelle and Garlic Tartlets, Roast Chicken with Chestnuts and Cabbage, Baked Apples with Spéculoos: the dishes are appealing and comforting, for families who happen – and who don't happen – to live in the Médoc.
Get Mimi Thorisson's recipe for butternut pancakes with sage brown butter here.
The Bob's Burgers Burger Book: Real Recipes For Joke Burgers – Loren Bouchard and Cole Bowden
Anyone who has watched the animated show Bob's Burgers, about a family running a hamburger restaurant, has probably seen the witty 'Burger Of The Day' that's written on a chalkboard in the background. In case you haven't: The New Bacon-Ings Burger, the Hummus A Tune Burger, and the If Looks Could Kale Burger, are just a few examples.
The punny menu items drove fan Cole Bowden into the kitchen to create each one of these burgers IRL and write about them on his blog, The Bob's Burger Experiment. The creators of the show picked up on the popular blog and asked him to help write The Bob's Burgers Burger Book, with two experienced chefs as consultants. Even if you've never heard of the show, if you love an excellent burger, this fun book gives you tons of great new favourites.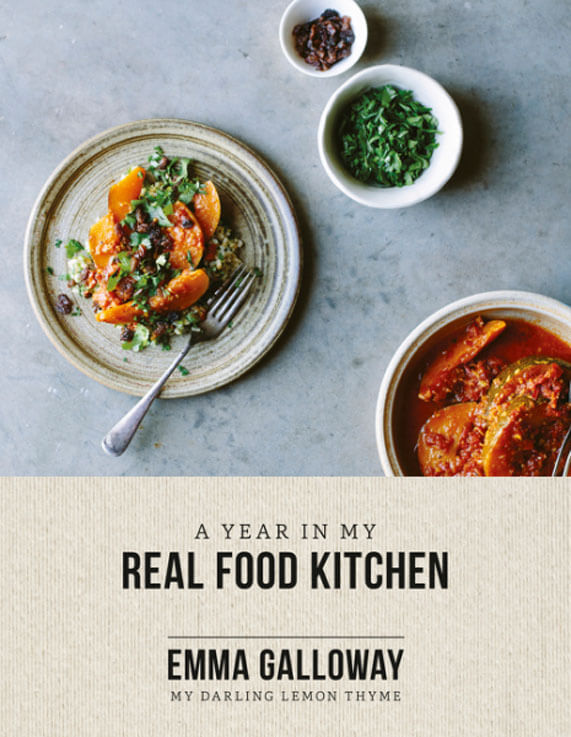 A Year In My Real Food Kitchen – Emma Galloway
With her first book, Emma Galloway already demonstrated that there's nothing dull or challenging about vegetarian or gluten-free recipes. On the contrary: hers are inventive and packed with flavour.
Galloway, who lives in New Zealand with her family, is a former chef who started the blog My Darling Lemon Thyme to share gluten-free vegetarian recipes and organic gardening tips. After she'd discovered that she and her children suffered from gluten and lactose intolerance, she overhauled the family's diet, and life for everyone improved considerably. In A Year In My Real Food Kitchen, it's all about how you can use the best natural and in-season ingredients. There are more of the same original recipes, with her signature minimalist photography.
Also, some of the food bloggers and writers we've featured previously have published books this year:
Tasting Rome: Fresh Flavors And Forgotten Recipes From An Ancient City – Katie Parla and Kristina Gill
In Tasting Rome, journalist Katie Parla and photographer Kristina Gill capture Rome's unique character and truly evolved food culture – a culmination of 2,000 years of history. Read more about Parla and her tips for enjoying Italian bitters here.
Eat In My Kitchen: To Cook, To Bake, To Eat, And To Treat – Meike Peters
Meike Peters, who divides her time between Berlin and Malta, presents a cookbook as inviting, entertaining and irresistible as her website, Eat In My Kitchen. Get her recipe for German Poppyseed Strudel here.
Florentine: The True Cuisine Of Florence – Emiko Davies
Davies says that one of the things living in Tuscany has taught her is that there's no such thing as Italian cuisine; rather, Florentine is about offering readers a local's perspective on one of the country's 20 regional cuisines. See her Chocolate Bilbolbul Cake recipe here.
Sweeter Off The Vine: Fruit Desserts For Every Season – Yossy Arefi
Yossy Arefi of the blog Apt 2b Baking Co. showcases the luscious fruits of every season with a collection of heirloom-quality recipes for pies, cakes, tarts, ice cream, preserves and other sweet treats in her newest cookbook. Try her Apple Yogurt Cake recipe here.
Naturally Sweet Food In Jars: 100 Preserves Made With Coconut, Maple, Honey And More – Marisa McClellan
After years of addressing questions about reducing sugar, substituting sugar and leaving it out altogether, canner and author Marisa McClellan began to rejigger her recipes, helping her home canning fans enjoy the flavours of the season without the refined sugars. Check out her canning and preserving recipes here.
Preserving Italy: Canning, Curing, Infusing, And Bottling Italian Flavors And Tradition – Domenica Marchetti
The ever-alluring flavours and ingredients of Italy lend themselves particularly well to canning, bottling and other preserving methods, as Domenica Marchetti demonstrates in her latest book. See some of her ideas for preserving here.
Fresh Italian Cooking for the New Generation: 100 Full-Flavored Vegetarian Dishes That Prove You Can Stay Slim While Eating Pasta And Bread – Alexandra Caspero
In her newest book, Alexandra Caspero of Delish Knowledge shows the lighter side of Italian cooking – with the delicious carbs, but without the heavy meats and cheeses. Check out her slow-cooker tips here.
Article by Irene de Vette
Practical guidance or pure inspiration? Just between us, do you read cookbooks simply for the fun of it (and all those beautiful pictures) or actually for recipe ideas?