';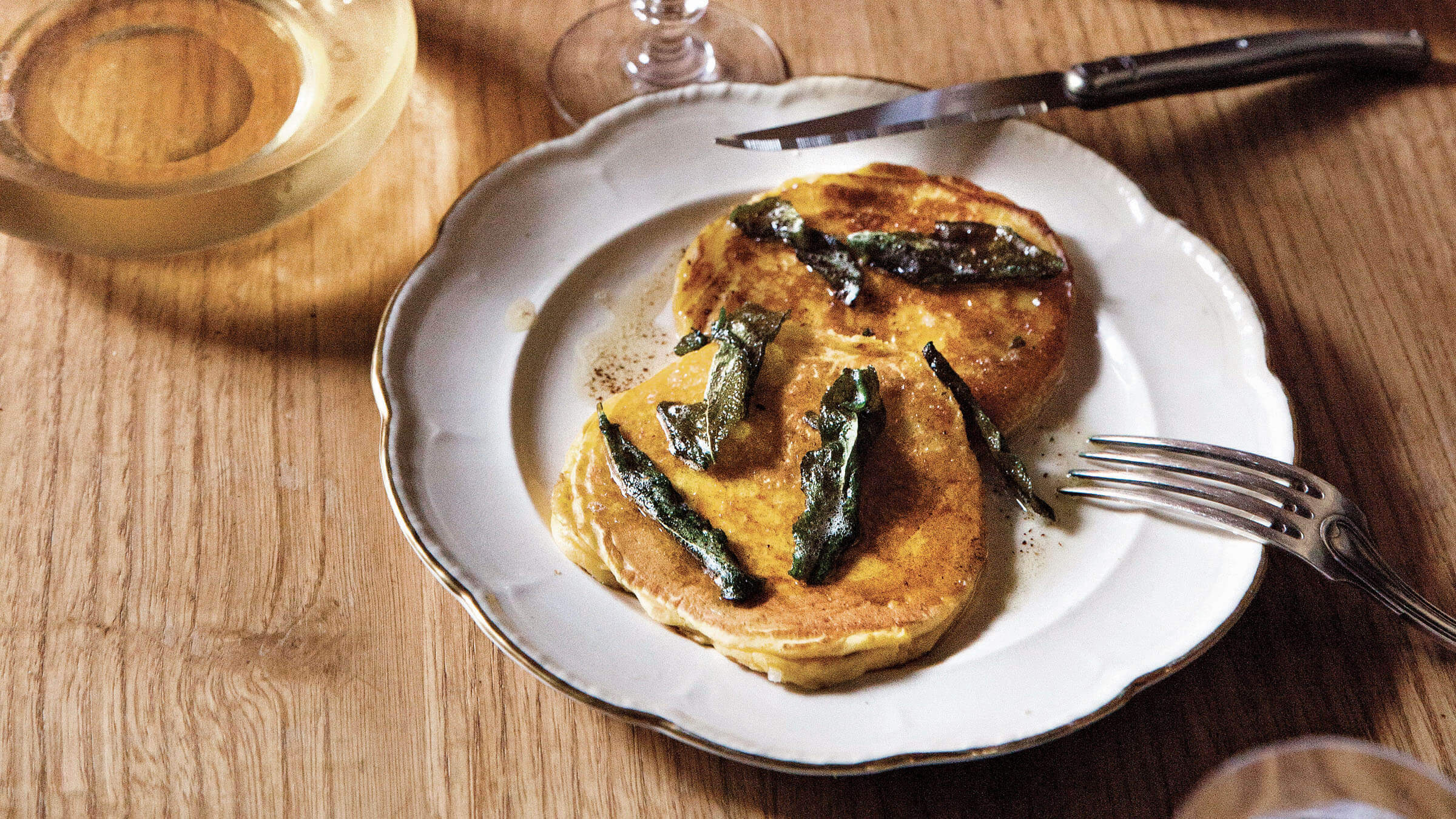 Mimi Thorisson: "We don't grow our own yet, but in autumn we tend to build up a small collection of pumpkins and squash in various shapes and sizes. We decorate our tables with them, and for a few weeks it seems we are drowning in pumpkins. Then, as the season progresses, we start cutting them up one by one; many end up in soups, while others get roasted as a side dish. 
The really lucky ones end up in delicious little creations like these pancakes that are so simple to make, yet feel quite decadent and "grown up" when drenched in sage and butter sauce. The words "light" and "rich" seem contradictory, but they are the ones I would pick to describe these pancakes."
Butternut Pancakes With Sage Brown Butter
Serves 4 to 6 
1¹⁄³ cups / 200 g butternut squash purée (*see note)
1 large egg
¹⁄³ cup / 80 ml crème fraîche
¹⁄³ cup / 30 g freshly grated parmesan cheese (optional)
1½ cups / 180 g all-purpose flour
1 teaspoon baking powder
Fine sea salt
5½ tablespoons / 80 g unsalted butter, plus more for the skillet
A small bunch of fresh sage leaves
1. In a bowl, mix the butternut purée, egg and crème fraîche. Using a wooden spoon, stir in the parmesan (if using), flour, baking powder and a pinch of salt until you get a smooth batter.
2. Lightly butter a large cast iron skillet or sauté pan and set over medium heat. Using about half of the batter, drop 4 or 5 pancakes into the pan. Let them cook until the bubbles on the surface start to pop and the undersides are golden brown, about 1 minute, then flip them over. Cook just to set the other side, about 1 minute. Repeat with the remaining batter.
3. In a small saucepan, heat the 5½ tablespoons / 80 g butter over medium heat. Add a pinch of salt and the sage leaves, and cook until the butter turns golden brown and the sage leaves are crisp, a few minutes.
4. Serve the pancakes with a drizzle of the browned butter and sage leaves on top.
*NOTE: To make the purée, peel, seed and cube about half a medium butternut squash, then roast it in a preheated 350°F / 180°C oven until very tender, about 20 minutes. Purée using a potato ricer or food processor, or mash by hand.
Find out more about Mimi and her newest book full of fresh recipes here.
[Reprinted from French Country Cooking. Copyright © 2016 by Marie-France Thorisson. Photographs copyright © 2016 by Oddur Thorisson. Published by Clarkson Potter/Publishers, an imprint of Penguin Random House, LLC.]