';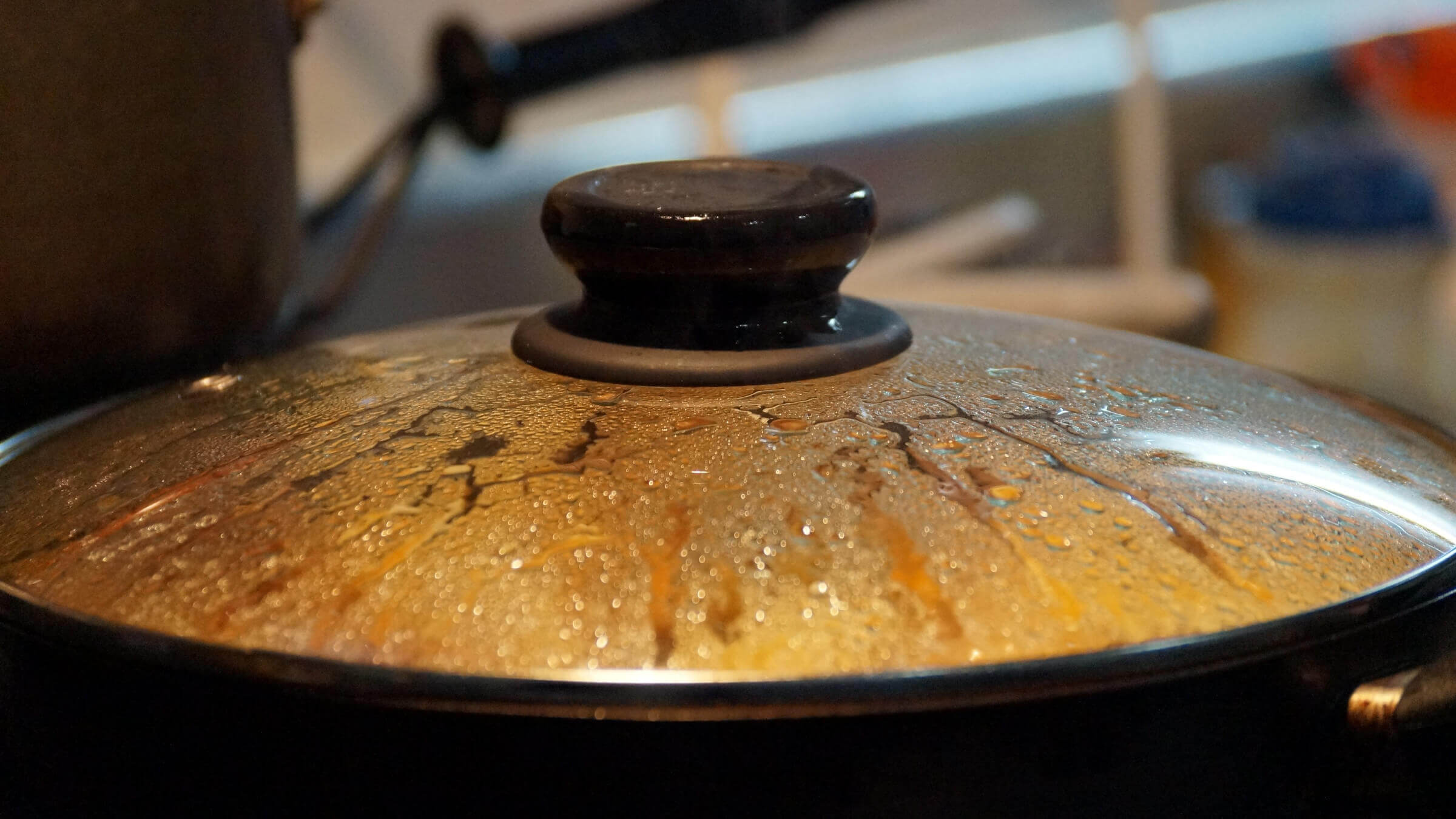 ;
You might expect a slow cooker recipe to read something like: 'Toss in your ingredients, add liquid, turn slow cooker on.' Then you go about your business and voilà, dinner is waiting for you a few hours later. Easy peasy, right? That's one way to use your crockpot, but to get even more delicious slow cooker results, you might want to follow these useful tips and tricks from experienced slow cooker bloggers and authors. And while you're at it, why not try out their recipes as well?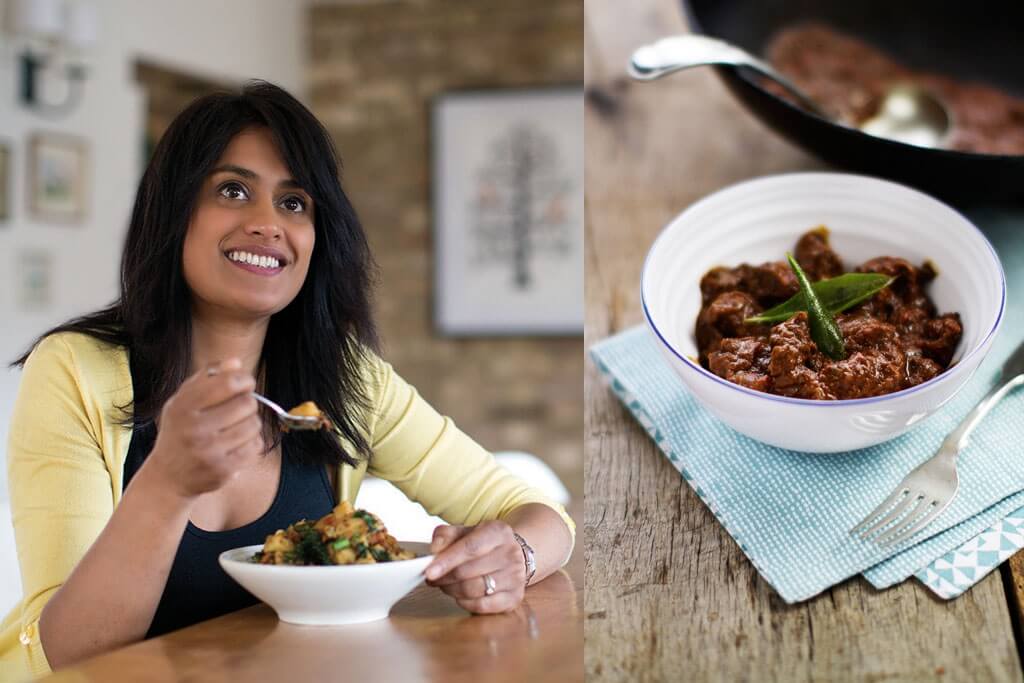 Try Some Indian Classics – Hari Ghotra
Lots of meat-based Indian dishes will work beautifully in a slow cooker, if you make a few adjustments, according to chef Hari Ghotra. On her website, she gives pointers for how to adapt Indian classics – such as choosing meats carefully, as you don't want it all to disintegrate. "When choosing beef, go for shin, stewing steak, skirt, brisket or topside. For chicken, meat on the bone is best, either thighs or drumsticks. Shoulder and neck of pork works well, and for lamb, choose shoulder, chump, neck and leg joints. Please note that lamb cooks faster than other meats when slow cooked."
Another tip to for the health-conscious: trim the excess fat. "Although you're not adding any extra oil to the dish, with slow cooking, the fat from the meat will remain in the dish, and if this is excessive it will make your dish greasy. I remove all extra fat, and even the skin, from chicken when slow cooking."
Hari's lovely Lamb Madras will come out hot and fragrant. Check out the recipe here.
Hari Ghotra worked as a guest chef for The Tamarind Collection of Restaurants and is the soon-to-be executive chef of the new Tamarind Kitchen. In order to share her dishes and cooking techniques with a bigger audience, she started a website and YouTube channel, which have become the UK's number one destinations for authentic Indian cooking in just a few years.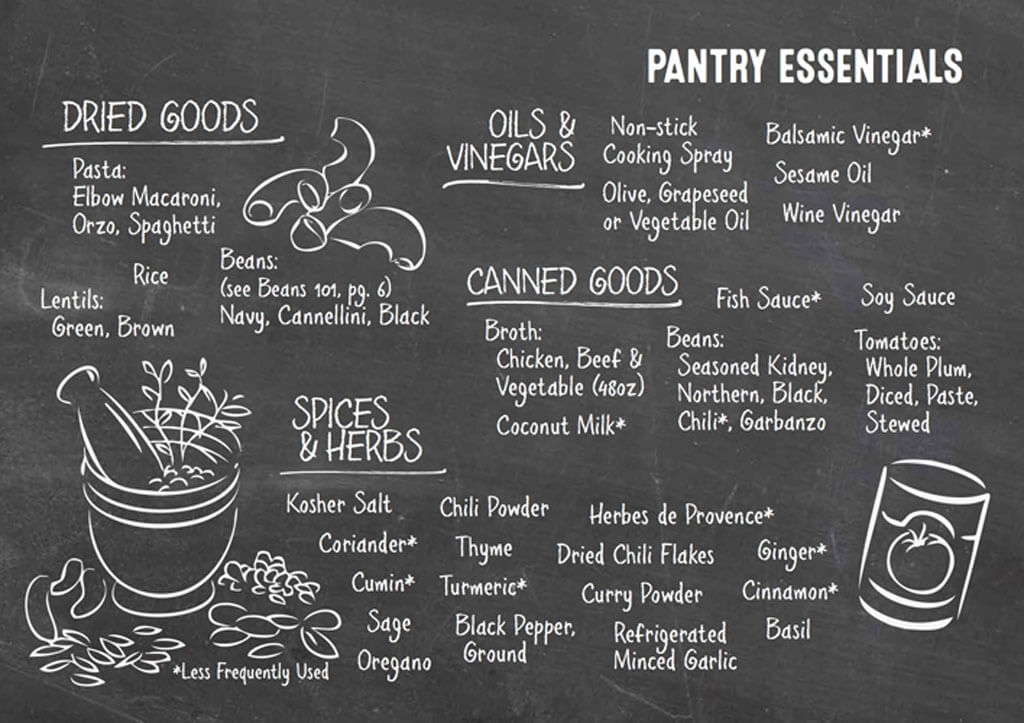 Don't Forget Your Pantry Essentials – The Zen of Slow Cooking
"With all the time-consuming details of everyday life, some people think they don't have time to prepare a home-made meal," say Jane McKay and Meg Barnhart of the zen of slow cooking. "Use a slow cooker on your busiest weekdays or relaxing weekends, and you'll come home to the inviting aroma of a finished meal that's ready to serve. The key is to pay as much attention to your slow cooker recipes as you would any other."
They created this easy "stock your pantry" chalkboard, so you can always toss in dried herbs and aromatics for flavour, or give a bit of crunch to slow-cooked recipes with croutons, nuts and seeds. They also suggest adding vibrant, crisp, leafy greens or fresh green herbs towards the end of cooking, or broiling at the end of cooking to add colour.
One thing to keep in mind: "With little to no evaporation, slow cooker recipes use less liquid than conventional cooking. When adapting a conventional recipe, we suggest reducing the liquid by 1⁄3 to 1⁄2."
Check out two of their mouth-watering recipes: Maple French Toast Casserole and Chipotle Salmon Tacos
The zen of slow cooking came about from Jane McKay and Meg Barnhart's desire to help people find more time to gather around the table. Since their blog's debut in 2012, they've published more than 200 recipes and sold over 10,000 slow cooker spice blends, all designed to aid the home cook in finding a little zen in the kitchen.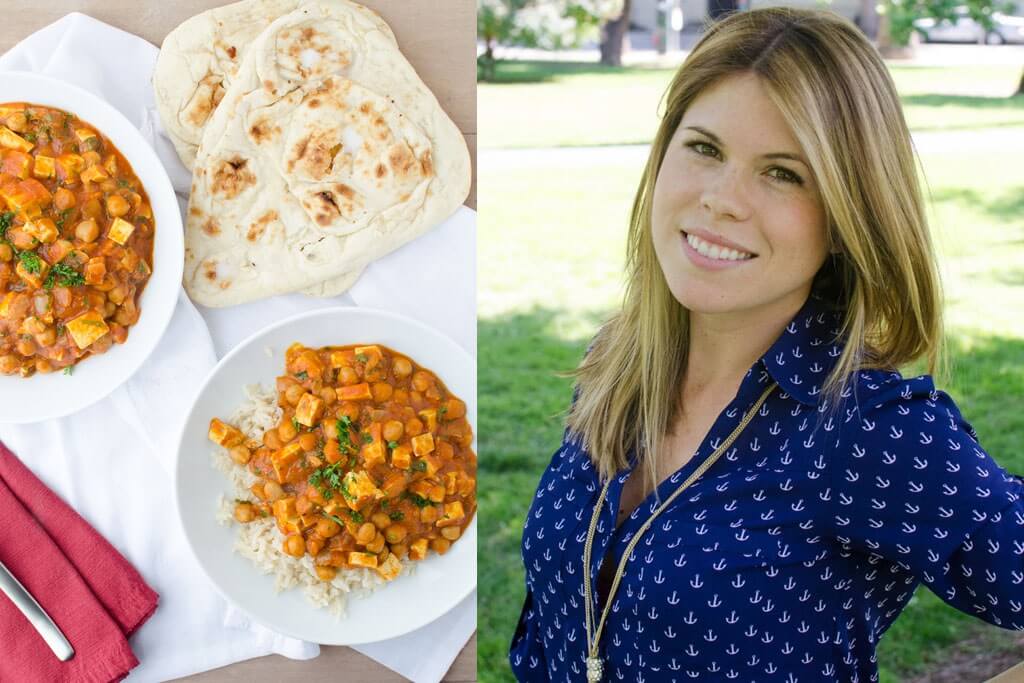 Brown Your Ingredients – Delish Knowledge
As tempting as it may be to just toss everything in the slow cooker and let it simmer, blogger Alex Caspero actually advises to take one more step before that.
"If you have the time, brown the vegetables (and meat) in a skillet before adding them to the slow cooker. This deepens the flavour of the vegetables so you get a richer-tasting result that can't be achieved by slow-cooking alone."
For a decadent yet healthy slow-cooked meal, try this recipe for Slow Cooker Butter Chickpeas and Tofu: First, a fragrant sauce is prepared in a saucepan. Then, tofu and chickpeas are placed in a slow cooker, and the sauce is poured on top. The slow cooker does its magic for 4 to 5 hours after that. "This recipe is a healthier version of the popular Indian dish Butter Chicken. It's such a simple dish, the perfect make-ahead healthy weeknight dinner."
As a Registered Dietician, Alex Caspero believes that the best way to adopt lasting nutritious eating habits is to avoid focusing on food restriction and introducing instead healthy, delicious foods in a creative manner. That's why she started Delish Knowledge in 2011 as a place to share her favourite recipes featuring healthy, whole-food ingredients. She is also the author of Fresh Italian Cooking for the New Generation.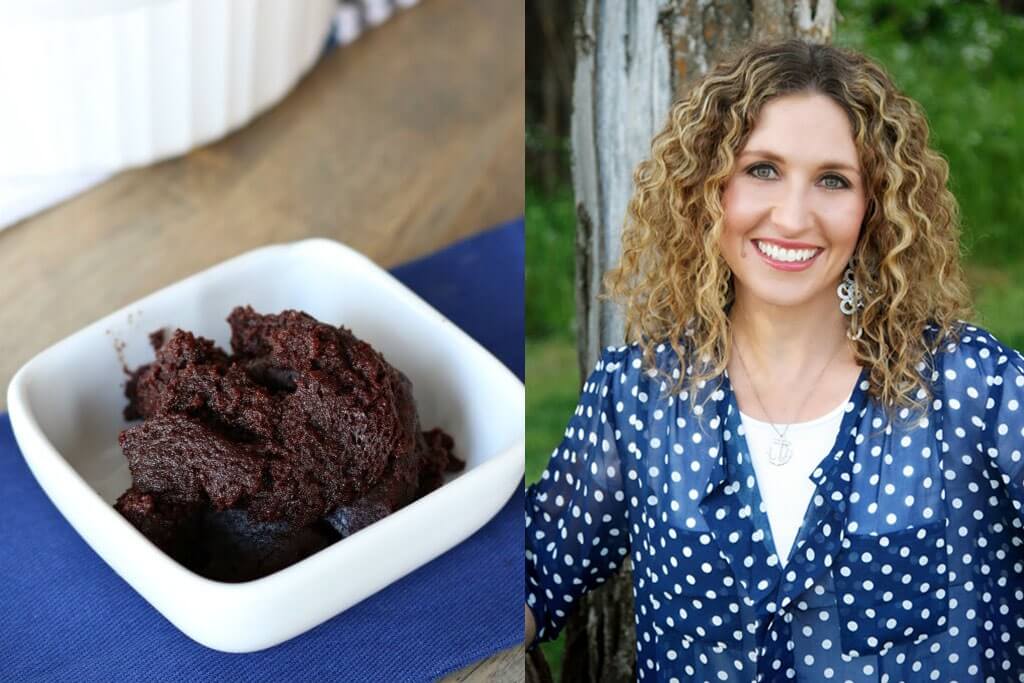 Discover Slow Baking – 365 Days Of Crockpot
Did you know you can use your slow cooker to 'bake' sweet treats? Karen Bellessa Petersen has a host of slow cooker recipes (more than a 1,000!) on her blog 365 Days Of Crockpot, with everything from main dishes to sides, breads and desserts. As a chocolate lover, many of Karen's recipes include chocolate, such as her irresistible Nutella Brownie Pudding (get the recipe here). It's smooth and dense, but stays dry on top thanks to a neat trick.
"I always use a layer of paper towels on top of the slow cooker, which prevent condensation from dripping down onto the food. I use 2 layers of paper towels – simply place them over the top of the slow cooker, and then secure them in place with the lid."
In January 2009, Karen Bellessa Petersen set out on a journey to cook 365 different slow cooker recipes in 365 days – and it worked! She continued blogging, and has published 2 cookbooks featuring her best recipes. Check out more of Karen's recipes and slow-cooker cook books on 365daysofcrockpot.com.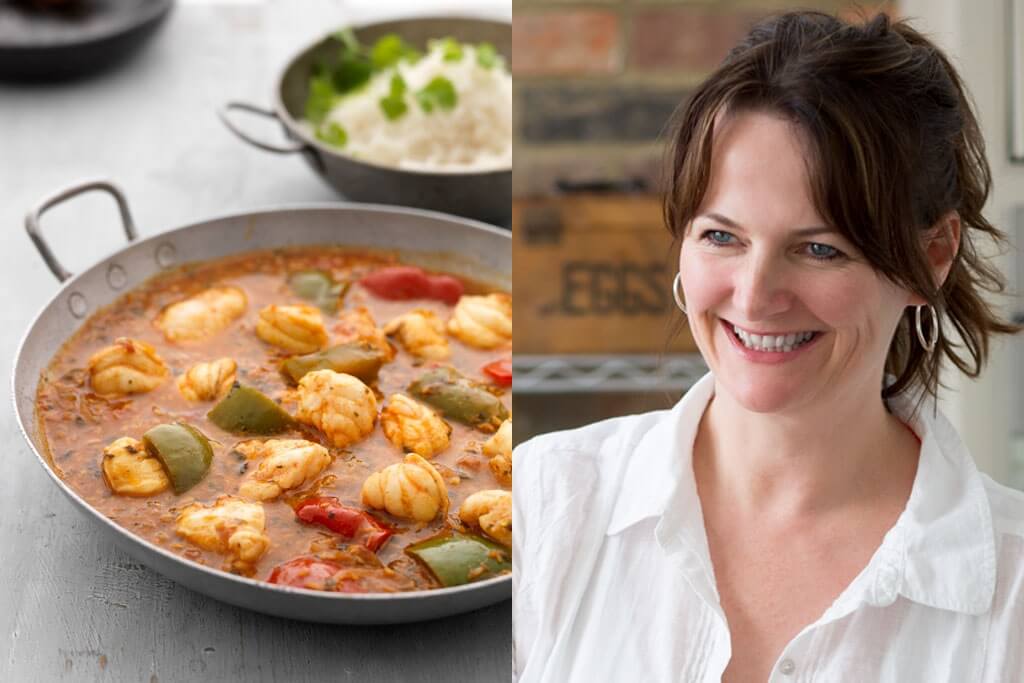 Slow Cook Without The Calories – Justine Pattison
Cookery writer Justine Pattison is the author of Slow Cooker Without The Calories, book number 7 in her best-selling 'Without The Calories' series. A relative newbie when it comes to using a slow cooker, Justine set up 12 different models in her test kitchen and spent 6 months getting to grips with the process, before creating 80 healthy eating recipes.
"For me, using a slow cooker isn't just about making casseroles and pot roasts – I regularly slow cook a range of basic curry sauces that I can then cool and freeze. That way, I have a stock of different sauces ready to reheat at a moment's notice, simply adding a few fresh vegetables with chicken, meat, fish or prawns."
One of Justine's favourites is a deliciously light, Goan-style fish curry that uses desiccated coconut instead of coconut milk. The long slow-cooking process softens and brings out the coconut flavour, while ensuring all the spices mellow beautifully. She adds the fish only when the sauce is ready so it doesn't overcook. Get the recipe here: justinepattison.co.uk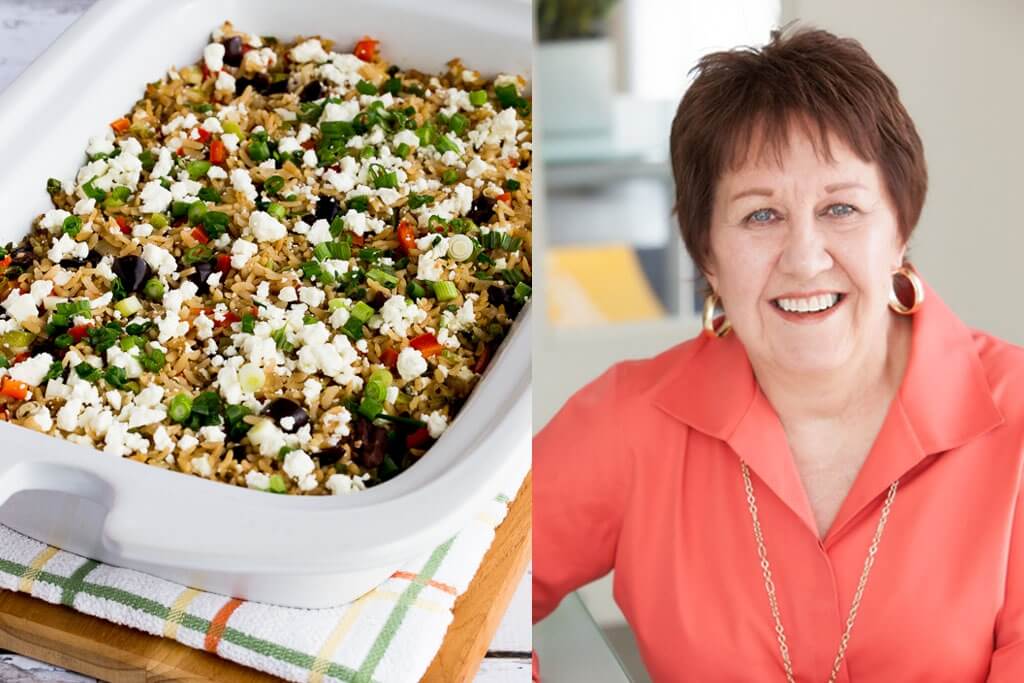 Prepare The Perfect Rice – Kalyn's Kitchen
Rice is another thing you might not immediately think to prepare in the slow cooker, but it will turn out perfectly every time – without you having to babysit it much – according to slow cooker expert Kalyn Denny. On her blog, Kalyn's Kitchen, you'll find many slow cooker recipes, all healthy and low-carb. Her favourite is Greek Rice with Red Bell Pepper, Feta and Kalamata Olives (get it here). "I made this in a large 'casserole crock' slow cooker, but you can make a small amount in an oval or round slow cooker as well."
Kalyn Denny had no idea how her life would change when she started a blog called Kalyn's Kitchen in 2005 as a place to store the recipes her friends were asking for. She is now a full-time blogger, and also runs the site Slow Cooker from Scratch, featuring home-made slow cooker recipes from other bloggers.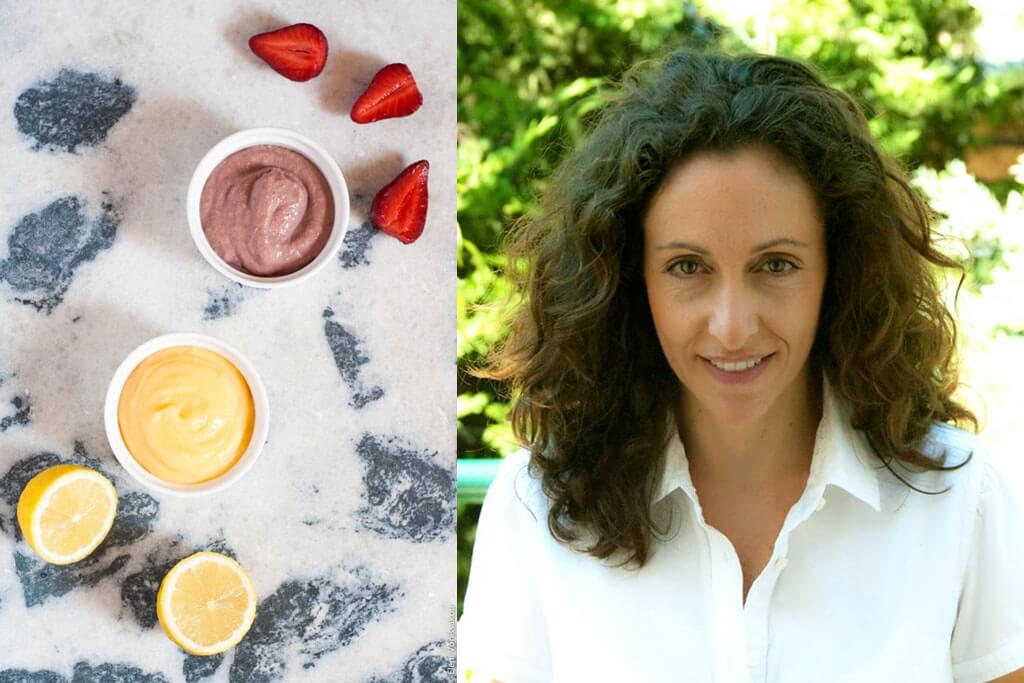 Go Greek – The Foodie Corner
Eleni Vonissakou of The Foodie Corner has many tricks up her sleeve when it comes to slow cooking. "A recent Greek recipe I tried in the slow cooker is Briam, a dish similar to ratatouille. I gave it a twist, as I normally do with most of my recipes, and put some harissa in it for a spicy kick. The result was delicious (see the recipe). Another Greek recipe I make in the slow cooker is Giouvarlakia, meatballs with rice in egg-lemon sauce or soup."
"And how about slow cooker ice cream! This is a trick title obviously, but you basically make a super easy custard in the slow cooker (no worrying about the eggs scrambling due to low temperatures) and then churn it in the ice cream machine. Another unusual but easy thing to make is curd (lemon, strawberry etc).
"But what I really love about the slow cooker is its ability to easily 'bake' whole potatoes or beetroot. You just wash the potatoes or beetroot (no peeling!), rub a little olive oil into each one, then pop them in the slow cooker. It's fine if they are stacked. No liquid or other ingredients are needed! Cook until a knife slides through easily, and enjoy the 'baked' potatoes with your favourite toppings. With the 'roasted' beetroot, make a delicious salad by peeling, cubing and mixing with feta cheese, croutons, a little thyme and a vinaigrette heavy on the vinegar! One of my favourites!"
Eleni Vonissakou is half-Greek, half-English and lives in Greece. Slow cookers are her favourite cooking gadgets, and she started creating recipes with them to introduce her Greek audience to this versatile appliance. Follow her on The Foodie Corner.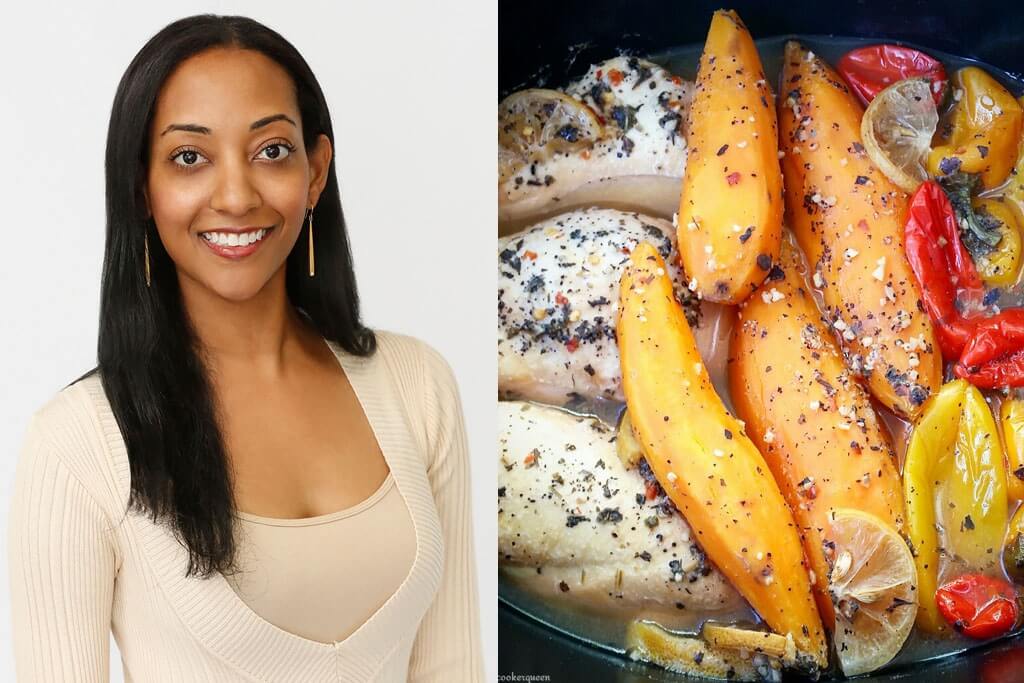 Get Saucy – Fit Slow Cooker Queen
"Homemade slow cooker sauces are they key to healthy slow-cooker meals," says Shannon Epstein, aka the Fit Slow Cooker Queen. On her blog, she provides healthy recipes that anyone can make using sustainable ingredients.
"By creating your own sauces, you gain more control over what you're actually ingesting. And I think you'll discover that homemade sauces will taste much better than store-bought ones! One example of what I'm talking about is this slow cooker lemon-garlic pot recipe. The lemon-garlic sauce is made up of just water, fresh lemon juice, garlic and a few common herbs. Basic and easy, yet packed with flavour. The best part about making your own slow cooker sauce is that you most likely already have all the ingredients you'll need in your pantry."
See the recipe: Slow Cooker Lemon-Garlic Pot
Shannon's cooking can be summed up by her favourite quote: "You can pay the doctor or you can pay the farmer. I prefer to pay the farmer." Her recipes vary from whole-30-compliant to gluten-free, paleo and low-carb, and are most often made in the slow cooker. You can follow Shannon on Pinterest, Instagram, Facebook, and Twitter.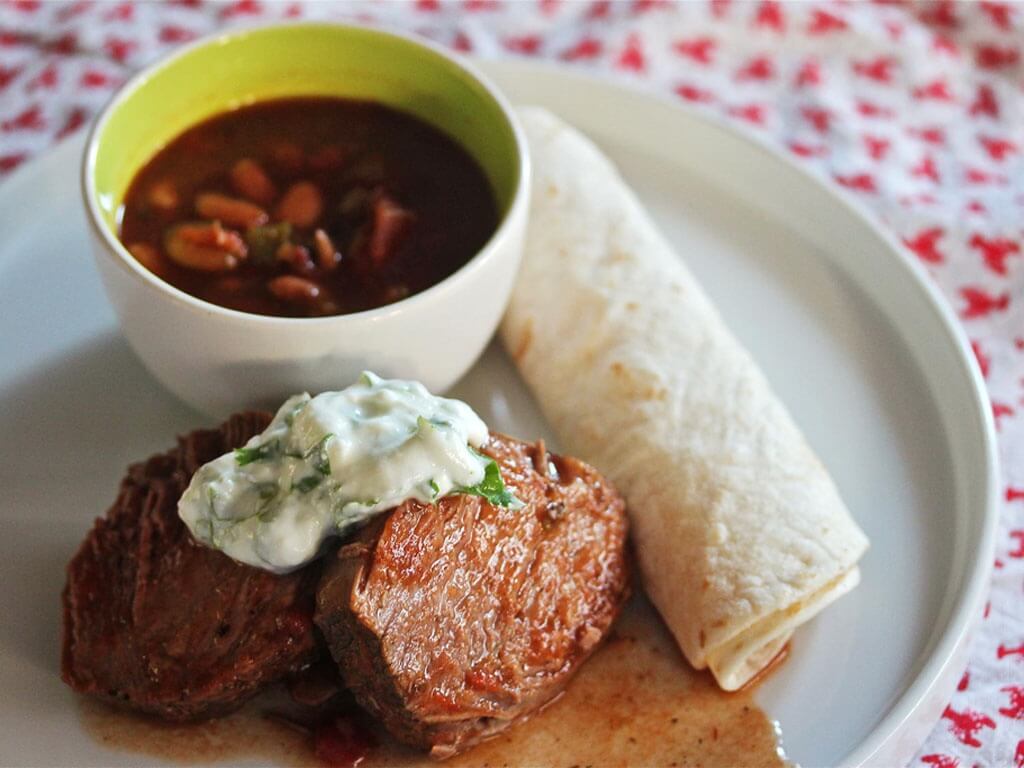 Fix And Forget – Jennifer Olvera
Never one to be told "eat your veggies" – or, frankly, meat – Jennifer wrote her first recipe on an index card when she could barely hold a pencil. Her forthcoming book, The Meat Lover's Slow Cooker Cookbook, is full of recipes that are truly "fix and forget" and cook in 8 hours or more. About her Mexican Pot Roast, she says: "It works well for the slow cooker because it renders the meat fall-apart tender, while braising – slow and low – in the cooking liquid."
"Chili powder and jalapeños bring the heat to this pot roast. Ancho chili powder is commonly used in authentic Mexican cooking, but if you don't have any, another chili powder will work just fine. For the beer, choose a lager to add a clean, crisp flavour. This dish tastes great with mashed potatoes or Mexican rice. In my mind, though, it's not complete without a pot of smoky, soupy pinto beans and a pile of warm flour tortillas."
Jennifer Olvera is a recipe developer who pens a long-standing column for Serious Eats as well as features for the Los Angeles Times, Chicago Tribune, Chicago Sun-Times and Frommers.com. The Meat Lover's Slow Cooker Cookbook: Hearty, Easy Meals Cooked Low and Slow will be her fourth book, among which is the definitive Food Lovers' Guide to Chicago. #staysafe #stayathome #selfisolation
Article by Irene de Vette
Slow cooking offers a host of advantages – especially in winter – yet many people have never tried it. Have you caught the slow cooking bug?