';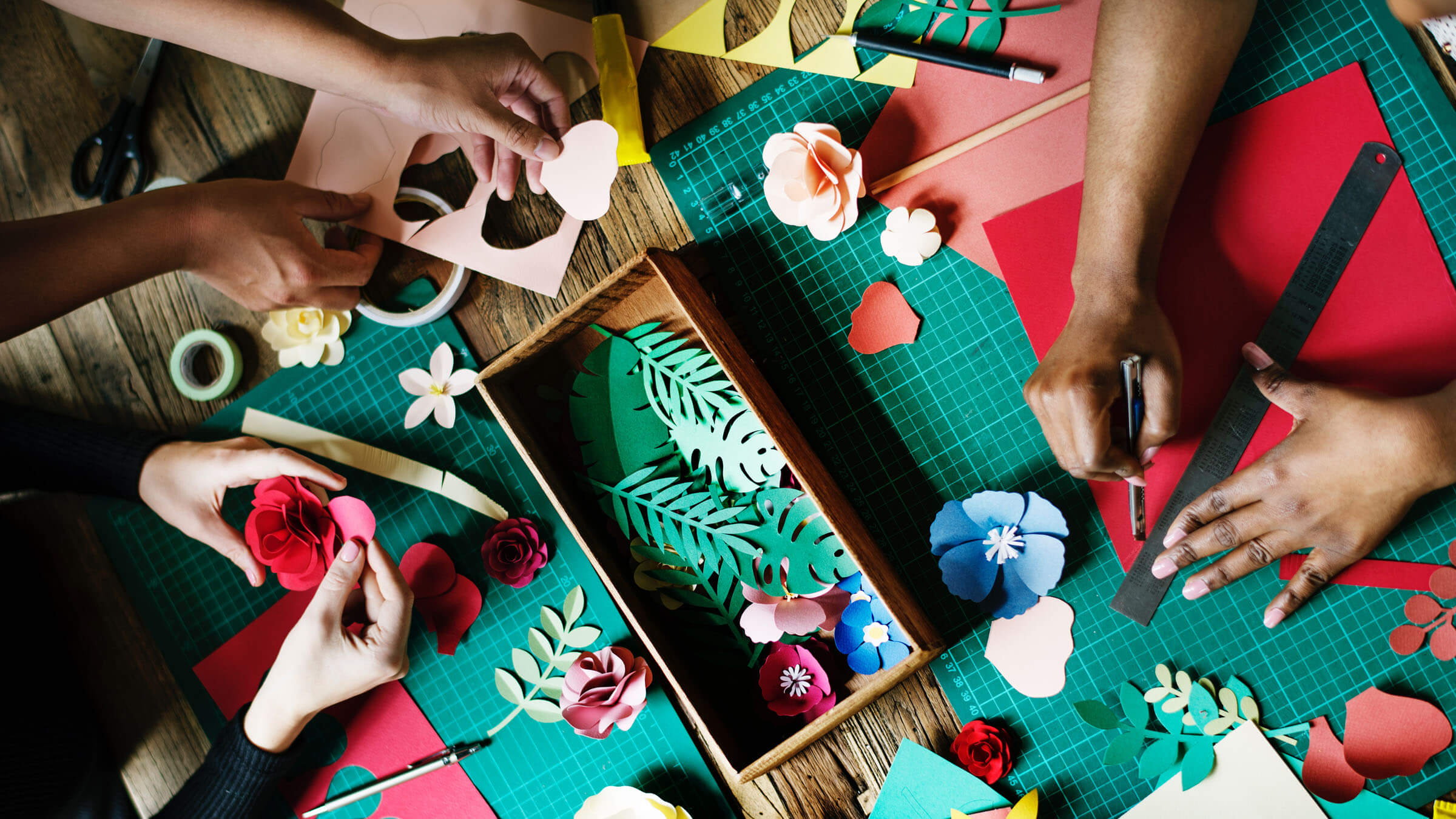 ;
Next time you hear the "I'm bored" chorus, introduce your kids to these wonderfully creative, super exciting and intensely satisfying crafts. They'll spark their imaginations, foster creativity, banish boredom and, above all, wean them off their blue-lit e-pacifiers.
Sticking And Stamping
Coming up with inspiring craft ideas for preschoolers can be a little challenging, given that they're still in the process of building their motor skills. But you can start off with super simple sticking crafts like this flower crown, requiring basic supplies you already have, like coloured construction paper, scissors, glue sticks, tape and pencil. As far as possible, encourage children to draw or trace the shapes themselves, but help them out with cutting and finishing. Other especially good projects for honing fine motor skills are these super cute and absolutely adorable critters: caterpillars, hedgehogs and cats. For littles ones who want to do it all on their own, get them to make art with fruit and veggie cut-outs – perfectly safe and so easy.
Origami And Kirigami
Forget that messy scene at summer camp when the kids got themselves dirty with glitter and glue and spilled paint – not all crafts call for a big clean-up operation. Just a few folding instructions and fuss-free supplies make the Japanese crafts of origami and kirigami (involving cutting in addition to folding) a joy for parents and children alike; they also improve kids' dexterity and focus, aside from the pleasure of creating beautiful objects for everyone to appreciate. Other fun projects to try include attractive butterflies (beginners) and umbrella window hangings (you'll need a dowel for this).
Flower Making
Flower making is not a new thing – the wire and nylon stocking-made versions were very popular in the '70s – but thanks to the internet, more and more crafters today are experimenting with newer techniques and materials, inspiring everyone – including kids – to try their hand at making stunning, life-like creations that are easy to assemble. Tissue paper, crêpe paper, a few simple cuts, fan-like folds, some simple lifting, pinching and twisting, and voilà! Red roses, calla lilies, pink carnations – there's an entire bouquet waiting to make someone's day.
Clothespin Crafts 
How creative are these airplanes (featured below), cars, dolls and this table football game made using wooden clothespins, wooden buttons and beads, toothpicks and popsicle sticks! Not only are they a breeze to make, they're also fantastic boredom busters when kids are confined indoors. Give 'em an artsy touch with paint and patterns, and they're ready to provide hours of entertainment and fun.
Cross-Stitch 
The rule is quite simple: if your little one can sew on a button and has basic counting skills, s/he is ready to cross-stitch – at least, so say the craft wizards at Martha Stewart, making this a perfect craft for grade schoolers and above. To get newbies started, it's always a good idea to use beginner cross-stitch patterns and a lower-count starched/plastic canvas (at least 8 counts per linear inch) or Dimensions Crafts pendants (as seen in the tutorial below), depending on your project. Older children can be further challenged into transferring their own drawings or readymade pictures onto graph paper by tracing, plotting and crossing out squares as demonstrated here. For a professional touch,  make note of these handy hints.
Perler Beads
Creating stylish and functional design objects used to be a professional job; now it's a matter of child's play – well, almost. You'll need Perler beads – tiny, tube-shaped plastic beads that can be arranged on a pegboard using easily available pixelated patterns. Then simply apply heat over parchment paper (younger kids will need adult help to use a hot iron), allow some cooling time, peel off and use. The possibilities of perler beads are fascinating: you can make so many cool things, from fridge magnets to charms and ornaments.
Make A Marionette
Whether they're finger/hand puppets, stick varieties or marionettes, children will not only enjoy the craft activity, but also benefit tremendously from the imaginative play that follows – making up stories, characters and rhymes to bring their creations to life. Kids will love taking these animal marionettes (featured below) and this cute paper cup leprechaun for a walk and jump about, and who knows – they may even feel inspired to put on a puppet show of their own. The best part is that the project can be executed using all sorts of scraps available at home. For older children, Say Yes has a detailed photo tutorial for making a vintage-inspired pop-up puppet. Note, too, that a fair degree of adult supervision is recommended to bring these puppet projects to fruition.
Finger Knitting
Sure, traditional wool crafts such as knitting and crochet demand a fair amount of focus, coordination and dexterity, but finger knitting is a simple, quick and relaxing craft that only requires yarn and fingers (size doesn't matter), and one that kids as young as four can execute. Even teens and tweens will love knitting these necklaces, ear warmers and hula hoop rugs that can also be saved as gifts for friends and family. You can add colour to your projects by using multiple strands in different colours (treating them as one) as this tutorial illustrates, or use variegated yarn in place of regular.
Quilling
Here's an ancient but time-intensive craft that will keep children engaged for hours. Quilling (a.k.a. paper filigree) involves rotating a slotted quilling tool to wind a narrow strip of paper around its tip, pressing the coils into different shapes and sticking them on paper to form a variety of designs (learn how to glue the quilled patterns without a mess here). Begin by showing kids how to roll a variety of shapes (teardrops, squares, crescents) and give their imaginations free rein after that. You'll be amazed at what they come up with. To start off, you can even DIY a slotted quilling tool (or use a toothpick) and paper strips if you don't have ready supplies on hand.
STEAM Projects
If you have little tinkerers, curious scientists, budding engineers and math whizzes at home, they'll jump at the opportunity to engage in STEAM crafts (Science, Technology, Engineering, Art and Math all rolled into one). A lot of the projects are quite easy and can be executed with materials readily available at home, and the best part is that they'll spur creativity, out-of-the-box thinking and problem-solving, all while doubling up as an applied science lesson. For perfect projects to occupy fidgety fingers, try building catapults and making homemade fidget spinners.