';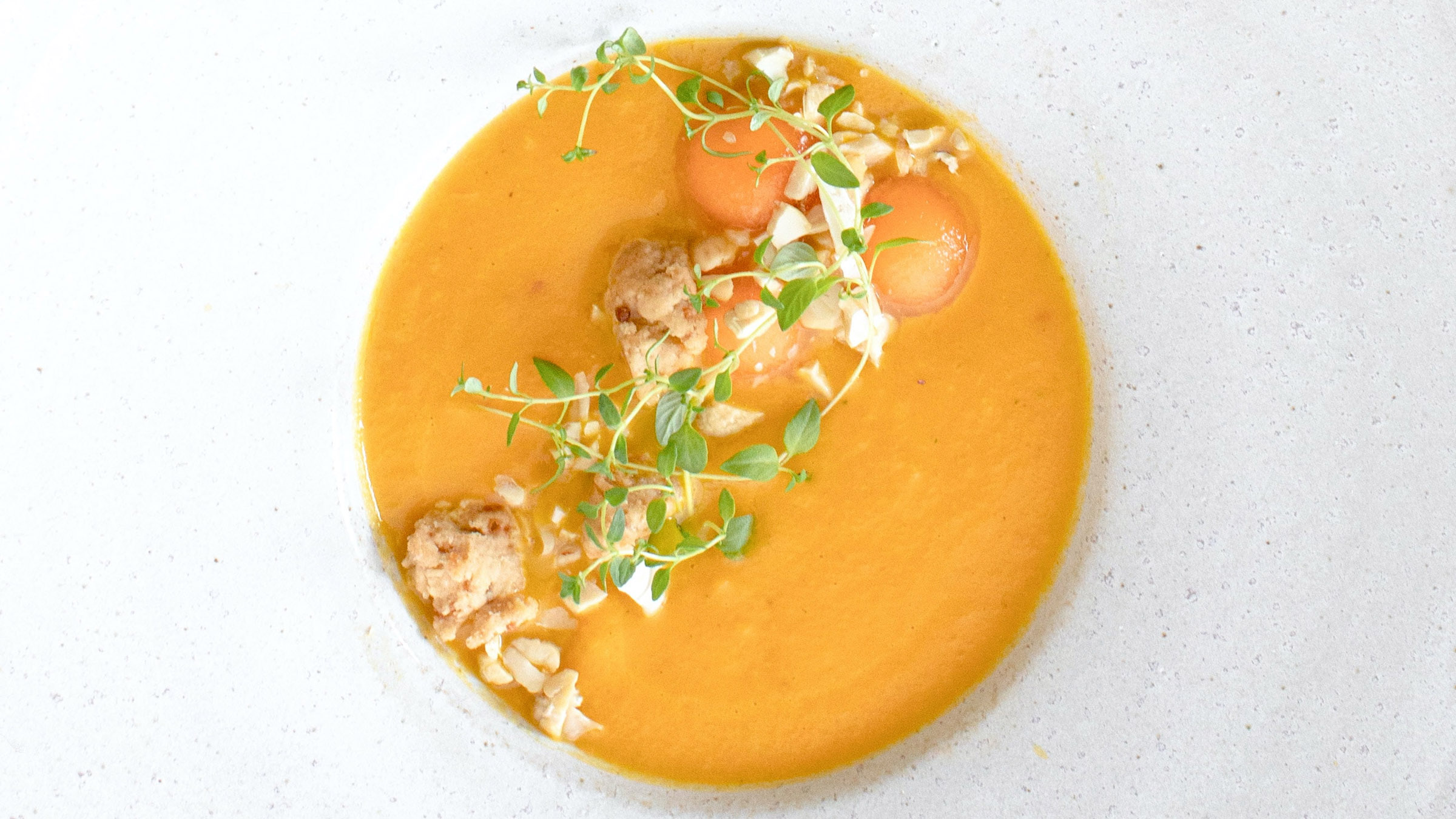 If you're already planning summer dinner parties, why not consider chilled summer soup as your staple starter? They're invariably healthy, nutritious, make good use of seasonal produce and can often be whipped up in just a matter of minutes. Add a few surprise twists and garnishes, and your instant creation will impress guests with the flavourful punch they pack. So what's not to like?
Spicy Cantaloupe Melon & Carrot Soup
We start our list of the most tempting chilled summer soups with this nutritious and mouth-watering dish from healthy eating advocate Karo at Bakd&Raw. With its sunny golden colour, the dish seems to embody the vibrancy of the summer sun. In terms of taste, the sweetness of the carrot combines well with the cantaloupe melon, while contrasting with the spiciness of chilli flakes and an earthy umami crumble. Discover the recipe at the Bakd&Raw website. You can get more of Karo's regular tips as well as further recipes on her inspirational Instagram channel.
Gazpacho
We follow up with an indisputable stone-cold classic: gazpacho. While we might have surprised you by not starting our list with this most famous of all chilled soups, there was no chance of us ever leaving out this pillar of Andalusian cuisine. There are a number of different versions of the dish, but most people think of gazpacho as the delicious combination of bread, tomato, onion, cucumber, olive oil, garlic, wine vinegar and salt. If you have serious gazpacho ambitions of your own, check out our special article and recipe here, and make sure to serve your portions Spanish-style in small glasses or cups.
Chilled Pea Soup Latte
Pea soup is already known as one of the quickest and simplest of soups to make at home, and cold pea soup is no exception. What elevates this version and gives it an appealing veneer of sophistication is the 'cheffy' touch to contrast the basic chilled soup with light white foam. Trust us, this easy soup might just be your new go-to dish to impress friends and family this summer!
Cold Beetroot Soup
If you want to surprise the kids in your life with a healthy meal, then why not consider making a cold beetroot soup in shocking 'Malibu Barbie' pink? While you'll find different versions of this chilled classic (conveniently adaptable for vegetarians and vegans) across various cultures, the most famous example is the Polish chlodnik, which is traditionally served with slices of boiled egg as a garnish. Monika Dabrowski of the Everyday Healthy Recipes blog is herself of Polish origin and offers useful insights into the dish and its variations here, with further nutritious eating tips on her Instagram.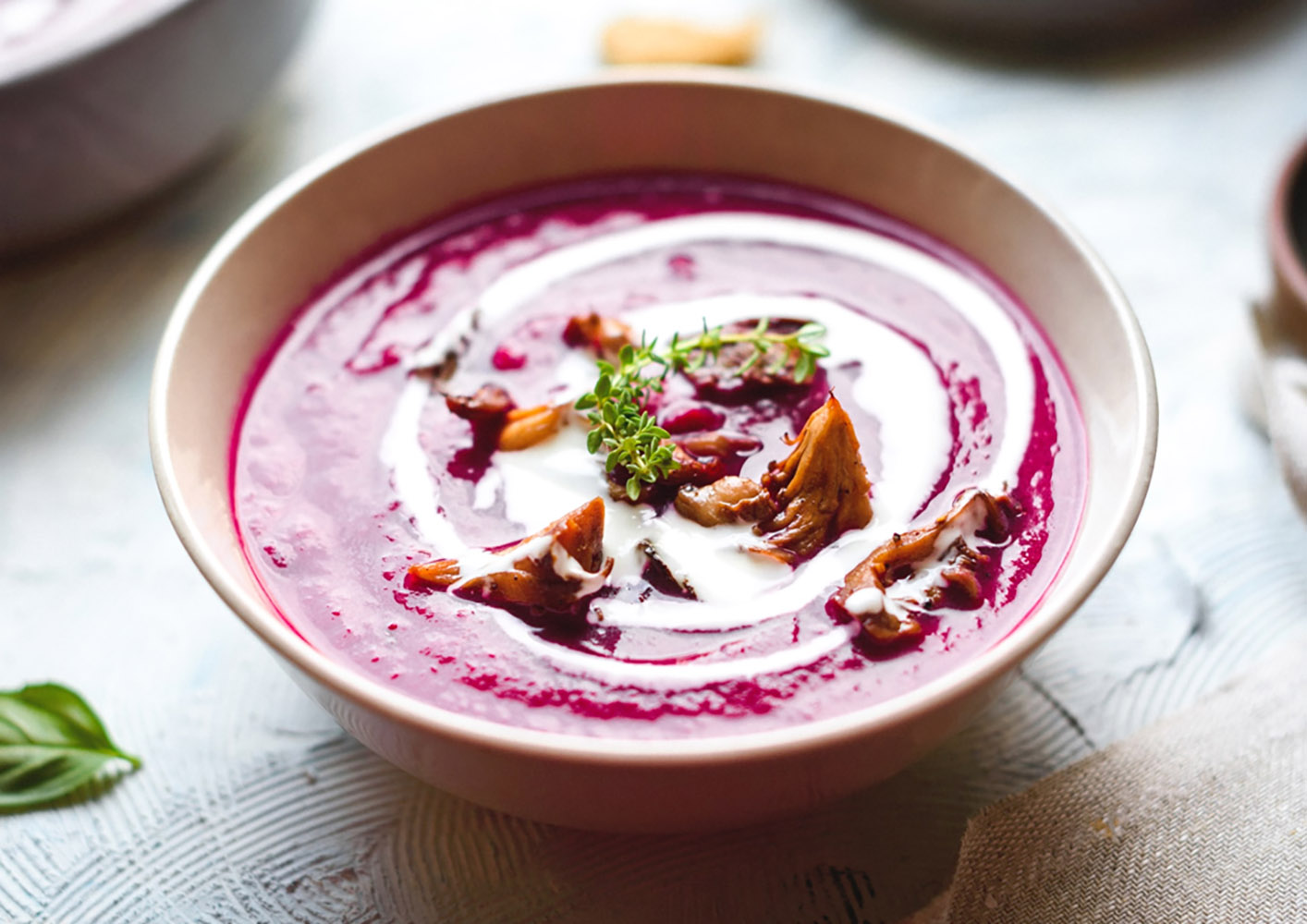 Chilled Cucumber & Greek Yoghurt Soup
We know that American Express Essentials readers are curious foodies of the highest order. So much so that if we said to you "cucumber, yoghurt, garlic, olive oil, salt and lemon juice", you would barely bat an eyelash before coolly replying: "tzatziki". Now, we're not saying you'd be wrong, but these very same ingredients also apply to this delicious cold soup. The taste, perhaps unsurprisingly, is very much like a thinner version of tzatziki, but it works brilliantly as a summer soup – especially with some crunchy toasted bread to dip into it. Our favoured version is from the brilliant Dimitra Khan of the eponymous Dimitra's Dishes YouTube channel. If you want to delve deeper into Greek summer recipes, you can also find Dimitra's three classic Greek summer salads right here on our site.
A CULINARY CONUNDRUM
One final thought before embarking on your summer soup explorations: when is a cold soup a soup, and when is it a smoothie? We asked ourselves this very same question while preparing this article, and the question really isn't as simple as it seems.
Could the question depend on how the ingredients are prepared or cooked at some stage of the process? Does it come back to the temperature at which they're served? Is it a matter of how they are presented, for example in a bowl or a glass? Or could the answer lie with the ingredients themselves and whether the dish consists mostly of fruit or mostly of vegetables?
We considered all these issues and more – even polling the opinions of chefs and restaurateurs. The outcome? Aside from a few choice curses, the answer would seem to be that there is no answer. No one could offer a single, cohesive universal rule or law to decide when a smoothie becomes a cold soup or vice versa. In fact, the more we considered the question the more confused we all became.
We'd love to hear your opinion on this smoothie/soup debate as well as your preferred cold summer soups (or was that smoothies). Tell us your thoughts via Facebook, Twitter or Instagram.