';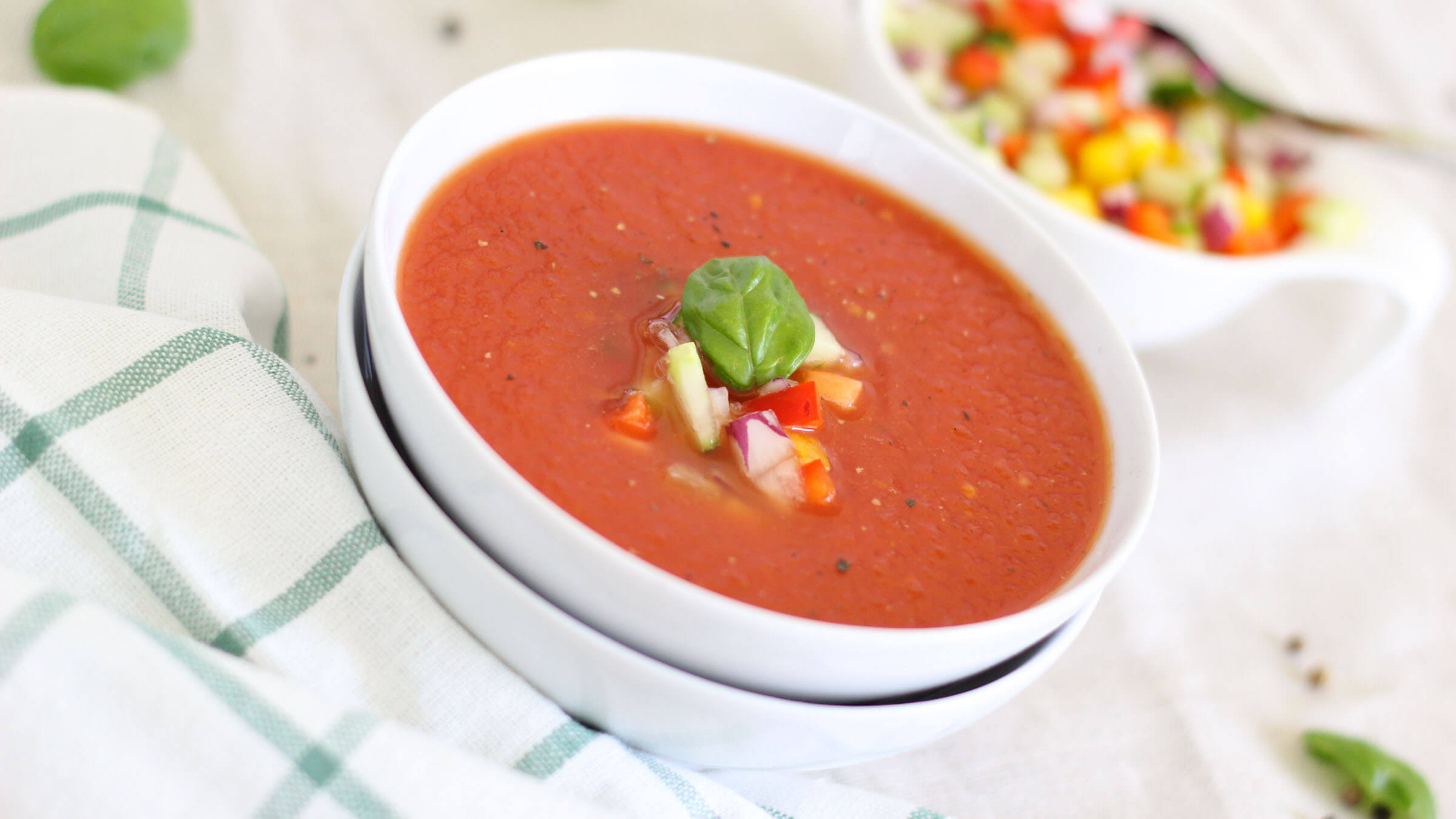 ;
Gazpacho tastes like southern Spain. Vine-ripened tomatoes blend beautifully with other fresh vegetables, high-quality extra virgin olive oil and just a splash of vinegar. The result: an ice-cold, refreshing soup that especially hits the spot during the scorching summer months in Andalusia. While some visitors to Spain may be put off by the thought of eating cold soup, the bright, summery flavours of a properly made gazpacho are sure to pleasantly surprise any sceptic.
Interestingly, the first versions of what later became gazpacho were neither red nor chilled. What is now one of the most ubiquitous Spanish dishes traces its roots back to ancient Roman times, when it was a humble dish made by peasants in Andalusia as a way to turn cheap, easy-to-find ingredients into a filling meal. Early recipes for gazpacho include nothing more than bread, olive oil, garlic and water, ground with a mortar and pestle into a soup-like concoction (we still enjoy a similar dish in Spain today, known as ajo blanco). Later, the addition of vegetables became more common, but the general rule was to use simply whatever was ripe at the time.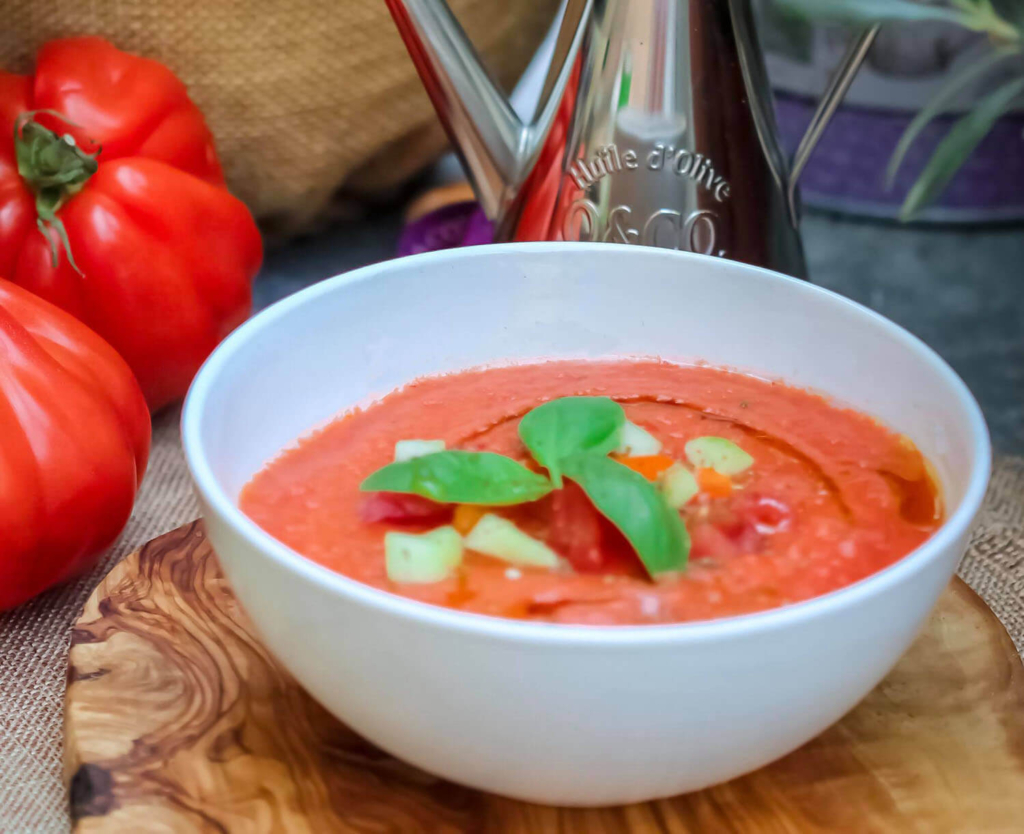 The classic tomato gazpacho we know and love wasn't created until tomatoes arrived in Europe from the Americas centuries later. Now, gazpacho is a testament to the art of Spanish cooking: using simple yet high-quality ingredients to create something truly flavourful and amazing.
At first glance, it may not seem all that complex. There are no ingredients that you wouldn't be able to find at your local supermarket (or fruit stand), and you don't even need to turn on the stove. However, not all gazpachos are created equal. Here's what you need to know to make the perfect cold soup.
The Tomatoes
As the star ingredient, the tomatoes you choose can truly make or break your gazpacho. Go for juicy, vine-ripened tomatoes if at all possible, and avoid green tomatoes at all costs. For an even fresher flavour, the tomatoes should be mature—slightly squishy and not totally firm. You can peel the tomatoes if you prefer, but it's not necessary. You can also strain the gazpacho once finished for an even smoother soup.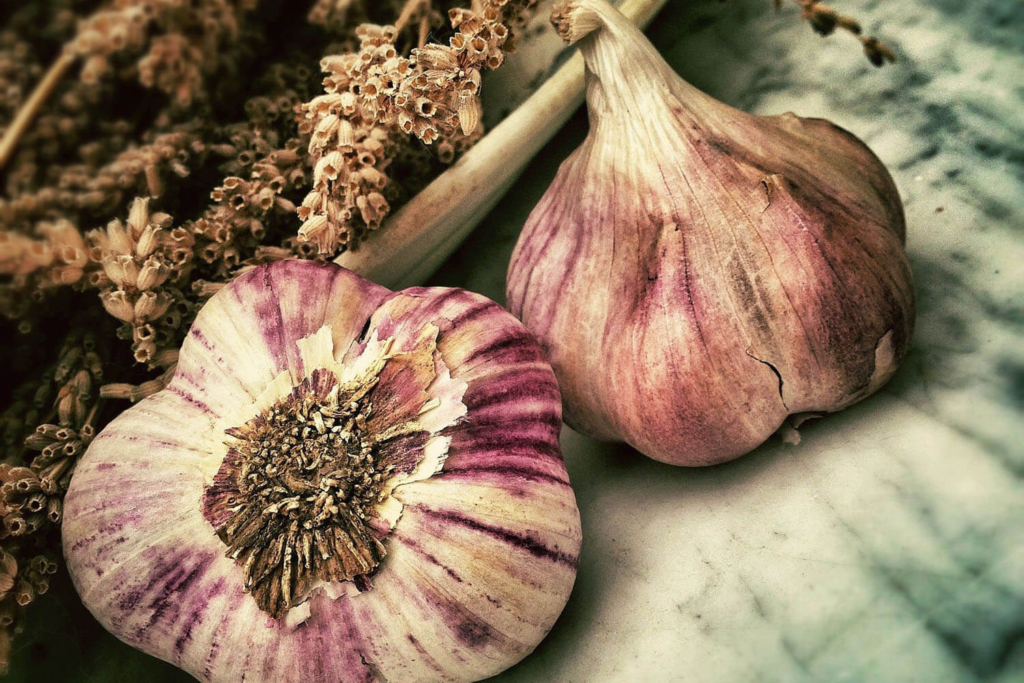 Other Vegetables
The rest of the fresh vegetables you add to your gazpacho will perfectly complement the tomato flavours. Use a long green pepper – not a bell pepper – and don't overdo it on the garlic (we're not making ajo blanco!). Try half of a sweet cucumber (some omit this controversial addition) and half of a white onion. Save the other half of your cucumber and onion, dicing them to sprinkle over the top of the final soup for a fresh crunch.
Olive Oil
Spain is not only the world's largest producer of olive oil, but it's also home to the majority of the world's award-winning extra virgin olive oils. After tomatoes, the other key ingredient that can take your gazpacho to the next level is high-quality extra virgin olive oil. Extra-virgin olive oil is strictly regulated; it cannot have any defects in colour, smell or taste, and it must have an acidity no higher than 0.8%. Don't skimp here: the better quality your oil, the better your gazpacho will be.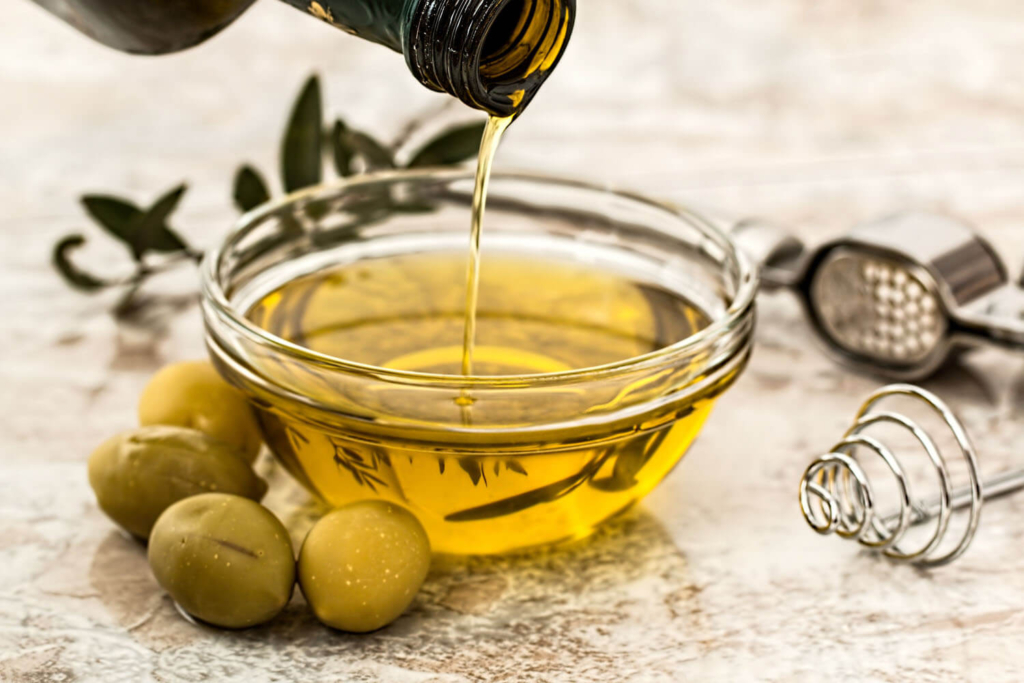 Sherry Vinegar
Rounding out the line-up of classic Andalusian ingredients, sherry vinegar will add an extra kick to the flavour that will take your gazpacho from good to great. You don't need much – just a splash will suffice, so don't overdo it. If you can't find sherry vinegar, red or white wine vinegar will do in a pinch.
The Method
Wash and thoroughly dry all your vegetables before you get started. You don't want any excess moisture lingering on them, which will water down your soup. Don't worry about finely dicing the vegetables – simply cut them into a few pieces, and let your blender do the work. Blend the vegetables on high speed until you get a completely homogeneous mixture, then add the salt, vinegar and finally the olive oil (while blending on low speed). Adjust the salt and vinegar to your liking. If the gazpacho is too thick, add water a little bit at a time until it reaches your desired consistency.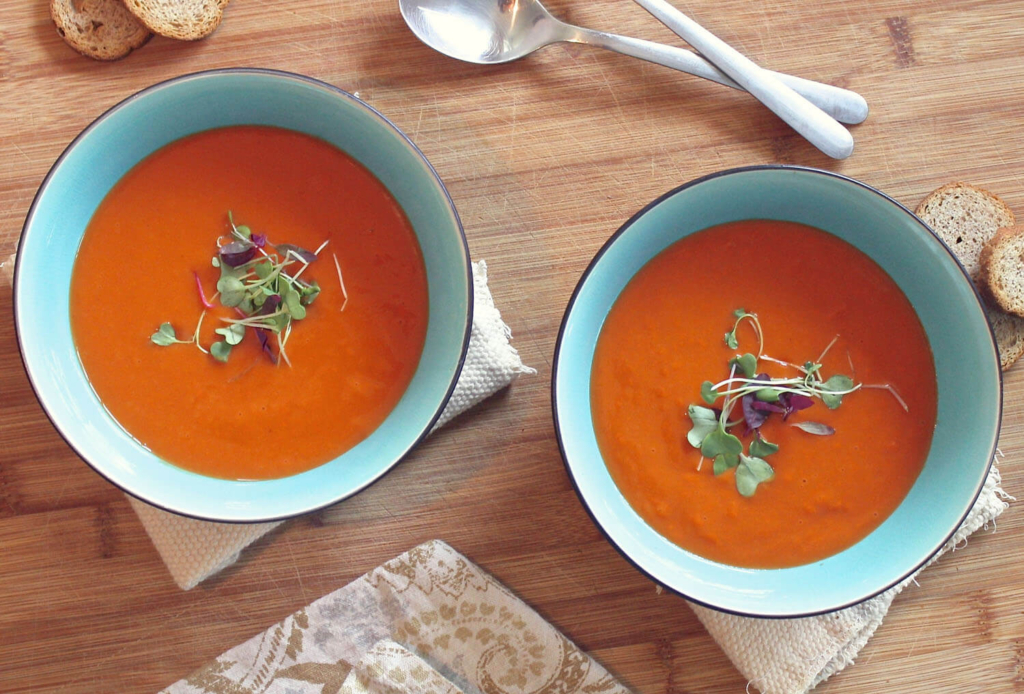 When all is said and done, put the final product in the fridge until it's ready to serve. The colder, the better! However, don't add ice cubes to speed up the chilling process, as they can dilute the flavour. Upon serving, add whatever toppings you'd like. Enjoy your gazpacho from a bowl like traditional soups, or sip it from a glass if it's not loaded down with toppings.
Variations
The beauty of gazpacho is that it's so easily customisable. You can add as many (or as few) toppings as you like, and there are no hard-and-fast rules as to what, exactly, the toppings can be. Some popular toppings include diced cucumber, diced green apple, diced onion, diced pepper, croutons and hard-boiled eggs. My personal favourite: Granny Smith apples. Don't knock it till you try it – the tartness of the apple beautifully complements the fresh, rich flavours in the gazpacho.
For a heartier meal with all the flavours of gazpacho, many Andalusians turn to salmorejo, a thicker, creamier chilled tomato soup from Córdoba, home to some of the most brutally hot summer temperatures in continental Europe. Salmorejo takes out most of the vegetables (besides tomato) and adds in plenty of bread to thicken it up. Another option is making the ancient variation called ajo blanco, popular still today on the sunny shores of Málaga. In this version, tomatoes are forgone entirely in favour of plenty of garlic and almonds.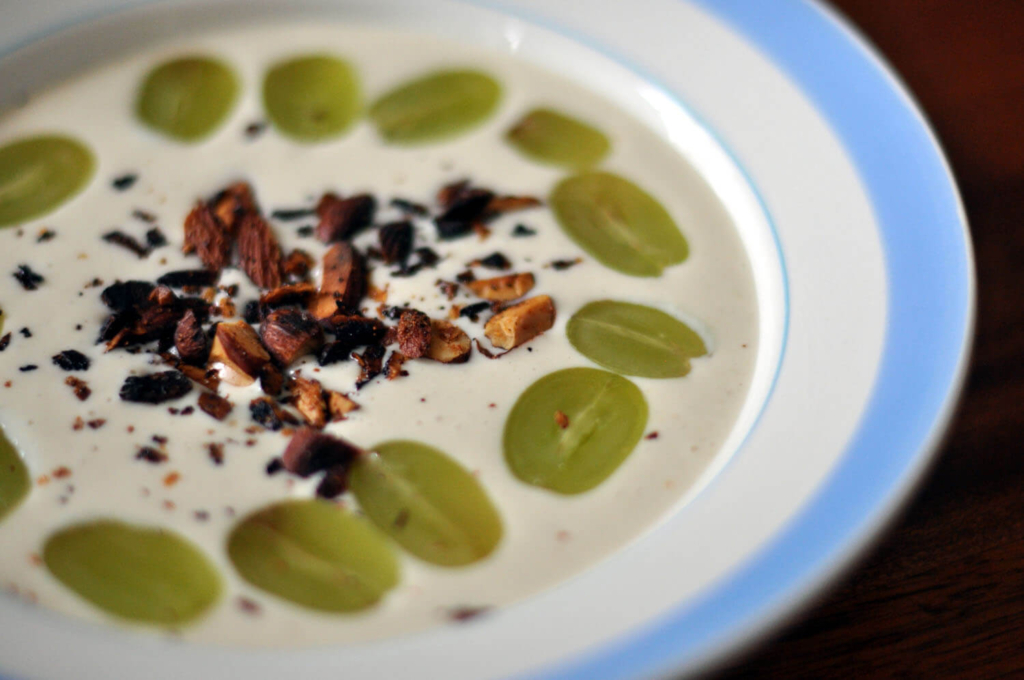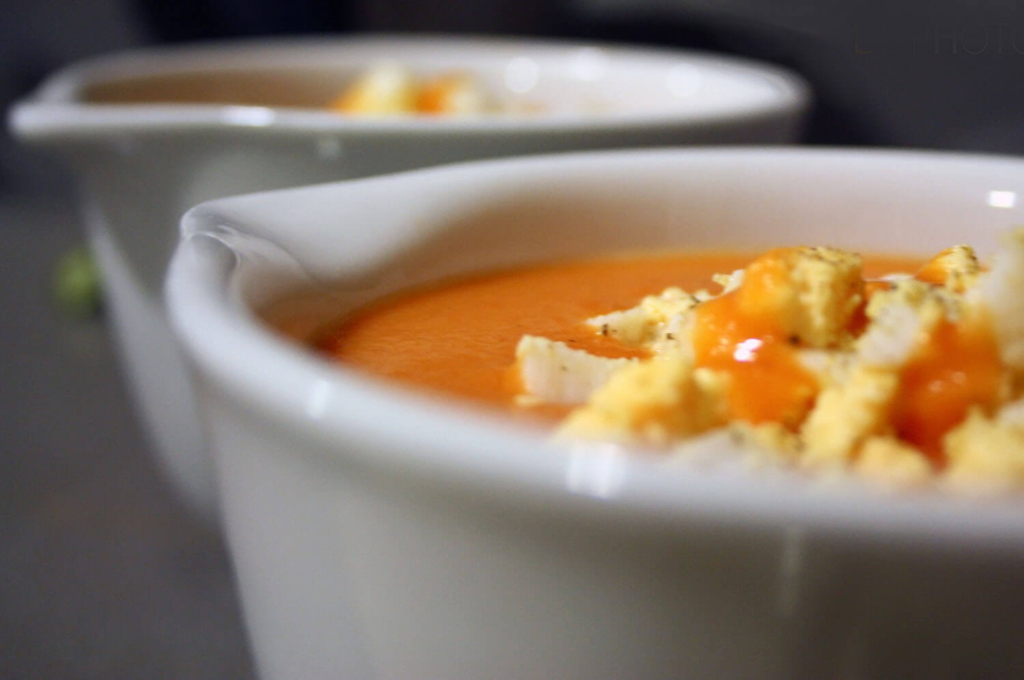 Recent waves of culinary innovation in Spain have brought more versions of gazpacho than you could ever imagine. Many skip the tomatoes and use other fresh fruits and vegetables instead. Adventurous foodies might enjoy trying watermelon gazpacho, avocado gazpacho, cucumber gazpacho and more! As tastes evolve, there's no telling what different varieties may appear, but at its heart, gazpacho is a delicious homage to the traditional flavours of Spain.
Try Lauren's traditional gazpacho recipe here.
About Lauren Aloise
Originally from the US, Lauren Aloise fell in love with Spanish cuisine while living in southern Spain. Fascinated by the incredible diversity found in Spanish cooking, she started the award-winning food tour company Devour Tours, connecting curious travellers with local cuisines and traditions. She currently attends culinary school in Barcelona, and runs a food and travel blog called Spanish Sabores. Lauren is based in Madrid, but travels the country as much as possible in search of the stories behind the recipes.