';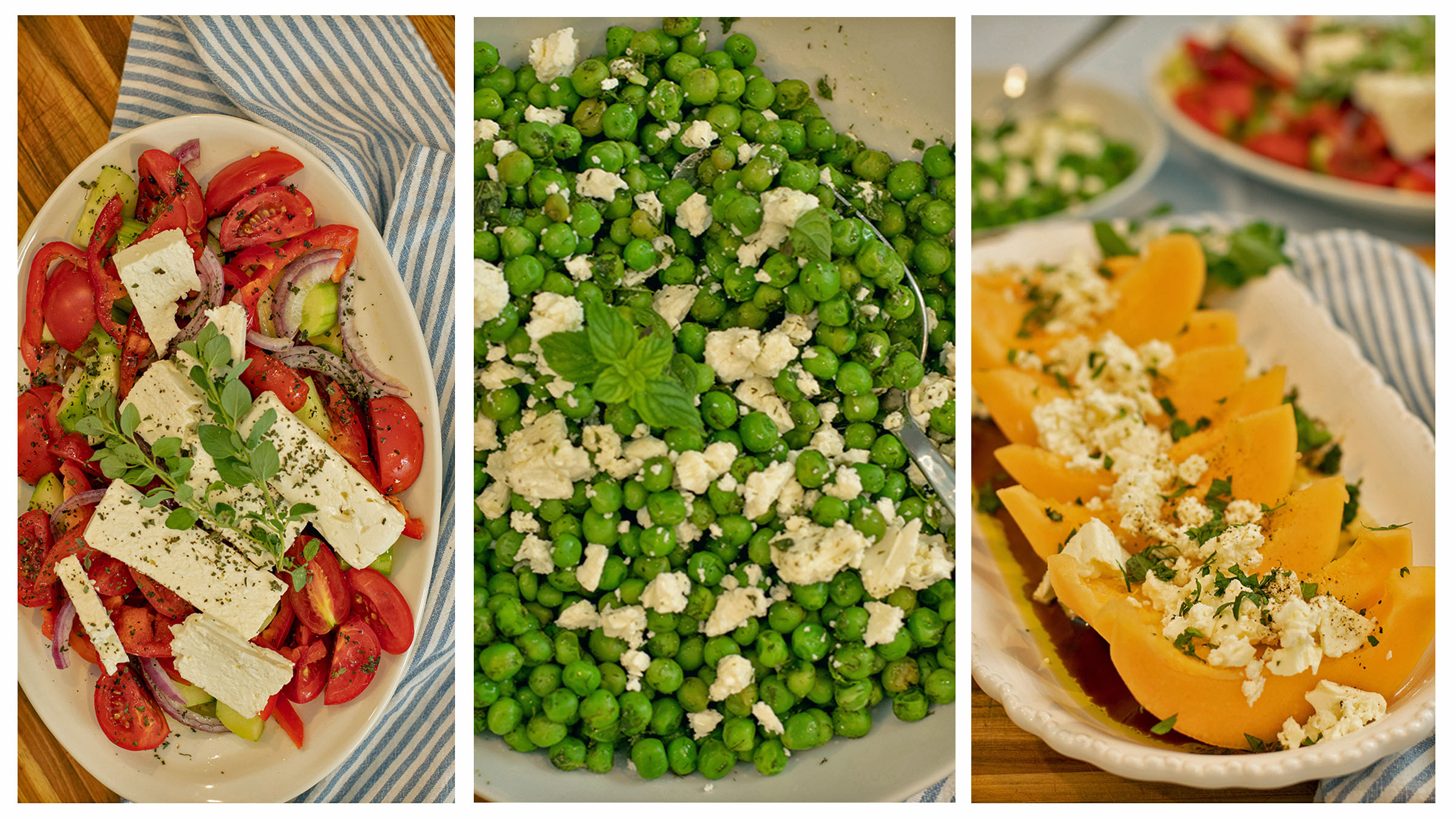 While cooking a flavourful, nourishing meal for friends and family is the best thing on earth, spending time in a steaming hot kitchen isn't. This summer, keep your cool with these 3 Greek summer salads that can be made in a flash. In her video for our Tastemakers series, Dimitra Khan of the eponymous YouTube channel Dimitra's Dishes shows us how to make them.
AMEX ESSENTIALS: Could you introduce yourself, for those who don't know you?
Dimitra Khan: Hi! I'm Dimitra, and I believe that sharing delicious meals with friends and family is an expression of love. My Greek heritage has filled my heart with the love of cooking, and I want to spread that love by sharing my delicious and easy-to-make recipes with the world.
Why and how did you start your YouTube channel?
My husband and I (along with our 5 children) ran our Greek restaurant/bakery for 10 years. After many years of requests from our customers, I began teaching cooking classes. The YouTube videos were created to go along with those classes – as a reference for my students, and also because my son, Yousuf, begged me to start a channel. So, I bought my very first DSLR camera and Dimitra's Dishes was born. We filmed a few videos a month for the first few years, because the restaurant business doesn't leave you with much free time. Then, after selling the business two years ago, I went full-time with my cooking blog and channel, and I now share three new recipes each week.
What's your cooking mantra?
"Cook, Share, & Create Memories." Cooking has always brought me joy. Since I was a young girl, I remember watching cooking shows and creating menus for special events that I would have in the future. This is mostly because Greek culture is centred around the table, and I always wanted to recreate these memories for my family and friends. My childhood trips to Greece are filled with memories of cousins, aunts, uncles and grandparents laughing, telling stories while enjoying home-cooked meals, around the table, made with love.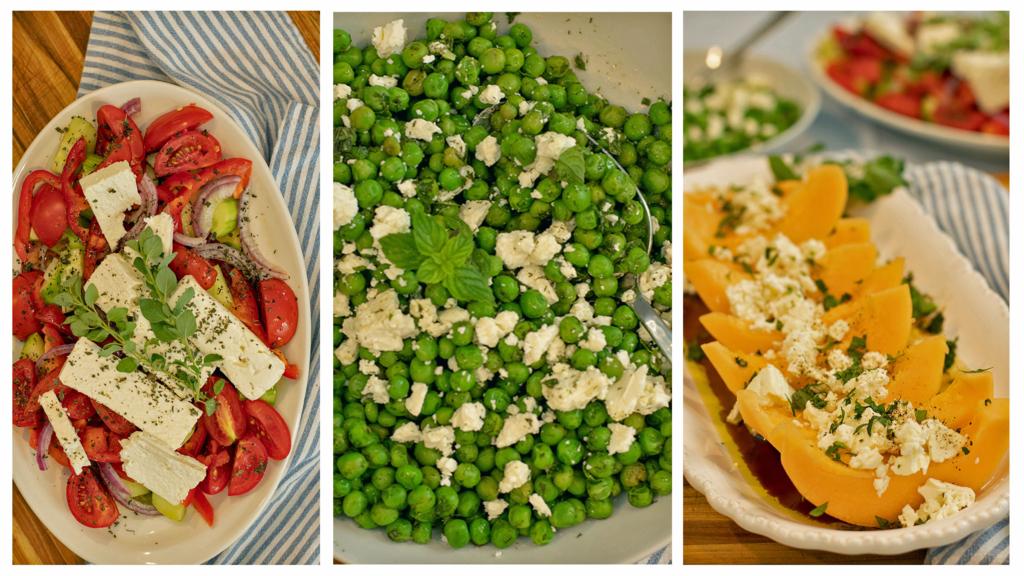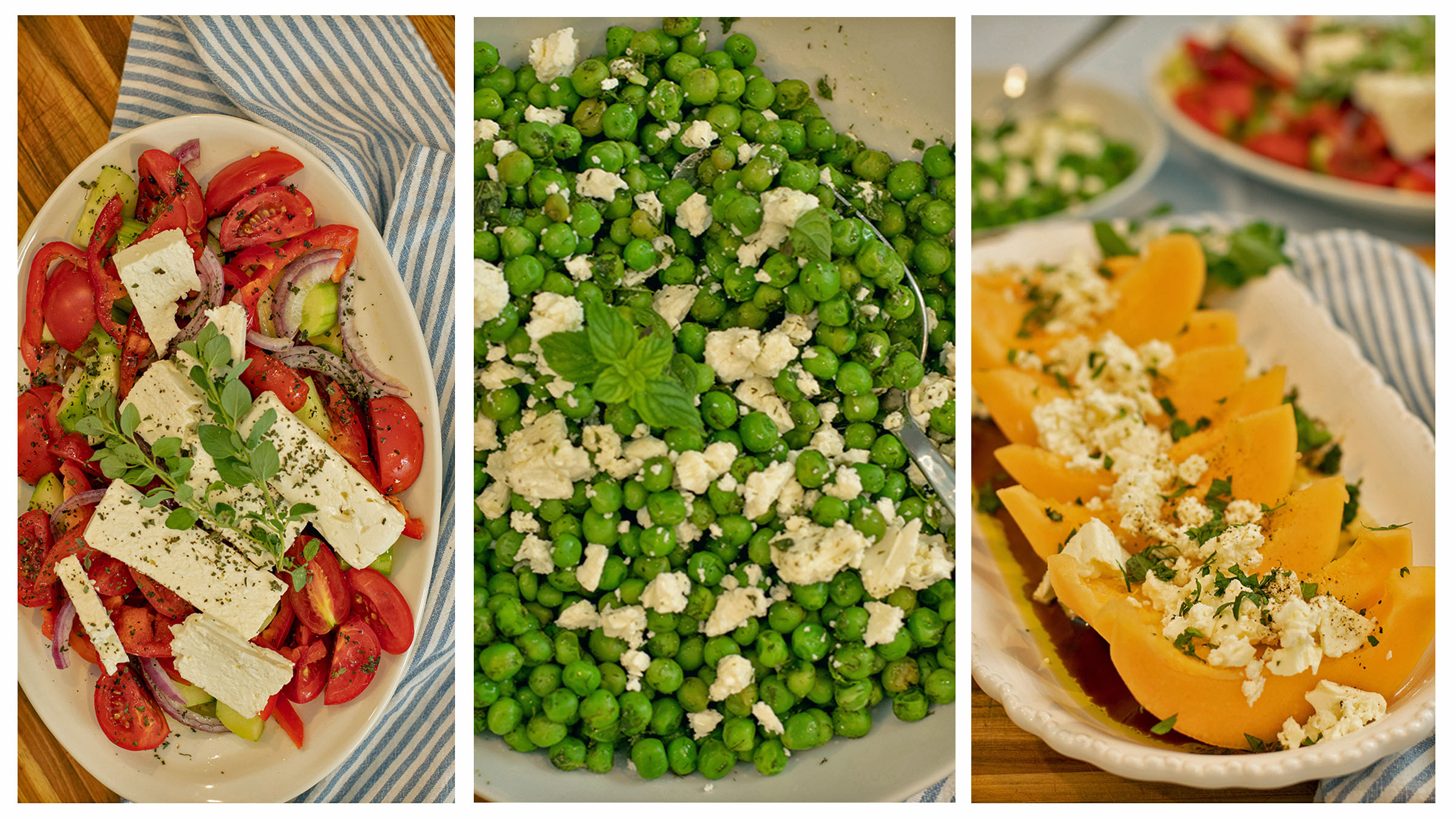 What are some of your favourite Greek dishes?
That's a hard question! It totally depends on the season, but since I have a major sweet tooth, I will start with my favourite dessert which, hands-down, is Loukoumades: Greek donuts that are soaked in a honey syrup and then dusted with cinnamon. Last summer on our trip to Crete, we had the modern version of Loukoumades: Loukoumades with ice cream and toppings! Does that even need any further description? Naturally, I recreated the recipe on YouTube and on my blog.
My favourite salad will always be the Horiatiki: The Greek Village Salad. The best part is dipping bread in the olive oil that has all of the salad juices in it. YUMM!
As for the main course, it is a tie between Moussaka (layers of eggplant, potatoes, ground beef and béchamel) and my mom's Greek Cabbage Rolls (Lahanodolmades) in a lemony avgolemono sauce. That said, I also love quick and easy dishes like my Eggs with Peppers & Pasturma. Brunch is my favourite meal!
Greek dishes – and Mediterranean dishes in general – are usually quite simple, but their success relies on top-quality ingredients. What tips do you have for buying produce?
My best tip has to be to buy produce that's in season. Growing up in America, I've grown accustomed to finding all sorts of produce year-round. This is good for convenience, however you don't get to enjoy the sweetness of strawberries in January the way you do in June. Tomatoes that have travelled hundreds of miles to get to your supermarket hardly have any flavour. As a matter of fact, every time I return from a visit to Greece, I cannot eat tomatoes or cucumbers for months. In Greece, produce is available only when it is in season. If you have a farmer's market nearby, purchase local and in-season veggies from them for maximum flavour.
In Greece, produce is available only when it is in season. If you have a farmer's market nearby, purchase local and in-season veggies from them for maximum flavour.
These salads all contain some feta. How would I know what type/quality to buy?
The creamiest feta is Greek feta that's made from sheep's milk. I live in Houston, and sheep's milk feta is now available in my local Costco. Hooray! However, my mom taught me a little money-saving trick: When baking with feta, and especially in recipes that call for lots of feta cheese, I either do half sheep's milk and half cow's milk feta, or all cow's milk. The feta made from cow's milk is milder in taste but also harder in texture. It's very inexpensive compared to the sheep's milk variety, and works well in recipes that require baking such as spanakopita. When making salads and dips that are not cooked, I always go for the sheep's milk feta. No compromises there, haha!
If these salads are to be part of a full dinner or summer buffet, what other dishes would you serve along with them?
All of these salads pair well with lamb, chicken and even fish. Lamb with sweet peas is a personal favourite. I would put the salads out with a bowl of tzatziki (creamy yogurt and cucumber dip), toasted pita bread and grilled meat. Easy peasy!
How could I turn any of these salads into a summery lunch? 
Salads make the best quick and easy lunches. Simply add some couscous or quinoa, and some beans for a filling vegetarian lunch, or top them with grilled chicken or even poached eggs.
Get the recipes here.
staysafe #stayathome #selfisolation #selfisolationactivities #quarantine #lockdown #homesanctuary