';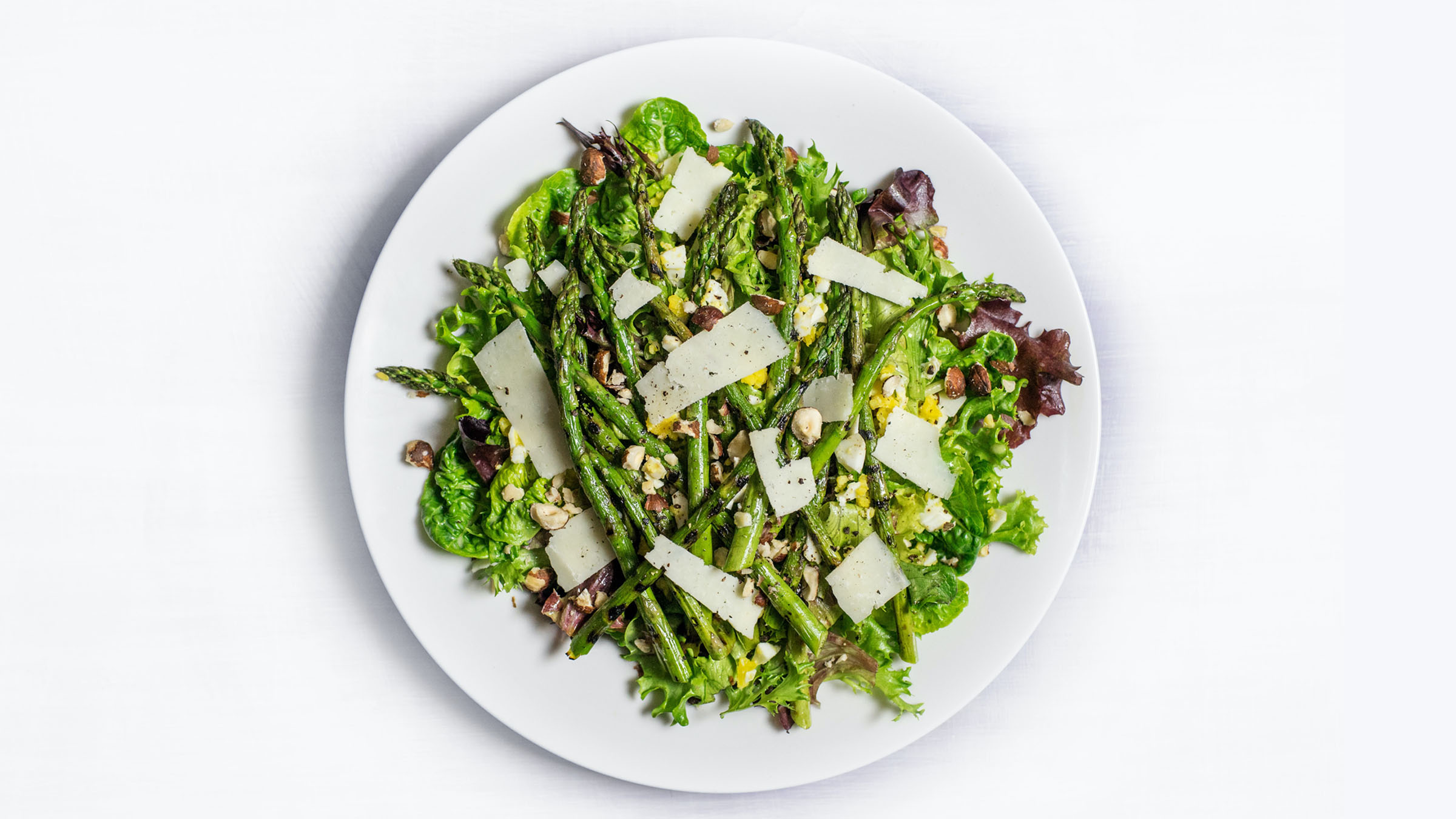 ;
While comfort food kept many of us afloat during self-isolation, quarantaine kilos are real. Feel more like lighter, fresher fare now that you're carefully stepping foot outside again? Salad is the answer. But not the one you packed for your office lunch over and over. Learn how to build better, more interesting salads with these tips and recipes from seasoned food bloggers and cookbook authors.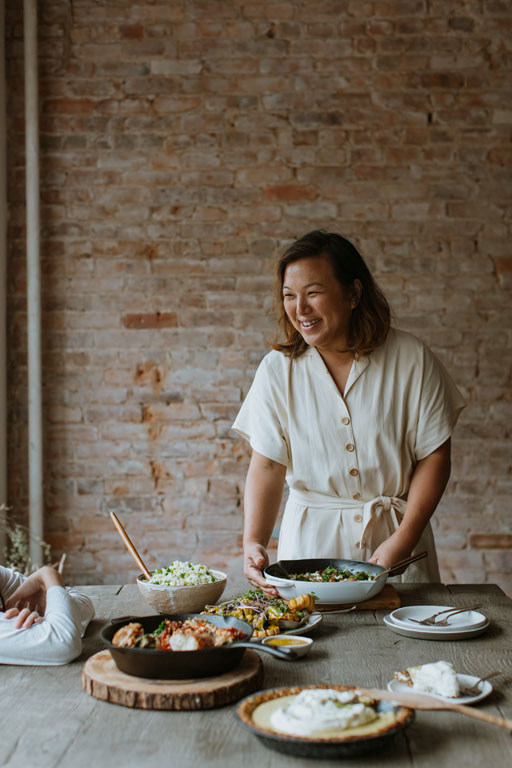 Treat Salads Like A Story
Hetty McKinnon of Arthur Street Kitchen
"Treat salads like a story. Decide where you want the story to take you, and then guide your ingredients to the same place. For example, if I'm looking to create a Middle Eastern-inspired cauliflower salad, I will roast the cauliflower in spices – say, cumin and coriander – and then team this with crispy chickpeas that have been roasted with olive oil and garlic, and top it off with a lemony tahini, with a hit of almonds and mint to bring all these flavours together. One of the most important details about salad making is creating layers of flavour with every ingredient, so remember to season your vegetables and grains well. And remember, most salads (apart from 'chilled' ones) are best eaten at room temperature – cold salads tend to be tasteless, as the temperature kills most of the flavours."
Hetty McKinnon is a Brooklyn-based Australian cook and food writer with a passion for vegetables. She is a cookbook author and writes on Arthur Street Kitchen. Her latest book is Family: New Vegetarian Comfort Food to Nourish Every Day.
[Photos: Luisa Brimble]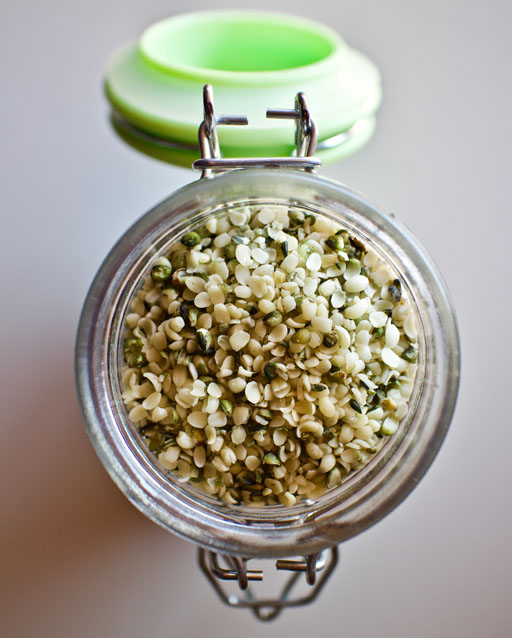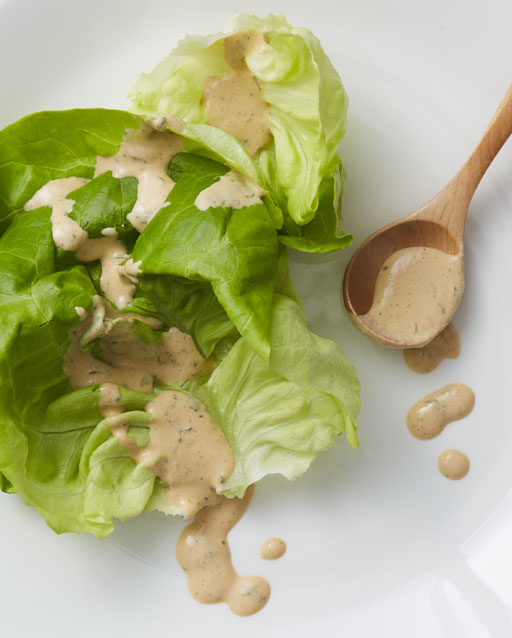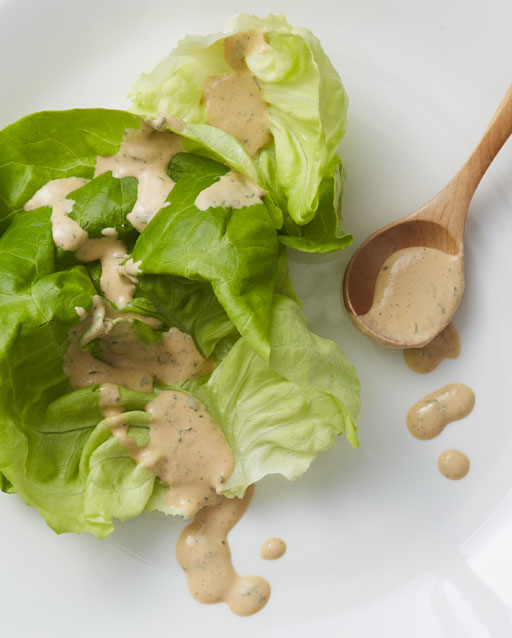 Dreamy, Creamy Vegan Dressings
Terry Hope Romero of Vegan Latina
"Salads of every flavour and description are my go-to meal, any time of year. And while every salad I make is strictly vegan, I still crave dreamy, creamy dressings! My homemade creamy dressings are simple to make in minutes, and usually start with a base of a nutrient-dense superfood seed packed with healthy fats: hemp hearts. Once their husks are removed, these buttery little split seeds blend beautifully with good quality olive oil, vinegars, herbs and seasonings that will have you kicking the bottled dressing habit for good. I make a hemp heart base and flavour it in countless ways for whatever creamy dressing a new salad calls for; one of my current favourites is a ranch-style dressing spiked with sriracha and fresh cilantro."
Get the recipe for Sriracha Cilantro Ranch Dressing here.
Terry Hope Romero is the author of Salad Samurai and Show Up For Salad.
[Photo top right: Vanessa Rees]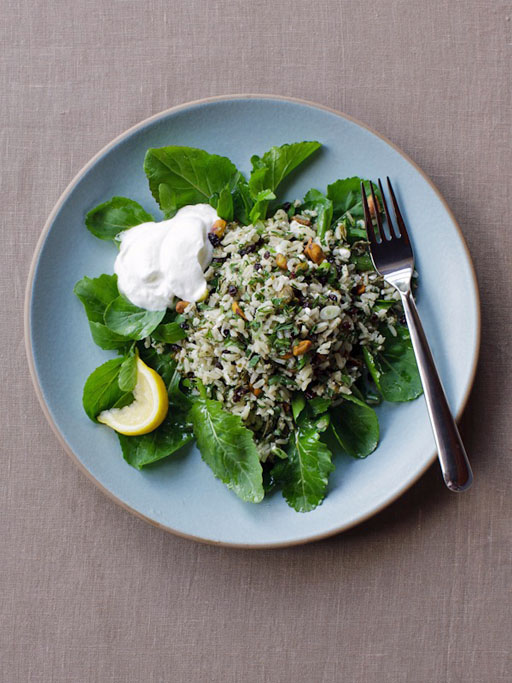 Source Your Greens
Jeanne Kelley of Jeanne Kelley Kitchen
"The bags or plastic tubs of washed salad greens available at your local supermarket are convenient in a pinch, but taking the time to source greens from the farmers market and/or prepare your salad greens from bunches or individual heads is well worth the effort. Salad greens that you wash and spin yourself are fresher, more flavourful and nutritious. These vibrant greens last for days in the refrigerator, adding healthy leafiness to your meals throughout the week."
Get Jeanne's recipe for Brown Rice Grape Leaf Salad here.
Jeanne Kelley is a Los Angeles-based food writer and stylist. Her books include Blue Eggs and Yellow Tomatoes, Salad for Dinner, Kitchen Garden and The Portable Feast. [Photo: Jeanne Kelley]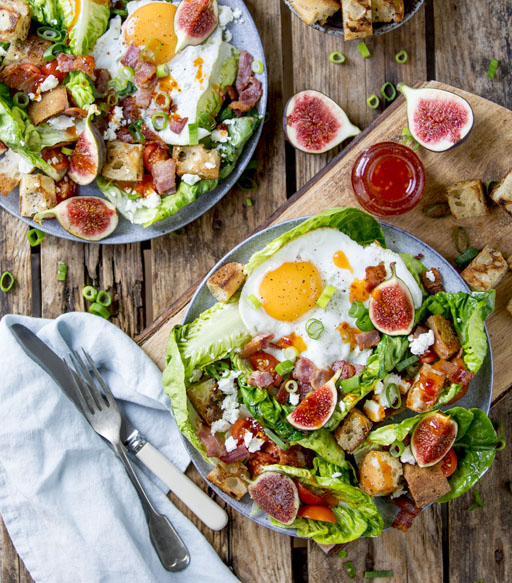 Try Salad For Breakfast
Nicky Corbishley of Kitchen Sanctuary
"Why not try salad for breakfast? It makes a great alternative to cereal or bagels. These warm gem lettuce leaves with bacon, grape tomatoes and a crispy fried egg are a fantastic weekend treat. I like to warm my lettuce leaves just slightly in the pan that was used to cook the bacon. It makes such a difference to the flavour, and means the leaves don't need to be dressed with oil at the table."
Get the recipe here.
Nicky Corbishley is the UK-based food blogger behind Kitchen Sanctuary, and author of Seriously Good Salads. [Photo: Nicky Corbishley]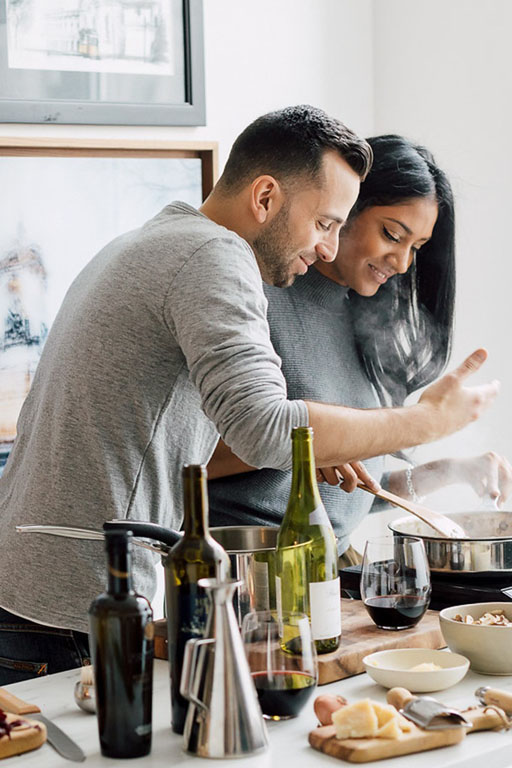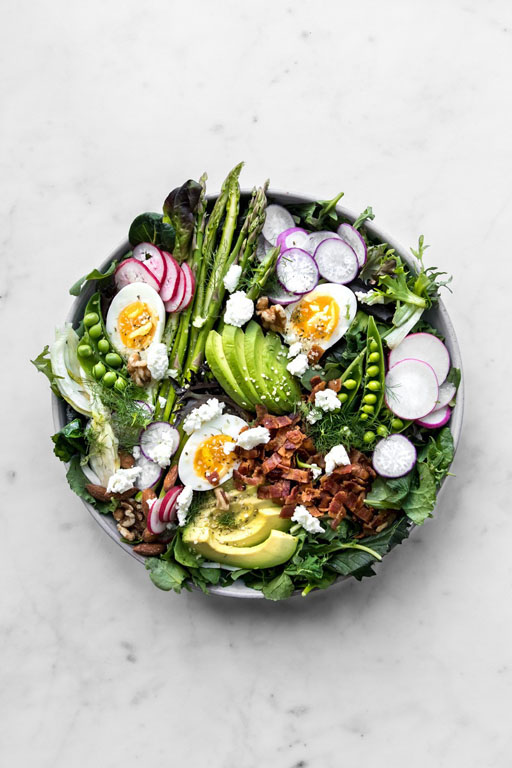 A Few Simple Rules
Philip Lago and Mystique Mattai of Chef Sous Chef
"When it comes to making a salad, there are a few rules we always follow. Whether it be toothy kale, spicy arugula or crisp romaine, choose lettuce with a solid foundation that will hold up well when dressed. What comes next is the fun part: layering! Nuts, seeds, croutons with crunch, bright and fresh fruit and veggies, and protein-packed ingredients like boiled eggs, bacon or grilled meat, can turn any side salad into a meal. But for us, the magic happens in the dressing, where we can play with different flavour combinations to pair with the different salad components. A simple olive oil-based dressing with vinegar and dijon can be elevated with a local honey, fresh citrus and herbs. Or one of our favourite bases for creamy dressings, mayonnaise and lemon, can be flavoured with garlic, parmesan and anchovy for a quick caesar, or with chives and dill for bright and fresh ranch-style dressing."
Philip Lago and Mystique Mattai are the husband-wife duo behind the popular food blog, Chef Sous Chef. Their debut cookbook will be released in 2021 through Appetite by Penguin Randomhouse. [Photo: Chef Sous Chef]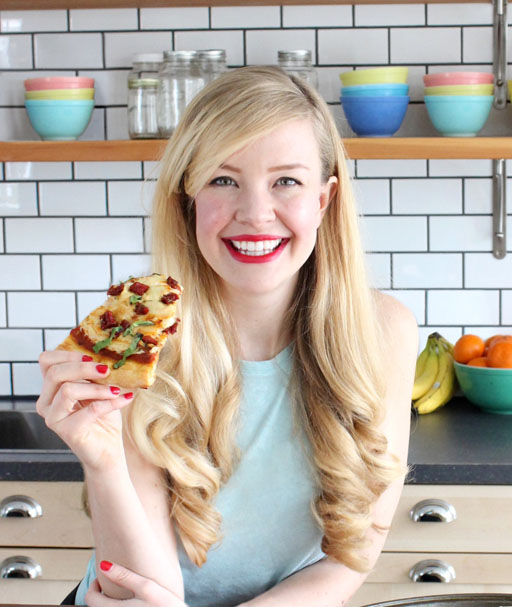 Use Two Dressings
Sam Turnbull of It Doesn't Taste Like Chicken
"A good salad is all about the dressing. It doesn't matter how many toppings you have on your salad (or how few), a good dressing will tie everything together and make your salad sing. My secret tip is that I love to use two dressings: One creamy one, and one vinegar-y or lemony one. I drizzle a little bit of each over my salad, to make every bite burst with flavour. Check out my 16 vegan salads dressings for inspiration."
Sam Turnbull is a Toronto-based YouTuber, cookbook author and vegan recipe blogger behind It Doesn't Taste Like Chicken.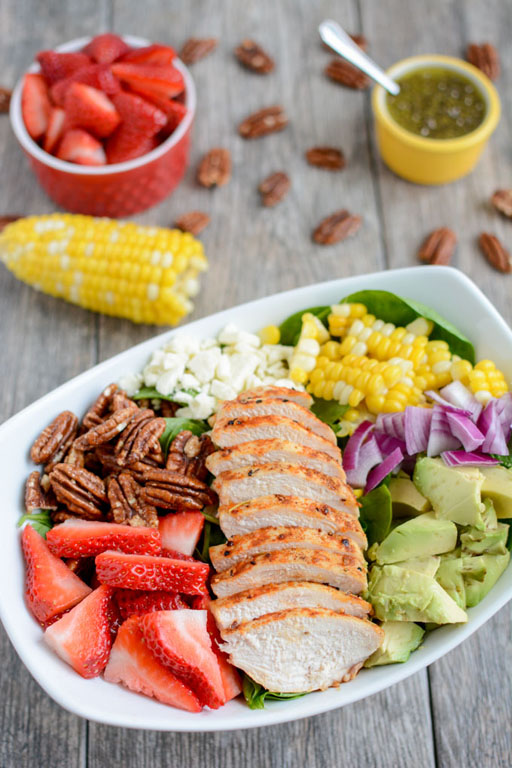 Add Staying Power
Lindsay Livingston of The Lean Green Bean
"When it comes to salads, think beyond just vegetables and always make sure to include a protein and some healthy fats to help give them some staying power. Nuts and seeds are a great way to add some crunch to a salad while also adding a dose of healthy fats. Hard-boiled eggs and beans are easy ways to add vegetarian protein. If you get tired of traditional salad dressings, try salsa, guacamole or hummus! And in the summer, adding fresh berries or peaches is a great way to add some natural sweetness, such as this strawberry chicken spinach power salad. Also check out some more salad topping ideas here."
Lindsay Livingston is a Registered Dietitian from Columbus, OH. She shares healthy recipes, parenting tips and more on her website The Lean Green Bean. [Photo: Lindsay Livingston]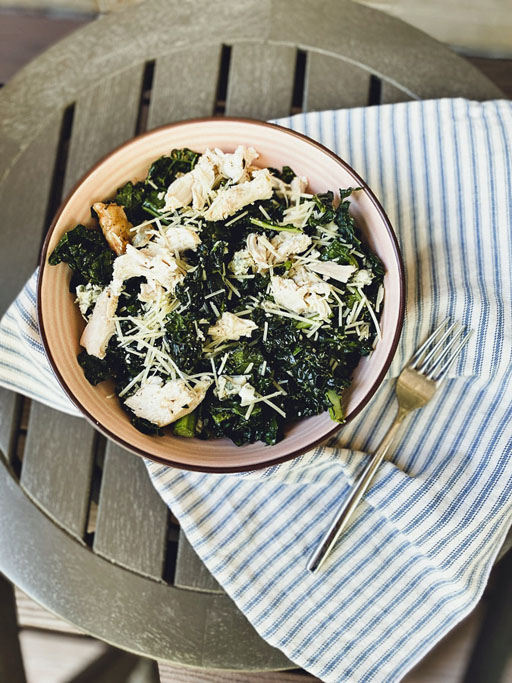 Garnish With A Great Rich Topping
Kath Younger of Kath Eats
"This is absolutely key for me. If I have a salad that just has greens and veggies, I am left feeling a little empty (unless it's a side salad). In my opinion, great salads need a sprinkling of good stuff: cheese, avocado, nuts, croutons. Even roasted vegetables take it to the next level. So don't assume that if you're having a salad, you have to skip the blue cheese crumbles. Just be mindful of how much you add. Read more about creating the perfect salad here and check out this pesto Tuscan kale salad."
Kath Younger is a Registered Dietician and the founder of Kath Eats, a blog based on the idea that the answer to almost all nutrition and diet questions is to eat food in its most simple form, as nature intended. [Photo: Kath Younger]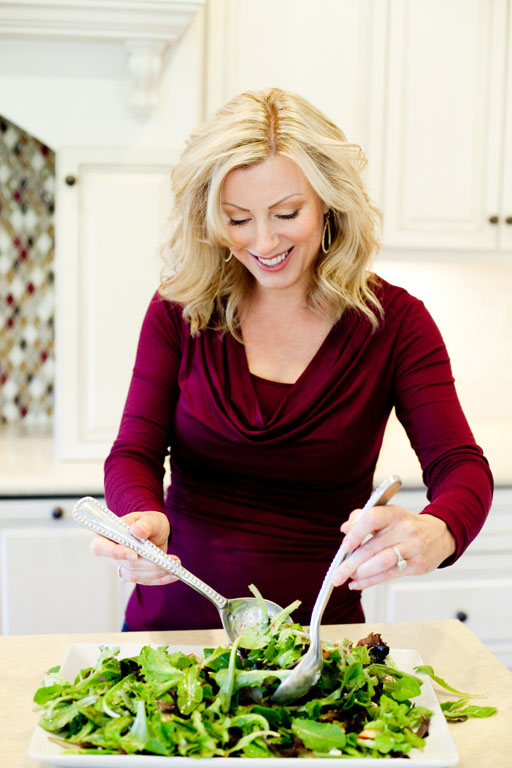 Blend flavours, texture, and colour
Linda Spiker of The Organic Kitchen
"Salads are my favourite thing to toss together in the kitchen. There is ample opportunity to be creative when considering the elements that make a great salad. I love blending flavours, texture, and colour to create a salad that not only tastes fabulous but is visually pleasing as well. Fortunately, the combinations are endless! When it comes to texture, I provide interest by using a combination of something creamy or soft, like feta, goat cheese, or avocado with something crispy or with a snap, like raw nuts, seeds, snap peas, red onions, or fennel. I also encourage the liberal use of grains such as farro, quinoa or brown rice for a nice earthy, nutty addition. This Roasted Carrot and Brown Rice Salad with Spicy Pepitas is a perfect example using a variety of flavours, colours and texture to create a truly beautiful and unique salad. I hope you enjoy it!"
Linda Spiker is behind The Organic Kitchen, a website featuring healthy recipes, cooking techniques, gourmet cookbooks, and health and wellness information.
#staysafe #stayathome #selfisolation #selfisolationactivities #quarantine #lockdown #homesanctuary