';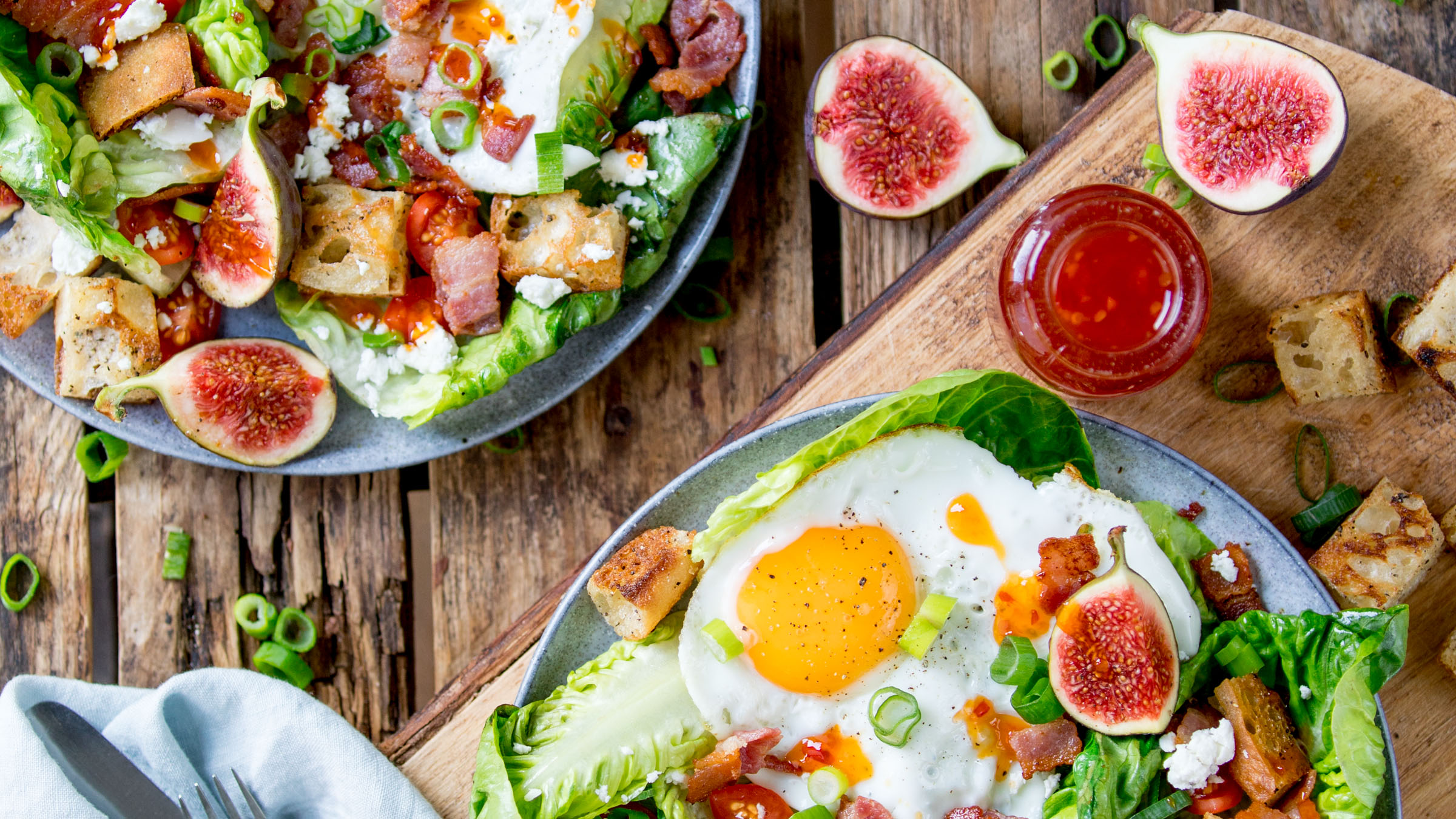 ;
Nicky Corbishley: "Salad for breakfast makes a great alternative to cereal or bagels. I like to warm my lettuce leaves just slightly in the pan that was used to cook the bacon. It makes such a difference to the flavour, and means the leaves don't need to be dressed with oil at the table."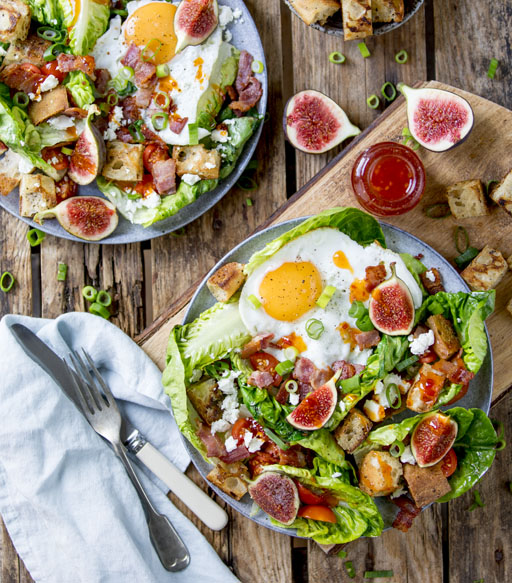 Fried Egg Breakfast Salad with Toasted Croutons
Serves 4
Ingredients:
4½ tbsp vegetable oil, divided into 3x 1½ tbsp
4 strips bacon, chopped into small pieces
1 head Little Gem lettuce, leaves separated and washed
1 ciabatta bread, chopped into 1″ (2.5-cm) cubes
¼ tsp salt
¼ tsp freshly ground black pepper, plue more to taste
4 large eggs
2 figs, sliced
8 grape tomatoes, quartered
4 scallions, sliced
2 oz (57g) feta cheese, crumbled
2 tbsp sweet chili sauce
Method:
1. In a large skillet, heat 1½ teaspoons of the oil over high heat. Add the bacon and fry, stirring often for 3 to 4 minutes, or until crisp.
2. Remove the bacon with a slotted spoon, and transfer to a bowl lined with paper towels to drain. Lower the heat to medium.
3. Add the lettuce leaves to the pan and let them rest there for 1 minute – just enough to warm them slightly and add a little bit of bacon flavour. Remove from the pan.
4. Add another 1½ teaspoons of the oil to the skillet, and add the ciabatta cubes. Sprinkle with the salt and pepper and fry, turning often, until browned all over, about 5 minutes. Remove from the pan.
5. Add the remaining 1½ teaspoons of oil to the pan, and increase the heat to medium-high. Carefully crack the eggs into the pan and fry for 3 to 4 minutes, or until the whites are cooked but the yolks are still runny. Remove from the pan.
6. Assemble the salad. In 4 bowls, arrange the lettuce, figs, tomatoes, bacon and fried eggs. Top each with the sliced scallions and crumbled feta and a pinch of pepper.
7. Drizzle with the sweet chili sauce and serve.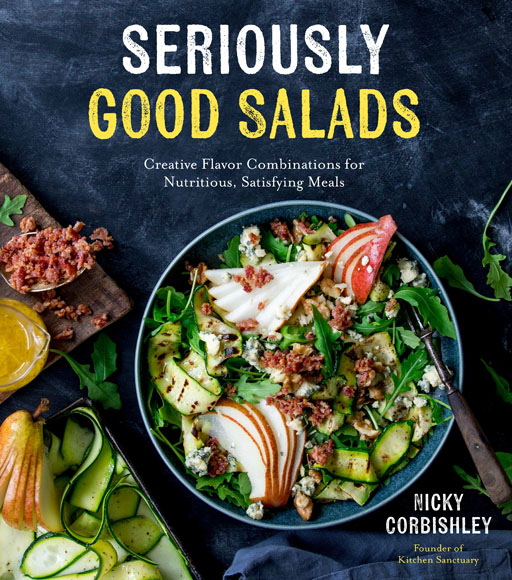 Reprinted with permission from Seriously Good Salads by Nicky Corbishley, Page Street Publishing Co. 2019. Photo credit: Nicky Corbishley.
In Seriously Good Salads, Nicky Corbishley shares 75 of her favourite salads, all packed with fresh flavour, loaded with exciting toppings and covered with delectable dressings. With Nicky's innovative flavour combinations and unique ingredients, it's easier than ever to turn a boring side salad into a showstopper of a meal the whole family will enjoy.