';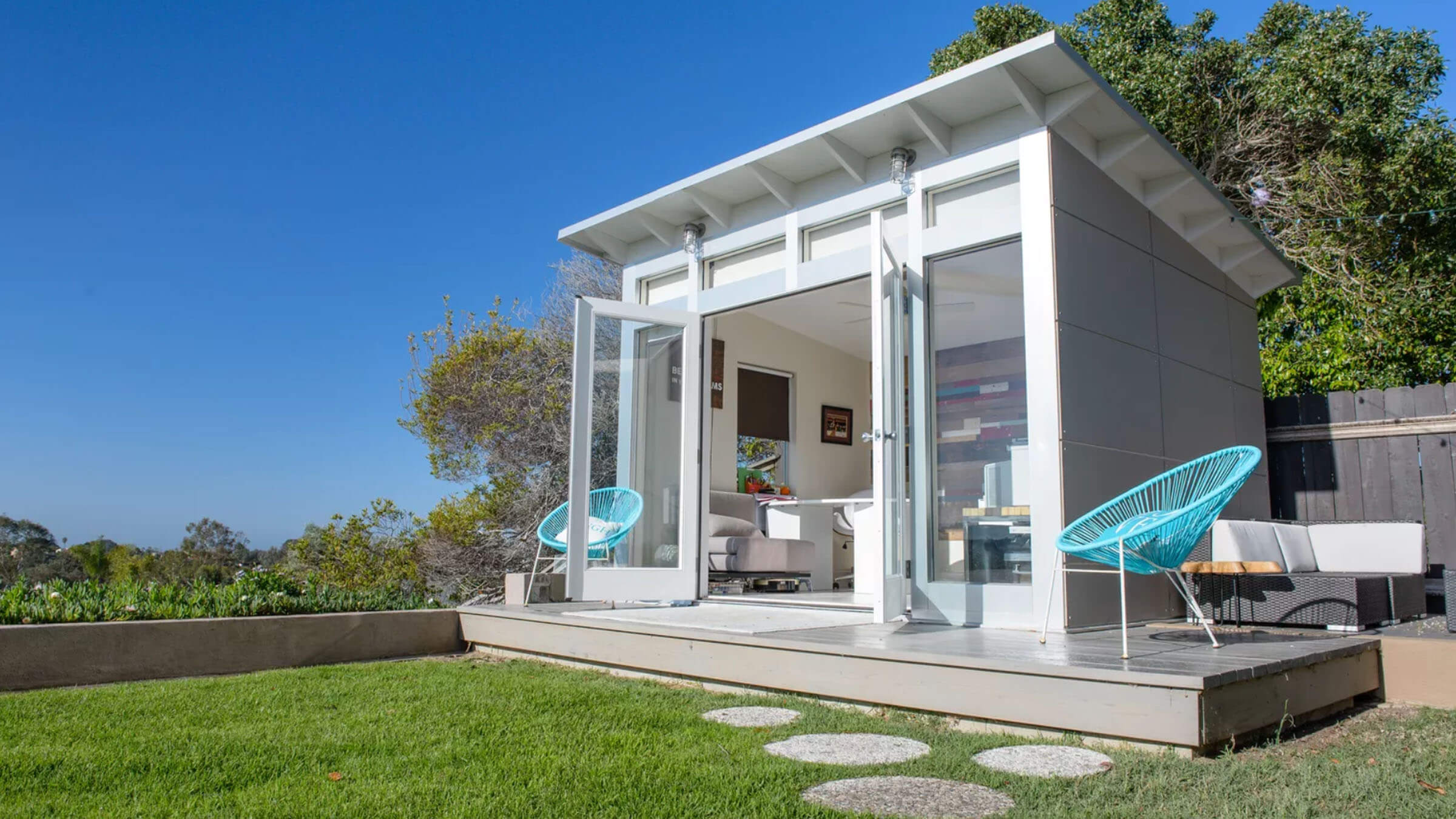 ;
Summer is the season of barbecues, garden parties and other relaxed outdoor get-togethers that often linger into the evening, when the heat of the day has passed and the night is comfortably temperate. Whatever type or size of outdoor space you have, there's no better time than now to spruce things up with a little hands-on TLC that will transform your space into the perfect summer retreat.
[Photo at top: studio-shed.com]
Create A Backyard Oasis
The secret to making an oasis out of your garden or backyard is identifying and then defining each particular space — think of it as a master plan for your yard. Functionality should drive your vision: Is there a quiet corner that would be perfect for a zen garden with a water element, or a particular area that's open and spacious enough for a fire pit or shaded outdoor seating? What about a sturdy tree branch that could comfortably support a couple of chair-style hammocks or birdcage chairs?
With your backyard design conceived, the next step is connecting the spaces as well as highlighting and defining each area. Perhaps that means a path of stepping stones meandering towards the zen garden, a free-standing pergola or a couple of triangular shade sails covering your outdoor entertaining area. Bricks and pavers, raised flower beds, decomposed gravel and decorative stones are just a few of the ways that you can create distinct spaces in your backyard, no matter the size.
DIY Your Own "Shedquarters"
Tiny spaces — including tiny homes and she-sheds — are definitely having a moment. And with good reason: the tiny movement is giving new life to storage sheds, children's playrooms and other neglected free-standing structures you might typically find in a garden or backyard.
To create your own shedquarters, start with the curb appeal. If you're modifying an existing shed, then no doubt the exterior would benefit from a fresh coat of paint – don't be shy about straying into bold colour categories, or even adding a pop of contrasting colour to the eaves, trim and shutters. Landscaping, too, helps to give your shedquarters a sense of place. It doesn't have to be complicated or over-the-top — window boxes, climbing vines, grassy greenery or even a rock garden with drought-resistant plants will do.  
Upgrade the interior with such easy-to-install flooring options as click-lock vinyl flooring, which is water-resistant and spill-proof, or durable rubber tile flooring, which fits into place like puzzle pieces. It's up to you whether you want to install insulation and drywall or go for a more rustic shed interior.
About electricity in your shedquarters: a solar panel kit installed on the exterior will self-sufficiently power lighting, speakers, chargers, even a mini fridge. And while not necessary, per se, popular upgrades include adding windows for natural light and replacing the structure's door with a bolder design choice, such as a cantilever sliding door that allows you to let the outdoors in.
From Balcony To Bolthole
No garden? No problem. There are plenty of easy ways to give your balcony some character and functionality, and also shade and privacy, too. First things first: Start with a thorough cleaning — you'll be surprised at what you sweep and mop up. If your balcony is framed by open railings, adding reed or bamboo fencing will go a long way towards giving your space more privacy and some respite from the sun, as well.
Alternatively, depending on the depth of your balcony, leafy greenery in planters or pots will do wonders for shade and privacy, while creating a living green oasis; low-maintenance options include live bamboo, potted palms, dracaenas and umbrella trees. A vertical installation of wooden lattice offers respite from the sun and is sturdy enough to support small pots for herbs, flowers or decorative plants hung by hooks — a climbing garden of your own design. Mix in a few other decorative elements, such as small, mismatched mirrors or framed pieces, to add some eye appeal.
Above all, comfort is key: Textiles such as sturdy woven rugs underfoot and comfy cushions and throw pillows on any chairs or outdoor seating instantly warm up any outdoor living space.
Enjoy The Starry Skies
Every outdoor living space should be prepared to transition from day to night with lighting that only adds to the ambiance. The good news is that when it comes to nighttime lighting, the options are plentiful – whether white bulb string lights, hanging lanterns, twinkle lights and solar options, too. Flameless LED tea candles inside mismatched glass vessels — such as mason jars of different shapes and sizes — offer a nice glow, as does rope lighting lining a pathway or perimeter at night.