';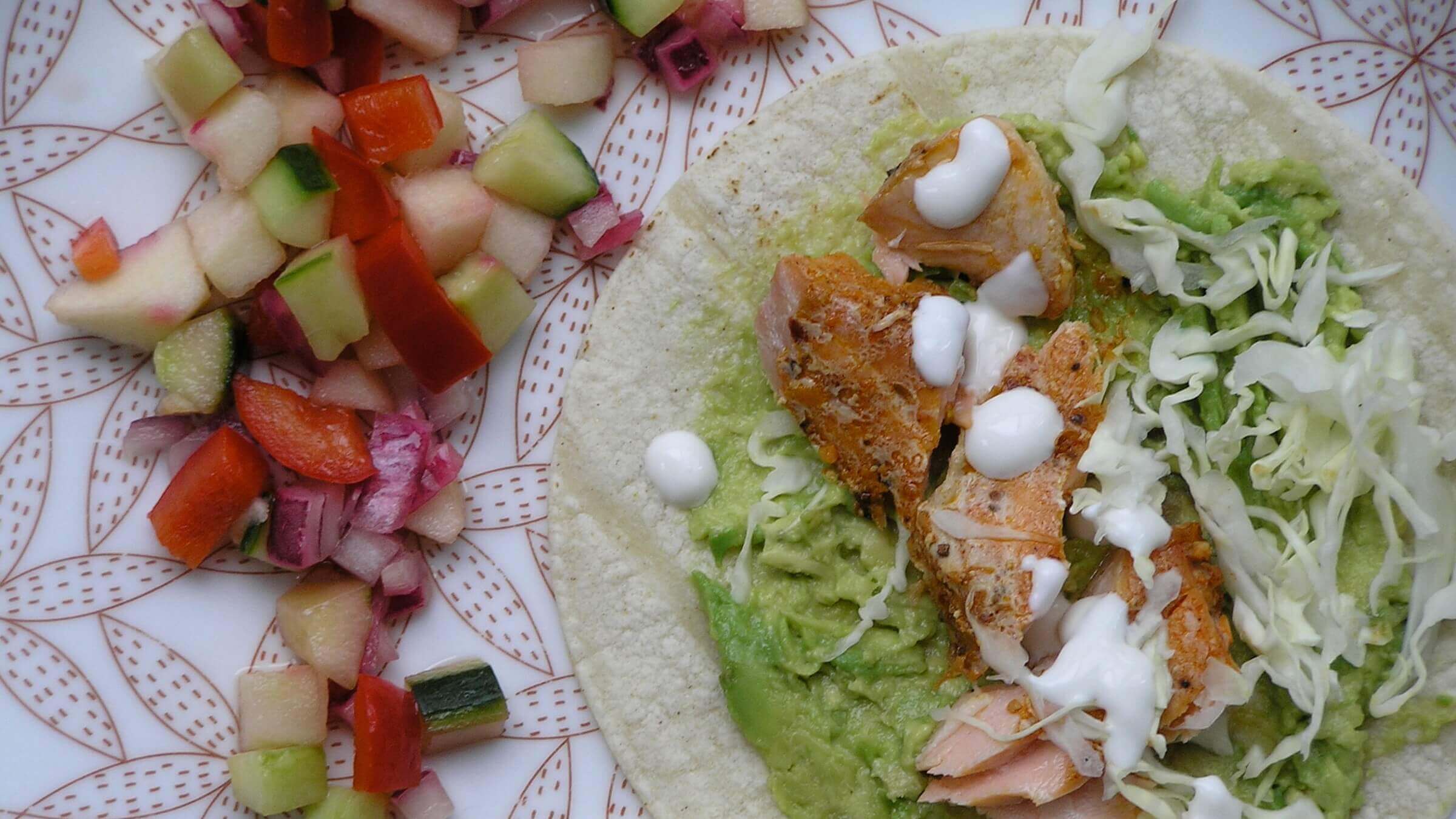 ;
Jane McKay and Meg Barnhart are slow-cooking gurus with the blog to prove it. Here, they reveal the secrets behind their ooey-gooey French toast casserole and tangy salmon tacos.
Maple French Toast Casserole
Prep Time: 15m
Cooking time: 2 1/2 hours HIGH / 4 hours LOW
Serves 8
Ingredients
6 cups loaf brioche or cinnamon swirl bread, cut into 1-inch cubes
¾ cup raisins (or dates)
2 ½ cups whole milk (or 2% / almond /rice / milk)
7 large eggs
1 cup heavy cream or half & half
¼ cup granulated sugar
¼ cup maple syrup
2 tsp vanilla extract (we use Nielsen-Massey Madagascar Bourbon Pure)
1 tbsp Sweet & Spicy blend (our proprietary blend) or 1 tbsp pumpkin pie spice
1 cup candied pecans, coarsely chopped (optional)
Method
1. Coat the inside of your slow cooker with vegetable oil or cooking spray
2. Spread bread in the bottom of the slow cooker, and sprinkle the raisins over the top.
3. Whisk together milk, eggs, cream, sugar, maple syrup, vanilla, sweet & spicy blend and syrup.
4. Pour mixture over bread cubes and press lightly to make sure all the bread is submerged. Cover and cook on HIGH for 2 hrs 30 minutes or LOW for 4 hours.
Chipotle Salmon Tacos
Prep Time: 20 minutes
Cooking Time: HIGH: 2 hours or low: 3-4 hours
Serves 6 (makes 16 small tortillas)
Ingredients
1 1⁄2 lb salmon fillet
1 tbsp chipotle powder
1 tsp salt
1 tbsp orange zest, finely grated
1 tbsp light brown sugar
2 tbsp olive oil
1 lime, sliced
8 corn tortillas
1 large ripe avocado, mashed
1 cup cabbage or Brussels sprouts, finely shredded
For The Apple-Cucumber Salsa:
1 cup Granny Smith apple, peeled, finely diced
1 cup / 1⁄2 cucumber, peeled, seeded, finely diced
1⁄2 cup red onion, finely diced
1⁄2 cup red bell pepper, finely diced
2 tbsp and 1 tsp lime juice or
white wine vinegar
1 tsp sugar
Salt & black pepper, to taste
For The Lime-Mayo Dressing:
1 tbsp lime juice
1⁄4 cup mayonnaise or sour cream
Method
1. In a small bowl or cup, mix together the chipotle powder, salt, orange zest, sugar and olive oil. Rub onto the salmon pieces.
2. Lay the slices of lime in the bottom of your slow cooker and place the rubbed salmon on top of it. Cover and cook on HIGH 2 hours or LOW 3 – 4 hours. NOTE: If you have a thinner fillet of salmon, reduce the cooking time by 30 minutes to ensure it doesn't overcook.
3. Prepare salsa and lime-mayo dressing by combining the respective ingredients.
4. When the salmon is cooked, flake it in the slow cooker and lay it on warmed corn tortillas spread with the mashed avocado. Top the salmon with the shredded cabbage and a drizzle of the lime-mayo dressing. Serve with the salsa.
Zen Tip: In a pinch, switch out the apple & cucumber salsa for a fresh store-bought mango salsa.
To find out more about Jane and Meg's slow-cooking secrets, click here or check out their blog