';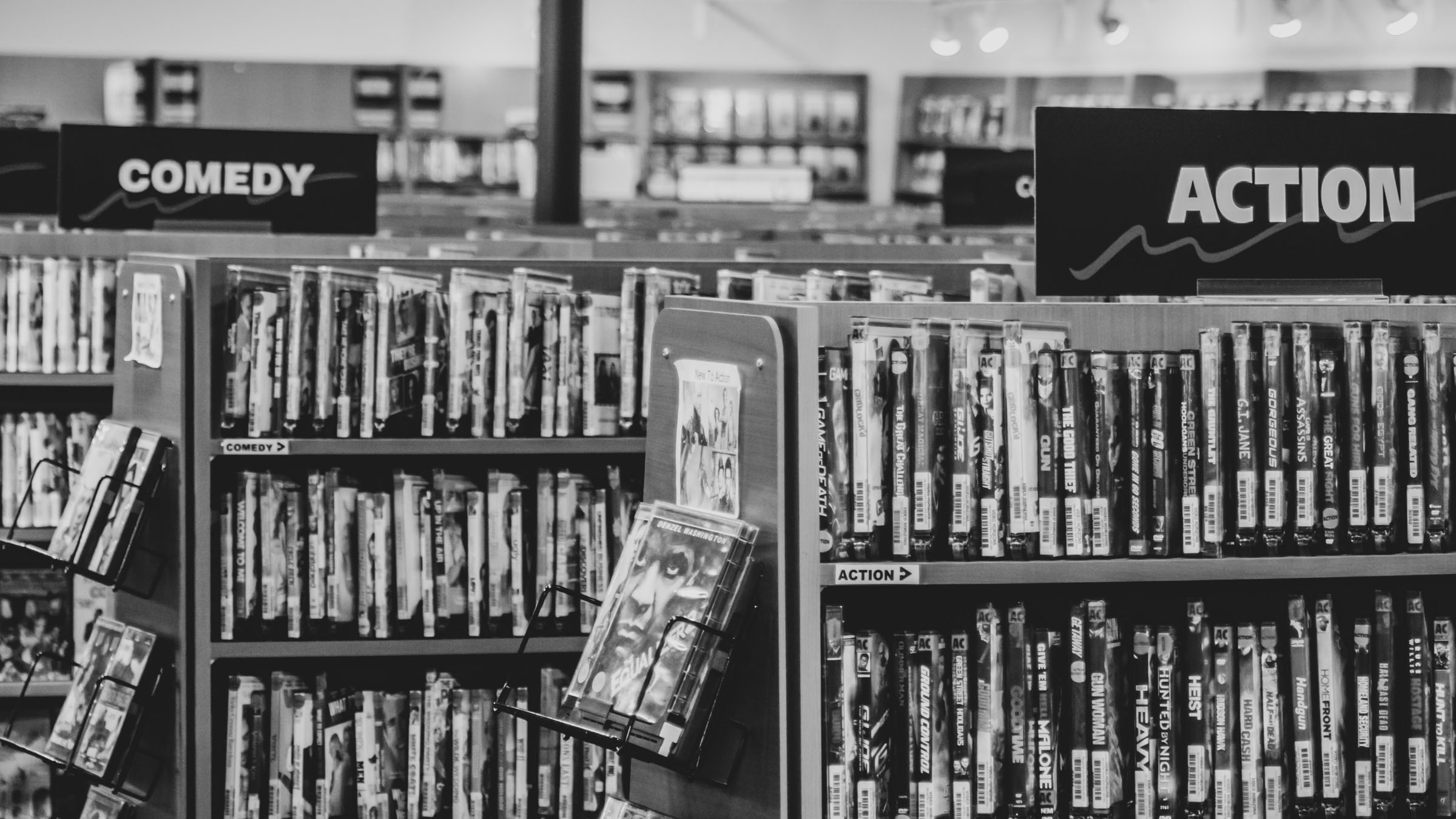 ;
It's often true that even the most obsolete of trends only needs to wait a while before enjoying some kind of resurgence. In music it was the vinyl record renaissance, followed by the current comeback of the cassette, with several top artists selling their latest albums on audio cassette for completists. In the film world, however, there's one trend we never thought we'd see re-emerge: the humble video store.
With the overwhelming popularity and convenience of online streaming, brick-and-mortar video stores have more or less disappeared over the past decade. And yet a nostalgia-propelled need for a more classic viewing experience has led to the arrival (or renovation) of several real live video store locations around the world, which offer the browsing experience as many of us remember it.
A Blast From The Past
First, a history lesson. In the '80s and '90s, the video store was king. Initially led by independent stores and small chains, then dominated by global giant Blockbuster, millions of viewers rented the latest releases on VHS, then later DVD. Video stores took on a culture of their own – famously, filmmakers like Kevin Smith and Quentin Tarantino refined their knowledge while working at video stores. They were such a symbol of '90s cool that last year's Captain Marvel saw Brie Larson enter 1995 earth via a Blockbuster store. And while the big chains served the casual viewer, independent stores became a haven for 'nerdy' cinephiles who could discover different genres and new classics in each aisle. The ritual of going to the video store and selecting just the right movie for the night's entertainment was something many cherished.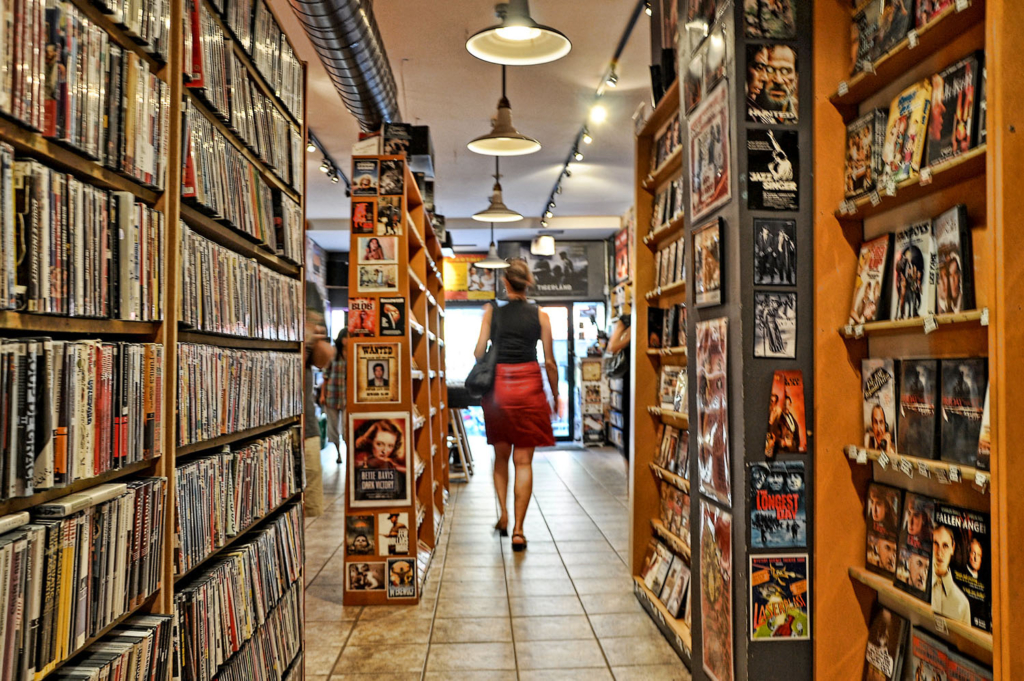 [Photo: Eric Parker/Flickr]
As the new millennium rolled around, the reign of the video store began its decline. The arrival and mass consumption of DVDs gave the industry a surge, but with the emergence of Netflix came a sea change. At first, the company was a mail delivery service, sending DVDs via post with no need to drive to the store. Then, in 2010, Netflix began offering a streaming service – and the rest is history.
Spearheading the idea of 'binge watching' at the touch of a button, Netflix rendered the video store model impractical, and slowly obsolete. Where once there was a Blockbuster Video in every town, now only one store remains in the world. This is made even more bittersweet with the reported story that Blockbuster were offered the chance to buy Netflix at the height of their power, only to turn it down as they didn't see a future in the company.
Like every great hero, the video store seems to be making a small, nostalgic comeback. Some are the few businesses that have managed to hang on through the dark days and are now seeing an upswing, others are entirely new places putting a twist on the classic experience, and then there are the institutions currently finding new life thanks to devoted customers.
The reason for these re-appearances aren't always logical, but they make emotional sense. At a time when most of life is geared toward convenience, experience has become a valuable commodity. You can make a delicious coffee at home, but there's something enticing about going to a shop and drinking it among other people in a nice atmosphere. You can stream the latest albums for free, but seeing the artist live in front of a roaring crowd comes at a bigger premium than ever. The same principle applies here. Yes, it's easy to watch any film you want at home, but something is lost in that ease of use. Some people want more from the process, and that's where these stores come in.
Vidiots (Santa Monica, USA)
LA is, of course, the hub of the American film industry, where the most expensive and ambitious movies are masterminded. It has, however, got the curious distinction of a rapidly diminishing movie theatre scene – that's right, the very houses of the products they make – as rents get higher and higher in the City of Dreams. One LA institution, however, is looking to reverse that trend while also bringing back a beloved video store business. Vidiots was an all-female-founded business that for over three decades, starting in the mid-'80s, served their area as a specialist video store for the creative population who adored their selection and passion. In 2017, rising prices led to the closing of the original location, but the collection was saved and plans are already in place to reinvent the iconic business as a non-profit film hub.
Opening in autumn 2020, the new Vidiots will be both a video store and independent cinema, offering rentals alongside screenings of rare and classic movies. It's powered by the love of their ideals, with many current donors having been former customers of the old store. Filmmakers like Rian Johnson and Jason Reitman are donating money and resources, as are stars like Mackenzie Davis (Terminator: Dark Fate) and Mark Duplass (Bombshell). The 200-seat theatre will also host educational programmes and festivals, working with the adjacent store to introduce new generations to the rich history of cinema.
20th Century Flicks (Bristol, UK)
When is a video store not a video store? When it's a library, a font of knowledge, a private cinema …and a video store! Nestled in a picturesque side street near Bristol's city centre is 20th Century Flicks, a video store where the love of cinema is literally written on the walls. Offering a selection of over 20,000 films to rent – and two screening rooms to hire, should you wish to enjoy your selection in style – this is a movie lover's dream. Always ready with recommendations and 'top ten' lists, the independent business is run by a small, committed staff of movie lovers. Famous patrons of the past include Simon Pegg, who was reported to owe the shop late fees (a cheque and apology note is now framed above the door).
20th Century Flicks has been around for years, but the screening rooms opened in 2018, rejuvenating the business and turning it into a movie jukebox where people can watch rarities and old favourites in their own private cinema (believed to be one of the smallest in the country). It's a superb example of a business evolving with customer demand, without sacrificing the love of cinema that exists at the heart of the place.
Filmgalerie 451 (Berlin, Germany)
While many territories have seen digital media dominate in the last few years, Germany has remained a strong proponent of physical formats such as CDs and DVDs. As such, you can still find a few interesting video rental places, and none more so than Filmgalerie 451. A production company with an adjoining DVD and video rental shop, they specialise in films that challenge customers, with titles from German and European filmmakers given top priority.
Rather than the old-school aesthetic of the video rental store, this 'film gallery' operates more as a library of fine cinema, with a large, devoted group of members who borrow from their vast collection. In a city synonymous with new and exciting cinema, thanks to the world-renowned Berlinale festival, Filmgalerie 451 fits perfectly into its surroundings.
E-Time Video (Cairns, Australia)
One charming story to come out of Australia is that of E-Time Video, a small, independent movie rental business that has bucked the trend of video stores closing down. Instead, customers became aware that the option to rent movies and TV shows would disappear if they didn't take advantage of the few remaining stores, and the business has seen a surprising upturn, with new initiatives and programmes designed to draw in the surrounding community. Where most of the surviving businesses are downsizing to make ends meet, this store has actually increased in size to meet demand.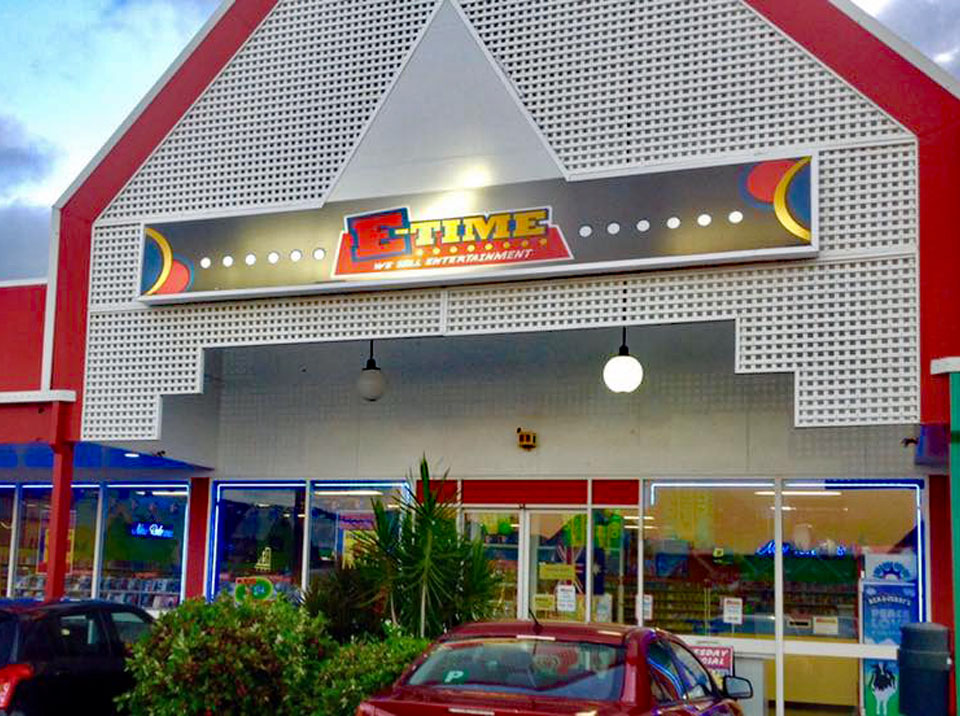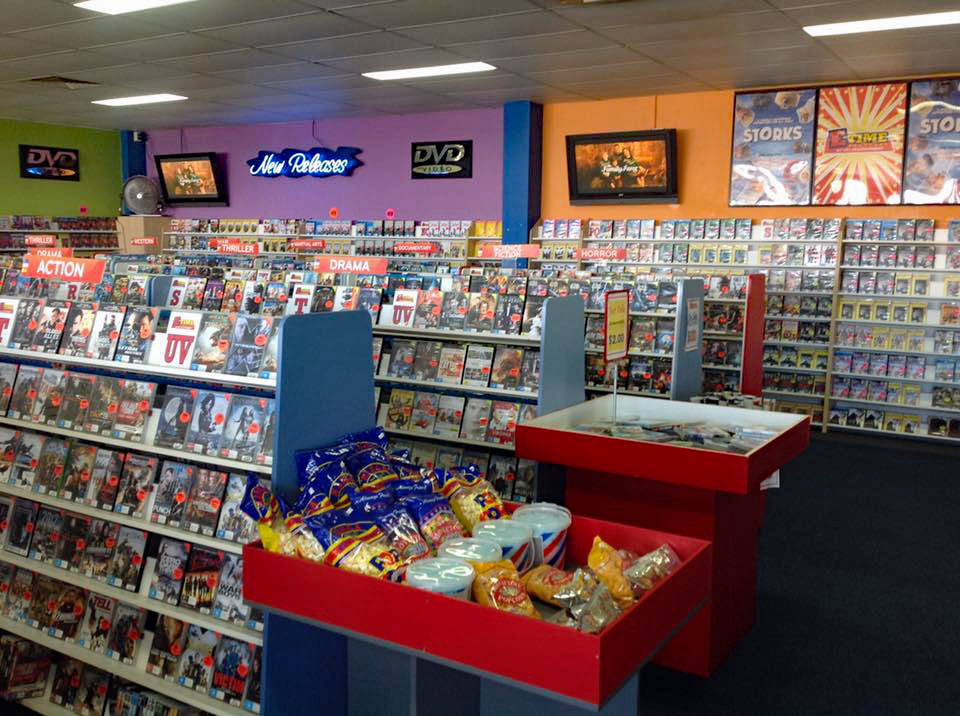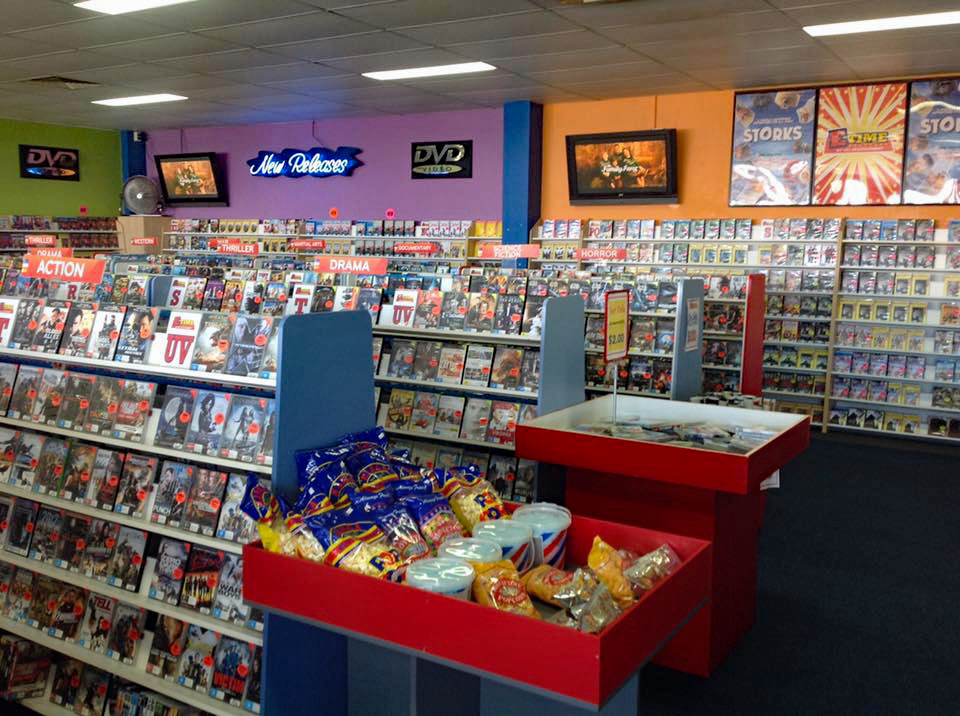 E-Time Video's success is an example of technological progress not always being aligned with public demand. Many people who are still overwhelmed by the idea of streaming, or perhaps perplexed by the vast libraries they are instantly faced with, can turn to the store as a way of refining their choices and bringing a personal experience back to home cinema viewing.
The Last Blockbuster (Oregon, US)
"Laugh all you want" their Twitter account posted last month. "We were here before you were born, and we'll be here after you die." The bullish nature of the so-called 'Last Blockbuster' is somewhat well earned, having gained notoriety in the aftermath of the rental Goliath's demise. Despite the Blockbuster Corporation being out of business, this store still uses the name as a private franchise, and has become something of a curiosity for those looking for an echo of their movie pasts. The logos, DVD racks, blue uniforms and the infamous 'Drop Box' will bring memories flooding back for those over a certain age who lost their local stores almost a decade ago.
Of course, while their continued existence speaks to a local audience that still enjoys the video store experience, the business is known globally for its witty Twitter account. Run by several employees at the store, it comes up with such gems as "Due to financial conditions going forward, we will only buy a new release if it features Tom Hanks, the Avengers, or both," as well as a good-natured rib at 'rivals' Netflix for "going 2 for 24" at this year's Oscars.