';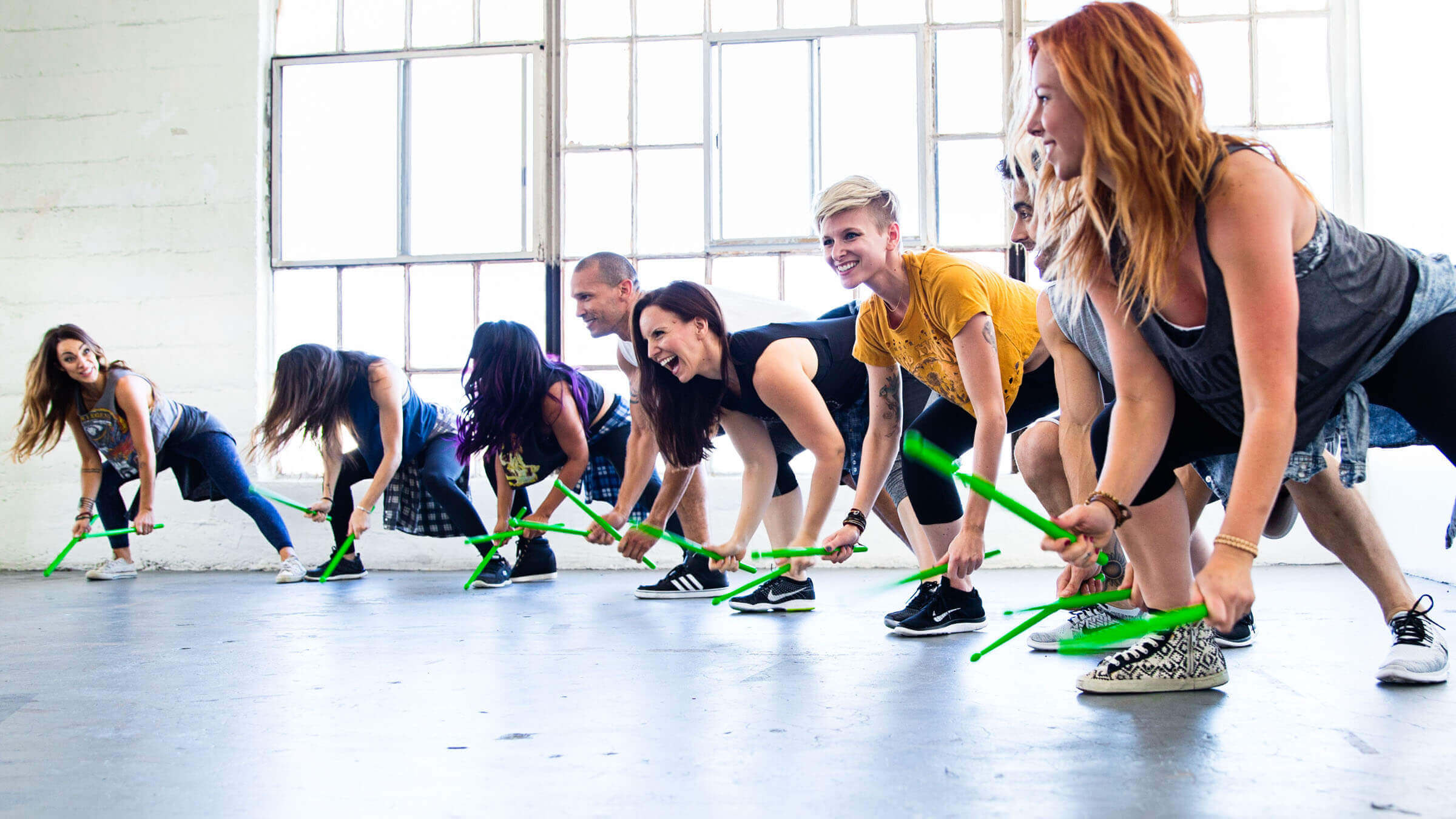 ;
You've made it through the first month of the year without giving up on your fitness goals? Now it's time to make sure you don't get bored with the routine. We've trawled through trendsetting studios and tested innovative workouts to bring you these fitness trends that could go global in 2017.
Rockout Workout
Imagine the music-blasting appeal of a dance workout (minus the anxiety-inducing choreographies), mix in the unadulterated joy of air-drumming to the beat of an amazing tune, then add the stress-relieving sensation of literally pounding the floor with actual drumsticks… and you're pretty close to the feeling of a POUND class. The "full-body cardio jam session" takes you through a series of standing and seated moves, all the while drumming the air or ground with a pair of weighted "ripstix" – and feeling like a total rockstar (i.e. sweaty and elated) by the end.
Find out more at poundfit.com
Sweat Into Shape
Lying down in a darkened room, watching Netflix and letting an infrared blanket do all the work may seem like the lazy man's fitness regime, but Shape House is not just a relaxing spa. Sure, it's a less active way to get sweating, but no less strenuous than a session at the gym. Much like traditions ranging from Swedish saunas and Turkish steam baths to Native American sweat lodges, the treatments harness the beneficial effects of heat on the body, including a cardiovascular "workout similar to that of a ten-mile run." It may not replace exercise, but feels just as glow-inducing.
Find out more at shapehouse.com
Celebrity Trainer For You
Anna Kaiser has helped Kate Hudson, Shakira and Sarah Jessica Parker get in shape, and made her expertise available to non-celebrity clients with first one, then three New York studios. Today, you can work out with her anywhere, anytime, thanks to the AKT On Demand app, which ticks two of our trend boxes. Through social media, we know a lot more about how fit celebs work out – and many fans want in. Anna Kaiser offers that opportunity in a format that's convenient and prescient: online workouts, at your fingertips. Most importantly, the strategically choreographed "high-intensity dance-based interval class" (don't call it dance cardio) is heaps of fun!
Find out more at aktinmotion.com
Better Than Hot Yoga
The once literally and figuratively hot Bikram Yoga has recently fallen from grace, not least due to the legal troubles of its eponymous founder. However, that doesn't mean yogis have given up on performing core-strengthening, stretching and posture-building poses in heated rooms. Instead, they've moved on to variations like Hot Pilates, which is unsurprisingly popular among the body beautiful of Hollywood. Others have discovered the benefits of a gentler infrared heat. This not-quite-so-hot yoga comes with the added benefit of not being tied to the Bikram name.
Find out more at myhotpilates.com
Positivity
The fitness community has slowly been embracing body positivity to include all shapes and sizes, not just those that look fit and slim. Most recently, this has extended to full-figured practitioners embracing a traditional skinny-girl exercise like yoga, aspirational social media snaps included. Up next: nerd fitness, making exercise appealing for gamers, superhero superfans, comic geeks and computer nerds. It uses the language, logic and rewards system of computer games, as well as the positive reinforcement of the community, to make getting fit fun for people who might otherwise feel out of place in a gym.
Find out more at bodypositiveyoga.com, nerdfitness.com
Balance
Core exercises on unstable surfaces have been around for a long time; balancing on wobbly ground targets all those deep muscles that are essential to a good posture, strong back and slim waist. It's built into old favourites like Reformer Pilates, surfing and snowboarding, as well as trending fitness regimes like SUP Yoga or Sandbox Fitness. The latter brings the beach to the studio, adding a playful touch to a workout of familiar exercises, made more challenging by the unsteady footing found in, well, a giant sandbox.
Find out more at sandbox-fitness.com
Team Training
Squad goals isn't just a hash-taggable buzzword, it also makes good motivational sense. At Tone House New York, the "first-ever extreme, athletic-based group fitness studio aimed at unleashing the inner athlete in everyone," members are trained like pro athletes – meaning professionally guided and competitive, but also team-oriented. The conspirative feeling of being in this together with a select group of people boosts morale to no end – even when no one involved is actually training to win the championship. This idea can, of course, be transferred to your own workout, no matter where you are: find a running partner or gym buddy to pull you through rough patches – but hashtag post-workout selfies with #squadgoals at your own peril.
Find out more at tonehouse.com
Article by Fiona Brutscher
So, it's been a long, hard winter… Are you excited by the prospect of taking your fitness routine outdoors once again?