';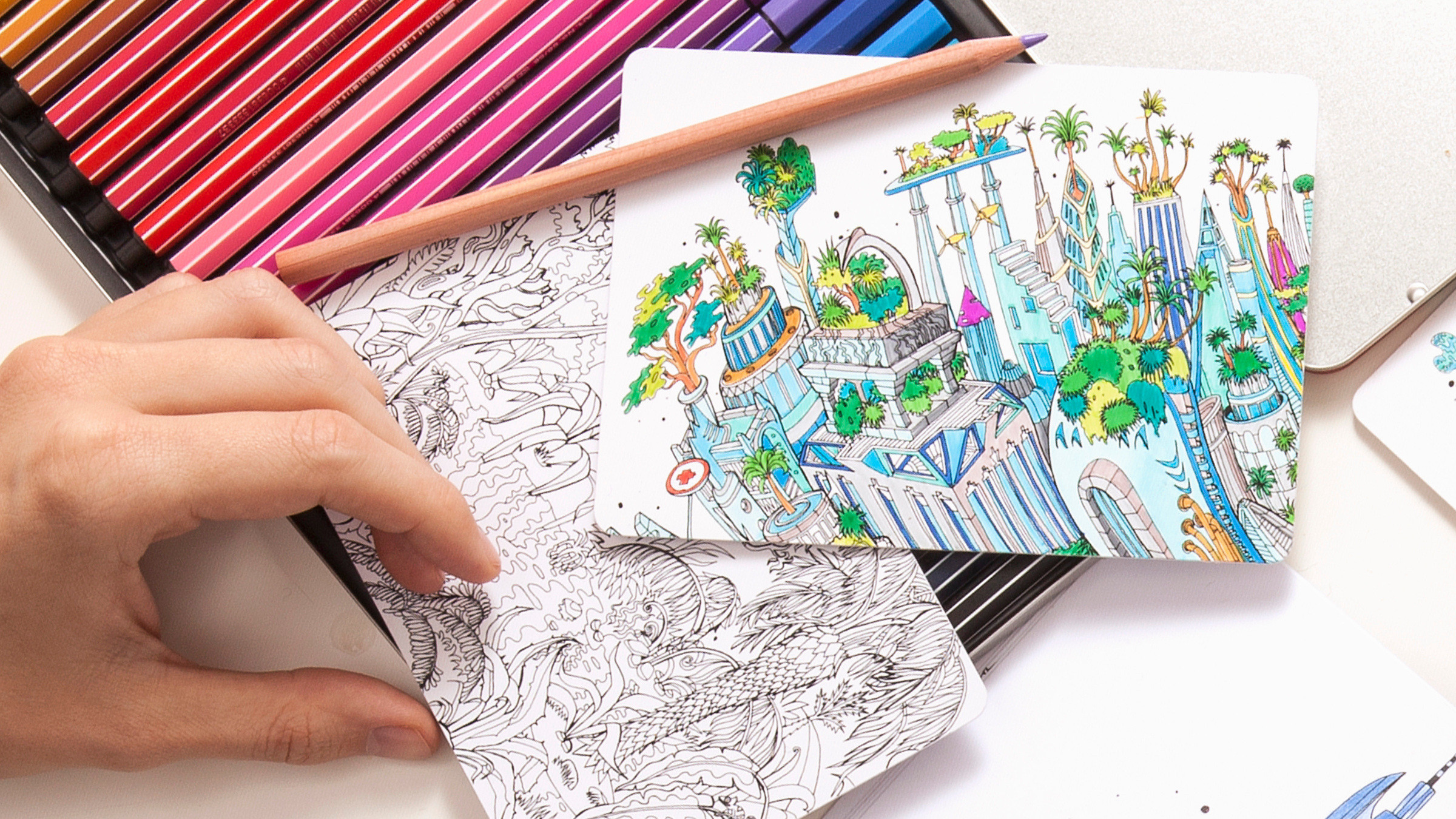 ;
Remember colouring books? As children, we all did our share of crayon, brush, pencil and pen colouring and drew tremendous satisfaction from filling in a myriad of empty outlines and admiring the finished results, even if it was a clumsy exercise for the lesser gifted among us.
The recent colouring phenomenon among adults taps into the same feeling of being a child again and deriving happiness from creating art. It's not quite as simple, however, involving inking exquisite, complicated art designs that often require hours of steady concentration. What's more, a slew of therapeutic benefits have been attributed to actively indulging in such intricate art, including reduced anxiety, relaxation, mindfulness, connectedness, harmony and creativity.
Scottish illustrator Johanna Basford kick started the current craze for colouring among adults in 2013 with her debut Secret Garden that has since sold millions of copies and been translated into 14 different languages. 2015 saw surging global sales for a variety of colouring titles, with many dominating national best-seller lists and Christmas wish lists. If forecasters and psychological experts have their say, the trend is likely to continue unabated and may even become a mainstay of a stress-ridden modern life, offering much needed downtime while allowing us to explore our artistic selves, even if only for a little while.
With that in mind, we bring you an assortment of offerings for the year ahead, including fresh releases by best-selling authors, popular titles that enhance creativity and well-being, as well as nostalgia-inducing ones with serious addiction potential.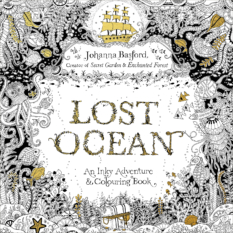 Johanna Basford's Lost Ocean 
From the ink evangelist who released the mega-successful Secret Garden and Enchanted Forest comes another equally absorbing follow-up filled with all sorts of intricacies from the sea. Prepare to lose yourself in her world of curious creatures, mystical mermaids, enchanting reefs and more, and also spot hidden secrets throughout your journey. amazon.co.uk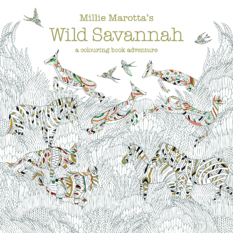 Millie Marotta's Wild Savannah
Animal lover and/or adventure seeker? Then this highly anticipated release by Sunday Times best-selling author of the Animal Kingdom and Tropical Wonderland will take you on a fantastical journey to savannah habitats across the globe. From klipspringers to oryx, there's plenty of wildlife and foliage to get charmed by, and you can even pencil in your own if you're feeling particularly creative. amazon.co.uk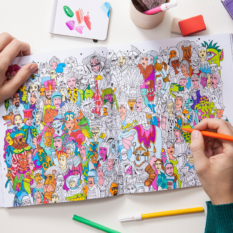 Moleskine and Carlo Stanga's The Wandering City
Enjoy hours of meditative relief, filling in spaces, tracing lines and exploring busy cityscapes in Moleskine's latest launch for grown-ups. The drawings created by architect Carlos Stanga are so rich in imagination and detail, it's hard not to become completely immersed in its beauty. The paper is also high-quality, so your gel ink won't bleed through. amazon.co.uk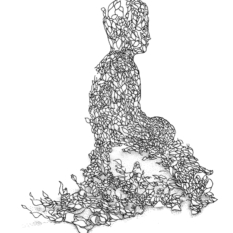 Souris Hong's Outside The Lines, Too
Don't be fooled by the title – there's no bonus for colouring outside the lines. Rather, it's reflective of the creative nature of what lies inside. Pooling a range of inventive works from over 100 cartoonists, animators, graphic artists, musicians, photographers, fine artists, illustrators and so on, it's a marvellous, one-of-a-kind resource for colouring aficionados and art lovers alike, plus the perforated pages facilitate the easy sharing and displaying of art. That's not all – part of the sale proceeds go toward art education. amazon.co.uk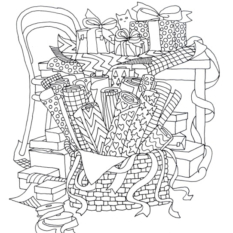 Durell Godfrey's Color Me Cluttered 
Life isn't always organised, orderly and straightforward. However, creating structure out of chaos can be therapeutic, to say the least, which is exactly what this book hopes to accomplish through art. As you fill page after page of endlessly cluttered rooms, tables and desks, you'll come out feeling as if you've tidied up and established order, bringing out the beauty in the mundane with colours. Neat freaks may find this book particularly cathartic. amazon.co.uk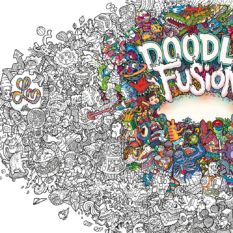 Zifflin and Lei Melendres' Doodle Fusion
Zifflin's worthy sequel to Doodle Invasion, illustrated by Lei Melendres, has the potential to change your mood. But, like its hugely successful predecessor, it's not for the faint-hearted. Crammed with hundreds of crazily intricate critters that make up larger ones, the entire experience demands a lot of focus, but here's the thing: if you persist and survive, there's a good chance you will emerge feeling calm and deeply satisfied, making it all worth it in the end. amazon.co.uk
Jim Gogarty's The Mandala Colouring Book
A mandala drawing book is an essential choice if you want to free your mind, connect with your inner being, become centered and unleash your creative potential. Featuring 100 traditional and fun mandala drawings that are simple but engaging, the book has garnered positive reviews with users reporting feelings ranging from relaxation to even being able to diffuse a panic attack. Keep your eyes out for Volume II in May. amazon.co.uk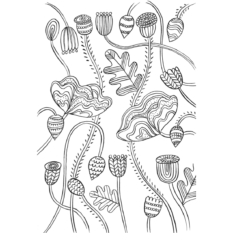 Emma Farrarons' More Mindfulness Colouring
For all those times when you simply want to de-stress and relax without worrying too much about staying inside the lines, this second pocket-sized companion from best-selling author Emma Farrarons allows you to do exactly that, and on the go as well. amazon.co.uk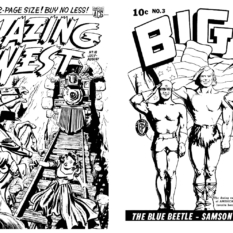 Michael O'Mara's The Classic Comic Colouring Book
Take a trip down memory lane with this unique colouring book that includes more than 100 vintage comic book covers from various genres. Loaded with action, adventure, romance, mystery, sci-fi and horror, there will be nostalgia and smiles as you spend time inking superheroes along with aliens, monsters and damsels in distress. A perfect accompaniment to '50s radio, tea and biscuits! amazon.co.uk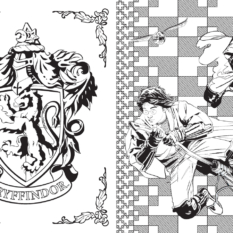 Warner Brothers' Harry Potter Colouring Book 
Potterheads have reason to cheer – from Warner Bros comes an enchanting book filled with characters, film stills, scenes and detailed drawings used in the making of the Harry Potter movies. There's Dobby the House-elf, Hedwig and baby Norbert, as well as Quidditch games to partake in and, of course, the ultimate battle between Harry and Lord Voldemort. And for muggles who still can't get enough, try the hot-off-the-press sequel complete with magical beings and beasts from the wizarding world. amazon.co.uk/Harry-Potter-Colouring-Warner-Brothers, amazon.co.uk/Harry-Potter-Magical-Creatures-Colouring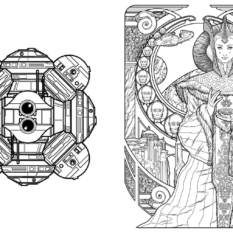 Catherine Saunier-Talec & Anne Vallet's Art Therapy: Star Wars
A not-to-miss Star Wars hardbound collectible loaded with elaborate mandalas of ships, robots, weapons, characters and landscapes from all six episodes – sure to please fans of all ages. What stands out is the stunning selection of images including kaleidoscopic, mandala-style and full-page art-nouveau-type designs. amazon.co.uk
Pixite's Pigment iOS Colouring App 
After books, now is the turn of the app for overstressed smartphone and tablet users; enter the newly launched Pigment app for iOS and iPad. Unlike a book, it obliterates the need for boxes of colouring implements, plus the possibilities to customise opacity and tool precision are endless. With 200 neatly categorised and complex illustrations, limitless choices for colour palette and technique, social media sharing and print-friendly options, it holds promise and may shape how colouring gets done in future. itunes.apple.com
Article by Purnima Shrinivas
How do you view the seemingly unstoppable craze for mindfulness-inspire coloring books?