';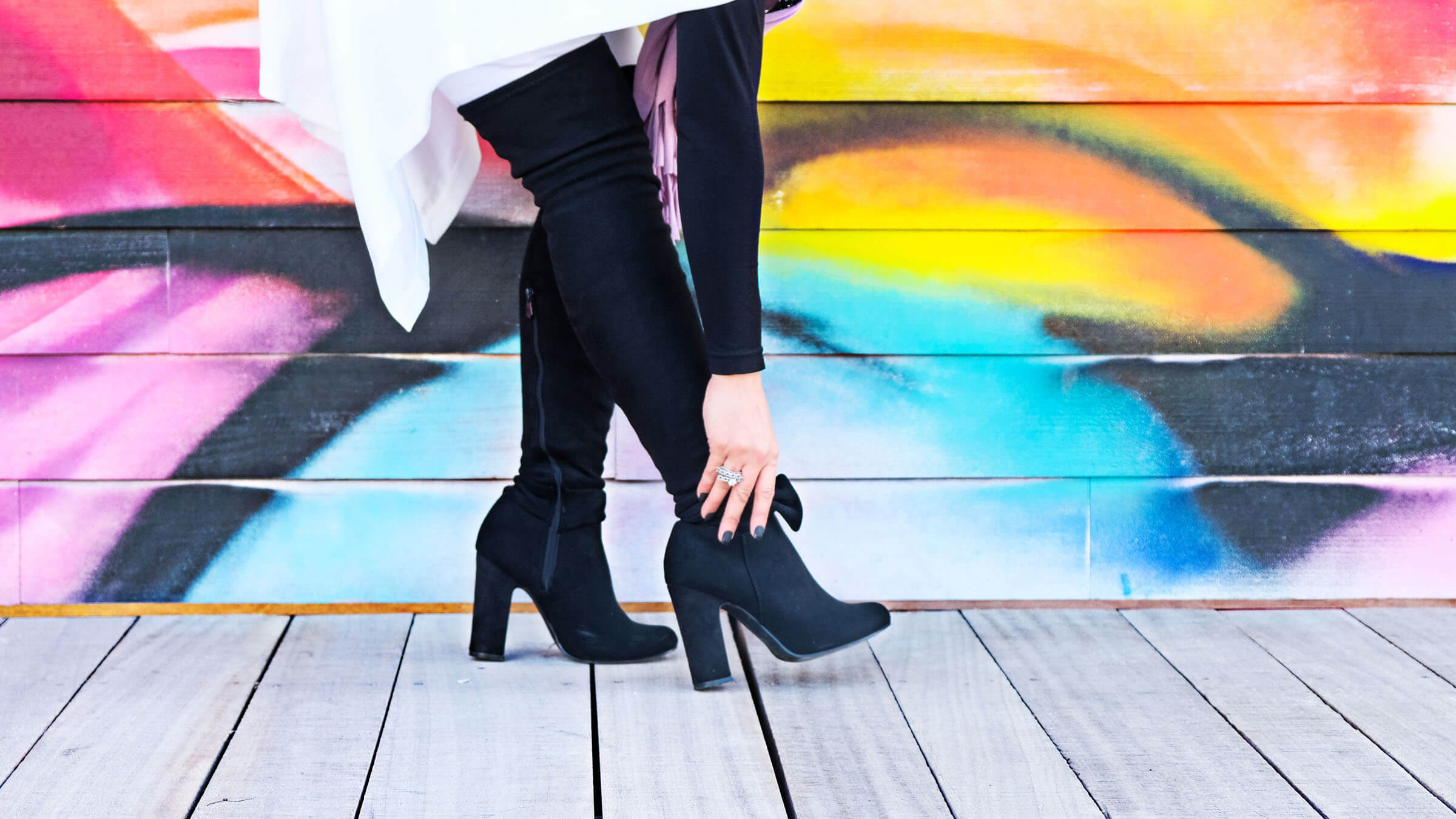 ;
Many of us mourn the end of summer – that is, until visions of our new autumn wardrobes pop into mind. It's a marvellous time of year, marked by the brilliant contradiction of ramped-up motivation at the office and cosy hygge moments at home.
And while it's time to say goodbye to carefree summer wardrobes, wonderful layers come into play, along with the star accessory of the season: Boots! It's the same player year in and year out, only the details change – so take these hints for styling the hottest boots of autumn 2019.
Sock Boots: From Balenciaga To The World
When French fashion house Balenciaga introduced their knit sock sneakers (maybe not the first, but one of the first to go viral in streetwear), they were a quick success, but no one knew how long they'd be around. Sock boots, like their sneaker counterparts, fall within the category of shoes you're either going to love or want nothing to do with at all. If the former applies to you, you're in luck: sock boots are proving to have serious staying power, and they can be incredibly easy to style for autumn.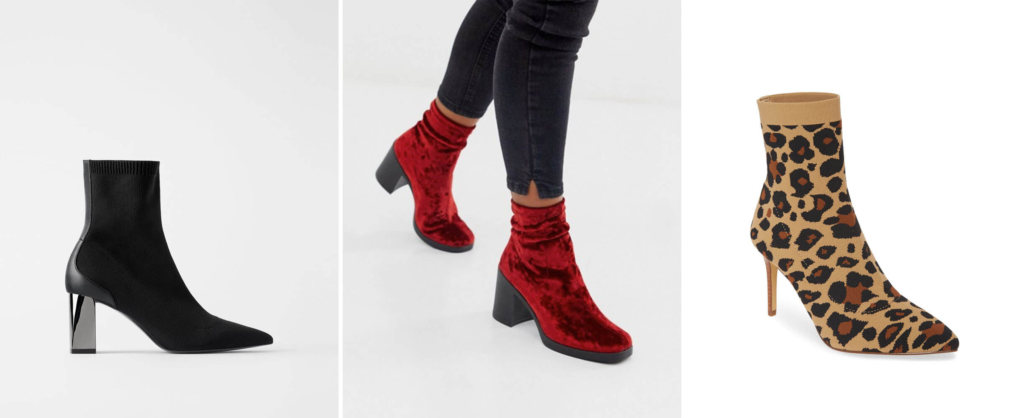 [Photos left to right: Zara, Net-A-Porter, Bershka]
Combine them with a pair of light-hued skinny jeans and an oversized sweater; a sleek wool coat with a maxi dress underneath (leather maxis are stunning this autumn); or real or faux leather leggings for the perfect rock-inspired, layered look. It's interesting just how well sock boots and booties go with '70s-esque styles as well – they may not have been around back then, but they sure do complement anything from the era (hint: wear a printed silk scarf to finish the look).
Still, the utility jumpsuit may well be the best pairing for sock boots this season; the sleek lines add a potent dose of femininity to one of the hottest apparel trends of the season.
Slouchy Boots: An Improvement On The Era Of Excess
Slouchy boots are everywhere – and in the best way possible. They come off as modern and fresh, while still managing to conjure images of fabulous 1980s fashion. Whether you go for a ruched ankle boot or a thigh-high version, it's bound to be beautiful – especially when you stick to tailored shorts or long, lean layers for your thigh-high combinations (extra credit if you incorporate this season's printed turtleneck trend). But remember to have fun: these are festive shoes! Experiment with metallic looks, animal prints and '70s patchwork, as well as funky textures like faux crocodile and glossy styles just begging for a night on the town.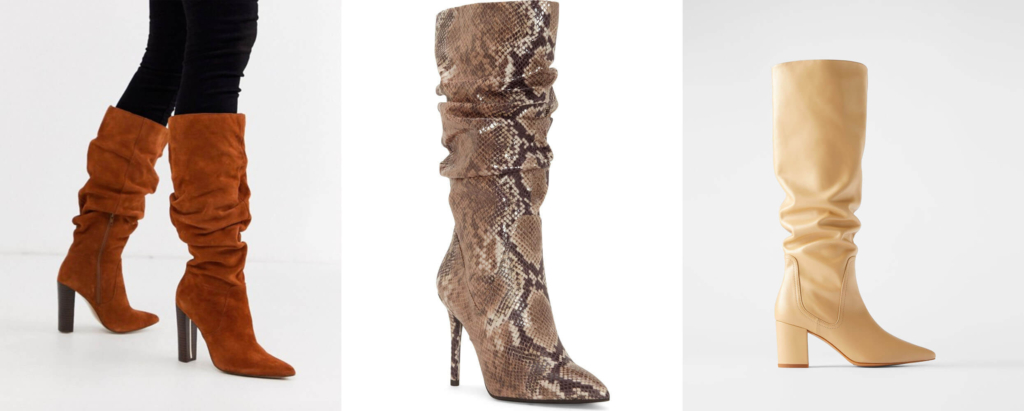 [Photos left to right: Asos, Nordstrom, Zara]
Though they're not the obvious choice, knee-high slouchy boots can even be appropriate for work. Wear them beneath long, jersey wrap dresses – and avoid stiletto heels – so the effect leans more towards power lunch than party appeal.
Western Boots: Wilder Than Ever
It's true: cowgirl boots have left the ranch for the chicest city streets, so even if you've never stepped foot in Texas, western-inspired footwear may still be for you. Yes, you can wear them with jeans, but they really shine with dresses and skirts. As for accessories, western boots look amazing with chunky gold hoop earrings and uber-cool felt hats this season.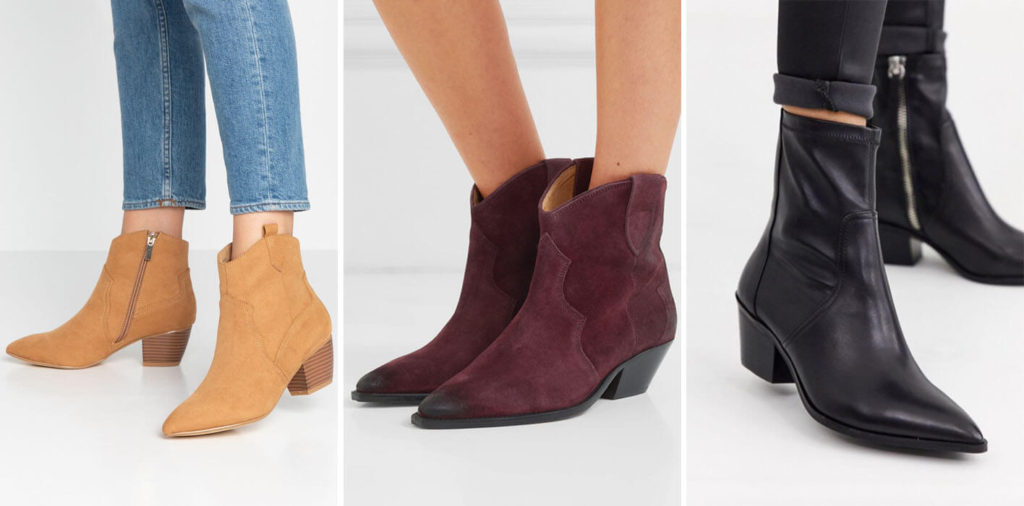 [Photos left to right: Zalando, Net-A-Porter, Asos]
High-quality western boots do last for many years, so a version in a neutral tone – such as tan, black or brown – is the most practical choice if you're shopping on a budget. Of course, practical can still mean stylish; take, for example, these sky-high western boots by Jeffrey Campbell. If you're more interested in a grand statement, there are plenty of avant-garde options as well, including an astrology-themed pair of cowgirl boots by Brother Vellies.
Combat Boots: Prepare For Fashion Battle
In a time of protests, demonstrations and social upheaval, it only seems appropriate that combat boots – symbolising strength, power and perseverance – should come back in style. While you can never go wrong with a pair of Doc Martens, the new combat boots are different; in fact, many of them go all the way up to the knees! From pink combat boots to equestrian-like models, these boots are a fabulous investment for your wardrobe, as you'll be able to wear them for many seasons to come.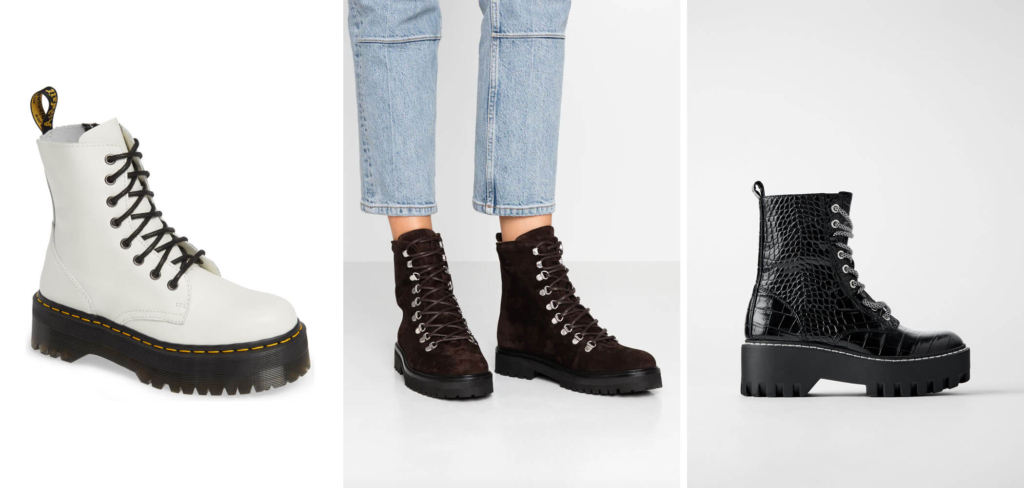 [Photos left to right: Nordstrom, Zalando, Zara]
Style your combat boots with military-inspired outerwear, leather jackets and neutral-toned vintage looks. For a softer effect, channel Courtney Love and the '90s alternative grunge scene with babydoll dresses and leggings, fun faux fur and fitted jeans – or even flowing cocktail dresses of any length. Finally, for a simple daytime look, reach for your favourite concert tee and a denim skirt, or tight, mid-calf pants and a statement jacket.
Did you know some combat boots hide secret pockets? They make for an unusual yet effective way to solve the itsy bitsy handbag dilemma!
Bold Boots: An Array Of Eye-Catching Colours
No matter the silhouette, designers are offering boots in a rainbow of hues for autumn 2019. "The brighter, the better" is the motto of the season. Tread carefully, however, because not every boot looks great in a pop of colour. Start slowly if you're new to bold hues, reserving brightly coloured boots for late-night outfits and weather-proof styles like rain boots and snow boots. Or consider dressing in head-to-toe neutrals to let the accessories do the talking, which helps avoid a major faux pas. Of course, if you lean towards the more eccentric in your everyday style, feel free to go wild.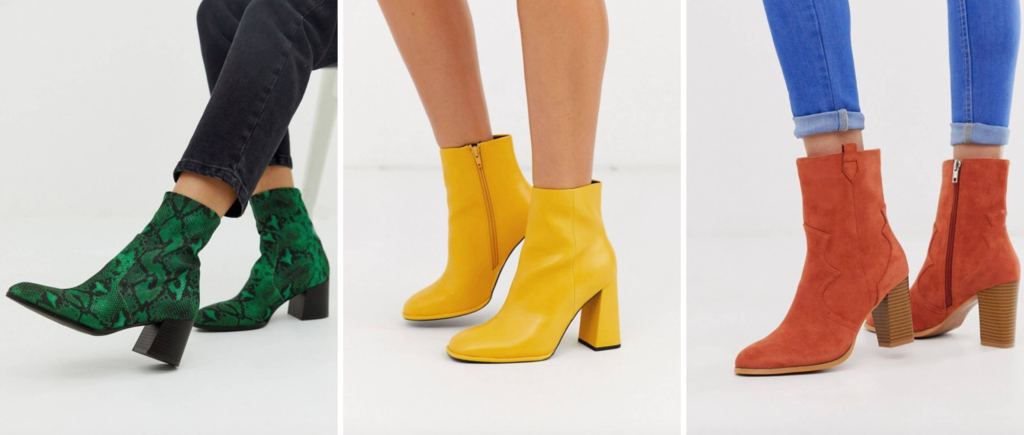 [Photos left to right: Asos, Asos, Asos]
Quality Boots: Always In Style
In a culture of disposable, waste-producing fast fashion, shopping for high-quality footwear is a responsible decision – and a boon to your bank account. Select a style you know you'll get a lot of wear out of, made from durable, quality materials, and look after them well: with the right care, you'll be able to wear your boots for years to come. Happy hunting – and choose wisely!