';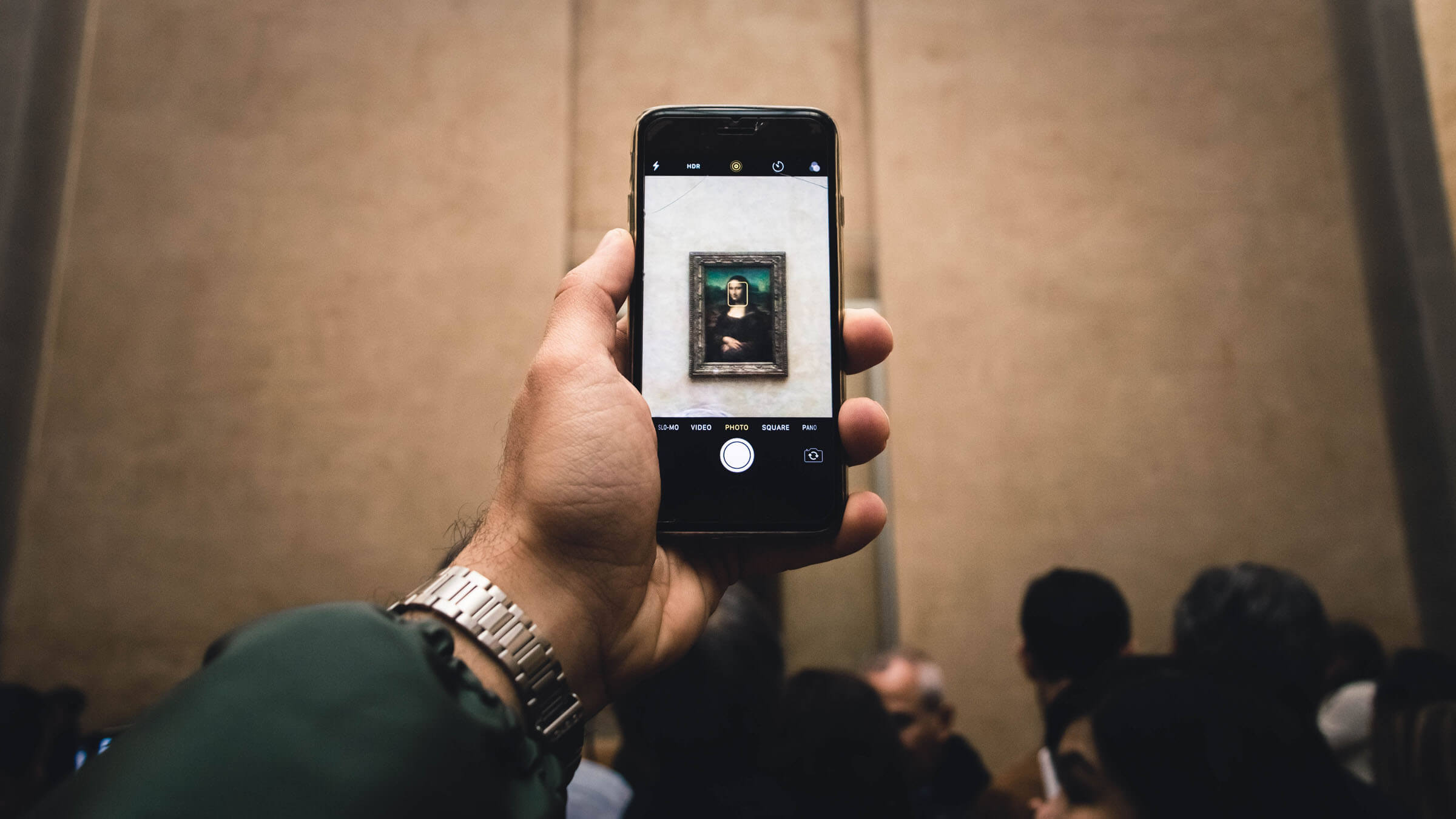 Technology can't just help us plan a trip to the museum and find our way around once we get there. These days, smart devices, apps and online programmes can teach us more about art in general or certain works in particular, as well as help us engage with our own views on an exhibition and connect with the people behind it. In fact, technology is even being used to make museums interesting and accessible to more diverse audiences. We take a look at some of the best examples of museums enhancing their physical art with virtual experiences.
Learn About Art History
Have you ever felt intimidated by an art exhibition? Have you ever visited a museum with a friend who didn't want to share their opinions on the works on display because they "know nothing about art"? All good reasons to take the highly entertaining and educational Art History Online – The Städel Course on Modern Art.
The course is based on 250 selected works of modern art from the Frankfurt museum's collection and aims to transfer some knowledge about the styles, techniques, art movements and stories behind them. More importantly, it teaches students to engage with works on their own terms and encourages them to come to their own conclusions, based on what the course has taught them. Even if you come loaded with expert knowledge, this multimedia course will probably teach you a thing or two …or at the very least keep you entertained for a few hours. The "teacher", a German actor who looks a lot more serious than he acts, guides students through the course modules with elements of comedy, song and drama.
Ask The Experts
More often than not, when we have a question on a museum exhibit that the audio guide leaves open, our first instinct is to ask Google, Siri or some other artificial intelligence that will deliver tons of encyclopedic knowledge, but not necessarily the correct answer to a specific question like, "What is that thing in this picture?", "How did this artist make that sculpture?" or "What does this chair remind me of?" Of course, the people who could answer those questions are probably in the building, working behind the scenes, so why not ask them? The Brooklyn Museum has developed an app that allows you to do just that.
Simply send a message (with image attachment if necessary) through the Ask app, which will connect you with the right expert who will respond immediately, if possible. If the right person isn't on duty, you'll get an email with their answer at a later date. It's all very casual and accessible – and of course, there's no such thing as stupid questions!
Take A Tour
Taking a tour of the San Francisco Museum of Modern Art (SFMOMA) with the museum's audio app is like letting your extremely knowledgeable, chatty friend take you on a tour of their favourite pieces from the collection. Or like listening to an entertaining podcast while you browse the art, except the podcast happens to be talking about what you're looking at. Either way, it's a very casual, conversational way of exploring the gigantic museum, which could otherwise seem overwhelming.
Simply let the voices of actors, musicians, curators, dancers, radio and TV presenters guide you around, always in sync with your position – thanks to iBeacon technology – and never have to glance at your phone.
Get A Closer Look
Nowadays, you can find the majority of the world's most important artworks online in digital form, and yet nothing really compares to seeing the original, experiencing its size in relation to the surroundings, putting it in context with art from the same era, examining the texture of its surfaces. However, sometimes you'd just love to get a closer look …and there goes the alarm. Madrid's venerable Museo del Prado lets you explore some of the most famous paintings from its collection to your heart's content, without making any gallery attendants nervous or breaking museum rules.
Two apps, each dedicated to one part of the collection and both launched to celebrate the institute's centenary in 2016, contain masterpieces in HD detail, zoomable to reveal minute features and additional infrared reflectography and x-ray layers. Second Canvas Museo del Prado – Masterpieces puts paintings by El Greco, Toitian, Rembrandt and Francisco de Goya at your fingertips, while Second Canvas Museo del Prado – Bosch gives access to seven works by Hieronymus Bosch, including The Garden of Earthly Delights, all in extreme detail. Now you can look at the real thing and touch it through the app!
Entertain The Kids
Art apps for kids are all about playful immersion. At the Metropolitan Museum of Art in Manhattan, a scavenger hunt invites young art aficionados to find out who killed the woman in the John Singer Sargent painting Madame X. To solve Murder at the Met – An American Art Mystery, participants have to use the web app to find clues scattered throughout the museum (and engage with the art while they're at it).
In the UK, Tate Kids is a 360° programme, encompassing activities both online and offline, at the museums across London, in Liverpool and St Ives. It includes family events, drawing stations within galleries, the Tate Kids Draw & Play app and a website featuring games and quizzes, child-friendly art history lessons and downloadable instructions for DIY art projects, the results of which can be shared in the Tate Kids online gallery.
At Thyssen-Bornemisza Museum, kids can get hands-on with the art. Of course, the private art collection in Madrid doesn't allow them to touch the originals on display, but the Living Paintings app allows them to play around with the works, for example by changing the outfit of Henry VIII in Hans Holbein the Younger's famous portrait of him, playing hide-and-seek with the animals in Vittore Carpaccio's Young Knight in a Landscape, or exploring the dynamics of shape, colour and how they relate to sound in Wassily Kandinsky's Delicate Tension. Rather than putting museum art on a pedestal, it shows kids that anyone can get creative – and there's a little artist hidden in each of them.