';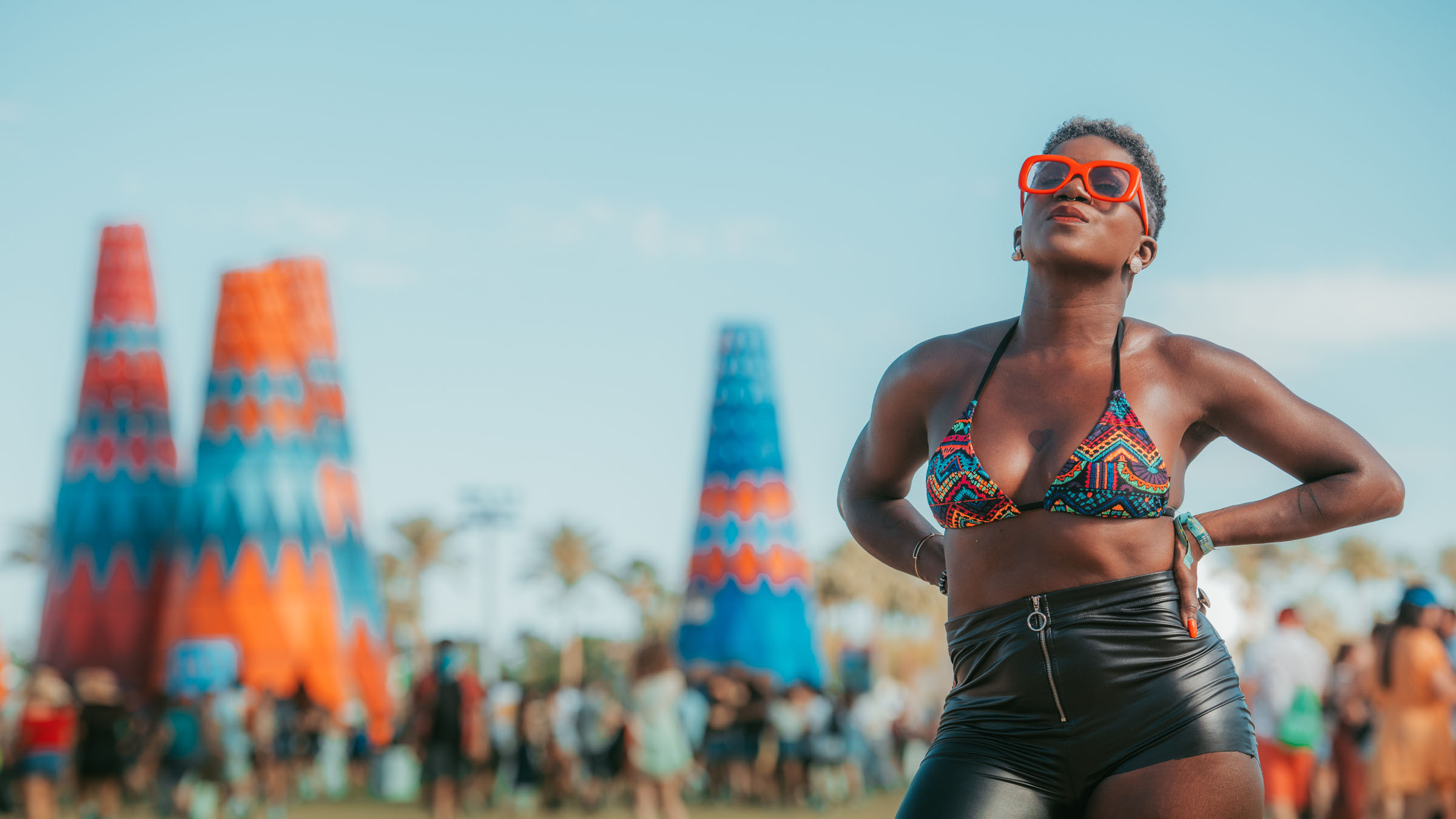 ;
The 2020 festival season is right around the corner, but before the first set has even been played, we've already got the fashion forecast. We look to the recent spring/summer international runways, where many top trends – from patchwork to feathers and teeny-tiny handbags – align perfectly for the festival circuit… almost as if the designers themselves turned to the likes of Burning Man for inspiration.
Pretty In Patchwork 
Perfect For: SXSW Music Festival in Austin, Texas, USA (16-22 March 2020)
Fitting for the warm Texan spring weather, patchwork motifs and embroidery are appearing on everything from hot pants and dresses to handbags and boots. The look works well, whether in motifs incorporating an array of colours, or in the most understated, monochromatic of colour palettes. One of the many 1960s and arts-and-crafts-inspired trends taking over the streets in 2020, it's sure to find a following at the SXSW music festival that coincides with the film, interactive and music conference of the same name. Attendees would do well to purchase patchwork fashions in more airy fabrics, such as the lighter-weight suedes and cotton seen on runways.
View this post on Instagram
View this post on Instagram
Ophidian Fashion
Perfect For: Ultra Music Festival in Miami, Florida, USA (20-22 March 2020) 
Animal prints are holding steady this season. However, true to form, the animals of the moment have changed – with the python print taking the spotlight on spring/summer runways. Absolutely appropriate for the popular Downtown Miami music festival, attendees may go bold with python-print apparel, or reserve the motif for their accessories only. A simple slip dress worn with a choker and python ankle boots, for example, makes for a photo-friendly outfit – as well as a great get-up for dancing to the sounds of the world's top electronic music DJs. The addition of a light cardigan easily transitions the look from day to night.
View this post on Instagram
View this post on Instagram
Come-Hither Crochet 
Perfect For: Coachella Valley Music and Arts Festival in Indio, California, USA (10-19 April 2020)
Lightweight and ideal for summertime, crochet is showing up everywhere – from mini shorts to crop tops and bikini cover-ups. The iconic desert festival, located less than 40 kilometres from Palm Springs, is an excellent venue to experiment with this throwback look that shows enough of the seemingly prerequisite Coachella skin, while also speaking to the arts and crafts and 1960s fashion trends.
View this post on Instagram
View this post on Instagram
Groovy '60s Style 
Perfect For: Creamfields in Santiago, Chile (9 May 2020)
Yet another '60s-era trend on the year's fashion agenda? The decade's big, bold and colourful prints. As British music festival Creamfields touts a sister event in the Chilean capital, it's the perfect opportunity to don these 1960s motifs on matching two-piece ensembles (crop tops and shorts), minidresses and sweaters. May is the autumn shoulder of the city, equating to cooler, more comfortable temperatures and (as usual) relatively low odds for rain. Combinations of new and vintage fashion, accessorised with costume jewellery in large, geometric shapes, will do the trick.
View this post on Instagram
View this post on Instagram
Long Live The Belt Bag 
Perfect For: Exit Festival in Novi Sad, Serbia (9-12 July 2020)
From the sporty to the glamorous and everything in between, belt bags continue to rule the runways. Prada and Saint Laurent, Tory Burch and Kate Spade… designers at every price point are successfully redefining the once-loathsome bum bag. Style-conscious and practicality-minded visitors among the nearly 200,000 attendees visiting the Exit Festival each year would do well to opt for the style. The versatile belt bag may be worn around the waist or across the body, making it a sublime accessory for both men and women at the event in Petrovaradin Fortress.
View this post on Instagram
View this post on Instagram
Shine Bright
Perfect For: Tomorrowland in Boom, Belgium (17-19 July, 24-26 July 2020)
One of the largest music festivals on the planet takes place over two weekends in Belgium: Tomorrowland. The electronic music event is known for booking the greatest acts in house, tech-house, techno and more, but it may be just as famous for its larger-than-life backdrops and stages. As such, the music festival offers an apt space to wear look-at-me neon colours and fit right in. The ordinarily over-the-top colour scheme is a brilliant fashion approach for the high-energy summertime festival.
View this post on Instagram
View this post on Instagram
Itty-Bitty Bags
Perfect For: Lollapalooza Paris in Paris, France (18-19 July 2020)
The pendulum of fashion has swung far, introducing the world to the teeniest and tiniest of handbags, directly following a trend lauding the oversized. The whimsical trend is wonderfully impractical, with bags offering space for a single credit card, a driver's license or even just one tube of lipstick. Lollapalooza Paris attendees may travel light across the festival grounds, free to dance the day away while leaving their worries (and excess baggage) behind. On the topic of Paris, the teeny-tiny handbag trend was famously popularised by witty French fashion designer Jacquemus, whose bags may even be purchased as tiny handbag necklaces: the smaller the better. Designers from Fendi to Chloé also offer irresistible styles, as do a number of more affordable brands including Topshop and Urban Outfitters.
View this post on Instagram
View this post on Instagram
Go Belly Out 
Perfect For: Electric Daisy Carnival (EDC) in Las Vegas, Nevada (15-16 August 2020)
EDC is the epitome of a modern-day rave scene, with colours, lights and surprise entertainment galore. Younger partygoers, especially those in their 20s, dance the day and night away in imaginative ensembles, listening to the sounds of dozens of the world's best DJs. The bra top trend is an excellent addition to the colour-saturated wardrobes of such vivacious festival fiends – not to mention ideal for a Las Vegas summer. To balance the minimal fabric on the torso, bra tops are best styled with shorts or skirts of knee length or longer. For those set on pairing bra tops with short shorts, keep in mind that hip-length, kimono-style cover-ups designed for the beach can add elegance without creating too much heat. Finally, drop earrings and headbands serve as the ultimate accessories.
View this post on Instagram
View this post on Instagram
Feathers 
Perfect For: Burning Man in Black Rock Desert, Nevada, USA (30 August – 7 September 2020) 
Fashion designers are having a lot of fun with faux feathers, with the look showing up in designs by brands as diverse as Reformation and Sleeper. And with fantastic finds available at every price point, the trend is sure to have a major presence come festival season – especially at Burning Man. Faux feathers for sleeves, or faux feather-adorned tops and accessories can balance creativity and femininity while presenting an ode to nature – perfect for enthusiastic and style-conscious partygoers. Still, store-bought looks may not be the norm: the festival known for fanciful costumed dress may be a better opportunity for many to add faux feathers to their custom party looks.
View this post on Instagram
View this post on Instagram