';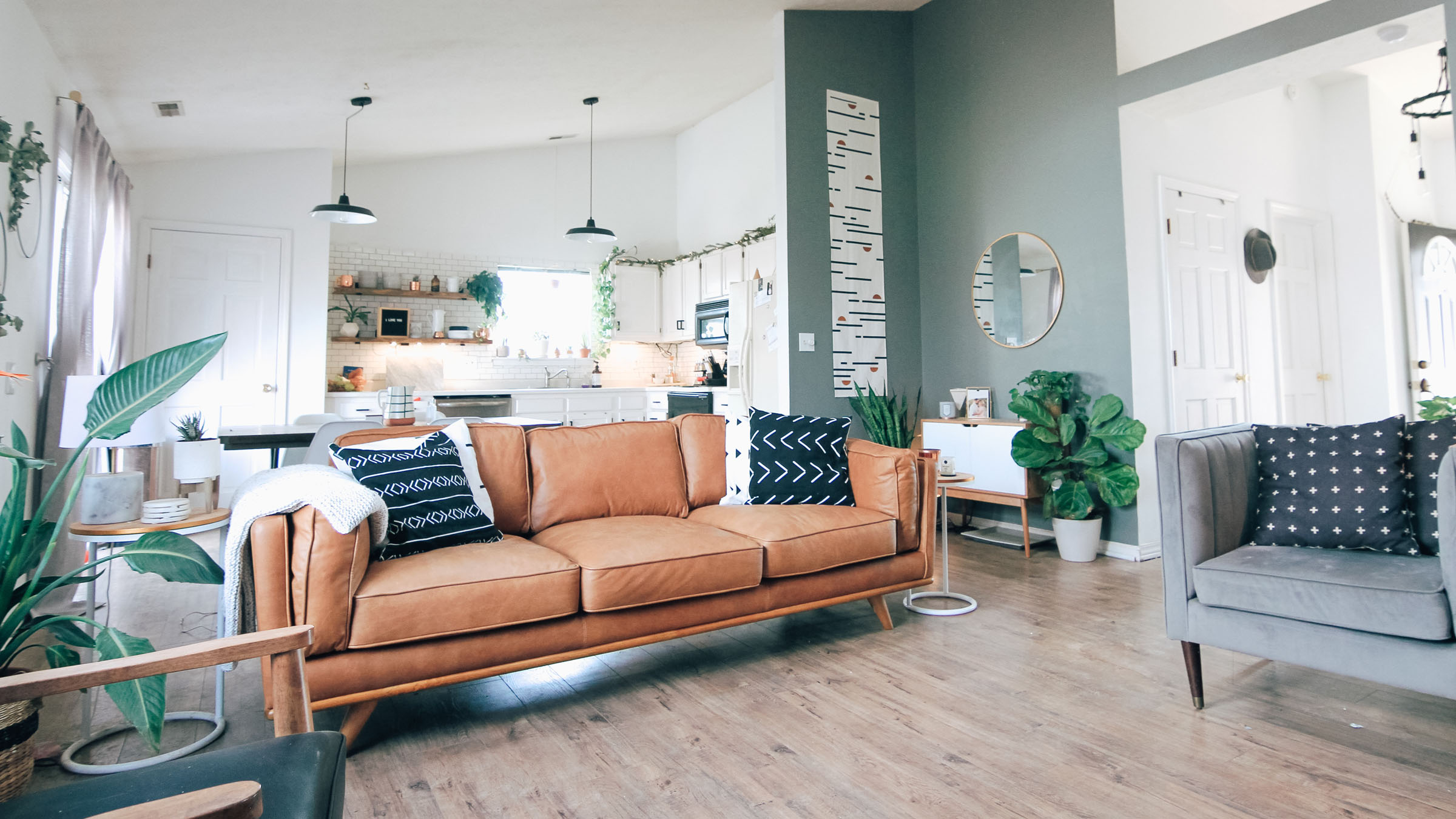 For many of us, this past year was spent redefining our relationship with our homes, and for better or for worse, it's still the place we're spending most of our time – and will be for the foreseeable future.
However, whereas last year was spent seeking quick fixes for unexpected necessities – a makeshift desk here, an ad hoc workout space there – we see 2021 as a year of opportunity rather than adaptation, a time to make conscious changes instead of just going with the flow, and a chance to use the resources we have to boost our well-being in the space we call home. And we're looking to current home interior trends for inspiration.
From therapeautic colours to accessories with a purpose, and even styles that ease anxiety, these interior designer-approved trends for 2021 will not only improve your home aesthetics, but also provide a much-needed mood boost.
The Old And The New
Japandi
One of the biggest decor trends right now is not actually one specific style, but rather a combination of two well-harmonised aesthetics: Japanese and Scandinavian, aka Japandi. Considering that the current times have turned our homes into our everything – including our place of sanctuary – this fusion is the perfect go-to if you're considering a more minimalistic change of pace. Clean lines, light wooden finishes, neutral palettes and loads of light are all set to provide a calming, relaxed effect through spaces that are simple and de-cluttered, but still warm and cosy. For furniture, pick lighter woods paired with natural fabrics in white, cream, grey and other muted neutrals. Use wicker baskets and organisers to remove (or hide) all odds and ends, choose abstract wall art with geometric figures, and as a rule, lean into a minimalist philosophy – which, by extension, will make your decor choices more sustainable. Clear space, clear mind.
View this post on Instagram
View this post on Instagram
Grandmillennial
If, on the other hand, you're looking to infuse your space with more life and colour, look to the 'grandmillennial' style – also called 'granny chic' – which is trending according to interior designers. All those floral wallpapers, vintage furniture pieces, crochet accents, blue-and-white porcelain, and whimsical patterns are having a moment right now, and for all the right reasons. The grandmillennial style provides a feeling of comfort and nostalgia that seems to lower anxiety levels, and it makes sense – after all, don't we all feel better when we look back on fond memories with granny and gramps? So, for a trendy mood booster, make some space for a skirted vanity table, scalloped towels and matching curtains and cushions.
View this post on Instagram
View this post on Instagram
Colour Therapy
Green Kitchen
Kitchens are going green, quite literally, this year. With a global need for increased comfort and feelings of safety, interior designers are seeing a return to warmer, richer colours, specifically the number one hue associated with hope – including in their kitchens. All accents of green, from olive to emerald and moss, help conjure feelings of renewal and tranquillity, while being reminiscent of those natural environments that many of us are still missing. Think olive kitchen countertops, forest green cabinets or mint tiles. And if completely renovating your kitchen or painting it in a bold colour is too big of an investment or commitment, try simply adding a few kitchen accessories and smaller appliances with a green accent, to evoke that feeling of harmony and freshness for a more enjoyable cooking experience.
View this post on Instagram
View this post on Instagram
Earth Tones
To complement those natural shades of green, earth tones in general will become more popular this year. Anything from beige, sand and taupe to terracotta, bronze and burnt orange will serve as fresh alternatives to the basic whites and sober greys we're getting bored with. Dulux chose one natural neutral, Brave Ground, as their Colour of the Year for 2021, describing it as an "enabling and stabilising colour… that also lets other colours shine." Earthy hues usually match well with both warm and cool tones, so it's a versatile trend to follow. Plus, these colours are welcoming and inviting, casting any room in a new light without the clutter or crampedness that bolder colours sometimes suggest. Interior designers recommend giving a wall, rug or couch a darker shade, and styling the rest of the room in earthy tones, so as to maintain balance and clean visuals.
View this post on Instagram
View this post on Instagram
Accessories With A Purpose
Dividers 
Now that we're officially doing everything from home, we could all use more space and more privacy. No news there. So it's not surprising that dividers have emerged as a stylish but functional trend for delineating the various multi-use spaces in our homes and adapting them to their functions, especially when the square footage is not expanding. Whether it's your home office/gym, or your living room/dining room/family entertainment area, using a physical barrier – like a folding room divider that can be stored when not in use, or a large bookshelf for a more permanent solution – creates a more private space for each activity, and can lead to increased productivity and better focus. Plus, with more options for places to shift from and to at home, you'll feel less confined in your own four walls.
View this post on Instagram
View this post on Instagram
Accent Lighting
Experienced interior designers will tell you: lighting is a key component of any well-designed room. A dark, closed space can feel claustrophobic, while an open one with ample light feels the exact opposite. And though natural sunlight is best for making a room more inviting, artificial (and purposeful) lightning can also do the trick. For daytime, choose LED task lights that give a bright, white effect to help you stay centred and focused throughout your daily activities. Once the sun has set, turn those LEDs off and use dimmable, shaded lamps or downlights for a more relaxed and cosier setting. And because overhead lights just can't give you a true feeling of warmth and comfort, opt for table lamps. For example these table lamps, all of which look as good turned on or off, are a solid place to start.
View this post on Instagram
View this post on Instagram
Clean Living
Natural Fabrics 
With the growth of environmental awareness, natural materials are increasingly surpassing synthetic fabrics as the top choice in interior design. And it just so happens that choosing more sustainable alternatives for our sofas, cushions and curtains – such as organic cotton, linen or recycled fabrics – is not only good for the planet, but also practical for our homes. These textiles are more durable, hard-wearing and long-lasting, which, considering the amount of time we're spending indoors, makes them a smart choice. What's more, natural and organic materials remind us of the outdoors, subtly connecting us to nature and providing a sense of vitality that we could all use right now. It's an undoubted win-win.
View this post on Instagram
View this post on Instagram
Tidier Spaces
Designers are paying more attention to home organisation this year, and we have a pretty good idea of why: any kind of mess can trigger elevated levels of unease and anxiety. On the flip side, taking advantage of the space we have – especially if there's not a lot of it – to remove clutter and create order can actually make us feel better. Consider a storage bench, organisation baskets or smart shelving. Not only will your home look prettier and cleaner, thus giving you more inner peace, but without all the clutter, you'll spend less time looking for lost items and have more time to focus on other activities like cooking, reading, meditating or whatever else makes you happy.
View this post on Instagram
View this post on Instagram