';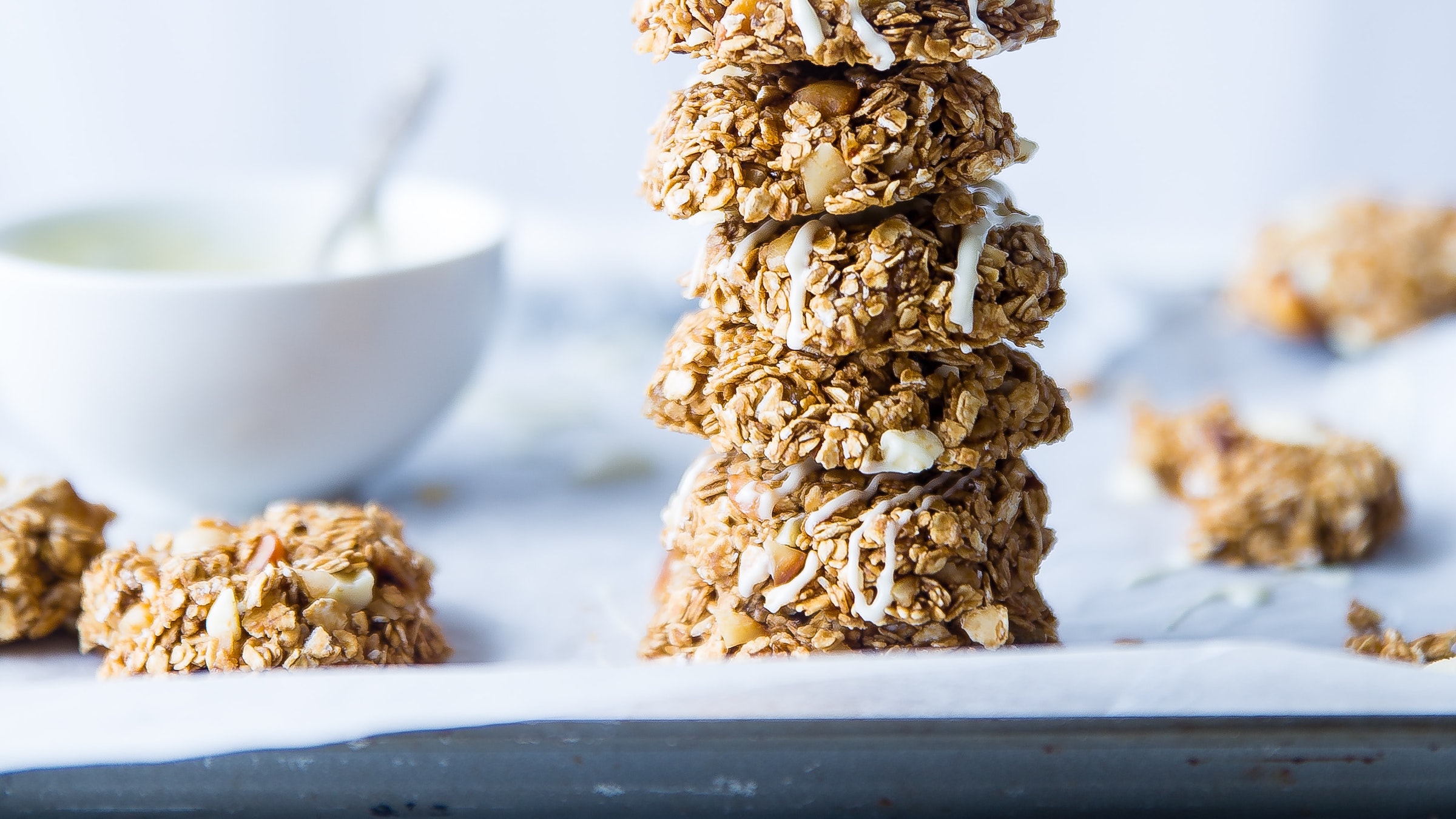 For many of us, hectic morning routines have returned. And while you might love being on the go again, you shouldn't be skipping the most important meal of the day. We've gathered 10 of our favourite ideas for make-ahead breakfasts that are easy, nourishing, delicious and, most importantly, fully fuss-free.
Overnight Oats
Oats are so good for you, but they are also just so… bland. If the idea of overnight oats sends you right back to sleep, try spicing them up. This pumpkin pie overnight oats recipe makes you feel like you're having dessert for breakfast, sans guilt. If you crave more of these healthy, dessert-inspired overnight oats, from apple pie to Black Forest cake, check out this video.
Oatmeal Bars
Whip up an easy packable snack for your lighter breakfast cravings. These make-ahead breakfast bars contain oats, dried fruit, nuts and seeds to keep you from feeling grumpy before lunchtime. They're not overly sweet, with just a little sweetness from the banana and a drizzle of honey. To mix things up, try using pecan nuts, dried apricot and orange zest or mixed berries.
Egg Cups
Prefer hitting the snooze button over getting up to cook a wholesome breakfast? If you store these egg cups in the freezer, you can have it all. They are like little frittatas, and you can switch up the vegetables, protein and seasoning to prevent falling into that tricky breakfast rut. Store the cooked egg cups in the fridge for up to three days, or in the freezer for up to three months.
Breakfast Parfaits
We gotta say it: parfaits are just perfect as a make-ahead breakfast. These tiny pots with layers of Greek yoghurt, diced fruit and granola look cheerful and decadent, but are still good for you. This recipe has berries, nectarines and a tangy raspberry sauce, but you can mix it up with apple and cinnamon or even peanut butter and banana. If you like your granola or nuts to stay really crunchy, add them as a topping right before serving.
Carrot Cake Muffins
Don't rule out the good ole' muffin! These carrot muffins are moist and fluffy, made with wholesome ingredients: spelt flour, carrots, walnuts and apples. The cream cheese and honey frosting is a yummy add-on, but leave it out for a less indulgent treat. If you'd like to freeze them, wrap each muffin individually (without the frosting) and store in a zip-lock bag.
Sweet Potato Toast
For a fun, healthy and gluten-free variation on regular toast, try sweet potato toast. Roast sweet potato slices in the oven ahead of time, and store them in the fridge. Come morning, you heat the slices in the toaster and top them with anything you'd normally add to toast, such as almond butter and banana, avocado with lime, salt and chilli flakes or hummus and radishes.
Breakfast Strata
For a breakfast of champions – speed champions, to be precise – make a strata. A savoury bread pudding of sorts, a strata involves layering bread and vegetables with eggs, and baking it all like a casserole. You can make it ahead and warm up a slice on busy mornings or, on a leisurely weekend, pop the casserole you prepared the night before in the oven. This recipe has cheese, ham, green onions and mustard, but you can mix it up endlessly. Add pieces of chicken, bacon or sausage, or keep it vegetarian or vegan, using an egg substitute. Pro tip: Your bread shouldn't be fresh and spongy; this is the time for yesterday's bread to shine.
Breakfast Burritos
If you could use a bit of a kick in the morning, try a breakfast burrito. Stuff a flour tortilla with anything you like: scrambled eggs, ham, cheese, bacon, tomatoes, beans, cilantro – whatever you like. The recipe in the video, with homemade tomato chilli jam, is sure to spice up your a.m. To freeze, let the burritos cool off, wrap them in cling film to prevent freezer burn, and store in the freezer for up to three months.
Breakfast Sandwiches
Another freezer-friendly staple, these individually wrapped breakfast sandwiches can be reheated and eaten on the go. The base is a sheet-pan omelette topped with cheddar and a slice of cooked bacon or ham on an English muffin. Thaw them, preferably the night before, and warm in the microwave or oven until it is heated through and the cheese is melted.
Sheet Pan Pancakes
Pancakes on a weekday with hardly any prep work? Yes, please. Just lightly beat the ingredients for your batter, pour it in a sheet pan and sprinkle with berries, apple slices, banana or chocolate chips, then bake. After cooling, slice into individual portions, wrap them up and store in an airtight container. Use wax paper between layers so the portions don't stick together. Thaw and reheat in the microwave or oven until heated through.