';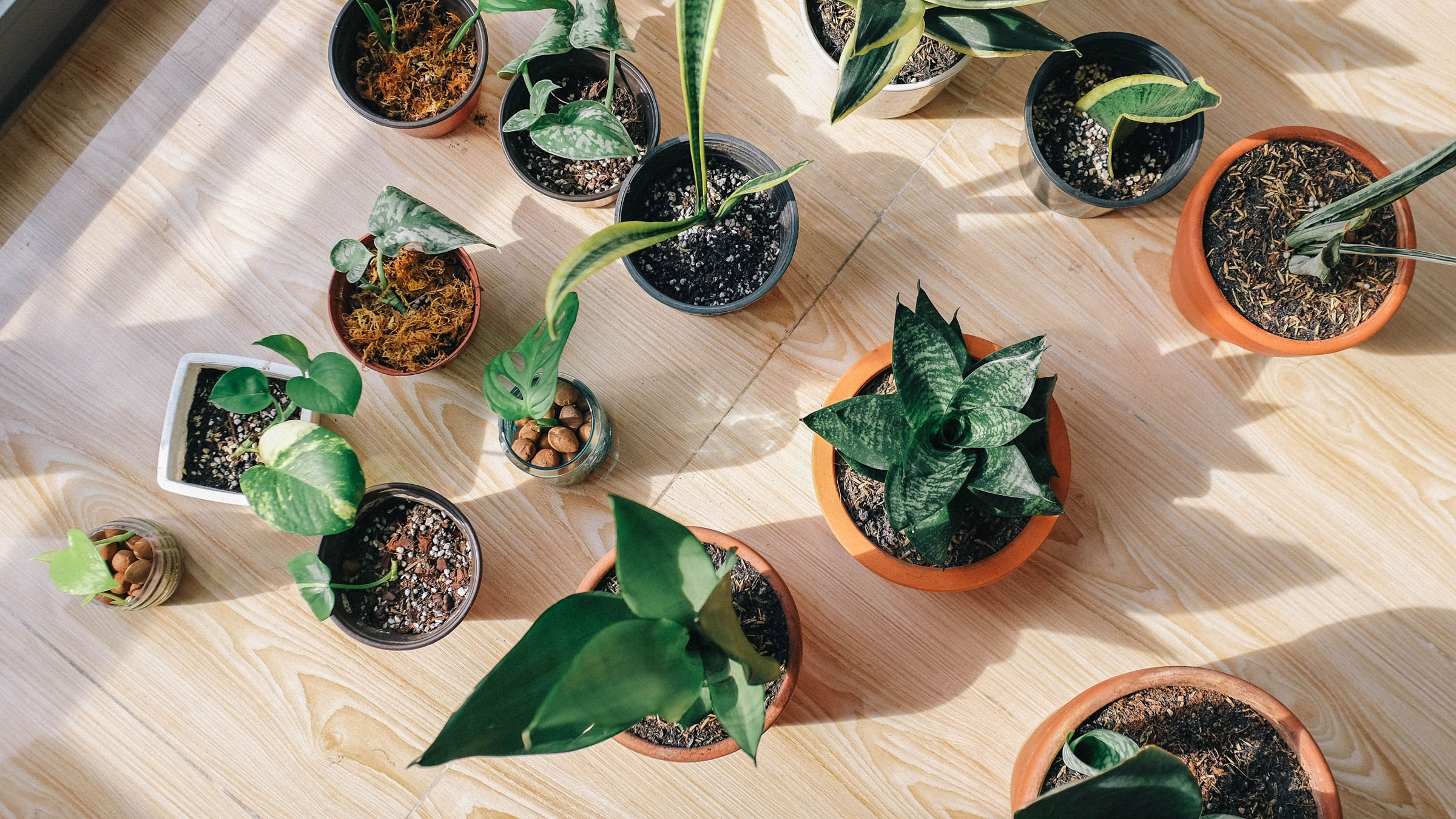 ;
Even a cursory scroll through Instagram is enough to see that indoor greenery is all the rage right now. In fact, houseplants may be one of the few old-school industries that millennials have not only not 'killed', but actually revived. And green living spaces aren't just pretty – they're healthy, too. Though evidence is slim that houseplants improve indoor air quality in a significant way (unless you live in an airtight lab environment), they still earn their keep as stress relievers, mood boosters and – depending on what you're growing – nutrient-packed meal enhancers.
If you're already thinking, "But I don't have enough space/sunlight/time to care for plants!" – think again. We may just be living in the golden age of indoor gardening, with self-watering pots, affordable hydroponic systems and plant-monitoring apps all at our fingertips. Whether you're an apartment dweller, a chronic plant-forgetter or a frequent traveller, these gadgets make plant parenting a lot easier.
Click And Grow
Best For: Absolute Noobs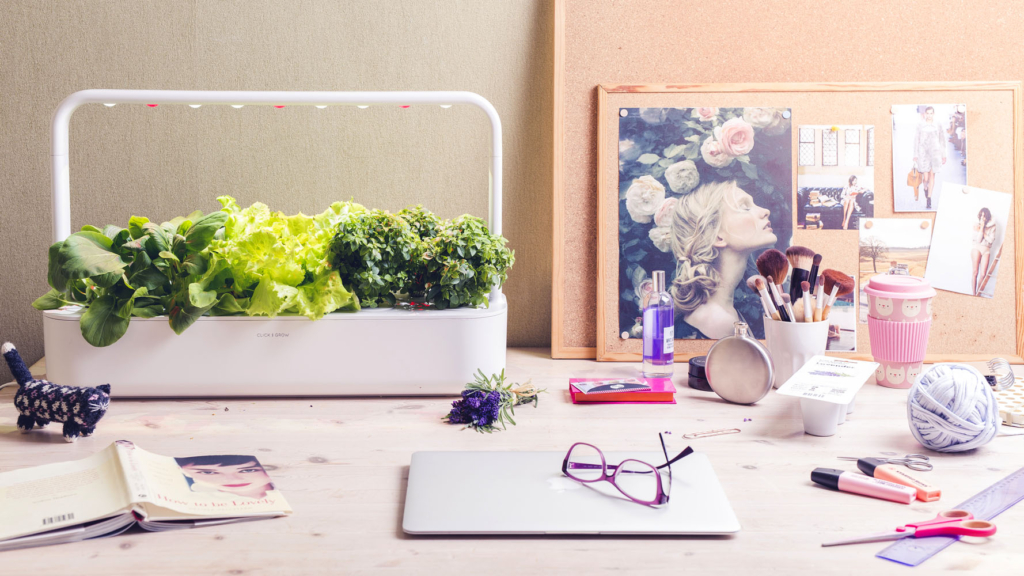 What if growing an indoor garden was as simple as making coffee? It may sound like a weird comparison, but hear us out: Click and Grow is a self-contained system for cultivating small plants in the home – all you have to do is pop in the seed pods, add water, plug in the device and watch your greenery grow. Each 'Smart Garden' waters the plants and provides them with light, so even the most notorious plant killers among us can't mess this up. Having to buy the proprietary pods may be a turn-off for some, but the company assures that they're made of renewable materials and serve a real purpose: keeping the water distributed evenly throughout the soil, maintaining an optimal pH level and ensuring the plants get the oxygen and nutrients they need. Plus, for complete and total garden rookies, it fool-proofs the planting process. Click and Grow offer pods for all manner of herbs, veggies, fruits, flowers and houseplants, from wild strawberries to basil, catnip and pansies. You can also get seedless "experimental" pods that allow you to sow the seed of just about any plant of your choice.
IKEA Hydroponic Systems
Best For: Botanists On a Budget
Hydroponics – growing plants in water, sand or gravel rather than soil – may sound like a high-tech (not to mention pricey) hobby, but leave it to the Swedish bargain giant to bring things down to scale. Using their line of hydroponic cultivators, you can assemble your own set-up with various parts, or get a full-blown kit with everything you need to get started, including LED cultivation lights, planter trays, fertiliser and 'growing media' for the roots to take hold of. As long as you choose hydroponic-friendly plants (tomatoes, peppers, bean sprouts and many varieties of herbs), and keep them well-lit and fertilised with vitamins, you'll soon be the proud keeper of your own edible hydroponic garden.
Miracle-Gro Aerogarden
Best For: Gizmo-Loving Green Thumbs 
Looking for something with more bells and whistles? AeroGarden has developed a full line of hydroponic countertop gardens that'll make any gadget fan salivate – and not just because the veggies look so crisp. Take, for instance, the mid-range Bounty Elite Artisan designed to house up to nine plants. It's got full-spectrum LED grow lights, sunrise/sunset lighting and a one-button Vacation Mode, not to mention WiFi and Alexa compatibility. The colour touchscreen display will even tell you all the plant's vitals – from water levels to days planted – and remind you when to add plant food or fill up the water reservoir. Like the Click and Grow, you'll need seed pods to make it work, but it doesn't require soil (just plant food). Sizes vary from the 24-plant 'Farm' model to the 2-pod 'Herbie', designed for kids 6 and up as an introduction to hydroponics. The same company also sells plant-growing systems disguised as side tables – perhaps not to everyone's taste, but a creative, space-saving idea nonetheless.
LeGrow
Best For: Creative Caretakers
Like the idea of smart planter systems, but not the look of them? LeGrow lets you build your own configuration of plant pots and add-ons, much like a LEGO-inspired garden. Choose from regular planters, plant clocks, humidifiers, water-capturing trays, sun lamps, stackable pots and even USB chargers, then mix, match and get creative with your modern modular garden. Despite their techie accoutrements, these planters are not self-watering, so you'll need to be attentive to your greens' needs. LeGrow is available as individual parts or full sets, so you can be as original – or not – as you want.
Dewplanter
Best For: Forgetful Plant Parents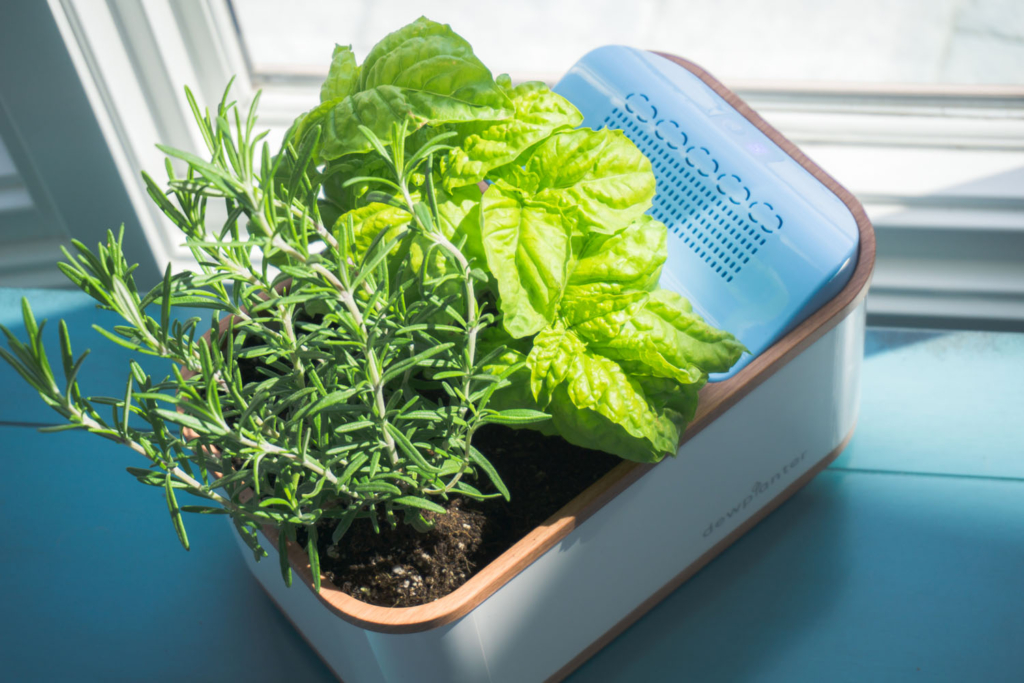 The #1 reason most people give for choosing fake greenery over real plants? Forgetting to water them. (Okay, we based that off of a survey of five random coworkers, but we stand by our statistics.) The Dewplanter makes sure you never leave your leafy friends high and dry, by condensing moisture from the air to generate clean water, which is distributed to your plant's root system; you can adjust the amount of water it collects according to the plant's needs. With a power rating of 22.5W, it's an energy-efficient way to "set it and forget it" for busy plant owners – or office workers who can't trust their colleagues to keep their greenery hydrated when they're on holiday.
Pikaplant
Best For: Fans Of 'Green' Greenery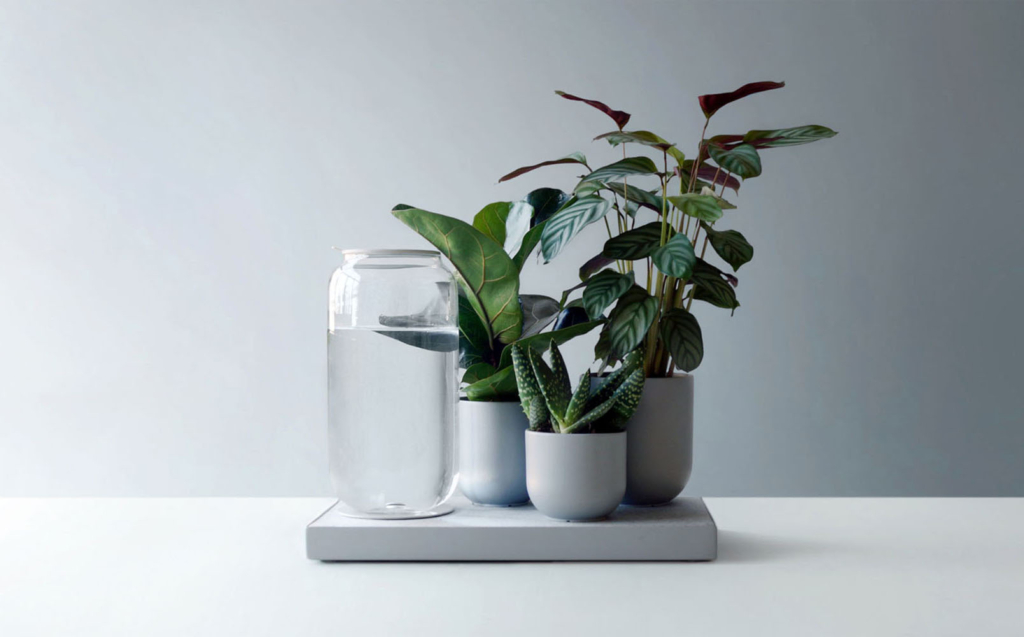 On the low-tech end of the hands-off horticulture spectrum, there's Amsterdam-based Pikaplant. Their best-sellers are their 'Jar' plants: small airtight terrariums – handmade from sustainable materials – that foster one plant which never needs watering. They've also developed ceramic 'Geo' planters that look like normal pots but act like natural aquifers, filtering water to the plant's soil as needed – all you have to do is occasionally replenish the reservoir. They're currently working on a sleek new 'Tableau' design, which would hold three potted plants on one minimalist tray, watered automatically via a reservoir following a wet-dry cycle, no electricity required. The latter has been funded on Kickstarter, and the company expects to deliver the first Tableaus in 2020.
Soil Sensors
Best For: Distracted Gardeners
You don't mean to wait until your plant is wilted to realise that it's thirsty, but sometimes it happens. If you find that you're missing your green darlings' SOS signals until it's (almost) too late, consider getting a soil sensor to help you keep track of your plants' well-being. There are a number of such devices on the market, ranging from analogue versions to WiFi-connected models that measure everything from soil moisture to temperature, light and nutrition – and send the info to a smartphone app. If we're being honest, though, we've found most 'smart' sensors either have mixed reviews or are still in the experimental phase, so it's probably best to go old-school here. The XLUX, Elekin and Sustee moisture metres are popular, cluing you in to soil humidity to let you know when your potted pals need watering. For even more insights, opt for the Sonkir MS02 which measures soil moisture in addition to sunlight levels and pH values.
Herbster
Best For: Space-Starved Urbanites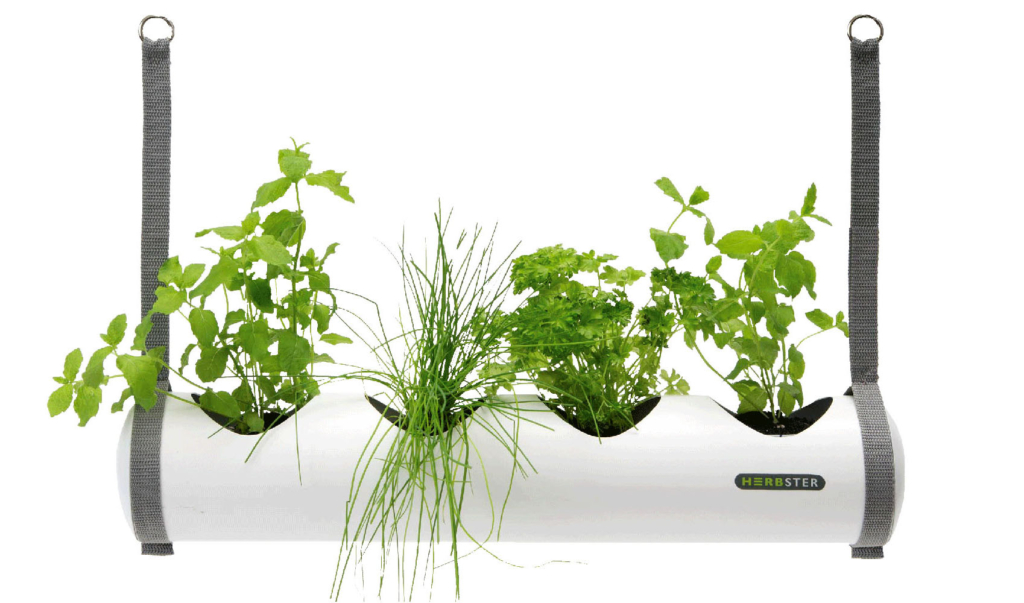 The joys of city life are many. Ample outdoor space – or space in general – isn't one of them. If you're yearning for your own herb garden but have run out of surfaces to put planters on, then the only way to go is up. These hangable planter tubes by Danish botanical design company Herbster allow you to grow vertical gardens of herbs, cacti, flowers – whatever you like. The snap hook system is designed to allow you to stack several tubes on top of one another, creating a literal hanging garden in your home.
Garden Module
Best For: Stylish Horticulturalists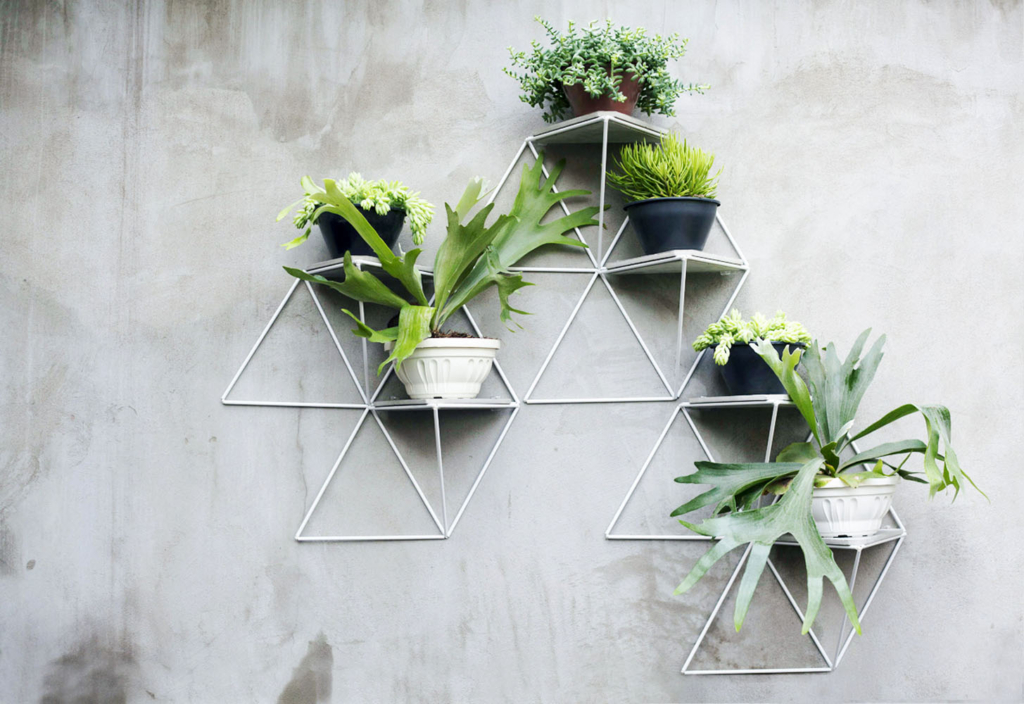 For a design-forward take on the living wall trend, look to this beautiful geometric planter shelf from Brazilian creatives Estúdio Parrado. Each kit comes with 3 modules, but you can add as many as you like: the triangular shapes allow for a multitude of configurations that can fill any wall space vertically, horizontally or diagonally. It won't water your plants or send notifications to your smartphone, however it will make a stunning statement in your home.