';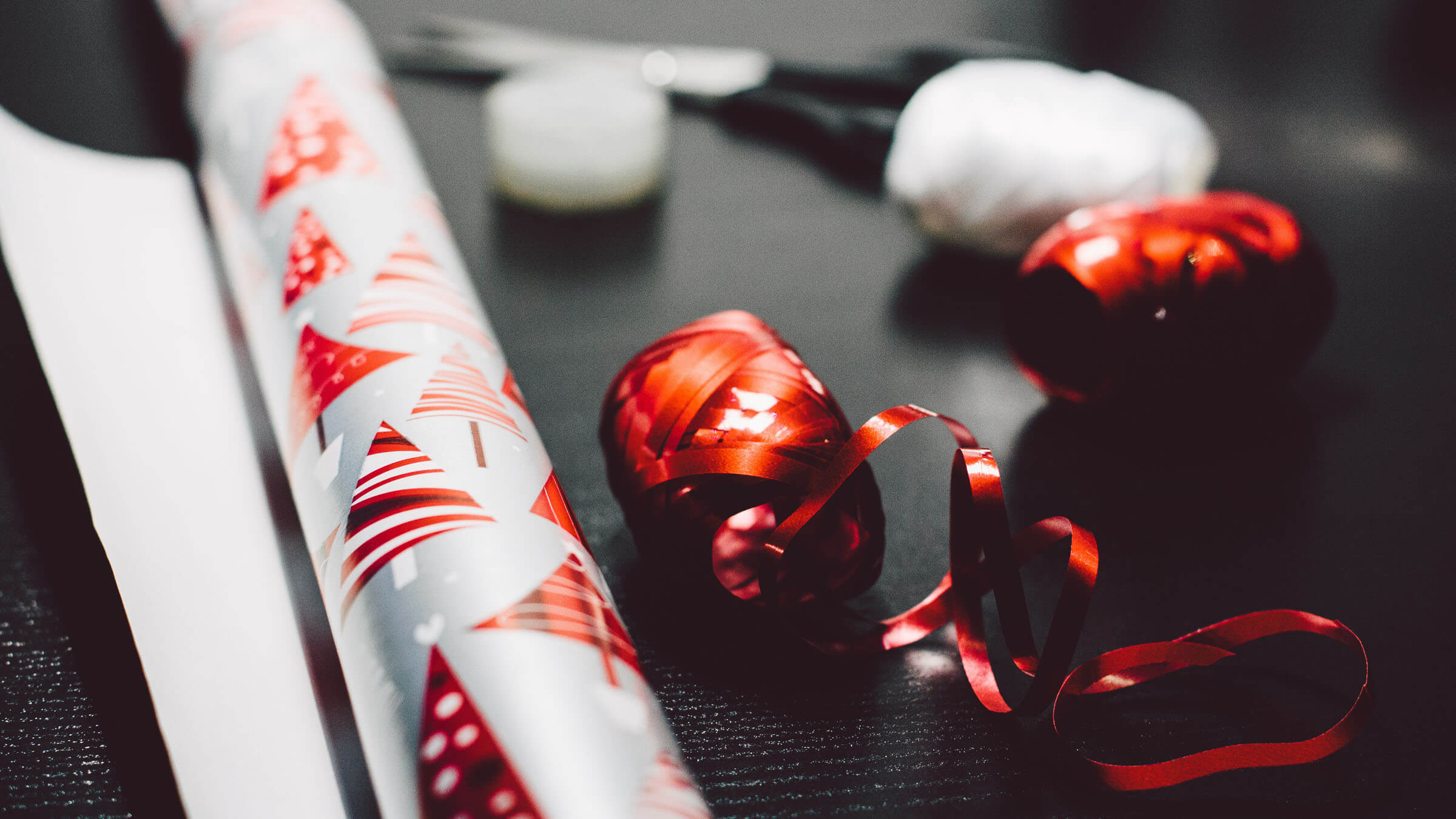 ;
One major aspect of giving a well-thought-out and considerate gift is the presentation. No matter what your style, budget or time constraints, there are certain basic tools and smart hacks that will make gift-wrapping easier come Christmas. Read on for a list of the things you need most in your wrapping repertoire – from the practical to the pretty, from unique to trendy.
The Basics
You only need a select few tools and ingredients to wrap a present – the rest is up to your creativity. Must-haves include good paper scissors, glue and clear Sellotape or double-sided tape. You may think this section should also list "paper" and "ribbon", but read on to find out why those aren't strictly necessary at all.
Buy Or DIY A Wrapping Station 
You will have to store all your gift-wrapping essentials somewhere, so why not organise them in a place that doubles as a workstation? You can buy special carts or closets that will hold all your supplies – including the pesky rolls of paper that get dog-eared if you just fling them into a corner.
Alternatively, you can attach a DIY storage solution to the back of a wardrobe or closet door, using accessories like tie racks, jewellery hooks and small baskets. When gift-wrapping time comes, you simply open the door and set up an ironing board in front of it for a practical (and back-friendly) wrapping station.
Reduce, Reuse, Recycle
If there's one persistent gift-wrapping trend that has become increasingly popular, it's using reclaimed and upcycled materials or items that are part of the gift for wrapping. Save old wrapping paper and ribbons, especially barely creased paper used to wrap large items and long ribbons, but also collect fabric scraps, brown paper bags, the padding you get with online deliveries, magazines and newspapers… You'll be glad of your wrapping storage station once these begin to accumulate.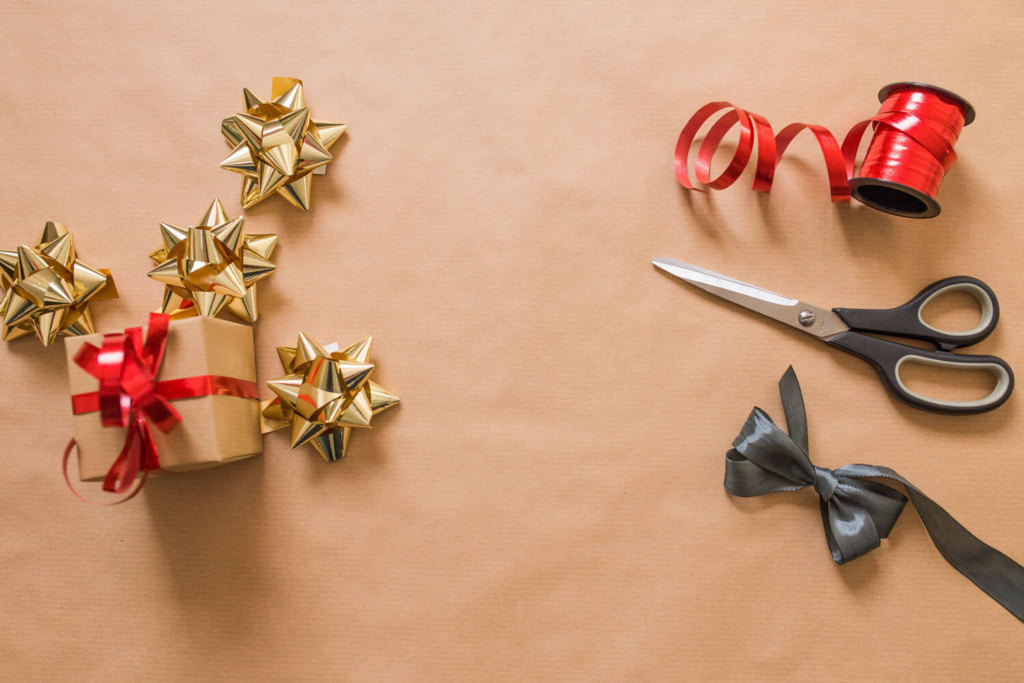 Containers For Small And Awkwardly Shaped Gifts
Likewise, save shoe and mailing boxes, paper cups, jam jars and toilet or kitchen paper rolls to use as packaging for small, fragile items (anything from porcelain collectables to home-baked cookies) or awkward ones (like clothing, jewellery and plastic toys). Not only will the simple shapes be easier to wrap, they will be easier to transport and look better stacked under the tree.
Paper By Any Other Name
Now let's get creative! You can, of course, wrap your presents in gift-wrapping paper (new or re-used). You can also use something a little more eco-friendly, like a tea towel or reusable cloth bag. Chances are, most of your paper recycling could be upcycled, for example by wrapping small gifts in colourful pages from a magazine or larger ones in a full sheet of newspaper. You can embellish plain brown paper bags, tissue paper or the blank reverse of paper from the printer to make it gift-worthy, or you can save some of your kids' artwork from disappearing into the back of a drawer by putting it around a gift for their grandparents.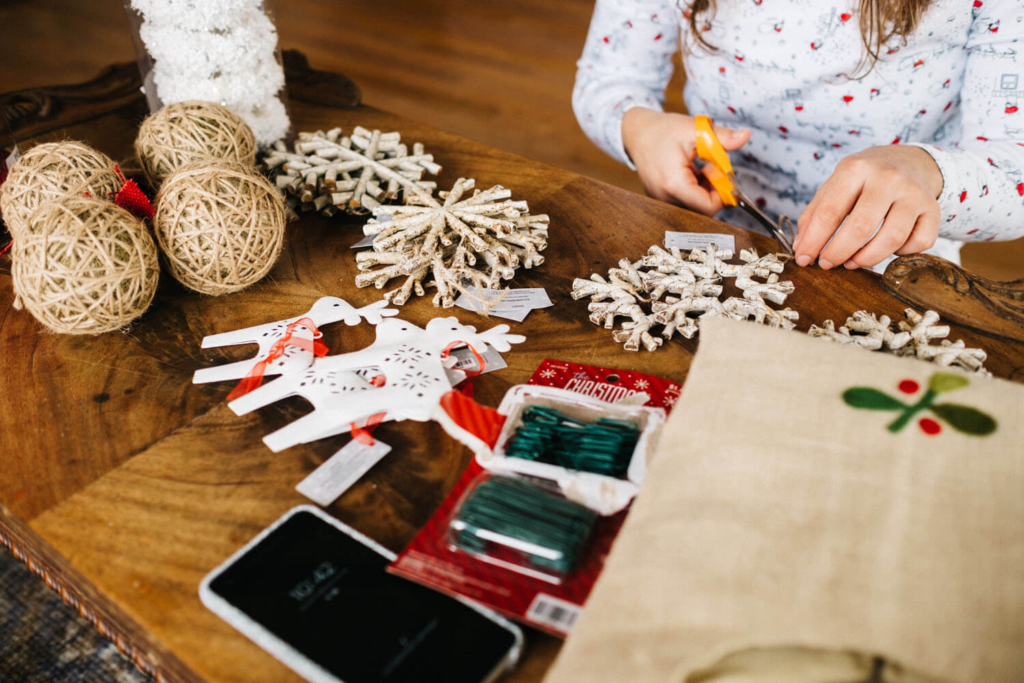 Relish To Embellish
If your upcycled packaging is looking a tad plain, you can lend it a personal touch with to stamps, stencils and stickers. If you have none of those things handy, you can easily carve a seasonally appropriate stamp out of a potato or wine cork, use a small sponge or the eraser on the back of a pencil to dab dots and squares onto blank paper, or cut a stencil out of cardboard.
Put A Ribbon On It
Much like wrapping paper, gift ribbons can come in many shapes. You could tie a bow in a headscarf, a thin pair of socks or, well, a tie! A piece of tulle will save you tying a bow at all, while shoe laces, a piece of twine or string add a minimal touch to opulent wrapping paper or underline the shabby-chic look of stencilled newspaper wrapping.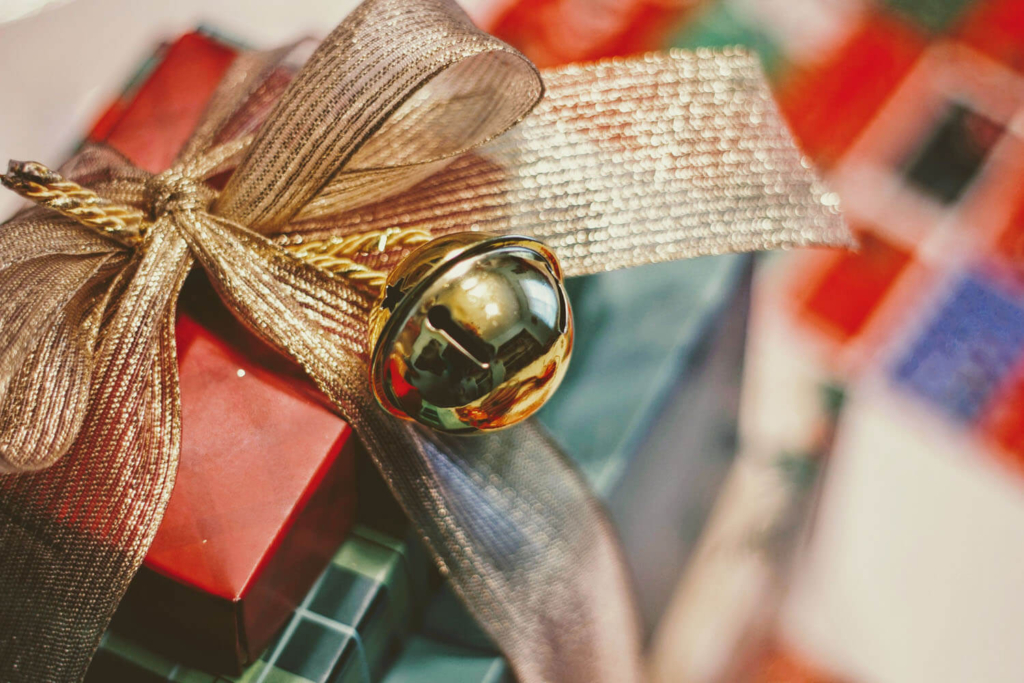 If you can't be bothered fiddling with any kind of ribbon – gift or otherwise – washi tape is your friend. The decorative Japanese tape comes in endless colours and patterns, and replaces both Sellotape and ribbons.
Make Your Mark
Even the most minimal of wrapping styles is elevated to new heights with the addition of charms, pendants and any number of haberdashery items. Thread simple twine through old colourful buttons for a whimsical finish to a fabric-wrapped gift. Old (or new) hair clips, brooches and Christmas baubles add glamour to any monochromatic packaging and can be considered part of the gift.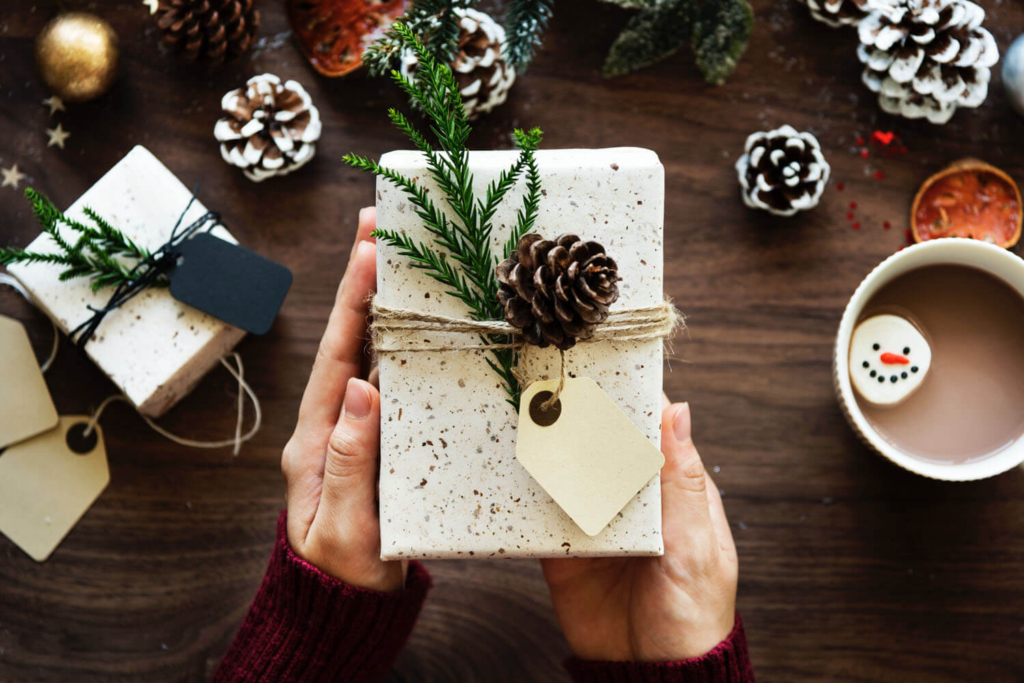 If you're going for a natural look or something in line with the Scandinavian interiors trend, collect sticks and cones on wintery walks in the woods. A pine cone and a conifer twig tied to a brown-paper-wrapped gift with whimsical baker's twine is simpler, but as effective as any expensive wrapping paper.
Tag It
Always remember the three Ws: Who is the gift giver? Who is the recipient? Why is this person getting a gift? All you need to answer all three is a small card with some variation on the words "Merry Christmas to [you], from [me]!" These are easy to make from last year's Christmas cards: simply cut out a Santa, tree or star shape from the front of a card and write on the back, punch a hole in the top and tie your ribbon through it.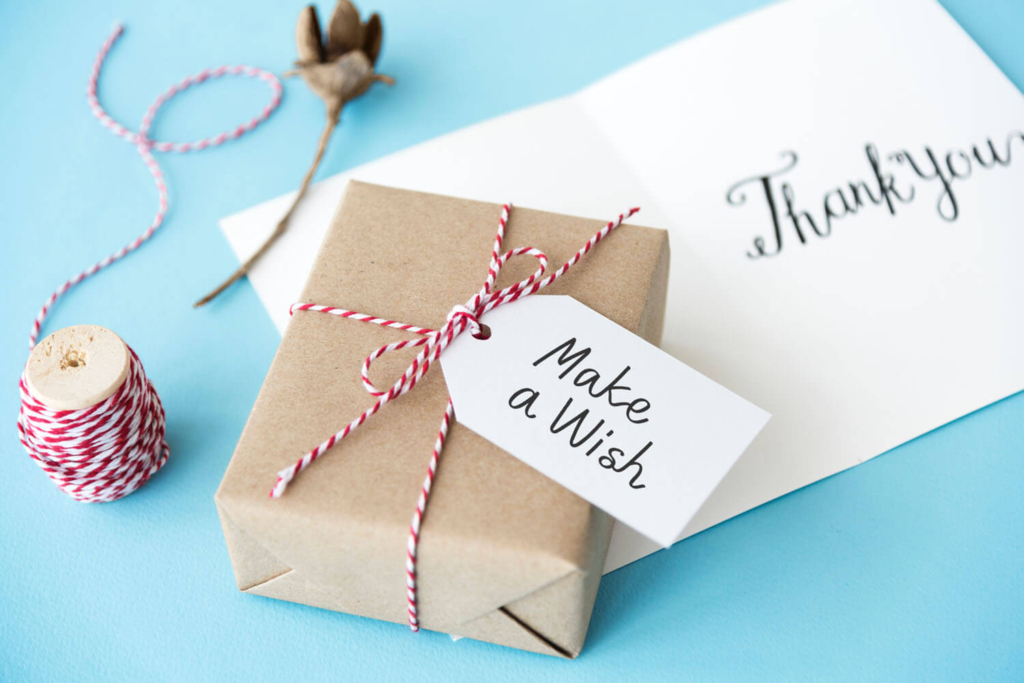 You can also colour-code gifts to avoid tags altogether, or you can stencil, paint or write names directly on paper – especially if it's plain or recycled (black-and-white newspaper gift-wrap looks great with names stencilled on in red, green and gold). Another great shortcut that doubles as a charming personal touch is a photo of you with the person whom you are giving the present peeking out under the ribbon. You can write some personal words on the reverse.
Bag It
That's it! Your presents are wrapped. Now don't ruin it by shoving them into any old plastic bag from the supermarket. Arrive in style with your gifts securely stored in adorable DIY gift bags. Simply use the same paper (store-bought or recycled) to add a festive touch to a generic paper carrier bag. The sturdy type you get in upscale fashion shops is best for transporting heavier items. And remember: The gift-wrap you receive is only the start of your stash for next year!