';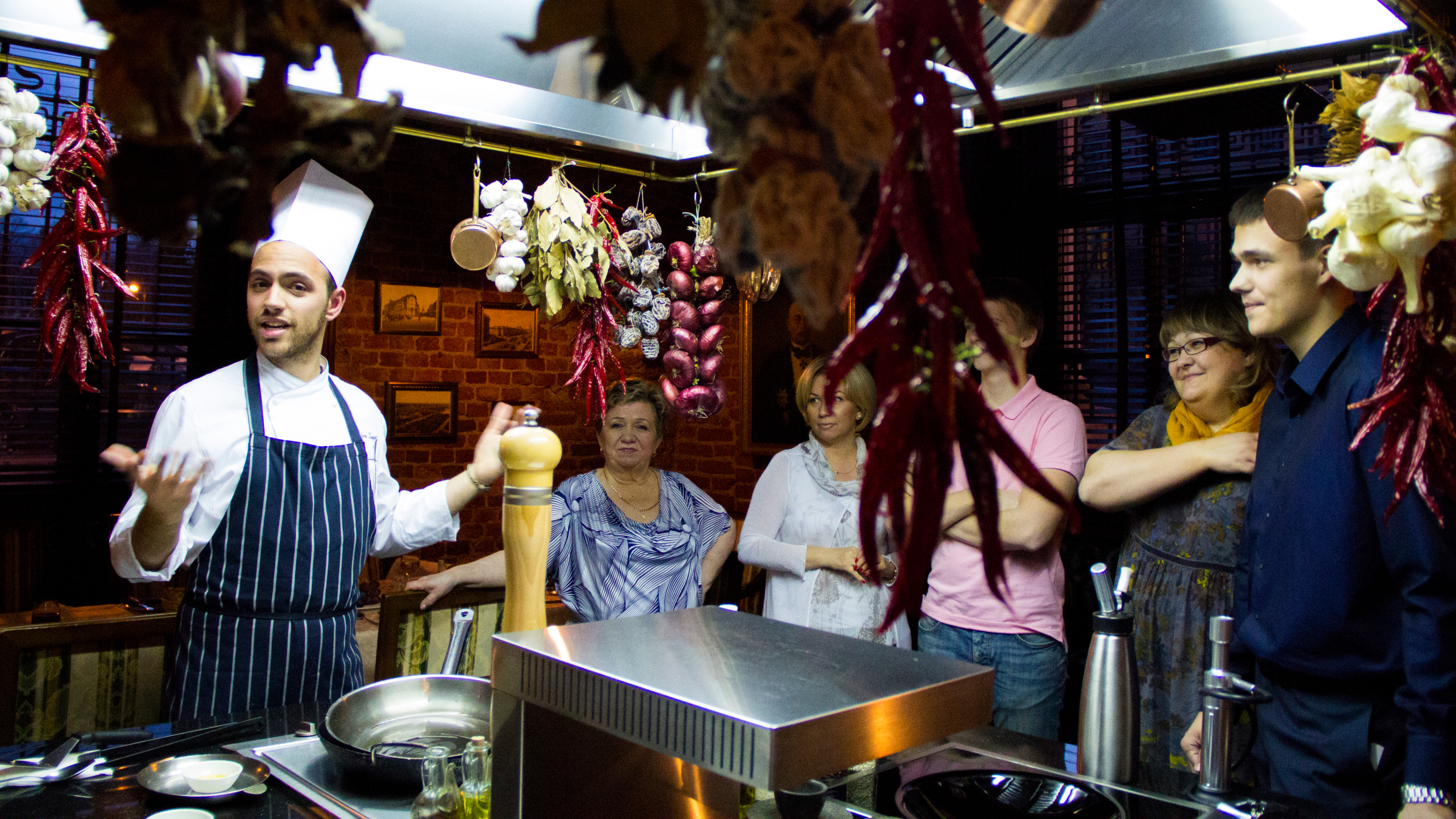 ;
In the name of creating the perfect dinner party experience, ChefxChange chef Andrea Zagatti shares his recipe for a 3-course meal aimed at wowing dinner party guests.
Appetiser: Insalata Caprese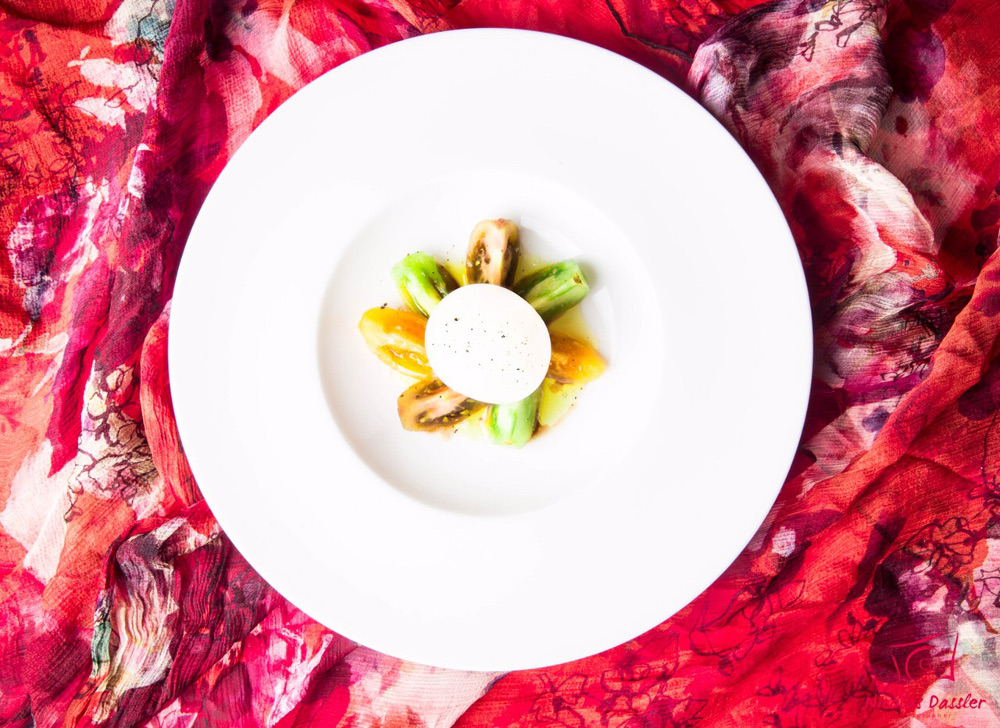 Ingredients (per individual serving):
1 ball of mozzarella
About 5 small heritage tomatoes (all different colours)
Extra virgin olive oil
Traditional balsamic vinegar from Modena (25 years old aged)
Maldon salt
Freshly grounded black pepper
Equipment, if available: Siphon charged with two CO2 charges.
Procedure:
1. Score the bottom of heritage tomatoes and blanch them in boiling water for about 10-15 seconds. Cool them down in an iced water bath. Peel the skin off the tomatoes and cut them into wedges.
2. Bring some water to a boil in a small pot and turn it down to low heat. Take the mozzarella and cut it into quarters. Set 2 mozzarella quarters in the hot water and leave for about 10 seconds. Take them out and mix them with your hands, preferably using gloves. Your aim is to get a nice and elastic paste.
3. Now that is ready, apply it on the tip of the syphon and carefully inflate air inside it (like bubble gum). You will see that you create a beautiful and exquisite mozzarella balloon! (NOTE: if you do not have a siphon, skip steps 2 and 3, simply slice the mozzarella or scoop into small spheres.)
4. Plating: Arrange the tomatoes in a round plate to create a circle. Set the mozzarella balloon (or mozzarella slices) on top. Finish with a drizzle of olive oil and balsamic vinegar on both the mozzarella and the tomatoes. Season everything with a pinch of salt and pepper.
Main Course: Duck, Coffee Eggnog & Burnt Spring Onion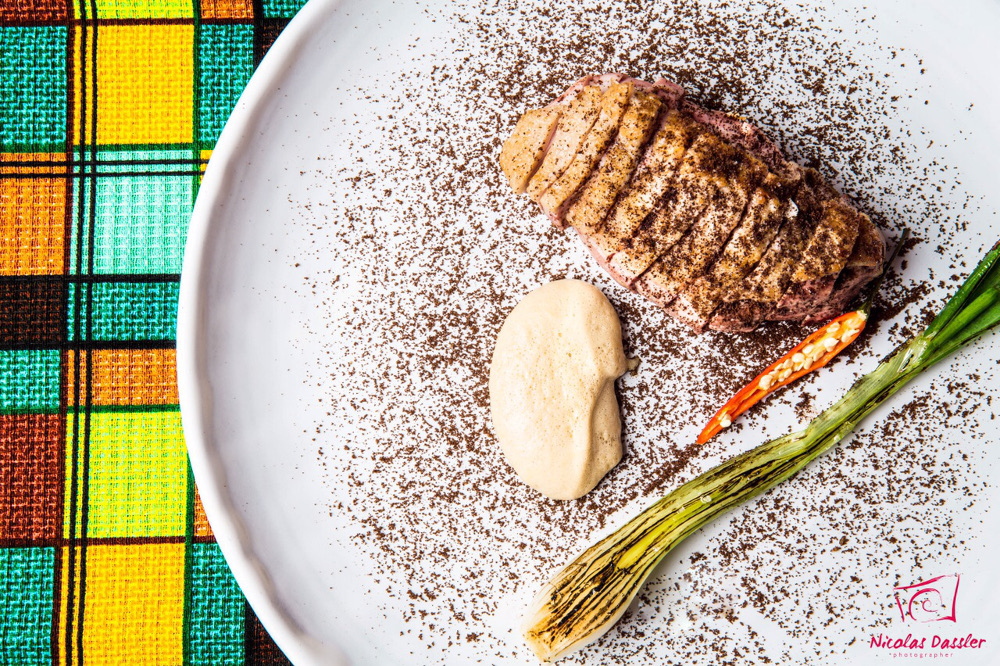 Ingredients:
1 Duck breast (per plate)
2 Eggs
1 Egg yolk
90ml Marsala wine
20ml Fresh espresso coffee
40g Caster sugar
1 half of a spring onion (per plate)
A bit of coffee powder, for presentation
Maldon salt
Freshly grounded black pepper
Extra virgin olive oil
Procedure:
1. Preheat the oven to 190C.
2. Seal the duck breast, cooking it over the stove in a dry, cold pan to let the duck fat melt slowly and begin cooking the skin. Cook for about 6 minutes, then flip it and seal the meat side. Move to a rack on a roasting tin and cook in the oven for about 8 minutes (for a pink colour).
3. In the meantime, start making the eggnog. Whisk eggs, egg yolk and sugar together in large bowl, then set onto a bain marie (water bath, medium heat). As soon as the egg mixture starts to get a whiter colour, add the marsala and the espresso. Whisk until it gets thicker (about 7 minutes over medium heat). IMPORTANT: Never stop whisking, otherwise the eggnog won't form.
4. Rest the duck for about 5 minutes before carving it.
5. In the meantime, cook the spring onion at very high heat in a pan with a splash of olive oil. Your aim is to cook just 1 side, burning it.
6. Plating: Carve the duck into 6-7 slices (depending on the size of the breast). Arrange the duck and the spring onion as you prefer. Try to give some nice dynamic to the dish while plating the eggnog (has to be fluffy and creamy). End with a sprinkle of coffee powder (I've also added a marinated chilli to my dish, which I've slightly cooked together with the duck breast).
Dessert: Pineapple, Wasabi  & White Chocolate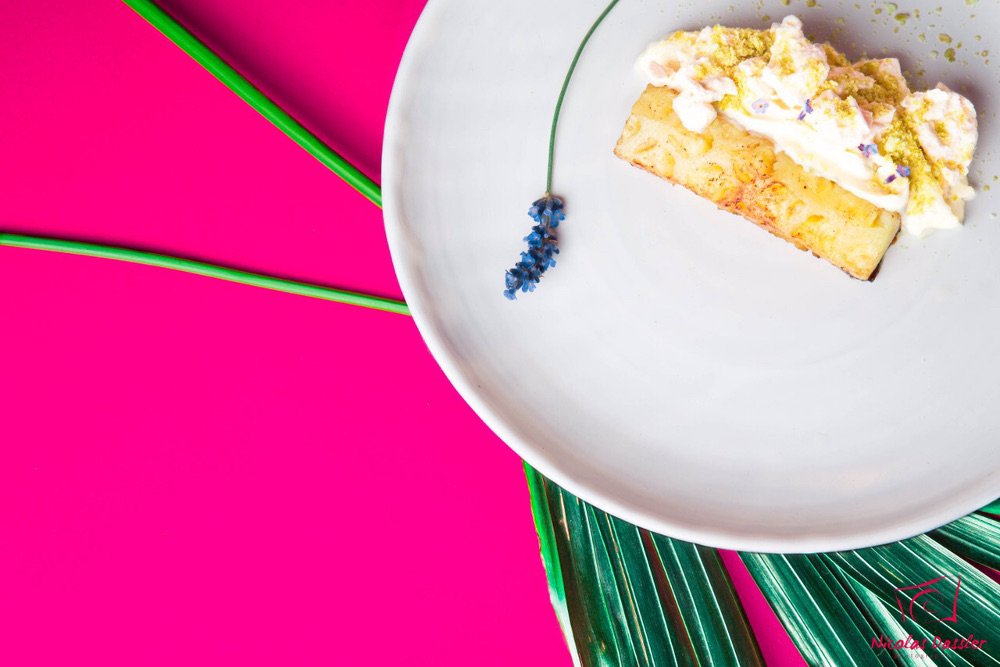 Ingredients:
1 fresh pineapple
30g butter
4 egg whites
500g caster sugar
30g wasabi powder
200g white chocolate
450ml double cream
45ml milk
55g caster sugar
Procedure:
1. Begin by making the Wasabi Meringue: preheat the oven to 120C. In a metal bowl, whip the egg whites until soft peaks form (foamy) using an electric mixer. Sprinkle in 500g, sugar little by little, while continuing to whisk. The meringue is finished when it reaches stiff peak texture (shiny and beautifully fluffy). Add the wasabi powder and mix again very well. Transfer to  a tray (covered in parchment paper) and flatten with a spatula. Bake for about 7 hours, or until the meringue is dry.
2. Now it's time to make the White Chocolate Mousse: prepare a bain marie on medium heat and place on top a bowl with the white chocolate, double cream, milk and 55g sugar. When the mixture is finally melted, cool it down quickly with an iced water bath, and whip it with an electric whisk, to get a nice foamy texture.
3. Finally, for the pineapple: cut the pineapple into nice rectangles and grill them to give them a nice caramelised surface. Brush some butter onto the pineapple during this process for a better, shinier caramelisation.
4. Plating: Arrange the pineapple in the centre of the plate. Pipe the mousse next to it and arrange some beautiful meringue pieces on top of it.
Visit Chef Zagatti's profile at chefxchange.com/chef/chef-andrea
Find out more about ChefXChange
Just between us, how would you rate your culinary skills?