';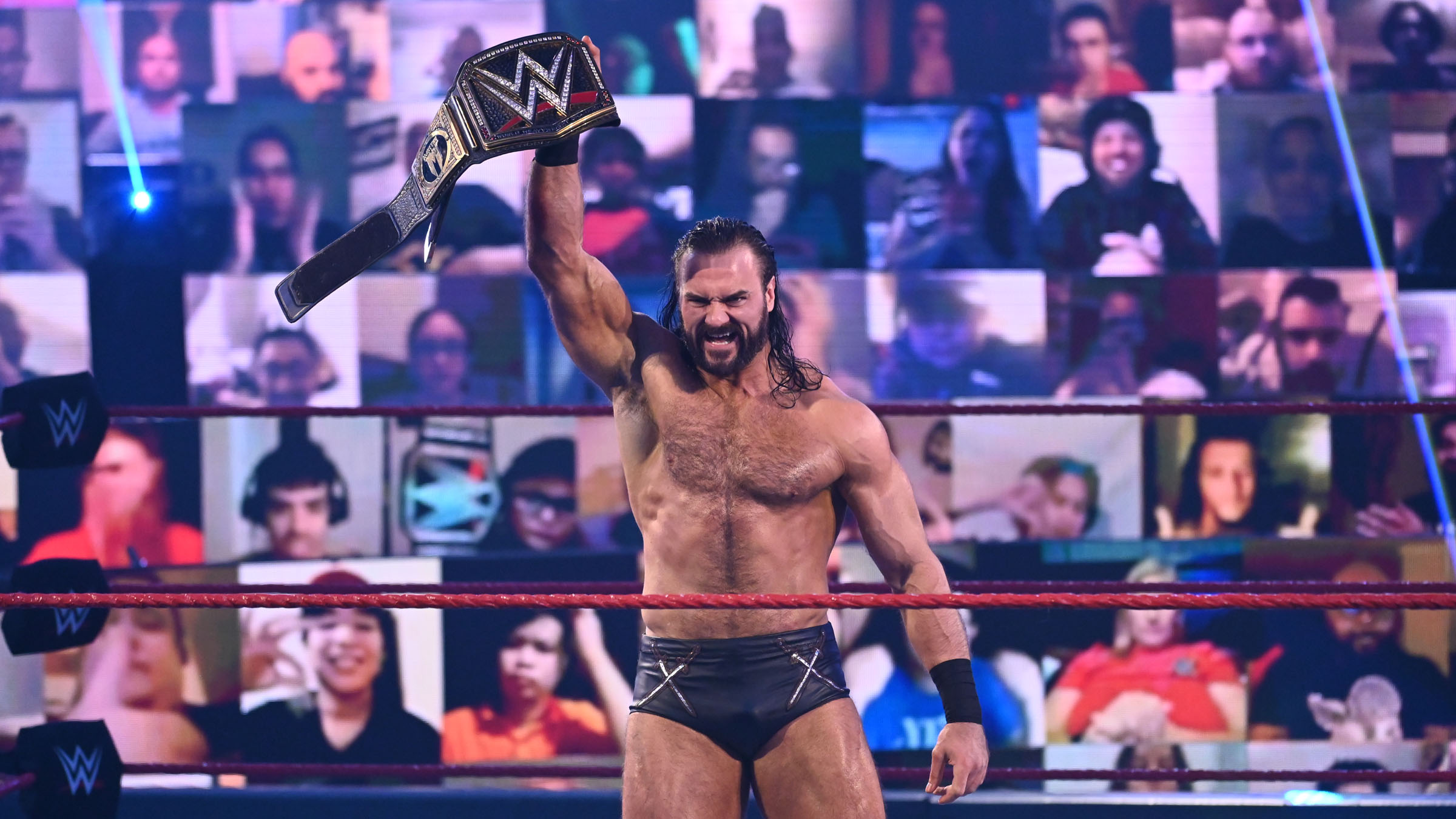 Rising to the top of a global media giant like WWE takes more than impressive moves and memorable catchphrases. Joining a lineage that includes Stone Cold Steve Austin, Hulk Hogan and Dwayne 'The Rock' Johnson requires performers to be fully media-trained superstars who can appeal to a broad fan base that stretches across the world. It takes charisma and talent, but most importantly, it takes resilience.
Just as The Rock tells of how he had just seven dollars in his pocket before finding fame in wrestling, Scottish WWE star Drew McIntyre has navigated his own share of adversity. Proclaimed a future WWE Champion by Chairman Vince McMahon when he debuted in 2009, by 2014 McIntyre had fallen from favour and found himself fired by the company. Whereas many performers fade away after such a blow, he worked on the independent scene to reinvent himself, returning in 2017 to great acclaim – and becoming the first British WWE Champion ever at last year's WrestleMania event, which was held behind closed doors due to the ongoing pandemic.
We caught up with McIntyre ahead of WrestleMania 37, taking place between 10-11 April, to talk about the return of a live audience, as well as the self-belief it takes to become a champion.
AMEX ESSENTIALS: Thanks for joining us, Drew. WrestleMania is a special time for wrestling fans and performers in an ordinary year. How exciting is to be performing in front of a live crowd again?
DREW MCINTYRE: Everybody is so excited, me especially. The one thing we've missed more than anything since the last WrestleMania is our fans. They're the secret sauce. They create the unique atmosphere of WWE.
We've done our best to bring the fans in virtually, but there's nothing quite like the fans there live, screaming their heads off, reacting however they're gonna react. People compare them to European football crowds with how wild and passionate they are. I can't wait to get them back in the building, and hear all that pent-up excitement. With a year's worth of WWE fans coming out at WrestleMania, it's gonna be unmissable.
Of course, last year was your crowning moment, becoming the WWE Champion. Doing it with no fans present can't have been how you dreamed it would be, but to win in such unique circumstances must have still been special.
It was incredible. Not just because it was my life's dream, but considering what was going on in the world, and WWE was the only original entertainment going on at that time to take people's minds off of the height of the pandemic.
My story, personally, was a feel-good story. I've been knocked down a lot of times, and if I beat Brock Lesnar at the very last match – the main event at WrestleMania – that could make a lot of people around the world smile. I did beat him, and I couldn't help myself going down to the camera and reaching out, and saying 'thank you' to everybody. We're not supposed to look into those cameras, that's considered breaking the fourth wall. I just couldn't help it. I just went into the camera and thanked everyone for choosing WWE during these times. Thank you for willing me to win the title.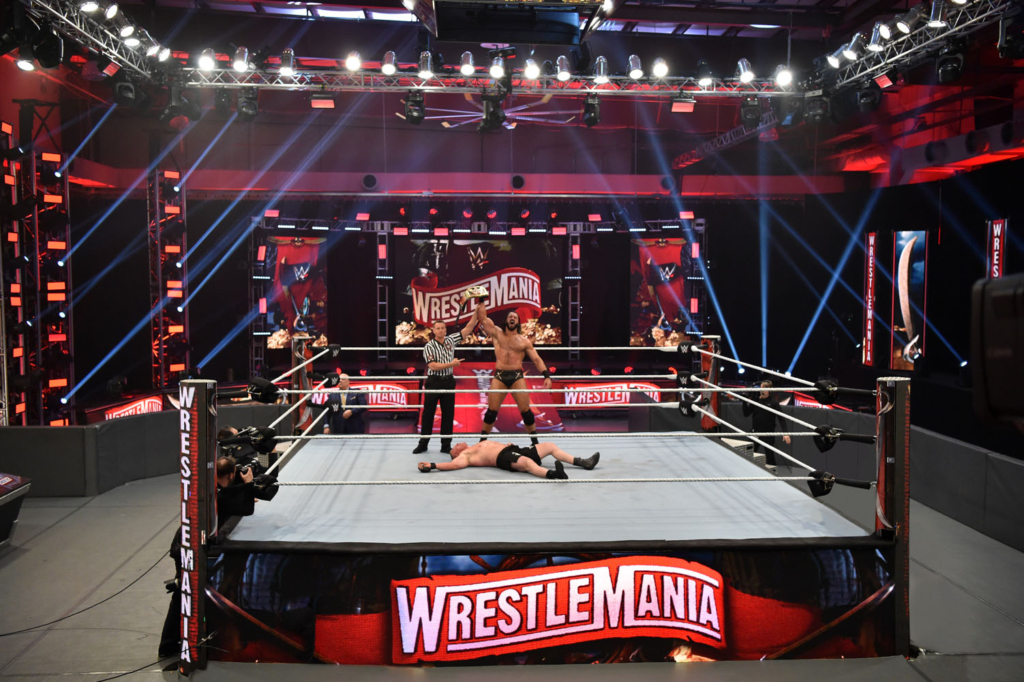 I'd be lying if I didn't say I was angry and disappointed – my moment wasn't gonna be in front of 70,000 people, in my American hometown, with my whole family there, 50 minutes from where I'm sitting right now. But the message I try to put out there to people is that no matter how many times you get knocked down, if you pick yourself up, block out the negativity and fight for your goal and your dreams, you can achieve anything.
Considering the gravity of the COVID situation, trust me, I felt so guilty about ever being angry and disappointed. I realised how big this was. That moment, in my career, I'm never gonna forget it. I don't think it can be topped.
It's one thing to win a championship, it's another to be a champion. Did anything surprise you about being the face of the company for the best part of 2020?
I guess the thing that surprised me most was just how big our company actually is. And I knew we were huge, global, worldwide. More than 100 million homes, 180 countries, 28 different languages, with over a billion social media followers across the world. But when I became champion, I wanted to learn about the inner workings of the company, and I started reaching out to different departments, and finding out what everybody does to make those of us in the ring superstars. Working directly with them, I learned so much. I was very grateful for all the hard work they put in, and for getting opportunities like meeting fans and talking to kids. That's never lost to me, how cool it is, because I'm a fan, I'm a lifelong fan. I've never lost that fandom.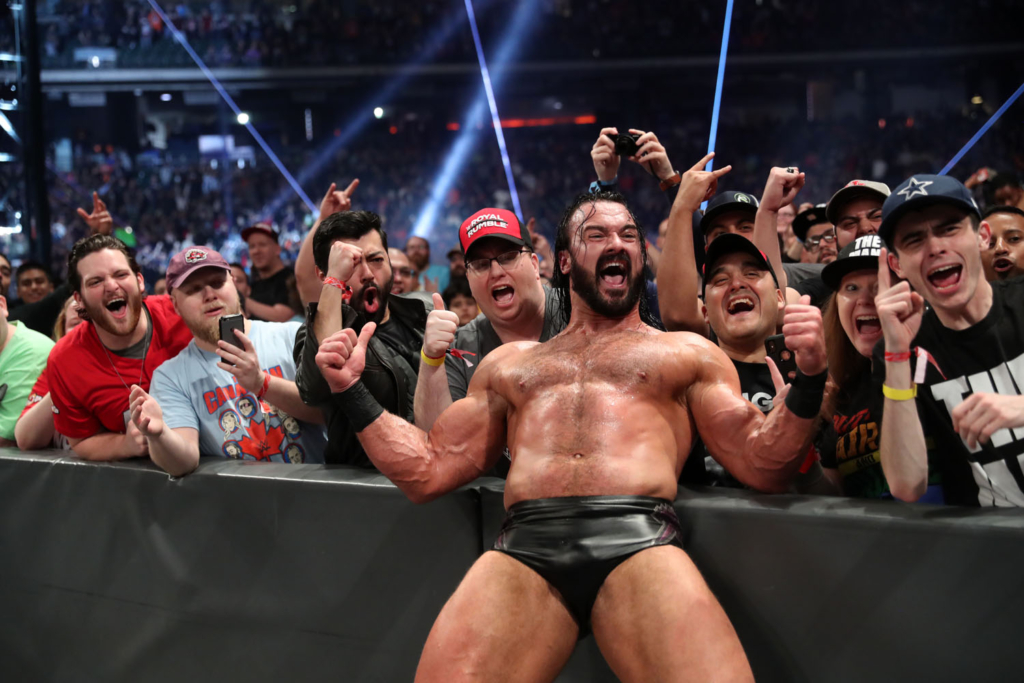 This journey I've been on – I've dreamed of getting to WWE, signed at 21, was told I was gonna be the future of the company in front of the world, and then fired. I reached some really deep lows in my professional life, and had to fight back to WWE, and to reach the top and win that title. All those ups and downs really prepared me for any situation, including being champion during those times. It didn't faze me. I thought, 'This is exciting, what can I do to make it more entertaining for the fans, you there?'
This isn't a job, as far as I'm concerned. This is my life's dream. And if I'm getting that much responsibility, I'm grateful for my experiences, preparing me and turning me into the man I am today. But in the end, little Drew is having the time of his life, and living out his dream.
It wasn't always like this of course. Talk us through your mindset in 2014, when you were fired and becoming the champion seemed a long way away. How did you stay positive and improve yourself? 
I've been in these documentaries for the past year, when I had to really look back on that period. When I got fired, I was angry, I was upset, I was disappointed. I felt like I wasn't good enough, like I let down my family and friends, and Vince (McMahon) himself. I had a very tough time that I didn't put out to the public, but my wife reminded me of all those insecurities. Then I put together my mission statement. I said to her: 'I know what I have to do, I'm gonna say some crazy things. I'm gonna go back to my country of Scotland, to ICW, Insane Championship Wrestling. They've got a bit of buzz going, and I'm gonna show up as a surprise, and I'm gonna put my mission statement out.' And she said, 'What's your mission statement?'
'I'm gonna put ICW wrestling on the map, and I'm gonna become the biggest wrestler in the world.'
'Wow, that's a big mission statement.'
I believed I could do it, but I was absolutely terrified. So, I went out and I did that. There are YouTube clips out there for anyone that wants to see it. The reaction was unbelievable.
I didn't have a life after that. I mean, I did, it was unbelievable – my life was wrestling. I did not know how my girlfriend, now wife, stayed with me at the time. I was never home. If there was a show going on in any country in the world, I was there. I wanted to travel the world as much as possible, get as good as I could in the ring, get more competent on the microphone, start doing more interviews, get more comfortable with it, because I knew one day, as a top WWE superstar, you have to be the complete package.
However, Drew outside the ring was burning the candle at both ends – the whole candle was on fire! I was out of control during that period, and I got an injury, I broke my neck, and was able to be home for the first time ever, basically, for eight weeks. And we had to have a serious conversation with her and the family. We decided we're gonna cut the negatives out of my life – the drinking and the partying – and just focus on the wrestling, which was going so well, even though I was being such a crazy person. As soon as I cut that crap out, my relationship got a lot better, my body changed completely, and my mental clarity was unbelievable. And suddenly, I had bigger goals than I had had at that point.
That vision led to your return to WWE in 2017, and being champion for most of 2020 [McIntyre lost the title in March of 2021]. What was it like, going from performing in front of thousands to an empty performance centre, and then with a virtual crowd via WWE's ThunderDome arena? 
As a WWE champion, I saw it as my personal responsibility to set an example to the rest of the roster, especially the ones who haven't wrestled in front of… well, nobody. I've wrestled in front of nobody for years. When I was younger, I wrestled in front of 10, 20 people. This is not unusual territory for Drew!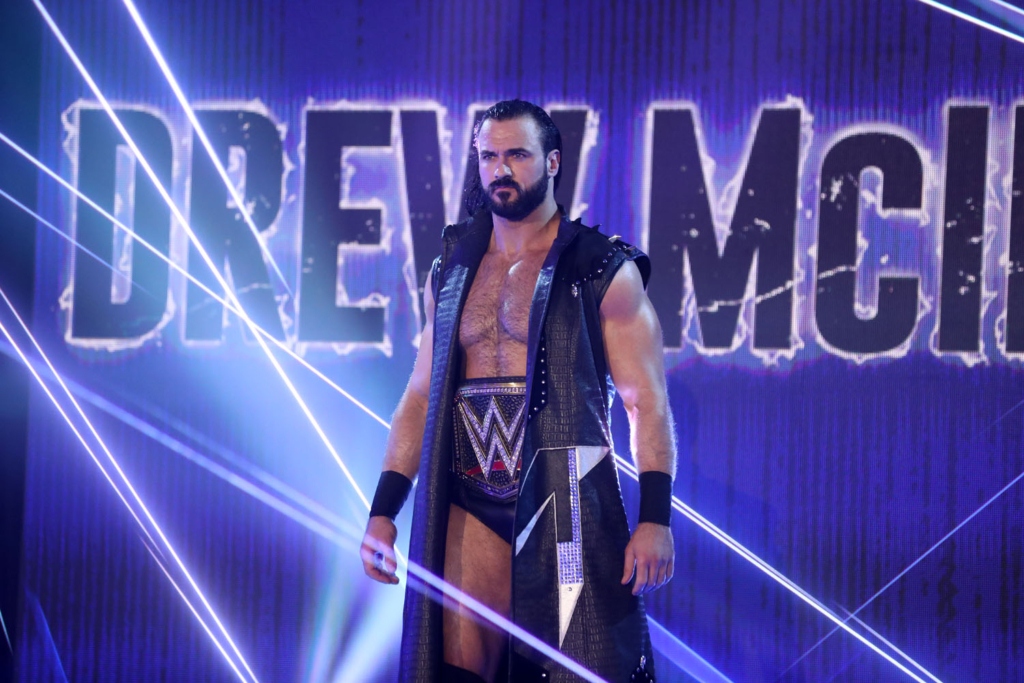 WWE performers also have rigorous physical regimes. What did your training look like during quarantine?
The training aspect has actually become easier. In the past, I was on the road six days a week, 52 weeks a year. For the European tour, coming to the UK and Europe, we were non-stop on the road. You try and find a gym and eat properly. And suddenly at 35, after being on the road 13 years non-stop, I had to just stop completely.
Training-wise, the gyms are all closed, but I went around and got as much second-hand equipment as I could, and I put it in my garage and I started training like Rocky – the same way I used to train when I was in my teens. I was 35, I was WWE champion, I was back in the garage, training again.
More importantly, in my personal life, I'd never spent significant time with the missus. We grew closer. We're homebodies, we don't go out a lot. All we do is watch Netflix. We have two cats, Chaz and Hunter. We just like to hang out with the cats on the couch, watching Netflix. So, it's a very strange time, but I certainly maximised it.
Finally, you've written a book about your journey, A Chosen Destiny, looking back at all you've achieved in WWE. What's next in your list of goals? You've talked about wanting to fight British boxer Tyson Fury in the past… 
I have quite a few things in mind. My primary goal is to inspire people, and that's the idea with the book. It's written not just for wrestling fans, but also for non-wrestling fans. It's about a wrestler, that's my story, but it's a story of redemption, and chasing your dreams and never giving up. I really hope that the book can inspire people out there.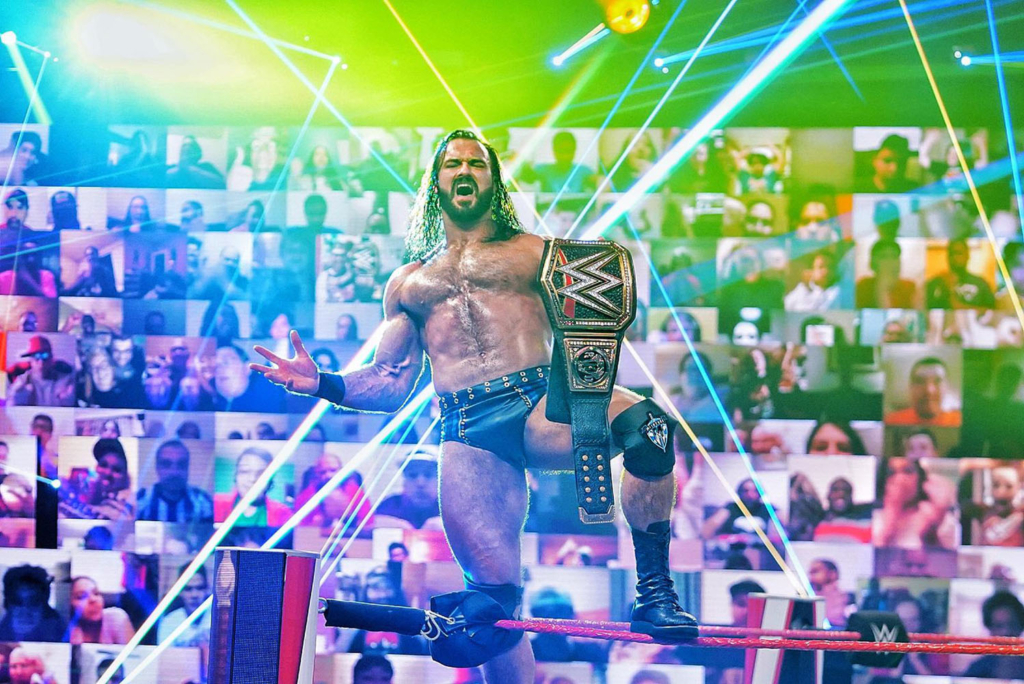 Next is, as far as I'm concerned, to get the fans back. The world opens up, and finally I can get back home. I've won the WWE title twice this year, and I've not been to the UK once. If I lost it again, I'd have to win it back, because when I come back to the UK, I've got a plan for an open-bus tour from the top of Scotland to the bottom of England – all the way down the country, with the title of the first greatest champion, celebrating with everyone on the way down. Stopping off at Tyson Fury's house for a smack across the head, and telling him the big goal is getting the UK a significant WWE Pay Per View event, something we've not had since 1992's Summer Slam. It's been too long. The UK deserves it more than anyone, and I'm gonna make it happen one way or another, even if it takes McIntyre vs Fury at the top of the card to make it happen.
Drew McIntyre's book, A Chosen Destiny: My Story, is available from 22 April.