';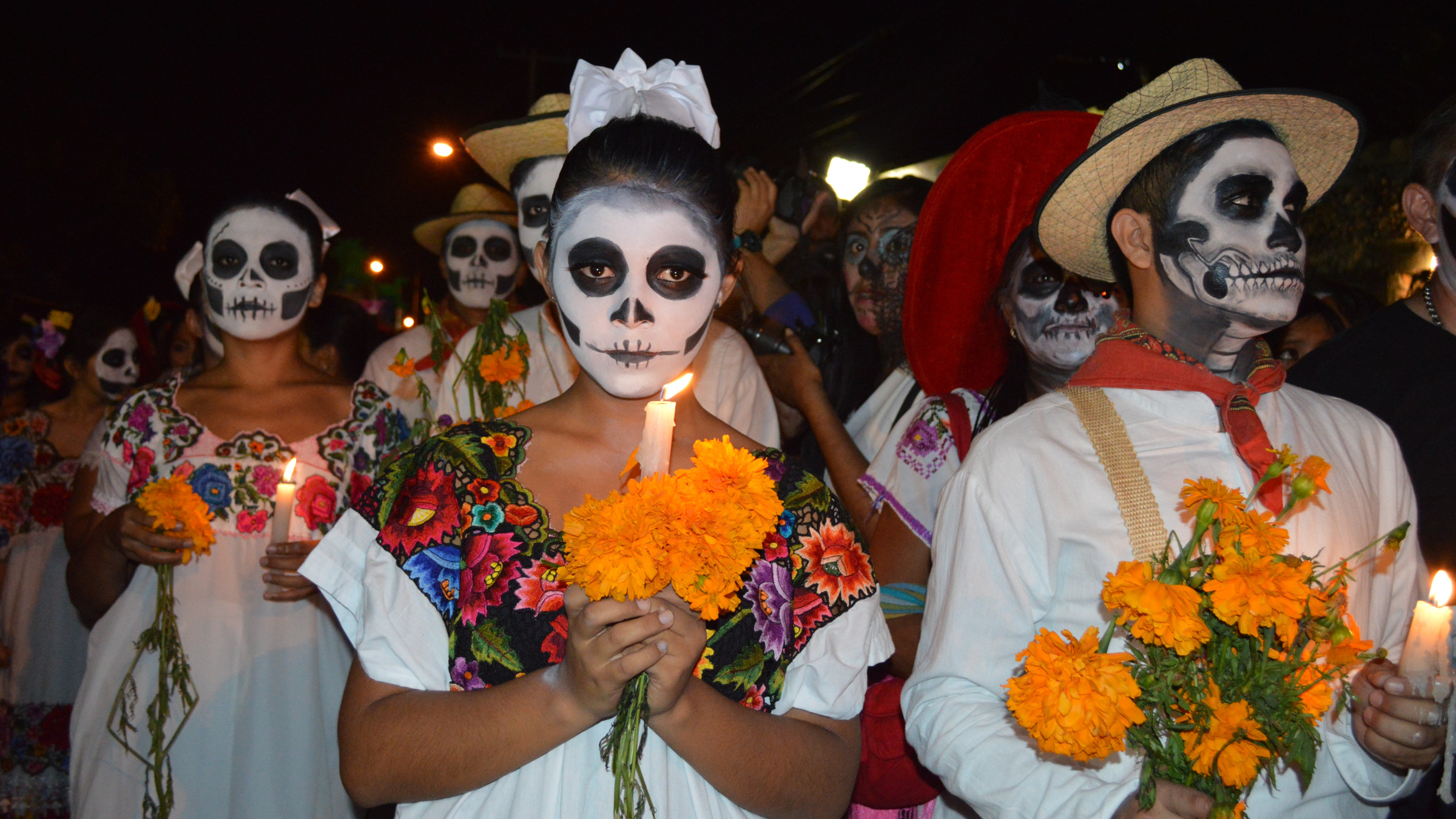 ;
James Bond has never been one for dull entrances. And if you've seen the trailer for Spectre, the newest film of the iconic franchise, you'll notice he's at it again.
As the film opens, 007 finds himself on the streets of Mexico City during an extravagant and somewhat macabre parade. Massive skeletons dangle above thronging crowds, hundreds of elaborately costumed dancers, musicians and entertainers rollick through the city with ghoulish masks and faces painted up like grinning skulls, creating a riot of colour and creepy imagery.
The scene is set, of course, for Bond to fly into action and thwart the sinister plan currently being hatched by some devious international criminal organisation. Cue the hand-to-hand combat and why-are-there-so-many-people-in-my-way chase sequence.
Theatrics aside, this is undoubtedly the perfect preamble for a film called "Spectre": it's El Día de los Muertos, "The Day of the Dead", a cultural and religious celebration that takes place annually in many Latin countries, though most notably – and fervently – in Mexico.
An Ancient Tradition
The origins of the festival can be traced back to the indigenous people of southern Mexico, the Aztecs, who for thousands of years had honoured the goddess of the dead, Mictecacihuatl, with rituals and festivities in summertime. After the arrival of the Spanish in the 16th century, however, the celebrations were moved to autumn in order to coincide with the Catholic observance of All Saints' Eve, All Saints' Day and All Souls' Day (31 October, 1 November and 2 November, respectively), and has remained that way for centuries. In fact, 2 November is a widely observed bank holiday throughout Mexico.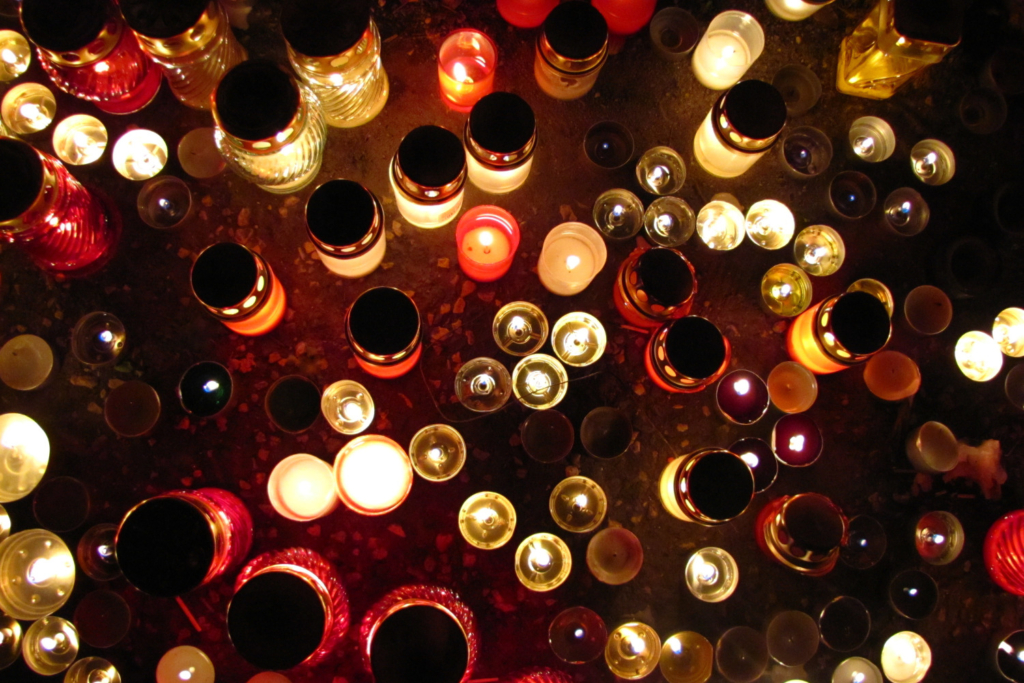 At its core, Día de los Muertos is about celebrating life while facing up to the reality of death and loss. Many believe that dead ancestors and friends return for several days – but not as menacing ghosts that must be appeased, rather as joyful souls coming back to eat, drink and be merry with their loved ones once more.
That's why a major part of the celebrations is the making of altars, or ofrendas, for the dead, decorated with photos, mementos, candles and flowers, and set with the departed one's favourite foods. Candles are lit and prayers are said, skull-shaped sweets and pan de muerto (a rich cake topped with meringue in the shape of bones) are prepared, and everyone feasts and shares memories of their loved ones who have passed on – sometimes at home, sometimes at the grave of a friend or relative. Many paint their faces and don fancy dress to resemble Catrina, the aristocratic lady of the "elegant skull" who has become a symbol for Day of the Dead celebrations.
In Search Of Authenticity
Despite the generally upbeat tone of Día de los Muertos, if you watch the new Bond film and then travel to Mexico City expecting a raucous party of Rio proportions, you'll be pretty disappointed – in true Hollywood fashion, the scene has been embellished quite a bit from the actual way the locals like to get down while remembering the dead, but there are a few places you can go to get an authentic Day of the Dead experience.
[vc_html_gallery interval="5″ images="14831,14835,14839,14844″ custom_html="Spooky candies are everywhere during Día de los Muertos
---
Decorating wooden skulls is a favourite pastime
---
An ofrenda to a departed loved one
---
Merry meets macabre
---
"]
In Mexico City, visit the San Andrés Mixquic neighbourhood, where cemeteries are lit up by thousands of candles and adorned with vibrant marigolds. The streets are alive with mariachi music as a "widow" leads a mock funeral procession, cracking jokes about her dead "husband" as the crowd cheers and lobs farcical comments in return. In Pátzcuaro, villagers host a shindig with folk dancing, colourful costumery and processions, before making their way at midnight by candlelight to the cemeteries to chant and pray for their lost loved ones until dawn. Celebrations in San Miguel de Allende, by contrast, take on a more modern cultural tone with La Calaca, "The Skeleton" festival, which sees artistic exhibitions, installations, street art, dancing, music, cemetery tours, costume parades and all-night parties.
Celebrate En Casa
But if you can't make it to Mexico in time for the holiday, no worries. Día de los Muertos, usually celebrated on 1 or 2 November, can easily be observed at home with a lively fiesta among family and friends. Here's how:
Create ofrendas. Choose one or more dearly departed to honour at the party – it could be a relative, friend or beloved pet, or if you don't want it to be too personal, choose a famous actor, author or musician who was gone too soon. Decorate the ofrenda with photos, candles and (if you have them) objects that belonged to the person. Flowers are essential; marigolds are the official flower of the festival, but if you can't find them, make some from tissue paper. (Get tutorial here)
Decorate. Drape tables with vibrant cloths, hang streamers and dangle skeletons from the ceiling – any bone-related decorations that you might find in a Halloween party store will fit the bill. Baking skull-shaped cookies is a popular practice, which can do double-duty as decorations and party favours. Scatter some paper marigolds about the room.
Go fancy. Create a truly festive atmosphere by encouraging guests to don costumes and face paint. Perhaps a competition for the most elaborately painted face will inspire some creative looks. (Get tutorial here)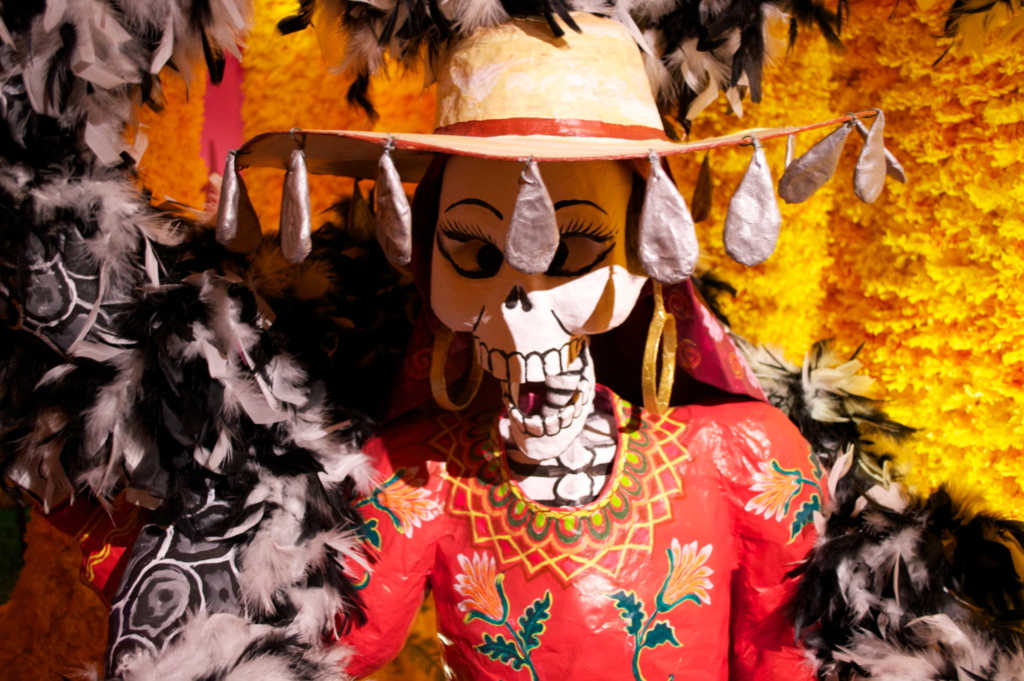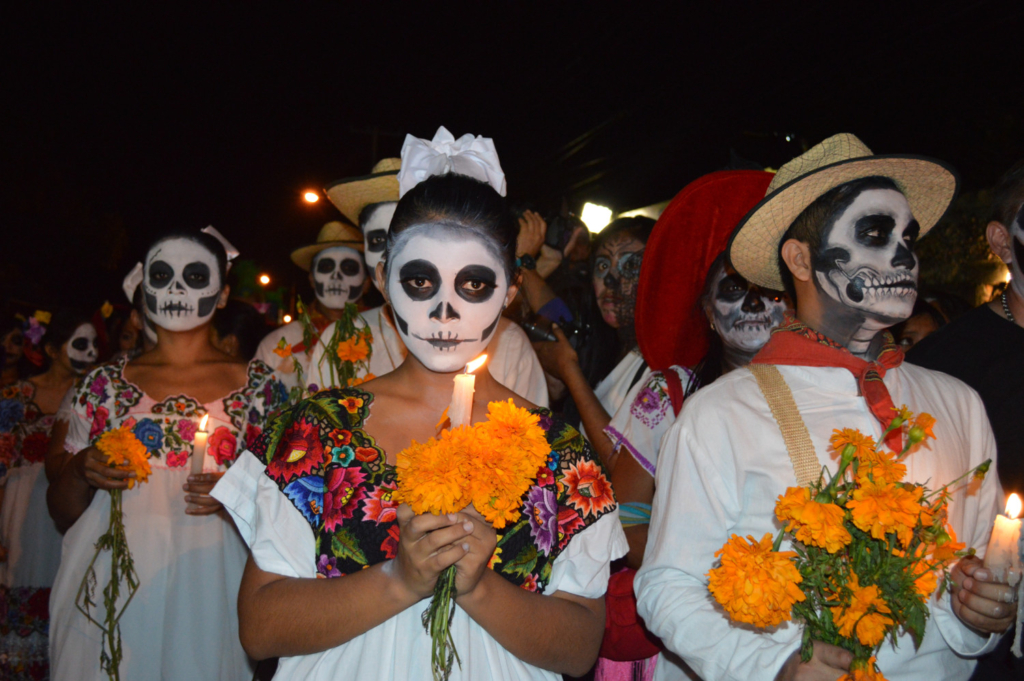 Prepare a feast. Make a few Mexican specialties and have friends bring their favourite Mexican dishes, too. Quesadillas, no-cook salsa and guacamole are easy ones to prepare, but there's plenty to choose from – enchiladas, fish tacos, tamales, candied pumpkin, dulce de leche… High-quality tequila for mixing authentic margaritas is non-negotiable, and so is making pan de muerto. Don't forget to share your food with your most special guests by placing dishes on the ofrendas.
Let the music play. Once guests begin arriving, put on some lively Mexican tunes to set the mood. This Spotify playlist should do the trick.
Article by Jessica Keller
Are you intrigued enough by the Day of the Dead festivities to plan a visit?