';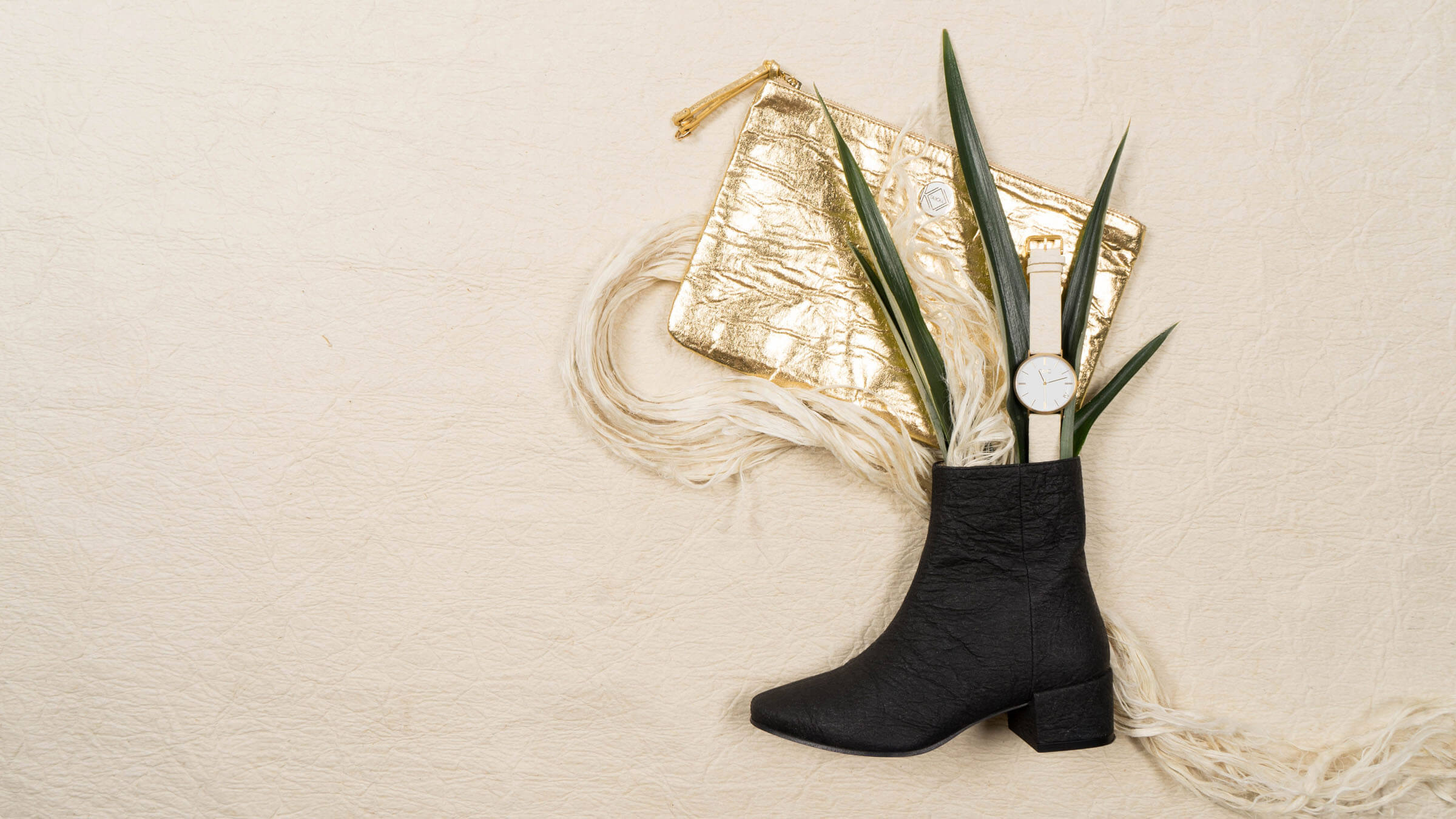 ;
Back in what now seems like the dark ages, vegan fashion often meant a rather unappealing choice between cheap and cheerful pleather and highly flammable synthetics on the one hand, or rustic linen and itchy hemp on the other. Today, thanks to the increasing mainstream popularity of cruelty-free lifestyles, plant-based choices run the fashionable gamut. A heightened awareness of sustainable fashion even amongst those who don't rule out animal products per se is turning the product niche into a major trend – one that is sparking increasingly inventive, wondrous and at times downright freakish innovations.
Fashion sustainability expert Dörte Lange curates slow fashion for online magazine and concept store The Lissome. She has observed an evolution from vegan fashion replacements to sustainable alternatives, and is convinced that "vegan fashion must be sustainable to remain relevant."
"Current textile innovations utilising pineapple fibres, mushrooms and even laboratory research to create groundbreaking solutions for the fashion industry form a perfect synergy by protecting animals as well as the climate and environment," Lange says.
We look into how these eco-friendly material swaps can make your wardrobe more sustainable without sacrificing the well-being of animals – or your personal style.
Pleather, Shmeather – Mushroom Leather
Probably the most contentious animal product most widely used in fashion, and the one most difficult to replace, leather has been the vegan fashion industry's Moby Dick for many years.
There's no way of live harvesting leather, and the toxic tanning process has a massive environmental impact. Nevertheless, it was long considered impossible to replicate the many indisputable qualities offered by the skin of animals. Many alternatives did their best to "fake" the look and feel of leather, but were rightly criticised for their negative life cycle assessment. Others successfully embraced their otherness by offering bags, shoes and accessories made from cloth, basket weave or wood.
Cork, one of the most eco-friendly and leather-like materials around, used to be the only thing that came close, but now there's a new contender. MuSkin is produced from the caps of mushrooms – or, to be more precise, "the largest fungal fruit body ever recorded" – which grow naturally in subtropical forests. Samples are available online from Life Materials, who source the raw material in South America and finish it in Italy. Two American companies, MycoWorks and Bolt Threads (see below), are both working on a leather made from mycelium, the underground root structure of mushrooms. A prototype of a bag designed by Stella McCartney and made from Mylo mycelium leather by Bolt Threads is currently on view at the exhibition Fashioned from Nature at the Victoria & Albert Museum in London.
Fruity Fashion
Some of the most exciting vegan fashion innovations in recent years have been deliciously fruity. Since we reported on don't-call-it-pineapple-leather Piñatex two years ago, the company has gone from strength to strength. A wide range of products made from the natural textile created out of pineapple leaf fibres are now readily available on all continents, and the company has recently been awarded a grant that will help it work towards its goal of making the textile fully biodegradable.
Em Mendoza, Marketing Manager for Piñatex, finds that omnivores are equally intrigued by the new material. "Plant-based alternatives are still very niche," Mendoza notes. However, "being non-animal-based doesn't necessarily mean a product is sustainable. Sustainability goes one step further, to create something that will have as little negative impact to the environment as possible to ensure that resources are still available in the future. People nowadays are more aware of the repercussions of being wasteful. Sustainable innovations have been put in the forefront of today's society, so more and more people are discovering new materials as alternatives to ones that have a negative impact on the environment. More start-ups are discovering new alternatives, which I feel is good to revolutionise the industry."
The plant-based revolution is well on its way, judging by the range of fabrics available. Thanks to other textiles made from different by-products of the fruit industry, you can now wear your five-a-day as part of a plant-based lifestyle.
Italian entrepreneurs are cornering this market, making the most out of two of the country's most important industries – agriculture and fashion – by turning the one's waste into the other's raw material. Sicily-based Orange ​Fiber, for example, extracts citrus cellulose from waste generated by the island's fruit farms, which is spun into yarn before being woven into a delicate, silky ​fabric.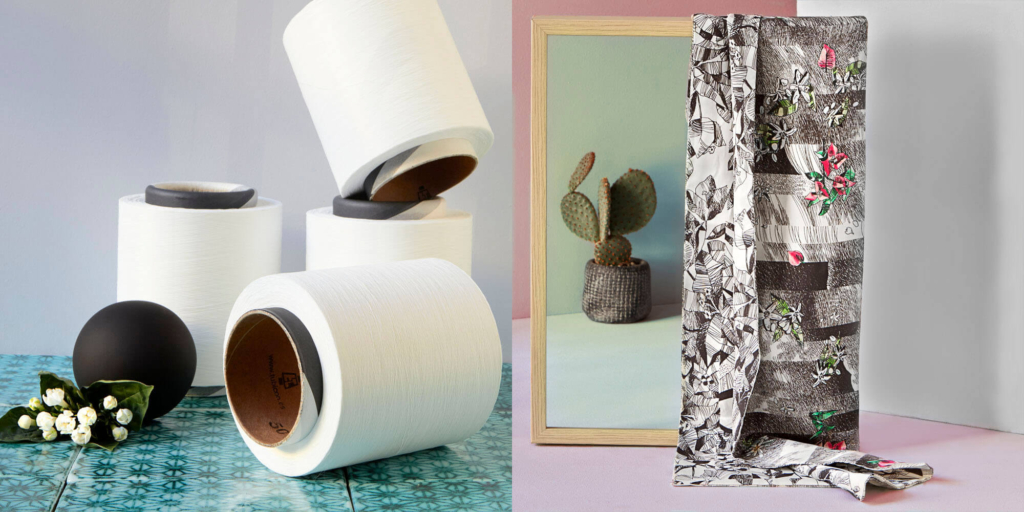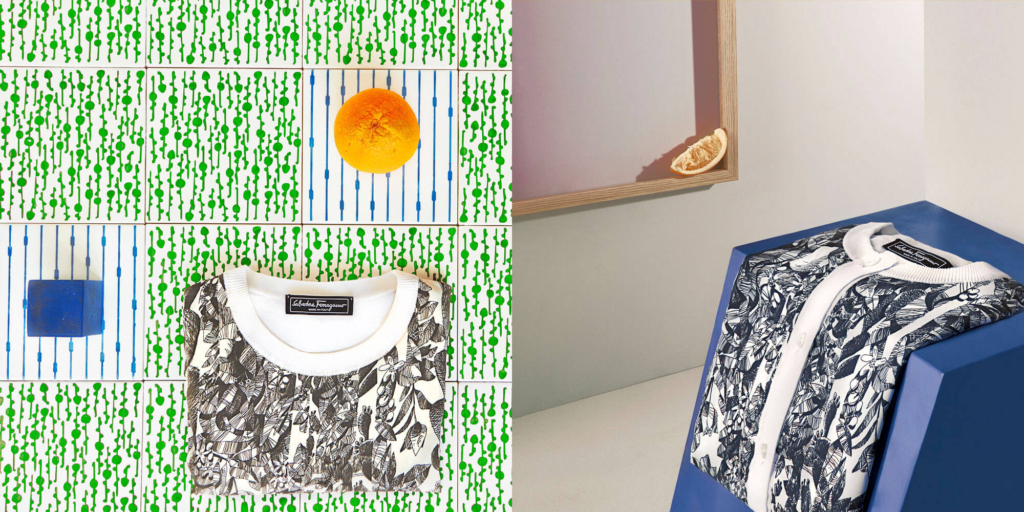 [Photos: Orange Fiber]
Media representative Maria Elena Nicotra explains the fabric's small water footprint, which compares positively even to other vegan textiles. "Our fibre does not require dedicated yields alternative to food consumption or dwelling on natural resources, but reuses a waste, thus saving land, water, fertilisers and environmental pollution."
The resulting fabric is of the finest quality, as evidenced by the fact that one of the very first design houses to use it was Salvatore Ferragamo. Nicotra elaborates, "if used pure, the resulting 100% citrus textile will have a soft and silky feel, lightweight, opaque or shiny according to the designer's needs." For different results, blends with elastane, cotton or silk are available.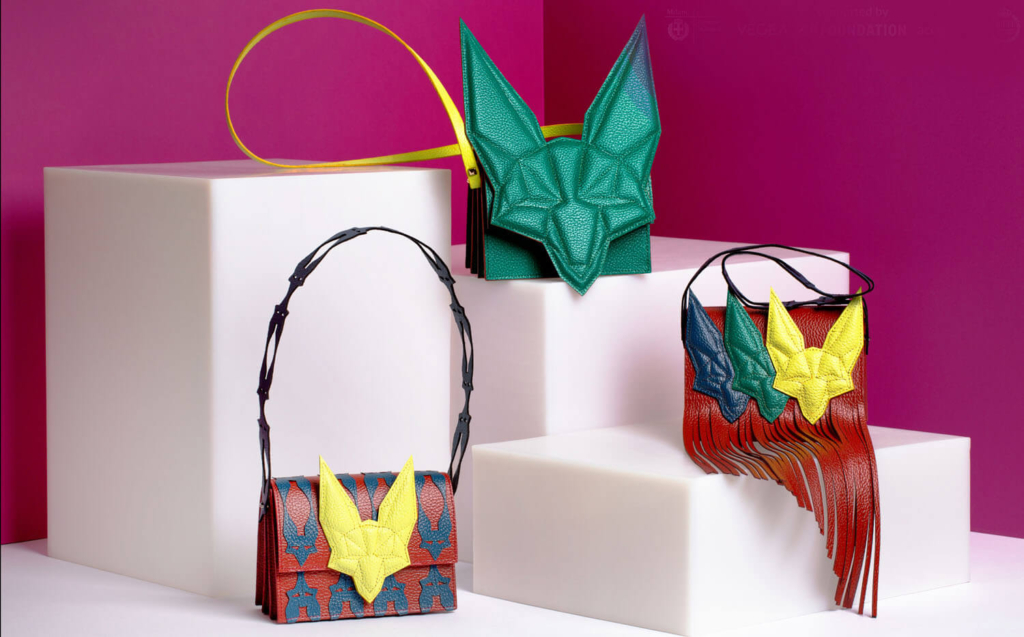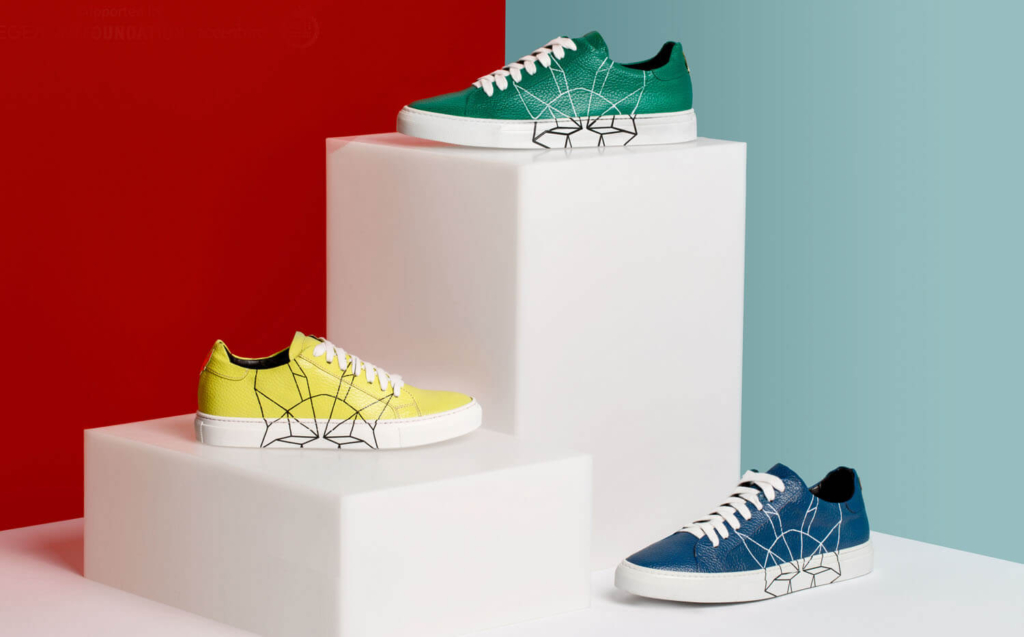 [Photos: Vegeatextile]
Another Italian company has developed and patented Vegeatextile, which extracts biopolymers from wine industry biomass (read: grape skins, stalks and seeds). Vegea owner Gianpiero Tessitore is proud of the sustainability prizes his innovation has won. "Our technology was born with the aim to reduce industrial waste through the valorisation of agroindustry byproducts and their re-use for high-value-added and low environmental impact materials. Under the creative direction of ecodesigner Tiziano Guardini, we worked on the first prototypes for dresses, handbags and shoes, showing the great potential and versatility of the material." The stylish collection shows a product virtually indistinguishable from leather. Cheers to that!
STEM Style
Even the most natural of fibres require a certain measure of human intervention to become catwalk material, but some particularly intriguing alternatives are man-made all the way. Bolt Threads, a venture-backed company based across the bay from San Francisco, "believe that answers to our most vexing problems can be found in nature" – so they study nature's finest products in order to replicate them in the lab. Mylo mycelium leather (see above) is their most recent innovation, but their microsilk has already been tried and tested by Stella McCartney and Patagonia.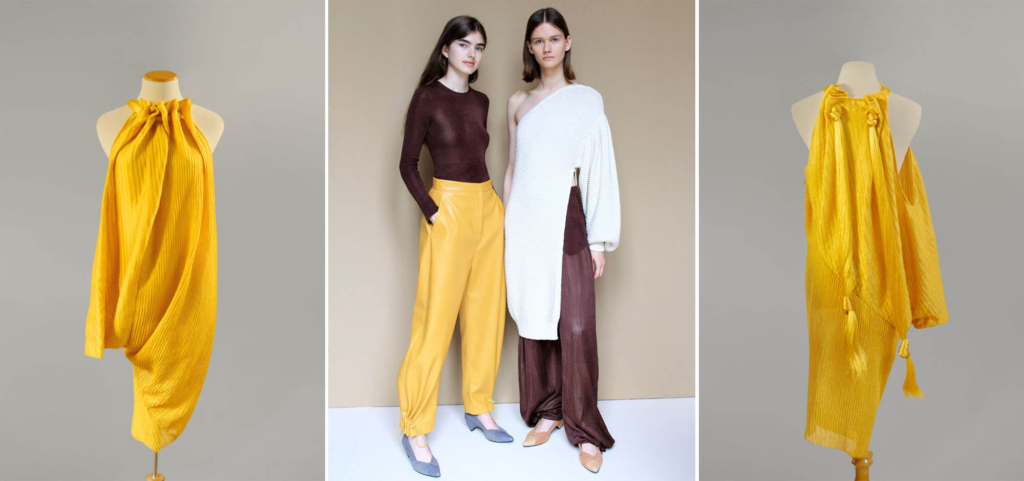 [Photos: Bolt Threads]
The press kit explains the process step by step: "Our process begins by closely studying the properties of silk proteins found in nature. We then develop proteins inspired by these natural silks by putting genes into yeast. We produce the protein in large quantities through fermentation, using yeast, sugar and water." Finally, the proteins are spun into fibres, then into yarn, which can be woven just like real silk.
On the East Coast, Modern Meadow, another biotech start-up, is using a similar approach to make lab-grown leather from collagen. Jill Meisner, Director of Communications, explains that, while Modern Meadow offers "animal products without the animal", the company is not exactly developing plant-based alternatives either. "We are currently using collagen, a naturally developing protein that is usually found in skin (animal and human) to develop our materials. The collagen we use, however, comes from yeast cells rather than taking it from an animal."
For consumers who are equal parts fashion- and environmentally conscious, the promise of a high-quality leather alternative without the negative impact is good news, regardless of vegan labels.