';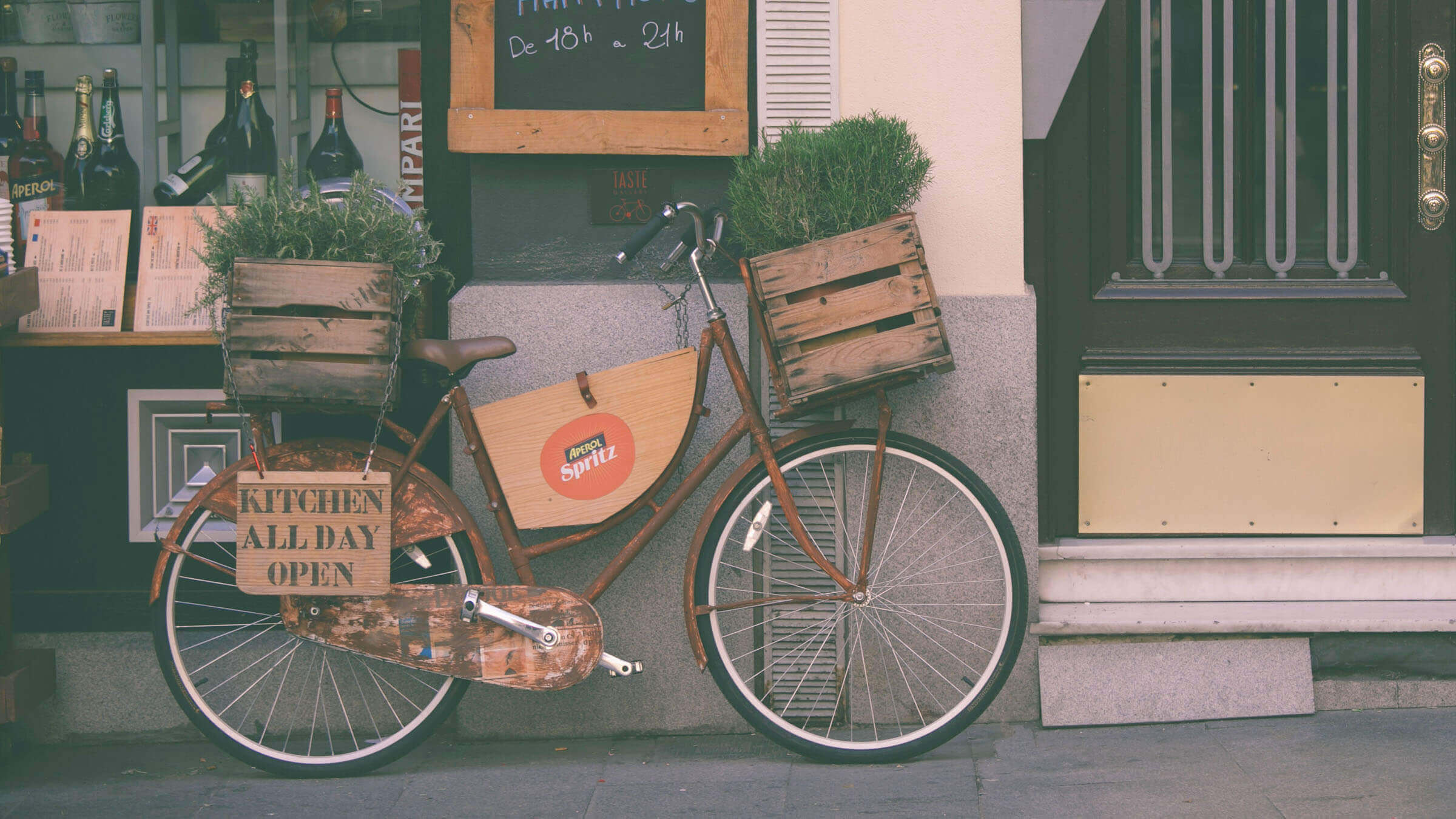 ;
Pimp your ride with these awesome add-ons…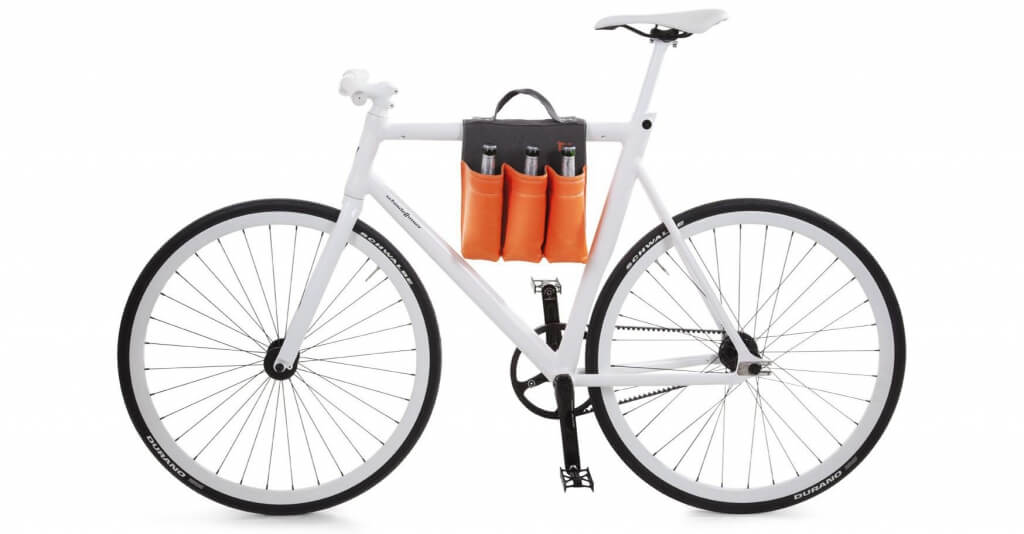 6PACK Bike Bag
A backpack might do the trick, too, but this strap-on bike bag is a much cooler way to ride with a 6-pack (or anything else that'll fit in there). Besides, you don't want those bottles clinking around or breaking, now do you? Bonus: the sturdy canvas is waterproof.
donkey-products.com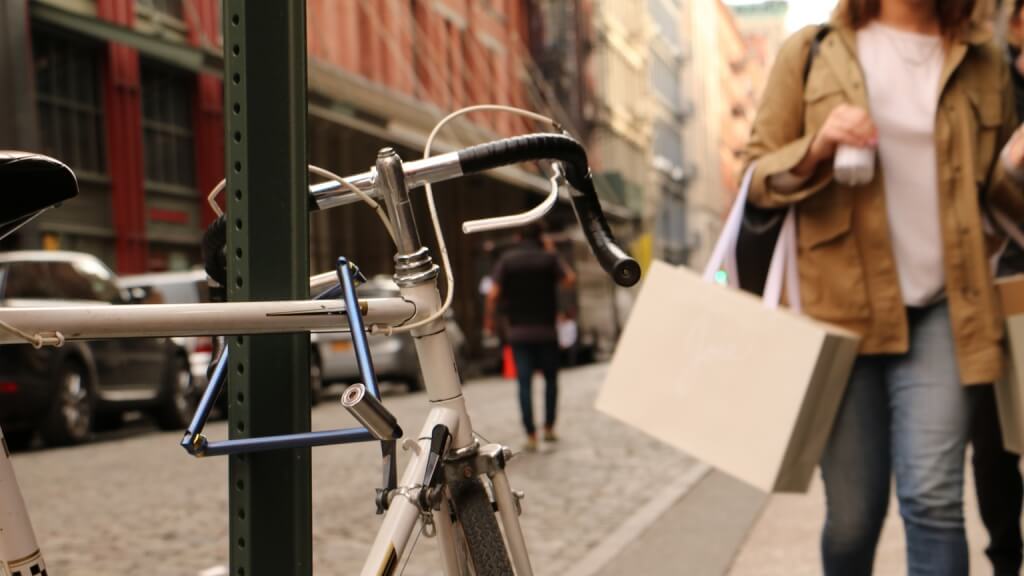 560G Bike Lock Altor
When buying a bike lock, you can go one of two routes: Buy the lighter, smaller lock that provides less security, or the heavy-duty, cumbersome but effective one. That's why the 560G Bike Lock from Altor is so awesome – it's one of the highest security locks out there, but weighs only 560 grams (1.23 lbs) because it's made of indestructible titanium.
thegadgetflow.com
Blaze Laserlight
All responsible cyclists ride with a decent light when it gets dark, but often cars still have trouble seeing them. If you frequently go for evening bike rides, this super cool gadget could help protect you from traffic. The Laserlight projects a glowing green bike symbol 6 metres in front of you, making it easier for you to be seen.
blaze.cc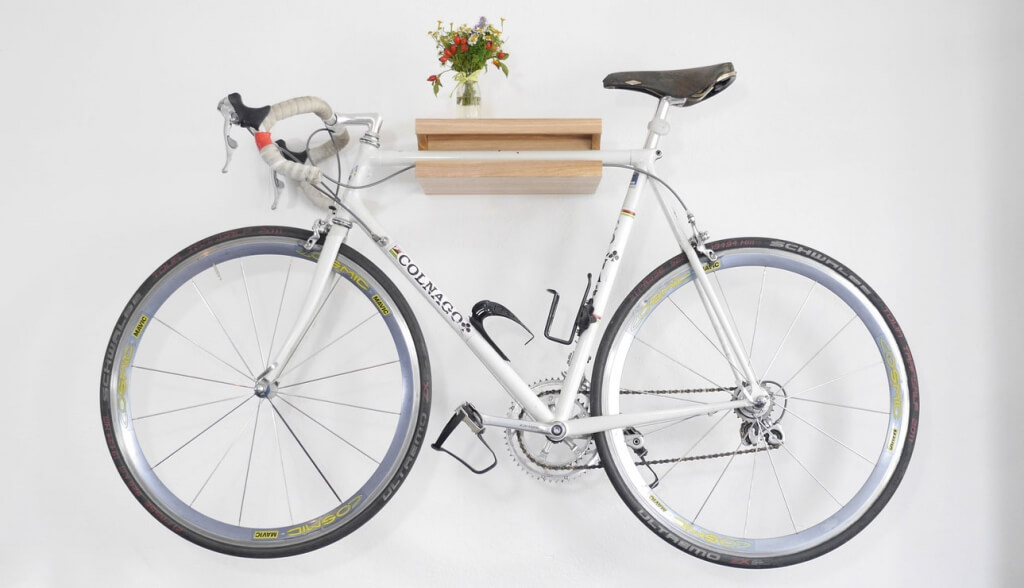 Bikefritz – The Beautiful Wooden Bike Shelf
There are plenty of clever bike racks out there for those of us who refuse to leave our precious peddling companions outside, but this has got to be the sexiest one. The handsome wooden hanger holds your bike while also acting as a cool shelf. Practical and classy, all in one.
thegadgetflow.com
Bookman Cup Holder
Cars have cup holders for your morning coffee, so why shouldn't your bike? Keep this smart little gadget with a sturdy clip-on function in your bag for those mornings when you just didn't have time to brew a cup of joe before pedalling off to work.
bookman.se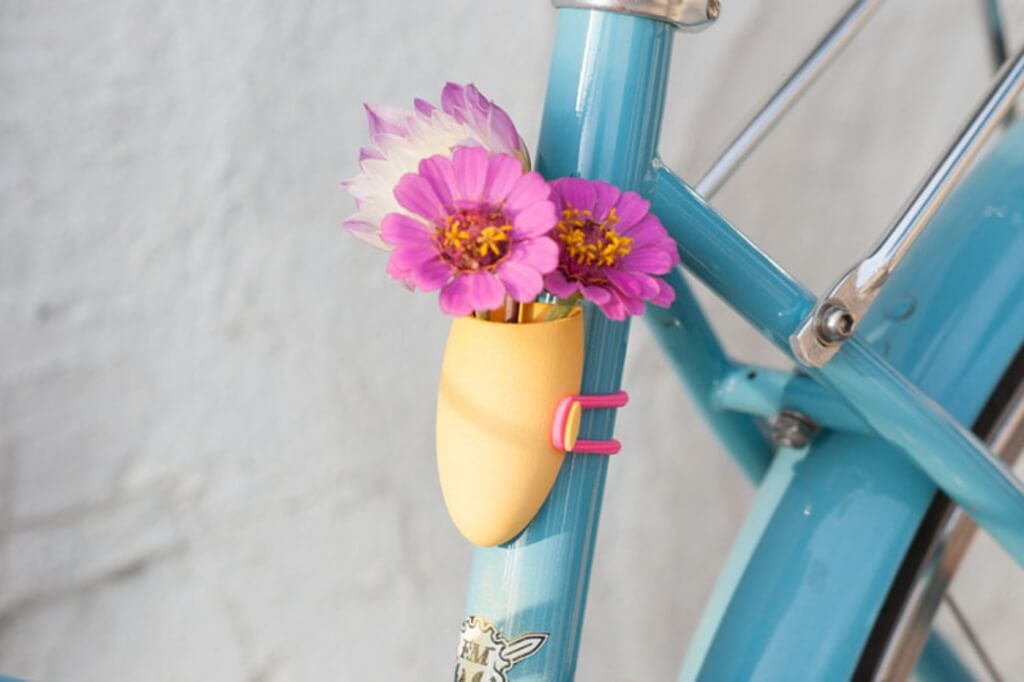 Sunshine Yellow Bike Planter
Okay, so this doesn't have much of a practical function – but isn't it cute? Add a green personal touch to your wheels, and watch it grow as the year goes by.
etsy.com
Ass Savers
A lot of avid bikers swear by this cheap, ingeniously simple (if crudely named) solution to biking in the rain. If you don't have permanent mudguards on your wheels, riding in wet weather means getting a muddy stripe down your back. Enter the Ass Saver! Just unfold and attach it above your back wheel, and off you go.
ass-savers.com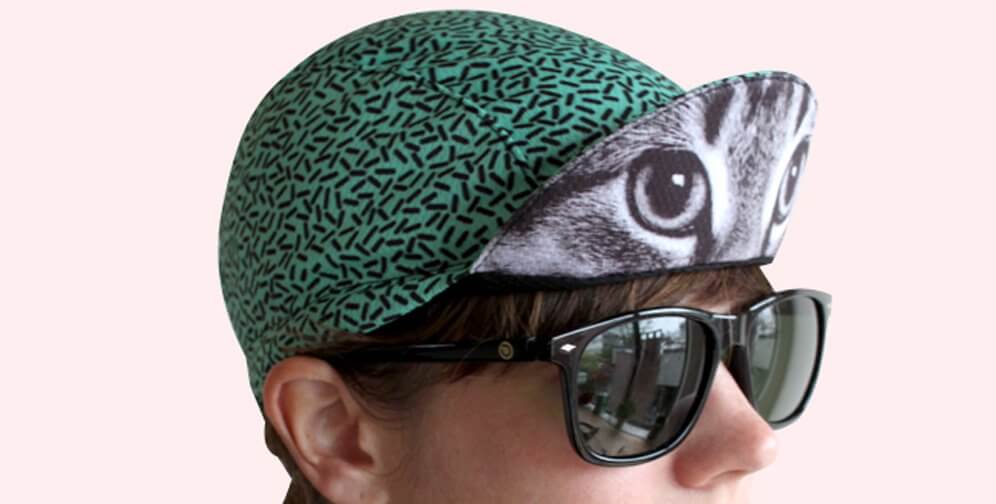 Kitty Cap
This is very important, guys: Anyone who loves their cat as much as their bicycle needs this cap.
rideforward.com
Sherlock GPS Anti-Theft Device
For those who are sick of having their two-wheeled companions stolen: this is the ultimate bicycle security system. The small device fits inside the handlebars of your bike so that an unsuspecting thief won't notice it, which is why it stands out from other GPS trackers. Once activated with its accompanying Sherlock App, the device alerts your smartphone if your bike is being moved by someone other than its owner, then tracks its position until recovered. It isn't on the market yet, but keep an eye out – it will be the bane of bike thieves everywhere.
sherlock.bike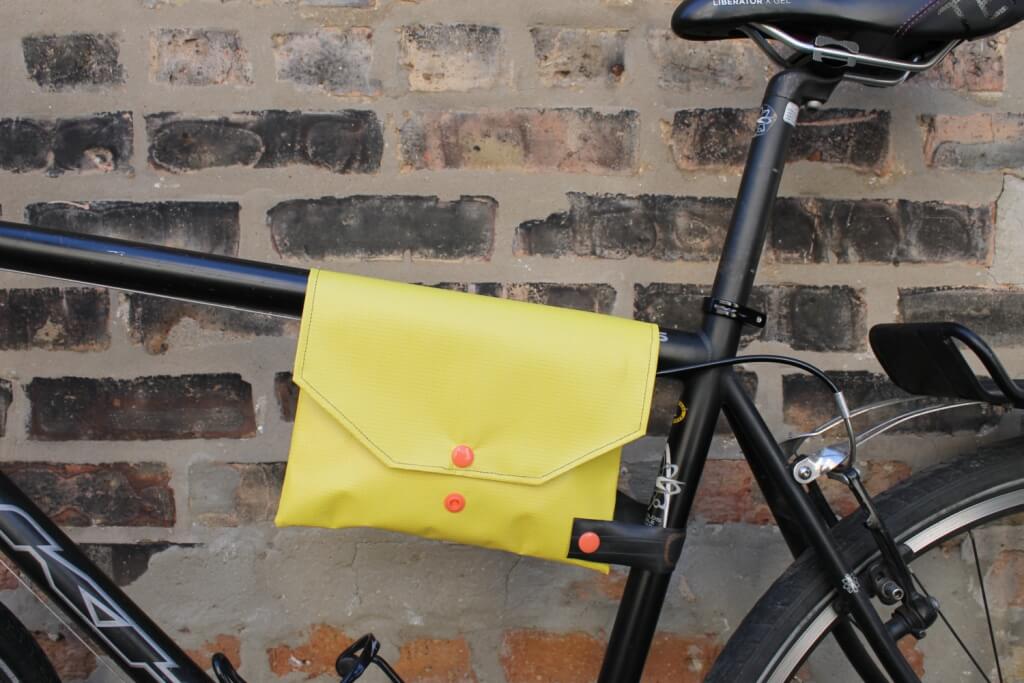 Top Tube Frame Bag
Have you ever waited at a stop light on your bike and feverishly tried to grab something out of your backpack before the light changes? That's where this nifty little bag comes in. Just strap it to your bike frame and throw in all the little things you might need to grab while riding (tissues, phone, wallet, etc). It's made out of upcycled, weatherproof vinyl, which means you can choose from a bunch of neat designs and won't have to worry about wearing it out.
etsy.com
Monkey Light Pro by MonkeyLectric
Remember when you were kid and you had to have those light-up sneakers that blinked whenever you took a step? If your parents never got you those, we have good news: The Monkey Light is the way, way cooler version for your bike! Whenever you pedal, these waterproof, dust-proof LED lights turn your wheels into a colourful light show.
monkeylectric.com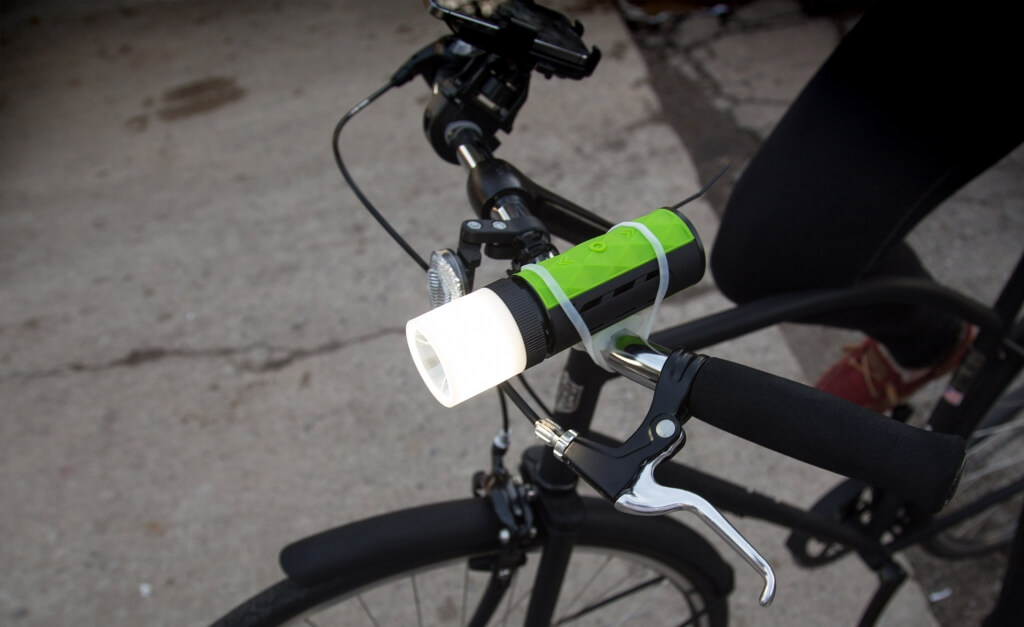 Buckshot Pro
We'll give you three reasons why this thing is cool. (1) It's a speaker that can be attached to your bike handlebars. (2) It also happens to double as a light when riding at night, and (3) it has a hidden powerbank that can charge your smartphone or anything else with a USB cable. Need we say more? Well, just in case, we'll add that it's also shock- and water-resistant.
outdoortechnology.com
Hiplok Original Superbright
This security system kills two birds with one stone: It keeps you visible and safe as a reflective belt during your ride, and secures your bike as a sturdy chain lock.
hiplok.com
Cycling in summer is always fun, but biking in winter takes a lot more commitment. Just between us, for how much of the year do you really get out on your bike?
Amex Essentials Insights
Answer the question below to find out how your valuable feedback can help protect the world's oceans.