';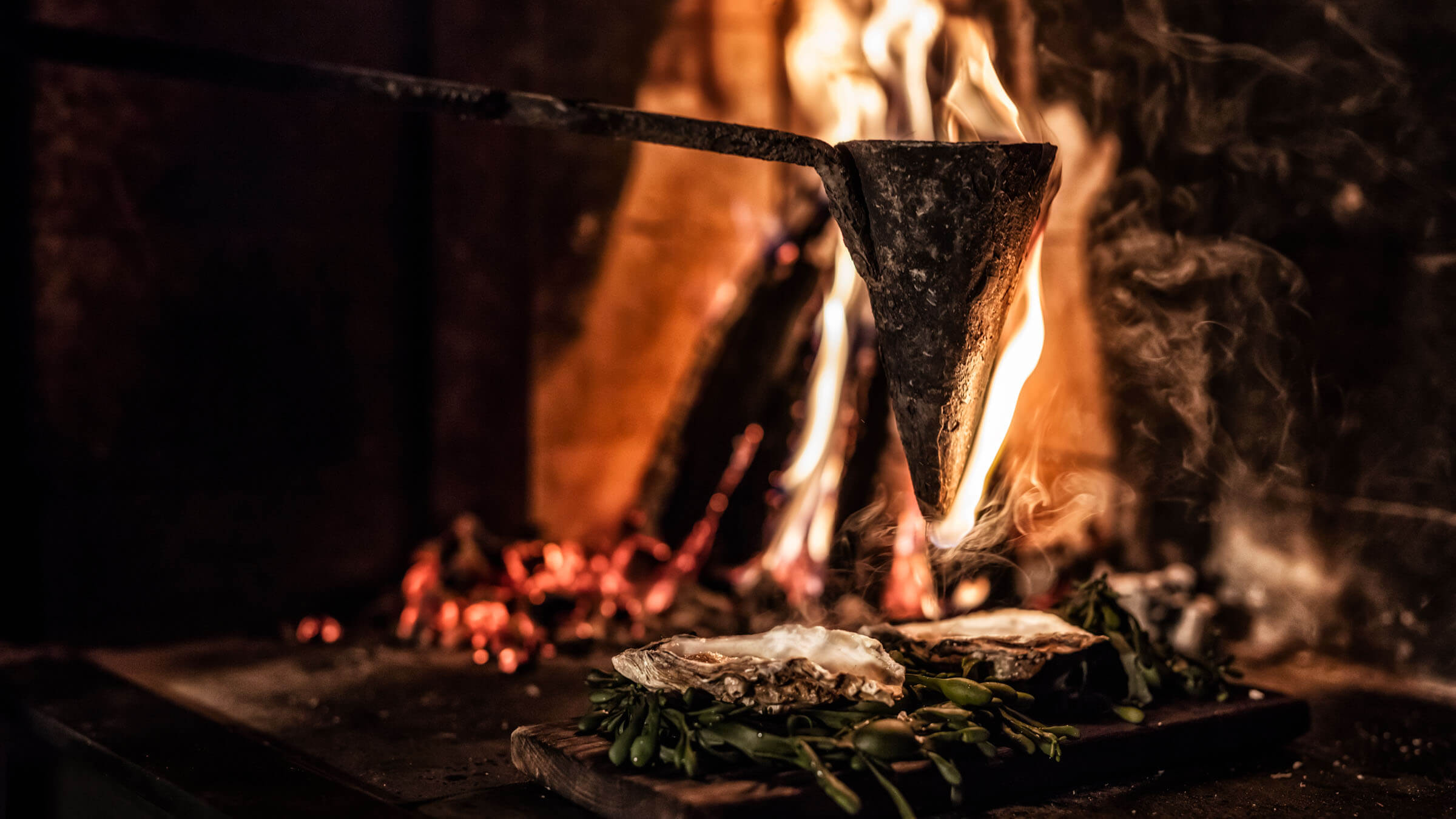 ;
We're criss-crossing continents to meet four inimitable masters of fire who are foraging, growing and harvesting sustainably – all chefs, of course – to discuss how they find culinary inspiration in nature, learn the importance of provenance, and gather a few high-heat cooking techniques. The bottom line: It's all about bringing a sense of place to the plate.
Justin Bonello, South Africa
Having spent countless nights in some of South Africa's more remote mountainous and bush locations in the name of TV and film production over the past 12 years, Justin Bonello might know a thing or two about the allure of fire.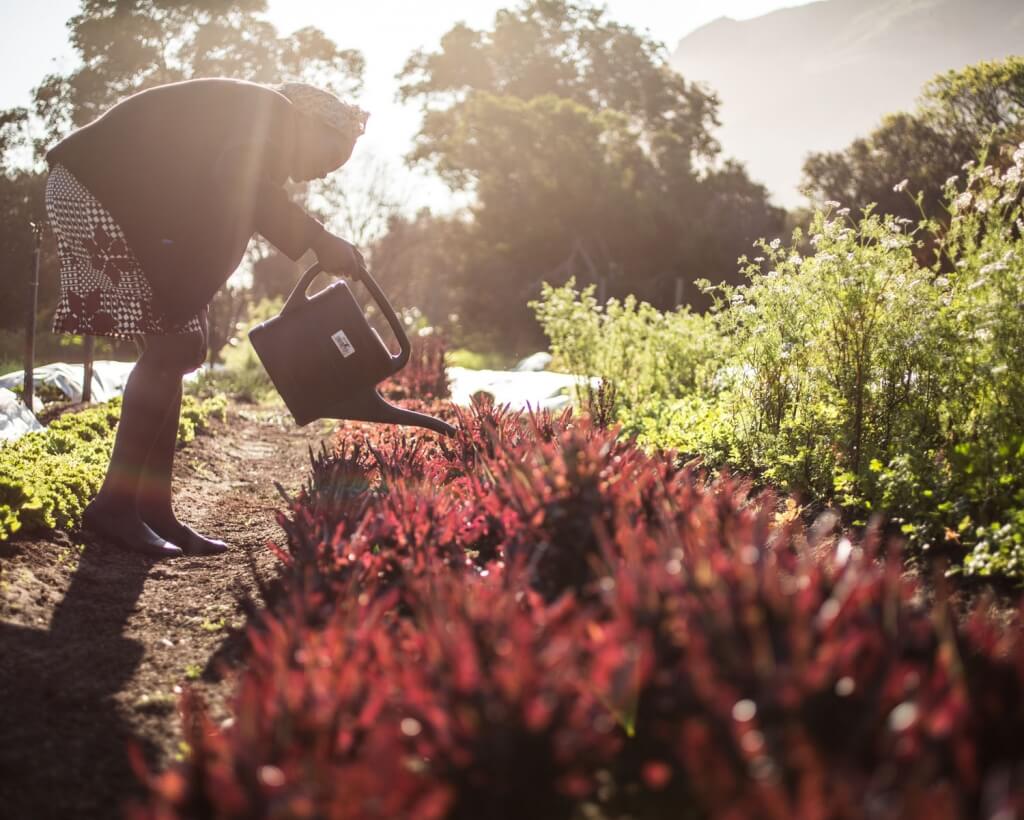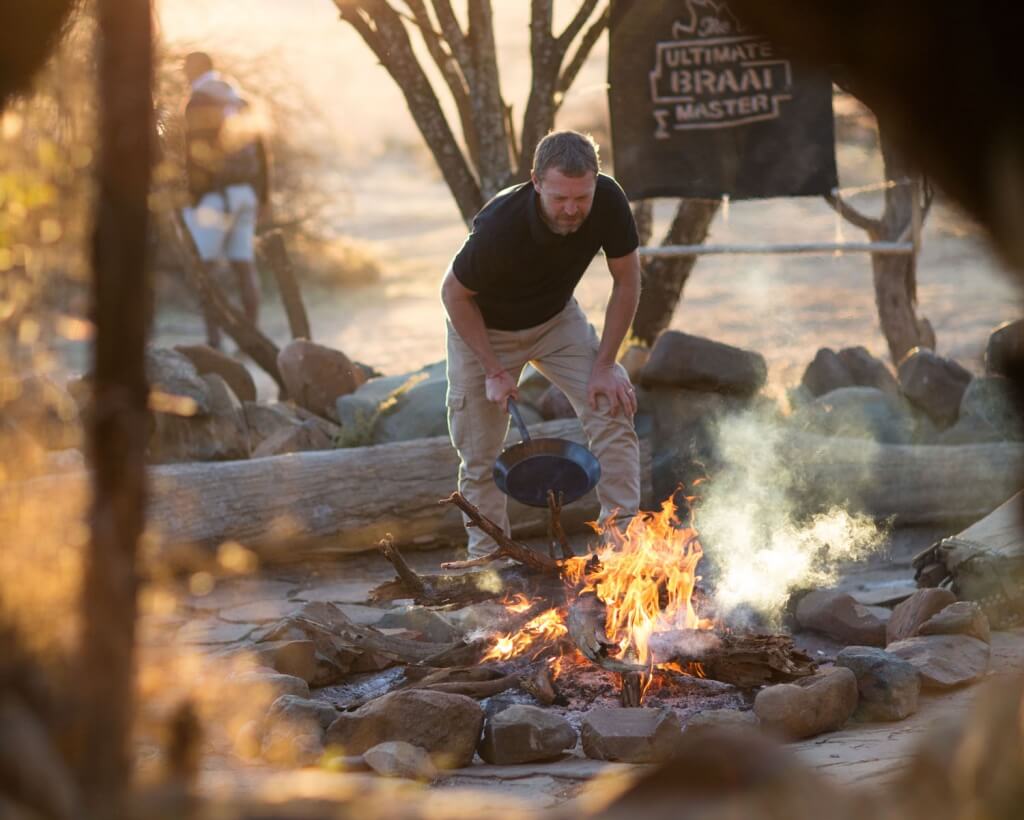 [Photos courtesy Louis Hiemstra and Cooked in Africa]
"Fire is hardwired into our DNA," says the host of Ultimate Braai Master and the co-founder of Cooked in Africa Films. "As a species, the use of fire was pivotal in allowing us to evolve. It represented safety from animals that had bigger and sharper teeth. It allowed us access to new food sources. It provided light on dark nights, warmth and protection from things that go bump in the night…"
It's also the essence of braai – a fire-fuelled, intrinsically South African cookout that's all about bringing family, friends and community together. "I've spent a lot of time dissecting the difference between South African braai and American barbecue. When it comes down to cooking methodology, generally, braai is fast and hard, and barbecue is slow and long," says Bonello. "But both styles have at their heart a sense of social engagement around a fire."
At his home in Cape Town, Bonello has replaced his lawn with a garden to better connect the dots for his family between what they eat and where their food comes from. "We eat everything, but we make it all from scratch," he says. In that spirit, Bonello has founded Neighbourhood Farm, a programme bringing gardens to school sites that are sustainable as well as educational, giving children the chance to get their hands dirty and learn about gardening and growing food. "Neighbourhood Farm is the most important initiative I've ever undertaken in my life," he says.
"100 years or so ago, the earth had a largely rural population where the gap between the farmer and consumer was minimal. In most cases, we were the farmer," says Bonello. "We now live in cities, but we don't know how to live in them. …If we're going to choose to live here, we'd better learn how to live in them lightly – and fast."
For a seafood twist on braai, try Chef Bonello's recipe for a West Coast Mussel Pot, which is cooked over an open fire in a potjie (a style of cast-iron pot) that sits close to the heat source. If you can't hit the coast to forage your own mussels, a few pounds from a local seafood market will do.
Eduardo Garcia, Montana, USA
When chef, entrepreneur and Montana native Eduardo Garcia isn't in meetings about film and television projects, upcoming speaking opportunities, or for his fledgling food brand, odds are he's probably not inside four walls.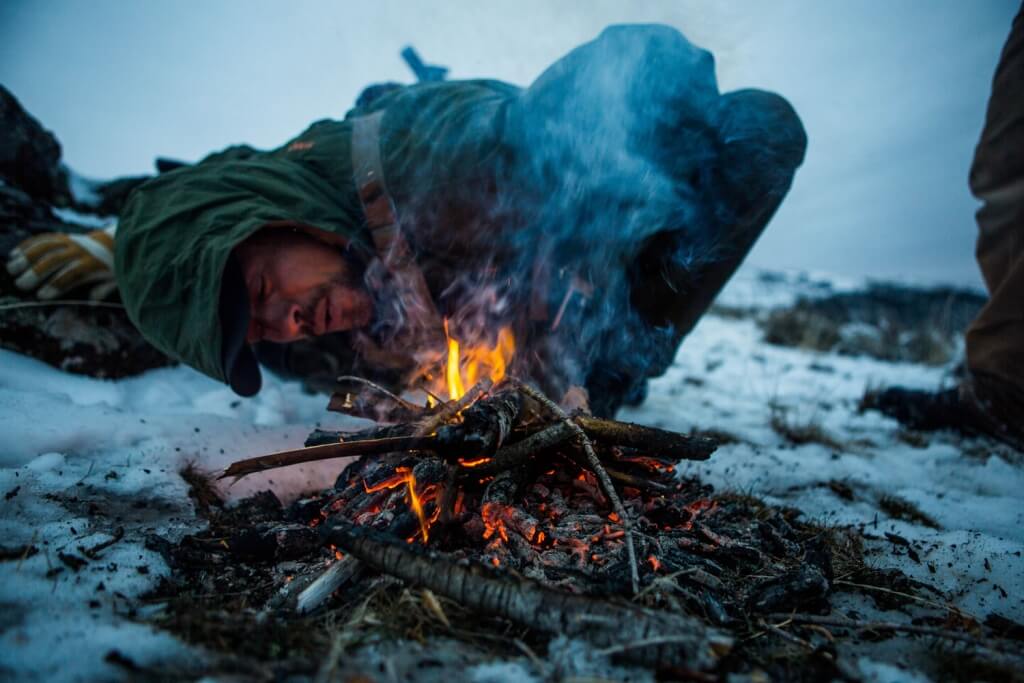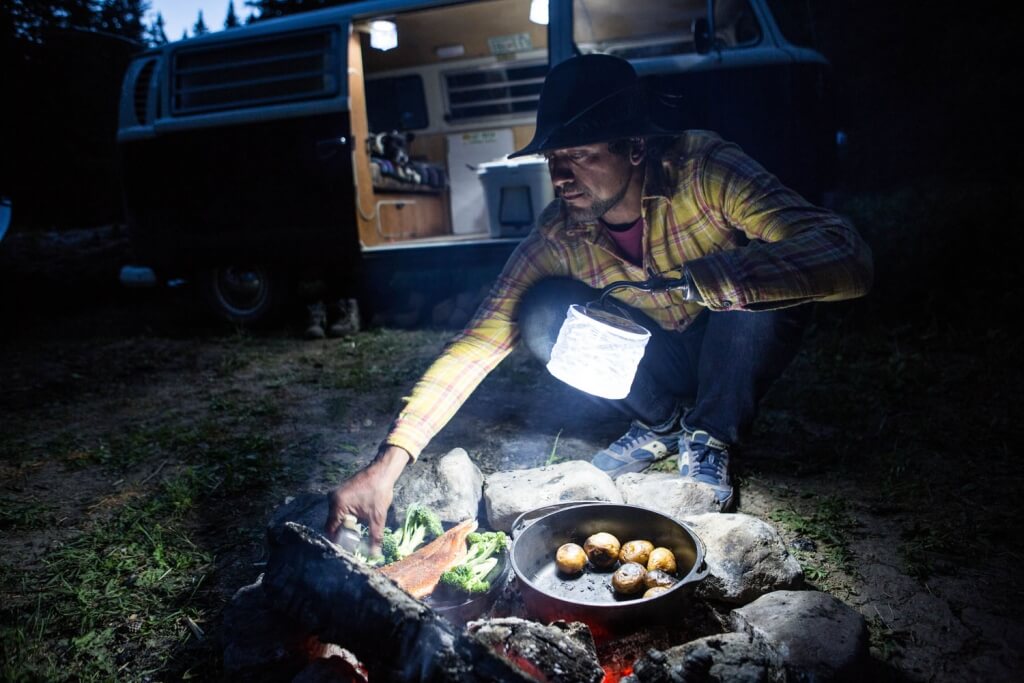 "Growing up in Montana, it was sort of like growing up within the pages of National Geographic," Garcia muses. An Eagle Scout with a passion for hunting, foraging, fishing and pretty much any -ing activity that entails being outdoors, Garcia describes his youth as "adventure-bound and truly a lifestyle that revolved around the seasonality of the natural world."
That call of the wild – and family, too – brought the chef home in 2011, and life has been anything but boring since. The 2017 documentary Charged tells the story of his incredible personal journey, while the outdoor cooking series A Hungry Life speaks to Garcia's passion for hunting, foraging and harvesting with the seasons, as well as his love of nature and the outdoors.
Stories are essential to life, emphasises Garcia, "and I think that needs to translate into our food. It's how we keep the integrity alive. My favourite meals to cook are anything that I've had a hand in – whether I fished it, I hunted it, I grew it, or I know someone that did. Any food that I can tell a story about."
For Garcia, the ingredients are the story, and that's just as true for Montana Mex, his food brand that launched with a trio of seasoning blends inspired by his heritage, and today includes sauces, seasonings and oils, all of which are organic, vegan, kosher, gluten- and GMO-free. "I make a big effort to know where my honey comes from, where my oil comes from, where my seasonings comes from, where the veggies come from," he says.
"It's not just Montana, you know. Montana's this beautiful cornucopia of the natural world, but to be honest, this is accessible to anyone who wants to put in just a little bit of extra effort. It all comes back to you when you share that meal with someone else and you get to tell them about your adventure."
"You've got to go hunt it down. Go explore."
Chef Garcia's recipe for Morel Mushroom Bruschetta may have been inspired by springtime foraging, but farmer's market-sourced morels work just as well.
Follow Eduardo Garcia on Instagram. 
Niklas Ekstedt, Sweden
Sometimes, all it takes is a quiet moment in the woods with a roaring, crackling fire to spark an epiphany that will change everything – just ask Niklas Ekstedt, Swedish chef, restaurateur, television host and cookbook author many times over. The vision for Ekstedt, his Michelin-starred Stockholm restaurant, was born of such a moment at a summer cabin in the Stockholm archipelago when, impatient to wait any longer to start cooking, he thrust a cast-iron pan directly into the flames.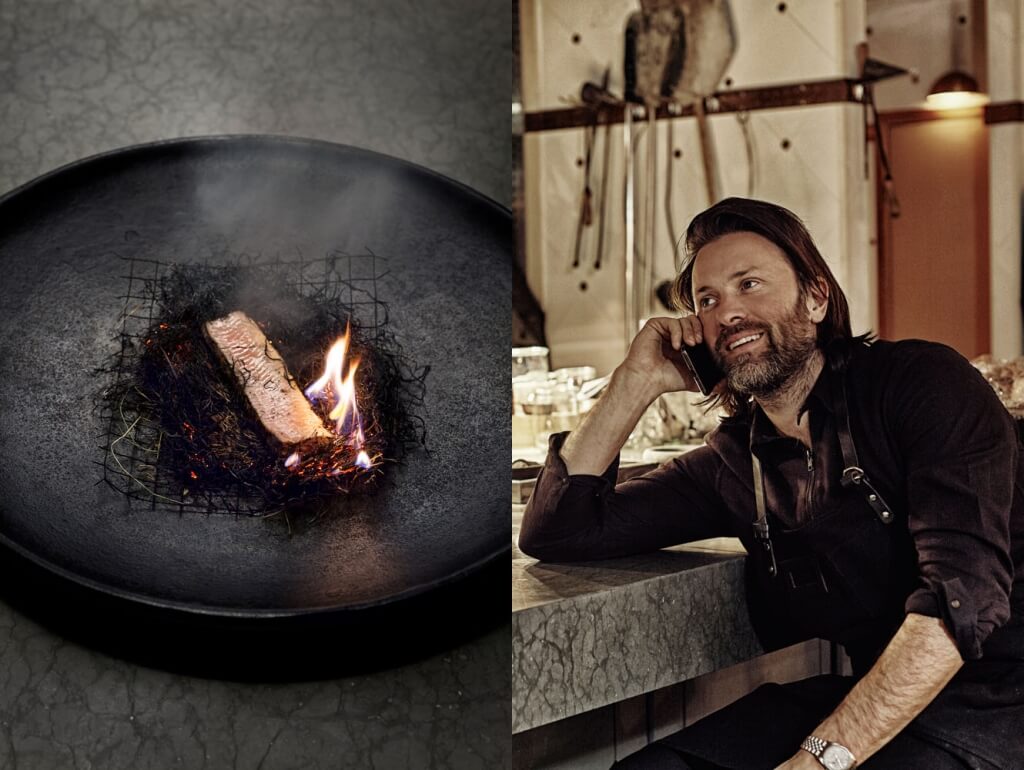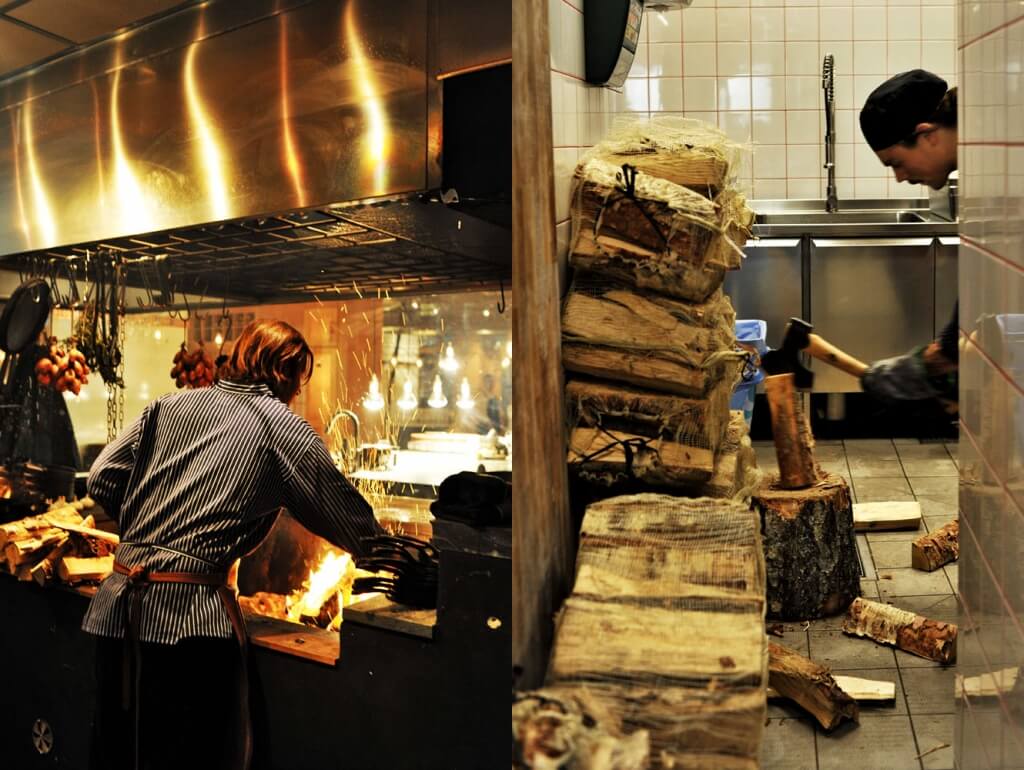 [Photos courtesy Ekstedt, © Mathias Nordgren]
"The fire sizzled and sparked around the pan; the force of the heat knocked me back; the flavour of the food… what depth!" he recalls in Food from the Fire, his cookbook and all-around reference guide to cooking with fire at home. What emerged from the embers that day was the idea to align the ethos of New Nordic cuisine, honouring and exalting local ingredients, with what might be called an Old Nordic way of cooking – turning off the gas and electricity and harnessing the power and heat of fire instead.
The kitchen at Ekstedt today features an arsenal of fiery tools including a pit of open flames, for cooking with cast-iron pans and also directly in the flames; a wood-fire oven for baking bread and desserts; a traditional Swedish cast-iron stove heated with fire, of the sort you might still find in a country home; a smoker for cold smoking techniques; and what Ekstedt calls a "stone-age microwave" – a small oven that heats up quickly when embers are added, which he uses for hot-smoking fish with juniper, among other things. (For a quick-smoke recipe that's safe to try at home, see below.)
"There is something special about open fire," Ekstedt says. "As far as I know, humans are the only species that stay when they see a fire, all others run."
For an impressive start to a dinner gathering, Chef Ekstedt recommends Quickly Smoked Salmon with Juniper. Step 1: Place several pieces of thinly sliced salmon in a jar that has a lid. Step 2: Place a small branch of juniper in the jar and set the branch on fire; let burn 4-5 seconds. Step 3: Cover with the lid to extinguish the fire; let sit on the table for 2-3 minutes. Step 4: Open and enjoy with freshly squeezed lemon juice and toasted bread or sliced vegetables.
Cindy Pawlcyn, California, USA
When 28-year-old chef/restaurateur Cindy Pawlcyn was in the final weeks and days leading up to the opening of Mustards Grill in Napa Valley in the summer of 1983, little did she realise that she was in fact drafting the blueprint for a restaurant that would help to introduce a new culinary ethos to Northern California's wine country, one that would have reverberations far beyond.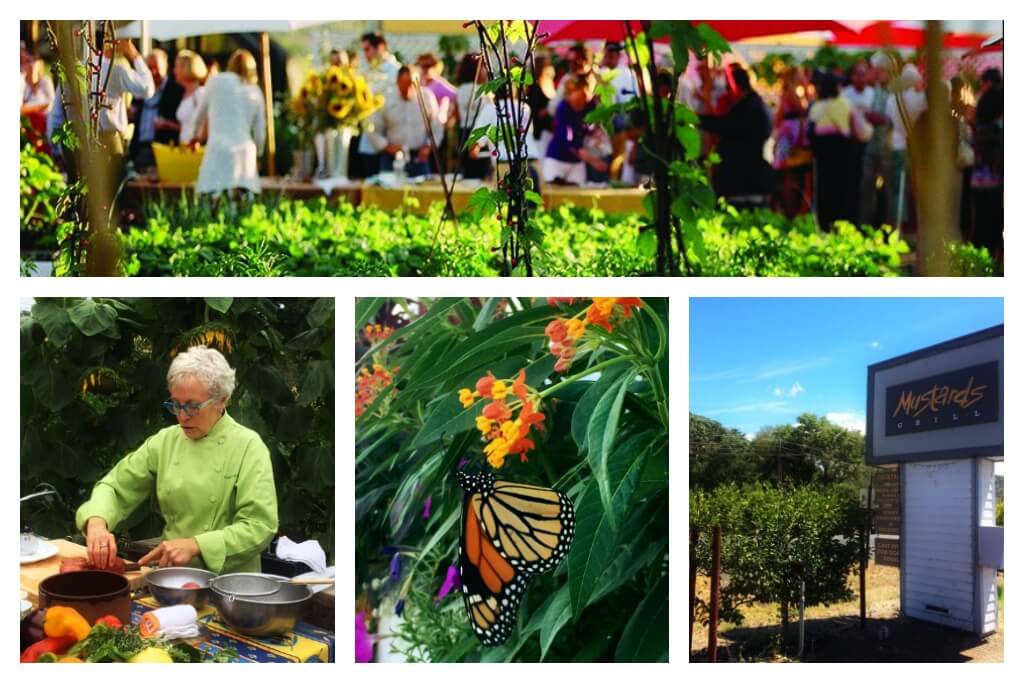 But in those early days, she was just worried about getting customers. "Our biggest fear was, are people going to come?" Pawlcyn recalls. Fortunately they did, and today Mustards Grill is a much-loved Napa landmark surrounded by garden plots and paths that supply the restaurant with most of its produce throughout the year, offering vineyard and valley views in all directions. In the springtime, blooming yellow mustard plants blanket the rows between the vines. "This is chef heaven," she declares.
Since its inception 35 years ago, the culinary manifesto driving Mustards Grill has been twofold. First: "We wanted to be a neighbourhood joint that you hang out at," says Pawlcyn, the kind of place where workers from the vineyards felt comfortable coming in and ordering a burger and a pint or a glass of local wine with their work boots still on, while other guests might opt for more seasonally inspired dishes, but all are welcome.
Second: Everything that grows so abundantly in Napa Valley finds its way to the plate – from the garden and suppliers to an extensive, all-local wine list (unheard of in the early '80s) and even bounty from the wineries' own orchards and gardens, such as excess cases of peaches or a bumper crop of eggplant.
So what happens when 200 pounds of eggplant shows up at the kitchen's back door? "We get inventive – we make a great vegetarian eggplant sandwich or we do a grilled eggplant appetiser with ginger butter and grilled red onions," says Pawlcyn. "It's what motivates the creativity. …Let the ingredients shine and use good technique."
Ready to get growing? Chef Pawlcyn recommends starting with a few hearty herbs in a windowsill, such as lemon verbena and rosemary, which are wonderfully aromatic, and chives for their versatility. A bay leaf tree or dwarf citrus tree also work well indoors. Also: Get to know your local farmers, she says. They're a wealth of knowledge.
Photo at top: Courtesy Ekstedt, © PA Jorgenssen