';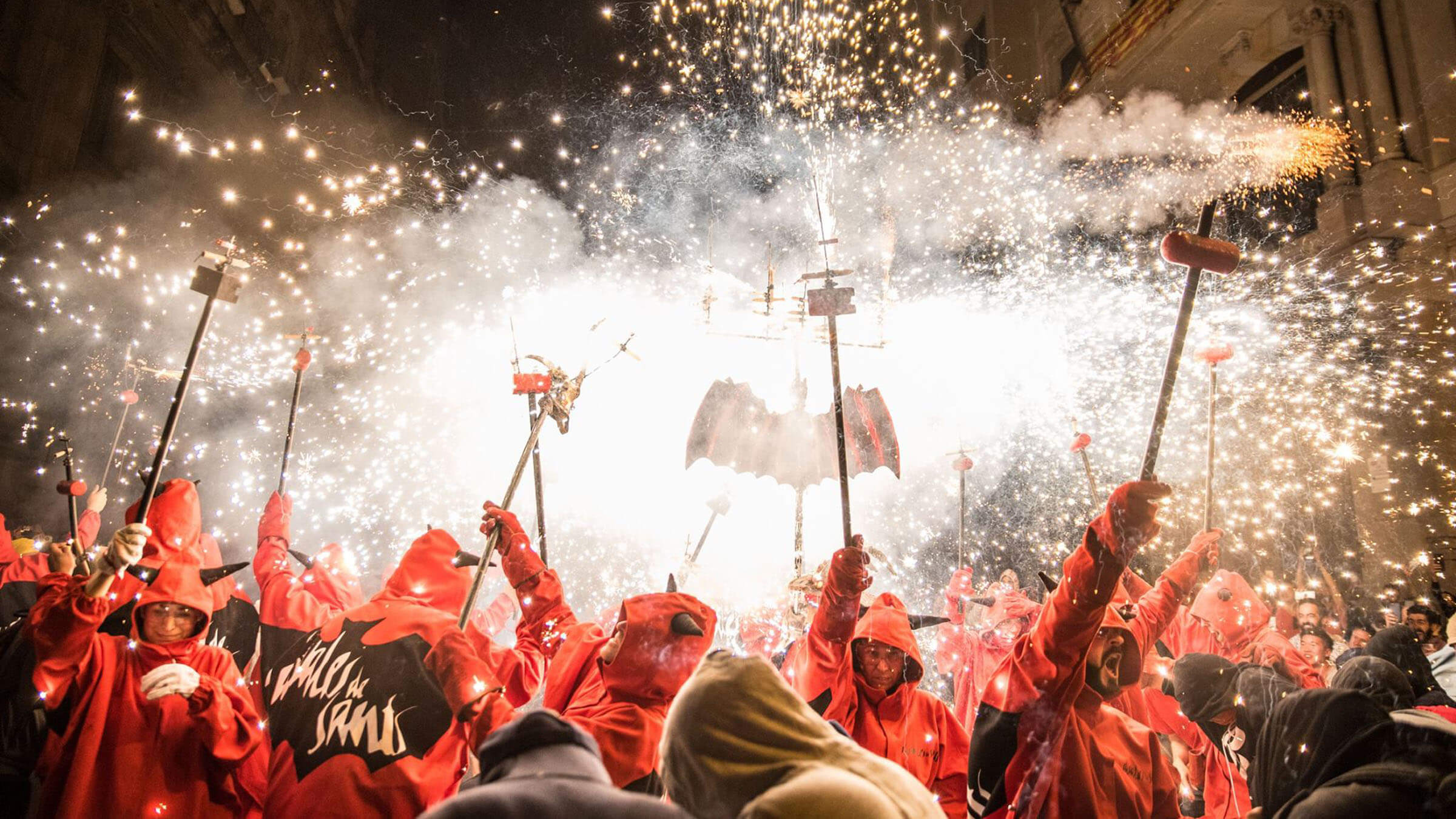 ;
Duck out of any side street onto Barcelona's bustling Via Laietana during the annual La Mercè festival, and you'll see a picture of everyday life: locals running for the metro, tourists snapping sweaty selfies …and armies of children dressed like devils toting fire-spitting pitchforks.
You know, the usual.
Most of the two million people who attend the festival near the end of every September wouldn't find the latter particularly rare. However, if you're like me and you discover La Mercè by accident, it may be a different story.
But don't run away just yet. Let's set the record straight and get to know Barcelona's biggest barrio bash and its most important events.
A Long History
La Mercè's modern chaos is rooted in religious tradition dating from the 1600s, when it's said that Barcelona was delivered from a locust plague by the Virgin of Mercy (Mare de Déu de la Mercè). Soon after, the Virgin was named co-patroness of the city – though it would take 200 years for the Vatican to officially recognise her status. When it did, the people of the city began celebrating the festival that we now know as La Mercè.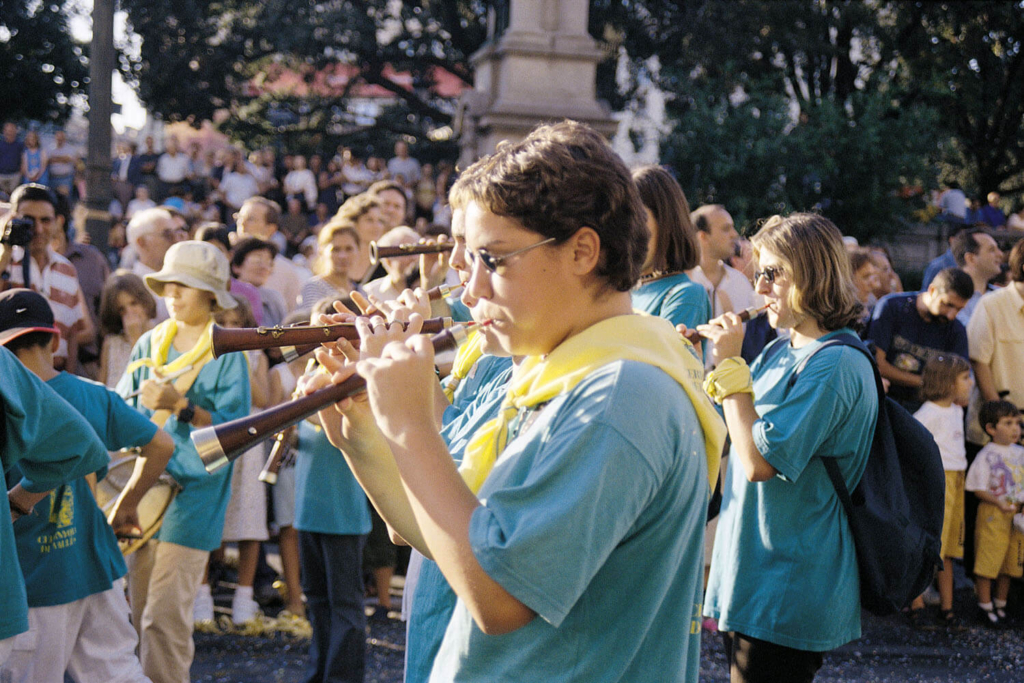 [Photo © Turisme de Barcelona, Photo by Jordi Trullàs]
Today, the celebrations take place on the last weekend of summer, a sort of 'last chance to dance' on the barrio party circuit before the cooler, sangria-less months of autumn set in. With more than 600 free events, from concerts to exhibitions, dancing, firecrackers, human castles and papier-mâché giants, the festivities have a way of seeping into every corner of Barcelona's famous and historic Gothic Quarter.
Of course, it's impossible to see and do everything La Mercè has to offer, but there are certain events you shouldn't miss out on:
La Sardana
If you want to keep things sophisticated and civilised, then look no further than this circular folk dance that is – like many of the cultural displays you'll see at La Mercè – strongly tied to local Catalan social identity. The Sardana is said to have arisen in the 16th century as a way to promote unity and establish cultural norms in a time of great social and political change. Today, with all the political turmoil in the city related to real estate speculation, increasing tourism, language and outright independence, the dance is as relevant as ever.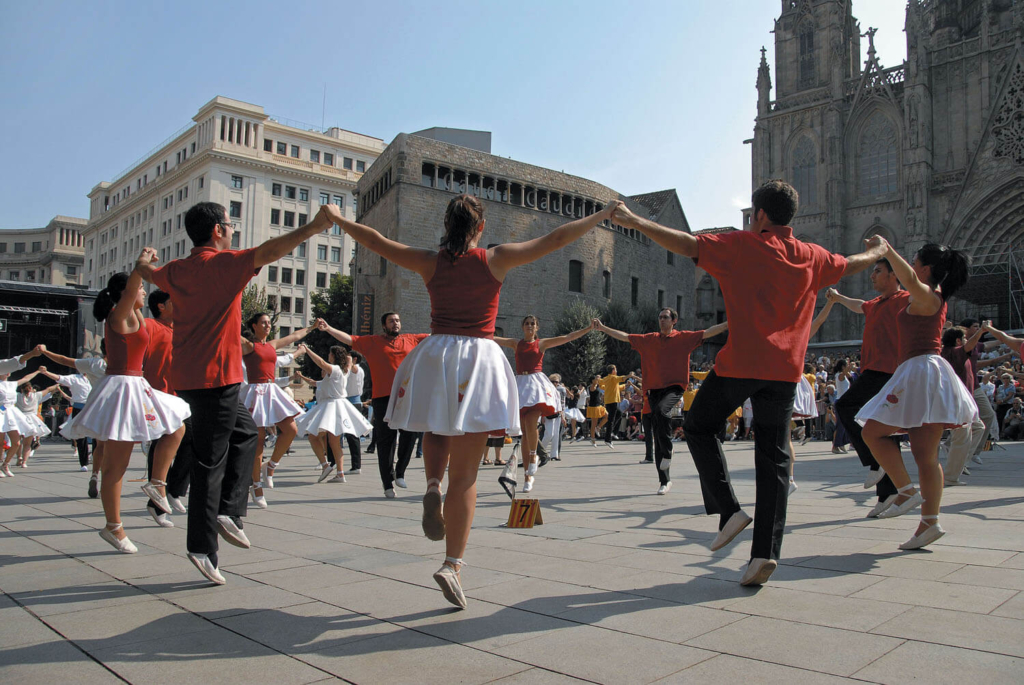 [Photo © Turisme de Barcelona, Photo by Espai d'Imatge]
To perform La Sardana, men and women join hands in a circle to execute a series of meticulous steps, most often in sets of two or three, to an 11-piece orchestra including 10 wind instruments and a bass. What stands out most about this dance is its ability to absorb new members into the routine without breaking stride – maybe after a few lessons on Youtube, you'll join in, too!
Dances are held on the Avenida de La Catedral (Plaça Nova) near the Barcelona Cathedral.
Open-Air Concerts
During La Mercè, virtually every spot in the Old Town with enough surface area for a stage is converted into an outdoor concert space, in conjunction with the BAM music festival that showcases independent artists.
Locals head to Avinguda de la Catedral, Plaça Reial or Plaça dels Àngels to grab a draught beer before tuning their ears to an eclectic selection of music, from folk to salsa, rock and heavy metal. This is one of the few places you'll see multiple generations of people enjoying the same music.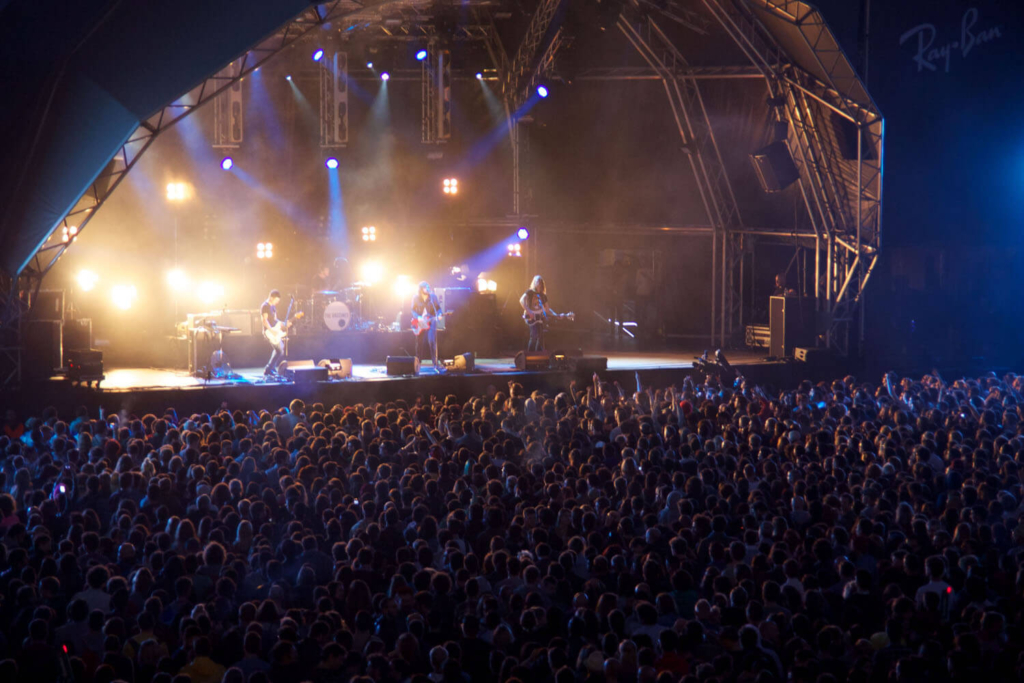 [Photo © Turisme de Barcelona, Photo by Dortoka Disseny]
Half the fun is in wandering the dimly lit yet lively pedestrian-only streets, wondering what distant sound will lure you to its source next, but if you want to head straight for the hotspots, just get central to one of the metro stations serving the Gothic Quarter (Catalunya, Jaume I, Liceu or Drassanes) and grab yourself one of the readily available concert schedules, then start from there.
Naturally, the concert schedule (and the Gothic Quarter itself) is most packed and energetic on Friday, Saturday and Sunday.
Els Gegants
Any self-respecting parade involves a gigantic version of something, and in Catalonia, the name of the game is town archetypes and historical figures in papier-mâché form.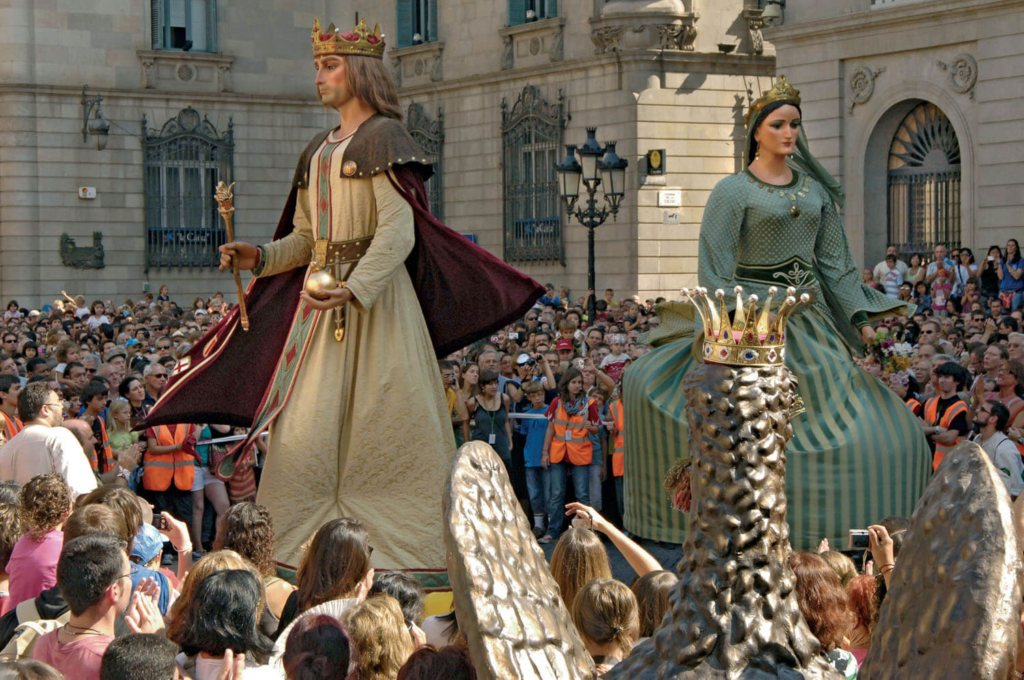 [Photo © Turisme de Barcelona, Photo by Espai d'Imatge]
Originally a feature of religious processions dating back as far as 1424, as time passed the parades took on a more festive flair. The several-metres-tall twisting kings, queens, nobles, peasants, Moors and Christians don't so much march through the town as dance – impressing adults and frightening young children with their realism. Set it all against the hip-swaying rumbles of the marching bands, and you've got one of the most unique sensory combinations of the festival. It's like a glorified puppet show that just might trample you.
The main parade runs through the famous Plaça St Jaume, home of Barcelona City Hall and the Catalan government (Generalitat de Catalunya).
Els Castellers
If you took a cheesy office team-building exercise, involved absolutely everybody from the CEO to the cleaning staff, and nearly touched the sky in a display of unprecedented unity – you'd almost get to the level of Catalan legends Els Castellers. These human tower builders hold not only the weight of the 9 or 10 stories of humans above them, but also the hope for a strong and independent Catalonia moving forward.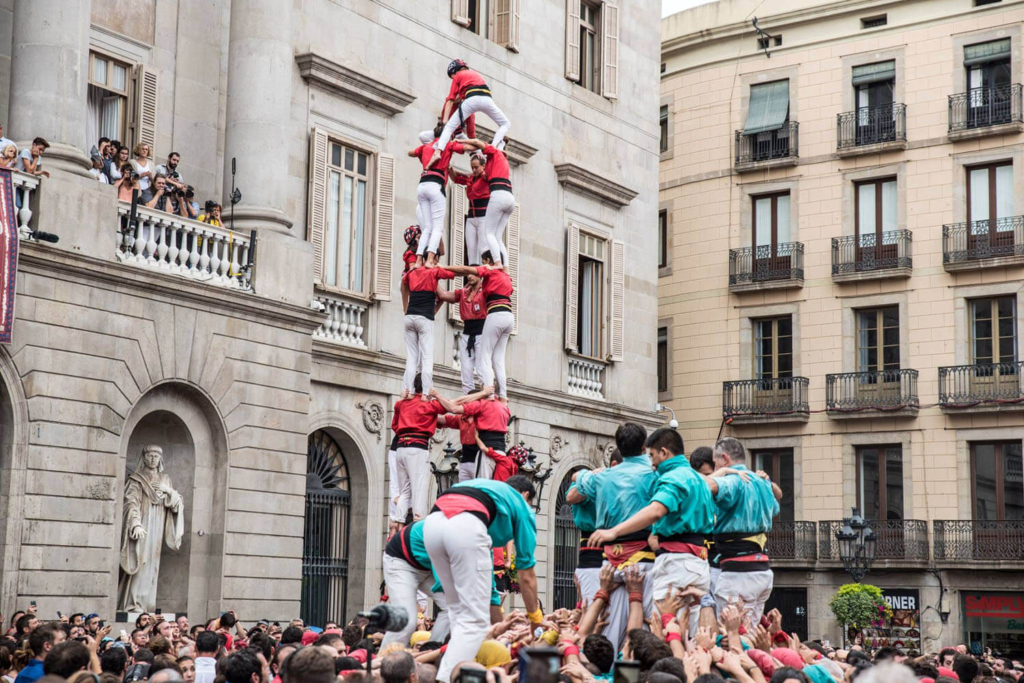 [Photo by Oscar Martucci]
Independentista or not, you'll hold your breath as a snug-helmeted child (the smallest in the group) slowly monkeys his or her way to the apex, topping off the tower to the soundtrack of almost comically squeaky traditional flute music. It's a stomach-churning cherry on top that'll have you asking, "What parent would allow their child to do this!?"
The answer: it's La Mercè!
With only three recorded deaths in the history of the art, which dates back to the 18th century and was banned for almost 40 years during Franco's regime, Catalonians have both figuratively and literally died to perform this tradition.
The major shows go down (or rather, up) in Plaça Sant Jaume, and it's highly recommended to arrive at least an hour in advance to get in position to experience the Castellers' slogan – "força, equilibri, valor y seny" (strength, courage, balance and mindfulness) – first-hand. Get there early enough, and you'll almost be close enough to be part of the pinya (pine cone): the foundation of the castle made up of the heavier members.
El Correfoc
This cavalcade of chaos literally means 'fire run' in English – and that couldn't be any closer to the truth.
There's fire. And you run.
You'll see individuals dressed as devils shooting fireworks in every direction from pitchforks and floats inspired by the depths of hell. You might even say that this procession doesn't so much run as blaze its way through the heart of the city.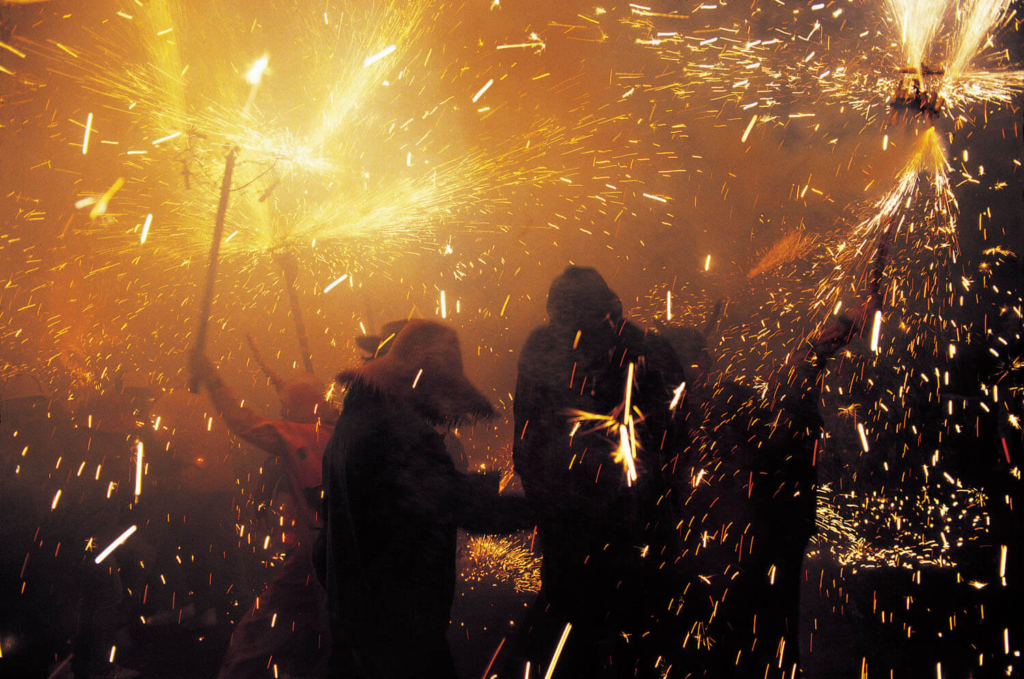 [Photo © Turisme de Barcelona, Photo by Espai d'Imatge]
Your role in all of this? Frolic in the fire showers. That's right, locals and many a brave tourist cover themselves up with their oldest hoodie and dance to the rhythmic drums like some post-apocalyptic street disco.
Don't want any burn-hole souvenirs? There's the option to watch from afar, though the full experience is lost. There's also a light version performed by children that runs down the same street just a few hours before, in the safety of daylight, with many less fiery 'bullets' to dodge.
A City-Wide Extravaganza
If you're in Barcelona in late September, here's no escaping La Mercè – and that's a good thing. Simply take a stroll through the city, and allow yourself to be drawn in by the many diverse events and festivities that offer a glimpse into Catalonia's unique culture, both past and present.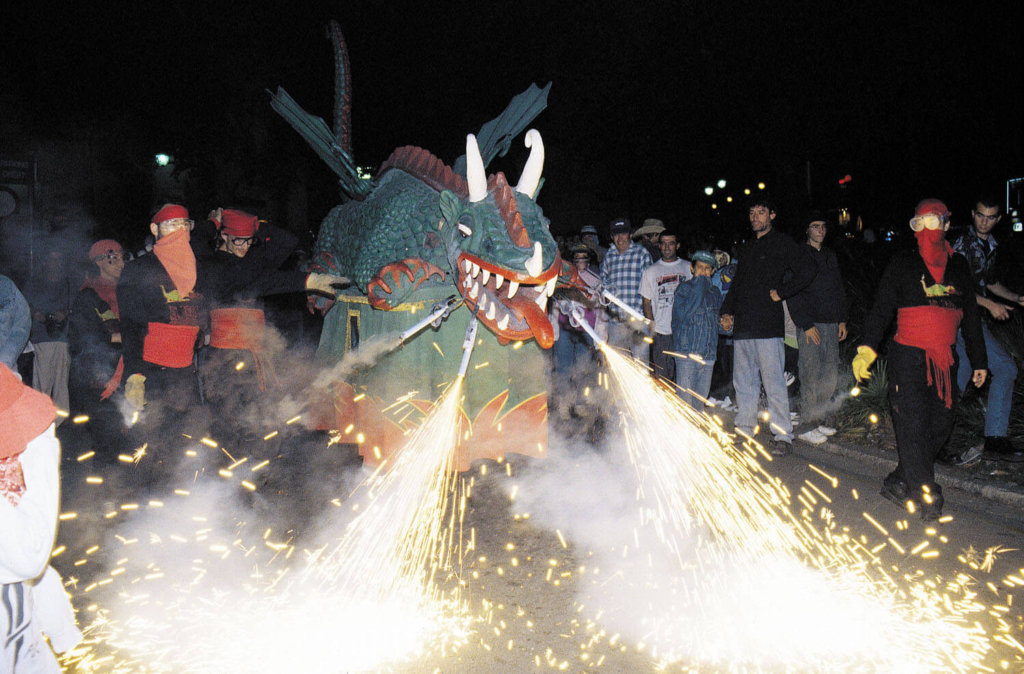 [Photo © Turisme de Barcelona, Photo by Jordi Trullàs]
For an overview of all La Mercè events and locations, check barcelona.cat for regular updates.
About Ashley Pilfold
Born in Vancouver Canada, Ash left to see the world 12 years ago. He's lived in the UK, Italy, Russia – and now Barcelona for the past 8 years. While teaching English in 2015, he started Barcelona Hacks as a casual way to help tourists. It has now become his full time job.
[Photo at top by Oscar Martucci]