';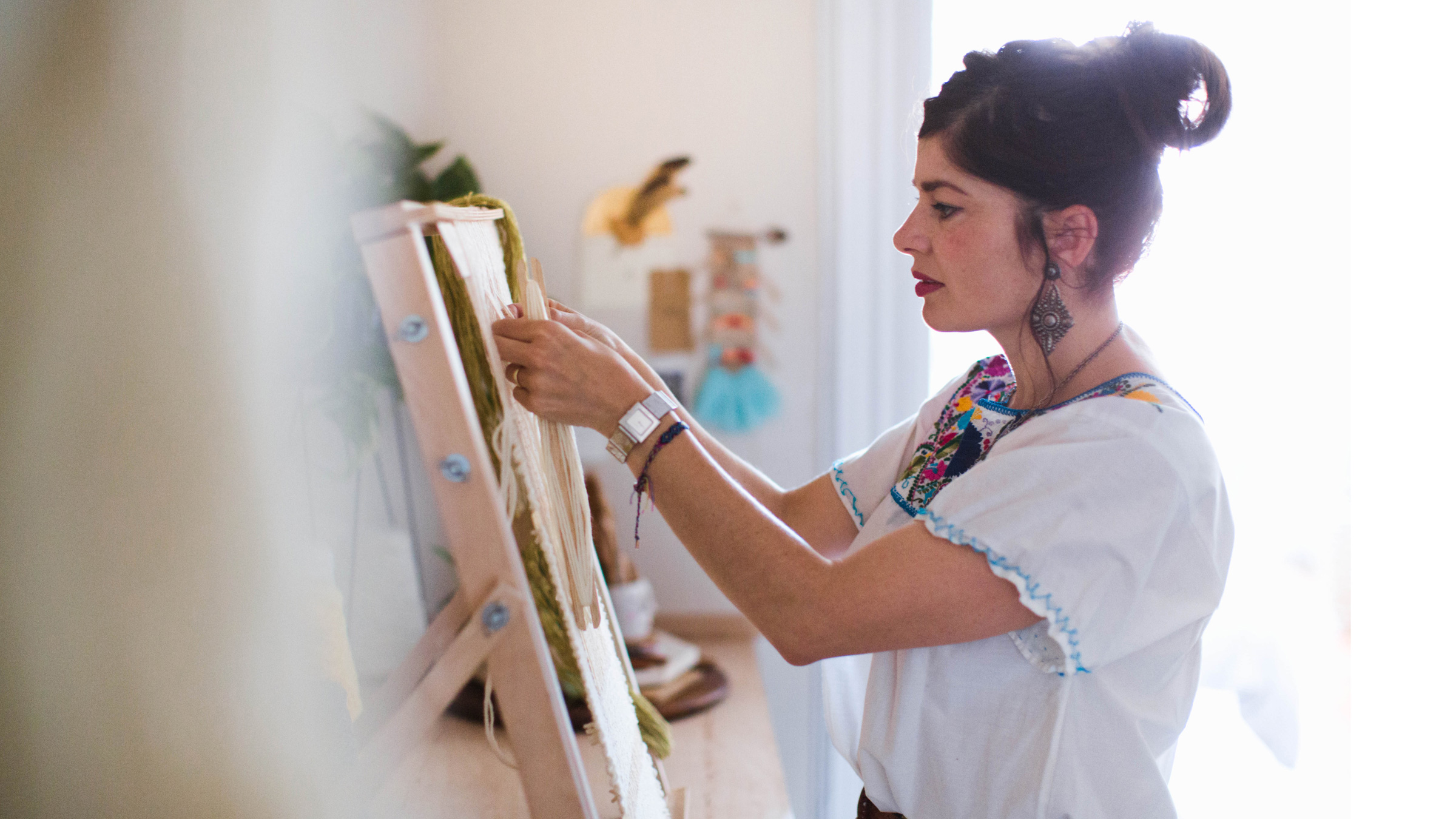 ;
With the recent and seemingly unstoppable revival of craft, the use of raw materials and old techniques has the wind in its sails. And the art of weaving hasn't evaded the trend.
Originally considered an ancient tradition passed from generation to generation of skilled craftspeople in small villages, its practice has now been fully democratised. From textile artists to fashion designers with a sustainable approach – including budding craftsmen – it's hard to avoid the current craze for weaving.
The reasons behind this success? An immediate accessibility coupled with an artistic and ethnical result. All you need is a loom that can be built from a wooden frame or even a simple piece of cardboard, plus some yarn, and you'll be ready to start weaving. Think of a colour palette, or patterns and materials you can find in your surroundings – the possibilities are endless, and practitioners are inspired to explore their creativity.
Just ask vintage lover and textile artist Maryanne Moodie, who caught the weaving fever a few years ago, and whose flawless artworks now dress up walls and enhance interiors around the world. We follow her on her artistic journey.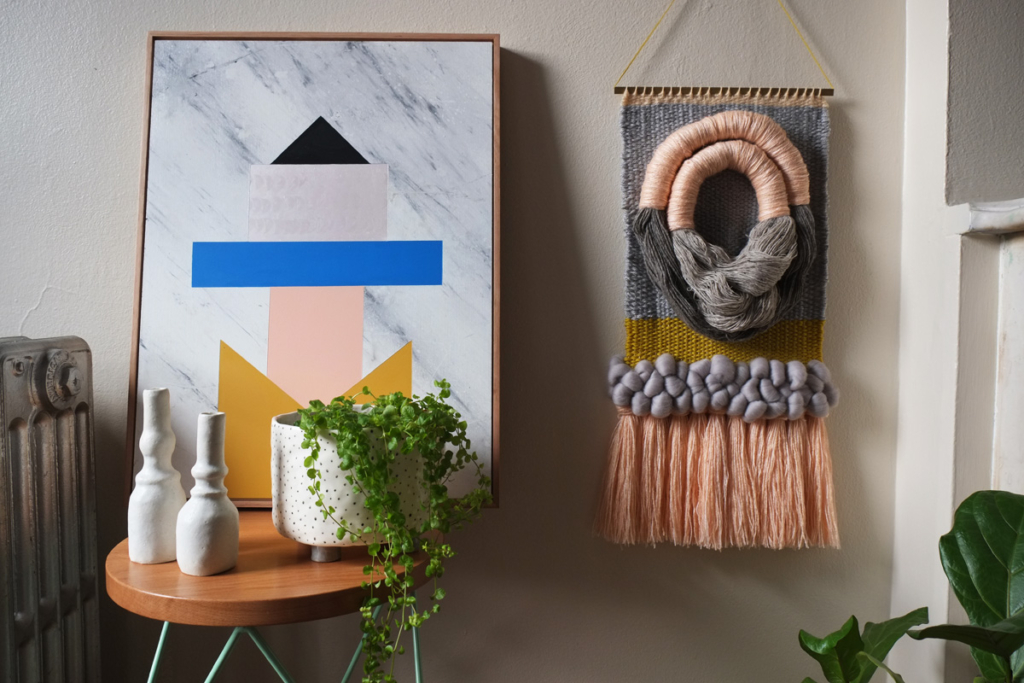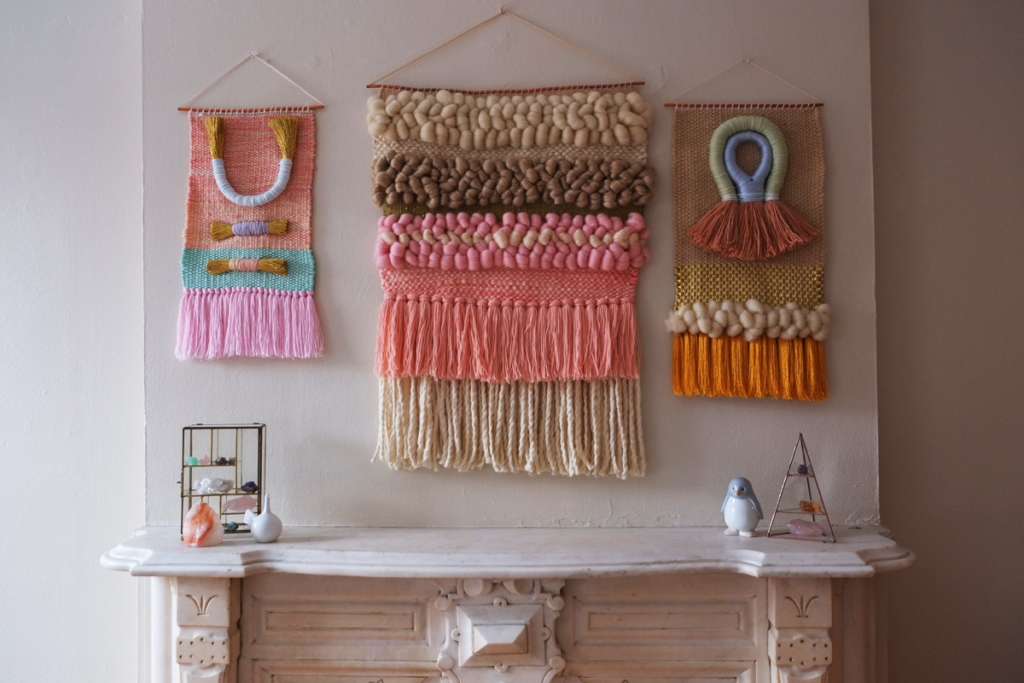 Tell us a bit about yourself, and how your passion for weaving began.
Maryanne Moodie: I was at a point where I was feeling really overwhelmed by consumerism and the fast pace of my life. I couldn't remember what I had bought my sister for her birthday the year before, and felt like I was just giving meaningless gifts. I wanted to start using my hands and my head more, and I began searching for a craft. I tried out lots of skills like knitting, ceramics, basket weaving – but nothing stuck. When I found a loom and tried out weaving, something just clicked inside me, and I wanted to learn more and make more and to share it all. It was so exciting.
You were an art teacher in Melbourne and now teach weaving at workshops in the US. Is "learn, make, teach" the secret to happiness?
I think weaving brought back the spark in my life. I had lost my passion in the classroom, but then my excitement for all things weaving brought it back. I just wanted to talk to other people about weaving and yarn and tools. I couldn't find them, and so I think I just decided to create my own tribe by teaching others.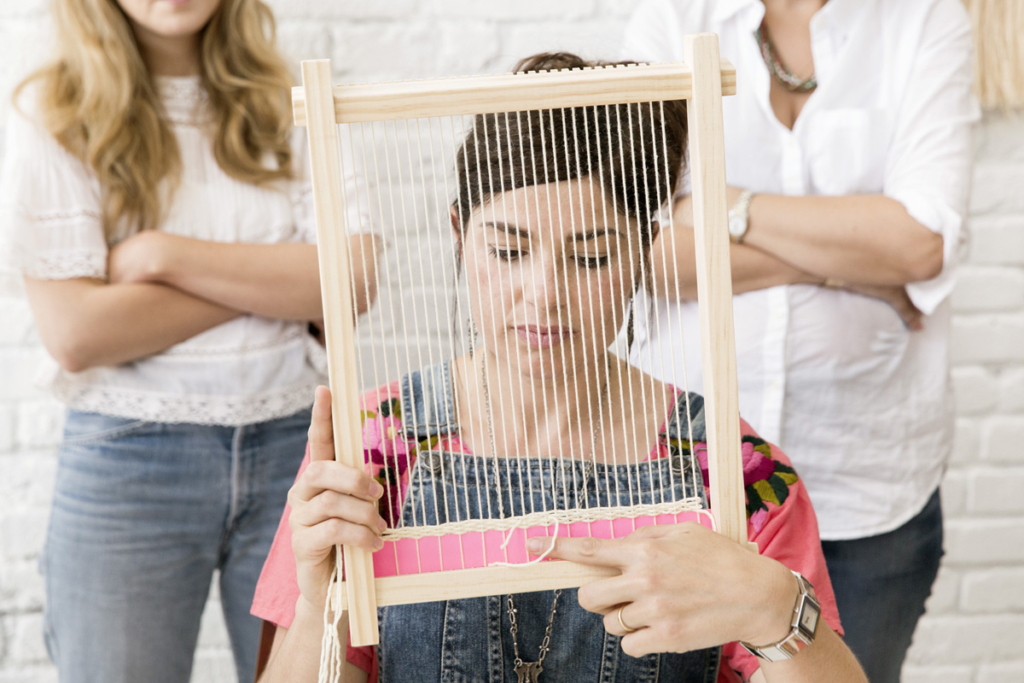 By drawing on old crafts such as woodworking, pottery and weaving, we are able to make connections with our past and to use our mind and body in a new way.
What's a normal day in the life of Maryannne Moodie?
When you're running a small business, no two days are alike. I'm finding some stability now that I'm sharing my studio with 4 other lovely ladies who help run the administrative side of my business. So now I get up in the morning with my family (we have 2 boys who are 3 years and 3 months, respectively) and we all eat breakfast and play trains. Then I go for a walk in Prospect Park with the littlest one. I either come home, make a coffee and respond to emails, or go into the studio and have a staff meeting. Then I weave.
I usually have a few projects on the go, and so I juggle my time between client commissions, retail collections, exhibition pieces and personal experimentation. In the afternoon, I pick up my 3-year-old and we head back up to the park and have adventures like a picnic up a tree or looking for worms under fallen logs.
Where are you when you're not weaving?
I actually love weaving so much that when I'm not weaving for work, I'm researching vintage books or trialling out new skills and fibres. I also have a young family, and two boys can be quite physically demanding. They're like puppies, and so we spend a lot of the time just wrestling and running about and trying to shake our silliness out.
Where do you look for inspiration?
I love vintage textiles and traditional costuming. I also love street fashion and seeing how people can push the boundaries. Modern art and a trip to the galleries can always send me off on a new tangent.
What's one handmade object, purchased from an artist, that you particularly value?
We have bought and done lots of artist trades with other makers. We also have quite the art collection of local Australian artists. One of my favourite pieces is a weave by our good friend Genevieve Griffiths. It's very detailed and Bauhaus in design. Very different to my own style.
What was your first assignment/weaving project?
I'm self-taught, and I began weaving when I found a loom in my art storeroom. I just followed the instructions to warp it up and began. I didn't have any yarn at the time, so I just used jute and neon waxed cord. I made some lovely little pouches that I hand-sewed the zippers into. I still have two of them…
Can you tell us about a weaving project you're particularly proud of?
When I first began weaving, I was inspired by a vintage textile wall hanging that I had seen on the internet. It took me a long time to figure out all of the complicated stitches involved in the piece. About two years into my weaving career, I was able to recreate the original piece. It's a piece just for me and I will never sell it.
[vc_html_gallery interval="5″ images="13390,13386,13394,13382,13377,13398″]
Could you briefly describe the steps in the creative weaving process, from assignment to final product?
I like to begin by making a quick sketch of the piece, as it helps in choosing my fibres. I use predominantly vintage and recycled yarns, and some hand-spun and hand-dyed yarns, too. If I'm making a very detailed geometric piece, I will need thin, uniform fibres, and if I'm making an organic piece, I can use more squishy, bulky fibres. I then warp up my loom.
I love the way the majority of weaving is simple tabby weave. It takes a lot of attention to detail to make it look even and the salvages straight. Then I like to add some interest, texture and pizzazz by using interesting stitches like rya sumac.
Critics might see weaving as repetitive and time-consuming, others would find an advantage in that. Do you find the process of weaving to be therapeutic or meditative?
Weaving is a very meditative practice, and I can let hours pass at the loom before realising where the time has gone. Once the piece is finished, there are still hours involved in hanging and sewing in ends. I like to hang the finished piece on my wall and style it up and take some photos for my records and to send through to clients.
Many aspiring weavers start off using a cardboard loom. Is this a good way to become familiar with the technique?
Weaving has been used by many cultures, for hundreds of years, who never had a local craft store to pop down to. I love teaching my students about how to make their own looms and tools cheaply from items around the home. It's also good to use recycled yarn or fabric strips as fibres, too.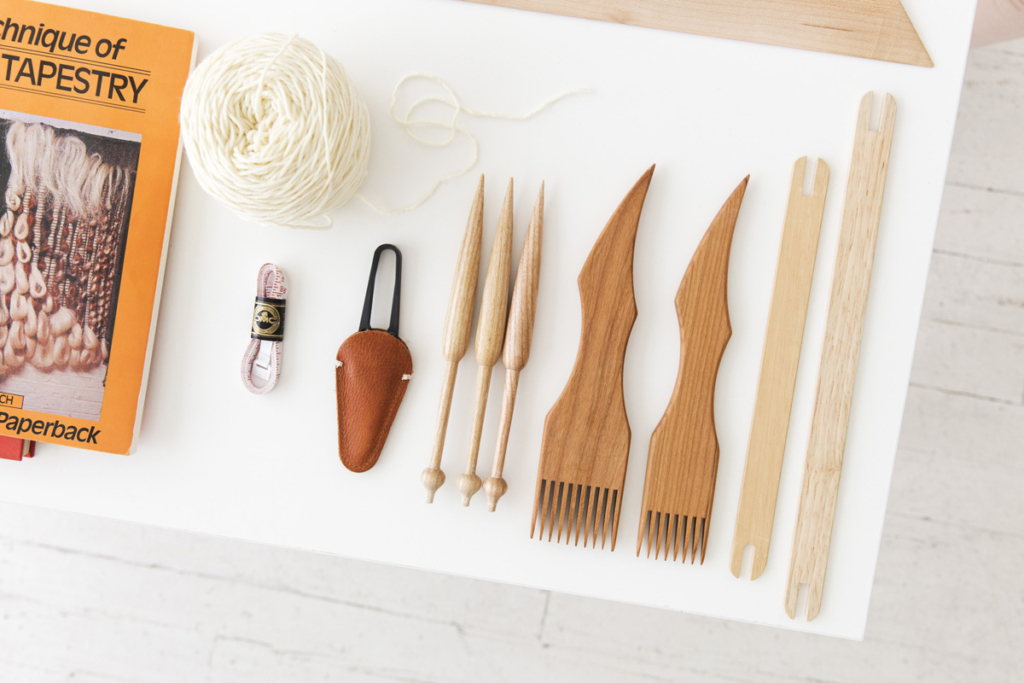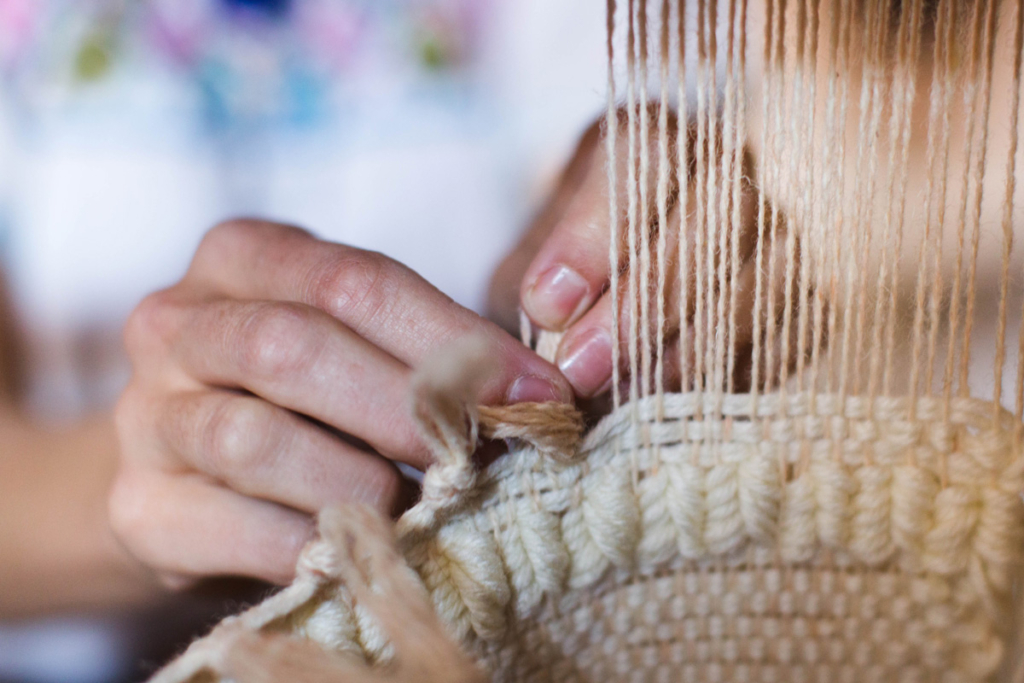 How do you see the future of handmade goods in our digital age?
We're all getting a bit overloaded with the digital world, and we're trying to balance and learn to remain human and survive. A good way seems to be to use our hands and minds creatively. By drawing on old crafts such as woodworking, pottery and weaving, we're able to make connections with our past and to use our mind and body in a new way.
If you had one piece of advice to give someone who'd like to be working full-time on his or her craft, what would it be?
Do it every day and keep trying new things. Then share it, share it, share it. [Do that] before you try to sell it. Give it away to friends and family and share it on social media. That way, you'll create awareness and a market for your product before you decide to release it into the retail world.
Visit maryannemoodie.com
Go to maryannemoodie.etsy.com to find out more about Maryanne's weaving projects and classes.
Interview by Anissa Tijani
Just between us, are you inspired to start weaving now?