';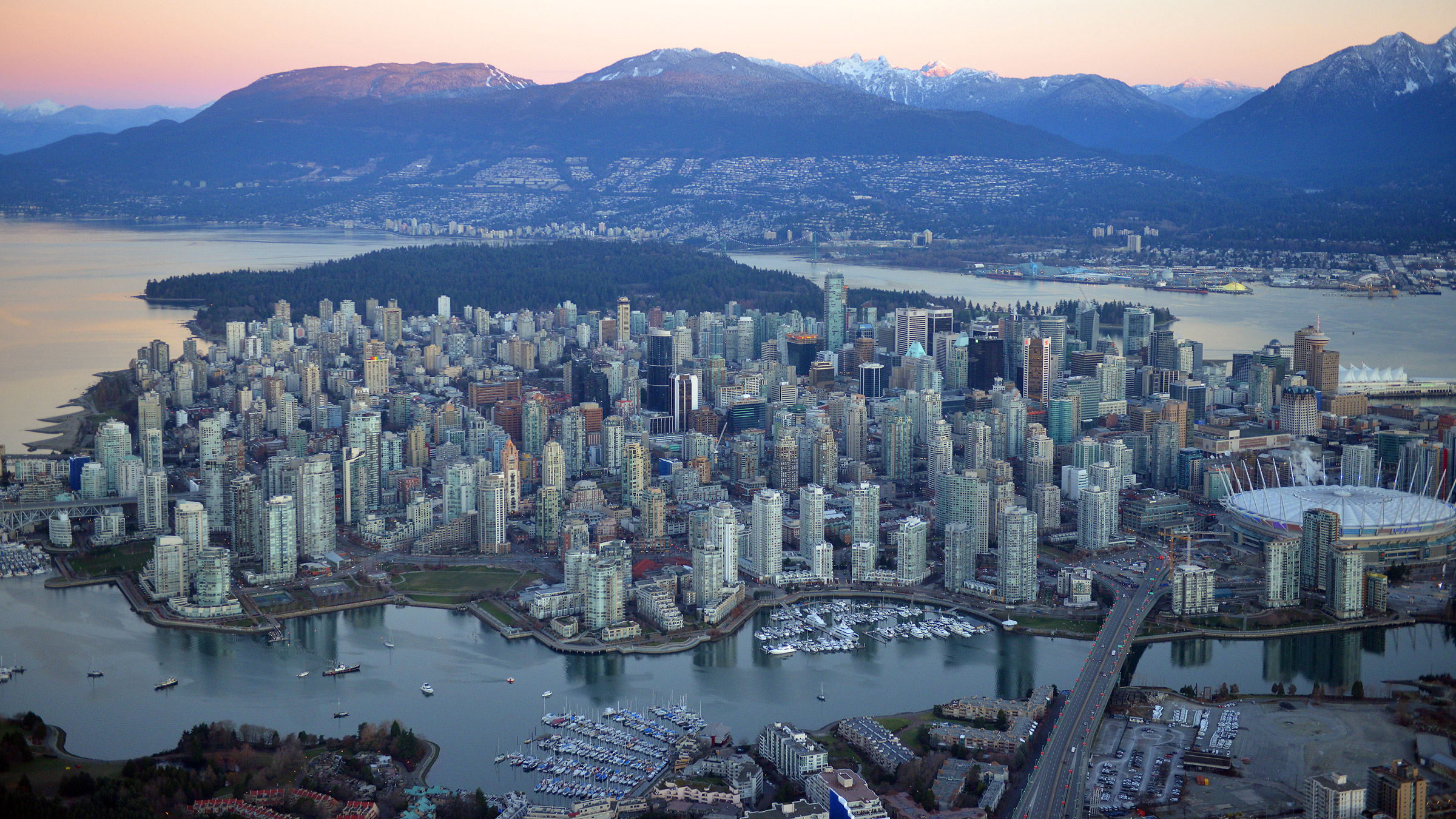 ;
The award-winning blogger spends most of her time with her ear to the ground, and the rest of the time writing about what she hears. Here, Bollwitt shares her tried-and-tested tips for making the most of a day in Vancouver.
10am: Get A Fresh Cuppa
Vancouverites start their day out with a robust cup of coffee, and while Canada has more Starbucks per capita than anywhere else on the planet (and was home to the first Starbucks outside of the United States in 1987) local roasters and independent coffee shops have taken over in recent years. Waking up on the East Side of Vancouver, on the edge of historic Gastown, you'll find Revolver Coffee. Your morning cup will be made fresh to order from a rotating menu of coffees, all hailing from world-class roasters in North America.
11am: Go For A Stroll
Starting in Coal Harbour, near the iconic sails of Canada Place, take a stroll along the Sea Wall as the emerald green waters of the Pacific Ocean flow in and out of Burrard Inlet and the local mountains provide a backdrop to the north. Loop around Stanley Park, into English Bay and False Creek. Originally constructed in 1917 to protect the shores of Stanley Park, the Vancouver Sea Wall has expanded over the last century to feature 22 kilometers of seaside walking and cycling paths.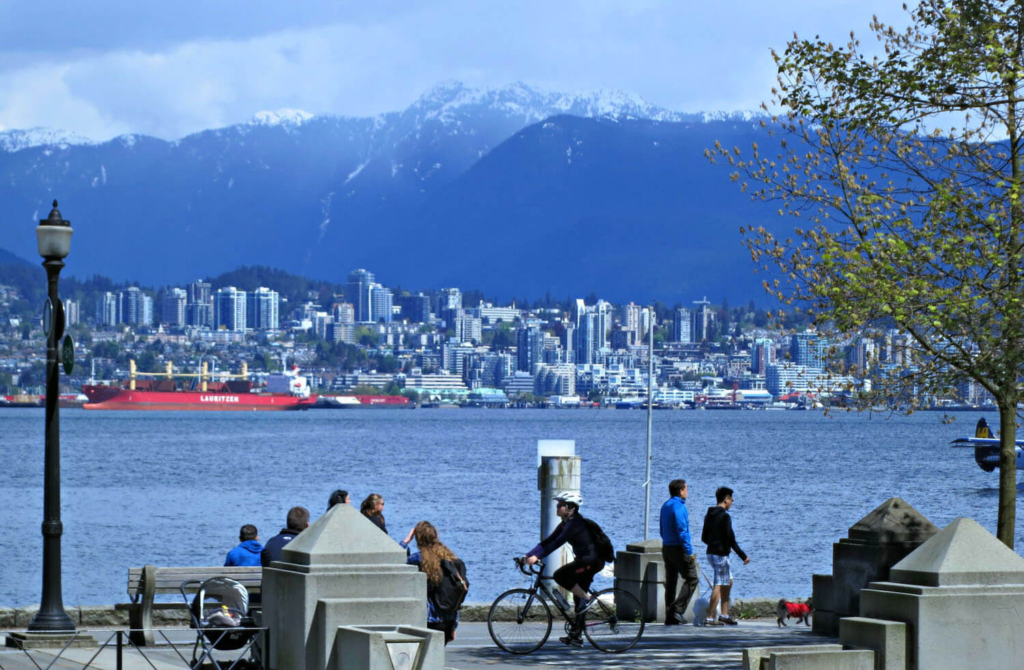 [Photo: Ruth Hartnup/Flickr]
1pm: Hop A Ferry To The Market
Winding around the Sea Wall to the mouth of False Creek, where the route continues all the way around to Kitsilano, Vanier Park, and the city's western-most beaches (Spanish Banks, Locarno, and Jericho), you can hop across the water on a False Creek Ferry. Dock at the world famous Granville Island Market, which is a hot spot for tourists, but locals love it just as much for its fresh day-boat seafood, vegetables, artisans, buskers, theatre and distillery. Stop into Edible Canada's full-service bistro for lunch featuring Canadian cuisine and ingredients.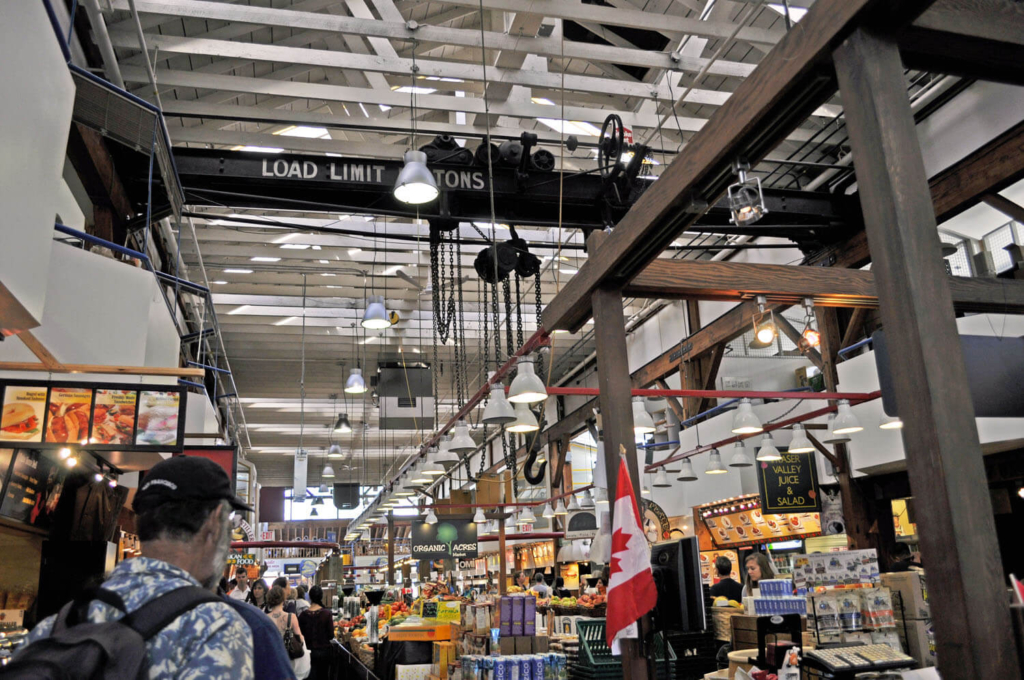 [Photo: Joe Mabel via Wikimedia Commons]
3pm: Learn And Interact At Science World
Walk along the South East False Creek portion of the Sea Wall, past a growing urban village (formerly the Vancouver 2010 Olympic Athletes' village) and stop at Science World, which has activities and installations for both young and old. Monthly and seasonal exhibits, from nature and physics to space and dinosaurs are complemented by OMNIMAX movies shown in the geodesic dome's 5-storey-high theatre.
scienceworld.ca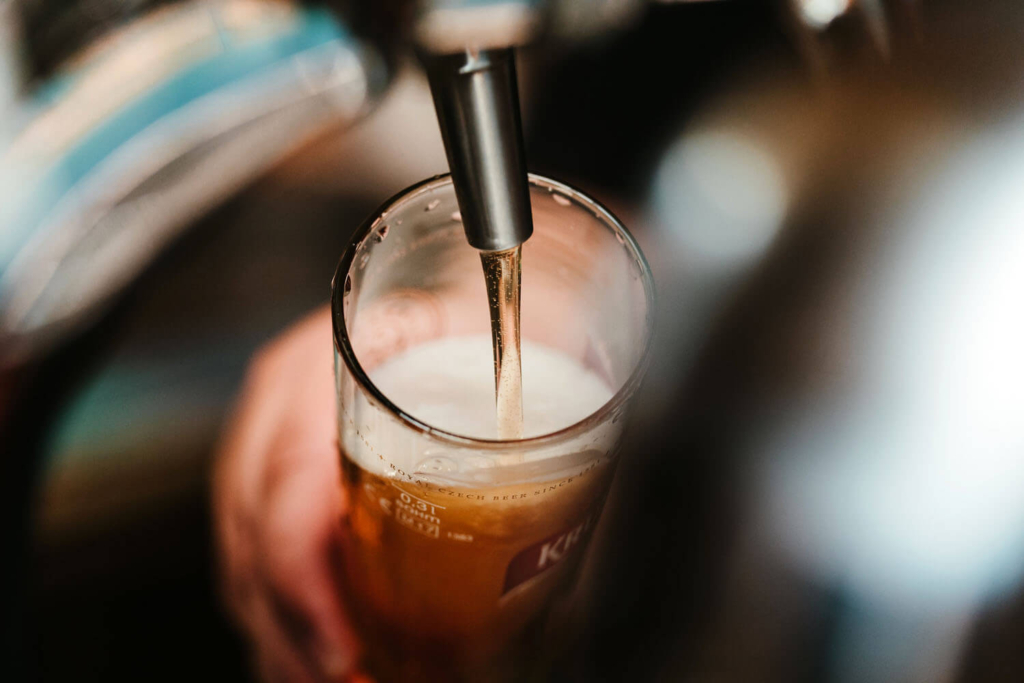 5pm: Try New Brews
Head up Main Street where you'll find a growing craft beer scene in the area formerly known as Brewery Creek. Steel Toad Brewery, R&B Brewing, Red Truck Brewing, Main Street Brewing, 33 Acres Brewing, Big Rock Brewing, and Brassneck Brewery have all popped up in this area in recent years. Brassneck, voted Best New Brewery in 2015 by the readers of the Georgia Straight, is known for its growler shop where you can fill 473ml to 1.9 litre bottles to go.
7pm: Get A Taste Of Diversity
Vancouver's diverse and multicultural Commercial Drive (or just, "The Drive") is known for the city's Little Italy neighbourhood, but it's also where you can find Caribbean, Latin, Ethiopian, Middle Eastern, Japanese, West Coast and a variety of other delicious ethnic eats. For more local beer – and with dinner – visit St Augustine's or wander just off The Drive to the award-winning Via Tevere Pizzeria Napoletana.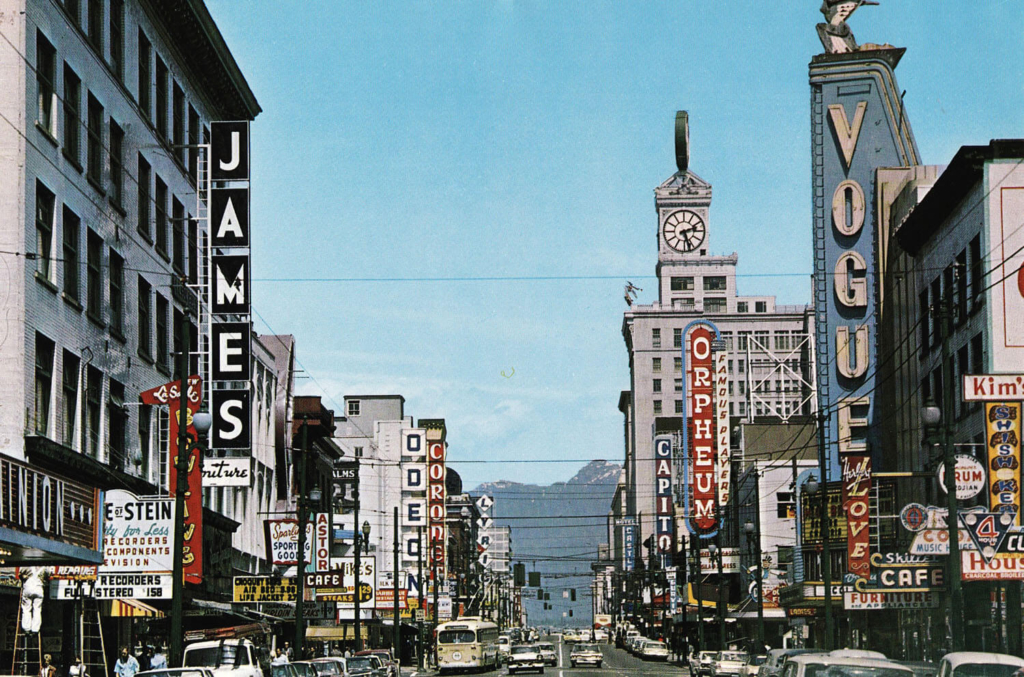 [Photo: Granville Street 1965, Photo: Rob/Flickr]
9pm: Sample Vancouver's Showbiz
Time to hit Vancouver's entertainment district for a show. Granville Street is home to Theatre Row – although in recent years theatres have made way for nightclubs and bars – but see who is playing live music at the legendary Commodore Ballroom, the Orpheum, Venue or Joe's Apartment. For a relaxed atmosphere with craft cocktails, revisit Gastown after dark. At the intersection of Water and Abbott Streets, in the shadow of the Gassy Jack statue, you'll find choices in every direction, like The Diamond, Guilt & Co., Chill Winston and L'Abattoir, which has been voted Best Restaurant for Cocktails for two years in a row.
Late: Hit The Hay
Overnight in one of the city's unique boutique hotels. While you'll find almost every major hotel chain in Vancouver, boutique hotels like the luxurious Loden have consistently garnered top marks on review sites. The brand new Skwachays Lodge is Canada's first Aboriginal hotel, located in the heart of Downtown Vancouver, adjacent to Chinatown and Gastown. The 18 stunning guest rooms have artistic themes, and on the main floor you can shop the Urban Aboriginal Fair Trade Gallery.


Before You Go
The Music: Born and raised in British Columbia,  2-time Juno Award-winning artist Dan Mangan's albums feature songs about Vancouver and the West Coast, but also politics and robots.
Find the album on danmanganmusic.com
The Reading: Douglas Coupland's City of Glass is the quintessential pocket guide to Vancouver that won't tell you where to eat, but will fill you in on the popularity of fleece, the local obsession with Dim Sum, the Lions Gate, ferries, hemp, the harbour, Expo86, and what the Grouse Grind involves.
Find the book on amazon.com
The Film: Though Vancouver rarely plays itself, many movies are filmed in the city (think Rumble in the Bronx, the Twilight saga, X Men: The Last Stand, I. Robot and Rise of the Planet of the Apes, to name a few). Vancouver also subs in as Minnesota in the Academy Award-winning Juno. This 2007 Canadian-American comedy-drama film, directed by Jason Reitman and written by Diablo Cody, stars Canadian actors Ellen Page and Michael Cera – and is the most acclaimed film to have been filmed in Vancouver.
Find the film on amazon.com
Article by Rebecca Bollwitt
Rebecca Bollwittt has been blogging about life in Vancouver for the last 11 years, sharing the latest in community news, events and travel inspirations. Born and raised in the "604" area code, her award-winning blog is recognised across Canada as a source for what's happening on the West Coast. Passionate about local history and photography, you'll find her at the latest cultural festival in BC or out on the trails of Stanley Park. Visit Rebecca's blog at miss604.com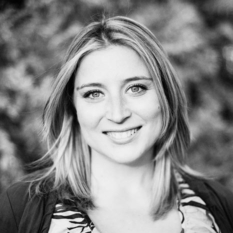 You tell us: where should we spotlight next?