';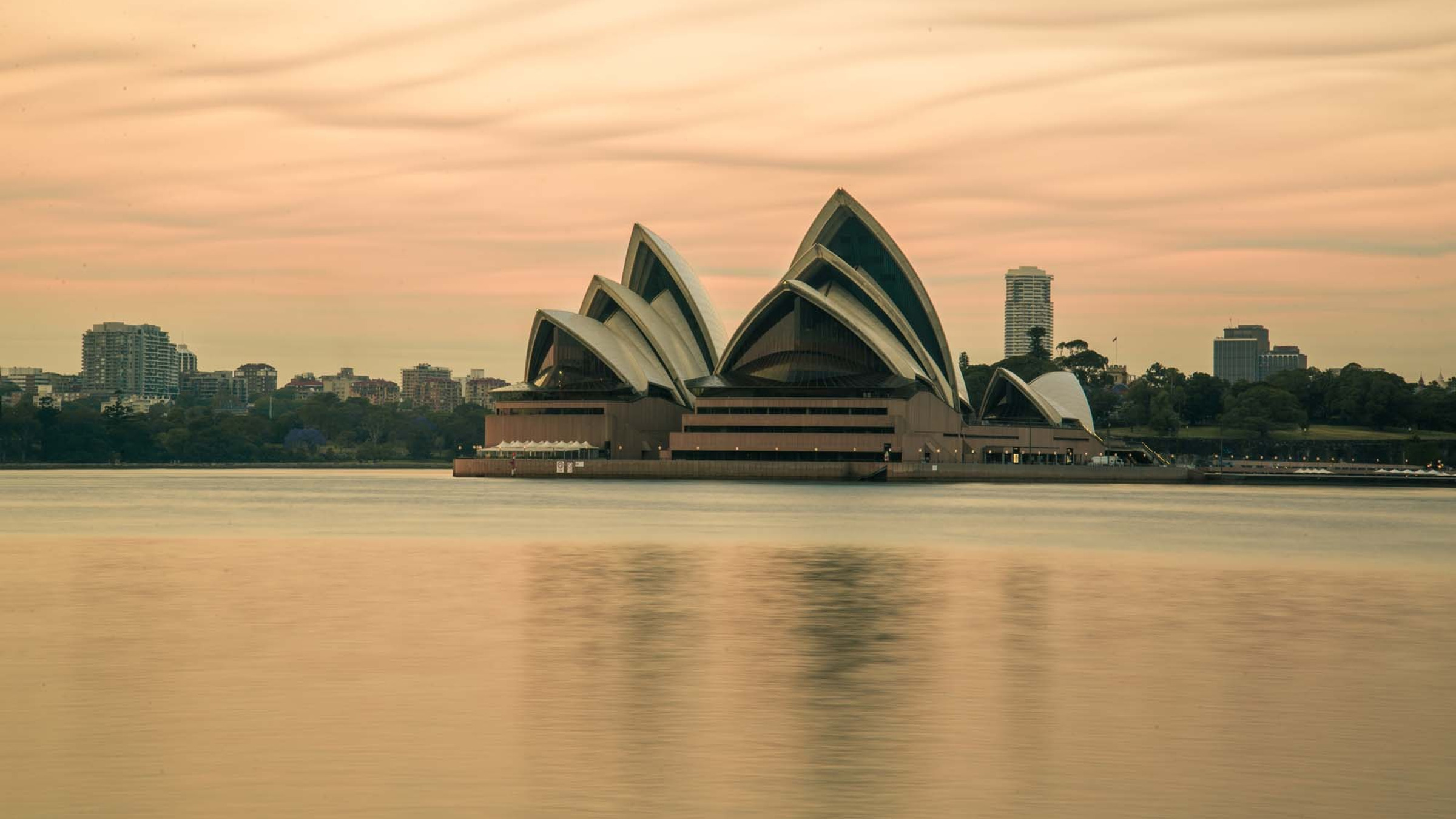 ;
We're spending 24 hours Down Under, but which city promises the best adventures for one day? Definitely not the capital (sorry, Canberra), but Sydney and Melbourne are both worthy contenders for the title of Australia's premier metropolis.
Sydney: Of course, she's a real beauty. Think of urban Australia, and the billowing sails of the Opera House, the steel arch of the Harbour Bridge and the green-and-gold ferries zipping in and out of Sydney's bays and quays immediately spring to mind. So many Australian icons, must-see attractions and can't-miss activities are found in the country's largest city, you could be forgiven (but you won't be) for thinking (as many do) that it's the capital.
Melbourne: Iconic Melbourne? Not so much, but who needs universally recognisable tourist attractions when there's ample proof that Australia's second-largest city is Number One in so many other ways. Regularly voted the world's most liveable city, she without fail leaves her prettier, bigger sister behind in the rankings. Surely a place worth living in is one well worth visiting! We might even learn a thing or two about what makes a city liveable along the way…
Just as the young country couldn't decide on a capital over 100 years ago, residents and visitors today remain divided. Which city is most representative of Australia Fair? We compare 24 hours in Sydney and Melbourne to find out…
Home From Home: The Castle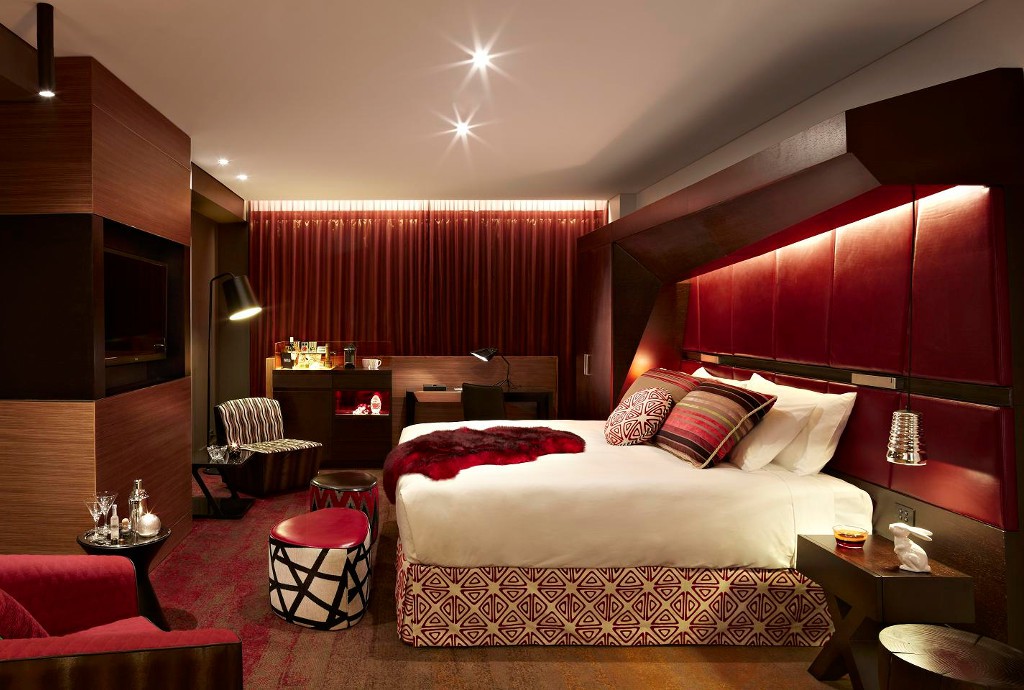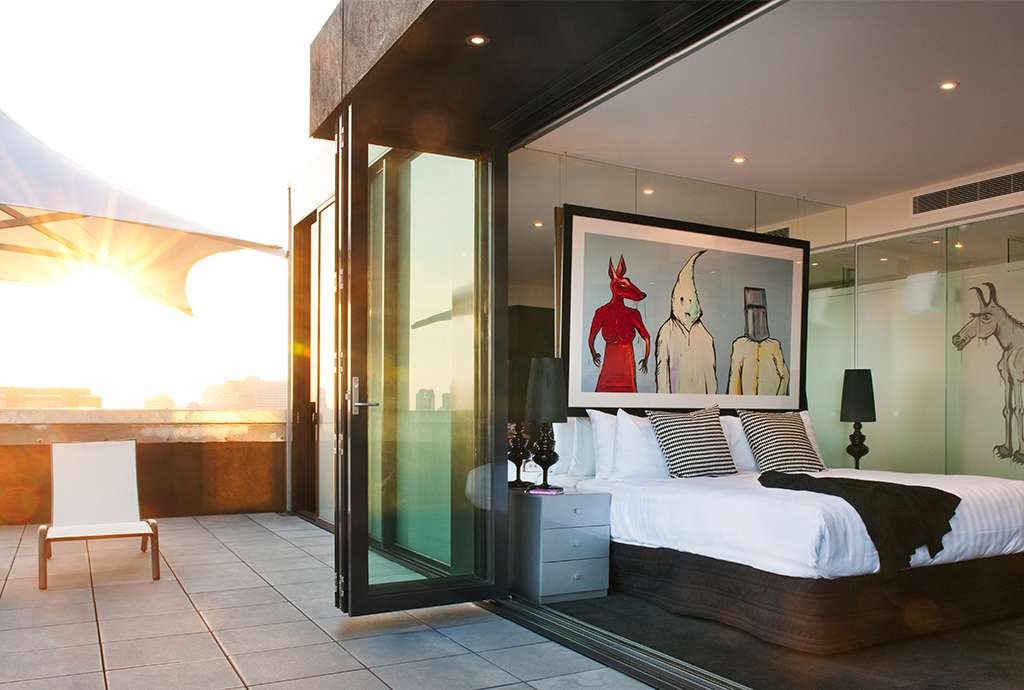 Sydney: If you're in Sydney to see and be seen, QT is the place to stay. Slap-bang in the centre of busy Market Street, this designer pad mixes heritage charm with contemporary design and unique details that are as fun as they are cool. Those who prefer to start the day's sightseeing without even leaving the hotel, Pier One Sydney Harbour offers unrivalled Harbour Bridge views from a heritage-listed former shipping wharf. qtsydney.com.au, pieronesydneyharbour.com.au
Melbourne: Melbourne is all about culture, so get into the spirit by bedding down in one of the four Art Series Hotels inspired by Australian artists. The lovingly curated collections at The Cullen, The Olsen, The Blackman and The Larwill Studio pay tribute to their namesakes in elegantly contemporary surroundings. artserieshotels.com.au
8am: Aussie Brekkie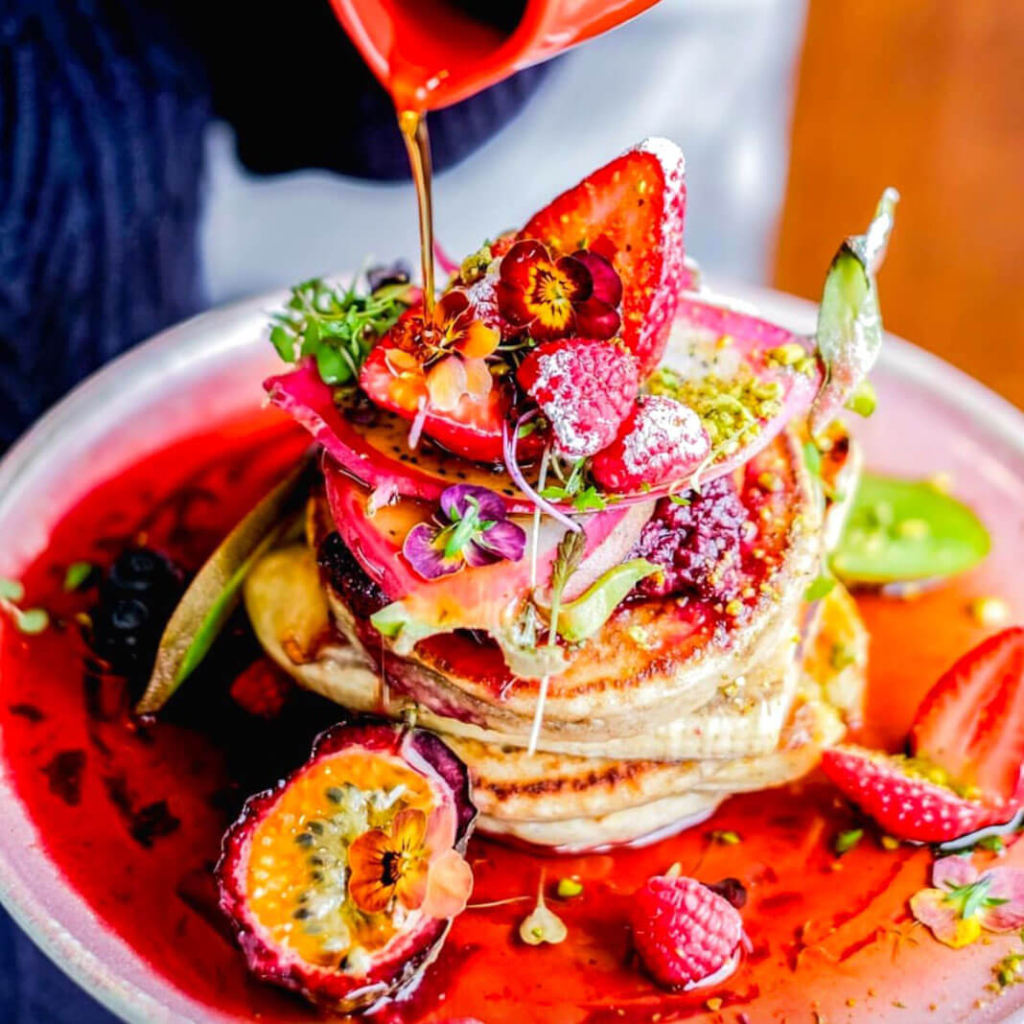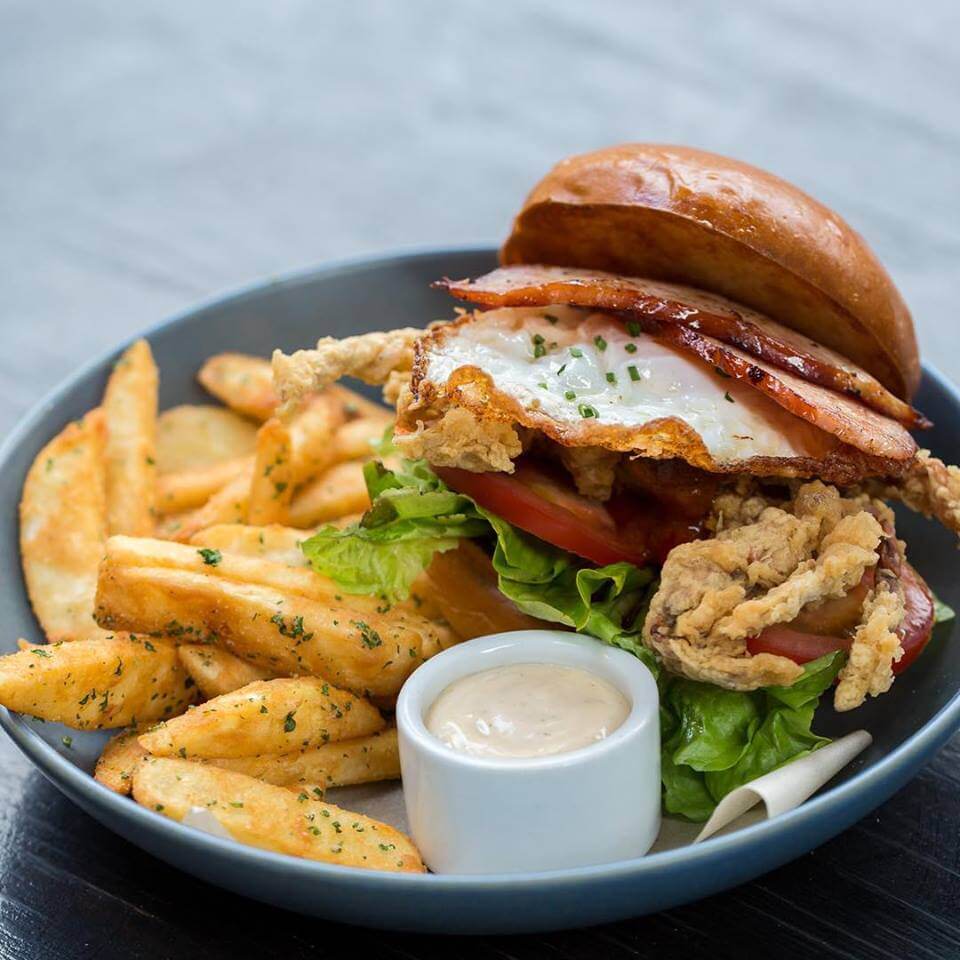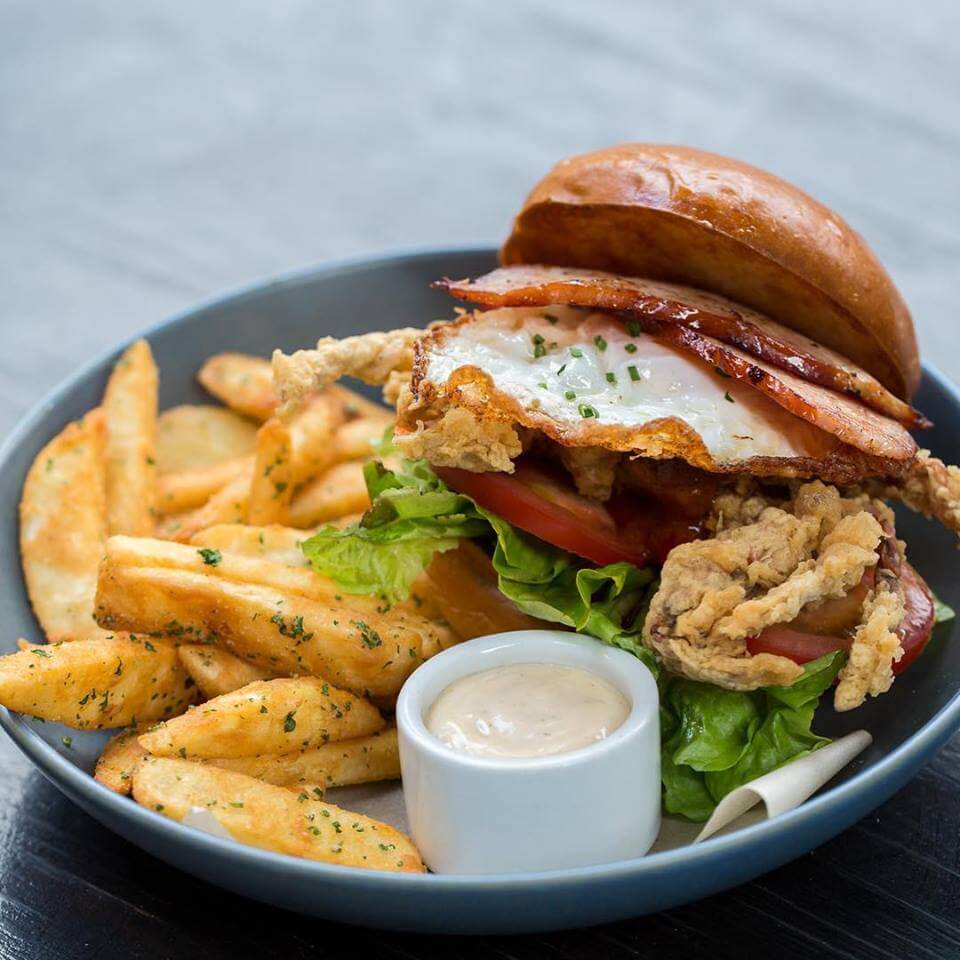 [Photo at left: Facebook, Photo at right: Facebook]
Sydney: Get into beach mode with breakfast at Bondi beach. Perched on the northern rocks above the famous strip of sand, Speedo's is the perfect place to ogle the scenery, splashing surf and the body beautiful locals, many of them popping in wearing little more than their bathers. The menu is helpfully hashtagged, because there is no way you won't want to instagram the delicious dishes, as well as the stunning views. speedoscafe.com.au
Melbourne: Melbourne may not have any beaches worth bragging about, but it does urban hipster lifestyle like no other. In Fitzroy, you could eat all-day breakfasts three times a day and never want for another type of meal, such is the choice offered at the countless cafés lining bustling Brunswick Street. The name of Breakfast Thieves, just a few blocks over from the busy thoroughfare, already indicates what this place does best: breakfast and brunch. breakfastthieves.com
10am: On The Market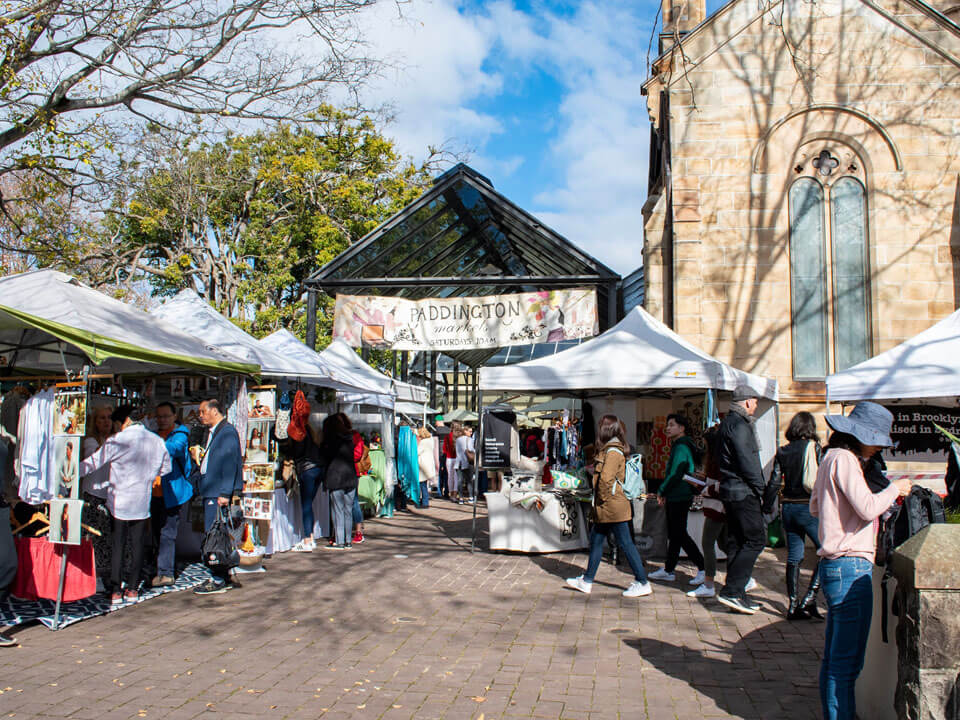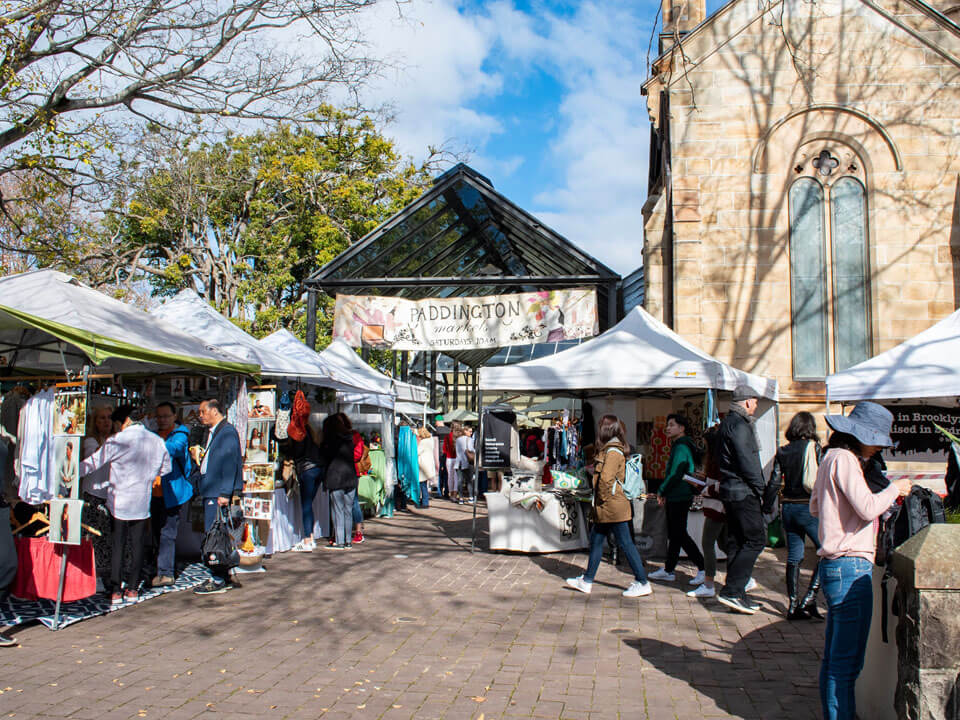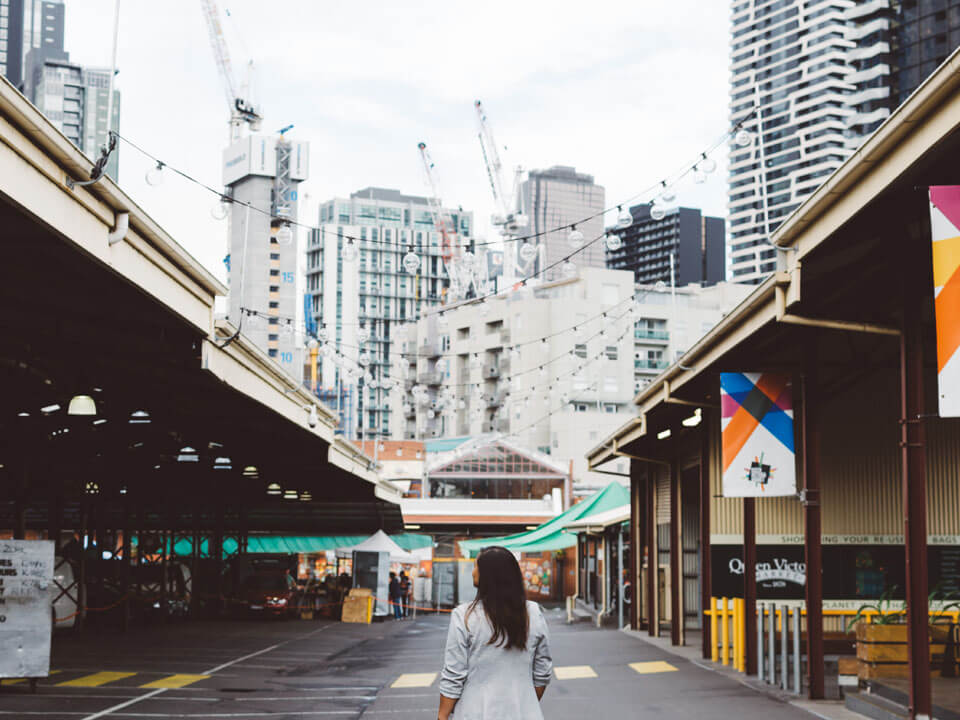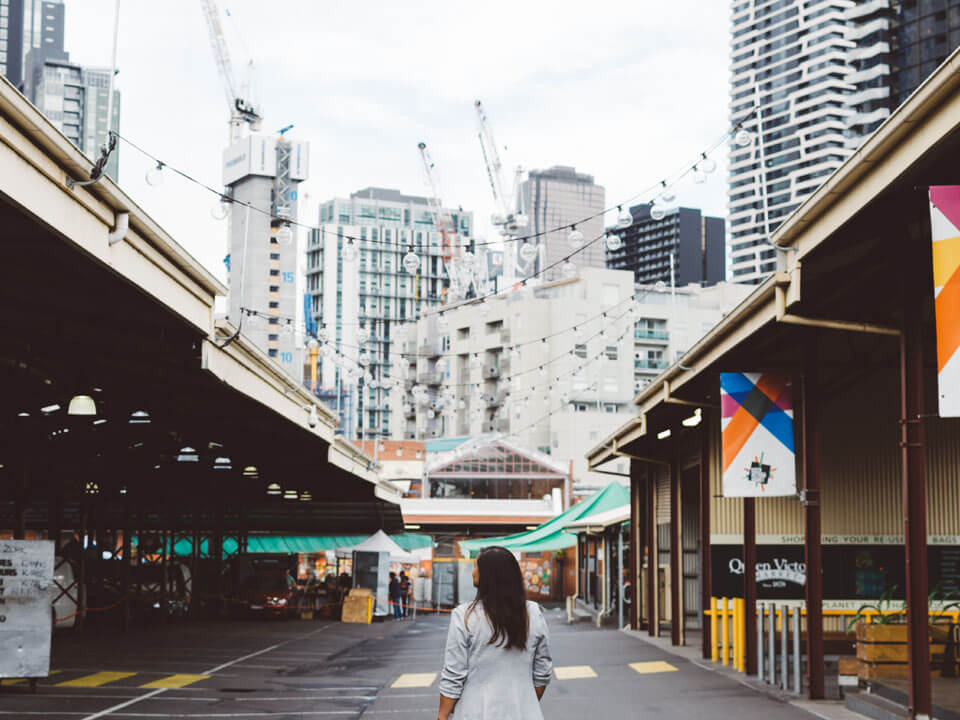 [Photo at left: Facebook]
Sydney: Paddy's Markets may be the biggest, the Rocks Markets are definitely the most picturesquely located, but for authentic, unique local arts, craft and design, nothing beats Paddington Markets. Since the weekly event launched over 40 years ago, it has been showcasing the best of Australian products – and giving local labels like Dinosaur Designs their first retail outlet. Keep your eyes open for up-and-coming small businesses that may soon be sought-after brands. paddingtonmarkets.com.au
Melbourne: Queen Victoria Market is on the tourist trail – and for good reason. The Queen Vic is part of the fabric of the city. Students shop there for cheap fruit and veg, foodies get their international delicatessen fix in the art deco deli hall, and everyone from fashionistas to tourists browse the permanent shops and temporary sheds selling arts, crafts and souvenirs. In summer, the Night Markets draw massive crowds with food stalls and live music. qvm.com.au
12pm: Take A Trip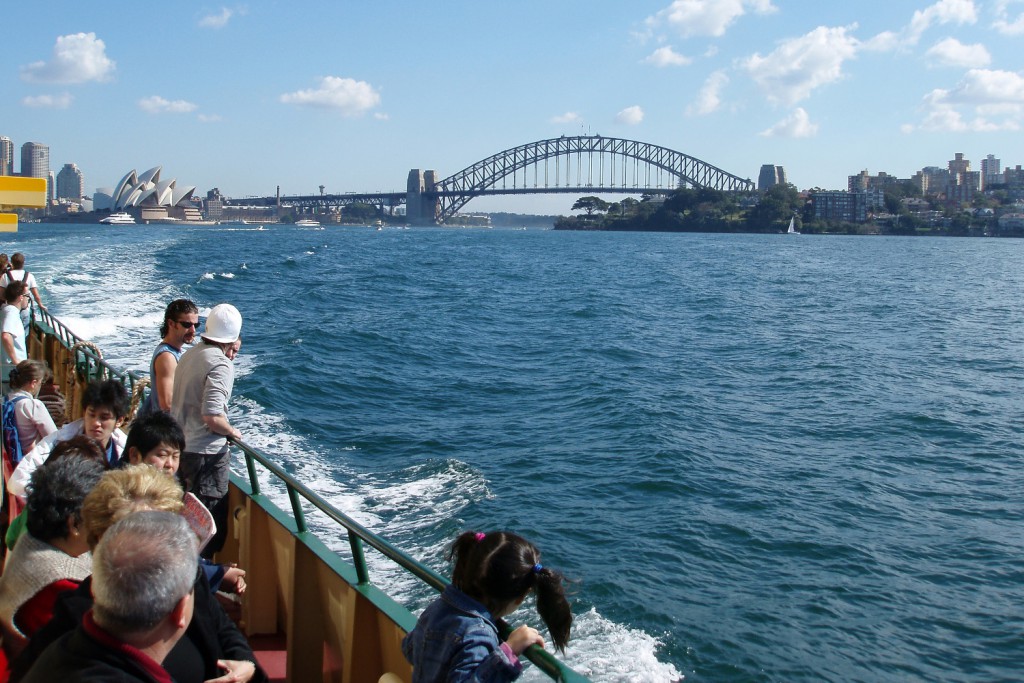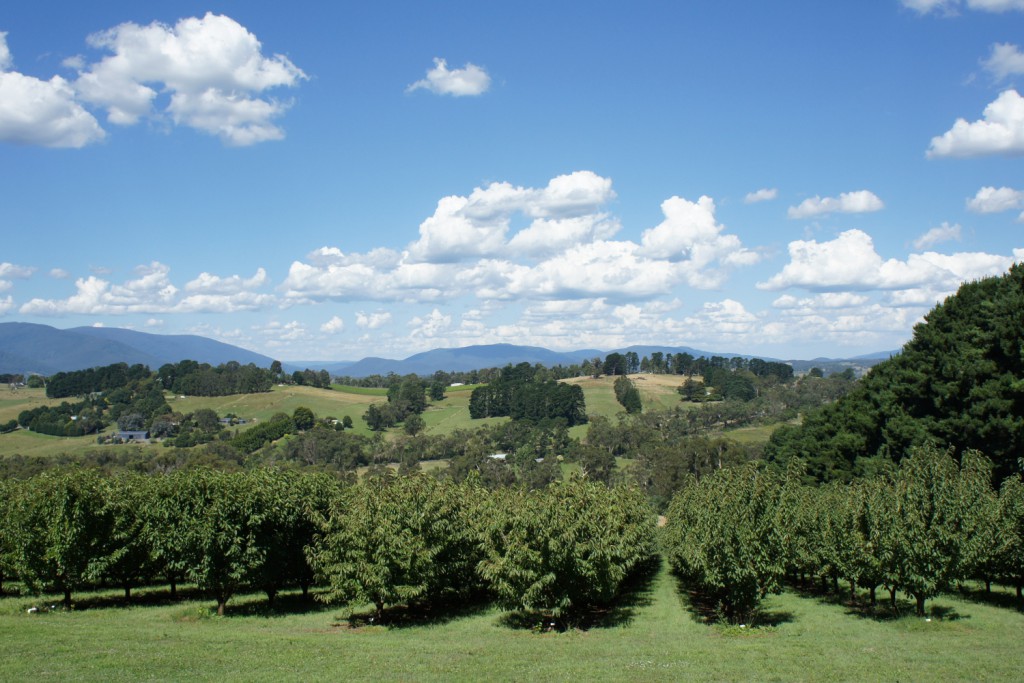 [Photo at left: freeaussiestock.com. Photo at right: Senning Luk/Flickr]
Sydney: The infrastructure is patchy and traffic notoriously congested, but there is one easy way to get around Sydney: by ferry. Buy a day pass and cruise across to Taronga Zoo for some of the best harbour views, stop off at Cockatoo Island for a glimpse of Sydney's convict and military history, or even head all the way out to Manly for a seaside resort escape just 30 minutes from the city. No matter where you go, the journey is its own reward. transport.nsw.gov.au
Melbourne: The Victorian countryside surrounding Melbourne is a foodie paradise. Five wine regions are within an hour's drive of the capital – their vineyards in some cases even encroaching on the city limits. For wine tours, artisanal food tasting, spectacular seaside scenery, diverse landscapes and wildlife – all accessible by public transport and even by ferry – head for the Mornington Peninsula. If you're short on time, you can obviously sample most of these treats within the city, too. visitvictoria.com
2pm: Fire Up Your Imagination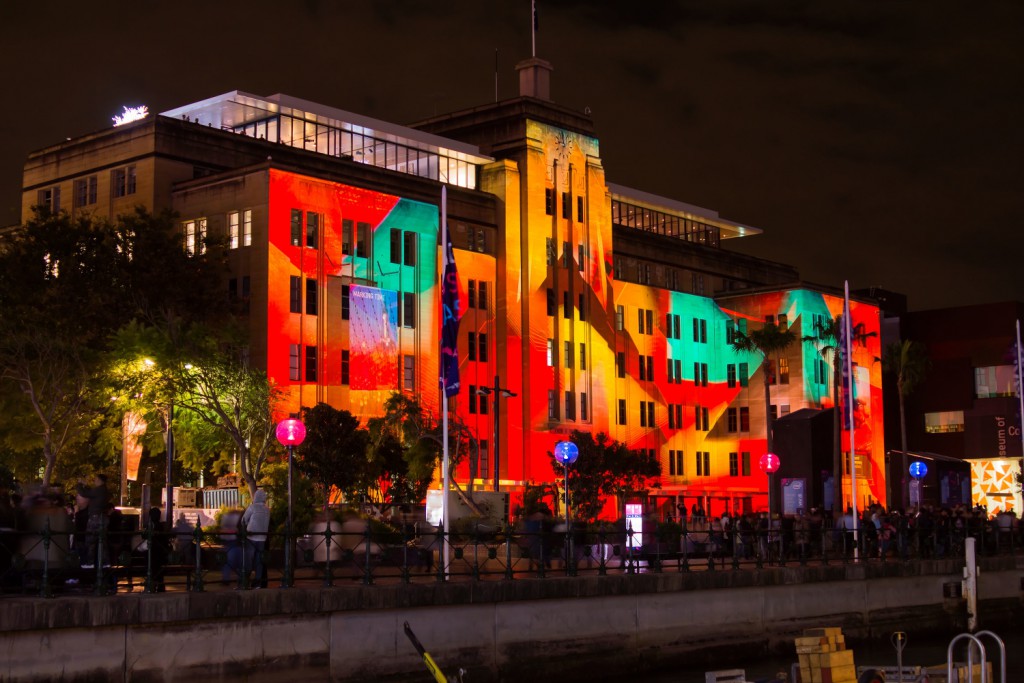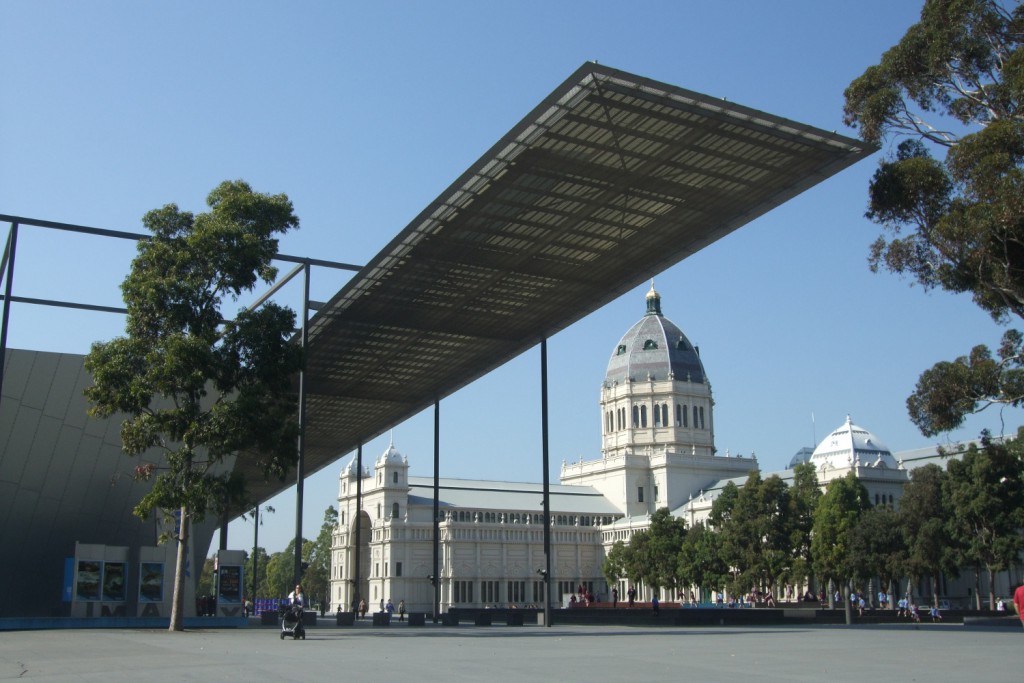 [Photo at left: Kazuhisa Togo/Flickr. Photo at right: Wikimedia Commons]
Sydney: There are a few great museums in town, but let's face it – the sun is probably shining and you didn't really come here for the art or the culture. Luckily, the Museum of Contemporary Art combines the best of both worlds. Centrally located on Circular Quay, it encompasses a heritage sandstone building and a modern expansion showcasing an eclectic collection. The rooftop café and sculpture garden are the perfect place to enjoy the weather and surrounding views. mca.com.au
Melbourne: In notoriously changeable Melbourne weather, it's always a good idea to have a plan for the odd rainy day, drizzly hour or even a freak hailstorm; the biggest museum in the Southern Hemisphere is a great place to start. At Melbourne Museum, the history of Victoria, its indigenous heritage, nature and wildlife are laid out across a sprawling modern complex. The exhibitions also offer interactive displays for kids and – should that rain really settle in – there's an IMAX cinema. museumvictoria.com.au
4pm: Time For A Break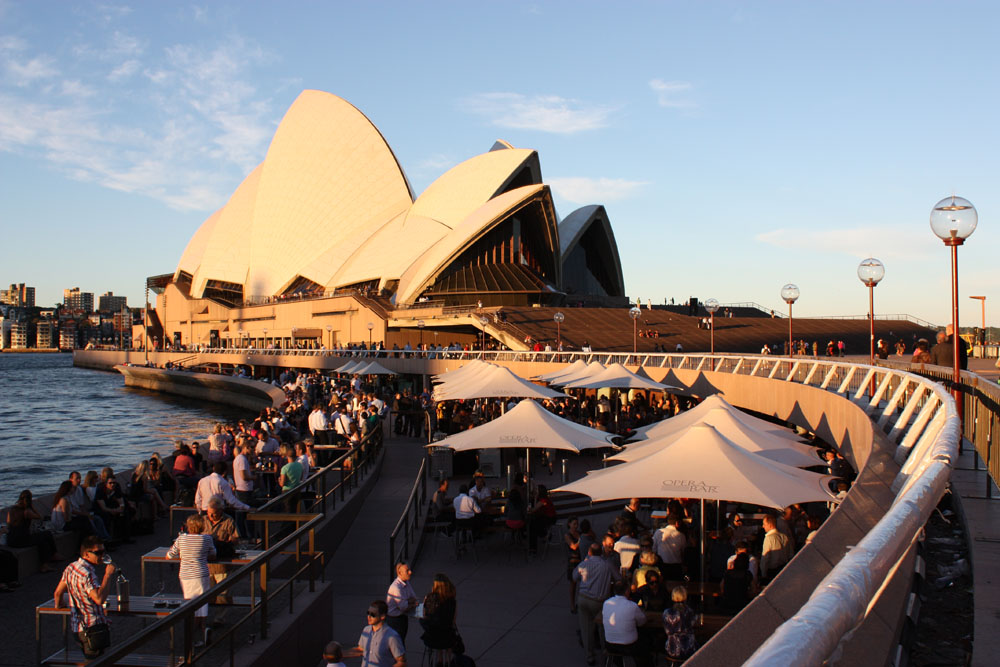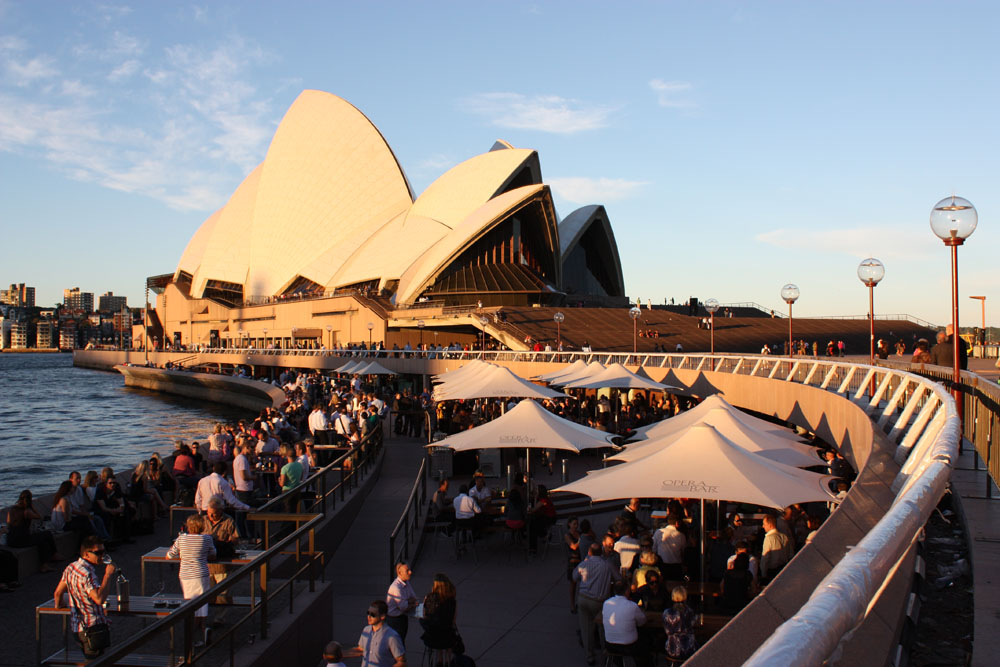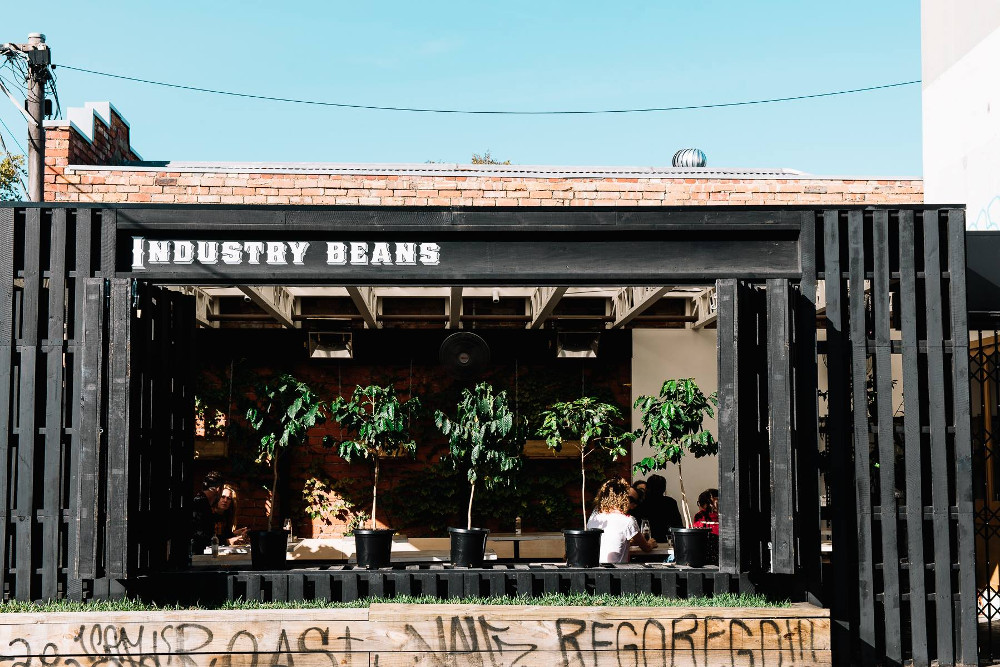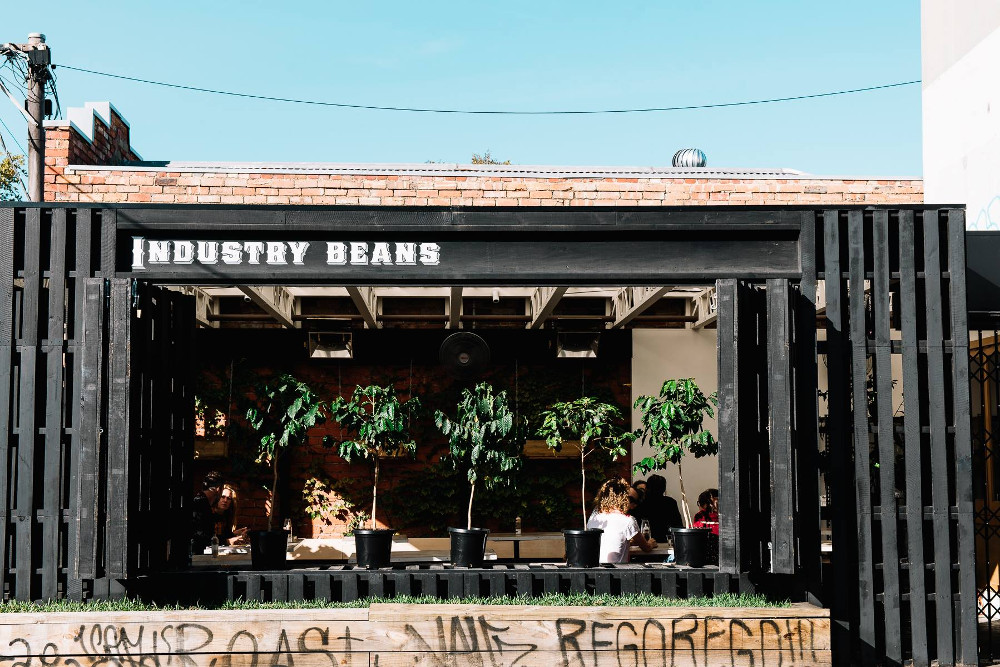 [Photo at left: Zoe Shuttleworth/Flickr]
Sydney: It may sound like a tourist trap, but the Opera Bar, sitting pretty right below one of the most famous buildings in the world, offers some of the best views in town – and more. The bar is beautiful, inside and out, but of course you'll want to snag one of the alfresco seats. Luckily, there are plenty to go around, even with all the tourists, urban professionals and theatre-goers converging for pre- or post-something-or-other drinks and excellent food. operabar.com.au
Melbourne: Coffee is remarkably good all over Australia, but Melbourne is spoilt for specialty brews like no other city Down Under. Throw a takeaway cup anywhere in the inner suburbs and you're likely to hit a café that is comically serious about its beans, roasts and preparation methods. Such as Industry Beans, where the menu reads like a third wave advocate's manifesto. On the way to the modestly minimalist warehouse space that houses the roastery, you can also tick back-alley graffiti-spotting off your sightseeing To Do list. industrybeans.com
6pm: Sunset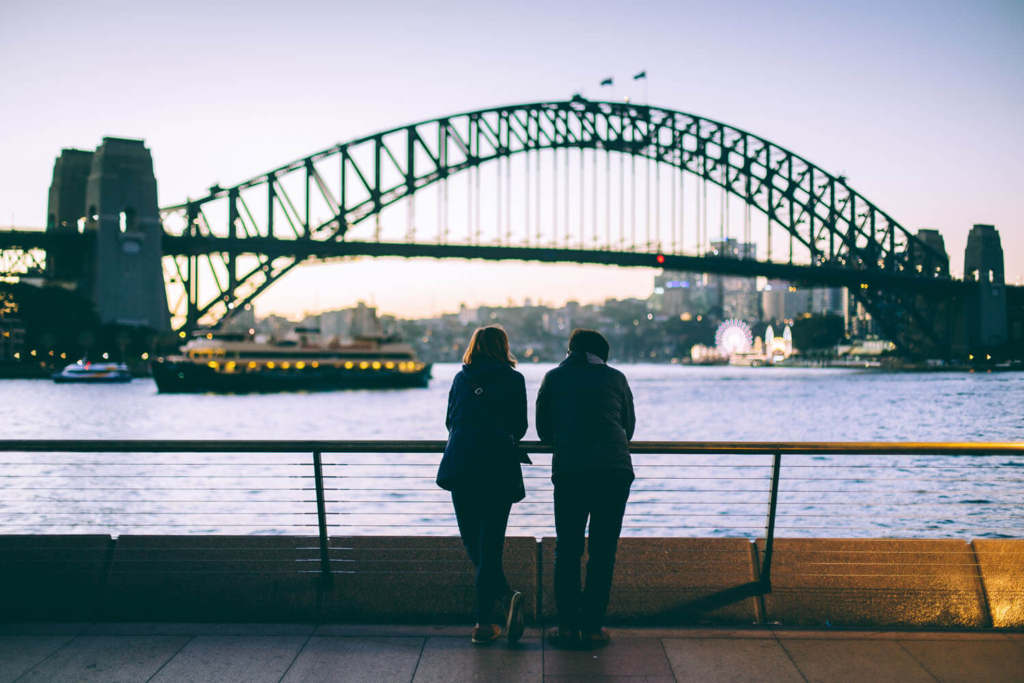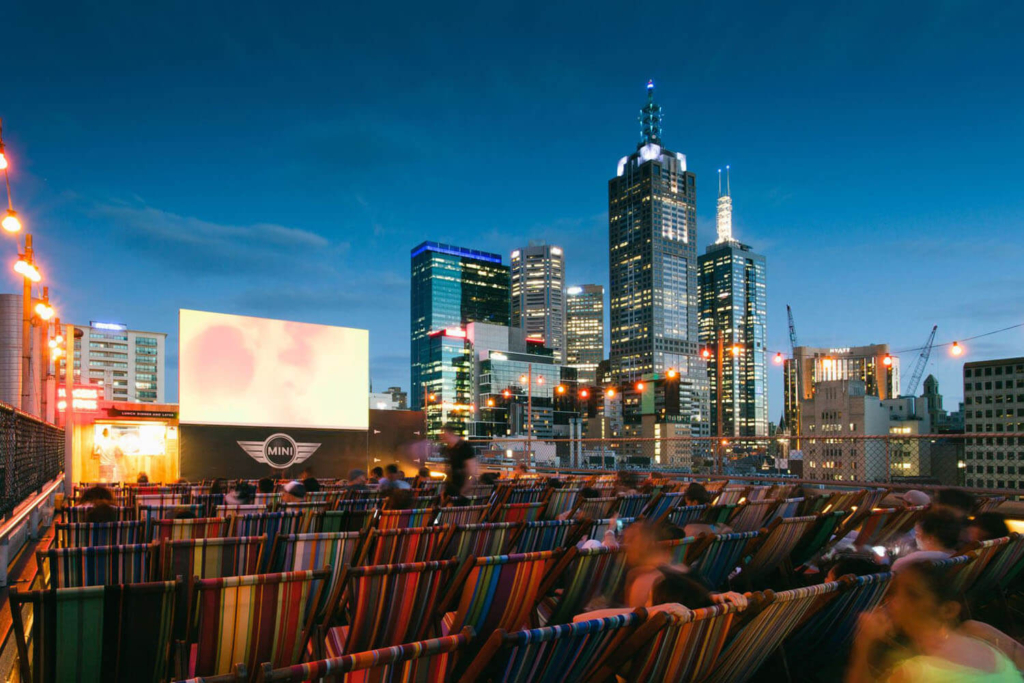 [Photo at right: Facebook]
Sydney: Time to stretch your legs again, on a stroll through the Royal Botanic Gardens, as the sun slowly drops behind the Harbour Bridge and tints the Opera House a golden hue. Mrs Macquarie's Chair, a bench carved out of sandstone on a peninsula jutting out into the harbour, is the perfect spot to view the spectacle and capture some impressive shots. rbgsyd.nsw.gov.au
Melbourne: Melbourne arguably has no natural scenery to rival Sydney's harbour, but it does offer a thrilling cityscape of sky-high skyscrapers coupled with urban cool hangouts like the Rooftop Bar. Climb all the way to the top of Curtin House, past perennially popular Cookie restaurant and effortlessly cool watering hole Toff in Town, for drinks and burgers with a view. Take in the sunset lounging in a deckchair, but leave before the open air cinema takes over. rooftopcinema.com.au
8pm: Festival Fever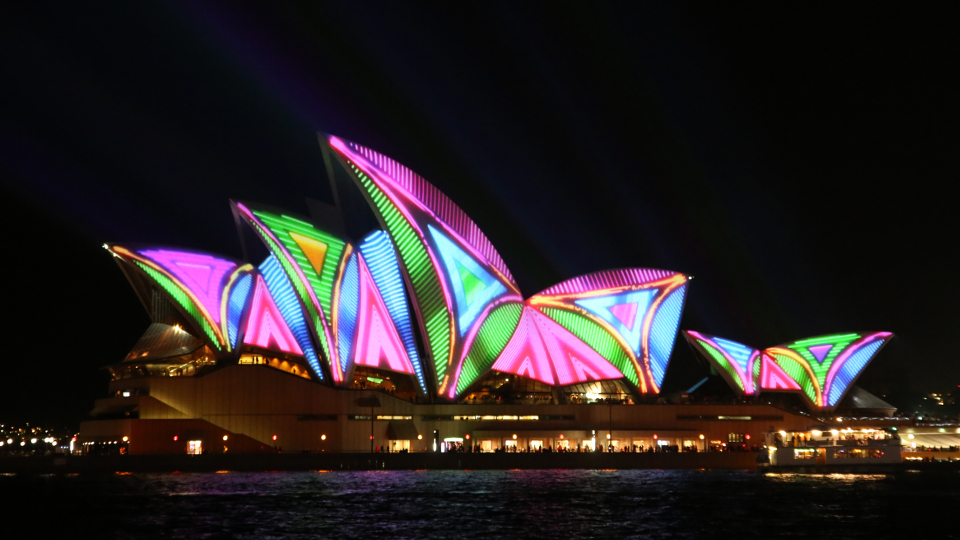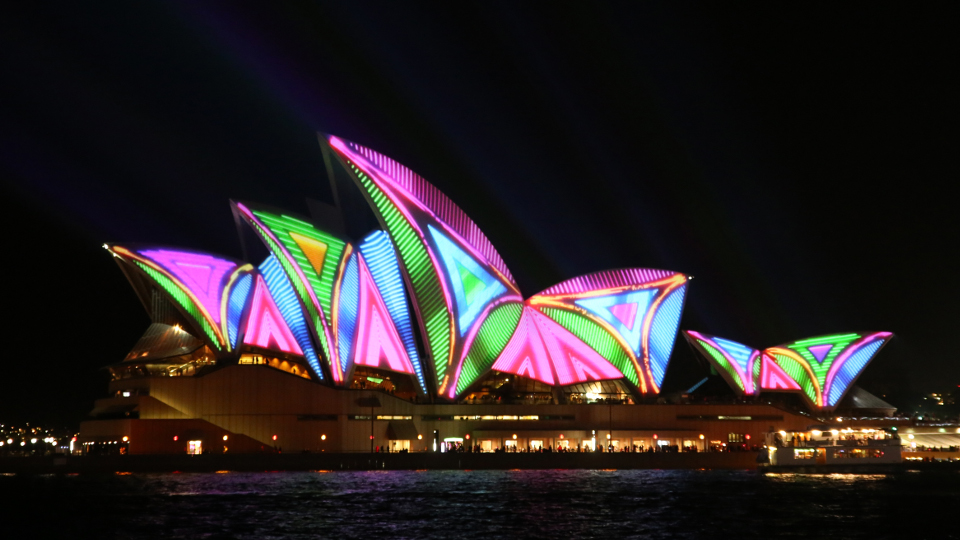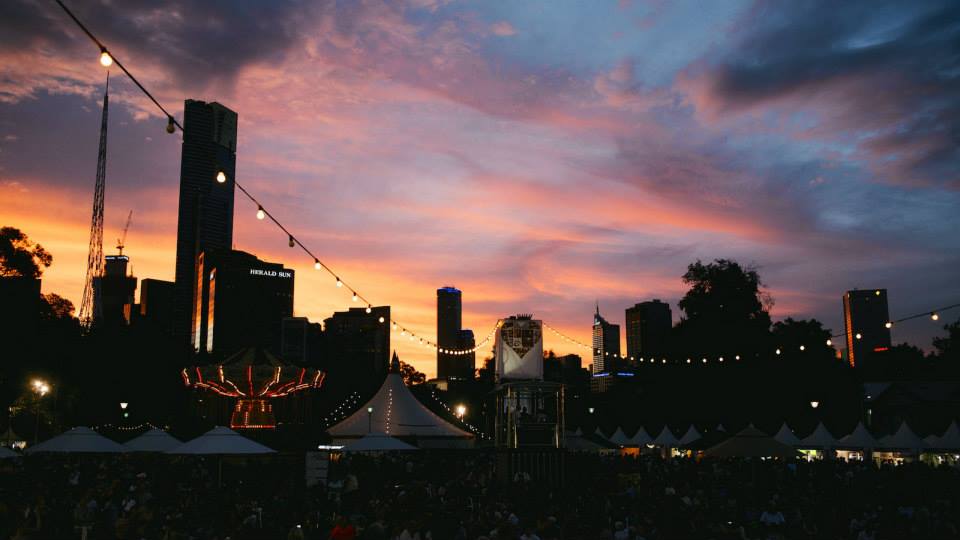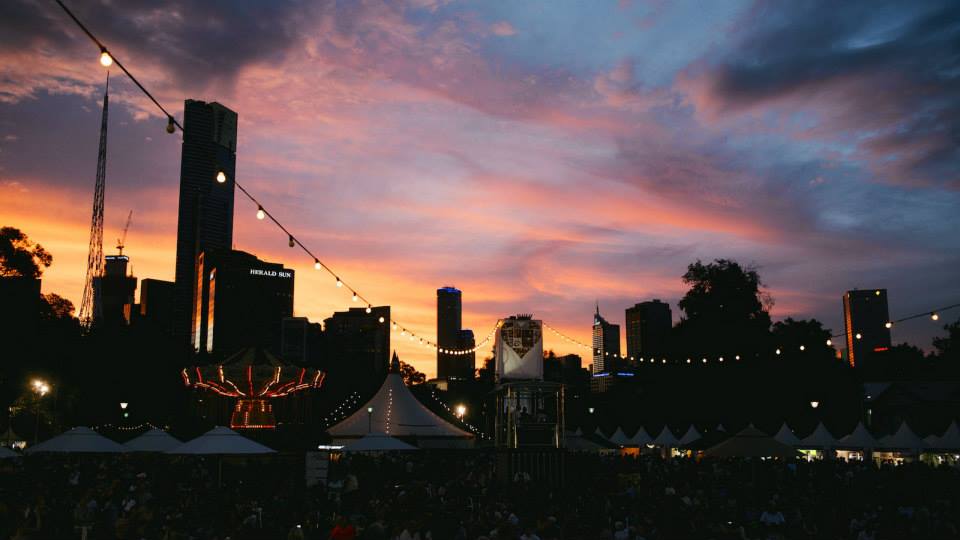 [Photo at left: Wikimedia Commons]
Sydney: From Australia Day to Sydney Festival, Laneway Festival to New Year's Eve, the city always celebrates itself, at least a little bit, when it celebrates national events, performing arts or music. In recent years, however, no event quite literally lights up the city like Vivid. The festival of light, music and ideas consists of ticketed events, as well as free nightly audiovisual shows, installations and projections turning Circular Quay, Darling Harbour and other sites into a riot of colour.
Melbourne: In Melbourne, festival fever is a year-round affliction, affecting kids, sports enthusiasts, foodies, music lovers and art fans. No matter what the season, there's always a festival going on somewhere. Between the Formula One season opener and the Australian Rules Grand Final, the self-proclaimed World's Greatest Restaurant Festival and Australia's largest comedy festival, the multicultural Moomba and massive St Kilda Festival, the hardest part is deciding which events you can skip without missing out.
12am: Last Orders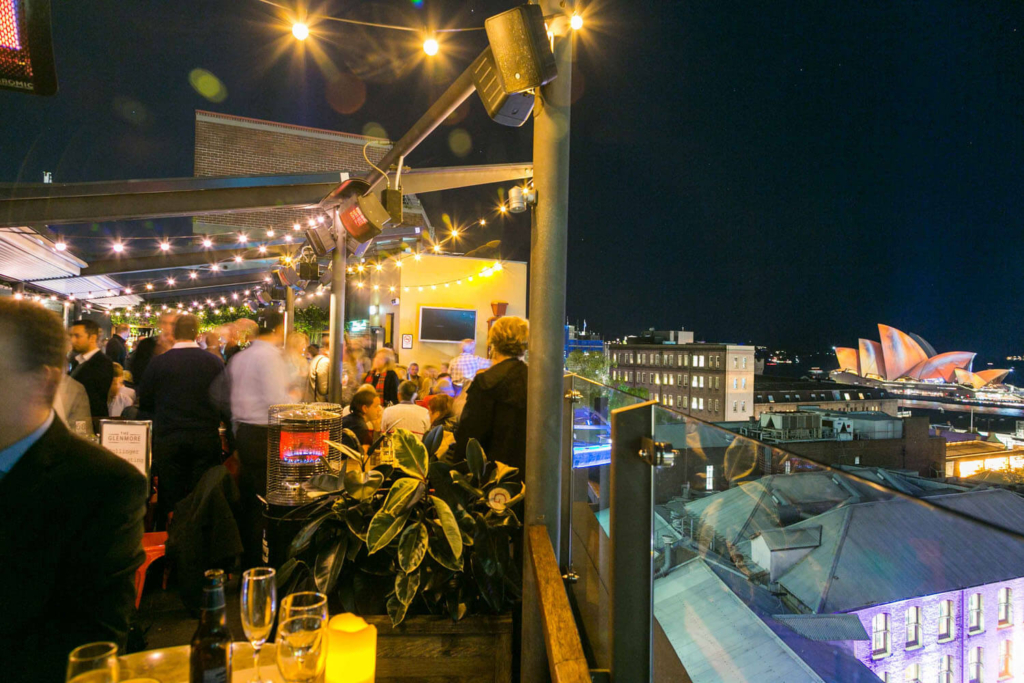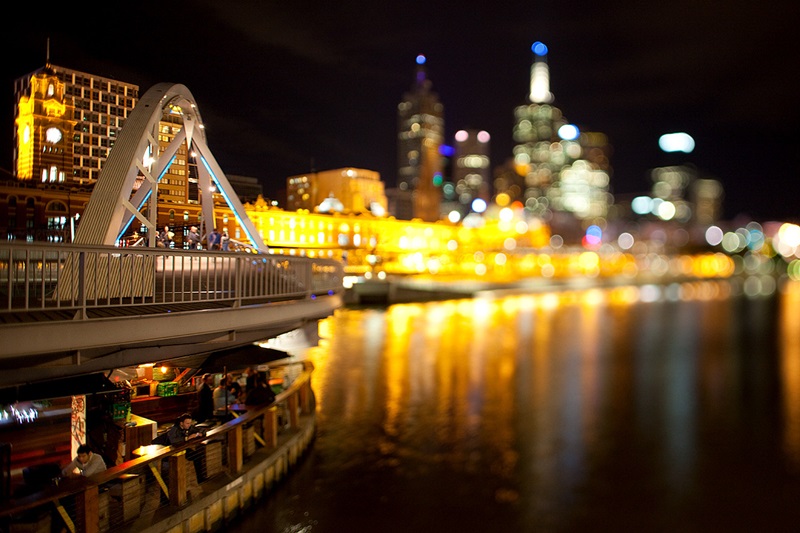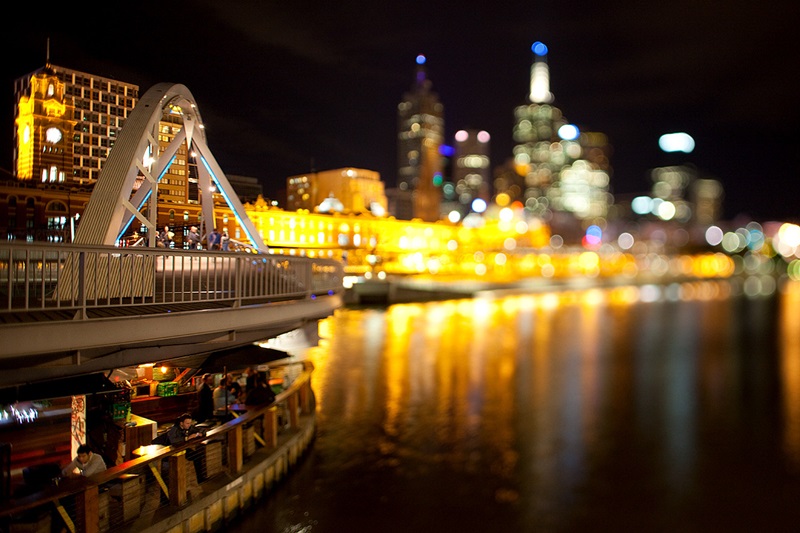 [Photo at left: The Glenmore, Photo at right: Ponyfish Island]
Sydney: One advantage of those iconic harbour views is that they never get old – all you need to do is find a new vantage point – and renewed OOHs and AAHs will ensue. Make your way across cobble-stoned streets and steep steps, all the way to the top of The Rocks district to find a gob-smacking rooftop bar masquerading as the friendly local pub down the road. The exterior is all 1920s charm, but inside, a recent revamp has brought the interior – and the fabulous roof with its panoramic vistas – up to date. theglenmore.com.au
Melbourne: This city loves anything hidden, secret and involving the word laneway. On a balmy evening, Ponyfish Island – hiding in plain sight on the river between Central Business District and Southbank – is preferable to a speakeasy-style hole in the wall. To find it, head halfway across Southbank Pedestrian Bridge from Flinders Street Station and, just when you think "hey, where's this island then?" look down. There it is, clinging to the central pylon, offering a strangely serene venue in the middle of the hectic city. ponyfish.com.au
Before You Go
Read:
Sydney: Highbrow it ain't, but Bill Bryson's Down Under is an easy and entertaining read that will pass the long flight to Australia while conveniently conveying a few essential facts on the country, its history and people. Only one chapter is dedicated to Sydney, but the travelogue finds plenty of arguments for both the city in particular and the country in general as possibly the most blessed places on the planet, so it will put you in the right frame of mind for your trip.
Melbourne: You won't get far in Melbourne – or indeed, anywhere in Australia – without hearing about national hero Ned Kelly. In the Booker Prize-winning True History of the Kelly Gang, Peter Carey performs his usual trick of capturing the Australian vernacular and rendering it printable, in this case vividly recreating historic events. The outlaw's death mask and the famous Jerilderie letter that this novel is based on can be found in the State Library of Victoria, a self-constructed suit of armour is on display in Old Melbourne Gaol, where Kelly was hanged in 1880.
Watch:
Sydney: Most of Priscilla, Queen of the Desert is set in Australia's vast Outback and yet, it is a film about Sydney at heart. Three drag artists (Hugo Weaving, Guy Pearce and Terence Stamp) make their way from the big city across the forbidding expanse of the red centre to Alice Springs, travelling in a bus they christen Priscilla. The further they get from home, the clearer it becomes that the liberal, cosmopolitan bubble they have been living in is a far cry from reality in rural `Straya.
Melbourne: Countless high-profile films have been made in Melbourne, more often than not with the locations standing in for other – more often than not American – cities. Salaam Namaste turns the tables, bringing a major Bollywood production to Australian shores and setting the action there, too. As you would expect from an Indian blockbuster romantic comedy, it shows sumptuous, bright, colourful shots of a city filled with smiling, singing protagonists and an attractive general population prone to spontaneous public dancing.
Listen:
Sydney: Sydney bands, singers and songwriters rarely serenade their city. Instead, they tend to focus on a specific area, in songs like Bondi (Elliott Weston), Darlinghurst Road (Noel Watson), Tamarama Doorslammer (Killers on the Loose) or Woolloomooloo Lair (The Bushwackers). If you can get a hold of a copy, the compilation Somewhere in Sydney – 30 Songs from the Harbour City neatly sums up a fair number of these songs dedicated to the city, its streets and suburbs.
Melbourne: Melbourne doesn't call itself Music City for nothing, but its most famous alumni are not exactly known for a discernible Aussie sound. From Nick Cave to Kylie Minogue, Crowded House to Jet, the internationally known acts could just as easily hail from the UK or the US. There is, however, a new guard bringing the Aussie drawl back to the charts. The Triple J Hottest 100, Australia's ultimate annual music countdown, increasingly features Melbourne bands like The Cat Empire, The Smith Street Band and Architecture in Helsinki, who sing 'em like they hear 'em.
Article by Fiona Brutscher
Just between us, Melbourne or Sydney?