';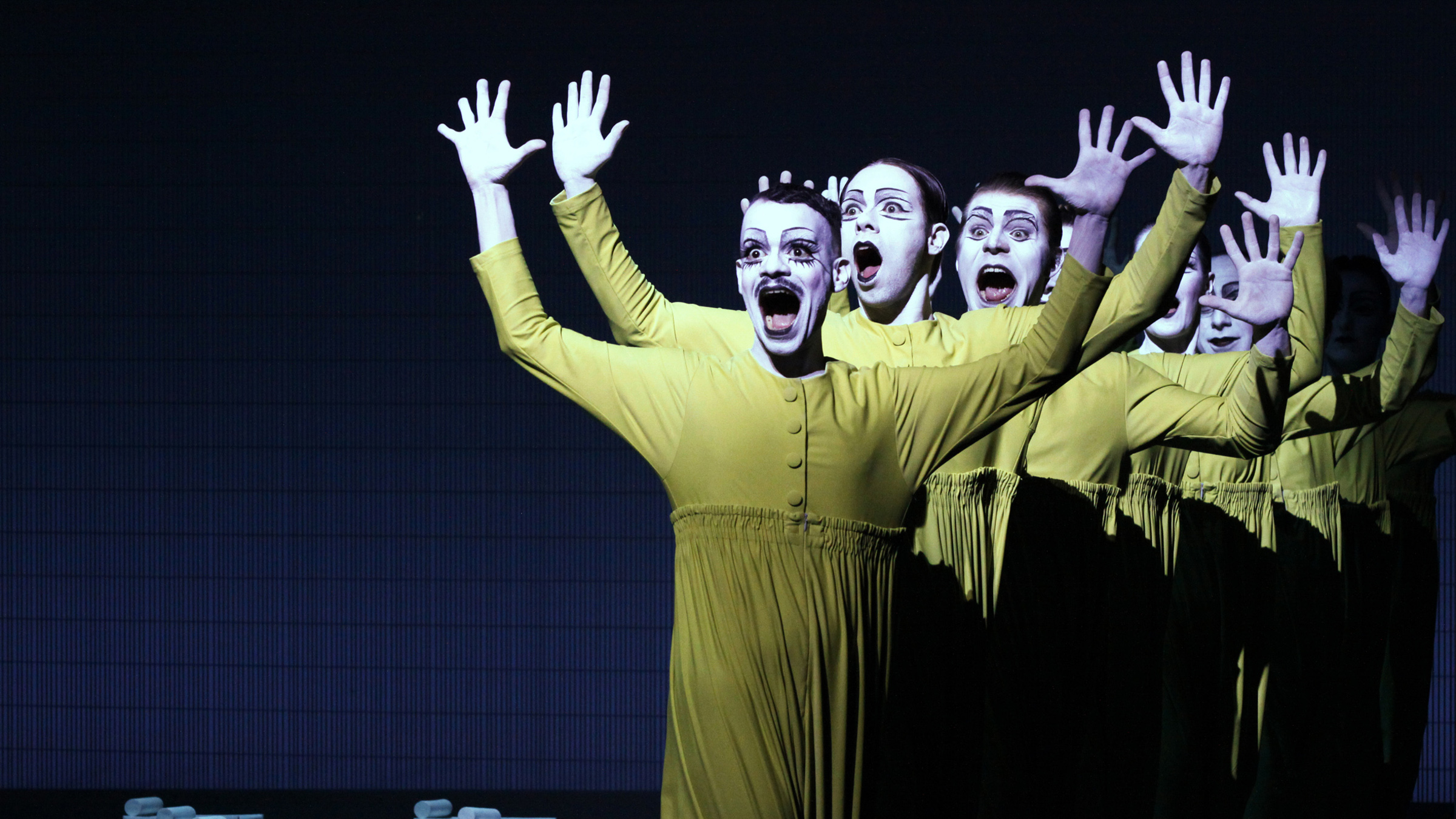 ;
From an Austrian street performer festival to an Australian beer can regatta, we've rounded up the world's most intriguing, enlightening and irreverent events to look forward to in July.
Heiva
Papeete, Tahiti
2 – 18 July
Full of singing, drum-beating and hip-quivering, this traditional Polynesian festival was banned for nearly a century when the region came under Christian rule. Back with a vengeance, Heiva is Tahiti's answer to Carnival with energetic music and dancing, plus sporting competitions like canoe races, javelin tosses and palm tree climbing.
tahiti-tourisme.com
Manchester International Festival
Manchester, England
2 – 19 July
If you thought London was the UK's only destination for culture connoisseurs, think again. Manchester is home to one of the world's most fascinating, cutting-edge festivals of art and performance, drawing acts as divergent as Snoop Dogg and Serbian performance artist Marina Abramović. The entire city is the venue, with some stagings occurring at secret locations, so keep your ear to the ground.
mif.co.uk
Knysna Oyster Festival
Knysna, South Africa
3 – 12 July
Tasty bivalves might be the headliners here, but it's not only about oysters at what organisers call "South Africa's premium sport and lifestyle festival". Activities include trail running, hiking, swimming, cycling and paddling, with competitions for visitors of all ages who can later refuel at a number of foodie events, from jazz cruises to whisky tastings and the intriguingly titled 'Bubbly, Oysters & Chocolate Experience'.
oysterfestival.co.za
Calgary Stampede
Calgary, Canada
3 – 12 July
Take a trip to the Old West when Calgary gears up for the grandest hootenanny of the summer. There's bareback bull riding, stagecoach races, livestock shows, concerts and carnival rides, not to mention stacks upon stacks of piping hot flapjacks. Cowboy hat and boots not required, but certainly recommended.
calgarystampede.com
Festival d'Avignon
Avignon, France
4 – 25 July
Architecture and Provençal joie de vivre are the usual reasons to visit Avignon, but each July these are eclipsed by one of the world's finest festivals of the performing arts. Hundreds of mesmerising events take place across the city, with the open-air Palais des Papes serving as the beautiful epicentre of activity.
festival-avignon.com
Berlin Fashion Week
Berlin, Germany
6 – 10 July
It might not be part of the traditional fashion week circuit, but that's because Berlin's flagship event deserves a limelight all its own. Runway shows feature both household names in haute couture and an up-and-coming crop of designers and models, unlocking the style world's ivory tower for a breath of fresh air.
fashion-week-berlin.com
Brooklyn Hip-Hop Festival
New York City, USA
6 – 11 July
Lovers of the genre come together in the city where it all began to celebrate the cultural roots of a musical movement built on optimism in the face of adversity, and a hope for social change. Old school and new school artists beat box alongside one another, while a programme of adjunct events includes panel discussions, exhibitions and a family-friendly block party.
bkhiphopfestival.com
Nowhere
Spain
7 – 12 July
Art, community and the spirit of carpe diem are what draw a modestly sized crowd of party-goers to the furthest recesses of rural Spain for a unique festival atmosphere. Here, quite literally in the middle of nowhere, a temporary society of idealists forms to make connections, gain new perspectives and have the time of their lives dancing the night away.
goingnowhere.org
Quebec Summer Festival
Quebec, Canada
9 – 19 July
Come for the headliners (i.e. Iggy Azalea, Keith Urban and Boston), stay for the festive feeling with street performers, family-friendly activities, and pop-up performances designed to be as impressive as they are surprising.
infofestival.com
International Folk Art Market
Santa Fe, New Mexico, USA
10 – 12 July
The largest event of its kind in the US, the International Folk Art Market sees carefully vetted artists from 60 countries sell their handmade wares. Visitors can watch everything from drums to tapestries, dresses, paintings and jewellery being crafted before their eyes while they learn about the traditions behind the items (volunteer translators are on hand to help out wherever needed). A lineup of live music from across the globe sets a lively tone, while a food market quells hunger pangs with international dishes. The best part? Knowing that your purchases help the artisans and keep their traditions alive.
folkartalliance.org
Naadam
Ulaanbaatar, Mongolia
11 – 13 July
Not quite as old as the Olympics, but certainly less political and modernised, it is said that Mongolia's premier sporting festival predates Genghis Khan. Competitors in three disciplines – wrestling, horse racing and archery – vie for grand titles, while spectators cheer (and jeer), fuelled by sips of airag, or fermented horse milk.
Darwin Beer Can Regatta
Darwin, Australia
12 July
It takes a lot of beer to float these boats: each year, the most creative of Australia's lushes participate in some intense recycling, constructing seaworthy vessels out of empty beer cans and launching them from Mindil Beach to much fanfare – and more beer drinking.
beercanregatta.org.au
London Film and Comic Con
London, England
17 – 19 July
So brightly star-studded you may need to avert your eyes, the lineup of celebrities from TV, film, comics, popular literature and even pro wrestling is long and impressive, including Michael J. Fox, Neve Campbell, Judy Blume and Mike Perkins. Dress up in your favourite cosplay getup to attend photo shoots, panel discussions and autograph sessions, or simply browse the hundreds of stalls chock-full of memorabilia.
londonfilmandcomiccon.com
Boryeong Mud Festival
17 – 26 July
Boryeong, South Korea
Join the millions who flock to Boryeong every year for the most mud-slinging fun the planet has to offer. Mud wrestling, mud races, mud boot camps and a Mr Mud contest are the focus of raucous merrymaking, while mud facials, pottery demos, soap-making, body painting and relaxing on the beach cater to a more sedate crowd. Either way, visitors are guaranteed to get their hands on Boryeong's sludgy stuff, famed for its mineral-richness and cosmetic properties.
boryeongmudfestival.com
Winter Carnival
Punta Arenas, Chile
18 July
As winter tightens its grip on Chile's southernmost city, the locals keep warm with music, dancing, parades and hearty food at their annual Carnival celebrations. Maybe you'll join in on the early morning dip in the Magellan Strait (or maybe not), but don't miss out on the awe-inspiring fireworks display on the last evening of the festivities.
Panafest
Cape Coast, Ghana
22 July – 1 August
At once a remembering and a celebration, Panafest explores the tumultuous history of African peoples across the continent – and the world – while rejoicing in freedom and tradition. The festival involves a pilgrimage to major sites of slave trade on the Atlantic coast, and encompasses historical lectures and discussions alongside music and dance performances. Don't miss the opening ceremony, the Grand Durbar of Chiefs, which sees tribal leaders gather in their vibrant customary dress.
panafestghana.org
Pflasterspektakel
Linz, Austria
23 – 25 July
Clowns, musicians, stilt walkers, living statues, acrobats, mimes – Linz is lousy with talented street performers of every kind during its annual Pflasterspektakel. Tough audition criteria mean that only the best and most intriguing of artists take to the pavement, but the fact that the event is unstaged and entirely free (of course, spectators are encouraged to reward their favourite acts with coins) keeps it accessible to performers from all walks of life.
pflasterspektakel.at
Fuji Rock Festival
Mount Naeba, Japan
24 – 26 July
If the grittiness of music festivals is what turns you off, perhaps Fuji's annual rock-out – considered the cleanest and 'greenest' in the world – is more your style. A virgin forest amid the Naeba Ski Resort is the magical setting for this jamboree, complete with hot springs, a forest boardwalk and the world's longest cable car that whisks visitors up to a mountain peak with views over the whole festival.
fujirock-eng.com
Celebration of Light
Vancouver, Canada
25 and 29 July, 1 August
China, Brazil and Canada will go head-to-head to see who can light up the night sky with the most brilliance and creativity at British Columbia's most famous annual event – and the longest-running offshore fireworks festival in the world.
hondacelebrationoflight.com
Maine Lobster Festival
Rockland, Maine, USA
29 July – 2 August
Lobster is to Maine as steak is to Argentina, and the locals take it just as seriously. Sporting a county fair atmosphere and some serious crustacean cuisine, festival visitors can take in local bands, watch lobster crate races and peruse arts and crafts tents to find paintings, handwoven baskets, coral jewellery or driftwood art to take home. Of course no one can leave without tucking into a boiled, whole fresh lobster followed by a hearty helping of blueberry pie.
mainelobsterfestival.com
For more recent events coming up in June, visit our previous events calendar.