';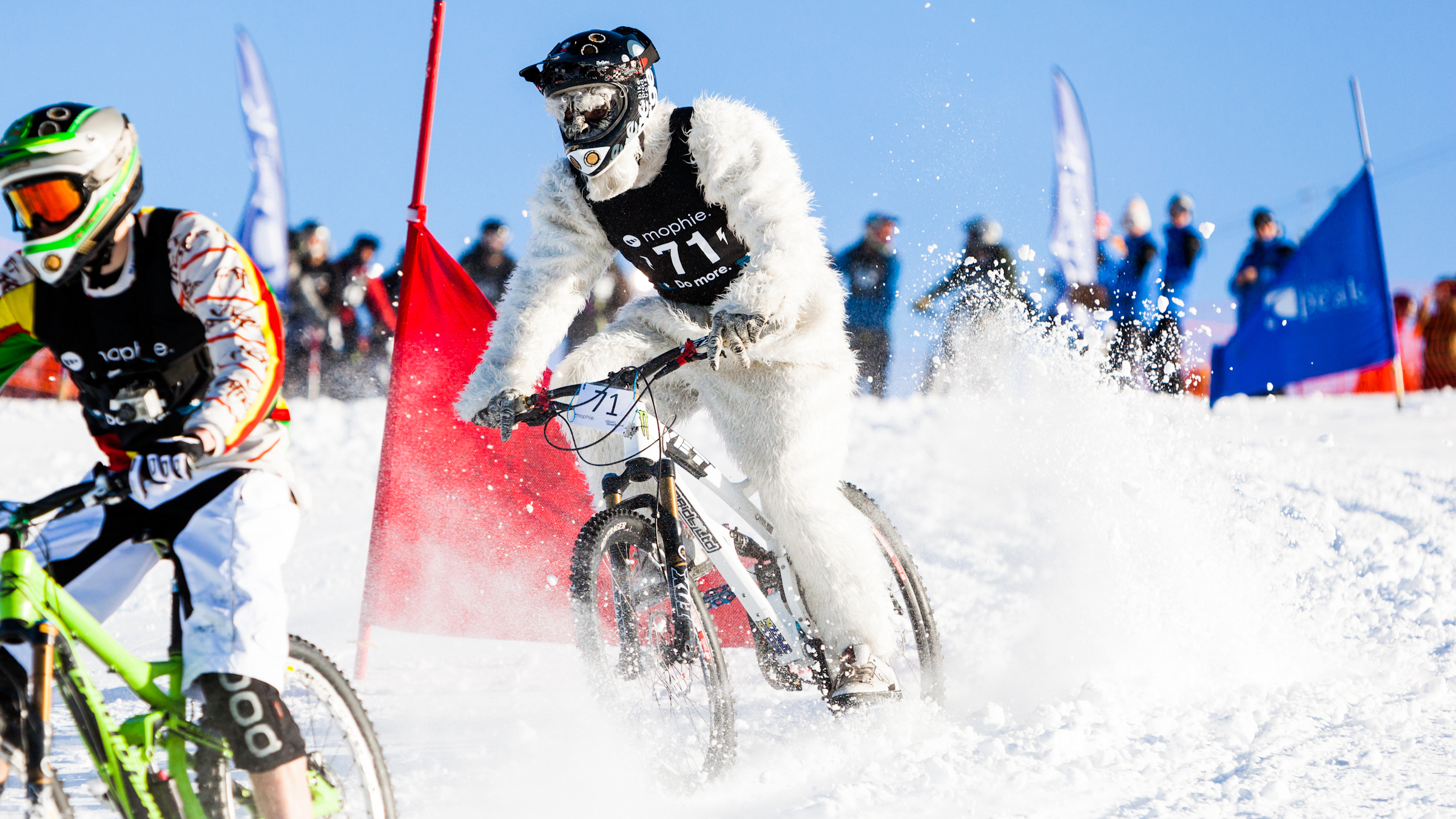 ;
The Northern Hemisphere heats up with a rockin' roster of open-air music festivals, while weird and wonderful winter antics abound south of the equator. These are our top picks for can't-miss events in the coming months.
Sydney Comedy Festival
Sydney, Australia
20 April – 17 May
Kings and queens of comedy come from far and wide to offer their best quips on stages across the city, running the gamut from satire to improv, absurdist, magic and kid-friendly shows.
sydneycomedyfestival.com
Beale Street Music Festival
Memphis, Tennessee, USA
1 – 3 May
The former haunt of blues legends like Louis Armstrong and B.B. King, Beale Street is steeped in American music history — a fitting background for a star-studded jamfest that doesn't just play the blues, but invites fans of rock, rap, metal, indie, bluegrass and country to partake, too. Attracting an eclectic crowd this year, headliners include Paramore, Hozier, Lenny Kravitz, The Avett Brothers and John Fogerty. Stick around afterwards for the rest of parent event Memphis in May, complete with a barbecue festival and Polish cultural celebration.
memphisinmay.org
Cinco de Mayo
Puebla, Mexico
5 – 30 May
Contrary to popular belief, Cinco de Mayo isn't exactly the Mexican Independence Day. It's actually the day on which, in 1862, the Mexican army somewhat miraculously defeated French invading forces in the city of Puebla — where nowadays, the win is celebrated with an impressive military parade. After 5 May, Puebla keeps the party going with a full programme of cultural events, from dance performances to concerts, plus a family-friendly carnival atmosphere at the Puebla State Fair.
5demayopuebla.mx
Venice Biennale
Venice, Italy
9 May – 22 November
It's that time again: every other year, one of the world's most beautiful cities becomes its most expressive. Palaces, churches, galleries and museums join the Biennale's two grand venues (the Giardini and Arsenale) in displaying contemporary art of all shapes, sizes and genres. This year's theme, 'All the World's Futures', is curated by Nigerian art historian Okwui Enwezor.
labiennale.org
Ballymaloe LitFest of Food and Wine
East Cork, Ireland
15 – 17 May
Join the likes of David Lebovitz and Alice Waters for an edifying (and edible) look at food and wine. Panel discussions and talks by culinary insiders combine with music, dancing and feasting across three days.
litfest.ie
Hay Festival
Hay-On-Wye, Wales
21 – 31 May
Bill Clinton once called it "the Woodstock of the mind" — and it's easy to see why. Thousands of knowledge-thirsty thinkers converge in the Welsh countryside to drink up the written and spoken word in this celebration of ideas and storytelling. Whether listening to respected writers, journalists, scientists and comedians share their art, or simply lying in a meadow enjoying a page-turner, festival-goers will get their fill.
hayfestival.com
Festival Jazz à Saint-Germain-des-Prés Paris
Paris, France
21 May – 1 June
Now in its 15th iteration, this festival invites Parisians and passers-through to the city's historically existentialist quarter (the stomping grounds of Simone de Beauvoir and Jean-Paul Sartre) for some smooth saxophone sounds. The programme sees performers grooving in venues both indoors and on the streets, with 'jazz chats', master classes and social events rounding out the experience.
festivaljazzsaintgermainparis.com
Montreal Go Vélo
Montreal, Canada
24 – 31 May
The bicycle is the urbanite's new best friend – and the city of Montreal is out to prove it. Temporarily car-free, the city streets become a playground for pedal-power, as well as the perfect venue for events like Bike-to-Work Week and Tour la Nuit, when costumed cyclists take in the beauty of Montreal by night.
veloquebec.info
Cooper's Hill Cheese-Rolling Competition
Brockworth, England
25 May
Is it daring? Dangerous? A waste of perfectly good cheese? For some reason, every year since anyone can remember, several dauntless competitors have hurled an 8-pound wheel of cheese — and then themselves — down a steep country hill. He (or she) whose body reaches the bottom first, wins bragging rights and a massive wheel of cheese. Unsurprisingly injuries are common (even among the spectators), so if you decide to attend, just be sure to stay out of the whey — pun intended.
cheese-rolling.co.uk
Uluru Camel Cup
Yulara, Australia
29 – 30 May
If you thought the Uluru rock formation was a spectacular sight to see, just wait until you spot locals straddling camels and racing around the Outback. The festivities kick off with a "boot-scooting" party and bet-placing, followed by a full pogramme of events surrounding the races, from helicopter tours to a fashion competition and games for the kids. Concluding this homegrown blow-out is a gala ball Outback-style: under the stars with a BBQ dinner and a dance floor of red desert dirt.
ulurucamelcup.com.au
Bottle Rock
Napa Valley, California, USA
29 – 31 May
Think: too-cool-for-school music festival, but minus the sweaty masses and plus the idyllic surroundings of California's premier wine country. No Doubt will be there, as will Snoop Dogg, Imagine Dragons and Gipsy Kings, not to mention all the first-class wine and foodie delights that made the region famous in the first place.
bottlerocknapavalley.com
Field Day
London, England
6 – 7 June
Though relatively new on the scene, Field Day has secured itself a place among the top must-do music events in London with an eclectic lineup that stretches from big banner names to folk musicians. Come for the music, stay for the good eats by Street Feast and the fun and games in the Village Mentality area.
fielddayfestivals.com
Sanno Matsuri
Tokyo, Japan
6 – 17 June
Celebrated for centuries, this cultural fete sees hundreds of participants, dressed in festive ancient costumes, parade through central Tokyo carrying shrines, drums and traditional instruments. Ikebana flower arrangements add a floral touch, while savouring Japanese tea in the Hie-jinja shrine garden provides a taste of tradition.
jnto.go.jp
Midnight Sun Film Festival
Sodankylä, Finland
10 – 14 June
During these five days in northern Finland, the sun never quits. And neither do the film screenings. Contemporary movies are presented along with classics from the silver screen, many accompanied by commentary from film theory experts.
msfilmfestival.fi
Taormina Film Festival
Taormina, Italy
12 – 20 June
Eat your heart out, Cannes. Sicilian resort town Taormina does everyone else's film festivals one better, by hosting screenings in an ancient Greek amphitheatre overlooking the sea. Film premieres are complemented by Hollywood-style cocktail galas, but for those whose party invitations get lost in the mail, there's plenty of delight to be had in strolling Taormina's medieval alleys.
taorminafilmfest.it
Dark MOFO
Hobart, Tasmania
12 – 22 June
As wintertime descends upon Hobart, the city's popular museum for subversive contemporary art gears up for the cold-weather version of its flagship MONA FOMA festival. Expect theatre performances, musical sets, light shows, screenings of classic films, and late-night openings of the MONA museum – all with a slightly twisted smirk. There may even be an early morning nude swim (don't say we didn't warn you).
darkmofo.net.au
Bali Arts Festival
Bali, Indonesia
13 June – 11 July
It's tempting to roast in the sun all day sipping cocktails, but visitors to Bali during June and July will want to venture further from shore to take in this cultural celebration. Showcasing the old (think: traditional dance dramas, musical performances, handicraft-making) along with the new (documentary films, photography workshops, displays of the culinary arts), the festival hopes to impart the true spirit of Bali.
indonesia.travel
Sónar Festival
Barcelona, Spain
18 – 20 June
Not just an electronic music festival, but an exploration of the genre itself. Part film festival, part trade fair, part family event and part full-on dance party, the event mixes a lineup of established and emerging music artists with a well-rounded programme that caters to any electro-fan, no matter the age or interest.
sonar.es
Redpath Waterfront Festival
Toronto, Canada
19 – 21 June
Toronto's waterfront comes to life each summer for a family-friendly surf-and-turf festival. Two kilometres of waterfront real estate are converted into fair grounds featuring everything from live music to flyboarding, beach BBQs, folklore storytelling, and laser-and-light shows. Add in the promenade parties, wine and beer tastings – even diving competitions for the family dog – and there's something for quite literally everyone.
towaterfrontfest.com
Queenstown Winter Festival
Queenstown, New Zealand
19 – 28 June
Take a winter wonderland, then add a dash of athleticism and a heavy helping of fun-loving Kiwi spirit: that's Queenstown's Winter Festival. Jumpstarting with a free party and fireworks display, the ten-day affair hosts events both sporty (ice hockey, Frisbee golf, mountain-biking on snow) and social (jazz nights, comedy shows, a lakeside Mardi Gras party) alongside some weird and wonderful spectacles, like a cross-dressing "drag race" and Mountain Mayhem, in which participants skid down a snowy hill on suitcases.
winterfestival.co.nz
Big Five Marathon
Nkangala, South Africa
20 June
Berlin, New York, London, Paris — been there, ran that. Marathon enthusiasts looking to put a little wild in their stride could consider the Big Five Marathon, held annually on an untamed African savannah. Race through the habitat of the famous 'Big Five', with the opportunity to view elephants, buffalo, rhino, leopards and even a lion or two as you head for the finish line.
big-five-marathon.com
Boi Bumba
Parintins, Brazil
26 – 29 June
Deep in the hear of the Amazon lies an island town that can only be reached by a river boat journey, and a rather long one at that. Yet each year thousands of curious travellers make the trek to watch locals put on the show of the century. Separated into two competing troupes, they tell an ancient story of love through a grand display of pageantry involving intricate costumes, over-the-top props, massive parade floats and expertly choreographed singing and dancing – all produced with what seems to be the budget of a Hollywood blockbuster. The performances are followed by eating, drinking, dancing and general revelry for days, from which, due to the city's isolation, there is no escape. But would you really want to leave?
boibumba.com
Haro Wine Festival
Haro, Spain
28 – 30 June
All you need for this festival is a white shirt, a red scarf, a leather wine satchel called a 'bota bag', and a sense of adventure. The wine is your ammunition, the wine-squirting bota bag your weapon — ready, aim, fire! Every festival-goer is a happy target here, where about 50,000 litres of Riojan wine rain down on crowds of merrymakers all day long. The wine battle is followed by some non-deadly bull-fighting between local youngsters and a heifer or two, with the day ending by bonfire light and a hearty meal.
wine-fight.com
What size events do you prefer to visit?