';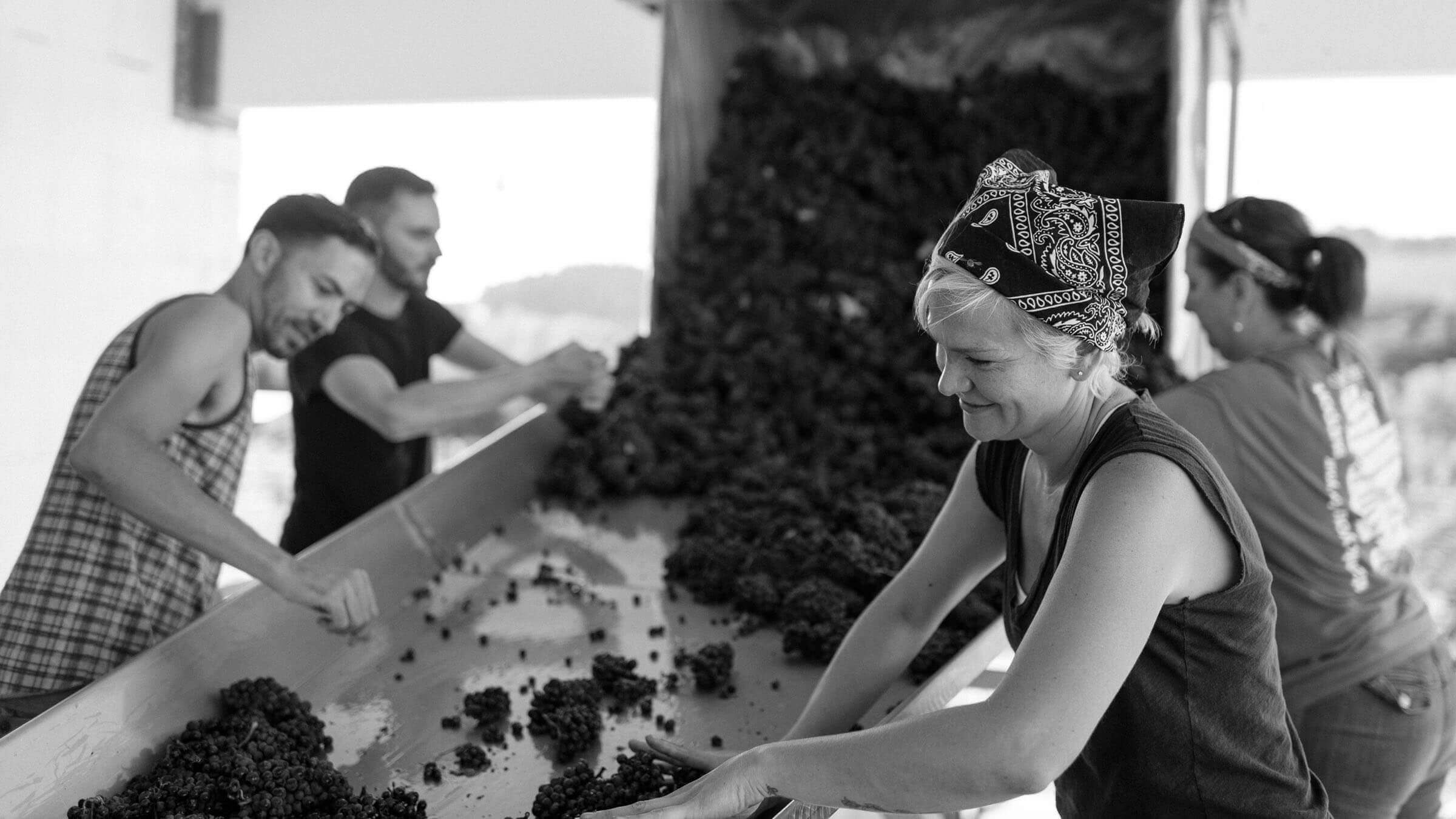 ;
Getting up at the crack of dawn, tending to the vineyards, the cellar, distributors, importers, guests and lots of spreadsheets – the job of a winemaker is demanding, and certainly one that extends far beyond the usual 9 to 5. It's a way of life, according to these winemakers. They may come from different corners of the globe, but there's one thing that drives them all: a passion for what goes into the bottle, for you to enjoy.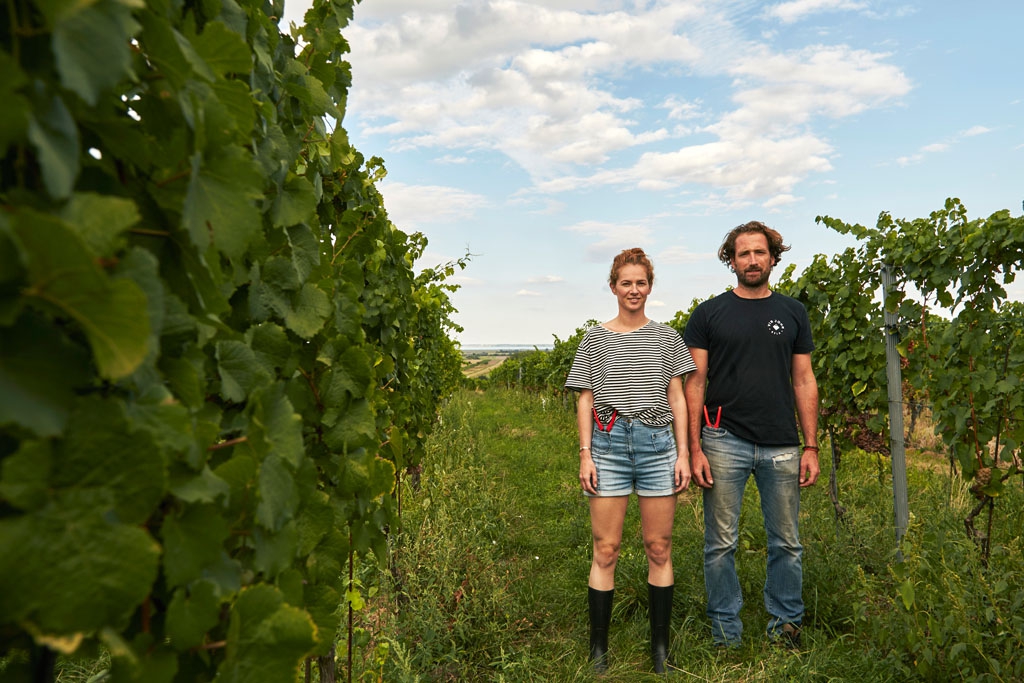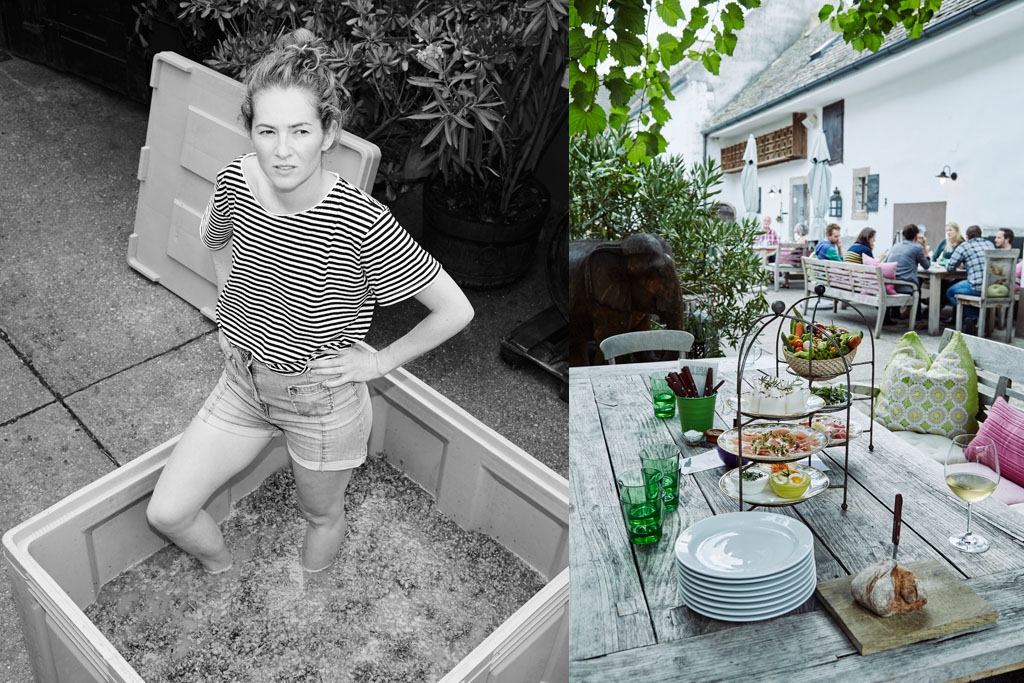 Eduard & Stephanie Tscheppe-Eselböck – Gut Oggau
The wines of Gut Oggau, a company in the state of Burgenland, Austria, have personality. Literally. When owners Eduard and Stephanie Tcheppe-Eselböck had their first wines in the cellar in 2007, they realised their biodynamic approach in the vineyard and cellar led to various wines that, to them, were each unique in character. "They were full of stories to tell, and had surprising attitudes," the couple says. This led them to ask an artist to create a fictional family tree, with every wine as a different member who possesses personality traits both noble and quirky.
Now this family, with grandparents Mechtild and Bertholdi at the helm, has become an inseparable part of their winery. But labels are obviously not what's most distinctive about Gut Oggau. From their early years, when they had the chance to take over the old domain, they've steered their own course with a purely natural, biodynamic (and Demeter-certified) approach. The couple was certainly not new to wine: Stephanie's family has a Michelin-starred restaurant in the area, and Eduard comes from a winemakers' family in the south of Styria, where they made wine in a more conventional way. "We wanted to go for the deepest expression of the soil and the terroir, so we chose the biodynamic approach, at that time mainly quality-driven. It was also the way for us to keep up with the old vines, with no exploitation of the soil or plants, but the means to find a balance. With the natural wine approach we wanted to express that particular terroir unchanged, unmasked and unfiltered, knowing that the wines would have their edges and different moods according to the vintages."
With the natural wine approach we wanted to express that particular terroir unchanged, unmasked and unfiltered, knowing that the wines would have their edges and different moods according to the vintages.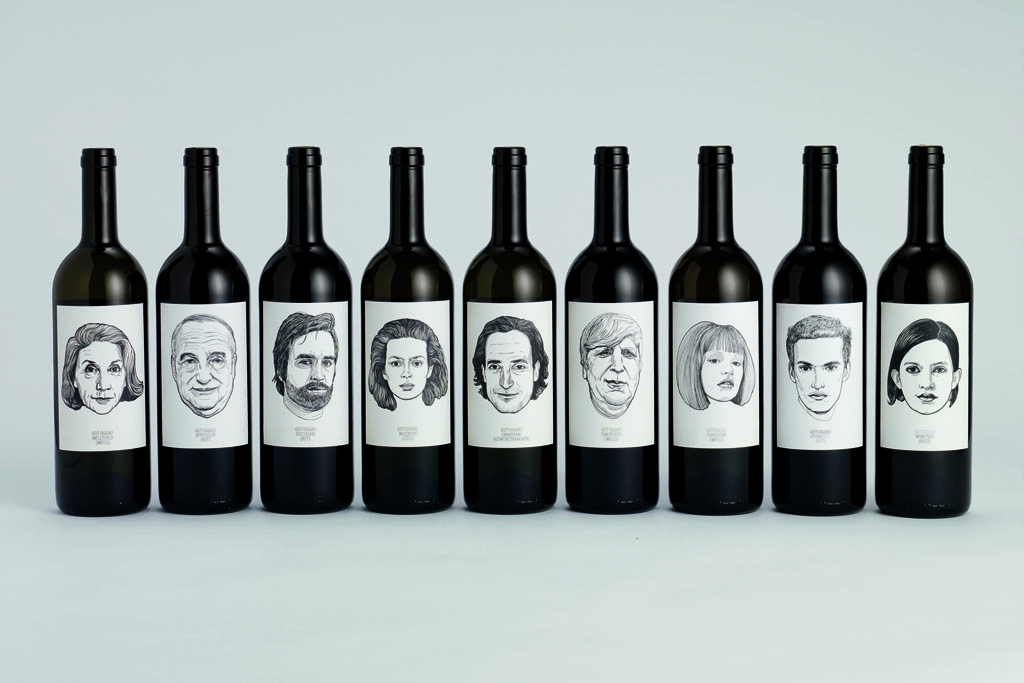 The beginnings were rather tough, they admit. "We were one of the first to uncompromisingly go that way at a time when nobody was into these wines yet. Still, we continued our adventurous journey, not losing track, which has proven us right today. There was no strategy behind it, just the belief that what we were doing would be the best for our vineyards, for the soil and ourselves as well as for future generations."
Working like this requires a lot of effort, where no day is the same. "But that is what makes life so exciting," the couple says. In the busy days of summer they start in the vineyard at 5 in the morning as it gets too hot in the afternoon. Then, they might be busy in the cellar, or lend a hand at their Heuriger (a simple Austrian winery tavern serving cold food like cold cuts and cheeses, which is only allowed to be open certain months of the year). Stephanie and Eduard say they don't want to grow too much, as they want to be wherever, whenever they are needed. "We have reliable people we can delegate any work to, but we feel too close to the vines to delegate. We just enjoy our lives too much, no matter the challenges we come across."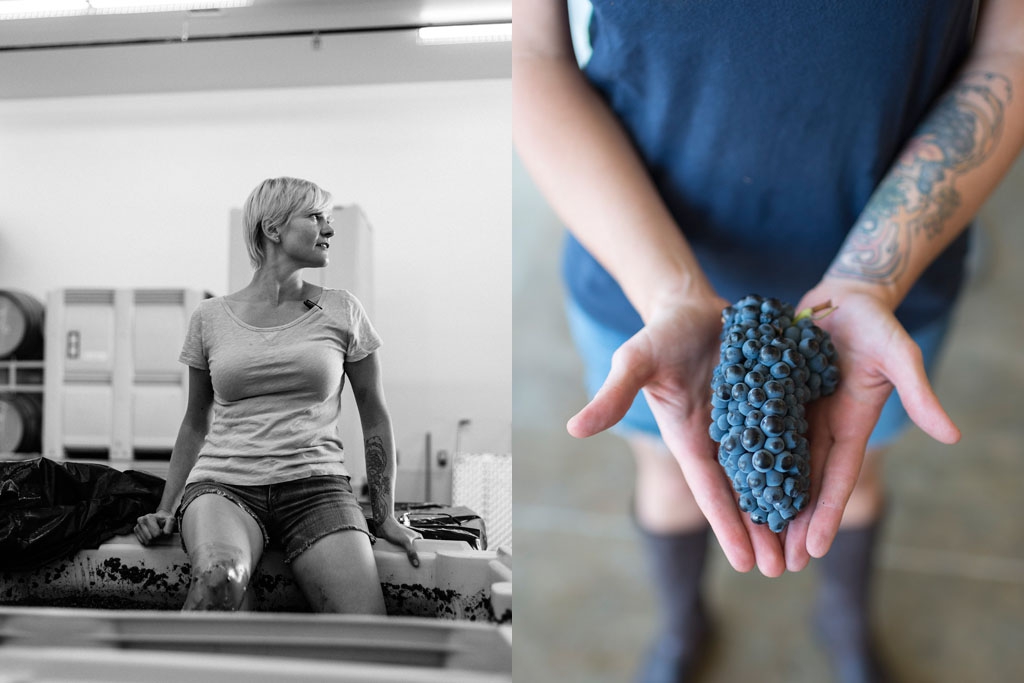 Brianne Day – Day Wines
You could say that it was a tattoo of a grapevine that propelled Brianne Day to the position she is in now. In 2012, she was working four different jobs to pay for the production of her first wine, and one of these jobs was at a restaurant in Portland, Oregon. A guest she was waiting on asked her about the ink on her arm, and she told him her story. "Each time I returned to their table, they asked more questions about my plans, and the future. Finally the gentleman said to me: "We're going to back you". This was the beginning of Day Wines, a winery in Oregon now producing 18 different single-vineyard wines from organically grown grapes, purchased from local growers.
Growing up in the suburbs of Portland, Brianne had always been attracted to the vineyards nearby and took drives there as soon as she had her license. But it wasn't until she travelled to Italy as an 18-year-old that she really caught the wine bug. She tasted wine in a little village on Lake Como. "I felt moved," she recalls. "It was 'real' wine, wine that had character and a sense of place." As she travelled around the country, she noticed how every village had its own particular style and type of wine. "Wine was part of people's cultural heritage and it was a way for people to define themselves. This was so different from how I grew up." Day went home with 18 bottles in her backpack, and a newly-found passion.
In her early twenties, a two-year trip around the world to wine producing regions, deepened Brianne's wine interest. "I met with winemakers and sommeliers and worked on vineyards, and I discovered the kind of wine that made me the most happy – wine made with organic fruit and with naturally occurring fermentation."
I discovered the kind of wine that made me the most happy – wine made with organic fruit and with naturally occurring fermentation.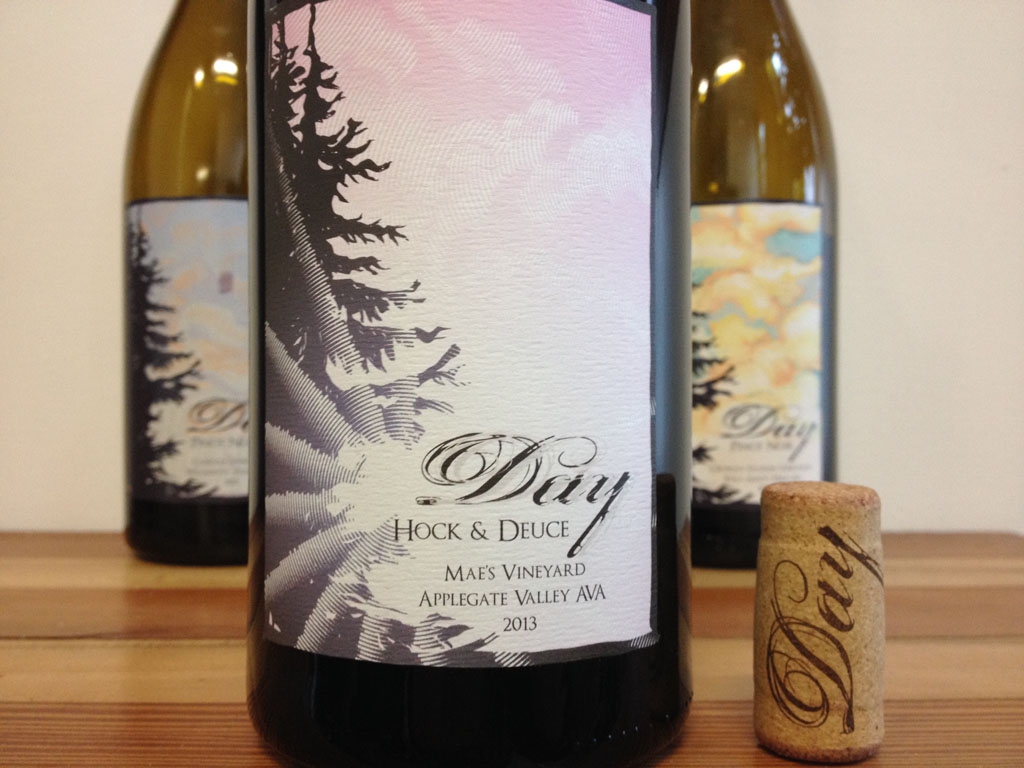 After years of working for different winemakers in Oregon, Burgundy, France, New Zealand, and Mendoza, Argentina, and trying her hand in other aspects of the wine industry, like retail, Brianne bought her first two tons of Pinot Noir in 2012. Now, backed by her investors, she has her own production space in Oregon's Dundee Hills, with a barrel room and tasting room in progress. She buys fruit from (organic) growers she trusts well. Nine other small winemakers also make wine in her building – all smaller producers who aim at creating wines with minimal intervention.
There's a real sense of community among these winemakers, Brianne says. "Everyone in my building wants everyone else to succeed. We all lend each other a hand with the basic grunt work, taste each other's wines, and give feedback. We also offer a ton of moral support." Young winemakers in the state are thinking creatively, according to Brianne. "We think of ways Oregon wine can be different and better. We look beyond the common varieties Pinot Noir and Pinot Gris. We experiment with different styles, such as a sparkling red, Lambrusco-style wine."
Brianne's working weeks are extremely varied, as she does everything from making wine, to handling licences, to meeting growers, distributors and customers. A lot of fun and crazy hours, but she admits it would be nice to slow down the pace a bit. "In five years I hope that I have a successful wine business with a tasting room, and I would like to continue to provide cutting-edge producers with a great place to make wine. I hope to have full-time employees by then, so I can limit my work to just 50 hours a week."
[Photos: Easton Richmond; Bottles: Candid Wines]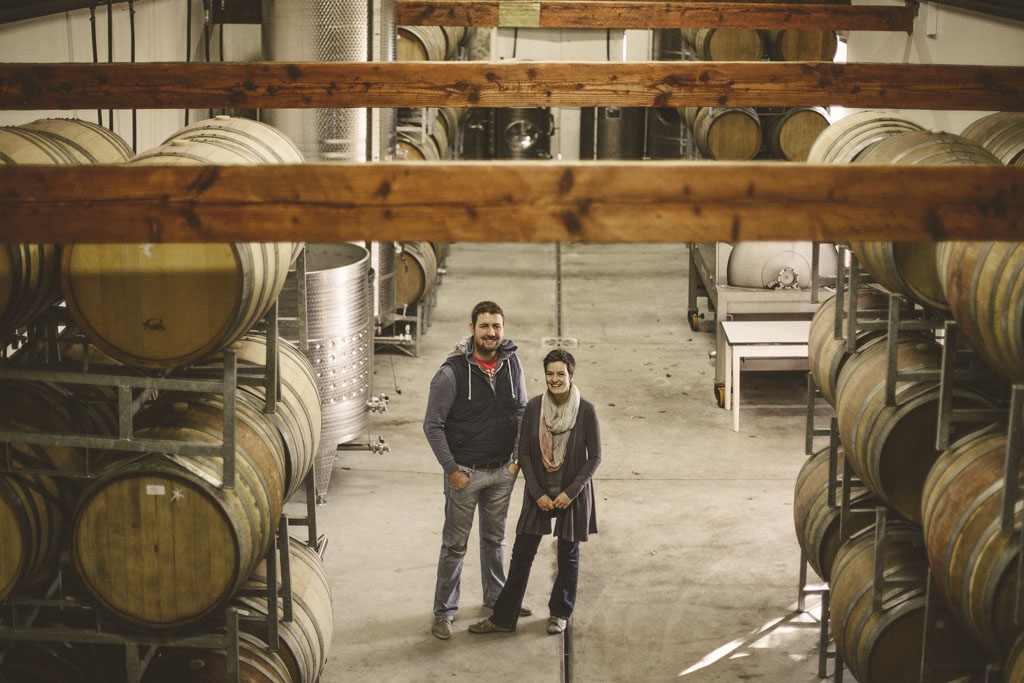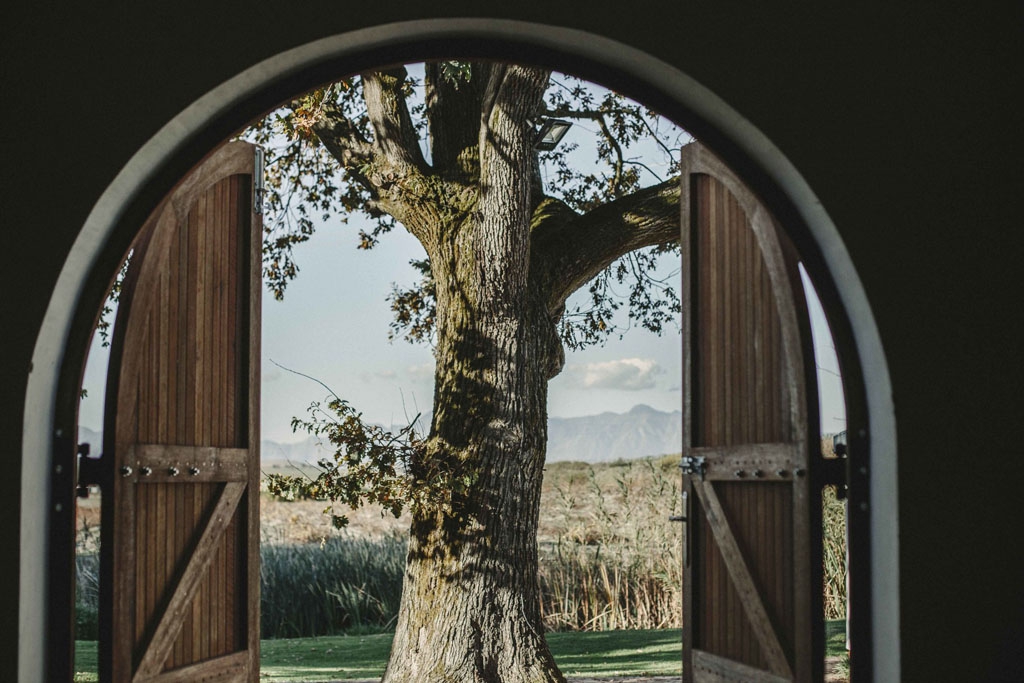 David and Nadia Sadie – David & Nadia, Wine of Origin Swartland
David Sadie never really envisioned becoming a winemaker, what he really wanted to do was to play rugby in Stellenbosch. He thought of studying architecture, but that meant moving to Cape Town, and not playing rugby in Stellenbosch. He then chose to pursue another passion, wine, and studied Viticulture and Oenology (winemaking), at Stellenbosch University. Nadia wanted to study Conservation Ecology and switched last-minute to a bachelor's in Agriculture, with Viticulture and Soil Science. It turned out to be a wise move for the both of them, since they became hooked on making wine, and on each other.
The couple now runs a small winery in the Swartland, the region where David originally is from, under the straightforward name 'David & Nadia'. To them, "wine is all about natural balance, purity and freshness." They believe in a natural approach, without the use of commercial yeasts, enzymes or high sulphur levels. Barrel fermentation is used for all the wines, but always with barrels that are more than four years old. "That's one thing that we probably do very different from the older generation," David and Nadia explain. "We employ used oak barrels as mere vessels and don't want new wood to have a big influence on the wine, focusing on grape tannins as opposed to wood tannins, which can be overwhelming."
David and Nadia started out in 2010 with their first barrel of wine while still having other jobs, until they took a leap and rented a 220-year-old cellar, Paardebosch, on the farm of the same name. The cellar was fully restored in 2014, and they live nearby with their two sons. Half of the grapes for their wines come directly from the old vines in Paardebosch, the rest is from other farms. "We have good relationships with the growers and go to the vineyards as often as possible. They either work organically, or in a way that is respecting nature. All vineyards are situated in the Swartland, so it is easy to travel to them," Nadia says.
To do your own thing is very satisfactory. You can be creative with what has been dealt to you each season.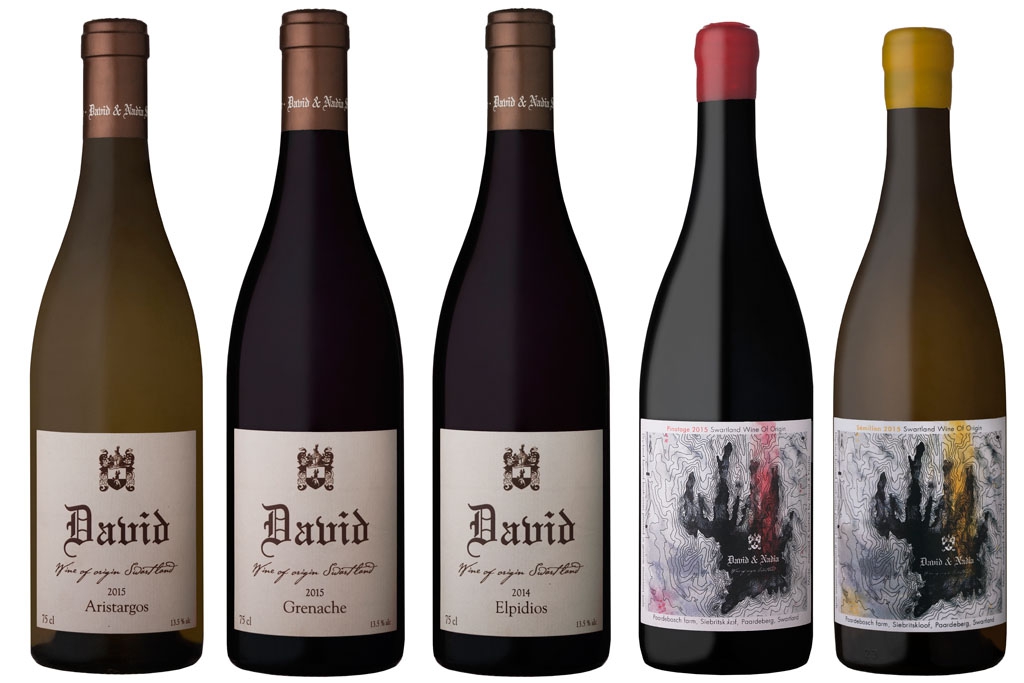 Swartland (about 50 kilometres from Cape Town) is an up-and-coming wine region, where other pioneering winemakers like David & Nadia are excited to discover its potential – experimenting with different techniques and styles. It's a hot region, with granite and shale soils, and many grapes grow here under dryland (no irrigation) conditions in small bush vines. These grapes are usually smaller with thicker skins, which ultimately results in less juice, but packed with flavour and intensity.
Before settling in Swartland, the couple travelled extensively to other wine regions, where David also worked for different wineries. "It opened our eyes in terms of the possibilities for great South African wine to be made in a more old world approach," they say. And that their South African wine is already pretty great, has already been affirmed by leading wine critics like Jancis Robinson and Tim Atkin.
The couple is happy to finally be working on their family project full time, even though they are still at the beginning. "To do your own thing is very satisfactory. You can be creative with what has been dealt to you each season. Also, it gives us an opportunity to travel across the world and call it work!"
Gut Oggau – gutoggau.com
Day Wines – daywines.com
David & Nadia – davidnadia.com
Article by Irene de Vette
It's inspiring to read of such remarkable wine stories and idyllic locations, does it make you dream of the good life abroad?