';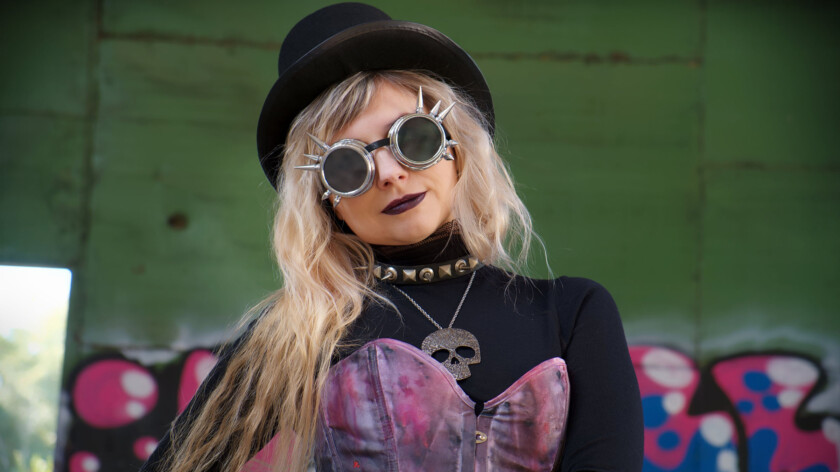 ;
Since March, the world has gotten used to the word 'lockdown'. Officially, it means businesses and establishments closing, people keeping their distance from others and, in some cases, being confined to their homes to avoid the spread of COVID-19. Unofficially, it has meant months away from the people we love, and from doing the things we love.
For millions across the globe, the universe of cosplay is one of those joys that has been cut short.
Keeping The Spirit Alive
Normally, Comic Cons (short for 'Comic Book Conventions') all over the world are filled with enthusiasts dressing and performing as their favourite pop culture characters, displaying their costuming and role-playing craft to fellow fans. Of course, this year physical conventions have either been postponed or cancelled, so how do you express this most extroverted of practices when everyone is confined to their homes?
As you might have imagined, the internet is playing its part. Lockdown has given rise to a worldwide boom in video conference calls, where services such as Skype and Zoom have brought people together for online events like games and virtual drinks – and it has been utilised by the cosplay community. For every cancelled convention, another event has popped up online – either created by the organisers of cancelled cons, or by those looking to offer an alternative for people who spent months creating their costumes, only to find themselves with nowhere to go.
Earlier this year, events like Cancellation Con and Chaotic Con attempted to fill the void, using virtual platforms to provide hang-outs and panels where cosplayers can show off their creations, share tips and talk about issues within the community – and salvage what was lost. Cancellation Con, for example, encouraged attendees to "let us know where you were planning on wearing your costume, and anything other details you'd like to share about it. We would like to recognise the lost cosplays of the coronavirus!"
For many, it's an opportunity to have the kind of social contact with fellow cosplayers that makes their interest so fulfilling. And it has opened doors for more fans to get in on the fun: even under normal circumstances, some cosplay fans may not have been able to travel and attend events due to budget or access issues, but an online platform gives people of all backgrounds and abilities a chance to share and celebrate.
Creative Quarantine Cosplay
The need for a cosplay alternative in these difficult times was even recognised in mainstream media recently, when US late-night host James Corden held a cosplay contest on his talk show. The theme centred on the TV series Doctor Who, and the judges were none other than two of the show's stars, David Tennant and Jodie Whittaker. Contestants and judges joined via video call, and the task was to create characters from the show using materials contestants had access to in lockdown.
By extension, social media has also become an outlet for those looking to display their costumes or connect with fellow enthusiasts. Many have even used their skills to lift spirits in these anxious times, like the cosplayers from fandoms such as Harry Potter, Star Wars and Marvel who became real-life heroes by reading bedtime stories to children via YouTube videos.
Of course, cosplayers – like everyone else – have had more time on their hands than ever, and many have used it to create amazing examples of what cosplay is all about. Take for instance 20-year-old actor and filmmaker Julian Bass, who won the attention of none other than Disney Chairman Bob Iger when he combined cosplay and visual effects to play several popular heroes in an impressive TikTok video. Iger posted "the world's going to know your name!" as Bass' video went viral.
Join The Virtual Cosplay Community
As restrictions loosen around the world, you might be wondering if there's still time to get involved in all the online fun? The answer is: absolutely! Conventions around the world are offering an online alternative for cosplayers, aiming to offer as close an experience as possible to their in-person events.
CoNZealand, 29 July – 2 August 2020
You have to feel sorry for science fiction fans in New Zealand: Wellington was voted to be the host city of the 78th World Science Fiction Convention this year. As it stands, NZ cosplayers won't be able to fulfil that role physically, but instead they're putting together a virtual event, including a Virtual Cosplay Masquerade. The online con will also feature Game of Thrones author George R. R. Martin serving as the convention's toastmaster.
Covcon UK Virtual Cosplay Event, 2 August 2020
One advantage of hosting conventions on the internet is that many newer or smaller Comic Cons have a chance to reach a global audience. Covcon UK, a relatively new annual event in the British city of Coventry, is hosting a free cosplay convention for all experience and ability levels. Once registered, fans can enter or simply watch the event online. In addition to the competition, there are also online panels with photography and cosplay experts sharing the benefit of their experience.
DC Fandome, 22 August 2020
Of course, the 'big boys' will be making their presence known as well! Comic book goliath DC has introduced Fandome, a 48-hour online event celebrating the best of the DC Universe and all its adventures. Part of the celebration will be a chance to show your fandom through art and through cosplay. There'll be cash prizes and strict criteria for entry, given that the best and brightest of the DC fandom will be looking to take part in the showcase!
Virtual Crunchyroll Expo 2020, 4-6 September 2020
"What's a convention without cosplay?" asks the website of Virtual Crunchyroll Expo 2020, the digitally hosted event celebrating the best in anime. The key cosplay element will take the form of the Crunchyroll Hime's Cosplay Cup, a competition showcasing the best anime-inspired costumes, with prizes awarded by an expert panel.
Comic-Con Africa, 24-27 September 2020
This South African Comic Con, like so many others, had to find an online solution after a physical event became impractical. The virtual event will take place at the end of September, and though the organisers have yet to reveal the full programme, they promise that "everything the Con would usually offer will still take place in exciting and unexpected ways." With such a committed mission statement, this is an event to keep an eye on.
For some fans, these digital events are no substitute for meeting up in person, wearing your favourite costume, and interacting live with people who are doing the same. But despite their limitations, such events provide a way for cosplayers to make the most of this unusual year, offering a vital outlet for those with a creative passion and a knack for resourcefulness – as well as a means of bringing people together to forget about the real world, just for while.
#staysafe #stayathome #selfisolation #selfisolationactivities #quarantine #lockdown #homesanctuary