';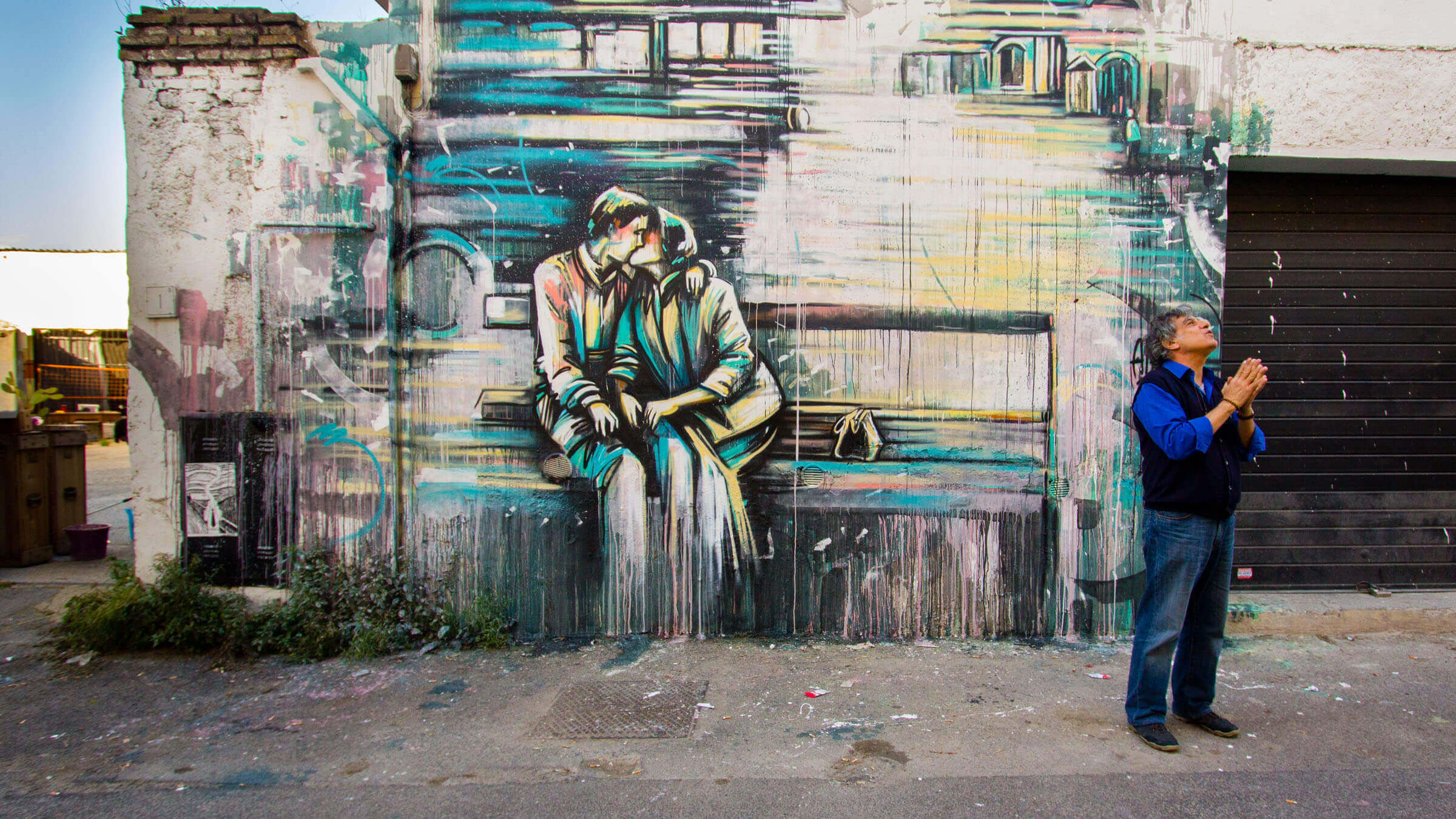 ;
What's an artwork without an audience? Without getting bogged down in philosophical discourse, let's just assume artists create their works to be seen by others. Thanks to these street art photographers, bloggers and supporters, street artists' audiences have been amplified from local onlookers simply passing by, to a large crowd of curious street art lovers worldwide.
Always on the lookout for new art showing up on the walls and surfaces of their cities, these spotters capture, exhibit and provide context for artworks before the pieces get altered or even destroyed. A great way to feel the pulse of these dynamic cities' street art scenes.
LONDON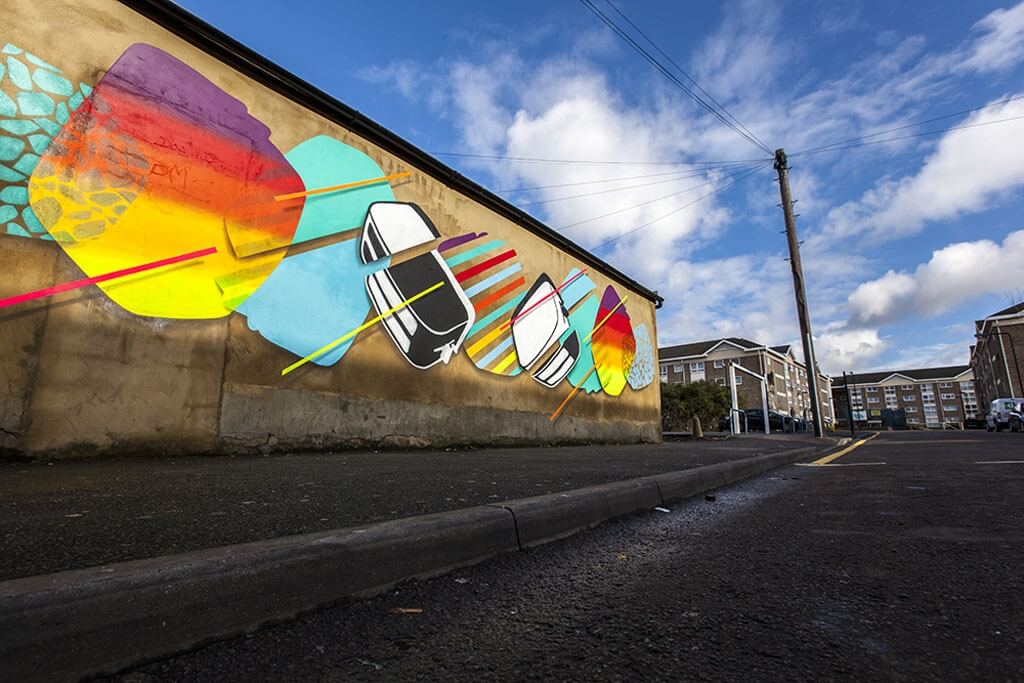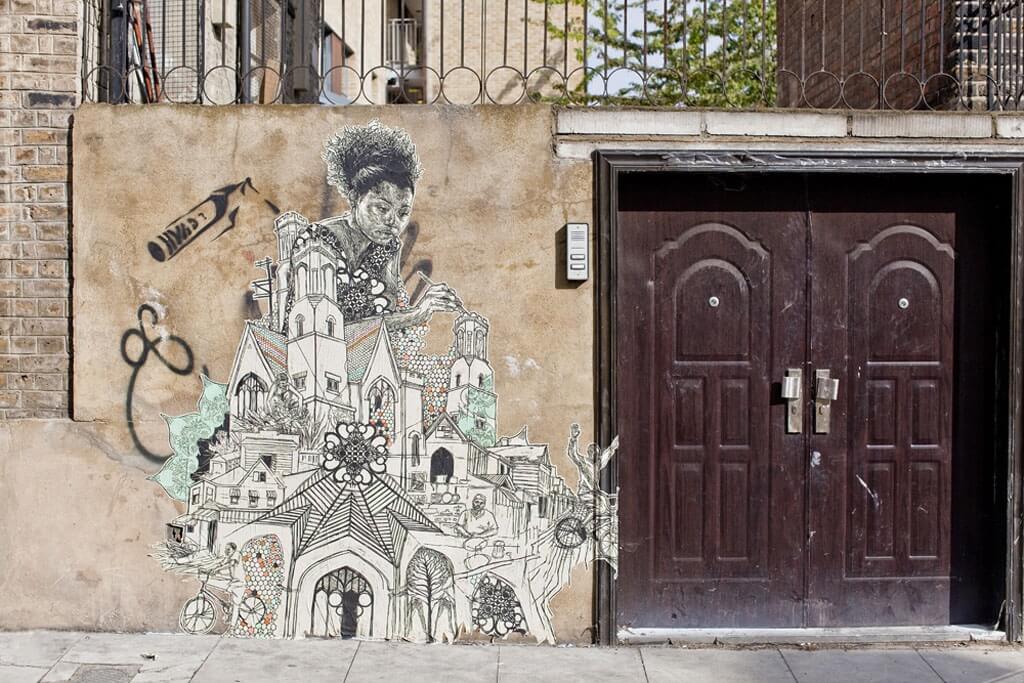 Mark Rigney started HookedBlog as a place to share photographs of the local London street art scene with others around the globe, but also as a place to post stories about the street artists themselves as well as the related exhibitions and events beginning to take place across the city.
"Shortly after I moved to London, I began to discover some amazing displays of creativity on the streets," says Rigney. "At that time, I had no idea who had created these artworks or why, but I did know that they brightened up my morning commute and I enjoyed finding them. I had stumbled upon this subculture, and I started to discover works plastered across walls, doors, lamp posts and street furniture. Once your eyes are open to it and you start to look around, you become hooked and the city never looks the same again – it became this huge outdoor gallery. It was due to the ephemeral nature of street art that I began to document what I was seeing around 2005. I took to the streets with my camera taking pictures before the artworks were removed by the city council, faded by the elements or covered over by illegal fly-posters."
"We are fortunate that London's location often makes it a gateway stop for many international street artists either en route to Europe or beyond. As a result, we see a never-ending stream of street artists from across the globe passing through the streets, adding their works to city walls, making for an interesting mix of unique styles and cultures."
"It's always tough to mention my favourite artists, but currently Os Gemeos, Swoon, Faile, Bast, Paul Insect, MOMO, Sickboy, Alexone and Invader feature on my list. I could go on, but where does one stop…. so much talent around!"

[Photo Category Teaser: C215, London; Above left: Toasters. Walthamstow, London; Above Right: Swoon. Ropley Street, London, ©Mark Rigney]
Follow HookedBlog on Instagram.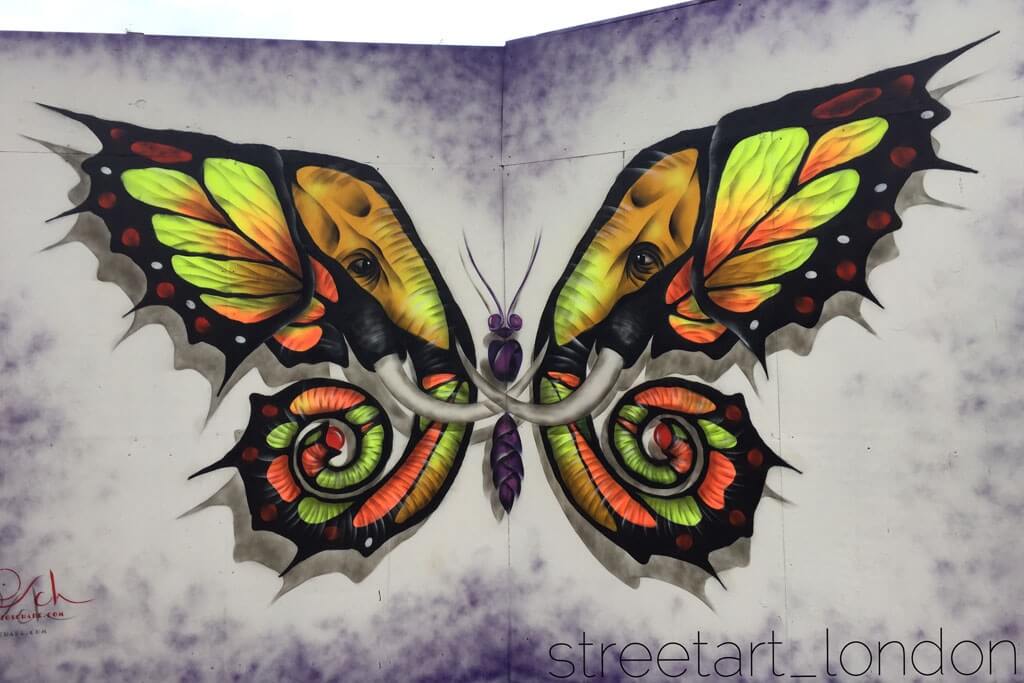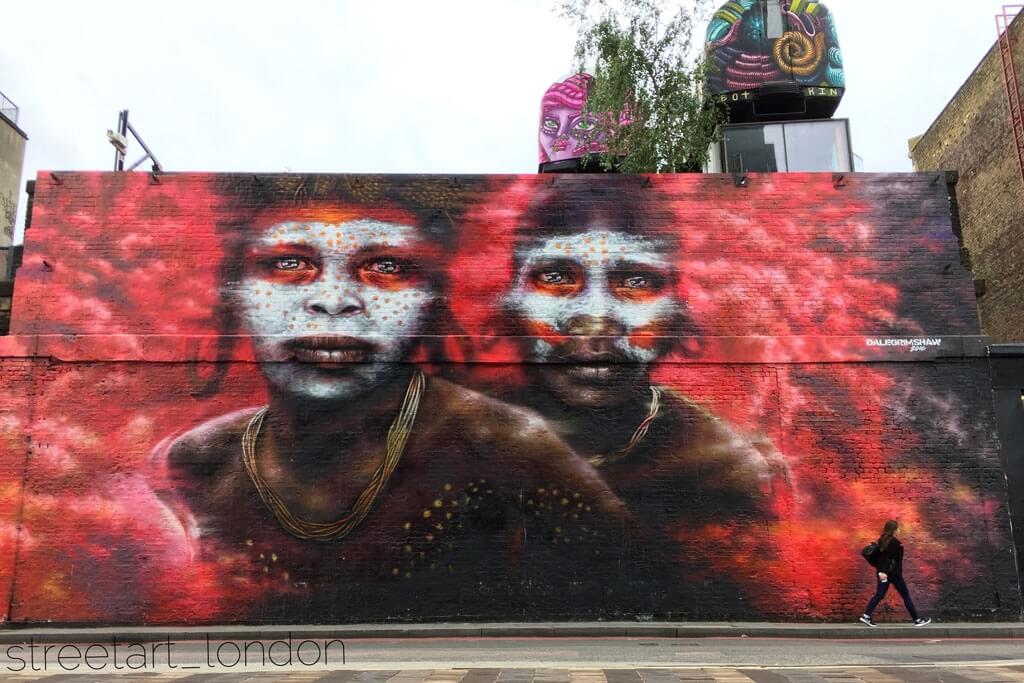 Meanwhile, on his Instagram streetart_london (with over 60,000 followers), George Giannopoulos posts his top artistic finds, citing a passion that emerged when he first moved from his hometown Athens to London and began exploring the streets of East London and Camden. "It became obvious that the city had a fast-paced emerging urban art community," he says. "The ephemeral nature of street art itself is the reason I got into capturing pictures of murals. By photographing a street art piece, you create a memory of something that might not exist the following day. This is what makes it so special."
"London is a major street art hub. The biggest names of the 'industry' – Banksy, Shepard Fairey, ROA, Invader, Ben Eine… the list is endless – have contributed over the years to making the great outdoors of London more colourful. A Sunday walk around the streets of Brick Lane is the best way to understand what street art really means to Londoners."
"However, London remains a highly regulated place compared to other metropolitan cities. The available spaces to paint are limited, as the local councils would not provide enough spots for artists to express themselves. In my mind, the best example of how street art can add value to the local community can be found in Wynwood, Miami. Through Wynwood Walls, an urban art festival, an abandoned area within Miami was transformed into one of the most vibrant art districts in the world. It would be fantastic to see projects like that take place in London Town."
As for his favourite street artists: "I would say Shok-1, ROA, Alexis Diaz or Conor Harrington."
[Photos: Above Left: Butterfly by Otto Schade in Brick Lane, London; Above Right: Men in red background by Dale Grimshaw in Shoreditch, London. Courtesy of streetart_london]
BERLIN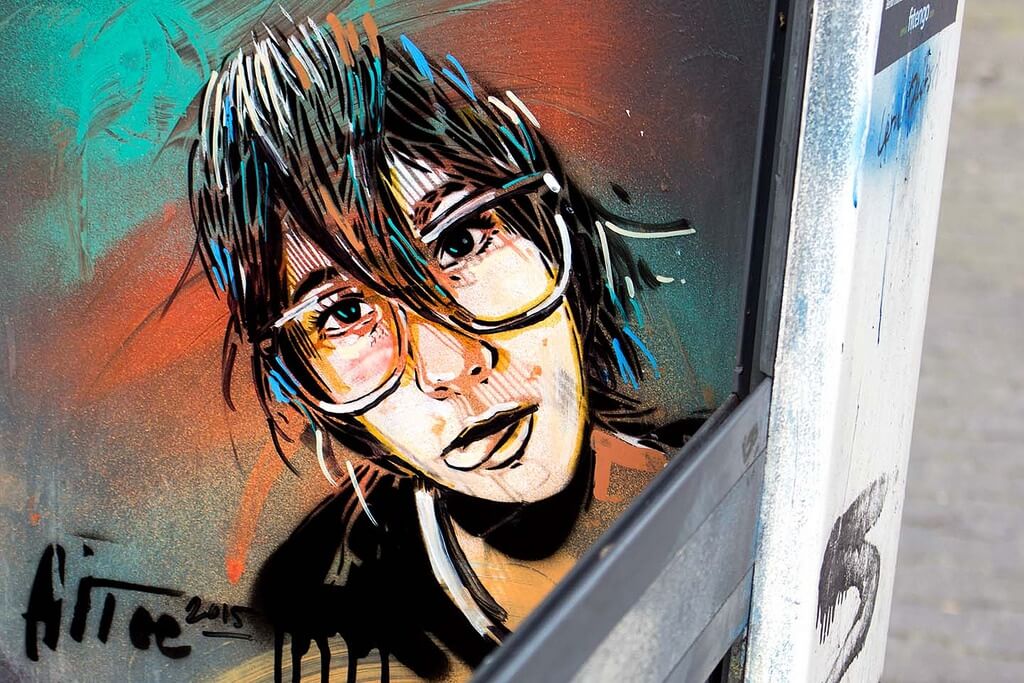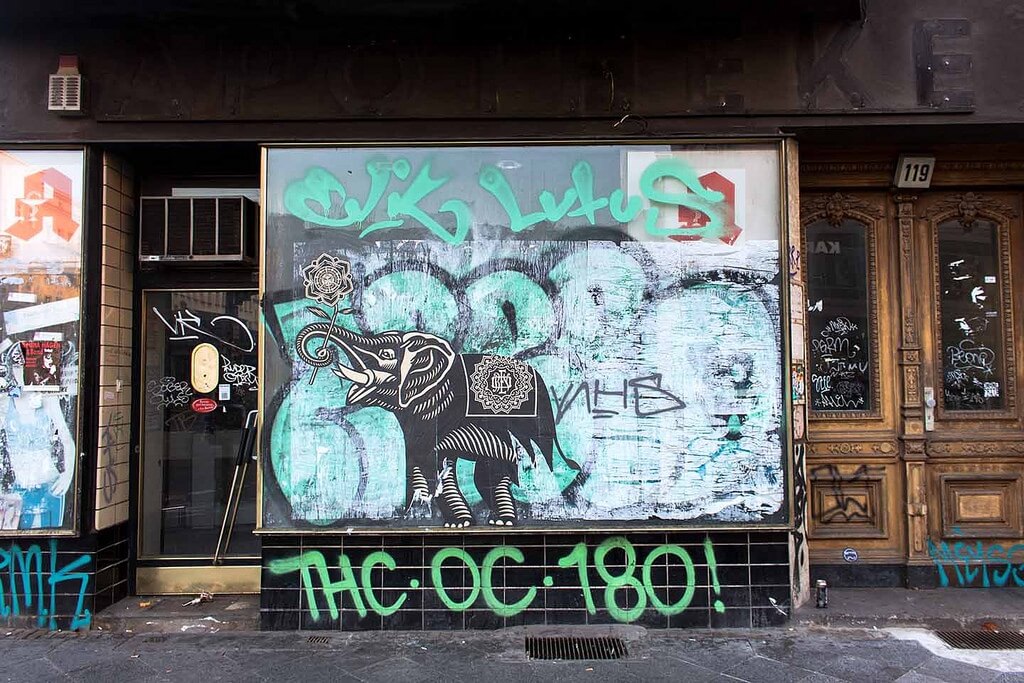 Diana Marossek is part of Street Art Berlin, a platform that supports the Berlin art scene in a non-commercial way, putting the emphasis back on the artists themselves. "We really support the artists and try to give correct and trustworthy background information to the people who love street art," she says. "The problem with street art is that people sell out of it, meaning they do photos of the artworks, put them on cups or pins and sell them to tourists – of course without giving anything to the artist. We don't think this is fair."
"The street art scene in Berlin has changed a lot in the last couple of years. Until about three years ago, it was big and growing. Big names from all over the world came here to paint, and the artists who were from here found their own style. But with the pressure of all the budget airline tourists, hundreds of new hostels and gentrification, such as in the areas around the Spree river, the big artists moved on to other cities. The best example is when a work of famous street artist BLU was painted over with black paint!
"Fortunately, we still have some amazing street artists working here and living here. For example Dave the Chimp, El Bocho, Various & Gould, The Weird, Sam Crew or Rabea Senftenberg. But I'd say the 'fat days' [the golden days] are gone!"
[Photos: Above Left: Alice Pasquini, Berlin, 2015; Above Right: Elephant by Shepard Fairey aka OBEY; Courtesy of David Henze/streetartbln.com]
PARIS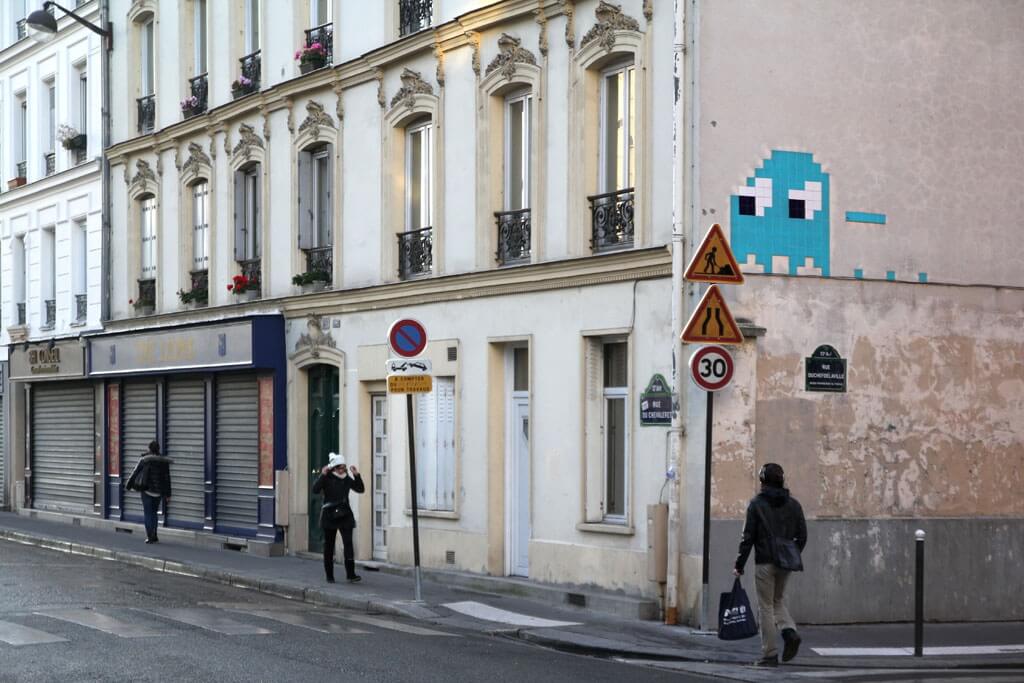 Streetartparis.fr was launched in 2012 to document – what else? – street art in Paris. But when a sizeable audience developed around the project, the visionaries behind the blog decided to share their knowledge by organising walking tours.
"Our love for art in the streets is an old affair," says Street Art Paris blogger Demian Smith. "It began around the late '90s in London. Tagging, seeing the names sprayed large in chrome and black around the city, the machismo, secrecy, danger, as well as the community and creativity were all attractive to youths and teenagers. Growing up in an urban landscape, breeding a taste for the hardness of the tag graffiti culture, meeting different sorts of people who are into artistic cultures outside of what you learn in school – a door opens to a wider spectrum of the layers of creativity in the streets, and the so-called street art culture: artists like Banksy, Shepard Fairey, D*Face, Invader, or Blek Le Rat."
"Street art in Paris is more alive now than ever. On top some of the best stencil artists in the world and a graffiti scene that keeps 'bombing' the city, almost every day new murals are painted by the biggest artists of the scene. Due to its increasing popularity, public institutions have begun to understand the cultural, social and economic potential of this art and decide to make it key in the development of the city's landscape. In this sense, the subversive and freely painted street art of the 2000s is giving way to public art, commissioned by the city councils to improve the environment for citizens' everyday lives. A major example of this evolution is the regime of large-scale mural painting taking place in Paris's 13th arrondissement by a huge number of world-class street artists."
"Among our favourites in general are the ancient and very simple stencils by Miss Tic, mainly around the Buttes-aux-Cailles in the 13th arrondissement; the colourful and strange four-eyed portrait paintings by another female artist, Kashink; and the poetic images of one of the earliest Parisian street artists, who began working in the 1980s around Belleville – the heart of the Paris graffiti-street art scene – Jerome Mesnager. And not to forget the ubiquitous mosaics of Invader."
[Photo Above: Invader, Paris, courtesy of Street Art Paris]
Follow streetartparis on Instagram.
NEW YORK CITY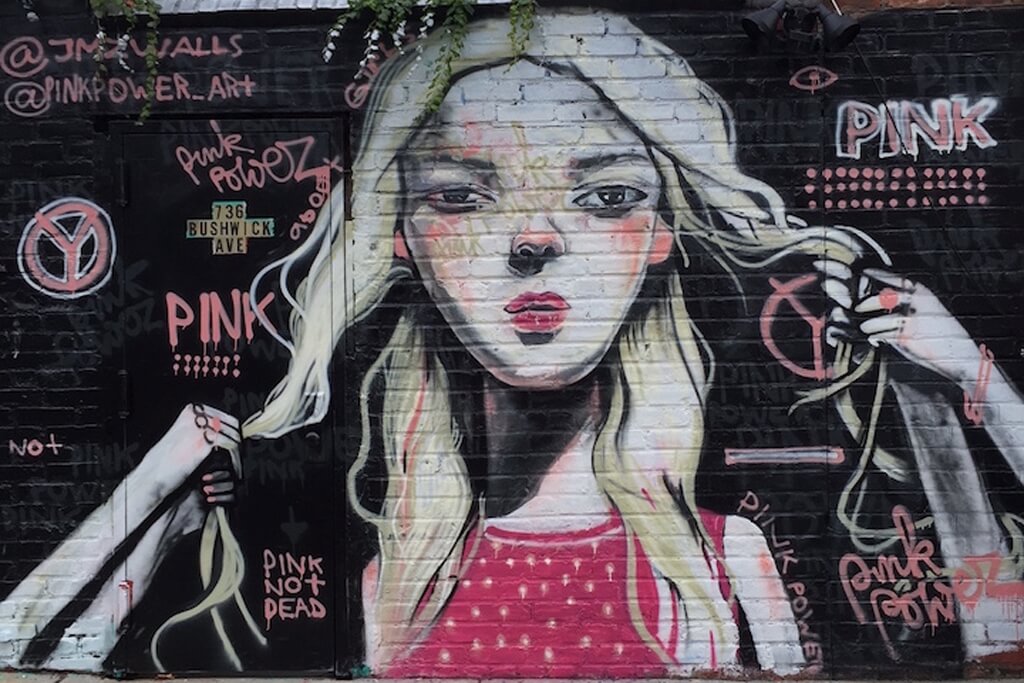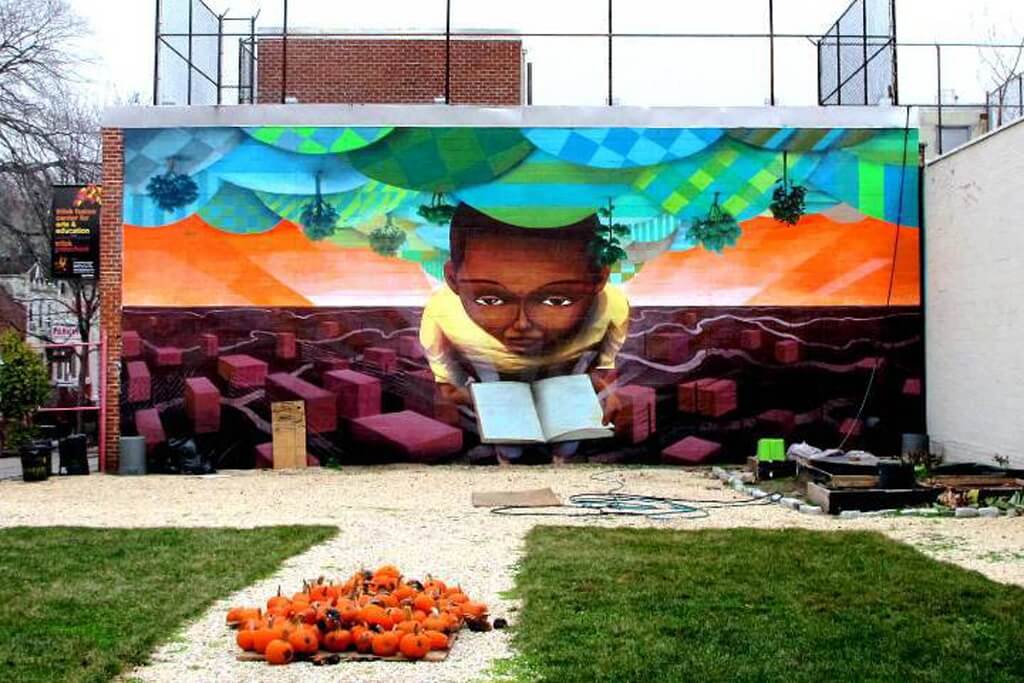 Lois Stavsky catalogues the street art scene in her hometown of New York on the blog Street Art NYC, as well as her app under the same name. "Almost a decade ago, I began to notice the images that surfaced in my city," she recalls. "Once they were part of my consciousness, the streets were never the same! They were filled with intrigue. And often an image that I loved would disappear too soon. By photographing it I could preserve – on some level – this ephemeral art form."
"The street art scene in NYC is quite eclectic, as artists from all over the world are eager to grace our streets with their talents and visions. The major change has been the shift from illegal work to sanctioned – and even commissioned – murals."
"Among my favourite artists who work in NYC are Swoon, Rubin415, Faile, Ron English and the Chilean artist Cekis."
[Photos: Above Left: Pink Power, Hula, Brooklyn, NYC; Above Right: Cekis, Clinton Hill, NYC, courtesy of Lois Stavsky]
MELBOURNE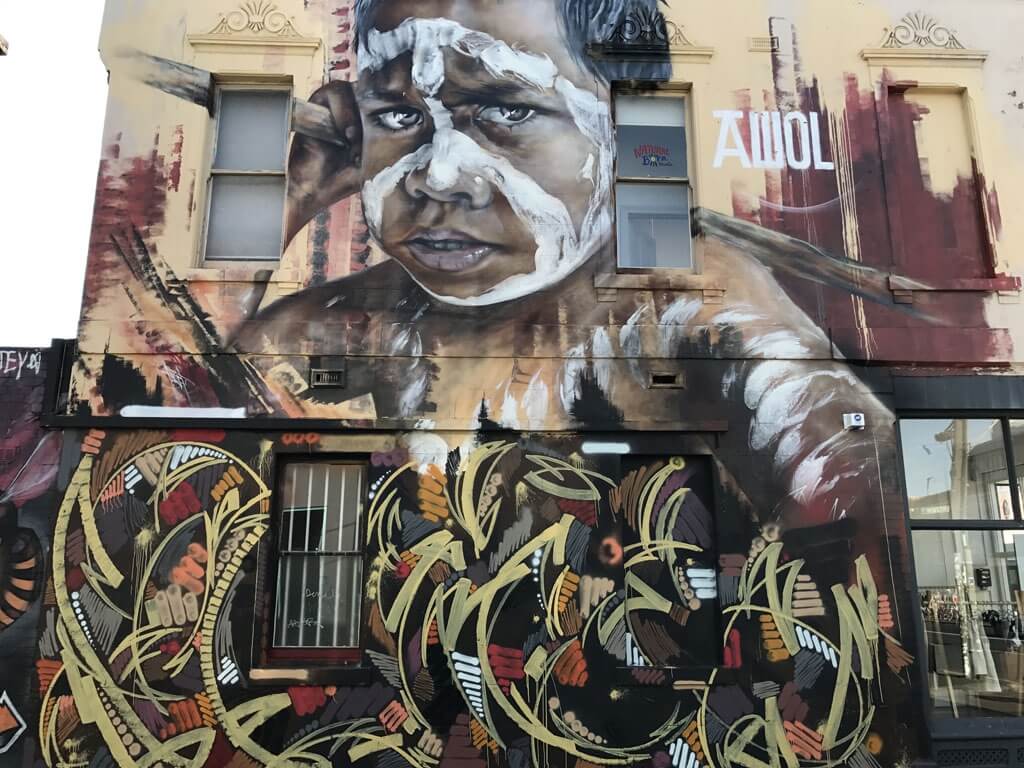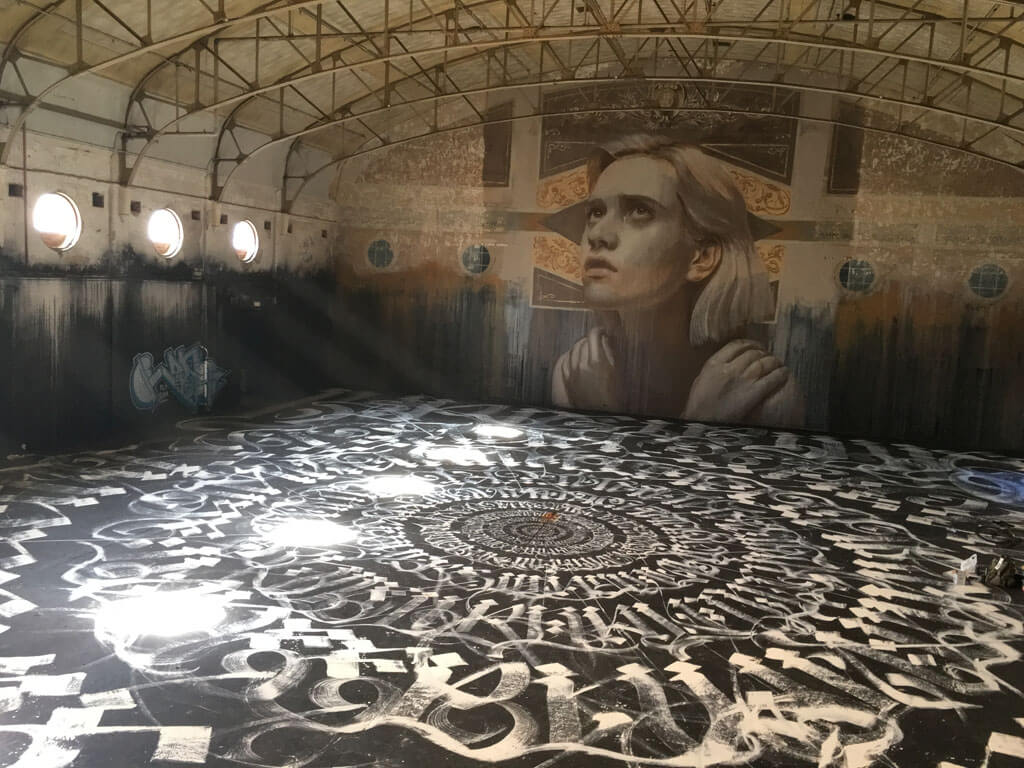 Dean Sunshine is the blogger behind Land Of Sunshine, documenting street art in Melbourne and around Australia – a project he fell into after discovering his eye for cool art and knack for photography. "I used to drive all over town for work and take photos of graffiti and street art I had noticed and liked," he remembers. "My partner said I was crazy, as I had thousands of images on a hard drive that no one could see or appreciate, and I should start a blog – Land of Sunshine was born back in 2010."
"Melbourne's scene started with the graffiti movement, which spread via the documentary Style Wars in the '80s. Melbourne was fortunate enough to have Keith Haring visit in 1984 and paint various works, of which only one large mural remains (which was recently restored). This mural is my favourite street art mural and was featured on the very first blog post I put up. This set the scene for a thriving street art and graffiti subculture, which flourished organically over the decades. We were known as the stencil capital of the world at one stage, and now we have countless local artists as well as a large number of international artists coming to leave their mark on our walls. I've seen the evolution from graffiti to all types of street art, including stencils, paste-up stickers, yarn bombing and installations, and these days I see a return to more aerosol-based art."
"I have so many favourite artists, it's hard to list them. The Aussie artists I like are Kaffeine, Adnate, Slicer, Deams, Will Coles, Vexta, Shida, RONE, LUSH, Urban Cake Lady, Bailer, DVATE, Sirum, SAGE, Sabeth, MERDA, Makatron, Mysterious Al, Unwell Bunny, Mike Eleven, Ruskidd, Lucy Lucy, Goon Hugs, Junky Projects and Facter."
Follow Dean Sunshine on Instagram.
[Photos: Above Left: ADNATE & Slicer, Melbourne; Above Right: RONE & Mayonaize, Melbourne, courtesy of Dean Sunshine]
SANTIAGO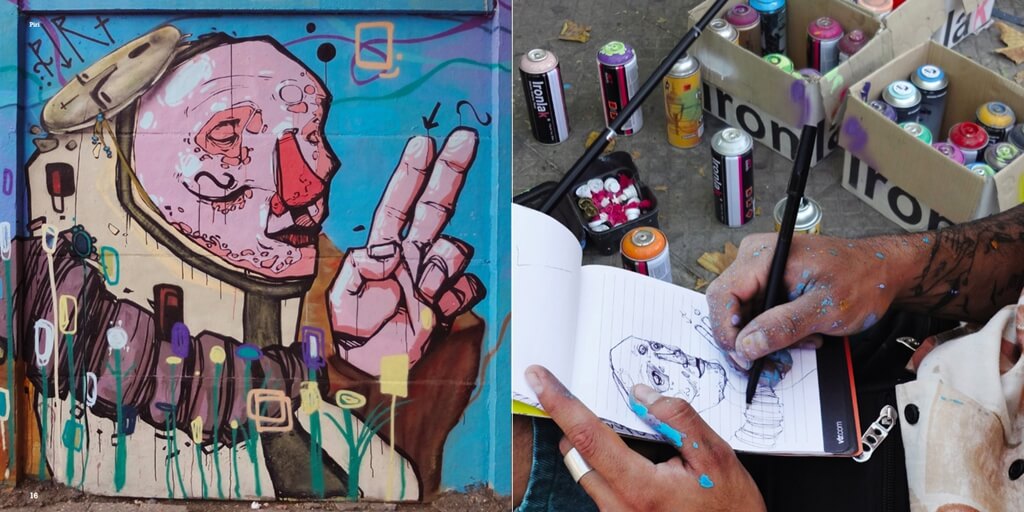 Lord K2 is a London-born artist known for his stencil graffiti as well as his photography. He's leading a nomadic lifestyle, chronicling the street art scene in various cities while working on book projects (his book Street Art Santiago was published in 2015) and curating his own website, The Museum of Urban Art.
"I didn't know much about the scene in Santiago until I arrived," he says. "It's a scene that hasn't had much promotion in the media. I planned to take my camera around Latin America to document several countries, but after a few days in Santiago, I realised the extent of the scene and its rich history. It was quickly apparent that a chapter in a book would not do Santiago justice, so I organically remained in the city and a book named Street Art Santiago evolved over time.
"[The street art scene here] is very active due to two main factors: firstly, there's an abundance of artists willing to paint on walls. Secondly, unlike many cities in the world, walls are easily accessible partly due to dilapidation and partly due to the carefree attitude of residents and tolerant policing of street artists."
"Not only is there an abundance of street art, but the quality is also high. There's a lack of opportunities for artists in Santiago and Latin America in general, so instead of fine artists gracing galleries, they often spend their time painting in public spaces. Work opportunities may arise as passers-by offer paint jobs if they're impressed enough by what they see."
"Recently I've been documenting the scenes in New York City and Tokyo. The big difference between those two is that New York is filled with street art and Tokyo has very little. In New York, street art is a trend – the quality is the highest in the world, the artists get paid the most, and the best from all over the world are invited to paint. In Tokyo, the scene is the polar opposite – there is virtually no illegal street art, as the Japanese obey the law. It's not fashionable to rebel or go astray. Secondly, the walls in Tokyo are so clean, the streets are well-designed and have such a distinctive, unique charm that there's no real need nor demand for art on the streets."
"My favourite artists around the world include JR, in particular his grand scale paste-ups in Havana. I like the way they blend with the worn-down walls. I was also highly impressed with his Women are Heroes series in Favela Morro da Providencia in Rio. I also like the work of another French artist, Seth Globepainter, and Thai artist Alex Face – they both travel the world painting their distinctive characters. Piguan in Chile is a great talent, he is truly gifted, yet quite uncommercial. My favourite type of street art is in the stencil form. The stencil artists I admire include Jef Aérosol, Boxi, Icy and Sot, Cabaio and Banksy."
[Photo: Excerpt from Street Art Santiago, LordK2]
ROME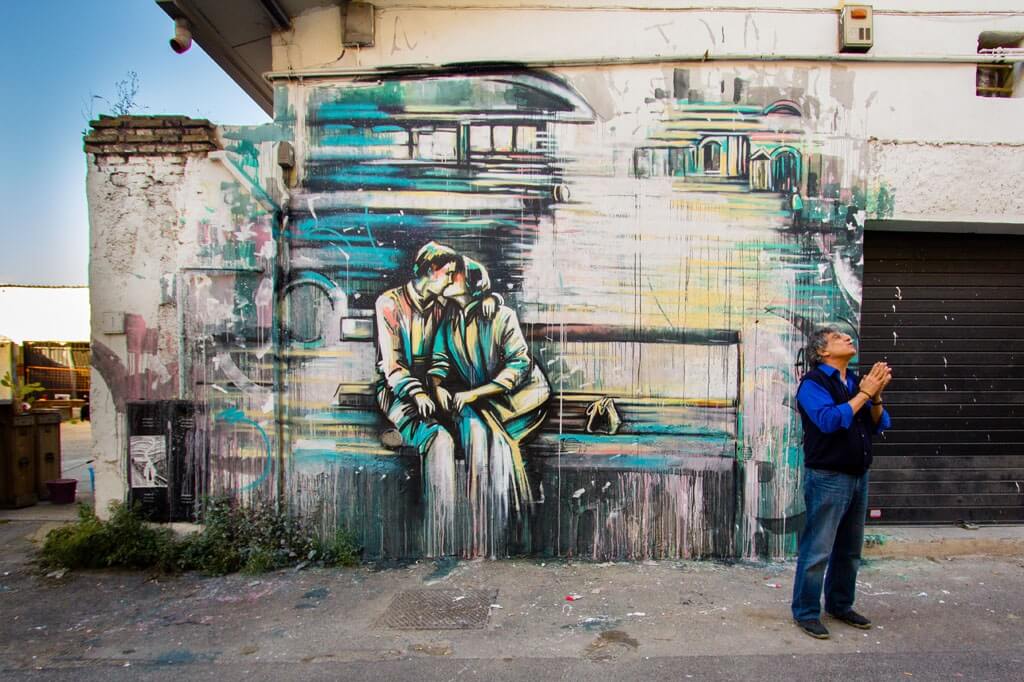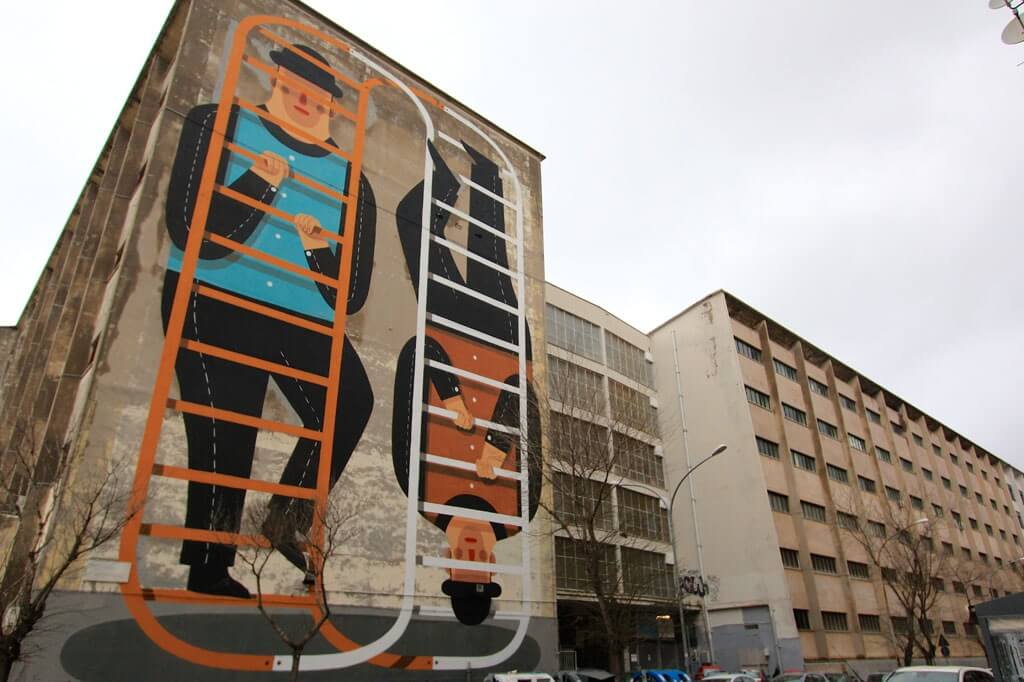 Although it was Renaissance and Baroque art that initially drove art historian and photographer Jessica Stewart to Rome in 2005, she soon took notice of the interesting street art in her adoptive city and began photographing it as well. Since then, she's seen a similar change in attitudes towards street art in Rome as others have observed in major cities around the world: "Over the past few years it has gone from underground to major public works funded with the city's money. It's not uncommon to see huge mural projects in the peripheral neighborhoods now and even street art tours."
"A few of my personal favourite artists are Alice Pasquini, UNO, Rub Kandy, Gio Pistone, MP5, Agostino Iacurci. If you want to follow the Rome street art scene, there are Rome street art groups on Facebook, and Il Gorgo is a blog that heavily covers Italian street art – they also have an English section."
[Photos: Opener Article & Above Left: Alice Pasquini, Rome, 2016; Above Right: Agostino Iagurci, Rome, 2014, courtesy of Jessica Stewart]
LOS ANGELES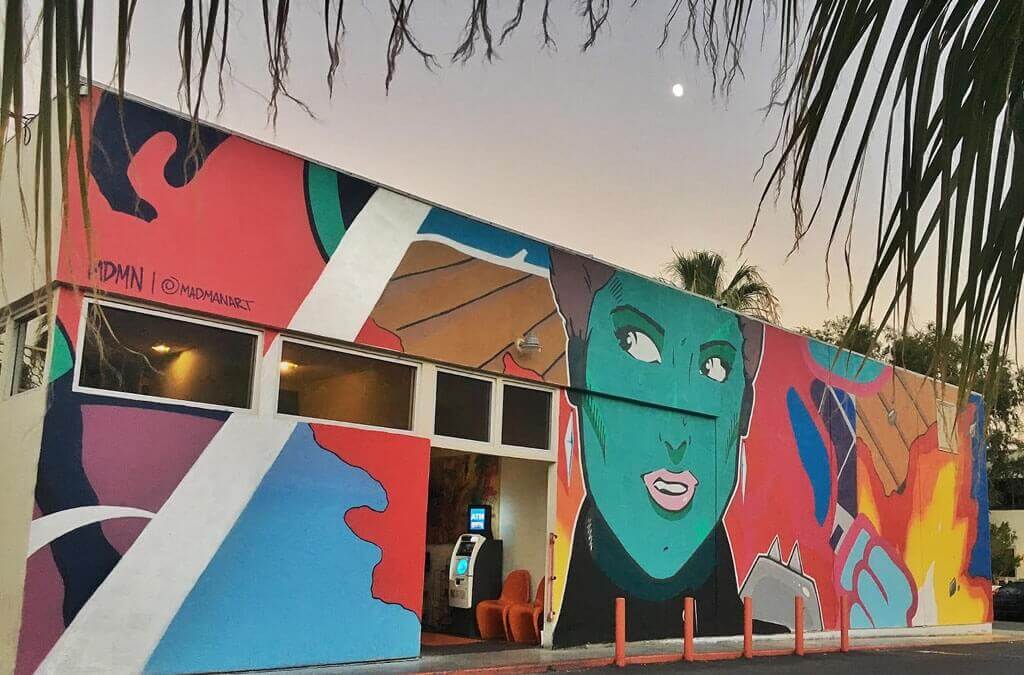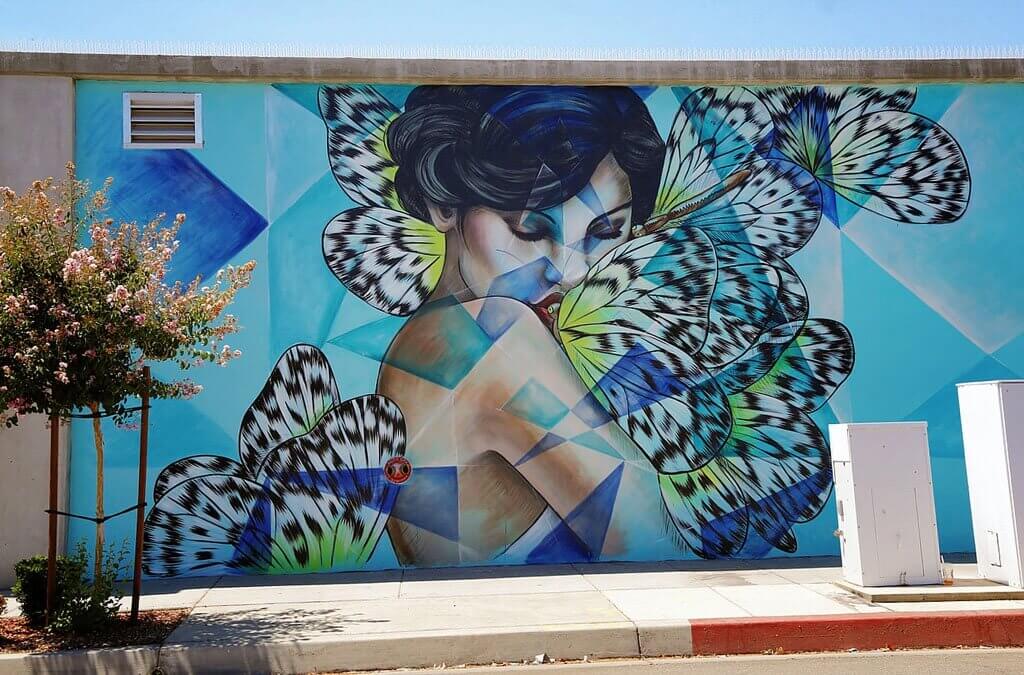 Brittany Abellanosa is the community manager for LA Street Art Gallery, a blog that's been documenting and mapping street art in Los Angeles since 2012. According to Abellanosa, the blog highlights artists and works that might otherwise go unnoticed: "We saw that there was a growing community in Los Angeles that was relaying culture and messages from the unheard voices, so we worked together with the original Los Angeles street art blog, Melrose and Fairfax, to build a new community documenting LA Street Art with passion and consistency."
"The LA street art scene has grown vastly throughout recent years. We now see organisations like Branded Arts, the Gabba Gabba Art Gallery and The Container Yard, to name a few, all facilitate artistic growth within the city, whether it's to help sponsor artists with murals or create events to beautify schools and local cities. At the same time, we also see artists who are finding their voice in their street art. From poetry to telling LA shame on itself for its gentrification and homelessness, to reminding everyone around us to teach peace. We also saw political variations, from #DumpTrump to "This Bitch Again", during the election cycle. We see artists banding together to create art leaving love notes for LA locals to admire. Most importantly, we are seeing art flourish in unexpected places: the streets."
As for her personal favourite artists: "Teachr, Wrdsmth, Plastic Jesus, Mikolaj Wyszynski, and Punk Me Tender."
[Photos: Above Left: MDMN aka Madman, "FIRE BORN", Palm Springs; Above Right: Amanda Lynn, "Sacred Movements", PowWow, Antelope Valley, courtesy of LA Street Art Gallery]
HONG KONG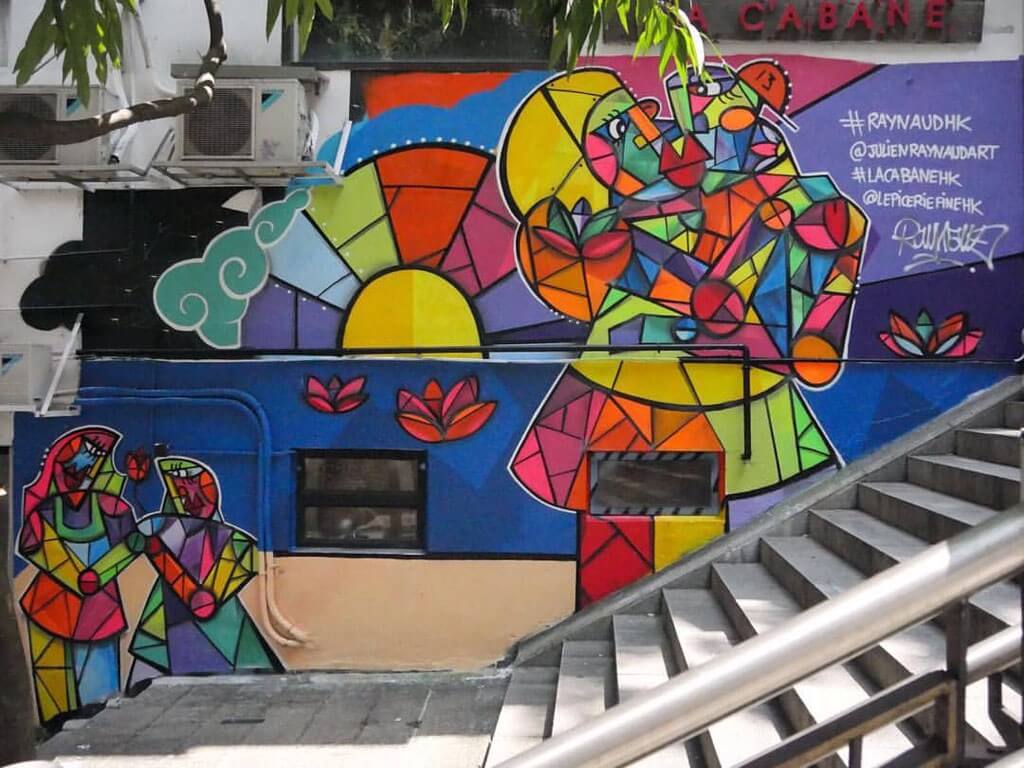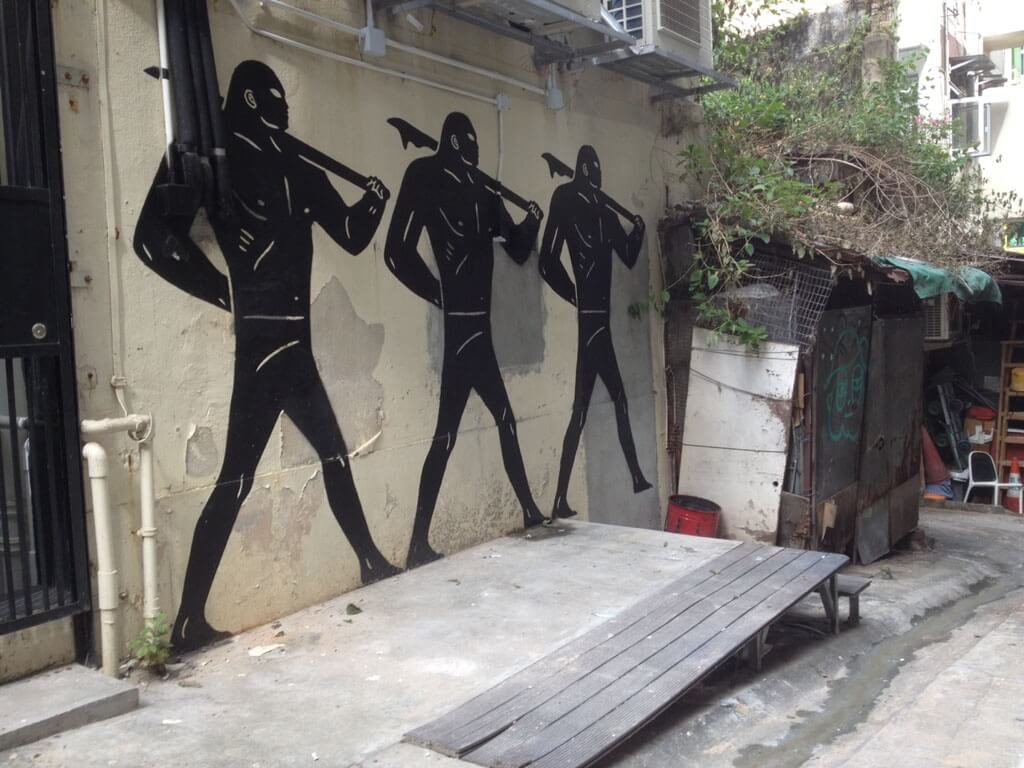 Simply known as 'J', a passionate blogger started HKstreetart after moving from Michigan to Hong Kong in 2009. "Previously I became interested in street art and graffiti while living in Ann Arbor, where I would drive in to Detroit to explore the city and its abandoned buildings. When I moved to Hong Kong, I immediately started to notice the similarities and differences in the art found on the street in HK vs Detroit. On top of that, I also noticed there was a fair amount of work from artists from overseas, and sometimes even collaborative pieces between an overseas artist and a local artist, which I found really interesting."
"At the time, no one was really documenting any of this, and like most cities, street art and graffiti don't tend to last too long. So, I started documenting it for myself via a Facebook photo album, but back then FB had restricted the maximum number of photos in one album to 60. So when I reached the maximum, I decided I would make them accessible to the public and moved everything to a tumblr page and HKstreetart.com… and years later also to Instagram."
"Generally, the scene in HK is small for a city of this size, but has been growing steadily, and the mix of locals and overseas artists passing through keeps it interesting. In late 2014, there was a huge protest in Hong Kong, which has been called the Umbrella Movement or Umbrella Revolution, which lead to tens of thousands of people taking over a large part of the highway and roads in Central Hong Kong for more than 2 months. At the peak, there were 100,000+ people out there. During this period a community developed, as did a culture of protest art I hadn't seen before in Hong Kong. It was amazing. The area occupied by the protests was covered in artwork expressing the feelings and voices of the people. Unfortunately, you don't see as much of that kind of art in the streets now, but it highlighted the potential."
"Additionally, many galleries, companies and organisations have started in Hong Kong that focus on the art form. Above Second gallery has been around for years and is notorious for featuring street artists from around the world. HKwalls is an organisation that hosts a street art/mural festival each March. HOCA Foundation hosts large exhibitions for the world's top street artists. Secret Walls is also now in Hong Kong, hosting illustration battles and school workshops. Write the Future (aka WTF) is a spray paint shop, but also hosts workshops, Blackbook sessions and exhibitions. All of these things help to grow the culture and make it more accessible to those interested."
There are a few artists J would recommend: "XEME is a legend in HK graffiti, probably one of the most well-known Asian writers in the graffiti world. Parents Parents is a collective of 4 artists from various backgrounds of graphic design, illustration and graffiti. KristopherH is a fine artist who has been doing a lot of mural work in the last few years. Wais1, a Russian graffiti artist living in HK, is known for his 3D graffiti and layered colour patterns. Although not really creating work for the streets anymore, Start From Zero is an artist I took notice of immediately when I moved here. Now they are more focused on woodworking. Graphic Airlines is a street art duo known for their paste-ups. Caratoes is a Belgian Chinese artist whose street art career really took off when she moved to Hong to get in touch with her roots. Now she is known internationally and paints all over the world."
[Photo: Above Left: Cleon Peterson in Sheung Wan; Above Right: Julien Raynaud at La Cabane HK, courtesy of HKstreeart.com]
Article by Irene de Vette
Just imagine, you wake up and Banksy himself has adorned the exterior wall of your humble abode overnight with one of his creations… How do you react?