';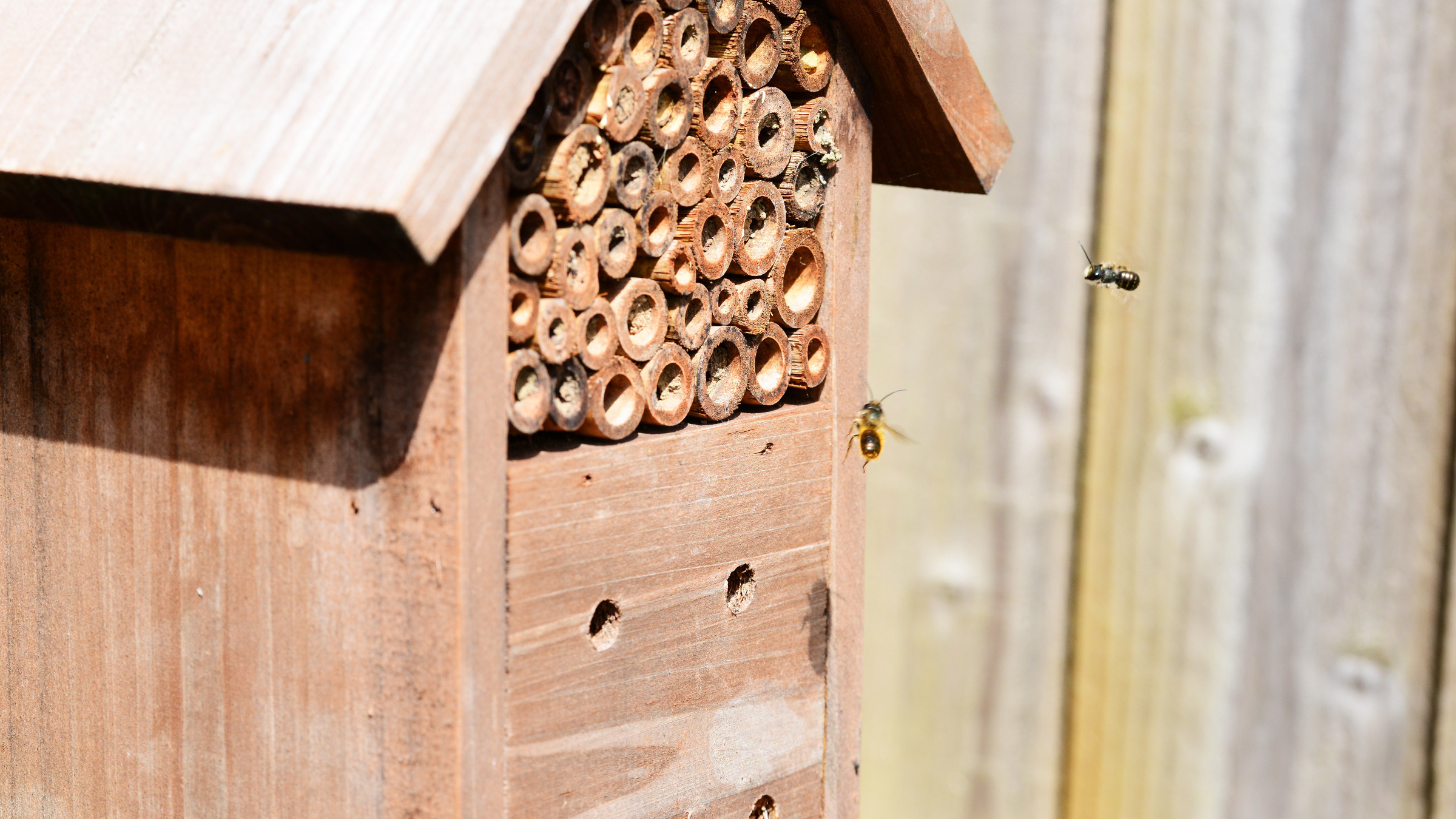 ;
"If you plant it, they will come."
Vicki Wojcik, Research Director at Pollinator Partnership (P2), would know. She's spent years studying urban bee behaviour and heading up programmes aimed at supporting bee populations across North America, focusing on Canada's pollinator bees.
These lone rangers, as opposed to hive-based bees, live solitary lives hauling pollen to and from their habitats and various plants. An important demographic, they comprise 90% of the bee population, taking credit for pollinating one-third of the food we humans eat. "It takes approximately one pollinator bee to produce 40 to 70 apples," Wojcik explains. "Even the grains and meat that we eat benefit from having pollinators support the landscapes they grow or are raised in."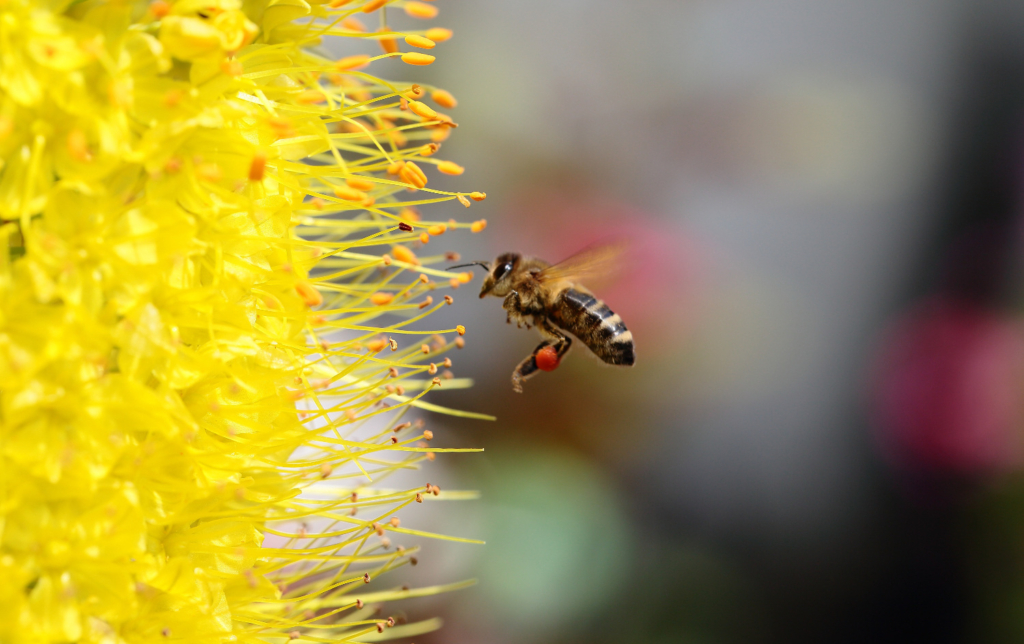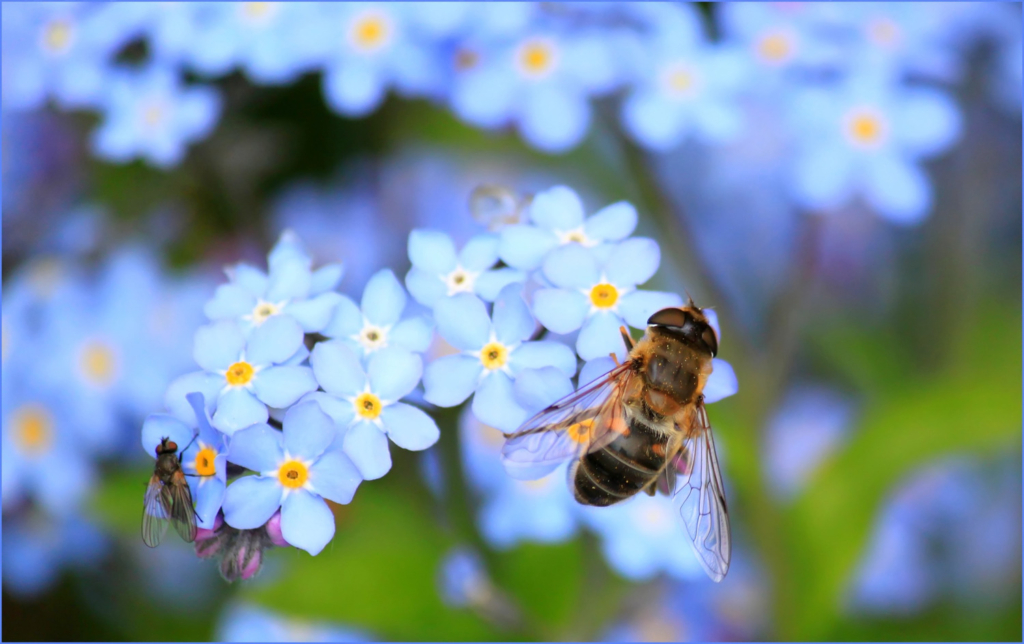 [Photo at right by Jared Belson]
But pollinators, like their hive-bound brethren, are in fast decline. Much has been made of the rapidly disappearing bee population across Europe and North America, and rightly so, considering their vital – and under-appreciated – role in the food chain. They're the delivery truck drivers of the plant world: sure they didn't sow the crop or pick the fruit, and no one really gives them much of a thought, but our food would have a hard time making it to the plate without them.
A Hive Mentality
There are many theories as to why the bees are vacating the premises, from pesticides to parasites and faulty genetics, but one of the more obvious culprits is loss of habitat due to human activity, like ever-expanding cities and the clearing of natural landscapes for – ironically – farmland. News and media coverage of the problem has had many industrious citizens across the globe making a beeline to take up "urban beekeeping" in recent years, a trend that even a number of celebrities are getting in on – some less surprising (Martha Stewart) than others (Scarlett Johansson, Suggs).
But you don't need a mesh mask to join the cause. In fact, despite best intentions, urban hives may not always be a good thing. Many amateur beekeepers don't consider factors like elevation (hives shouldn't be higher up than two storeys, otherwise bees expend too much energy flying to and from home) and foraging supply (there is a such thing as too many hives and too little vegetation) which are imperative to keeping a colony healthy.
Habitats Are Where It's At
A perhaps better and, thankfully, easier alternative is to help sustain the pollinator population by simply providing them with the flora they need to survive. "When you plant just one pollinator-friendly plant, that's a piece of habitat that didn't exist before,"  Wojcik says. "In fact, research shows that bees are pretty obsessed with plants and aren't that picky as to where they're growing. Studies of urban bees show that they're just as happy with a balcony planter as they are with a floral patch in a park."
But do be careful to choose vegetation indigenous to your area, advises Wojcik. "The habitat that pollinating bees need is very specific – they need local, native wildflowers and a place to nest."
As it happens, a perfect place to nest is in so-called bee hotels, simple man-made wooden or stone structures with multiple holes where solitary pollinators can seek refuge, rest and create nurseries for their baby solitary bees. The math is simple: more bee hotels means more nests, which means more bees. "If every Canadian household were to build a bee hotel, we would have close to 17 million new bee habitats," says Wojcik. "If each of these were used by one bee to make a nest for 10 baby bees, that's 170 million more native bees to pollinate our food and flowers."
Constructing a bee hotel can be surprisingly easy, and in Canada, one programme working to spread the idea is Wild For Bees, an initiative started by natural cosmetics company Burt's Bees.
"While 95% of our products contain beeswax or honey, it's the role bees play in the continued health of the ecosystem that spurred us into action," says Carolyn Hungate of Burt's Bees Canada. "Our objective with the Wild for Bees programme is to give back to our hardworking pollinators with sustainable resting spaces, and to drive public awareness of this important issue."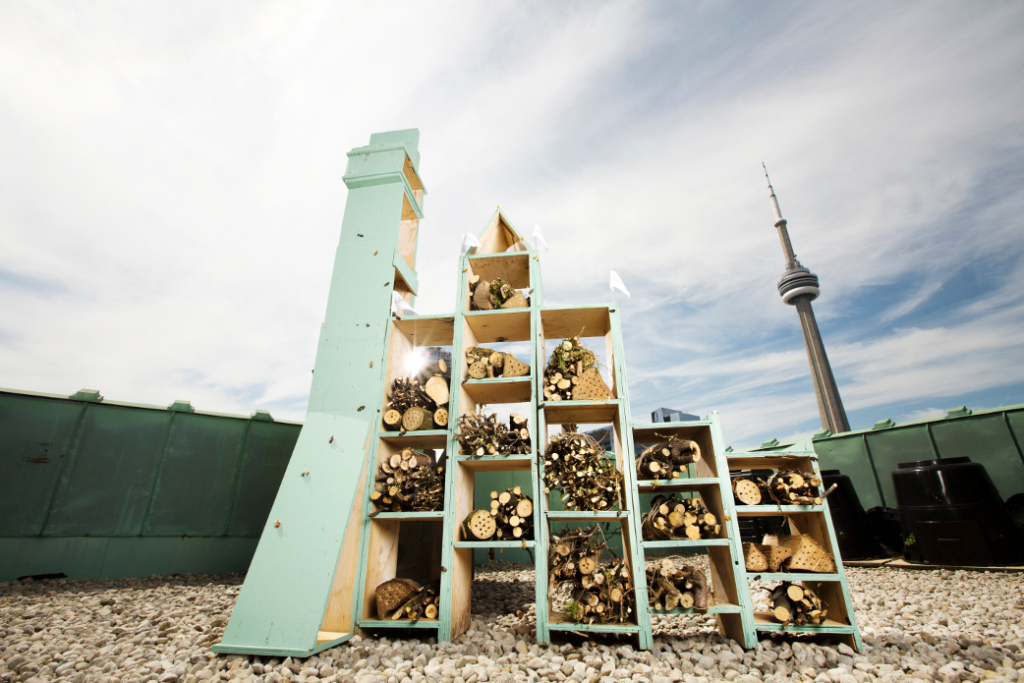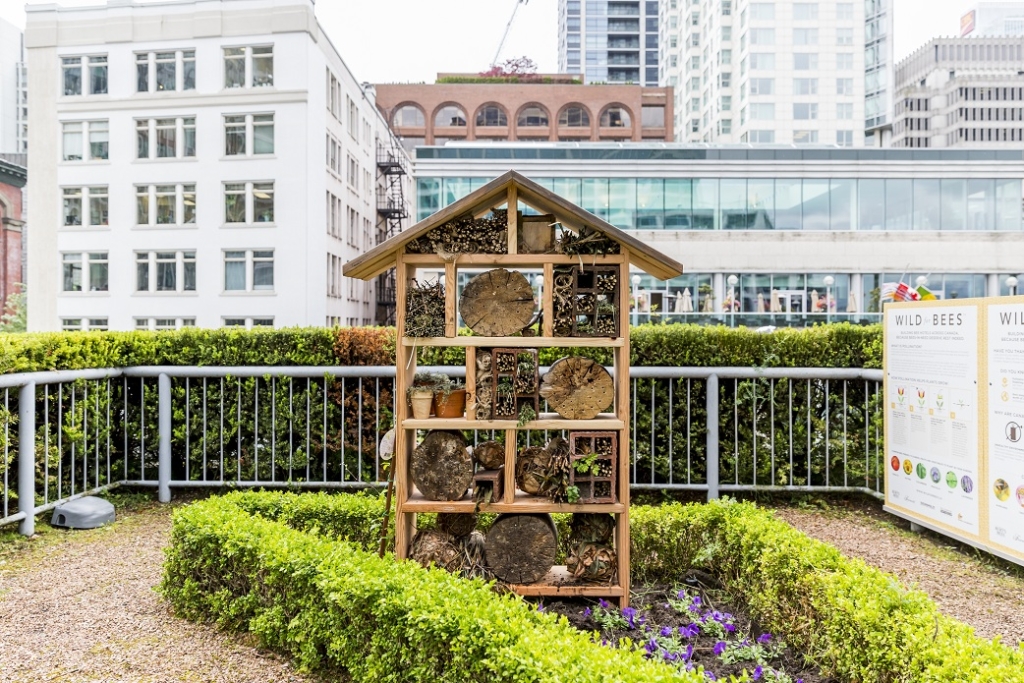 A Room With A View, Please
In collaboration with Fairmont Hotels & Resorts, P2 Canada and architecture firm Sustainable.TO., Wild For Bees have placed 21 bee hotels in cities across the country, many at Fairmont's (much larger) human hotels. "Many of our bee hotels are accessible to the public," explains Alexandra Blum, Fairmont Vice President of PR and Partnerships. "We encourage guests to read the interpretive signs that accompany the bee hotels to learn more about pollinators and solitary bees."
In some cases the unique designs themselves are enough reason to check out these pollinator palaces, like the one at the Fairmont Royal York which was built to resemble the Toronto skyline, or the charming hutch at the Fairmont Waterfront in Vancouver, surrounded by a rooftop herb garden.
Of course, this is all for the humans. Bees don't mind if their hotels aren't five-star designer digs, and anyone can construct a perfectly suitable bee hotel, provided they have some scrap wood and a sunny place to put it (bees are a cold-blooded species and often rely on sunlight to keep warm).
But what about the unlucky urbanites without any outdoor space? "If you don't have anywhere to plant or build, partner with someone who does, like your community garden, or support a local organisation that helps bees and other pollinators," Wojcik offers. "When you are shopping, support farmers who are local and sustainable, and buy local honey, too, to support your local beekeepers."
Think Like Burt
Burt's Bees is giving back, too, donating 100% of profits from their special "Honeymoon Suite" gift sets to P2 Canada, in a move of which Burt Shavitz himself would certainly approve. A beekeeper for most of his life, the eponymous Burt of Burt's Bees (whose bearded likeness smiles from every label in the product's line) famously lived in a converted turkey coop, even after the brand he built with former girlfriend/business partner Roxanne Quimby had gone global in a big way.
His passing in July this year was a sad one for the beekeeping community, but his devotion to the environment and to his bees is something we could all learn from.
"If there is one thing we will remember from Burt's life, in our fast-paced, high-tech culture," Hungate reflects, "it's to never lose sight of our relationship with nature."
Visit pollinator.org
Go to fairmont.com to find out about their bee initiatives
Article by Jessica Keller
Are you a supporter of urban beekeeping?