';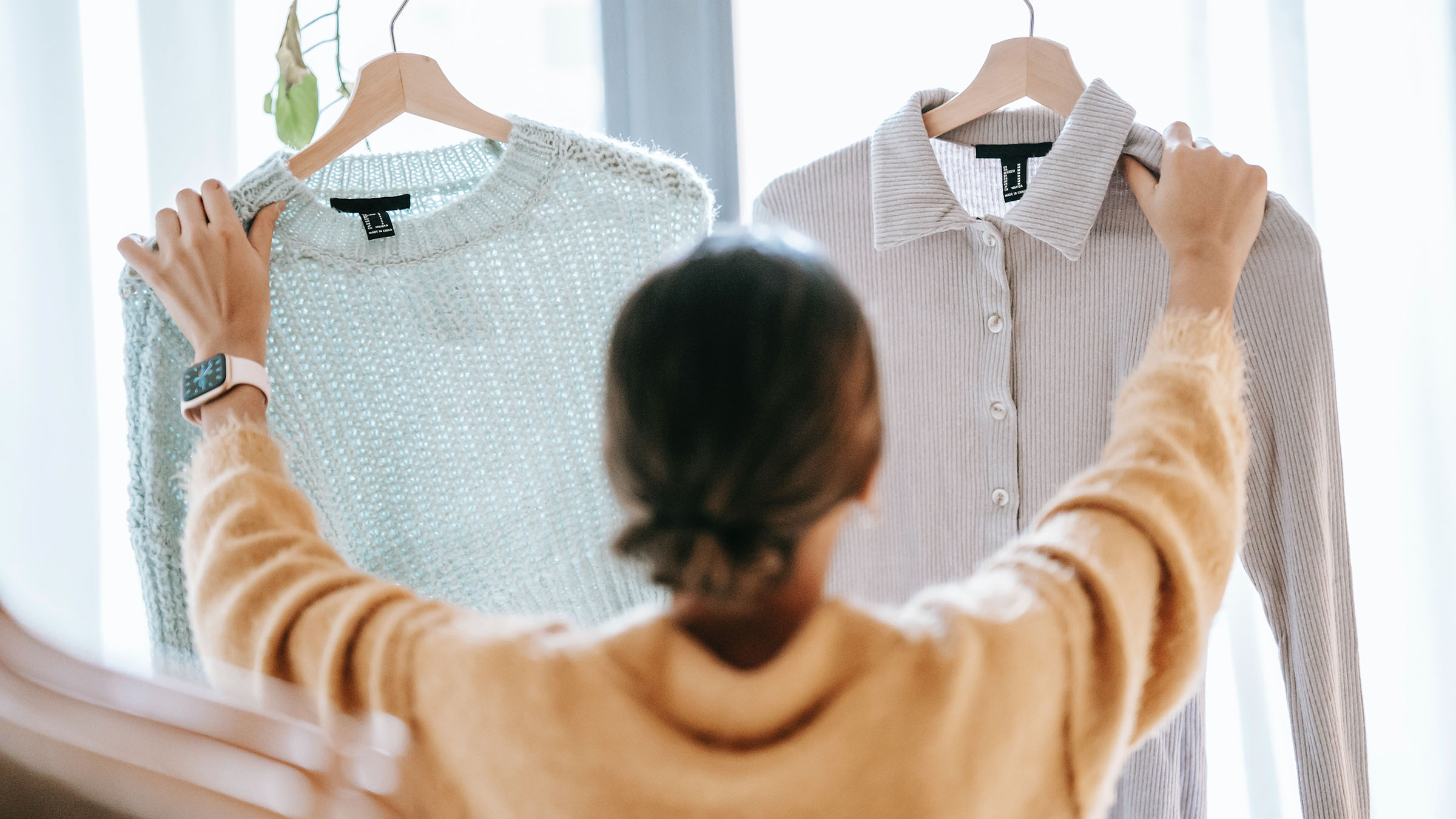 As we're still getting our heads around a new year, we're considering every possible way to refresh and reboot – especially after two years of anxiety and uncertainty. And while there are many ways to do so, one good opportunity awaits right behind our closet doors. From embracing new colours to adjusting hemlines and accessorising differently, these clothing swaps will revamp your wardrobe to better reflect the loungewear-free lives we used to know and love. But don't worry, getting rid of comfort is off the table.
It must be noted that, while we're encouraging you to freshen up your style for a more fashionable year, we're not saying you should throw away your older pieces to make room. Consider instead more responsible practises, such as hosting a closet swap with friends, selling or donating your clothes, or trading older garments for new-to-you ones at a thrift store.
Out: Classic Leggings
In: Flared Leggings
The 'new normal' gave rise to some new mentalities, and choosing comfort over everything else was one of them. Owning a pair of leggings was and is, of course, a necessity, but to jazz up your comfy look, think about adding flair with flare. Yoga trousers – or, as Gen Z calls them, 'flared leggings' – are also the epitome of comfort, but with an elongating effect and a chicer look. Brands are reinventing the 2000s trend with better materials and more flattering silhouettes. Dress them down with an oversized cardigan and sneakers, or up with a blazer and heels: either way, the yoga class subscription is completely optional.
View this post on Instagram
View this post on Instagram
Out: Midi Skirts
In: Mini Skirts
Another 2000s trend resurfacing is shorter hemlines, so pack away your midis, and don't be shy to show some skin. Often considered a spring/summer trend, you can still rock a mini with tights and high boots during colder months. To make the look more sophisticated and 2022-appropriate, look for hems that end three inches above the knee (not too short and not too long) and skirts with an A-line cut instead of pleated or pencil. Another way to keep it classy and chic is opting for a skirt-and-blazer matching set or going for a monochrome look. Eco tip: Turn your midi skirts into minis, instead of buying new ones. Depending on the fabric and structure, a tailor can hem or cut them, and you'll be saving money while reducing your fashion footprint.
View this post on Instagram
View this post on Instagram
Out: Neutrals
In: Bright Colours
If there's one thing we've learned in the past two years, it's that we need to grab any dopamine boost we can. An easy way to increase levels of the 'happy hormone'? Colours. So, we're sorry to say it, minimalist fashionistas, but it's time to ditch your all-neutral wardrobe and introduce bright hues into your everyday style. We know, we know: neutrals are versatile and aesthetically pleasing – but they're not going to give you the mood boost you'll get from a more colourful palette. For example, Pantone's colour of the year for 2022, Very Peri, reflects creativity and energy, whereas a forest green is associated with harmony and growth, and a bright yellow is all about positivity and hope. You can start small by introducing pops of colour with accessories or small prints, or going all-in with a full colour-block.
View this post on Instagram
View this post on Instagram
Out: Long Cardigans
In: Cropped Cardigans
A classic for the winter-to-spring transition: cardigans. And while long cardigans have been a must for the past years, it's time to give that length a break and opt for shorter ones instead. They're more flattering, as they fall just at the waistline, and they're just as versatile and easy to combine. As with the skirts, instead of piling up your closet with new cropped cardigans, consider cutting some inches off your longer ones or (depending on the fabric) hemming them – that way, you can un-hem whenever the trend cycle renews itself.
View this post on Instagram
View this post on Instagram
Out: Crewneck Jumpers
In: Hoodies
It's not a radical swap, but trading a crewneck jumper for a hoodie can magically elevate your look – and get you out of your jumper rut. And the good thing about hoodies is that they can adapt to pretty much any scenario when worn accordingly. For instance, for a casual, yet put-together look, wear a hoodie and trousers in matching colours (like all-black) and add contrasting shoes and accessories. If you're looking for something more formal, you can still wear your hoodie under a wool coat or a blazer – the extra layering will make you look fancy and approachable at the same time.
View this post on Instagram
View this post on Instagram
Out: Chunky Sneakers
In: Normcore Shoes
One of last year's biggest shoe trend on its way out is the chunky style – including both sneakers and loafers. Although they made an appearance in every fashionista's closet, they're now being replaced by sleeker models following a 'normcore' aesthetic. From classic white sneakers to slimmer mules, loafers and flats, 2022 is all about leaving the heft behind and adding more delicate silhouettes. And while there's no wrong way to wear them, they look especially chic with stirrup leggings, high socks or loose-fitting jeans. Speaking of which…
View this post on Instagram
View this post on Instagram
Out: Skinny Jeans
In: Loose-Fitting Jeans
If you're into classic skinny jeans, we've got some bad news: 2022 is getting looser and wider when it comes to denim trends. It might have something to do with Gen Z declaring war on tighter silhouettes, or maybe it was the pandemic's mandate for comfort, but whoever is to blame, this year is all about cinched waists and baggy legs. Of course, you can wear whatever you feel comfortable with, but if you're looking to follow this trend – which flatters most body types, by the way – consider wearing them hemmed over the ankle with loafers or flats. Also, to balance your figure, wear tighter-fitting tops tucked in along with cropped cardigans or jumpers. And if 'loose' is too much fabric for you, you can make the transition with a straight-leg cut or flared jeans.
View this post on Instagram
View this post on Instagram
Out: Necklaces
In: Bracelets
When it comes to accessorising, bracelets hardly ever steal the show, but it's time to make some space for the most overlooked piece of jewellery: according to this year's trends, arm candy is in! It doesn't mean you have to put away your necklaces and earrings – instead, look for ways to make the bracelets the centrepiece of your look. From candy-coloured bangles to pearls in different sizes, as well as charms, medallions and even nameplates, there's a wide variety of models and styles for everyone. You can even take one of your necklaces and wrap it around your wrist for easy, smart arm décor.
View this post on Instagram
View this post on Instagram
Out: Checkerboard Print
In: Stripes
The trend inspired by Netflix show The Queen's Gambit has run its course, and it's time to make the switch to more timeless prints, like stripes. Instead of going for the usual white-and-blue nautical stripes, opt for trendier and more updated looks that will still be relevant for years to come. Look for classic Breton tops in more vivid colour combinations, or even double up the stripe game with a striped suit or a striped top and bottom in opposite directions. But if you're really looking to make a statement this year, think outside the box, and go for different widths, lengths and directions to completely revamp your print looks.
View this post on Instagram
View this post on Instagram
Out: Classic Bags
In: Structured Bags
2022 will witness a wide range of bag trends – everything from bright colours to monograms, visible stitches and sparkles. But one trend that's definitely overshadowing the classic totes, hobo bags and satchels is a more rigid, architectural design, like bucket and box bags. Invest in a high-quality uniquely shaped bag this year, or look for secondhand options with clean lines and strong geometric shapes. It doesn't have to be in a bold colour or embellished in any way – the structure will make a statement on its own.
View this post on Instagram
View this post on Instagram
Out: Fast Fashion
In: Sustainable Brands
Because, even when refreshing your closet for a new season or a new year, there shouldn't be any room for unethical practises or pieces that won't last long. So, start fighting fast fashion by supporting sustainable, ethical brands, as well as by buying less and investing in higher quality. The past few years have seen a rise in emerging designers and brands that follow a sustainable model, using ethically sourced fabrics, paying fair wages and overall supporting the industry and the planet – so, even if there's still a long way to go, it's easier than ever to your part and responsibly fill your closet with items that aren't causing harm to the environment and vulnerable communities.
View this post on Instagram
View this post on Instagram
BONUS: BEAUTY SWAP
Out: Makeup Wipes
In: Cleansing Oils
We may not think much of our daily makeup wipe use, but according to Business Waste Management, as of last year "we're binning an astonishing 11 billion wet wipes every year which can take up to 100 years to biodegrade." Now's the time to switch your makeup wipes for micellar water or cleansing balms, if you haven't already. Not only are these options a lot kinder for the planet, they're also gentler on your skin. Use with reusable cotton or bamboo pads to further lower the negative impact.