';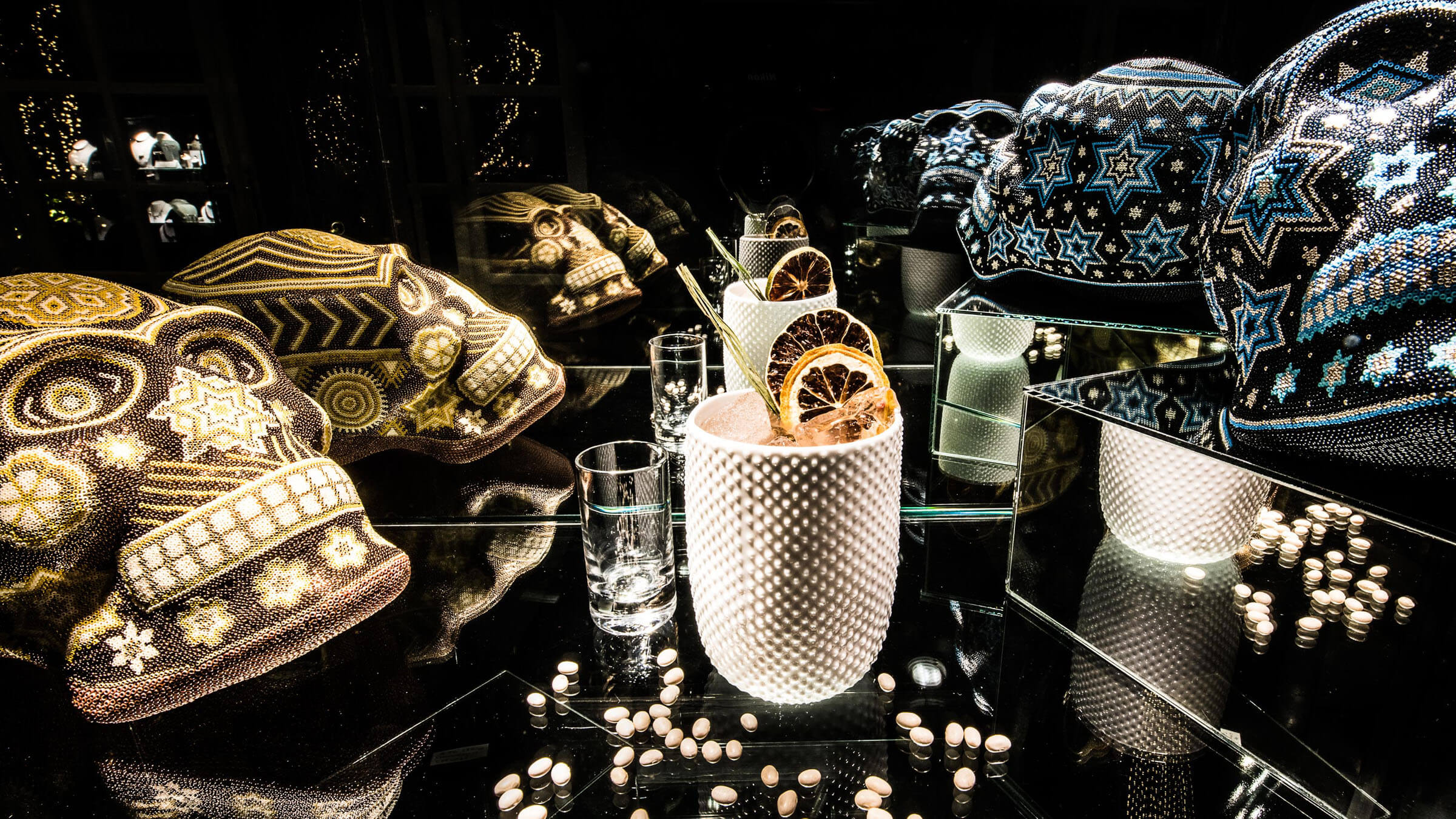 When you ask mixologists from around the world for a cocktail that's 'close to home', made with local ingredients or inspired by a local phenomenon, the result is pretty magical. Here, they reveal the recipes as a glimpse behind their artistry.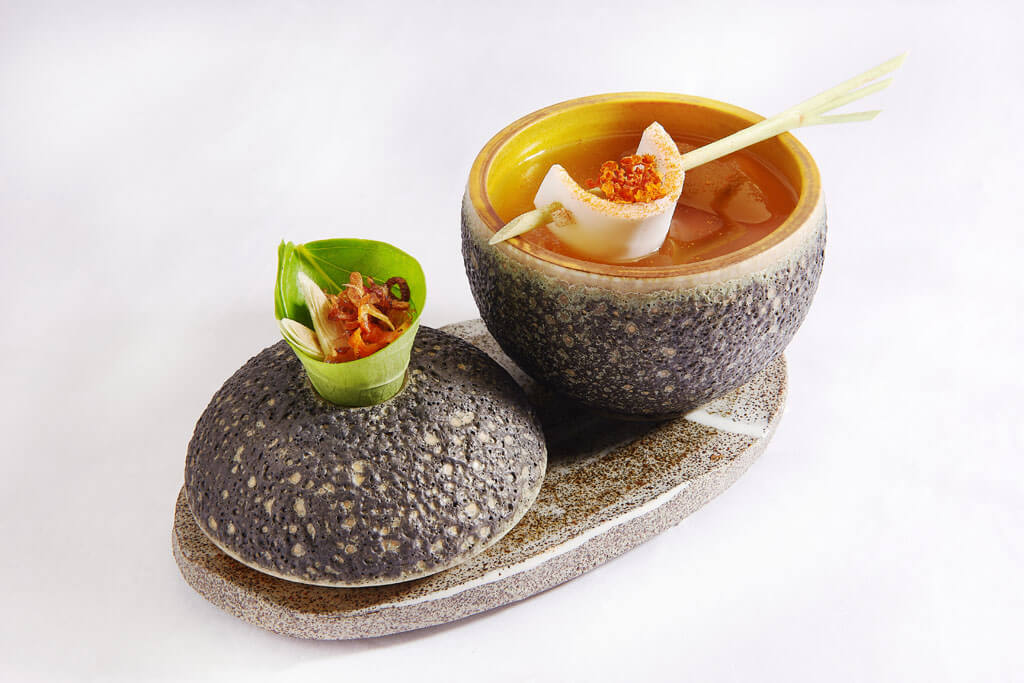 From Bali: Loloh Kakap
The Night Rooster, Ubud, Bali
"'Loloh' is Balinese for 'Jamu', a traditional herbal medicine from Indonesia, made from natural materials, such as roots, bark, flowers, seeds, leaves and fruit. 'Kakap' is Balinese for old betel leaves. Loloh Kakap is used for many medicinal purposes, such as a sore throat, cough and as a natural mouthwash. Originally the ingredients for Loloh Kakap are young coconut water, turmeric, betel leaves, chili, honey and lime. Here at The Night Rooster, we re-created this concoction as a cocktail. We are proud to present our traditional drink, and in the future we'll do more to share our drinking culture with the world."
– Raka Ambarawan, Resident Mixologist at The Night Rooster Cocktail Bar by Locavore
Loloh Kakap
Ingredients:
50 grams betel leaves (old)
15 grams turmeric
30 ml chili syrup
30 ml lime juice
30 ml young coconut water
15 ml dry vermouth
45 ml spiced rum
15 ml gin
Method:
Combine and garnish with roasted peanut, chili, palm sugar, tamarind, lemongrass and soy sauce paste wrapped in betel leaves.
From New York City: Playing Hooky
Momofuku Ssäm Bar, NYC
"According to our local sources, the East Village was a favoured destination amongst the NYC youth to cut class (called 'playing hooky') and take in some adolescent independence. Some shared stories of skateboarding and eating $1 pizza, while others talk about the times they got piercings or tattoos on St. Marks Place. Playing Hooky is a tip-of-the-glass to the East Village and its appeal to the curious, rebellious and adventurous alike. We designed this tipple to drink like an improved Cosmopolitan. The dark berry fruit profile plays nicely against the lavender, lime and the complex herbal notes from DOM Benedictine."
– Lucas Swallows, Director of Bar Operations, Momofuku Ssäm Bar
Playing Hooky
"This cocktail was developed by Sal Pasquale, another bartender on the team, in conjunction with Lucas and Charlotte."
Ingredients:
2 oz (60 ml) Triple 8 Blueberry Vodka
½ oz (15 ml) DOM Benedictine
1 bar spoon Contratto Bitters
½ oz (15 ml) lavender syrup
¾ oz (22 ml) fresh lime juice
Method:
Shake all ingredients together with ice. Strain into a chilled cocktail coupe. Garnish with a temporary tattoo.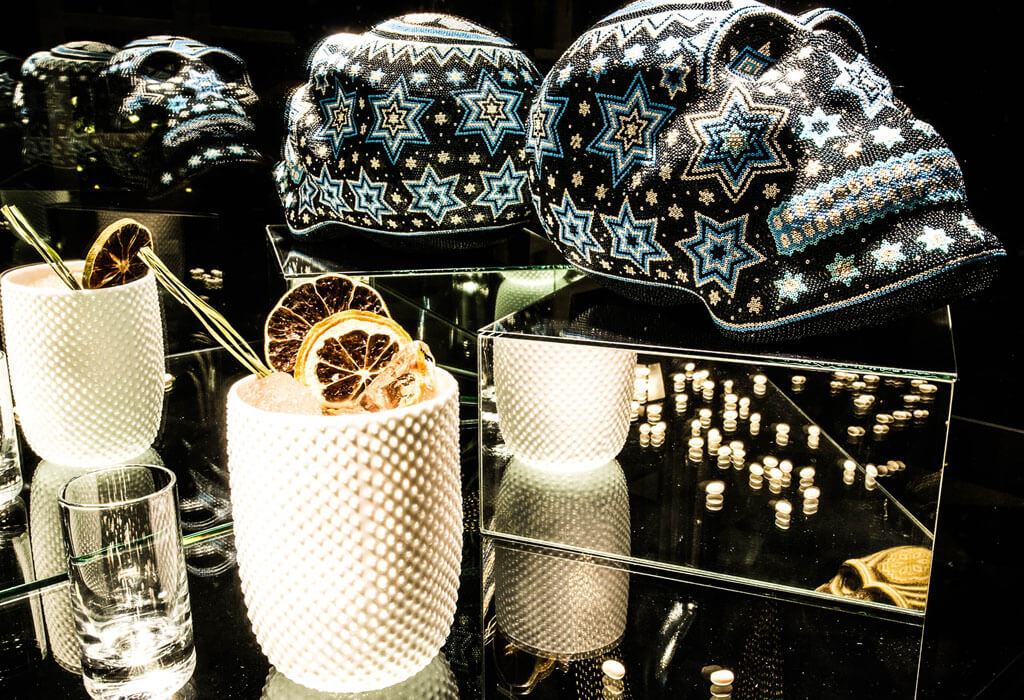 From Mexico City: Frijolito
Fifty Mils, Mexico City
"The challenge of any beverage menu is to find the perfect mix that exemplifies how the ingredients and local culture are included in one drink. Our response was the Frijolito. It is the cocktail that shows the DNA of Mexico with ingredients that can be found on any local market in our country. All Mexicans have tasted tamarind water on a hot day, have enjoyed all kinds of beans in our family meals and have taken a shot of tequila to heal the soul. We know the pleasures that these ingredients bring us, but we wanted to convey the same feeling to the world. We have three elements that together create an experience that plays with aromas, flavours and textures. Characterised by its white glass, it is our way of teaching people how to deliver a 100% Mexican drink in a way that they had not experienced before."
– Alvaro Garcia & Farid Fajer, Fifty Mils, Four Seasons Cocktail Bar.
Frijolito
Ingredients:
Puree of Bulleit Bourbon, cooked with mung beans and tamarind pulp
Don Julio 70 (tequila reposado)
Lime juice
Ancho Reyes Liqueur
Agave honey
Top of tonic water
Method:
The 'tricky' part about the cocktail is the way the beans are cooked with the other ingredients. The mung beans are puréed once they're cooked. Afterwards, they are warmed up and mixed with tamarind pulp and Bulleit Bourbon at a low-burning temperature to keep the alcohol from evaporating, and then everything is cooled down. Then the cocktail is made with Don Julio 70, the purée, lime juice, Ancho Reyes (chile liqueur) and agave syrup, and is topped with tonic water.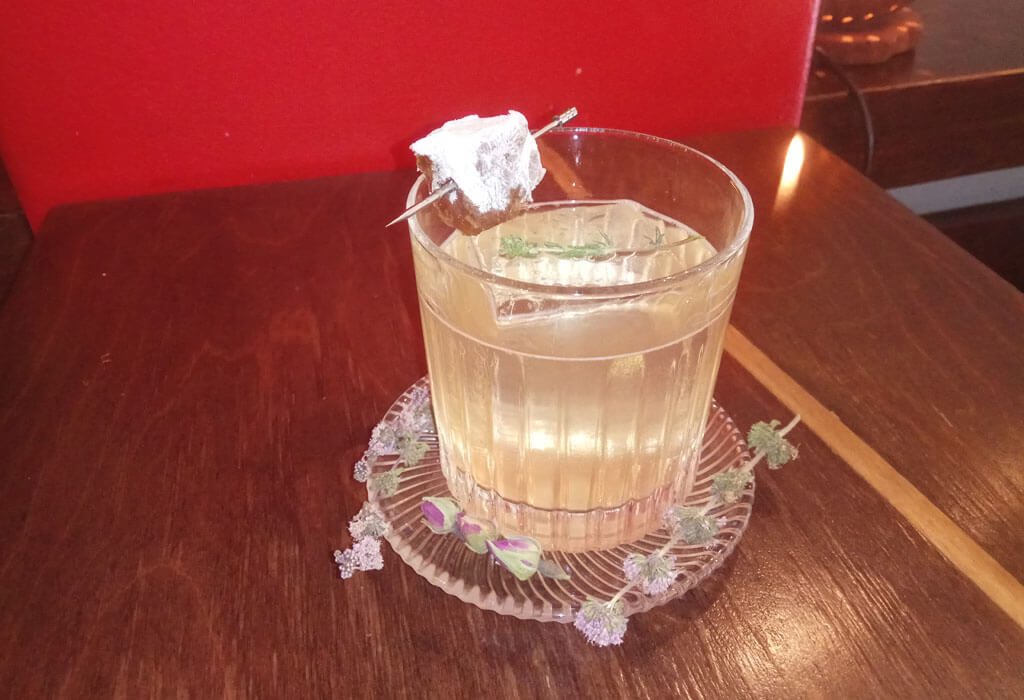 From Athens: O Phyllomantis
Baba Au Rhum, Athens
"For this cocktail, loquat fruit from the Peloponnesus is cooked with chamomile, local grapes in different expressions, and paired with notes of thyme and mastic. Together, these ingredients have a traditional and rustic flavour profile. Created in the Greek metropolis, it enables your senses to travel to Greece's colourful countryside."
– Panos Fatouros, Baba Au Rhum, House of Spirits
O Phyllomantis
"Τhe recipe calls for babatzim tsipouro, a traditional Greek spirit distilled from grapes, in this case the Muscat variety. Acidity comes from verjuice, which is produced by pressing unripe grapes. We add Castro thyme liqueur, homemade cordial of loquat and chamomile, and 2 dashes of bitteraneo Mediterranean mastiha bitters. Mastiha is a unique product tree found only on the island of Chios."
Ingredients:
45 ml Babatzim tsipouro Muscat variety
20 ml cordial loquat/chamomile*
10 ml verjuice
10 ml Castro thyme liqueur
2 dashes mastiha bitters
To garnish: mint twigs, rosebuds and a ''loukoumi'' (a traditional chewy candy dusted in powdered sugar from the Cycladic Island of Syros, flavoured with rose)
Method:
Pour all the ingredients in a shaker, fill with ice and shake well. Serve in a double old-fashioned glass and garnish with two mint twigs at the side of the glass, 3 rose buds and a ''loukoumi''.
*To make the loquat cordial: combine all ingredients (400 gr peeled loquat, 400 gr crystal sugar, 200 gr water, 5 gr dried chamomile, 3 grams ascorbic acid) in a vacuum bag, vacuum and seal the bag. Sous vide the ingredients for 90 minutes at 55 °C (130 °F). Remove bag and allow to cool. Strain the content through a superbag and the cordial is ready.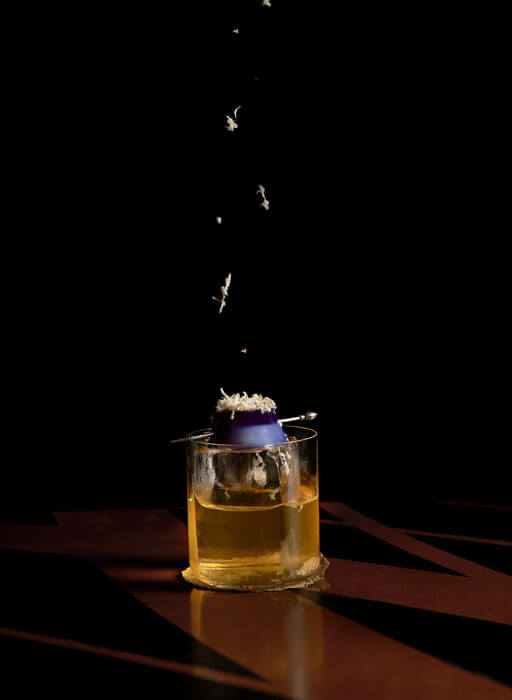 From Singapore: The Peranakan
Native, Singapore
"Peranakan are an ethnic of people unique to Singapore, whose rich cuisine mixes spices and culinary techniques from Indian, Malay and Chinese traditions for a unique cuisine. This cocktail pays homage to the culture, featuring jackfruit rum, laksa leaves (used in a lot of Peranakan dishes), gula melaka (palm sugar syrup), candlenut (a nut typically used in Peranakan cuisine to add texture and flavour), pandan (a fragrant plant used in Asian cuisines for rices, soups, and desserts) and goat milk, which is locally sourced from a goat farm in Singapore. The garnish adorning the cocktail is also based off of a Peranakan dessert called Kueh Salat, a rice pudding cake made with pandan and coconut, and with natural blue colouring from the blue pea flower."
– Leon Tan, Head Bartender, NATIVE Singapore
The Peranakan
For the Jackfruit & Spiced Rum:
Ingredients:
250 grams dark rum
20 grams deseeded jackfruit
10 grams fresh galangal, chopped
10 grams tamarind
10 grams gula melaka (palm sugar)
1 grams dehydrated laksa leaves
1 grams dehydrated pandan leaves
0.2 grams deseeded fresh chilli padi
0.25 grams dehydrated kefir lime leaves
Method:
Place ingredients in a mason jar and sous vide for 2 hours at 55°C. Strain mixture through cheesecloth.
Weigh out and hand-blend:
100 grams jackfruit rum
10 grams boiled candlenut
80 grams young coconut water
Add 30 grams goat milk, let it rest for 5 minutes. As the mixture curdles, strain mixture through cheesecloth overnight.
For the Kueh Salat garnish:
80 grams leftover goat milk curds
100 grams coconut cream
300 grams pandan water*
Iota carrageenan binder
Hand-blend and boil mixture, slowly adding iota powder. Strain and pour into mould and refrigerate. Once hardened, take off the mould and encase with blue garnish.
500g coconut water
5g dehydrated blue pea flowers
Agar powder
Hand-blend and boil mixture, slowly adding agar powder. Strain and pour into mould with green garnish to encase and refrigerate.
Blanch jackfruit seeds from used jackfruits in salt water. Once softened use to grate over Kueh Salat Peranakan Jelly.
*To make pandan water, blend fresh pandan leaves with water for flavour and colour.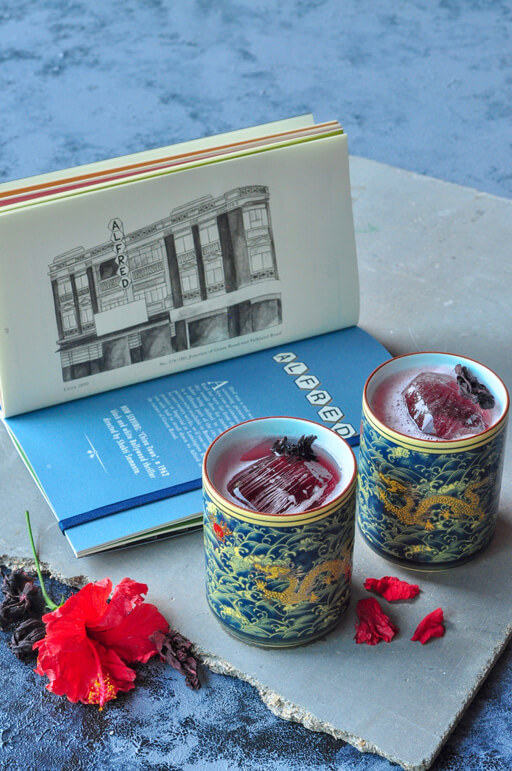 From Mumbai: The Chinatown
The Bombay Canteen, Mumbai
"The present Canteen Cocktail menu is an ode to the cinema talkies of the 1920s and the movies that once were played. The Chinatown cocktail in particular is inspired by the movie Chinatown, which was shown at Alfred Cinema, located in Bombay's Chinatown. A cocktail inspired from the classic Old Fashioned, it's a spirit-forward drink that uses indigenous ingredients of Chinese descent: pandan, hibiscus and mix of spices. The house-made pandan tincture gives the cocktail a nice, smooth aftertaste similar to sake, and the allspice dram provides a nice herbal and spicy note. This cocktail is best enjoyed sitting by the bar at The Bombay Canteen while chatting with our bar team as they talk you through the different housemade indigenous infusions we are currently working on."
– Yash Bhanage, partner at The Bombay Canteen, Indian Cafe & Bar
The Chinatown
Ingredients:
30 ml Johnnie Walker Red Label
30 ml pandan tincture*
5 ml smoky single malts
10 ml allspice & coconut dram**
4 dashes homemade floral bitters***
10 ml hibiscus syrup****
10 ml lime juice
Method: Shaken
Glass: Chinatown Dragon
Garnish: Hibiscus
*For the pandan tincture: infuse 100 grams of pandan leaf into 750 ml vodka for 3 to 4 days then strain it.
**Mix 2 tbsp allspice berries, 1 cinnamon stick and 2 star anise. Crush them. Heat a pan, add the spice mix and let them open up. Mix in 2 cups brown sugar and 4 tbsp coconut powder. Add 1 cup water, let it dissolve and simmer for 20 minutes. Remove from heat, and add 1.5 cups rum. After 24 hours, strain it and use.
***For the homemade soft & floral bitters: take a glass jar, add all the ingredients (1 tsp gentian root, 1 tsp star anise, 1 tsp cloves, 1 tsp cardamom, 10 pieces dry hibiscus flowers, 2-3 slices beetroot, 1 cinnamon stick, 100 grams sugar) to 600 ml vodka, and let it infuse for 1 week. Strain and use.
****For the hibiscus syrup: make a simple syrup of 1kg sugar with 1:1 ratio with water, add 100 grams dry hibiscus flower and simmer for 10 minutes. Let it cool, strain and use.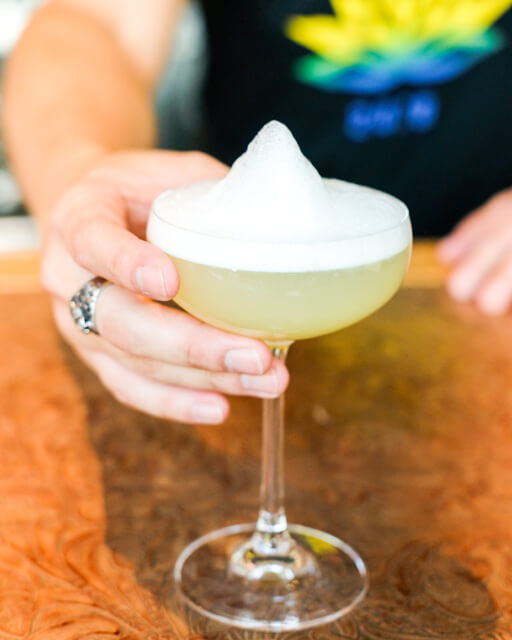 From Oakland: Calavera Salt Air Margarita
Calavera, Oakland
"This foam-topped cocktail, inspired by Chef Jose Andrés, has become a crowd favourite at our restaurant, Calavera, in downtown Oakland. We created our own version of a fun twist on the classic margarita, and our customers love it because it's festive and delicious. The Salt Air makes this a great drink for parties, because it keeps for quite a while and is always impressive. We just give it a little boost now and then with an immersion blender,"
– Chris Pastena, co-owner Calavera, Mexican Kitchen & Agave Bar
Calavera Salt Air Margarita
Ingredients:
¾ oz. (20 ml) fresh lime juice
1 to 1½ oz. (30-45 ml) Destilador blanco tequila
½ oz. (15 ml) orange-infused agave
½ oz. (15 ml) Luxardo Triplum
1 recipe Salt Air*
Method:
Pour tequila, luxardo, lime juice and agave into a cocktail shaker, fill with ice, and shake vigorously to mix. Strain into a coup-shaped glass. Spoon some Salt Air into the glass and continue adding to make a peak. Serve!
*For the Salt Air (will keep for a week refrigerated): Put 4 oz. (120 ml) fresh lime juice, 1 tbsp plus ½ tsp sucrose esters** and 1 tbsp salt in a bowl with 1 cup water. Whip on high speed with an immersion blender or electric hand mixer until the mixture bubbles up into a thick and airy froth. This should take approximately 10 minutes. (Not all of the mixture will froth. Some will stay liquid underneath the foam.)
**Sucrose esters can be found at modernistpantry.com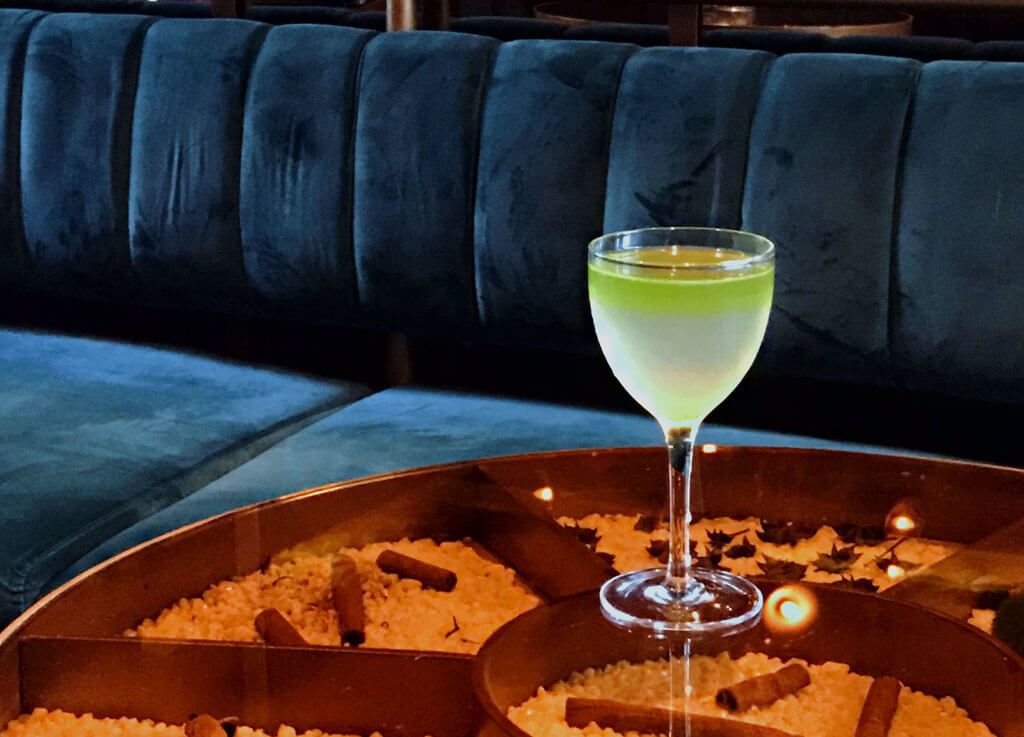 From Hanoi: Green Jewel
Mad Botanist, Hanoi
"The Green Jewel combines botanical notes with the nutty, fruity flavours from our own Botanist Gin, pandan leaf and fresh banana. It will smell like Cốm, sticky green rice, one of the famous dishes of Hanoi, which is often eaten with banana. It has a really nice green look."
– Mr. Cong, Bar Manager of Mad Botanist, The Gin Specialist
Green Jewel
Ingredients:
30 ml coconut oil fat wash of The Botanist Gin
20 ml of pandan soju (soju/pandan leaf/banana)
10 ml pandan syrup
10 ml lime juice
Method:
To get the pandan soju, we grind the pandan leaf with soju, then soak this mixture with banana. We also soak coconut oil with The Botanist Gin to get a coconut oil fat wash.
Mix all ingredients together except for the pandan leaf-banana-soju mixture. Then shake it. After that, top up with the above pandan leaf-banana-soju mixture to get that really nice green colour on top.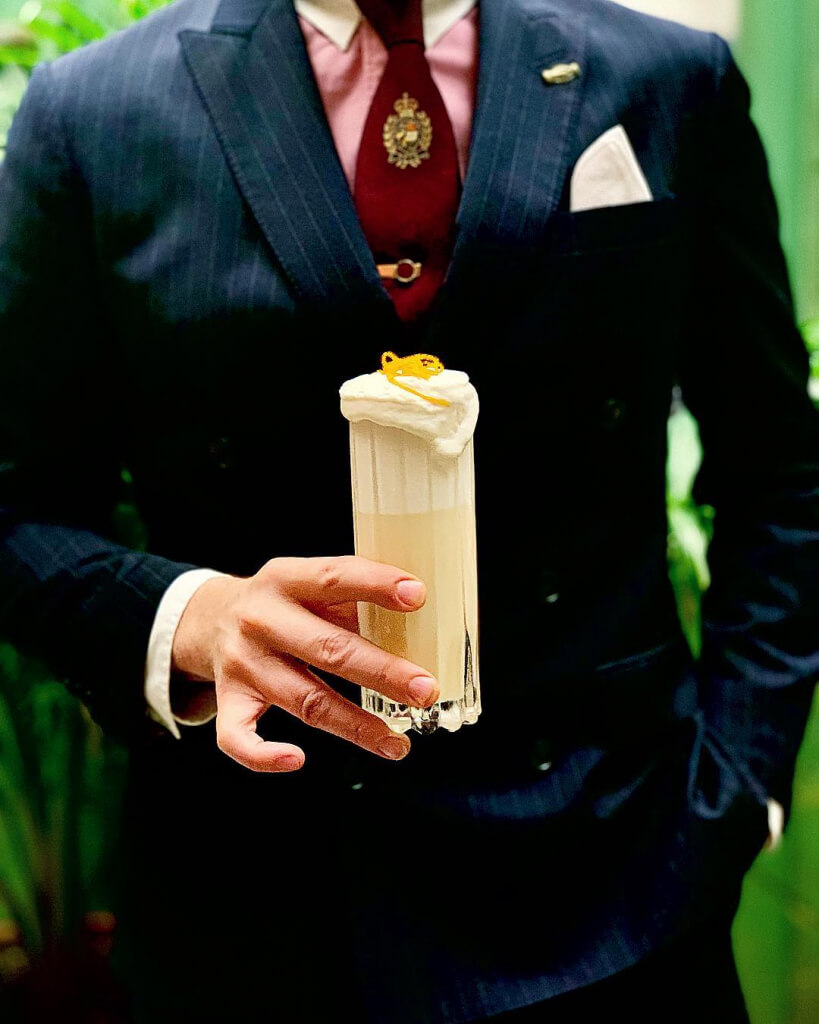 From New York City: Lambert Walk Fizz
Maison Premiere, Brooklyn
"The Lambeth Walk Fizz is take on the classic New Orleans Ramos Gin Fizz, reimagined through a more sub-tropical lens. Mango eau de vie, though challenging in its obscurity, is the perfect spirit to combine with cream, pineapple juice and orange blossom water, becoming more than the sum of its parts. It is yet another example of this Golden Age of cocktails we live in, with generations of classic cocktails to reference, but now with more exotic ingredients than one can keep up with."
– Will Elliott, Bar Director of Maison Premiere, James-Beard Award-winning bar and restaurant in Williamsburg, Brooklyn
The Lambeth Walk Fizz
Ingredients:
1 vial Saline
6 drops OFW
3 dash Orange Bitters
¼ oz. (7 ml) lemon juice
½ oz. (15 ml) Demerara
½ oz (22 ml) lime
1 pineapple
1 heavy cream
1 egg white
2 Rhine Hall Mango Eau de Vie
Method:
Build: In a Boston tin
Glassware: Riedel Fizz
Ice: None
Garnish: Wound orange zest, micro-planed Piloncillo
Straw: None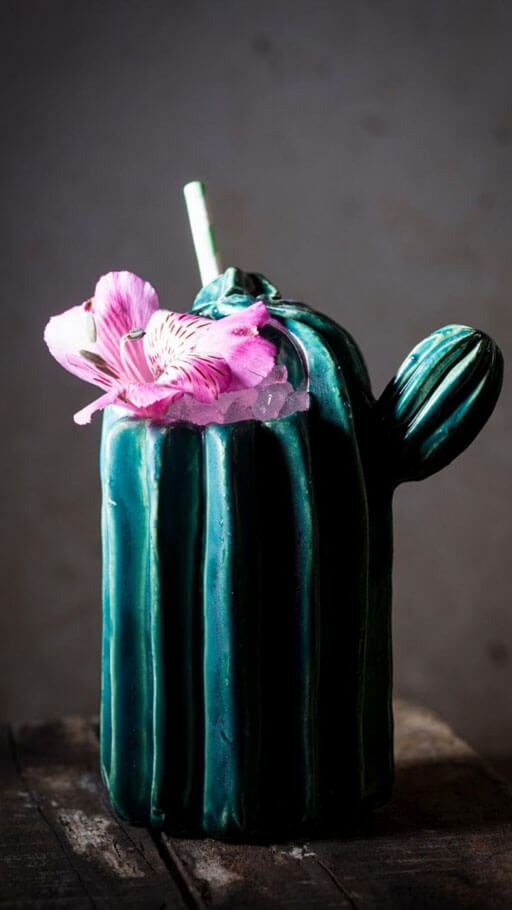 From Buenos Aires: Pachamama
Floreria Atlántico, Buenos Aires
– Tato Giovannoni, Floreria Atlántico, Buenos Aires
Pachamama
Ingredients:
50 ml destilado de papa*
125 ml agua pachamama**
*The 'destilado de papa' or potato distillate is vodka infused with different types of tubers, such as oca, fingerling potatoes, ruda, Rica Rica and Muña Muña (spice mix).
**Agua pachamama is moscato infused with red quinoa, pink peppercorns, carob and prickly pear flower honey.
Method:
Mix in a cocktail shaker.