';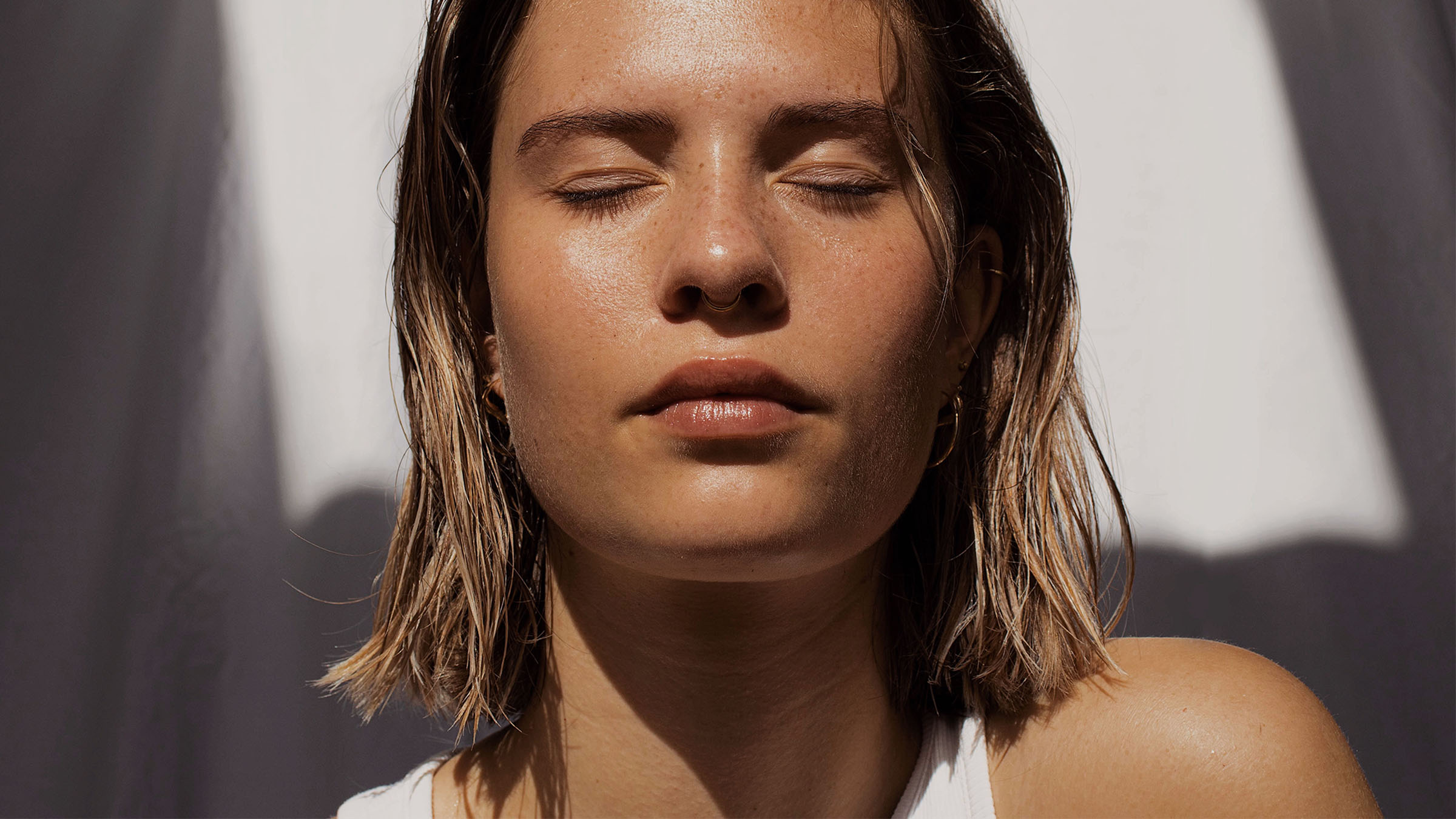 With 'new you' resolutions on track, and winter-weather cabin fever setting in, we're ready and primed to start looking for fresh ways to upgrade our go-to looks. Sometimes you just need a little something different, right? From Wednesday Addams-inspired makeup to mood-boosting Barbiecore (thanks, Greta Gerwig!), not to mention minimalist skincare and fuss-free nails, this year's emerging trends offer something for everyone – and for every aesthetic. Take a look.
Right At The Root
Haircare has taken centre stage in 2023 so far, and the first thing on everyone's beauty to-do list seems to be pampering their scalp. After all, embracing post-pandemic life means taking a few long-forgotten steps to looking good from tip to toe, and when it comes to hair health, we're no longer just focusing on having luscious ends. We're making sure to nourish our hair starting at the root, with scalp care that takes many different forms, from affordable massaging tools to scalp scrubs and hair growth serums. Expect to see an increase in these and other follicle-friendly practices in your feed starting now. 
Getting Greasy
Hair oiling rose to social media prominence last year, and its popularity is set to keep skyrocketing in the months to come. But though it may seem like a hot new beauty tip, the practice of spreading or massaging natural oils – usually argan, coconut, jojoba or olive oil, among others – throughout your hair to make it softer, shinier and healthier goes back millennia. If you'd like to jump on the bandwagon, your best bet is to start by doing it once or twice a week, and never leave the oil in your hair for long periods of time; for best results, apply and leave for an hour or two, then wash it out.
The Power Part
No, we don't mean the side part you rocked back in the '00s. Its more glamorous cousin is here to stay. While a middle part is a great, low-maintenance way to wear your locks on a daily basis, and it's versatile enough to match most everyday looks, no one says it's mandatory. And it's also not necessarily the most flattering option for everyone. For more sophisticated or out-there occasions, say hello to the side part. Our advice: start out by subtly incorporating it into your hairstyle and, if you like it, go all in with a deep side parting for some incredible power hair. You can rock this look with beachy waves or curls, a retro blowout, a high ponytail or sleek, straight hair.  
Vintage Vibes
The hold that Matilda Djerf has over Gen Z and young millennials is the stuff of marketing textbooks. Whether she sports a new makeup look or a piece from her highly popular brand, Djerf Avenue, everything she does or wears seems to be replicated around the world within minutes. Her hair is no exception. retro blowouts are back in style amongst younger generations. To join in on the trend without cashing out at the hair salon, consider trying out hot rollers, volumising products and, of course, the in-vogue Dyson Airwrap (and its more reasonably priced alternatives). Take a look at this easy tutorial on how to get the look from the comfort of your home. 
Grunge Glam
If you enjoyed (and maybe binged) Netflix's Wednesday, you're gonna love the gloriously grunge makeup trend that's already creeping into this year's beauty agenda. Wednesday-inspired, but not a carbon copy, the grunge glam look is a more wearable and sophisticated version of the original dark-and-smudged aesthetic, where tones range from classic black to burgundy and other deep shades. That means reaching for your trustworthy black eyeliner, but also for a Bordeaux-coloured lip gloss and maybe even a shimmering purple eyeshadow. An eye-catching style that's better suited for the evening, for sure, and one that we can't wait to recreate for our next outing. If you ask us, it's a refreshing turn of events after the past year of "clean girl" looks and bland colours.
All Dolled Up
On the other side of the spectrum, Greta Gerwig's highly anticipated Barbie has us all reminiscing about long-gone Saturday mornings playing dress-up with our favourite dolls. Luckily, Barbiecore is here to let us adults feel like a child again. A trend that's all about hyper-femininity, embracing vibrant colours, and having fun? We're in! To truly capture the Barbie-inspired, mood-boosting aesthetic, feel free to be adventurous when it comes to your colour palette – that also means not feeling the need to stick to pink tones (although, we're partial to Valentino pink). From neon eyeshadow to metallic eyeliner and all sorts of bubblegum pink nail and makeup products, you won't run out of ways to have fun with this trend. And yes, we see the '00s resemblance, too. We're here for it.      
Double Duty
If you're a 'less is more' kind of person, you're going to love the trend for hybrid beauty products that blur the line between makeup and skincare, and which will save you a lot of time – and money. Multitasking is crucial when you've got a tight morning schedule, and applying a complicated skincare routine followed by a full face of makeup can become impossible. That's why many companies have begun launching products that efficiently double as both. A couple of examples that you can incorporate for a nimble routine include the Kosas Revealer concealer, which is packed with hyaluronic acid, B5, peptides and caffeine for a relaxed and hydrated under-eye area; and the Saie SPF35 Tinted Moisturiser, which will brighten your skin with elderberry extract, licorice root extract and hyaluronic acid. The sheer, dewy formula also contains mineral zinc oxide for SPF and is suitable for acne-prone skin. For a touch of colour on the lips, cheeks and eyelids all in one product, we're loving the Ilia Multi-Stick.
Embracing Skinimalism
Speaking of purchasing fewer items…  Complicated multi-step routines also do a number on the environment in terms of resources, and can even do harm to your skin. From using too many active ingredients at once (or improperly combining them) to over-exfoliating and even depleting your skin of its natural moisture, there are many ways you can go wrong. That's why going back to the basics is back in fashion. Give your skin a break, and embrace the trend to minimise the number of products you're applying daily. How to start? Ask your dermatologist to recommend the creams, serums and cleansers you actually need for your skin type. Your skin, your wallet and the planet will all thank you.
Skin Barrier Repair
After years of focusing on harsh active ingredients (we're looking at you, retinol serums) and procedures like peelings, we're now seeking to moisturise and repair our skin barriers. While some intense ingredients may be important to include in your regime, they can leave your skin feeling a little overstimulated, and might even be harmful when applied improperly, causing all sorts of trouble. If you, like many, are starting to shift your focus towards restoration and protection, there are two words you should know: peptides and ceramides. The former are rich in amino acids, while the latter are nourishing components that will make your skin soft and healthy. With them, dry, irritated skin will soon be a thing of the past.
Fuss-Free Nails
How you wear your nails or decorate your hands is an entirely personal matter, as well as a great way to express your individuality, but if you'd like to keep up with what's in vogue this year, you may want to go a bit more low-key with the decor. Put the long acrylic nails in the passenger seat, and let more demure, easy-to-maintain styles take the wheel. Natural, neutral colours like pink, white, tan or beige on shorter tips, or even 'glazed donut' polish on natural nails are worth experimenting with. Personally, we're already on board with this one.
Pro-Planet Products
2023 is also all about taking as much care of our environment as we can, and with plastic proliferation and water scarcity becoming a growing concern, we predict an increase in the availability of package-free as well as waterless/low-water-usage beauty products. Now, what does that mean? Hopefully, we'll all be turning towards products like solid shampoo, conditioner and soap bars, as well as cleansing balms and oils in place of more traditional micellar waters or makeup removers. Hey, anything we can do to help Planet Earth!