';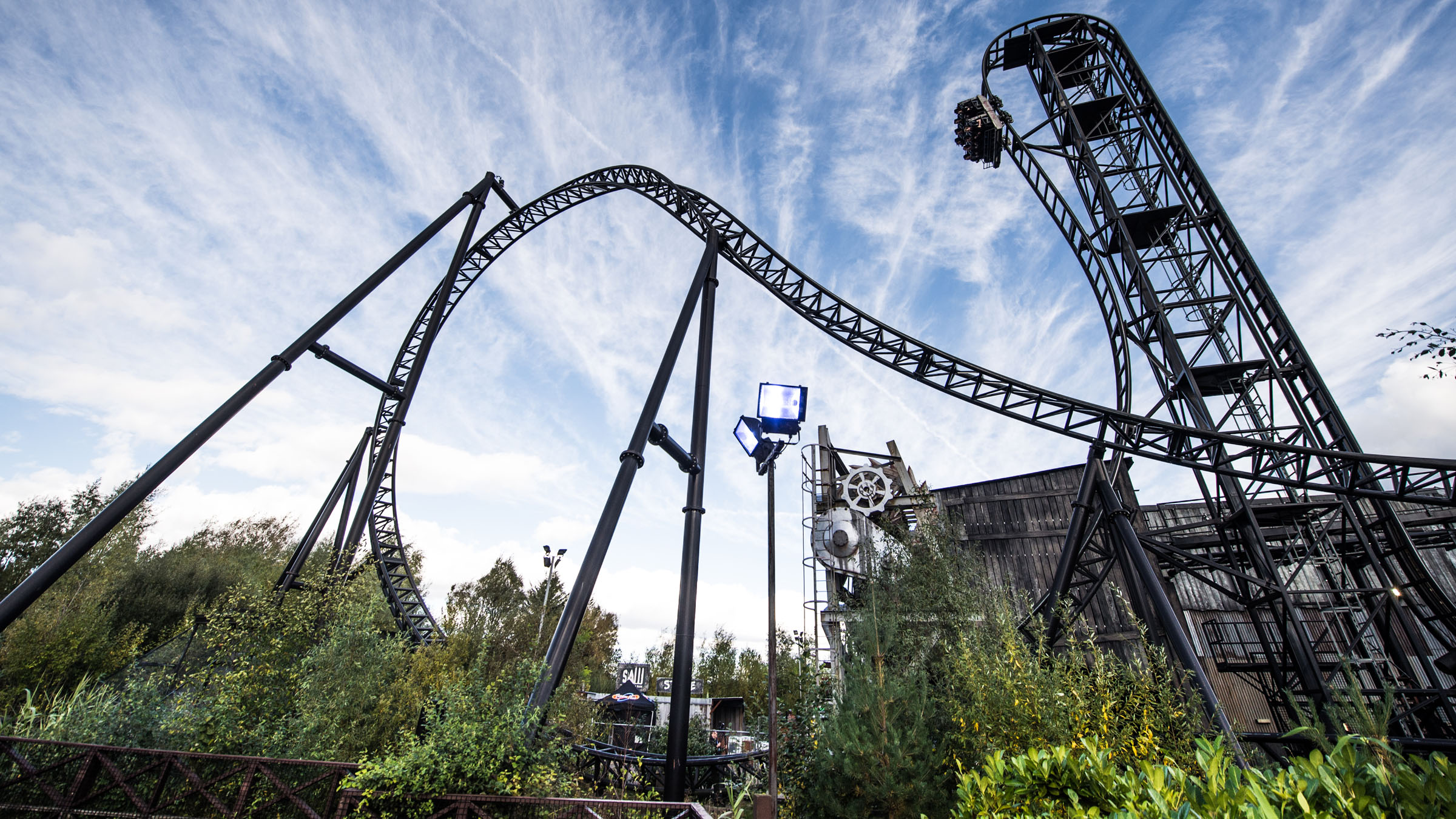 Nothing says 'summer' like a trip to a theme park. Especially this summer when, after more than a year of closures and restrictions, most amusement parks are finally reopening, often at reduced capacity and with safety protocols in place.
For those who are ready to emerge from their abodes, it's a chance to experience the rush of a thrilling roller coaster or the enchantment of an immersive ride once again – and perhaps even live inside the world of their favourite movies, if only for a few minutes. Join us as we check out the various parks across the globe where you can step inside the world's best-loved blockbusters.
Jurassic Park River Adventure (Universal's Islands of Adventure, Florida, USA)
A true classic. Jurassic Park River Adventure was inspired by an actual water-based scene in Michael Crichton's original book, which did not make it to Steven Spielberg's 1993 blockbuster, but is realised here in this water chute experience. Riders glide through the famous gates of Jurassic Park and witness scenes of peaceful animatronic dinosaurs at the riverside, before coming face-to-face with a giant T-Rex gnashing its terrible teeth. An updated version of the ride, modelled after the Jurassic World sequels, replaced this at the sister park in Hollywood, however nothing beats the original, still running in Orlando and Tokyo.
Current Status: Islands of Adventure and the Jurassic Park River Adventure are operating as normal.
Saw – The Ride (Thorpe Park, London, UK)
Our first roller coaster is not for the faint-hearted or squeamish. If you are familiar with the torture-heavy horror franchise Saw, it will come as no surprise that this experience comes with a lot of (fake) blood and body parts, and that's all before the white-knuckle 100-degree drop! The ride features videos from Billy The Puppet, as well as references to iconic moments in the various movies. Horror films are rarely considered for their own amusement park rides, given that they have limited appeal compared to more family-friendly themes, but this thrilling experience has been scaring fans since 2009!
Current Status: Thorpe Park is operating with certain hygiene and safety measures. Some attractions are closed, but Saw – The Ride is operating.
Millennium Falcon: Smugglers Run (Disney's Hollywood Studios, Florida, USA)
Galaxy's Edge, Disney's ambitious Star Wars-themed land, is advertised not as a ride, but as an immersive experience that belongs to the Star Wars canon. In short, you're not riding Star Wars rides, you're part of Star Wars itself. That includes this central attraction, which puts visitors in the seat of Han Solo's infamous Millennium Falcon. Essentially an interactive simulator, the ride has won rave reviews for its attention to detail – and for fulfilling the dreams of Star Wars fans worldwide, as they are able to step into galactic history.
 Current Status: Hollywood Studios is operating with reduced hours. The Millenium Falcon attraction is open.
Monsters, Inc. Ride & Go Seek! (Tokyo Disneyland, Japan)
The chaos of one of Pixar's finest moments comes to life in this mix between a traditional 'dark ride' and a shooting gallery, where riders may fire at objects to bring them to life. What will be impressive to fans of the movie is the opportunity to enter Monsters, Inc. itself, as the ride is modelled after Mike and Sully's workplace in the film. The chance to enter a place that has only been seen in animated form is precisely why theme parks can seem so magical for so many.
Current Status: The ride is still operating, as is the park.
NINJAGO The Ride (Legoland Windsor, UK)
The Lego Ninjago Movie was a big hit with audiences a few years ago, following the success of The Lego Movie and The Lego Batman Movie. While the latter two don't have attractions of their own (presumably due to licensing issues), NINJAGO has a fast-paced interactive ride that involves shooting at various targets using just your hands. Parks have rushed to keep up with the swiftly evolving pace of technology, changing how we have fun in a way we couldn't have possibly imagined just a few years ago.
Current Status: NINJAGO is operating. Face coverings are required on the ride and in the queue for guests aged 11 and over.
Fast & Furious: Supercharged (Universal Studios Hollywood, California, USA)
One thing many rides offer is an opportunity to go on an adventure with the stars of the film, which is exactly what Supercharged boasts. A-listers Vin Diesel, Michelle Rodriguez and Dwayne Johnson interrupt the traditional studio tram ride to take you to a world of underground parties and high-speed chases. While theme park purists have criticised the ride's reliance on high-definition screens over traditional animatronics, the ride is a chance to see a little bit more of the world's favourite road action series. 
Current Status: The ride is operating. The park requires face coverings even for fully vaccinated guests, and attendance has been reduced/limited according to government guidelines.
Arkham Asylum – Shock Therapy (Warner Bros Movie World, Queensland, Australia)
Though recently decommissioned, we include this ride for its unique immersiveness: For obvious reasons, most roller coasters are light on theming, which may only be present in the ride queue or at the start of the experience. Not so with Arkham Asylum – Shock Therapy, which offered the chance to see the ride both in real life, and via virtual reality goggles which transport riders to Gotham City while on the ride itself!
Current Status: This ride was retired in 2021.
Wicker Man (Alton Towers, Staffordshire, UK)
First, a quick disclaimer: this roller coaster isn't officially related to the 1973 British horror movie, or the 2006 remake of the same name. However, we think you'll agree that the theming of the ride, which (safely) combines fire and wood to take riders through a giant 'burning' Wicker Man, echoes the main themes of the films enough to give you the sensation of living that terror, particularly when set against the country backdrop of the British theme park. The theming also talks of dark rituals and sacrifice, which echo the films of the same name. Personally, we never wondered what it would be like to meet the particular fates of Edward Woodward and Nicolas Cage, but each to their own!
Current Status: Alton Towers is operating at reduced capacity and with a pre-booking system. This ride is running.
Ratatouille: The Adventure (Disneyland Paris, France)
It makes perfect sense that Pixar's French culinary adventure should have an attraction in its country of origin. This trackless ride spins you through Chef Gusteau's kitchen, as star Remy scrambles to make dinner for his guests. It's a heady mix of 3D cinema and physical obstacles that makes for great fun. It's also set in a replica French village complete with a recreation of Remy's restaurant where, as you would expect, Ratatouille is on the menu.
Current Status: Disneyland Paris is open at reduced capacity.
Avatar: Flight of Passage (Disney's Animal Kingdom, Florida, USA)
The former highest-grossing film of all time has its own land in Pandora – World Of Avatar at Disney's Animal Kingdom, and one ride drops you into a pivotal point of James Cameron's film, where you are paired with an Avatar and get to fly a banshee. The ride experience takes you through some recreated sets from the film, which include incubating animatronic Na'vi avatars! With the Avatar sequels finally just around the corner, this is a chance to refamiliarise yourself with the world before going back to Pandora at the cinema.
Current Status: This ride is fully functioning.
The Simpsons Ride (Universal Studios Florida, USA)
Many were very sad when the beloved Back to the Future simulator ride left Universal Studios in 2007, having been one of the main attractions for the park for years. However life goes on, and another phenomenon that started in the 1980s has taken its place: The Simpsons. Placed in the middle of a Springfield-themed area of the park, guests are plunged into the world of KrustyLand, which has been sabotaged by Sideshow Bob (voiced by Kelsey Grammer). A big ride for a huge TV and movie franchise, it has become one of the must-see moments of any theme park fan's experience.
Current Status: The Simpsons Ride is operating.
Jaws: The Ride (Universal Studios Japan)
We started with a classic, and we'll end with one! Jaws: The Ride is a riverboat tour of the fictional Amity Island of the original movie, where guests are shown around and come into contact with a suspiciously familiar fin emerging from the water! It's considered a classic theme park ride, plunging you into the experience of a movie using traditional techniques, including animatronics and explosions that still thrill to this day. It also has links to a cult classic comedy, Kevin Smith's Mallrats, which features the now-closed Orlando version of the ride.
Current Status: The attraction is running, and the park is operating at reduced capacity.
[Opener photo courtesy THORPE PARK Resort; teaser photo courtesy LEGOLAND Windsor]