';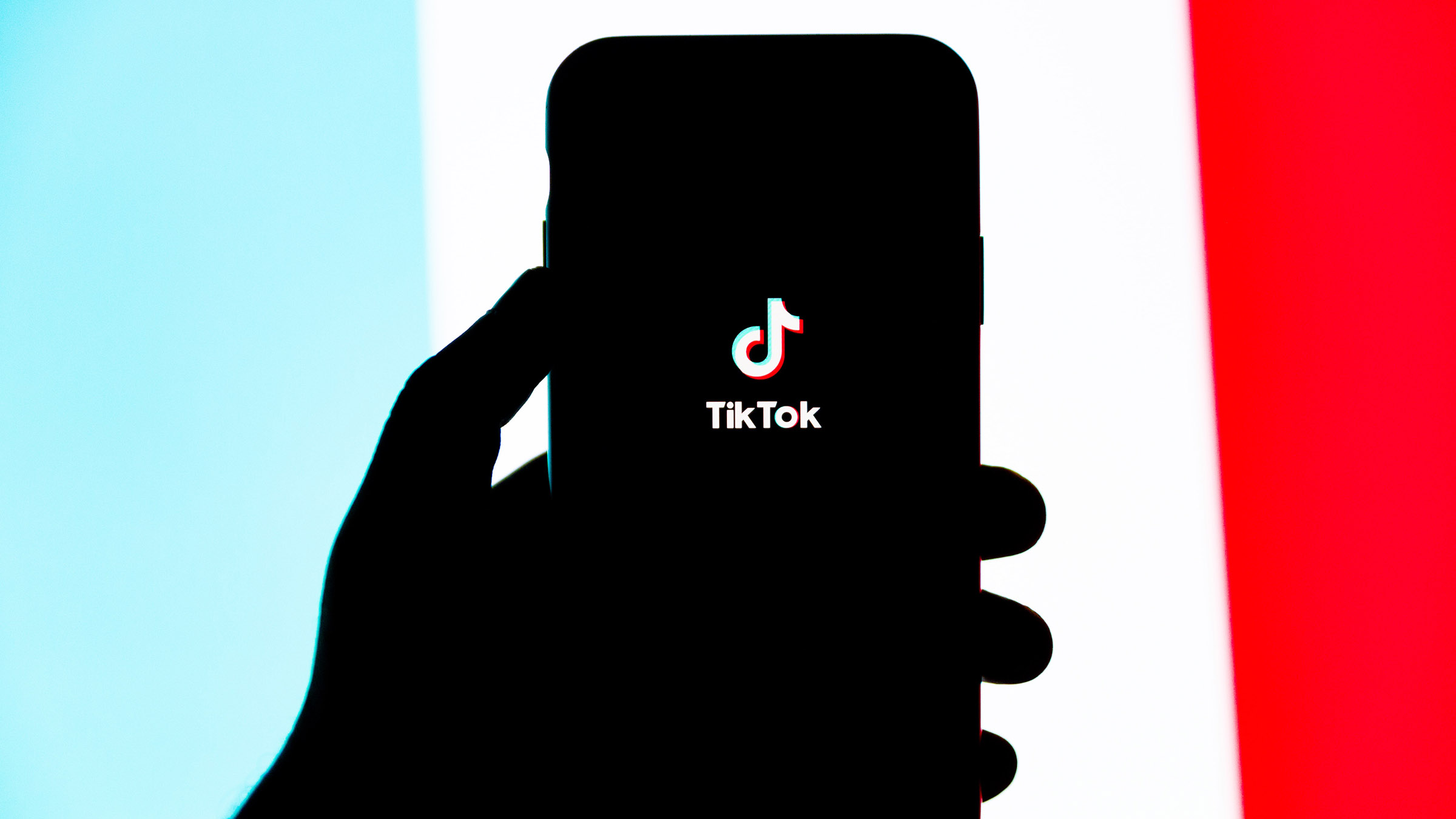 There's no escaping the mass appeal of TikTok for a new generation of culture vultures. The youngest of the major social media apps (released just seven years ago), many of the short-form videos, called 'TikToks', that users post are inspired by stories which are a lot longer, hailing from an industry that is many years older. Hollywood has truly been brought into this new medium, whether as the subject of devoted videos or the unwitting target of satire. In fact, feature films can be made or broken based on nothing more than a hashtag. So, how did the new kid on the block become so influential in the Hollywood Hills?
Taking flight over the past few years, and growing exponentially during pandemic lockdowns, TikTok has become the place on the internet to share your creativity with the world. From makeup routines to recipes, how-to videos and comedic content, anything you can do, show or explain in under a minute has at least been attempted on the platform. Naturally, pop culture features heavily among users' posts, with people incorporating dubbed lines from movies, TV and music to make you laugh, cry or think. 
One of the biggest recent examples is something that has become known as the Wednesday Dance Challenge. Fans of the Netflix show Wednesday recreated the iconic scene in which Wednesday Addams, played by Jenna Ortega, performs her own unique dance during a ball at Nevermore Academy. It's a distinctly unique moment in the series, keeping in step with the creepy and kooky history of the Addams Family franchise that it continues. 
However, in the world of TikTok, it's rarely a case of simply copying a scene note for note. At some point, a sped-up version of Lady Gaga's "Bloody Mary" replaced the original song ("Goo Goo Muck" by The Cramps) and the new iteration was shared and repeated by millions. It became so popular that Lady Gaga herself broke out the Wednesday cosplay and did the routine herself! That TikTok post alone generated around 13 million views, with the craze as a whole increasing that number several times over. Rumours have suggested that Gaga may make an appearance in an upcoming season of Wednesday, which, if it comes to pass, would be a truly TikTok-created moment. 
A mixture of collaboration and fan worship, it's become the modern way to measure a hit. Numerous songs have enjoyed chart success simply thanks to being 'big on TikTok', and in the same way you might quote a movie, show or song to your friends or colleagues, countless people have taken to their bedrooms and living rooms to pay homage through their own artistry. It's a way to feel involved in your favourite stories – movies and TV included. 
TikTok's Favourite Flicks
New releases are often a source of inspiration, given that they're fresh in the cultural mindset (and often at the encouragement of publicity campaigns), however TikTok creators also honour classic films and franchises in various unusual ways. One popular trend made affectionate fun of the Fast and Furious series, particularly lead character Dom Toretto's (Vin Diesel) fondness for family. Creators showed themselves failing at certain tasks (cooking for a chef, singing on a reality show) only to be applauded by Diesel when the word family is mentioned. It's a bizarre theme if you think about it, but when captured in quick, snappy videos, it has generated a lot of laughs and highlighted the popularity of the long-running car saga. 
Another unusual trend came from the 2020 Pixar movie Luca, in particular a scene where the eponymous lead character is advised to tell the negative voices in his head "Silenzio Bruno!" until they allow him to live in the moment (Bruno being a random name to give one's own self-doubt). This very sweet moment has been used as a soundtrack to many different types of videos, often featuring people taking in a beautiful view, getting up to dance or just embracing the things that make them happy, despite any initial embarrassment. While it may seem somewhat removed from the movie itself, it perfectly captures the film's themes of being yourself, throwing caution to the wind and pursuing adventure. 
Of course, Marvel is ever-present in the TikTok domain, just as it has remained popular at the box office for over a decade. As such, a number of different Avengers-themed trends have surfaced over the years, with some of the more popular including dance routines set to a mixture of the Avengers March and Cardi B song "WAP", or various comedy skits imagining people achieving their goals just before the legendary Thanos 'Snap' made them disintegrate. A consistent theme, however, is cosplay. Those who look and dress like our favourite heroes (or variations on the themes) can take their talents beyond comic con, and impress viewers with their likeness. Whether that's used to recreate scenes, do a dance or simply look cool is up to them, but with #MarvelCosplay currently standing at over a billion views, it's safe to say audiences just can't get enough. 
The TikTok Effect
As any movie analyst will tell you, online buzz doesn't always translate to box office success. There are many examples of a trailer causing a stir on YouTube, Twitter or other platforms, only for the resulting film to fail at bringing in the crowds. Are fans too busy making TikToks to go and see the movies themselves? Well, as it turns out, the opposite seems to be true. 
One of the big hits of 2023 so far has been horror/sci-fi M3GAN, about a doll with artificial intelligence that gets too attached to her owner. Even before the film came out, a clip of the title character dancing caused a stir, with many people copying the dance in their own way. Combinations of people reacting to the clip and doing their own version generated hundreds of millions of views, and raised awareness to the point where M3GAN became a surprise success in the US, despite opening against the latest Avatar film. Fans feeling that they had a sense of the film's tone even before they had seen it created organic excitement, and the rest is fright-filled history. 
One movie-related series that wasn't afraid to embrace internet culture was Obi-Wan Kenobi, the Star Wars show where Ewan McGregor repeats his infamous greeting "Hello there." The line, originally delivered by the actor in the Star Wars prequels, became a sensation on social media, with many younger TikTok fans realising its significance. "I am asked to say it a lot," McGregor confessed in an interview, before expressing puzzlement at a quote that wasn't even his (the line originally came from Obi-Wan predecessor Sir Alec Guinness). 
Killer dolls and Jedis aren't the only characters that have benefited from TikTok popularity. 
One of the most successful movies of last year, Minions: The Rise of Gru, bucked the trend of family movies mostly succeeding on streaming and became one of the top five highest-grossing films worldwide. Part of that success was down to the #gentleminions hashtag, which made the news around the globe. Its rather sweet premise is that children who watched the last Minions film in cinemas had been waiting five years for the follow-up, and were now teenagers with fond memories of the film. As such, they filmed themselves dressing in suits to attend a screening of The Rise of Gru, clasping their hands villainously like a supervillain before cheering the film when it played. 
It started with a group of high school students who went straight from their school formal to the cinema (hence the suits), but it soon caught on, and even Universal Studios acknowledged the trend: "To everyone showing up to @Minions in suits: we see you and we love you," the official Twitter account posted last summer. Not everyone was a fan, however, given that some 'Gentleminions' caused disruption, but on the whole the good-natured antics seemed to have had a huge effect on the animation's popularity. 
It's likely that TikTok will continue to be a big part of the moviegoing experience in 2023 and beyond. Future films are already being speculated, from jokes about Christopher Nolan not using CGI for atomic bomb biopic Oppenheimer, to fan theories as to the identity of new characters in Indiana Jones and the Dial of Destiny. As TikTok executive Nikao Yang told Deadline: "Before, we were part of the conversation. Now, we're driving the conversation." 
A social media platform is as vast and as creative as the people who make it, and pop culture will always be part of the discourse wherever a lot of people meet. We may be from different countries or backgrounds, but we can all contribute our love (or hate!) for the latest must-see blockbuster, cult character or breathtaking moment. After all, the internet has always been at its best when people connect and realise how much they have in common, and it's clear to see that the global language of cinema is still being spoken on even the most cutting-edge platforms.