';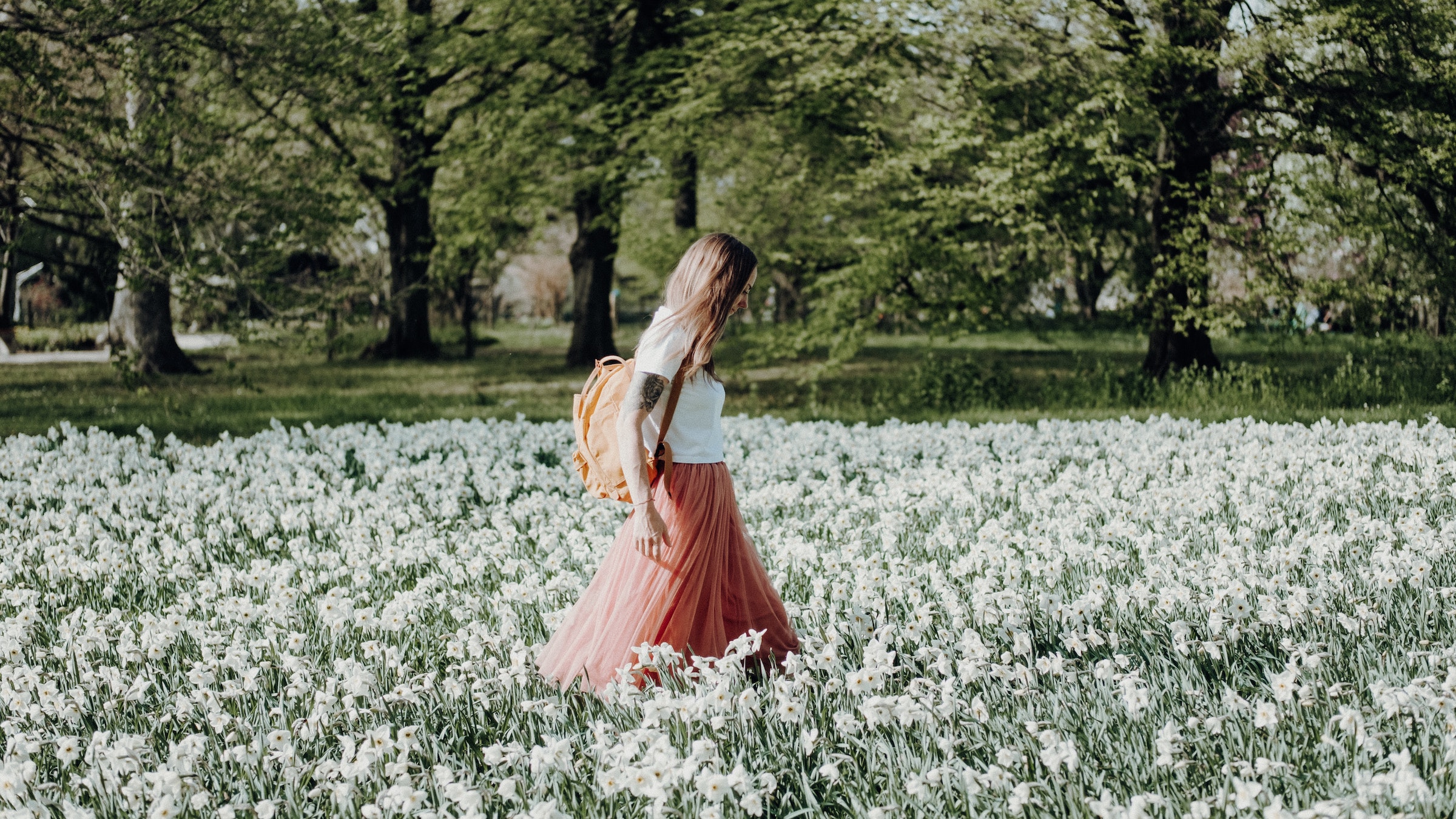 The Word: Reverdie
As the month that marks the official start of spring in the northern hemisphere, March is understandably associated with rebirth – and we can't help but celebrate those new beginnings with a word that properly evokes them: reverdie. Derived from the Old French reverdier, meaning 'to grow green again' after the thawing of winter, reverdie originated as a poetic genre in which Old Occitan lyric poets, called troubadours, pictured themselves immersed in an idealised bucolic setting, with nightingales singing and spring arriving in the guise of a woman. For those who are a bit more familiar with the language, it's hard not to hear a strong similarity with another French word, rêverie, meaning 'daydream'. And who among us hasn't been daydreaming of spring for a good many weeks? 
Perfect If: Visions of tulips and rainbows and baby chicks are dancing in your head.
THE FILM: A Good Person & Space Oddity
Up for a good cry? This month, we're all about timeless dramedies that give you the feels, the kind that seem hopeless and hopeful at the same time – you know what we mean. First up is A Good Person, from director and writer Zach Braff. After experiencing grief multiple times during the past few years, Braff learned how to laugh his way through painful moments, and that was his entire concept for this film starring Morgan Freeman and Florence Pugh. The uplifting drama will have you comfort-crying to yourself as you are soothed by Freeman's iconic voice. However, if you're in the mood for a little less sadness and a little more romance, Space Oddity, directed by Kyra Sedgwick, tells the story of a man preparing for a mission to Mars who must choose between two journeys of a lifetime – the one to outer space and the other into a woman's heart.
Perfect If: You want to have all the feels – or you're just here for the great soundtracks.
THE SHOW: Daisy Jones & The Six
From the bestselling author of The Seven Husbands of Evelyn Hugo and Malibu Rising comes the exciting tale of a (fictional) 1970s rock band that shook the world – and themselves – when they quit at the height of their fame. Daisy Jones & The Six is the sixth novel by American author Taylor Jenkins Reid and her first to be adapted for the small screen, hitting Amazon Prime on 3 March. The show stars book adaptation veteran Sam Claflin (The Hunger Games; Me Before You; Love, Rosie) and Riley Keough (Mad Max: Fury Road, American Honey) as Billy and Daisy, the leads of the story's eponymous band. If you're not convinced yet, hear this: the cast who play band members learned to play their own instruments, and are actually playing the music featured on the show. Pretty neat, right? Sorry, we meant groovy.
Perfect If: You're dying for an entertaining, binge-worthy show, and can't help but feel drawn in by the Fleetwood Mac vibes in the trailer.
THE ANIMATION: Agent Elvis
The King is back. And this time, he's not just saving the world from boring music. He's saving the world, full stop. In a new adult animated action series created by Priscilla Presley and John Eddie, Elvis Presley "trades in his jumpsuit for a jetpack" to battle the evil forces threatening to topple his beloved country – all without missing a beat as America's favourite rock 'n' roll icon. The show will hit Netflix on 17 March, with the dulcet tones of Matthew McConaughey providing the voice of Elvis.
Perfect If: You knew that Elvis had secret service aspirations (he even met with then-President Richard Nixon and asked to be made a federal agent!) and would be jazzed to see his dream come true, even if only in cartoon form.
THE EVENT: Jerte Valley Cherry Blossom Festival
If Japan is a bit too far or out of budget this year, but you're still keen to get an eyeful of one of spring's most majestic displays, head to the Jerte Valley in western Spain. This scenic region, about three hours' drive from Madrid, is home to more than two million cherry trees that blossom each year to much local fanfare. Expect mediaeval markets, musical performances, cooking workshops, guided walks, tastings and more family-friendly festivities taking place in towns across the valley. The revelry begins on 17 March and extends into early May.
Perfect If: You're itching for winter to end and the first signs of spring to appear – but don't want to deal with big blossom-seeking crowds.
THE PLAY: A Doll's House
Get yourself back to Broadway with Henrik Ibsen's 144-year-old theatrical drama, A Doll's House opening 9 March in Hudson Theatre. This time, the classic play stars Academy Award-winner Jessica Chastain as Nora under the direction of West End theatre master Jamie Lloyd, bringing back a psychologically and culturally powerful story that, while written over a century ago, is still relevant today. Actors who have played Nora in past revivals have a history of scoring Tony wins or nominations, including Janet McTeer and Laurie Metcalf, and although we're confident in Chastain's abilities, this adaptation will have no props, no costumes and no sets – making the weight of the play to rest completely on her acting. We're still confident.
Perfect If: You want to witness the power and intensity of an Oscar-winning performance, live on stage.
THE OCCASION: World Book Day
It's no secret that we here at Amex Essentials are fans of reading, and we'll take any excuse to share our love of the written word and help promote literacy across the globe. This World Book Day, we encourage everyone to pick up a good book – and encourage or help others to discover the joy of reading as well. Your local library would be the perfect place to start: see if they offer volunteering opportunities, perhaps working with kids on their literacy skills, reading to little ones or simply helping sort and shelve books. Whatever you do, be sure to set aside some quality time with any young readers in your life. We have stacks of age-appropriate recommendations, from the greatest children's books of all time, to books that help little readers process big issues, and timeless books for kids that everyone should re-read as an adult at least once. If your budding bibliophile prefers more interactivity during book hour, try Twenty Questions, a new release from New York Times bestselling author Mac Barnett and illustrator Christian Robinson that invites kids to explore an array of questions, from the thought-provoking to the head-scratching and the just plain fun.
Perfect If: You know that books are the gateway to the world – this one and infinite others.
THE SOUND: The Songs of Bacharach & Costello
The title leaves no room for confusion: The Songs of Bacharach & Costello is an all-encompassing 45-song collection – 19 of which are as-yet unpublished – that gathers the titles written together by the award-winning duo of English singer-songwriter Elvis Costello and American composer, singer, pianist and producer Burt Bacharach, who recently passed away at the age of 94. Celebrating the 25-year-long musical partnership between the artists, this Super Deluxe edition consists of four CDs loaded with live recordings and newly remastered albums (accompanied by orchestras, notable musicians and more), as well as studio notes, drafts of lyrics and a 20-page booklet with unseen pictures by acclaimed photographers William Claxton and Rankin. There's also a newly written essay by Costello, in which he describes his admiration for Bacharach and reflects on the many ways his old friend influenced his life. Retailing at almost EUR 200, the Super Deluxe edition will be for the most dedicated fans of the duo, but more casual listeners can get their fix by listening to Bacharach and Costello's biggest hits on YouTube or Spotify.
Perfect If: You're willing to wait until 3 March to find the sweetest spot even "In the Darkest Place".
THE DISH: Colcannon
Celebrate this St Patrick's Day by adding some green to your spuds: whip up a warm bowl of colcannon, the traditional Irish dish combining mashed potatoes with cabbage (usually kale, Savoy or green cabbage) – and enough butter to make a leprechaun blush. Down it with a pint of Guinness, and then, belly full of comforting mash and Irish champagne, take our quizzes to see how Irish you are and how much you know about Irish cuisine …and then take a nap.
Perfect If: Green beer isn't quite your thing, and you prefer to observe St Paddy's Day with more authentically Irish flair.