';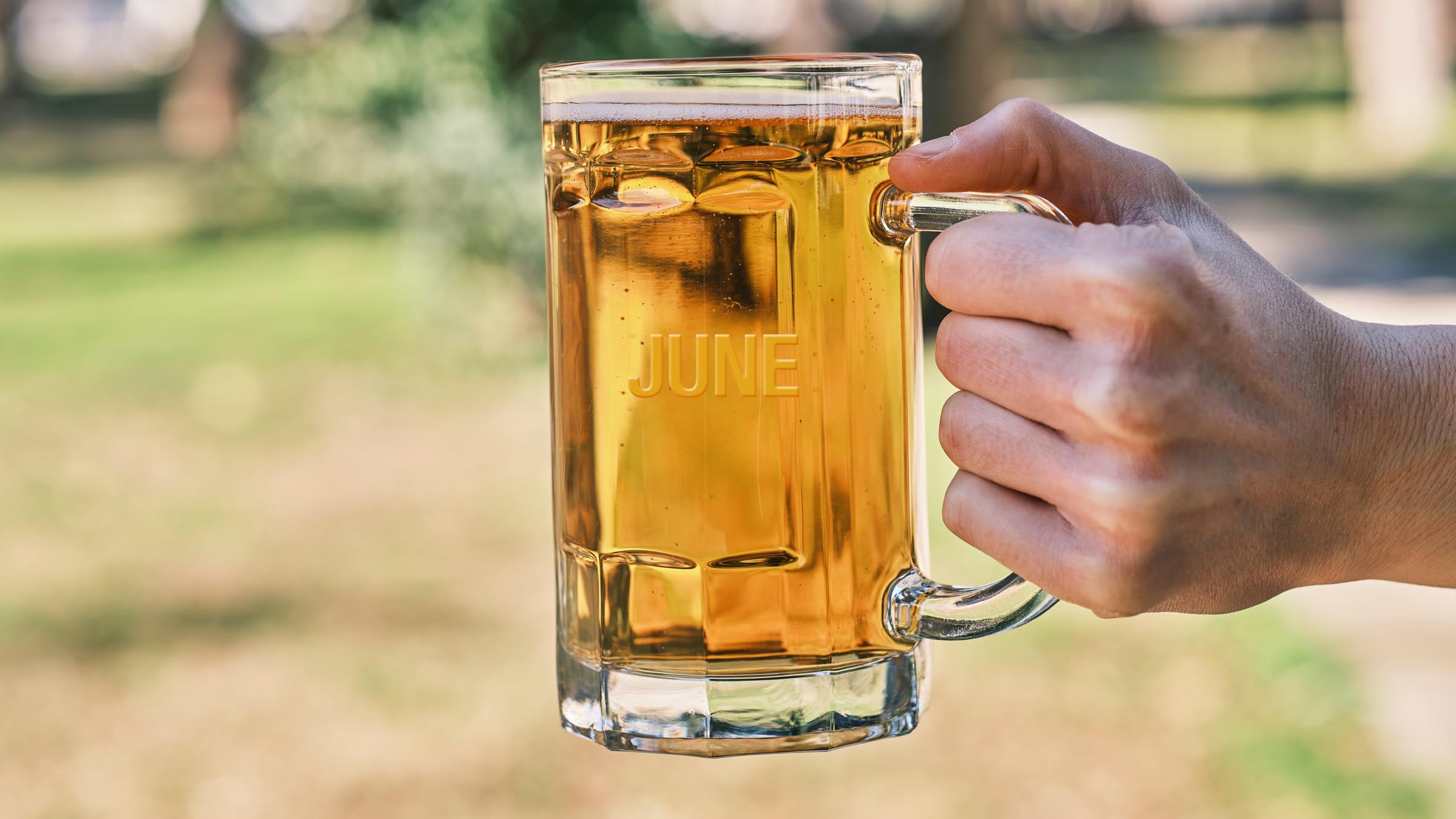 THE WORD: Utepils
Our essential word this month could hardly seem simpler or more welcome: utepils. This Norwegian expression literally means 'outdoor beer' (or 'outdoor pilsner', if you're a stickler for accuracy). As with many words, however, utepils is not quite as simple as it initially appears. Norwegians typically use utepils to denote the first beer of the year to be enjoyed outdoors – and that is no trivial matter when living with Norway's bracing Scandinavian climate. While we are confident that the more thirsty Norwegians will already have savoured this year's utepils with a quiet smile and a sense of profound satisfaction, we hope this latest word of the month will encourage anyone who is lagging behind to go out and grasp the sheer joy of an outdoor beer – or whatever your preferred tipple may be.
Perfect If: You believe that even the smallest joys deserve to be recognised and quietly celebrated with a private ritual. After your utepils, prepare to mark your first ice cream of the year, your first outdoor swim or anything else that is sure to put a smile on your face. 
THE FILM: Elvis
He's the King of Rock and Roll, the best-selling solo artist of all time, and the newest cinematic inspiration of director Baz Luhrmann. After some pandemic-related delays, Elvis is finally ready for release on 24 June as a biopic exploring the life and music of the iconic showman. But the storyline isn't just about his life and rise to fame, it's also an exploration of how his music and image inspired important cultural changes in America across the '50s, '60s and '70s. Starring Austin Butler as Elvis Presley and Tom Hanks as his manager, Colonel Tom Parker, it's a "true story told brilliantly and creatively" – according to Priscilla Presley herself. And if you're just in it for the music, the original soundtrack, with announced guest performances by Doja Cat, Måneskin and Kacey Musgraves, will not disappoint.
Perfect If: You've heard his music all your life, and now want to know more about the man behind 'The King'.
THE EVENT: Tollwood Summer Festival
This summer, head to the Bavarian capital for the annual Tollwood Summer Festival, a 26-day event that promotes art, culture, music, gastronomy and a strong commitment to humanity and nature. Encompassing theatre productions, global culinary stands, activities for children and amazing musical performances by international rising artists, as well as musical legends like Sting and Patti Smith, Tollwood is the perfect event for your post-pandemic summer relaunch. If Munich is a bit far from your current location, you can still take a piece of the festivities home; shop online from their 'Market of Ideas' featuring tons of exhibitors selling organic food products and artisan craftwork from all over the world.
Perfect If: Your idea of a perfect summer involves good music, good food and a good conscience.
THE SHOWS: Ultra Violet & Black Scorpion and Ms. Marvel
No one asked for yet another superhero TV show, but two upcoming Disney series seem poised for a more original and inclusive take on the genre. Premiering 3 June on the Disney Channel, Ultra Violet & Black Scorpion tells the story of Violet, a Mexican-American teen turned luchadora with magical powers, struggling to learn how to secretly fight crime while navigating the daily struggles of middle school. With an all-Latinx cast and a more human take on superpower fiction, it's sure to be a breather from the recent special effects avalanche. Later, on 8 June on Disney+, Marvel's Ms. Marvel sees Muslim teenager Kamala Khan come to terms with her newly received superpowers, just like those of Captain Marvel and the other heroes she looks up to. Part superhero tale, part coming-of-age story, it's charming, relatable and MCU-worthy. With both shows featuring main characters from traditionally under-represented groups, these new series are set to expand the genre and make everyone feel included, with or without superpowers. 
Perfect If: You need your occasional dose of superhero adventures, but want more 'human' and less 'heroic'.
THE CELEBRATION: Fête de la Musique
For 40 years, 21 June has marked the official day of the Festival of Music in France, or Fête de la Musique, celebrating the summer solstice with a blast of melody. Free to attend as a spectator and free to participate as a performer, the event is open to all musicians of any skill level, age and part of the world, with the aim of promoting music diversity and culture across genres and musical expressions. If you happen to be travelling to France, you won't be able to miss the festivities anywhere you go. If not, you can celebrate music and musical creation in your own way, whether it's attending a concert, having a dance party in your living room, watching a music documentary (Summer of Soul is our top pick!), making DIY instruments with the kids, or finally learning how to play one.
Perfect If: You're ready for the world to listen to your music – the world, or just your neighbours.
THE FESTIVAL: Jewish Film Festival Berlin | Brandenburg (JFBB)
Founded in 1995 by Nicola Galliner, referred to as the "tireless ambassador of Jewish life" in Germany's Brandenburg region, the Jewish Film Festival Berlin | Brandenburg (JFBB) is the largest Jewish film festival in Germany. This year, the event is gearing up for its 28th edition, which will take place from 14 to 19 June. Under the motto 'Jewcy Movies', the diverse programme will feature 43 films and two series – ranging from experimental movies to documentaries and even caustic mockumentaries – screened across 11 different venues from Berlin to Potsdam, and always staying true to the festival's core mission: "to keep the memory of the Shoah alive, to convey historical awareness and to counter anti-Semitic attitude patterns."
Perfect If: You appreciate any opportunity to break harmful clichés and celebrate the history of a remarkable group of people.
THE DOCUMENTARY: One Ocean Film Tour
Harbour a love of the ocean and marine life, as well as a desire to increase awareness about its preservation? The One Ocean Film Tour is a world-class series of inspiring ocean-centred movies with a focus on adventures involving aquatic life and the stories of people who are determined to protect it. From an insightful glimpse at the life of filmmaker and explorer Jacques-Yves Cousteau, to a documentary movie that dives deep into the experiences of Bold and Beautiful (an informal swimming squad from Manly Beach), this roving film-screening event promises a delightful visual journey and a dose of activism. Catch it at select times and locations in Australia, New Zealand and the US, with more dates to be announced for other regions.
Perfect If: You are longing to learn more about this wonderland covering over 70% of the earth's surface.
THE SOUND: FOALS' Life is Yours
Summer's coming around, and we can already feel a sense of urgency in the air. Everyone is longing for warm nights, cold drinks and lively music. Luckily, FOALS are here to save the day. Their newest album, Life is Yours, is out on 17 June, described by band members as "escapist and joyful". We don't know about you, but we'll probably be dancing to their fresh tracks for a while to come. The album features singles "Wake Me Up" and "2am" – the latter of which was shot in Kyiv with a Ukrainian cast and crew, with the group sending wishes of "love & courage" to their friends in the European country. 
Perfect If: You're feeling particularly joyous and want to dance, but you're looking for something new to get your toes tapping.
THE ANNIVERSARY: The Rise and Fall of Ziggy Stardust and the Spiders From Mars
You want more music? Then how about the 50th anniversary of one of the greatest milestones in popular music? With classic tracks such as "Starman", "Suffragette City", "Lady Stardust", "Five Years" and the title track "Ziggy Stardust", David Bowie created an album and an alter ego that would influence the direction of music, fashion, art and even social trends for decades to come. To mark the original release, a special limited edition vinyl LP will be available, cut from the restored Trident Studios master tapes.
Perfect If: You're already a fan or simply curious to understand why Bowie is considered such a symbol of creativity and artistic exploration – a subject that will also be the theme of the upcoming documentary film Moonage Daydream from director Brett Morgen, which received instant critical acclaim when released at this year's Cannes Film Festival.