';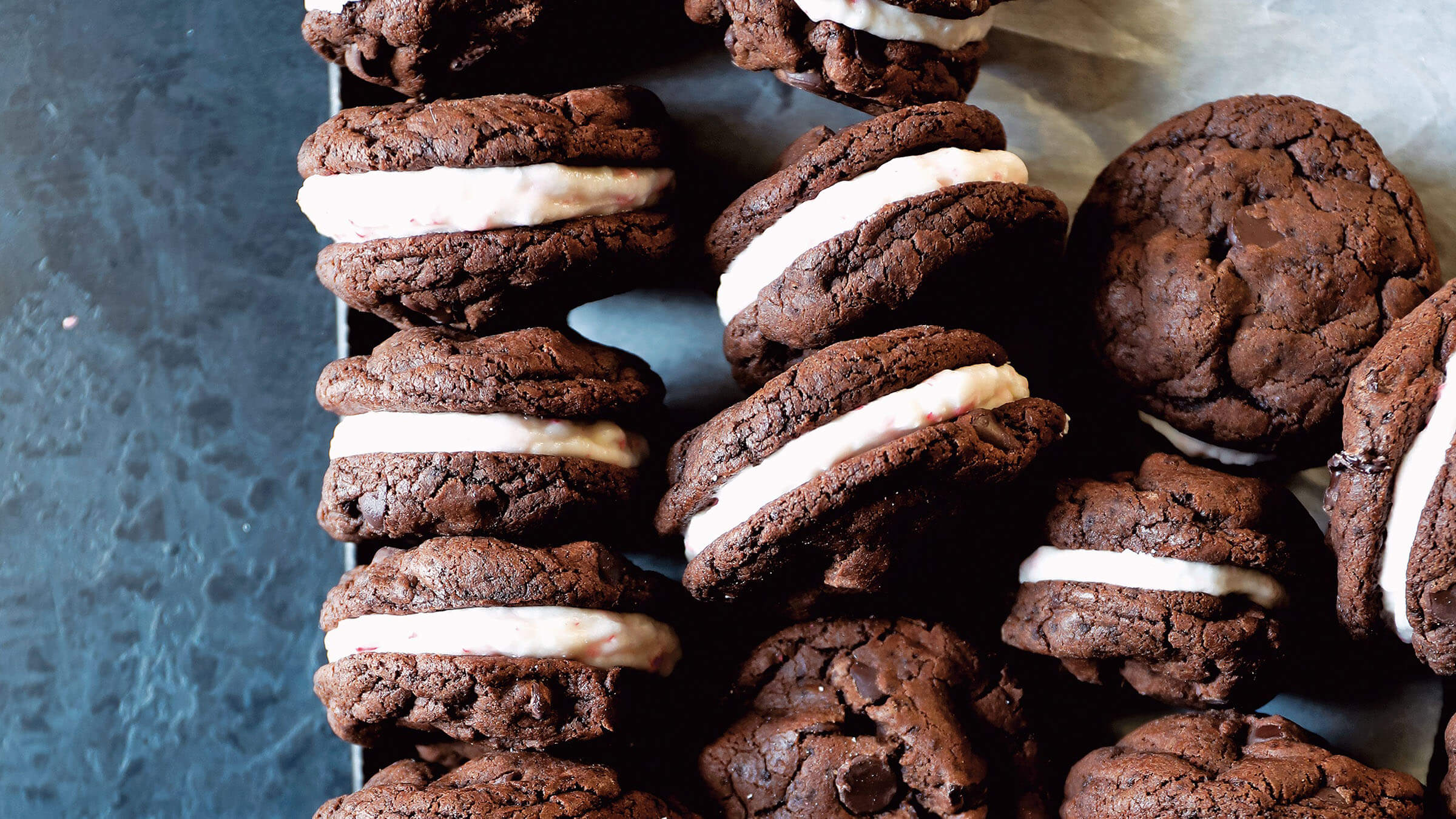 ;
"This is one of those cookies that I've been making for friends since I lived in China. Two chocolatey, chewy cookies sandwich a hefty dollop of peppermint cream that is heavily laced with crushed peppermint candies for added crunch. If these don't put a little holiday spirit in your step, I don't know what will. I've often wondered if this peppermint cream would make a nice winter salve to soothe my December skin?" – Rebecca Firth
Rebecca Firth's Peppermint Sandwich Cookies
Yield: about 20 cookie sandwiches
Ingredients:
For The Cookies:
1¾ cups (210g) semisweet chocolate, coarsely chopped
½ cup (118ml) sunflower seed oil or other neutral oil
3 large eggs, room temperature
¾ cup (158g) light brown sugar, packed
¾ cup (144g) granulated sugar
2 teaspoons (11 ml) pure vanilla extract
1 cup (136g) bread flour
¾ cup (103g) all-purpose flour
¼ cup (21g) unsweetened cocoa powder
1½ teaspoons (7g) sea salt
1 teaspoon baking powder
1 teaspoon baking soda
1½ cups (270g) dark or semisweet chocolate chips
For The Peppermint Cream:
½ cup (115g) unsalted butter, room temperature
½ cup (115g) vegetable shortening
3½ cups (455g) powdered sugar
2 teaspoons (10ml) peppermint extract
3 tablespoons (45ml) milk
½ cup (116g) finely crushed peppermint candies (about 8 medium-sized candy canes)
Method:
1. To make the cookie, melt the semisweet chocolate and oil in the microwave in a large microwave-safe bowl or in a double boiler. I usually do 1 minute on high, but microwaves are funky, so keep an eye on things. Stir the chocolate to get rid of any chunks. Sometimes it will look chunky, but if you give it 20 or so stirs, you'll get rid of all of the chunks without overheating it. Let the chocolate cool slightly and then whisk in your eggs, brown sugar, granulated sugar and vanilla extract.
2. In another bowl, whisk together the bread flour, all-purpose flour, cocoa powder, sea salt, baking powder and baking soda. Pour this into the chocolate mixture and stir until the dough is just starting to come together. Add the chocolate chips and mix until just barely combined. Wrap tightly and chill for 30 minutes in the fridge.
3. Preheat your oven to 350°F (177°C) and line several baking sheets with parchment paper.
4. Gently roll 1 tablespoon (14 g) of dough into a ball and place on the cookie sheet, allowing about 1 inch (2.5 cm) between each dough ball. Try to make the dough balls as spherical as possible and equal in size so they will pair up nicely when smooshing the peppermint cream between them.
5. Bake one sheet at a time for 8 minutes in the center of the oven. You want to slightly undercook these. Allow the cookies to cool on the sheet for 5 to 10 minutes, then transfer to a cooling rack.
6. To make the cream, while the cookies are cooling, place the butter and shortening in an electric stand mixer fitted with the paddle attachment. Mix on medium-low until well blended. Add in the powdered sugar, peppermint extract and milk, and continue blending until nice and creamy. Lastly, add in the crushed peppermint candy and mix until evenly distributed throughout the cream.
7. Pair up cookies that are of equal size, give a generous (I mean it) smear of peppermint cream on one side and smash another cookie on top. If you want it to look nice and tidy, run a finger around the outside of the cream to smooth it out.
Rebecca Firth – food writer, photographer and creator of the sweet-focused blog DisplacedHousewife – is your go-to cookie source. Her cook book The Cookie Book includes a wide range of cookies to fit every type of craving. More than 75 brand-new recipes include easy-to-follow instructions, helpful tips and beautiful photography for each whimsical creation.
Reprinted with permission from The Cookie Book: Decadent Bites for Every Occasion by Rebecca Firth, Page Street Publishing Co. 2018. [Photo: Rebecca Firth]