';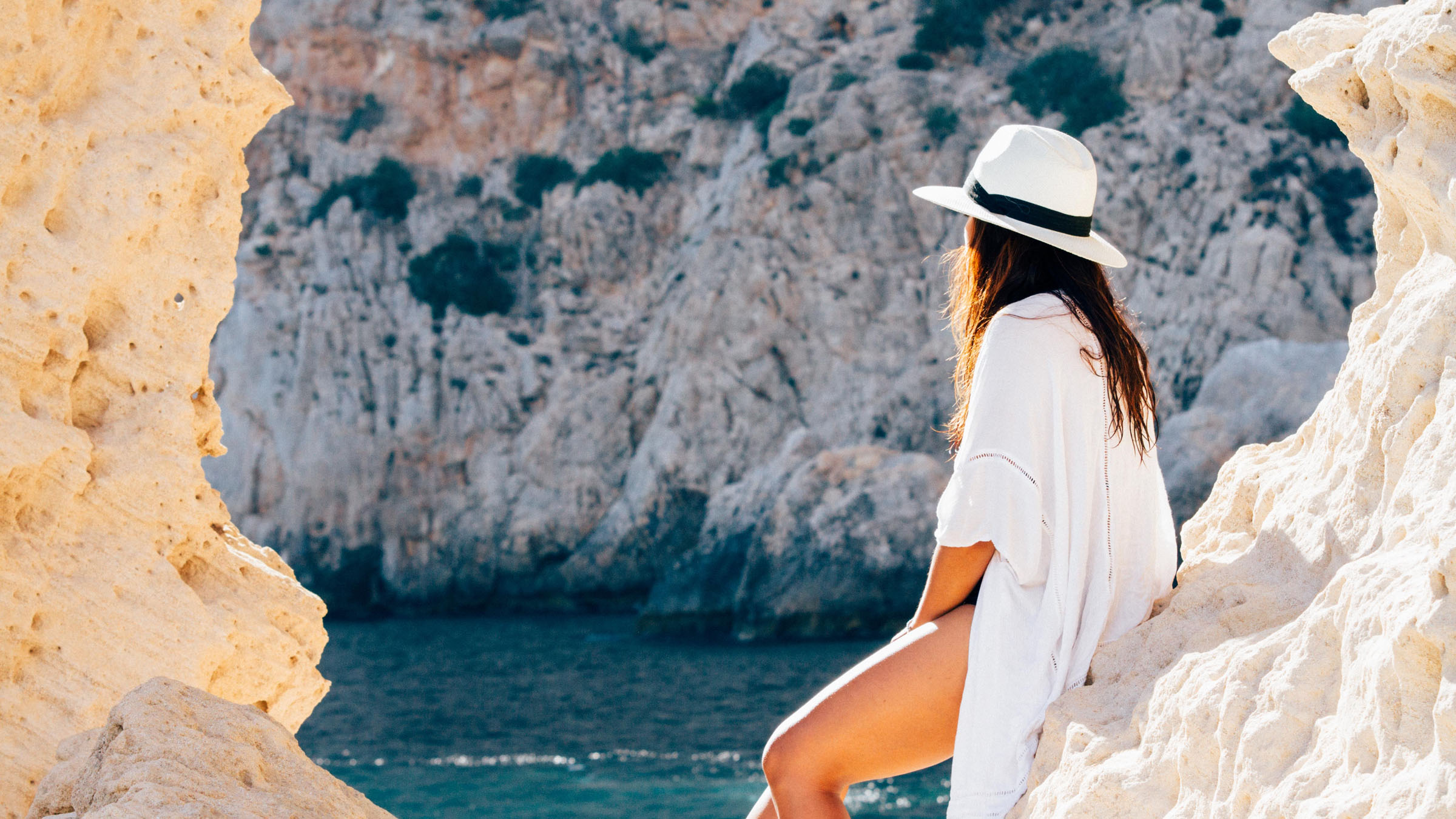 ;
Long days at the beach, whether active or relaxed, shouldn't mean sacrificing safety. We're not talking about rip currents or marine life: We're talking about the sun. After all, the Skin Cancer Foundation attributes approximately 90% of aging to sun exposure, and notes that every sunburn can increase your overall risk of developing skin cancer; meanwhile, the US Centers for Disease Control and Prevention emphasise the cumulative effect of sun damage throughout our lives. The sun's ultraviolet rays are nothing to mess with.
This year, up your game and supplement your sunblock with UV-protective beachwear. From UPF50+ and higher hats, cover-ups and swimsuits, to loungewear that shows a lot less skin, explore the collections of these innovative brands to find some seriously smart style (in every sense of the word).
Mott50
The dermatologist-recommended beachwear brand Mott50 is centred entirely on the idea of UV protection. In fact, every item is certified UPF50 or UPF50+; they're also conveniently machine washable. The women's collection includes zip-up rash vests with long sleeves, pretty one-piece bathing suits and mix-and-match two-piece separates for relaxed and active beach days alike. There are also high- and low-rise styles, leggings for swimming, rash guards with thumbhole cuffs for coverage, removable bra cups and more.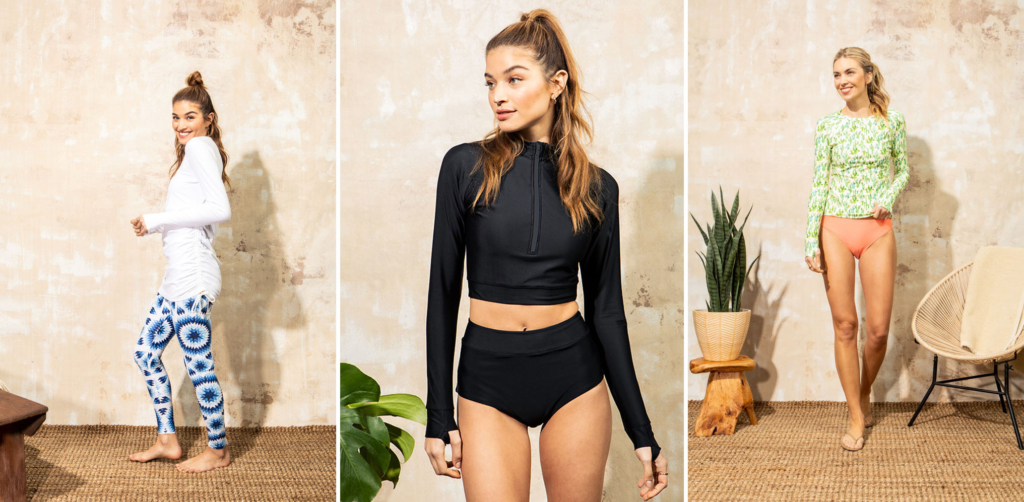 In addition, the brand produces tops, bottoms and dresses, and every fabric features specific high-performance qualities, such as the lightweight, breathable and quick-drying "Classic Swim" fabric made of 85% polyester and 15% spandex. For the men, Mott50 produces UPF50+ printed board shorts, while children's styles include sunsuits for babies, one-piece and long-sleeved bathing suits for girls, and miniature board shorts for the boys.
Melissa Odabash
International jetsetter and former swimwear model Melissa Odabash is a California transplant living in the UK – and a brilliant designer. Her swim lifestyle brand took off immediately, with British Vogue calling her debut 1999 collection, "the Ferraris of the bikini world". Thankfully, however, they don't come with Ferrari price tags, and her collections feature swimsuits offering performance stretch and durability, along with comfortable, flawless cuts and figure-flattering designs. Quality and wonderfully feminine designs are at the forefront of looks worn and adored by celebrity fans including Eva Longoria, Kelly Killoren Bensimon and Gwyneth Paltrow.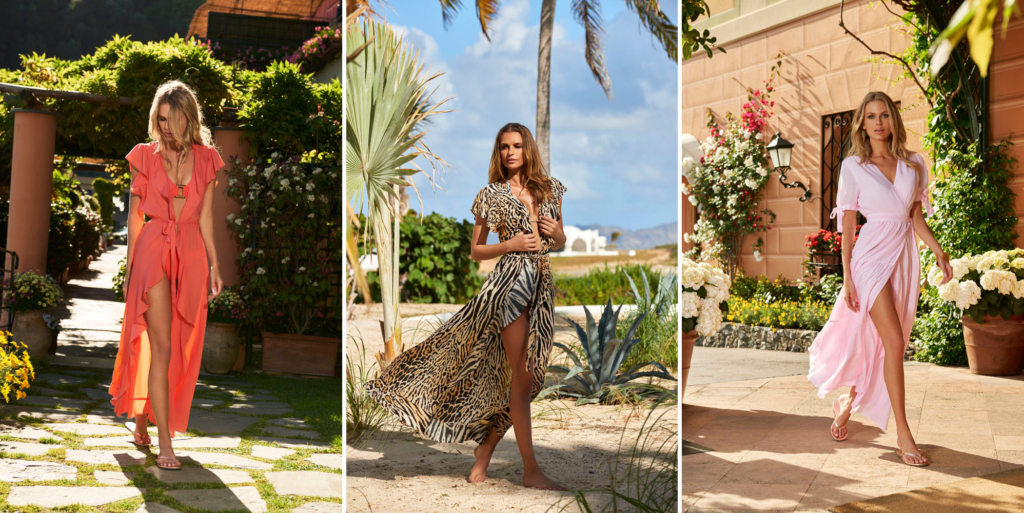 As for UV-protective beachwear from the brand, shop for refined rash vests with crew necklines, zippered tops and long sleeves, or any one of a number of elegant maxi or midi dresses – as appropriate for the beach as they are for night. The fashion label also offers long shirt dresses, kaftans, skirts and pareos. Melissa Odabash designs outfits for the little ones as well, including long-sleeved surf suits with whimsical patterns, high-coverage rash vests and embroidered kaftans with pom-poms along the hemlines.
BASK
Beach jackets help to shield the upper body from the sun's rays – and they can also be high on style. Some of the most impressive options on the market are from BASK, a brand specialising in 100% Turkish terry cloth towel blazers. They deliver excellent coverage along with sophisticated style, with an aesthetic Town & Country Magazine describes as "if Gatsby wore a cover-up".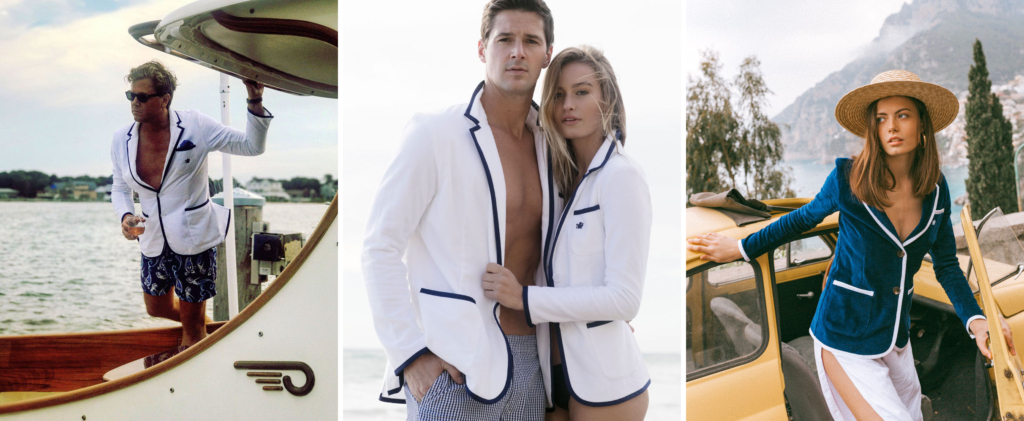 Available in colour combinations including white with pink, and navy with white, there are styles for men, women and children. These toweling blazers feature a tailored fit, chest and hip pockets, notched lapels and contrast colour trims – there are even blazer mini dresses on offer. Wear one after a swim to towel off, and continue to wear it to protect skin from UV rays. When it's time to go to dinner, these blazers double as appropriate dinner jackets, opening up more refined options for post-swim meals. BASK towel blazers may be ordered with monograms, and they're all machine washable.
EAU CLUB
EAU CLUB is an ethical brand with an all-female team based in the US. The brand's founder, Emily Bibb, hails from California and is an NCAA Champion from her previous career as a USA Swimming National Team athlete. EAU CLUB offers a selection of premium cover-ups – a number of which are unisex – spanning everything from a linen lounge coat with silk pockets and a belted denim trench coat, to light blankets and towels.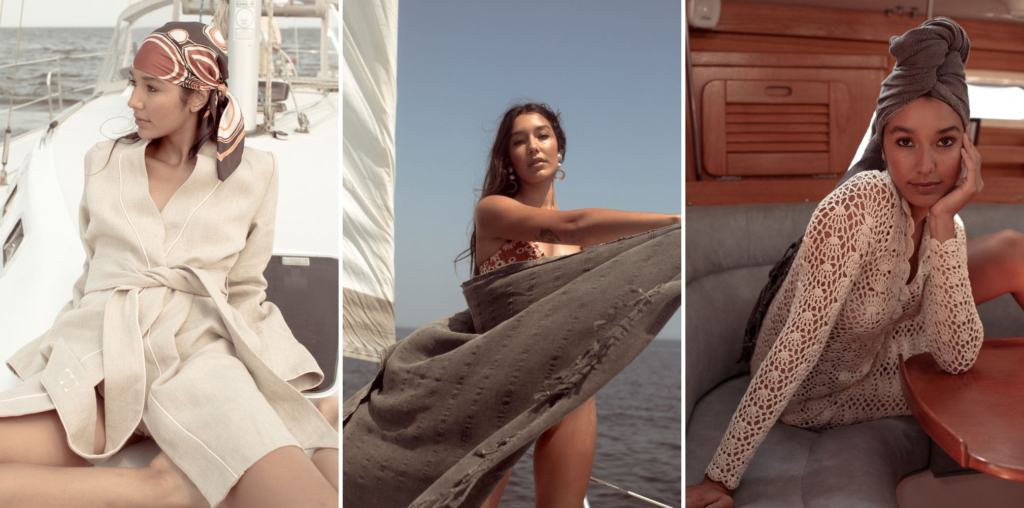 These versatile products are meant to be worn in many ways with multi-function design, and sport an aesthetic that will never go out of style (their quality aligns with the same belief). The brand's designs offer practical sun protection along with natural and organic fabrics and recycled materials. A broad selection of monogrammed embroidery is also on offer.
Global Babe
Singapore-based travel and beachwear brand Global Babe serves up fabulous solid-coloured sun hats and apparel for women with Saint-Tropez style. Choose from a collection of jumpsuits, dresses, skirts, kaftans and sun hats of various sizes. The brand puts sun safety at the forefront as well, with handmade apparel designed to maximise coverage and style. Versatility is also a virtue, with many convertible products created to be worn in a number of different ways. For example, the one-size-fits-all jumpsuits may be worn with a classic plunging neckline, a strapless back silhouette or as high-waisted trousers.
The beachwear looks are also wrinkle-resistant and easy to pack for holidays. Sun safety is such a top priority for Global Babe that their sun hats are the only ones to ever be validated by the British Skin Foundation. What's more, all of their sun hats are UPF 1200+ as certified by the Australian Radiation Protection Authority. UPF 1200+ protection means the sun hats were 99.9999% resistant to UV radiation even after vigorous 10-day exposure to UV A, B and C rays during testing. The brand also values sustainability, planting one tree for every purchase.