';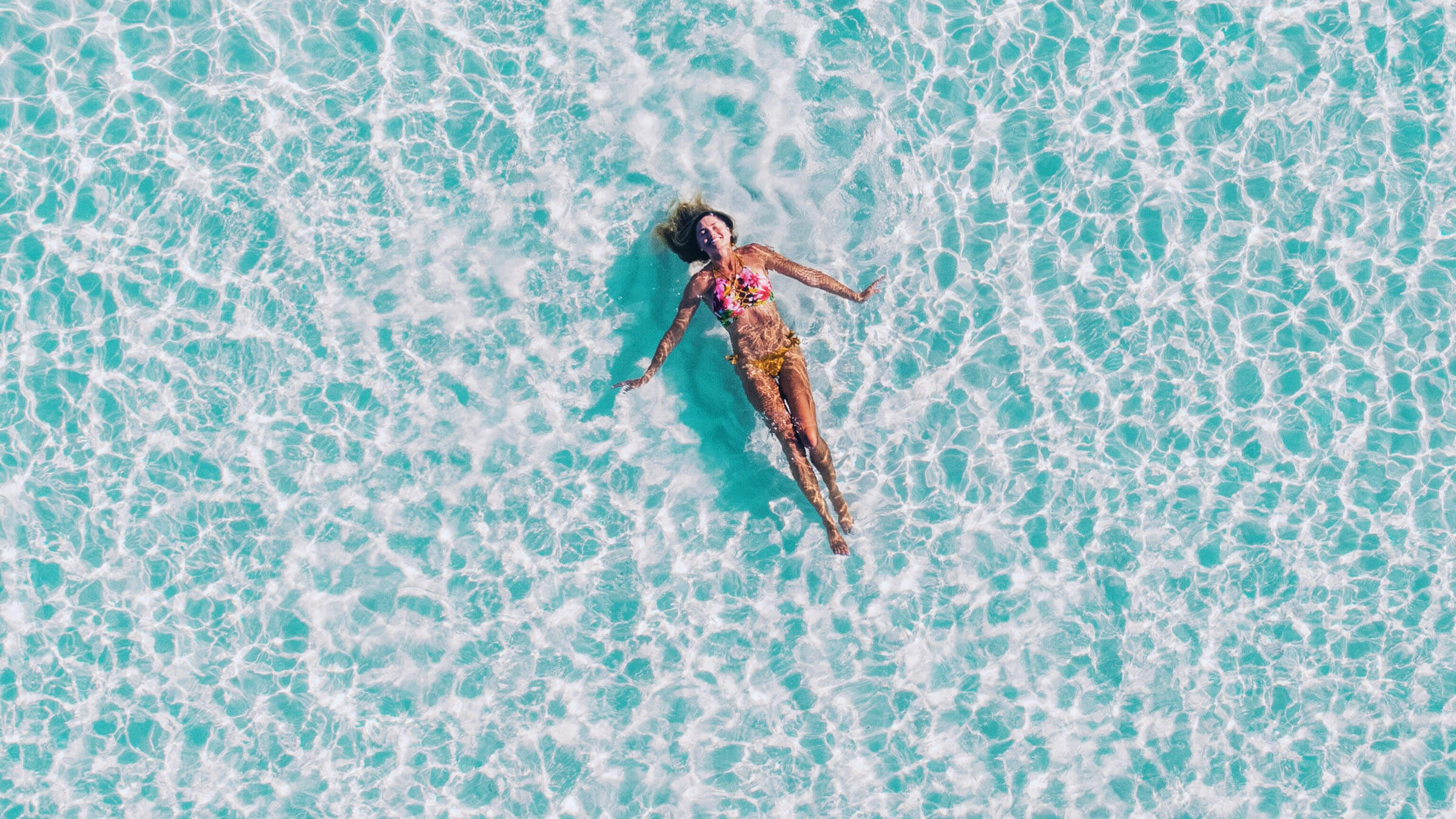 ;
Summer is on its way! Say hello to shorts, sandals, swimwear and long days of fun on the beach, by the pool, in the park or simply soaking up the sun on a terrace somewhere.
But not so fast: as good as summer is for the soul, it can take a real toll on your skin and hair. For every beach day or pool party, there's an array of harsh chemicals and elements – UV rays, saltwater, sand, chlorine – that you'll need to protect yourself from. Plus, it's the season for showing some skin, and you'll want to make sure you put your best face forward …and legs, and arms, and feet.
From skin care, to hair hydration, nails and make-up, we've got tips to prepare you for days full of sun, sand and sea.
Radiant, Without Radiation
The most important part of any summer beauty routine is proper suncare: using sunscreen is essential for protecting yourself from harmful UV rays that can cause skin irritations, dark spots and sunburns, and drastically increase your risk of developing skin cancer.
Experts such as dermatologist Rigoberto Castro are insistent: "You should always apply a skincare product with SPF, regardless of the season, but in summer you should pay extra attention, since excessive UV radiation causes the skin to dry out, lose nutrients and irritate more easily."
And don't forget to re-apply: "Remember that if you are going to be in the sun for several hours, you should apply sunscreen several times, as sweat and water can wash it off rather quickly. Ideally you should avoid prolonged sun exposure between 11am and 3pm, when the sun's rays are strongest," says Castro. And be sure to moisturise your skin after being in the sun.
Of course, it's the season to reveal a little skin – and many of us want to achieve a sun-kissed look. Even if your goal is to tan, it's still vital to use sun protection in the form of a product with an SPF of 30 or greater.
Healthy Skin, Happy Skin
Hydration is also key for maintaining healthy skin – just because you're sweating or swimming doesn't mean your skin is getting proper hydration.
Be sure to hydrate inside and out by drinking plenty of water and using nourishing creams that suit the specific needs of your skin type. For example, dry skin requires products with natural moisturising lipids, while oily or mixed skin, which tends to clog easily, calls for a non-comedogenic daily sun treatment with a matte effect. For these skin types, we recommend using a lightweight gel moisturiser that keeps skin hydrated but fresh and not too oily.
Exfoliation is another critical component for glowing skin, as dead cells make your skin look dull and lifeless, and (gently!) scrubbing them away gives you a more radiant look. Just be sure to leave a bit of time – generally 1 day or more – in between exfoliating and prolonged sun exposure, as it increases your skin's sensitivity to the sun.
Also, don't forget about masks. Whether for your face, feet, body or hair, masks are a great way to nourish and hydrate the skin to keep it soft and silky.
Care For Your Hair
When it comes to sun protection, it's easy to forget your hair, but those tresses (especially if they're colour-treated) certainly need it. Excess UVA and UVB rays from the sun, plus seawater and chlorine, can seriously fry your hair, and also make it prone to discolouration.
Before heading out for a day in the sun, apply a protective hair spray with UV protection; this will prevent your hair from drying out and the ends from splitting. And don't forget to care for your scalp, too. Wearing a wide-brimmed hat to avoid sunburn (or even sunstroke) is recommended.
In addition to hair protectant, be sure your hair is well-nourished before sun exposure; conditioners and essential oils will be your best allies here. Apply Moroccan argan oil, for instance, on damp hair before combing – not only will you create the perfect foundation for your hairstyle, but you will also lock in the hair's moisture, helping to prevent discolouration, dryness and unpleasant frizz.
And finally, in these days of relaxation and good vibes… how about giving your hair a vacation from unnecessary heat stress, like hair dryers and styling irons? Believe us, your hair and scalp will thank you. After all, if you care for your natural hair properly, you'll want to show it off.
The Final Touch
Now let's talk about make-up. While showing your fresh, cosmetic-free face to the world is the ideal summer look, some of us may feel underdressed without a touch of make-up. In that case, feel free to wear a bit, but keep it as natural, simple and minimal as possible to avoid streaking and uneven colouring due to sweat or excess water. Think in terms of tinted moisturiser and concealer (where necessary), set with a light-wearing powder. Avoid cream-based foundations, which can slip and slide when you sweat, and also increase any shine.
Go for a waterproof mascara (nobody wants raccoon eyes!) and a nude lip balm with SPF for a hint of colour and a dose of sun protection, plus soft, supple lips. When it comes to eyeshadow, choose a cream rather than a powder, as cream shadows tend to be more water-resistant and long-wearing.
Nighttime, however, is another story. If you're going out after sundown, feel free to be more daring with your make-up: add glow with a shimmering powder and metallic eyeshadows. It's summer, so take the opportunity to look radiant both day and night.
And finally, don't forget to give your nails (both hands and feet) some TLC. Sandals will surely be your go-to shoe, so pamper those tootsies with a pedicure – think of it as a treat for yourself to celebrate the start of summer.