';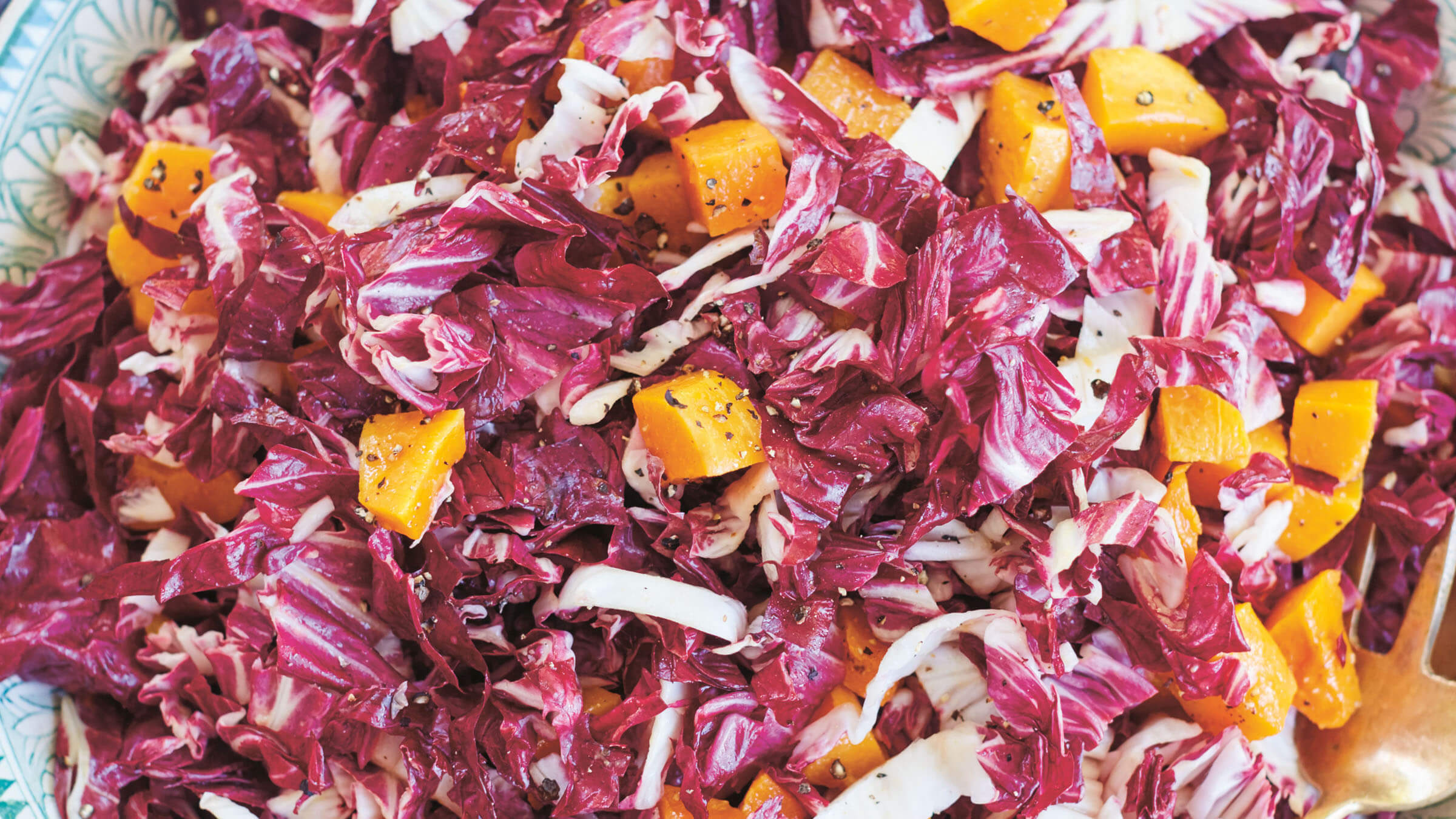 ;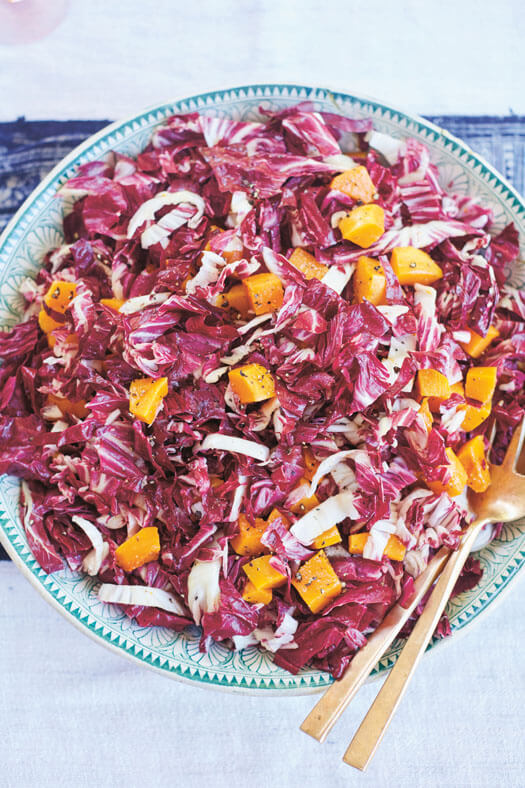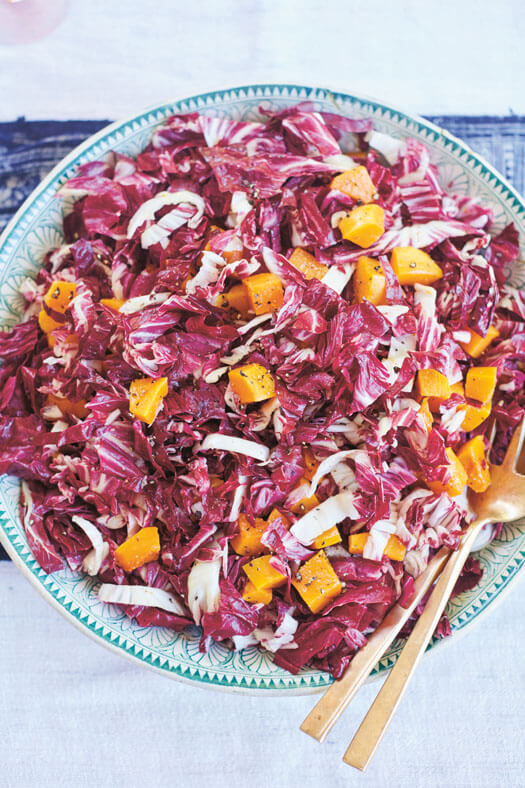 "This salad is especially great for feeding a crowd – it's hearty and can sit on a buffet table for hours without losing any integrity or flavour. In fact, you can mix the whole thing up to a day before, refrigerate it, and then bring it to room temperature before serving. If you can find delicata squash, try it (just seed it, no need to peel it). Note that if you can't find squash (or if you dislike it), sweet potatoes make an excellent substitute." – Julia Turshen
Julia Turshen's Radicchio + Roasted Squash Salad
Serves 12
Ingredients:
3 lb [1.3 kg] butternut squash, halved lengthwise, tough skin peeled and ends trimmed and discarded, seeded, and cut into 1-in [2.5-cm] pieces
¾ cup [180 ml] olive oil
Kosher salt
Freshly ground black pepper
2 Tbsp Dijon mustard
1 Tbsp honey or maple syrup
¼ cup [60 ml] apple cider vinegar
1 garlic clove, minced
3 heads radicchio, each about ½ lb [230 g], cored and thinly sliced
Method:
1. Position one rack in the centre of your oven and a second rack in the top third, and preheat to 400°F [200°C]. Line two sheet pans with parchment paper.
2. Divide the squash evenly between the prepared pans, then drizzle each pan with 2 tablespoons of the olive oil and season generously with salt and pepper. Use your hands to toss everything. Roast the squash, stirring once or twice along the way and switching the pans between the racks, as well as rotating them back to front halfway through the roasting, until softened and browned, about 30 minutes. Set the squash aside to cool down a bit.
3. In a large bowl, whisk together the mustard, honey, vinegar and garlic. While whisking constantly, slowly drizzle in the remaining ½ cup [120 ml] olive oil to make a dressing. Season to taste with salt and pepper. Add the reserved squash and the radicchio to the bowl and use your hands to combine everything gently (messy, but fun).
4. Transfer the salad to a serving platter and serve immediately (or within a few hours; it holds well at room temperature).
It's Me Again – Squash grilled cheese
Make delicious vegetarian sandwiches by spreading mayonnaise on both sides of two slices of bread, top with your favourite melting cheese (such as Cheddar or Muenster), and add a large handful of leftover radicchio and squash salad. Close the sandwich, and cook in a skillet until browned on both sides and the cheese is melted, about 1½ minutes per side (the mayonnaise will help the exterior brown). Serve with mustard and pickles. See the cover of the book if you need any convincing!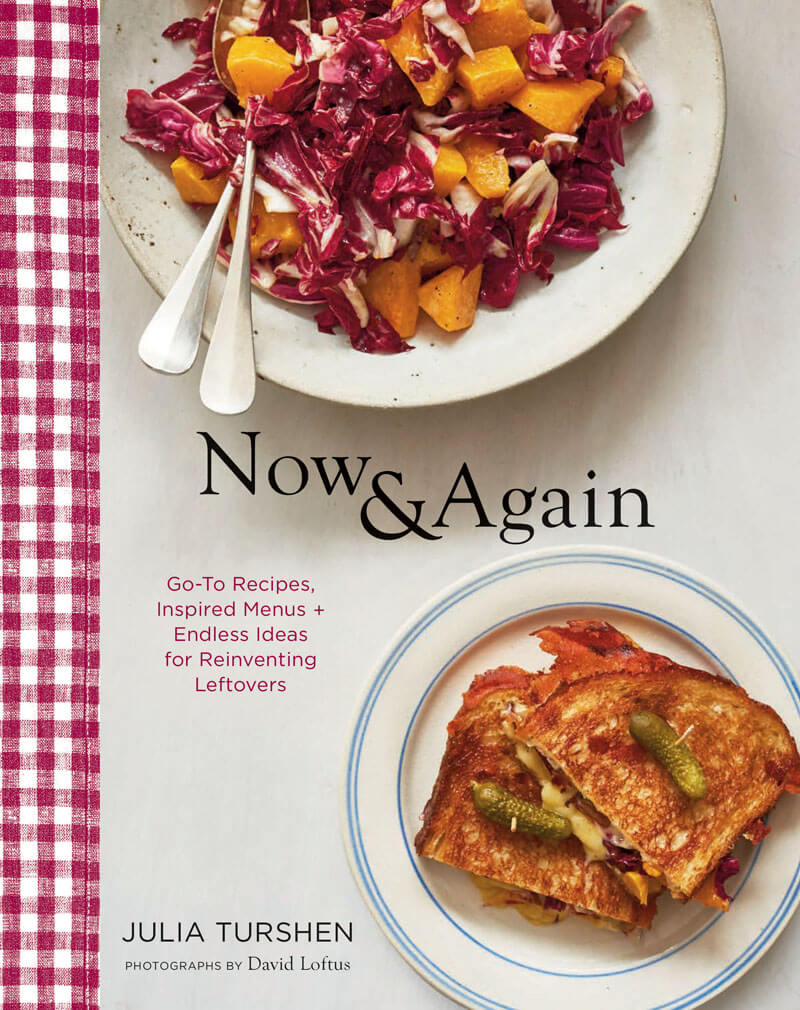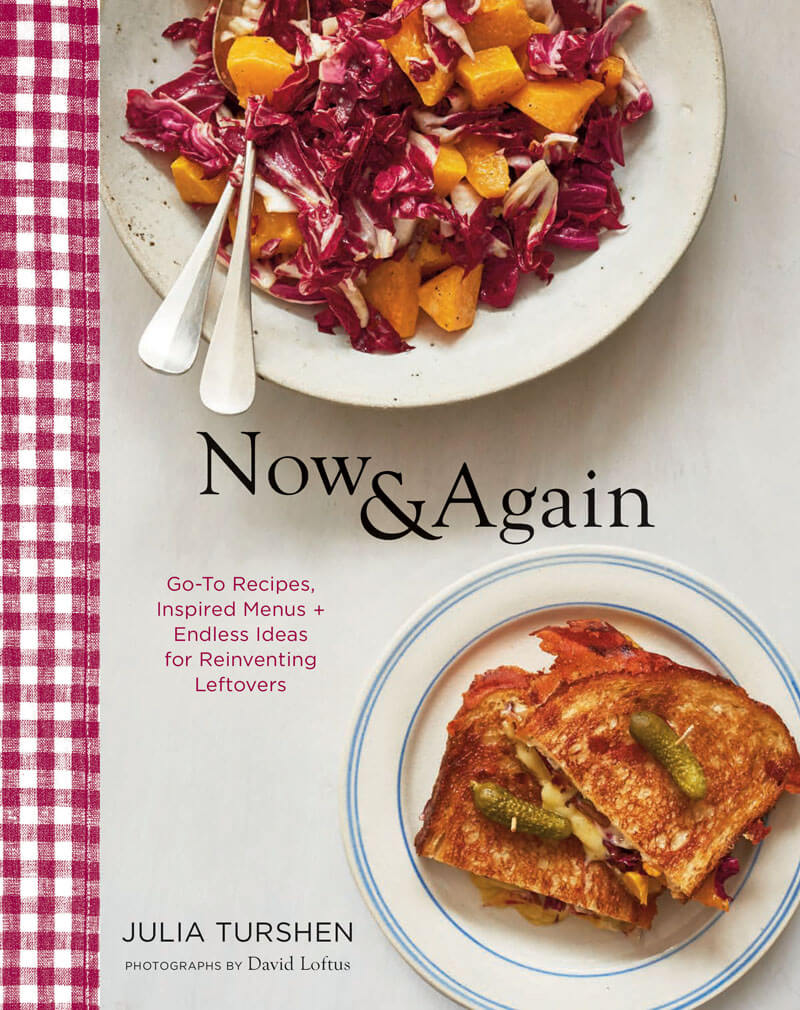 Reprinted from Now & Again: Go-To Recipes, Inspired Menus + Endless Ideas for Reinventing Leftovers by Julia Turshen with permission by Chronicle Books, 2018, photos by David Loftus.
About The Book
In Now & Again, you'll find more than 125 delicious and doable recipes and 20 creative menu ideas that help cooks of any skill level gather friends and family around the table to share a meal (or many!) together. In this new cookbook by the author of Small Victories, fans and newcomers alike will delight in Julia Turshen's funny and encouraging voice, as Now & Again is brimming with good stuff, including:
– Can't-get-enough-of-it recipes, including the popular Applesauce Cake with Cream Cheese.
– Inspiring menus for social gatherings, holidays and more.
– Helpful timelines for flawlessly throwing a party.
– Oh-so-helpful "It's Me Again" recipes, which show how to use leftovers in new and delicious ways.
– Tips on how to be smartly thrifty with food choices.